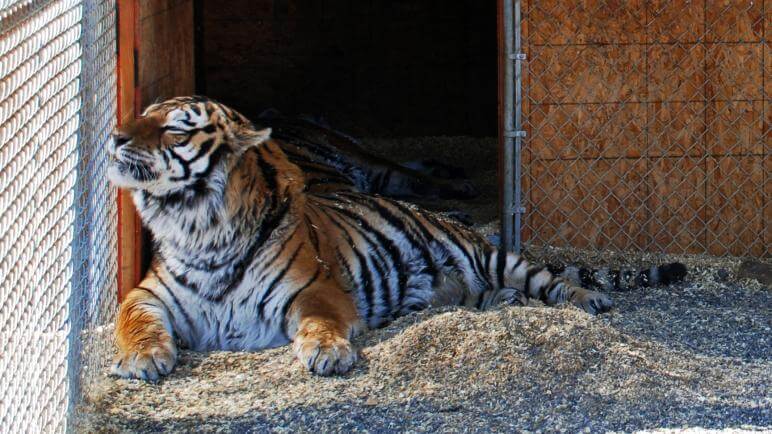 As a child, Peter Renzo fell in love with tigers after visiting a big-cat doctor's house. As he stood outside of the lion's cage, he felt a sense of eeriness looking at the size and strength of the big animal. The doctor approached him, asked his name, then said, "Peter, would you like to come in the cage and pet my lion, Sampson?"
Renzo answered, "I don't know. I hear all of these crazy stories about these cats and how they can hurt people." The doctor answered nonchalantly, "Is that all you're afraid of? Don't worry. You never feel a bite that kills you."
This was the beginning of a whirlwind romance between Renzo and Siberian tigers. He established the organization S.A.B.R.E. Foundation in 2000 after acquiring his prize tiger, Sabre, who weighed more than 1,000 pounds and was one of the largest Siberians. Sabre lived in Renzo's house and was considered a part of his family. "After having Sabre, this beautiful animal, I decided I needed to do something for other tigers out there and the people who need to be educated about these cats," Renzo says.
Located in Stagecoach, the acronym S.A.B.R.E. stands for Siberian (Tigers) Are Becoming Rapidly Extinct, and its goal is to preserve endangered animals and educate the public as they observe the six tigers on the premises. Renzo believes that it is only through education and awareness that the tiger population can rebound.
The difference with this foundation is that observers are able to watch Renzo feed and interact with the animals. They watch as he rubs heads with the tigers, as if he is one of them. He gives the tigers kisses and hugs and seems to intermingle with the population. "People can relate better by seeing me pet the tigers, and it helps them see how tigers are similar to their house cats, and what we are saving," Renzo says.
S.A.B.R.E. Foundation goes through more than 24,000 pounds of meat per year. Renzo uses feeding time as an educational tool to show visitors how the tiger would act in its natural habitat—with caution. "You can never forget that these are tigers," Renzo says. "The girl tigers eat their chunked meat as they growl and are extremely aggressive. They are still tigers and aren't meant to be pets." #NVWildlife
Get Inspired
Related Stories