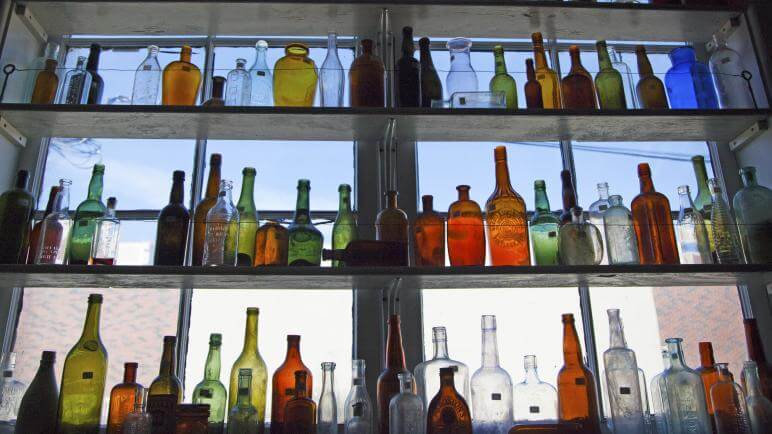 A Treasure Hunt in Gardnerville
Some people just have the antiquing itch, and are damned good at it. That unmistakable old library book aroma, perhaps awakening happy sentiments from another time, or the way things crackle and bend beneath your grip is hard to combat. The good news is, even if you don't possess that uncanny skill set to eye unique mementos, you always can turn to people who do. With that, I bring you Meredith Fischer. Vintage aficionado. Treasure-spotting guru. Virtuoso of immaculate finds that otherwise would be overlooked with a blink of an eye.
I had arranged to spend the afternoon with Ms. Fischer, not really sure to what exactly I had committed. Sure, I like to uncover one-of-a-kind finds just as much as the next person, but when telling my colleagues about how I was going to be spending my time that afternoon, even I was a little bored. It appeared I was already bad at this.
I rolled into the delightful community of Gardnerville on an impeccable fall afternoon. If you've never had the pleasure of frequenting this community, think Norman Rockwell. Totally picture-perfect Americana.. A bustling thoroughfare carves through the center of this 5,000-person community, originally settled all the way back in the 1870s. Growing up in Northern Nevada, I undoubtedly was intrigued by this town, but never really had the chance to dig in my heels and explore here. Passing by original buildings from the turn of the 1900s, I've got to admit, I started to geek out a bit. I am a sucker for history. And shopping. Hey, maybe I can do this!
Meeting up with Meredith at Cheshire Antiques was first on the docket. Smack dab center in Gardnerville's downtown, it was no surprise to me that the store was originally home to a mercantile shop in the 1890s. Oozing historical charm out of every crevice in its weathered framework, the bell on the door chirped with the twist of the doorknob and in I went. Immediately enamored with the vastness of this store, Meredith and I were off and running.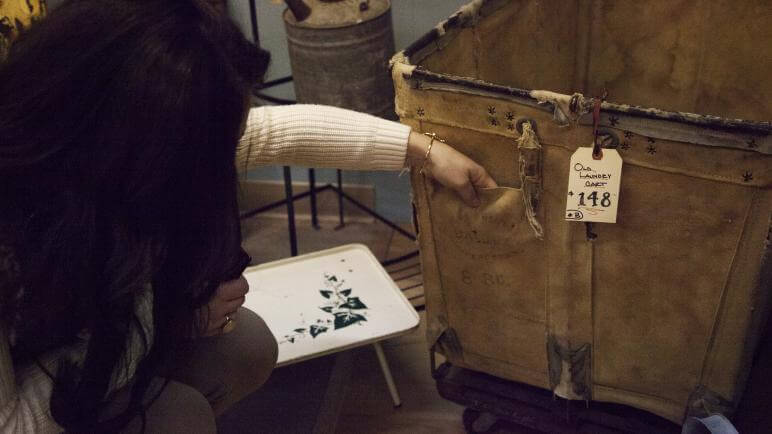 Cheshire was completely different than most other antique stores I'd visited, in the way that it rented spaces out to individuals, almost creating a mall sort of shopping experience, but without the owner present. Some were just a few shelves, while others took up tons of square footage. The best part was, the owners regulate what exactly is sold—as in only 10 percent of merchandise dated past the 1950s can be exchanged here. What does this mean? No junk, only really cool, genuine antiques.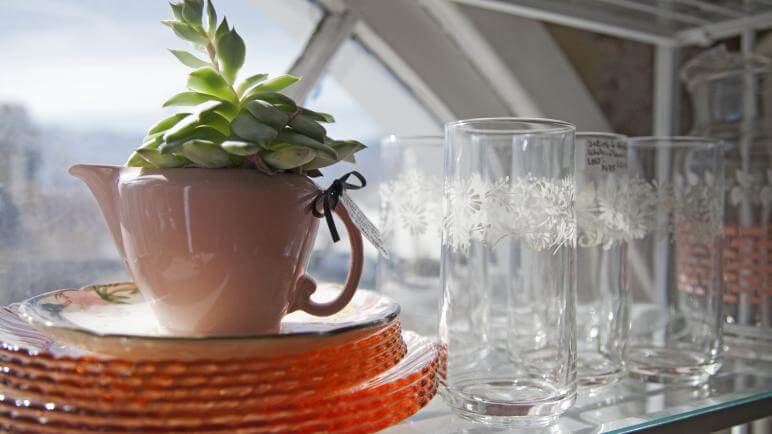 Navigating our way in and out of each booth, we wound our way up to the second floor in this megastore. While I was distracted mostly by shiny, glittery things, Meredith was masterfully at work, uncovering remarkably interesting things I would never in a million years have seen, like an intensely cool old laundry cart and charming old crates. Lesson No. 1 was just around the corner: there are endless ways to implement things like this into your life, not just for fun decorations, but for actual purpose. How had I never thought of using old crates as a functional storage solution that looked nice? All these years I had thought this was something people just stuck a bajillion balls of twine in and set it on their coffee table. Not my bag. But, if something I would've normally overlooked could be functional, look nice and have an interesting back story? This was a total game changer, I'm in.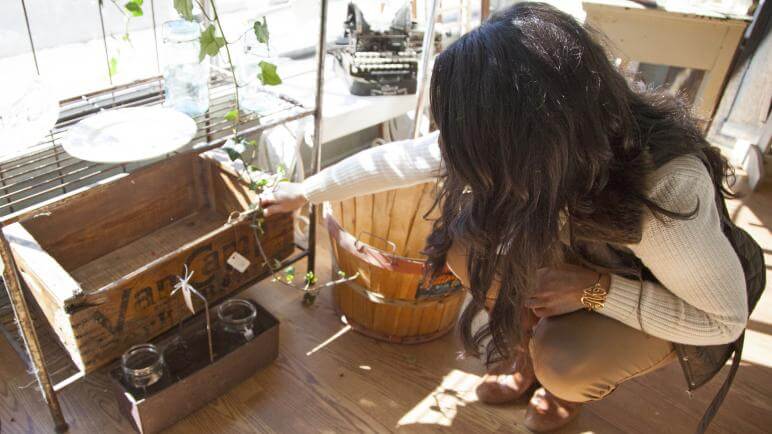 With an overhauled perception and newfound interest in understanding this contagious shopping style, it sort of turned into a game and my mind was racing. Then I spotted it: a lovely set of two light yellow, Depression-era glass containers. I had recently purchased a similar item as a gift for my mother a few years back at a fancy schmancy kitchen store, but these were the real deal, lovingly used for generations, still functional, and matched my kitchen to boot. Meredith reminded me that while they'd undoubtedly be great leftover containers, they would also be really pretty side dishes on a nicely decorated kitchen table. It was fun for me to imagine who the previous owner[s] were, along with all the love they'd received over the past decades. Now it was going to be my turn to have them. Teach me more of your ways, Meredith…enchanted is the understatement of the century here.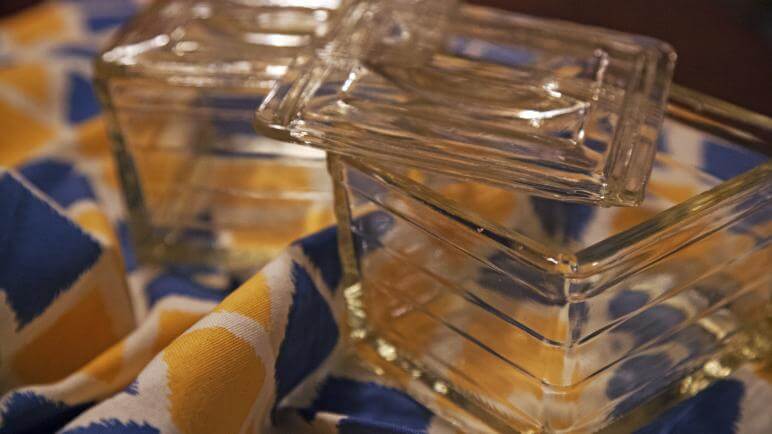 With my booty in arm, it wasn't long before I uncovered my next keepsake. Before I go on, I must divulge to you that donkeys are my favorite animal. Well, maybe No. 2 to cats, but there's something about their kind faces that I've adored since I was a kid. Having sort of jokingly collected donkey figurines over the years, [yes, my husband thinks I'm nuts] I found the coolest little brass donkey, complete with a pack saddle and canteen. The detail was remarkable; I needed to have it. End of story.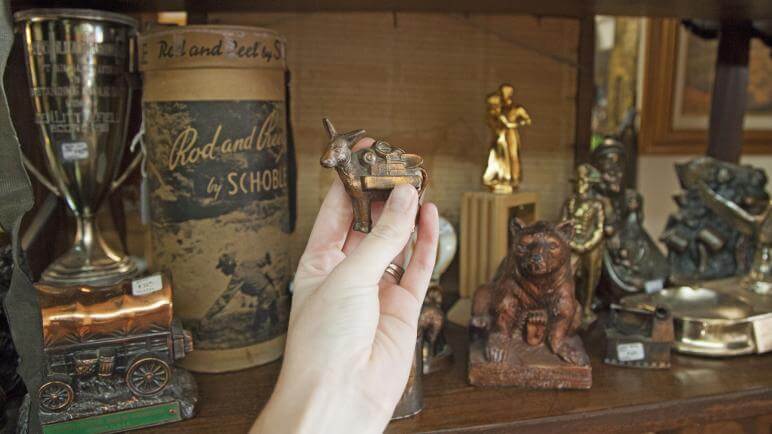 Just as I was attempting to make my way to the register in hopes of untangling myself from Cheshire's spell-binding web, I spotted Gideon the cat. First a donkey, and now a big, yellow, fluffy cat. Just stick a fork in me, I'm done for. Sunbathing in his wicker basket bed, this was just too much. The charm of this place was over the top and I needed to get out of this store before I blew up my checking account and really would come home to an exasperated spouse. Crouching down for a good head rub or two, I beelined it for the register and we were on to the next. It was starting to make sense why Meredith didn't bring her wallet!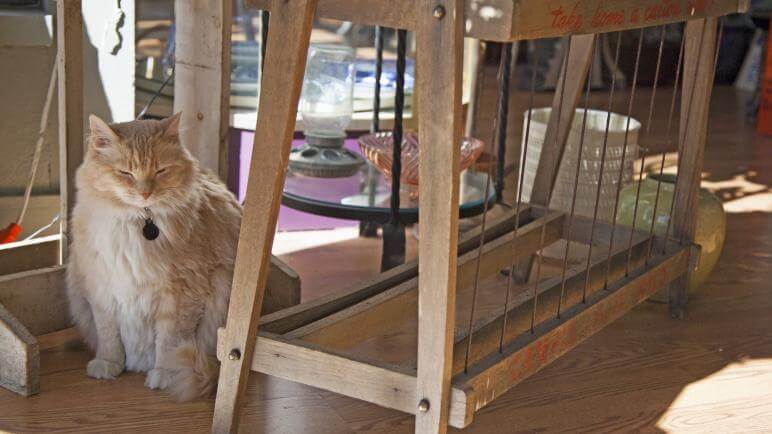 All within walking distance, we headed for Fresh Ideas Fine Gifts, just a few blocks down main street. While we were on a mission to hit a few additional stops, the urge to pop into every storefront on the street was overwhelming…everything was just so postage stamp perfect. I wanted all the things. Every storefront in sight was locally owned and dribbling character. Wine shops, dining staples like the JT Basque, and locally owned home good stores that all were housed in historic buildings. Instead of driving an hour south of Reno, it felt like I time-traveled to the East Coast…it was all really cool.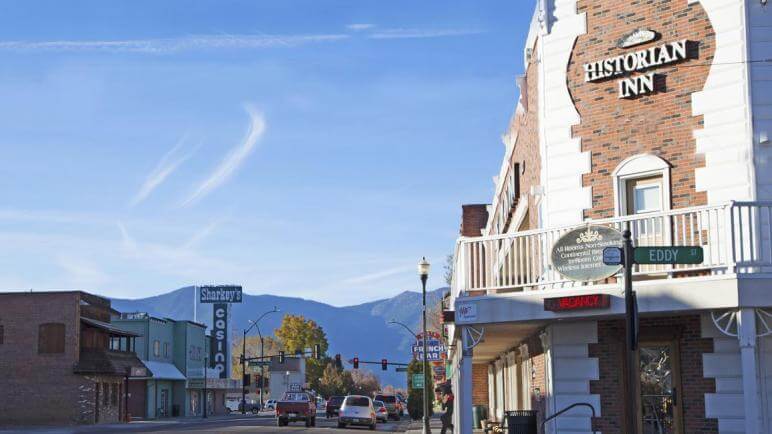 Next, we hit up one of the coolest boutique stores: Fresh Ideas Fine Gifts. Seriously. If you need a gift and don't have time to browse through expansive antique stores, Fresh Ideas is your store. Soaring past the 20-year mile-marker, this Gardnerville staple had thoughtful and unique gifts sure to make anyone happy. [Hint, Hint Mr. Martinez.]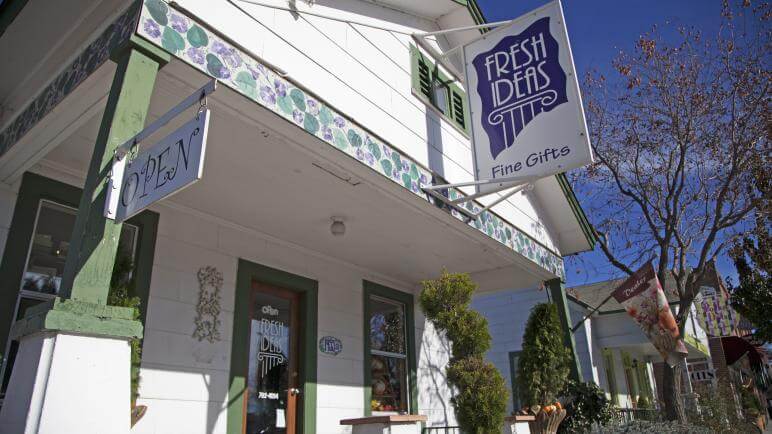 The only thing standing in between me and my bragging rights of flipping Garderville's antique district upside down was one last stop: Eddy Street Vintage Market. Cutting off Main Street, we made our way through a park and one block behind where we started at Cheshire. Crossing over the threshold of this historic home, I was totally entranced to discover that the original owners of the home, the Jensen Family, also owned the mercantile store currently housing Cheshire Antiques. Apparently we weren't only on a real treasure hunt, we were also on a historical scavenger hunt. Pretty fascinating how the history came to live right before me. Once inside Eddy Street Vintage Market, a woman appeared.
"Sydney, this is my mom," Meredith exclaimed.
WAIT. This was Meredith's store?! How did I miss this crucial detail?! She explained that she originally started with a booth in Cheshire and after acquiring a store-sized collection of finds, she needed to have her own place.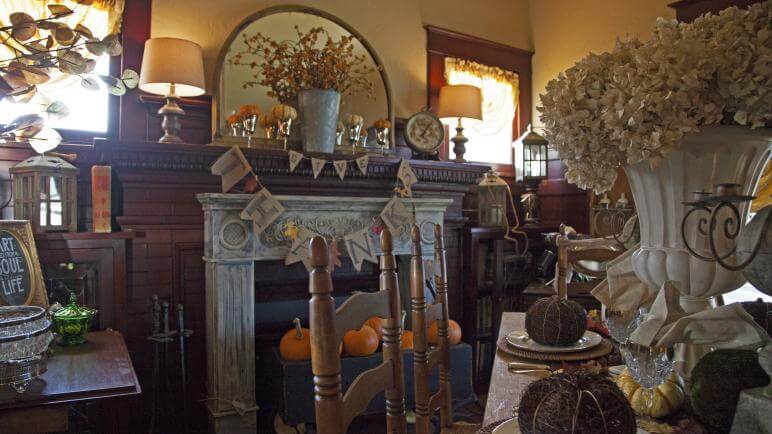 And what a place it was. The other stores no doubt held my attention, but Eddy Street Vintage Market most certainly separated the men from the boys. Instead of having rows of shelves with goods to purchase, the store was like Home Goods and Cheshire Antiques had a love child with each room of the home staged like a livable room, thoughtfully decorated to perfection. Jewel-toned plush armchairs, immaculate buffets refinished with precision, inspiring tablescapes for a slam-dunk holiday gathering, irresistible jewelry [I say irresistible because I caved in 5 minutes] and even a sunroom stashed with coffee for guests really made Eddy Street Vintage Market the frontrunner.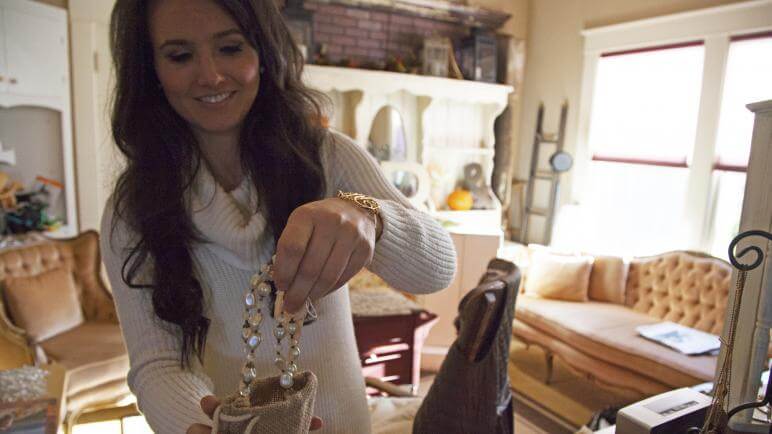 The unarguable truth of Meredith's next lesson was about to slap me in the face: things from previous times not only incorporated a different level of ornate detail, they also were executed soundly, and in general, they were much sturdier solid pieces made of real materials. Instead of purchasing a machine-made, particleboard hunk of junk, it would be much smarter to invest in a piece that was built to last, constructed with real wood and made by an actual human. And to what does it really boil down? People are in too much of a hurry, and are looking for a quick, convenient fix, not realizing they're ending up with junk that doesn't last.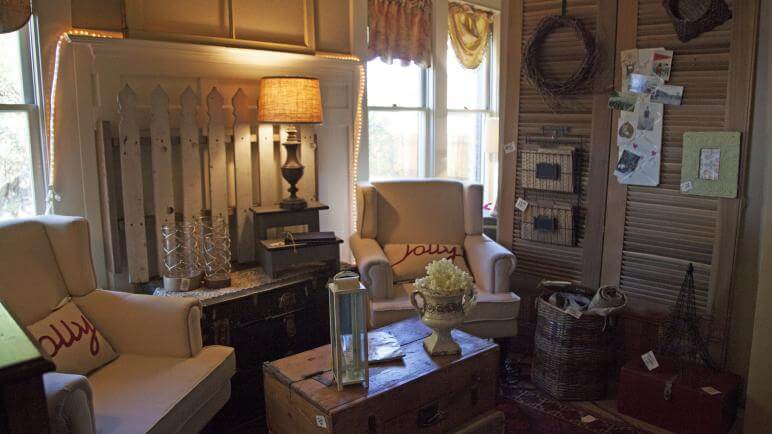 Meredith's compassion for this was undoubtedly confirmed in every last item available for purchase in Eddy Street Vintage Market. And it didn't start with her. It was an inherited multi-generational infatuation, beginning with her grandfather, and passed on to her mother, who carefully learned to refinish furniture at a young age. In turn, she tenderly passed her talent on to Meredith. The chase of hunting down ideal pieces that speak to them, masterfully reworking them into the most interesting thing in the room, and the reward of bringing someone so much happiness and warmth was inspiring to say the least. You say the word "antiquing" and within two seconds people get glassy-eyed and instantly uninterested. But, the truth of the matter is that it's not about digging through dusty boxes of lobster-shaped salt-and-pepper shakers, it's about repurposing something, breathing new life into something valued years ago that will be continue to be loved today. That, my friends, was the real lesson I learned that day—an enlightening one that will stay with me to say the least. #NVHistory
Get Inspired
Related Stories