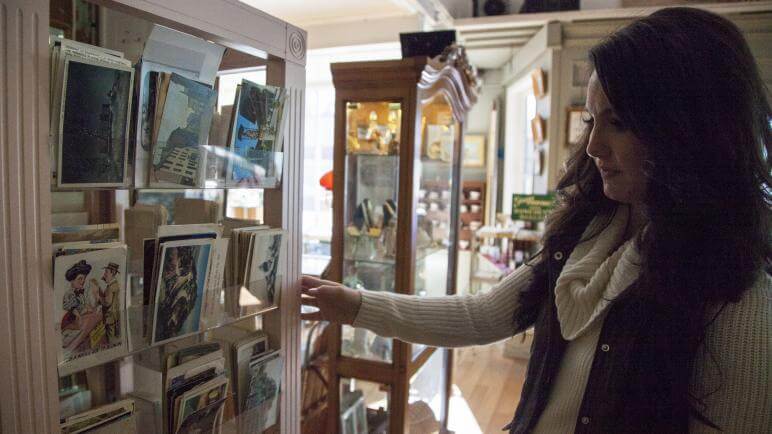 Antiquing With The Big Leagues To Uncover A Little Inspiration
My name is Meredith Mackenzie Fischer and I am an antique addict! I grew up in Gardnerville on a small farm where creativity ran wild and seeing the possibility in everything was a common practice. My own antique adventure started at a very young age. You see, my parents had quite the affinity for perusing through antique stores and attending auctions. Taking a young child through these shops and auctions wasn't necessarily ideal, so they made it a treasure hunt for me and allowed me to pick out my favorite item. It started small, a vintage hat here, a vintage dress there, oh and a killer pair of vintage heels. (Yes, I was five but luckily I had big feet and the previous owner had oddly tiny feet.) While my parents assumed I was simply easily amused, I was secretly studying the world of antiques including learning how to bid at antique auctions. These rituals greatly snowballed in my mid 20s when my friend invited me to help plan her vintage travel themed wedding.
With an addiction to treasures from years past, an overwhelming inventory from the wedding and the company I worked for going out of business, my desire to open my own shop spawned and before long Eddy Street Vintage Market launched. This came as a relief, because frankly, my garage couldn't take it any more and neither could my boyfriend. [I didn't realize you were actually supposed to house your car in there, I thought this was where everyone stored antiques!]
With my store launching in the summertime, it was full steam ahead and I was prospecting for antiques full time. There is definitely something to be said about the thrill of the chase. The exhilaration I get from searching for my next treasure can only be compared to the energizer bunny crossed with an espresso-drinking squirrel in the middle of an acorn orchard. When I enter a sanctuary of antiques, my heart starts to race knowing the possibility of finding something amazing is in the air.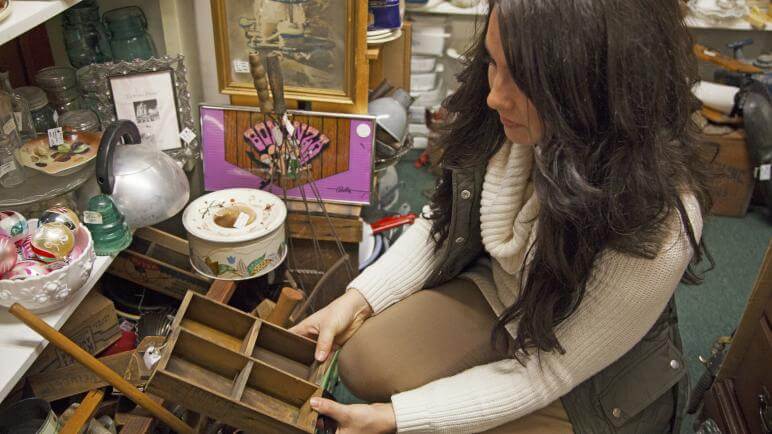 I feel at home among layers of dust, dings and scratches. It may seem odd to personify antiques but there is a story that travels with each of them: a history. I wish antiques could talk and tell me about their experiences, the homes they have lived in, the families they have served. But knowing their stories are lost to time, I can only create their story in the present.
I am excited about breathing new life into antiques! Some of these pieces have been discarded, thrown to the wayside and deemed fit only for the trash. Confession: These are my favorite pieces. Where others see trash, I see the ultimate potential. My ultimate satisfaction is the look of shock when a person compares before and after photos of one of my projects. They can't believe the difference; the complete transformation fostered by a little TLC. I am the self proclaimed Queen of Sandpaper Salvation and Paintbrush Preservation. Also, this seems to be a continual overlooked detail, but these pieces take us back to a time when craftsmanship was in its heyday…when artisans ruled the world and big box stores were non-existent.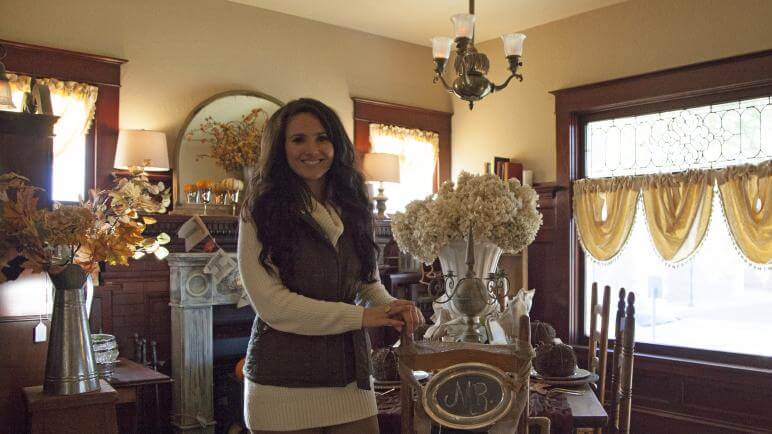 I have furnished my entire home with these pieces and am excited to have now furnished a 2,400 square foot shop! I adore being able to encourage others among my generation to appreciate antiques, which in turn has been the ultimate experience. Opening Eddy Street Vintage Market was a way to reconnect with the community I love, spend more time with family and have first hand experience at owning and operating my own business. In this quest, I have made some new discoveries about myself and the place where I grew up…it's all about embracing the old and the new simultaneously. Not being stuck in the past but allowing it to evolve and become a part of the future. No matter what your story is, you can create a new one at any time with a sufficient amount of determination and a little bit of luck oh and sometimes a little bit of paint.
Tips For Buying Vintage
Take a second look at "that piece of junk"
Is it structurally sound? Or does it wobble like an elephant with low blood sugar?
If it isn't structurally sound, do you know someone handy?
Does it have dovetailed drawers?  Or are the pieces of wood nailed together?
Does it have "good bones"? Meaning, are there decorative details that would really pop when given a facelift?
Find your inspiration! Pinterest can give you tons… be prepared to never sleep again. You will have so many ideas, you will be creating for weeks.
Head to your local hardware store and find your supplies.
Be sure to take before and after photos.
Get Inspired
Related Stories