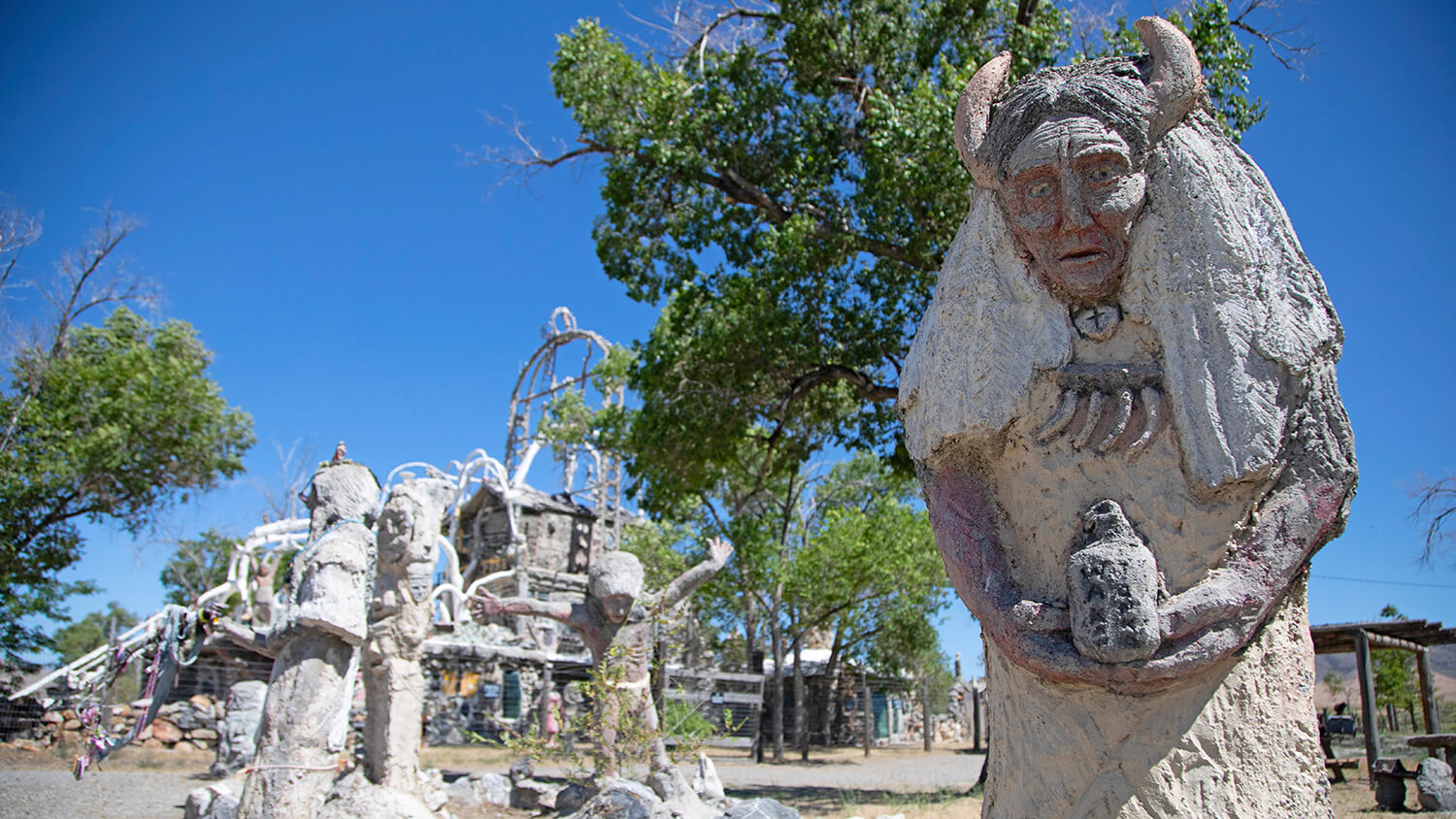 WADING INTO WEIRD AT THE ONE AND ONLY THUNDER MOUNTAIN
If you dig diving head first into the straight up strange as much as we do, but are also down to land on some meaningful messages you never imagined as part of the deal, then we've got the weird for you. Situated at just about the exact halfway point between Lovelock and Winnemucca is a sweet little open air gallery, and if you can believe it, way different than the other handful we've got in the state. Maybe it's caught your attention as you're blasting down the interstate and you thought to yourself, "what the hell was THAT?!" That notion in itself is enough to make it an automatic Weird Nevada qualifier… along with the fact that the entire place was formed out of stuff an eccentric visionary found along this stretch of road over the course of several decades, then formed into a gigantic monument with a deeper meaning. Though it has that vibe, along with some legit Burning Man feels, what you just saw wasn't a mirage. It's Thunder Mountain Monument—a place too weird to be true, and one you should be swingin' through every time you're cruising Nevada's Interstate 80. Buckle up babes, this is where the #WeirdNevada meets the road.
THIS WHOLE THING WAS THE BRAINCHILD OF A GUY NAMED FRANK VAN ZANT, AKA CHIEF THUNDER, WHO HAILED FROM OKMULGEE, OKLAHOMA – CAPITOL OF THE MUSCOGEE (CREEK) NATION – BACK IN 1921.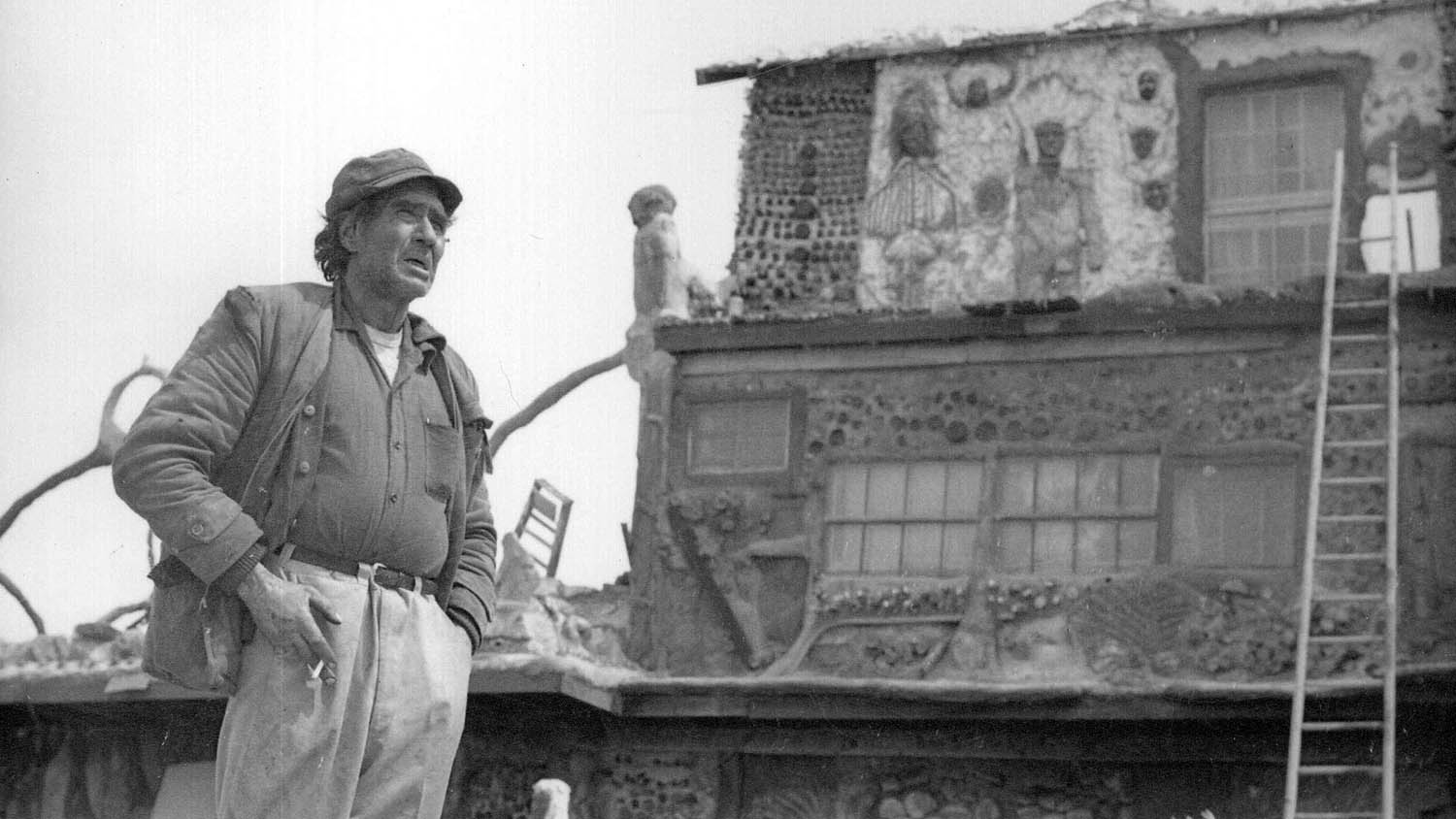 CHIEF THUNDER LANDED A JOB WITH THE UNITED STATES FOREST SERVICE WITH A WEIRD NEVADA TWIST—IN EXCHANGE OF MAKING MAPS DETAILING OUT CHUNKS OF LAND, WHATEVER HE FOUND THERE, HE COULD KEEP. THAT, AND WORD ON THE STREET IS, AN OLD MEDICINE WOMAN TOLD HIM THAT "ONLY THOSE WHO LIVED AT THUNDER MOUNTAIN WOULD SURVIVE THE APOCALYPSE." …SO KEEP THAT ONE LOCKED AWAY FOR A SEC.
ACCEPTING THE USFS GIG WITH BIG DREAMS ON THE BRAIN, CHIEF THUNDER AND HIS NEW BRIDE LANDED IN IMLAY AFTER SERIOUS VEHICLE PROBLEMS… AND STAYED HERE FOR GOOD.
SETTLING INTO SOME LAND JUST OFF INTERSTATE 80, VAN ZANT BEGAN HIS MAP WORK… AND KNEW HE WANTED TO PULL OFF THIS THUNDER MOUNTAIN THING. HE DIDN'T HAVE THE MONEY TO BUY MATERIALS FOR THE MONUMENT, SO HE USED ONLY WHAT HE COULD FIND ALONG THE HIGHWAY TO BUILD THUNDER MOUNTAIN MONUMENT.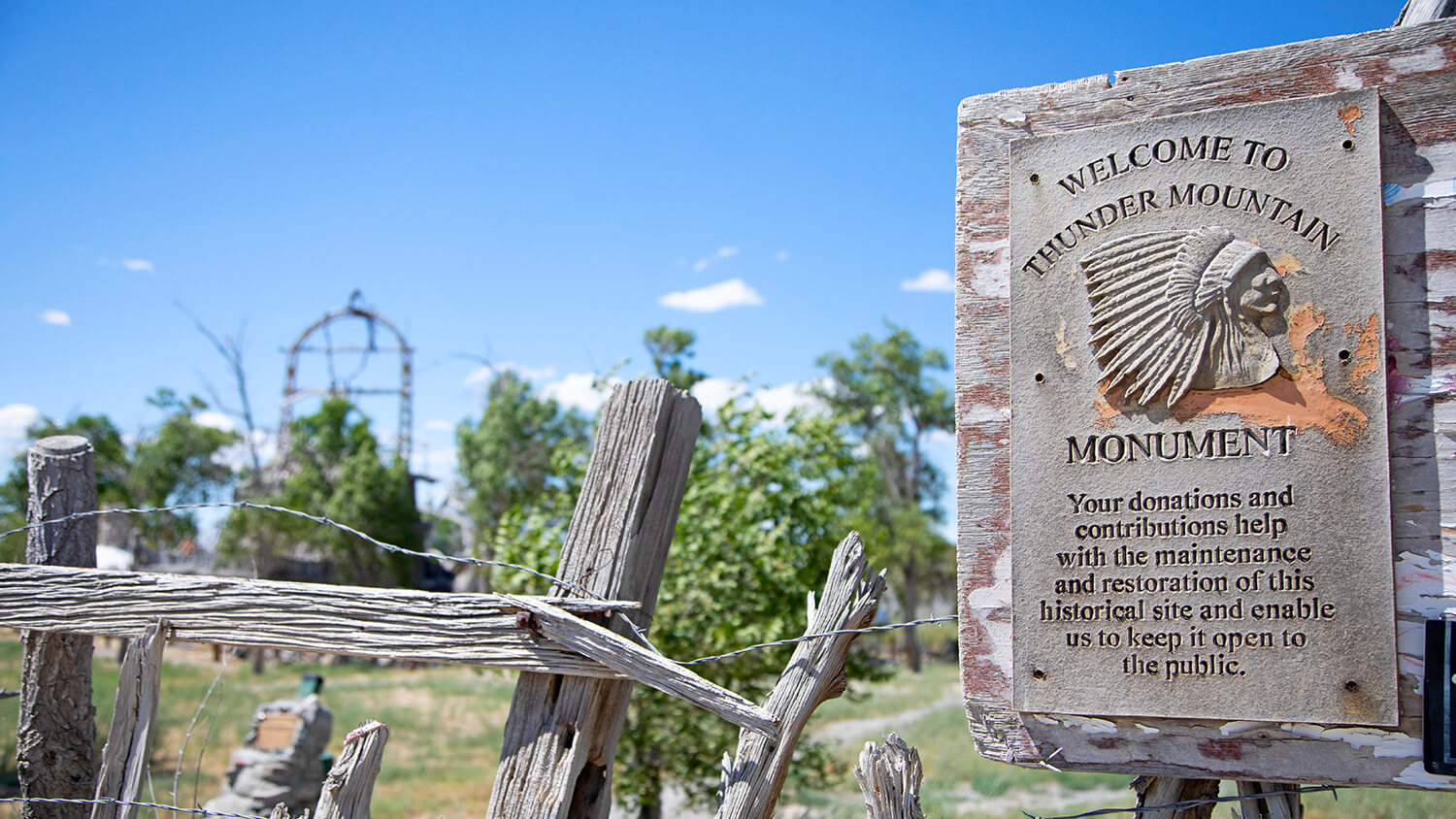 ONE MAN'S TRASH IS ANOTHER MAN'S TREASURE, RIGHT? IN THIS CASE, KIND OF. ASIDE FROM HIS KEEPING WHATEVER HE FOUND, CHIEF THUNDER BUILT THIS MONUMENT TO SHOWCASE THE AMOUNT OF JUNK AND TRASH MANKIND CREATES, THEN IMMEDIATELY DISCARDS.
EVERYTHING THUNDER MOUNTAIN IS MADE OF, WAS COLLECTED WITHIN A 50 MILE RADIUS, INCLUDING EVERYTHING FROM BOTTLES TO ABANDONED CARS, TO BONES…
… THAT IS, EVERYTHING BUT THE CEMENT MIXTURE.
CHIEF THUNDER STARTED WORKING ON THE ENTIRE THUNDER MOUNTAIN COMPLEX IN 1968, AND CONTINUED 7 YEARS UNTIL 1975. A SECOND PHASE WITH EVEN MORE BUILDINGS KICKED OFF IN 1983…
BUT HE DIDN'T DO IT ALONE… NO WAY. CHIEF THUNDER EMPLOYED THE HELP OF AN ARTIST AND ARCHITECT, HIS WIFE, AND CHILDREN. EVEN A HANDFUL OF HITCHHIKERS, DROPOUTS, AND HIPPIES WHO STAYED FOR THE DAY OR EVEN WEEKS, IN EXCHANGE FOR FOOD AND LODGING. TWO PEOPLE EVEN STAYED AND WORKED ON THE MONUMENT FOR 5 YEARS.
RECRUITING THE HELP OF WHOEVER WANTED TO BE THERE, CHIEF THUNDER INSISTED ON A FEW RULES, THE MOST IMPORTANT OF WHICH WAS TO SIMPLY SHOW RESPECT FOR ONE ANOTHER. THAT, AND IF YOU DON'T WORK, YOU DON'T EAT.
TOGETHER, THEY BUILT A 3-STORY HOSTEL AND INDIAN SCHOOL, CHICKEN HOUSE, 40X40 WORKSHOP, TWO CABINS, VISITORS CENTER, BATH HOUSE, AND UNDERGROUND SWEATHOUSE… BUT THOSE STRUCTURES SUFFERED AN ARSON INCIDENT.
LUCKILY ENOUGH, YOU CAN STILL SEE THE ROUND HOUSE…
A WORKSHOP WITH THE WEIRDEST BOTTLE HOUSE WE'VE EVER SEEN…
A PLAYGROUND…
WHAT'S LEFT OF THE HOSTEL…
SOME PRETTY ELABORATE "FENCES"…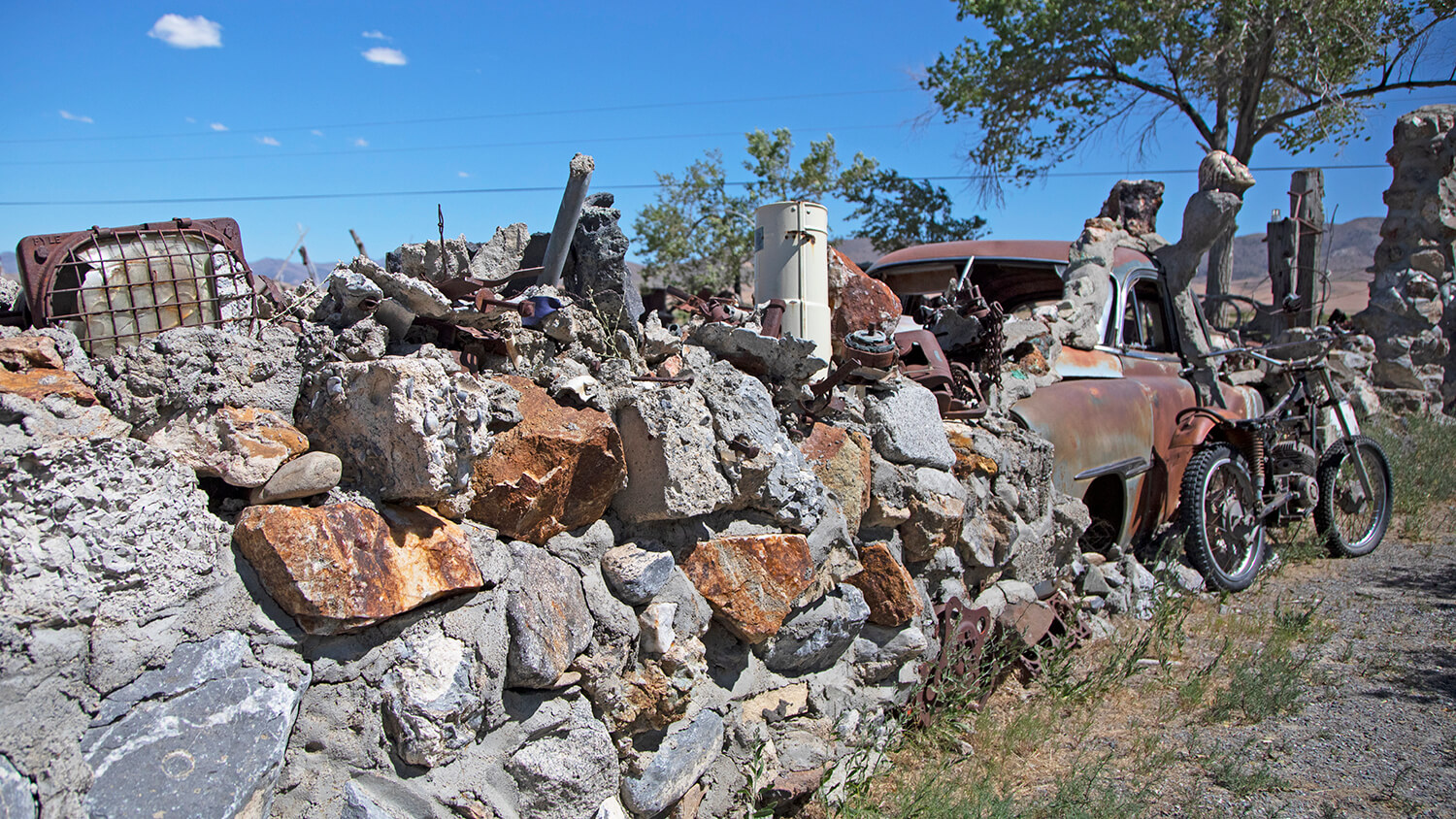 AND OF COURSE THE MAIN MONUMENT, WHICH BEGAN AS A TRAVEL TRAILER THAT CHIEF THUNDER COVERED WITH CONCRETE AND STONE…THEN UP AND OUT TO FORM THIS GIANT, THREE STORY STRUCTURE.
CHIEF THUNDER WASN'T A FAN OF TRADITIONAL ORGANIZED RELIGION, BUT HAD A DEEP BELIEF IN A HIGHER POWER. BE SURE TO KEEP AN EYE OUT FOR WRITINGS SCROLLED ON THE WALLS AND GROUNDS THROUGHOUT THE MONUMENT.
THAT, AND THE 200 SCULPTURES DEPICTING INDIANS OF ALL TRIBES, AGES, AND STATUS.
SERIOUSLY—THEY'RE EVERYWHERE…
ALL DIFFERENT, AND OF COURSE WEIRDLY SPECIAL.
THE THUNDER MOUNTAIN MONUMENT IS NESTLED AT THE BASE OF, YOU GUESSED IT, THUNDER MOUNTAIN…
AND THOUGH CHIEF THUNDER HAS COME AND GONE, HIS WORK HERE IS NEVER REALLY DONE. "IT WILL NEVER BE FINISHED, IT'S AN ONGOING WORK, AND AFTER I'M GONE SOMEONE ELSE MAY FINISH IT." —CHIEF THUNDER
AND THANKS TO TONS OF DONATIONS, AN ON-SITE CARETAKER, AND A WHOLE LOT OF FREETHINKING VOLUNTEERS, THUNDER MOUNTAIN LIVES ON.
THOUGH CERTAINLY WEIRD, CHIEF THUNDER DROVE HOME HIS OWN LEGACY BY SAYING, "WE ARE POLLUTING OUR PLANET WITH CASTAWAY ITEMS. I FIND IT IRONIC THAT THE PEOPLE WHO CLAIM IT AS AN EYESORE ARE THE VERY SAME PEOPLE WHO POLLUTED THE LANDSCAPE WITH THEIR JUNK."
… STRIVE ON MINDFULLY, AND DON'T FORGET TO STAY WEIRD, YA WEIRDOS. #WEIRDNEVADA

Get Inspired
Related Stories