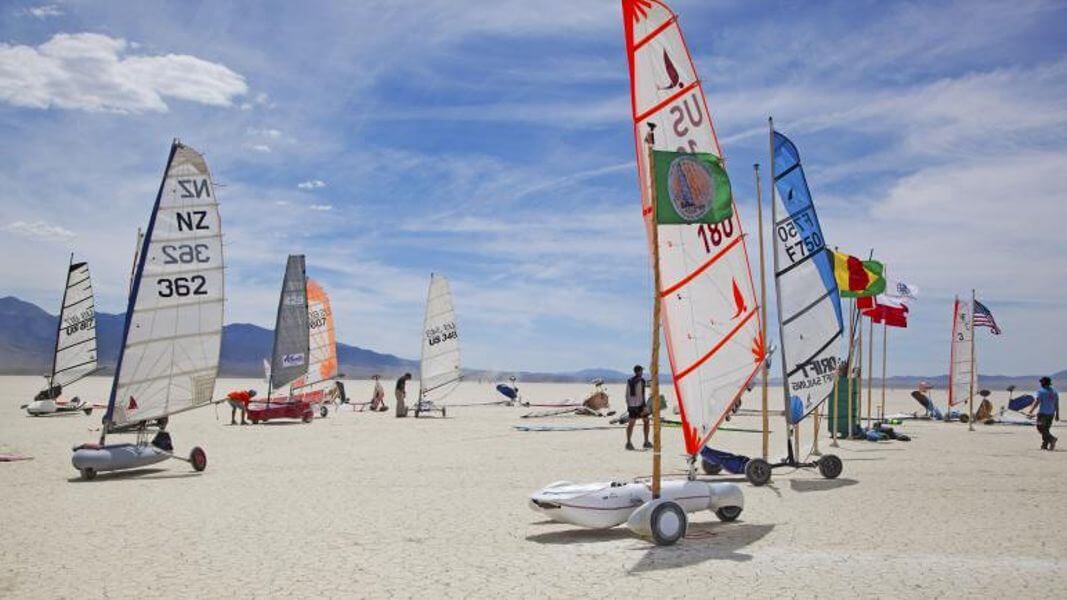 The Ultimate Conversation Starter at the Landsailing World Championship
If I may be so bold in divying up advice to someone going to a landsailling event, it's this: get to the nearest hardware store and purchase a misting fan. Quick. What happens when you bring together 14 countries of enormously talented sailors, there is no wind for hours, and you're left with nothing else aside from siting around in 110 degree heat? You make friends! And if there's one thing that can break through a gauntlet of language barriers, it's misting some deliriously overheated athletes.
Headed east on the Loneliest Road in America , I was pumped to attend one of the zany sporting events that makes Nevada well, Nevada. The 2014 World Championships [yep, you read that right—WORLD] was to be hosted just outside of the quiet, living ghost town of Austin at the Smith Creek Playa, or dry lakebed. Aside from the fact this outlandish event wouldn't take place in the US for another 24 years, I knew close to nothing about this eccentric sport and was ready to be dazzled by these worldly athletes and get my dirt boat on.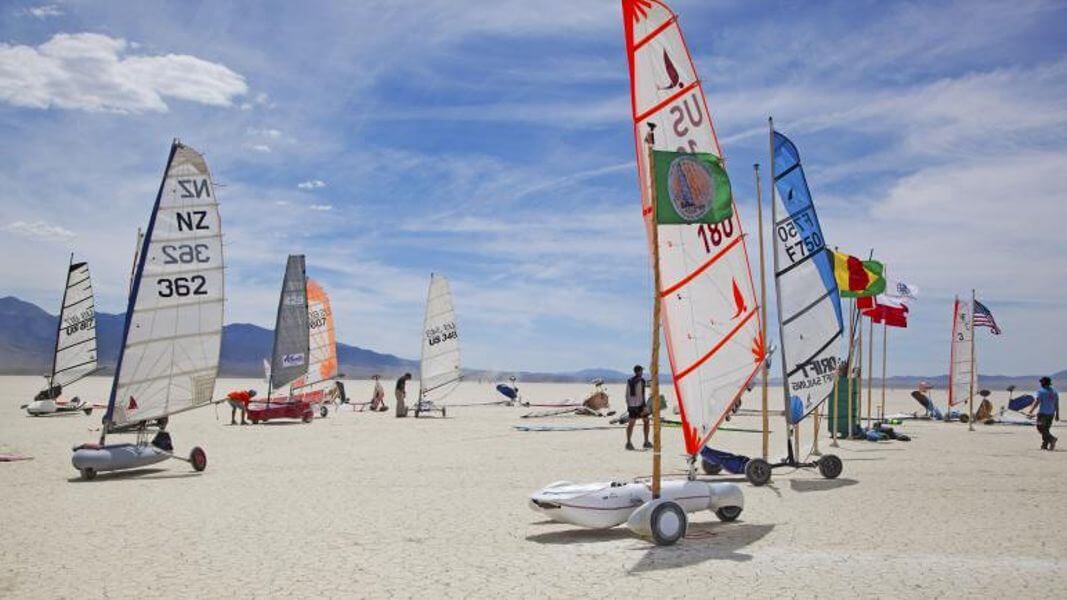 It was the middle of July on a dry lake bed, [aka playa] and I came prepared with several gallon jugs of water, my trusty misting fan, gobs of sunscreen and an appetite for adventure. Peeling onto the playa, I was immediately dazzled by mirage magic: across the dry lake bed on the horizon, the land yachts [or dirt boats] appeared as if they were actual sailboats perched atop a body of water. Difficult to capture on camera [due to a gargantuan dust cyclone my car concocted,] but so totally wonderful.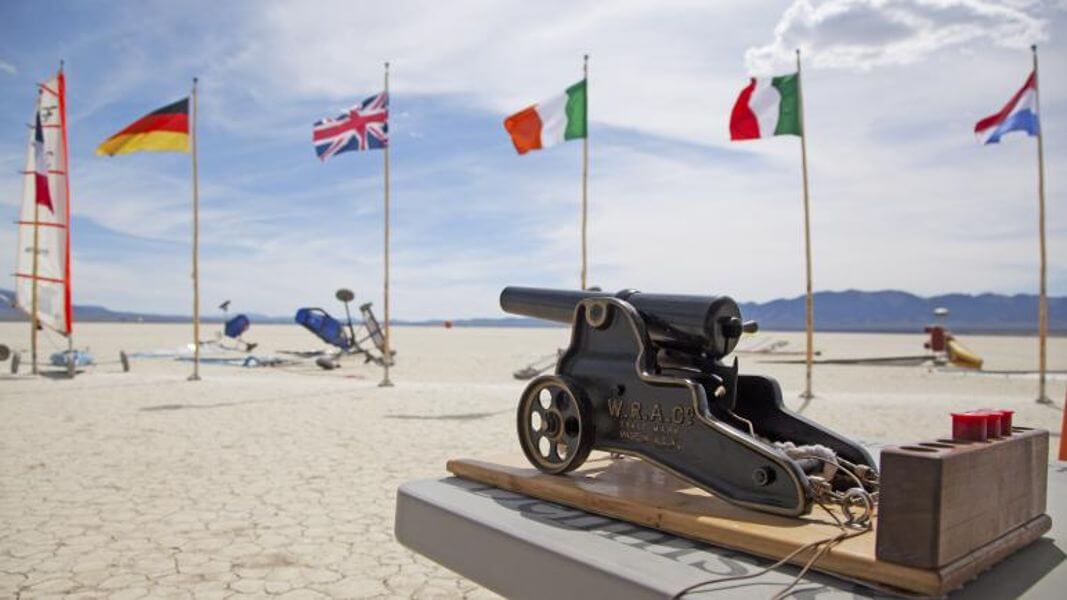 With an Olympic-esque vibe, the opening ceremonies kicked off just as you'd imagine. Globe trotting competitors hailed from Belgium, Brazil, Canada, Chile, Denmark, France, Germany, Great Britain, Ireland, Italy, Netherlands, New Zealand, Switzerland and the United States, each honoring their homeland by raising their flag and crooning their national anthems. While most of the countries blasted a track of their nation's anthem while raising their flag, one particularly moving scenario unfolded beautifully without a hitch. When a slight mixup with Chile's national anthem presented itself with no backup copy within reach, these four sailors spontaneously took it upon themselves to personally sing their entire anthem a cappella. Despite the fact that I couldn't interpret the lyrics, it was far from lost in translation; the eloquent, emotional delivery and heartfelt compassion the Chileans exuded was intense…I was gripping every impressive syllable. The entire audience exploded with applause, and from that point on, each country took it upon themselves to follow suit. Truly, when pray tell is the last time you've actually heard someone enthusiastically belt out a national anthem instead of a quiet indistinguishable murmur? It was absolutely incredible.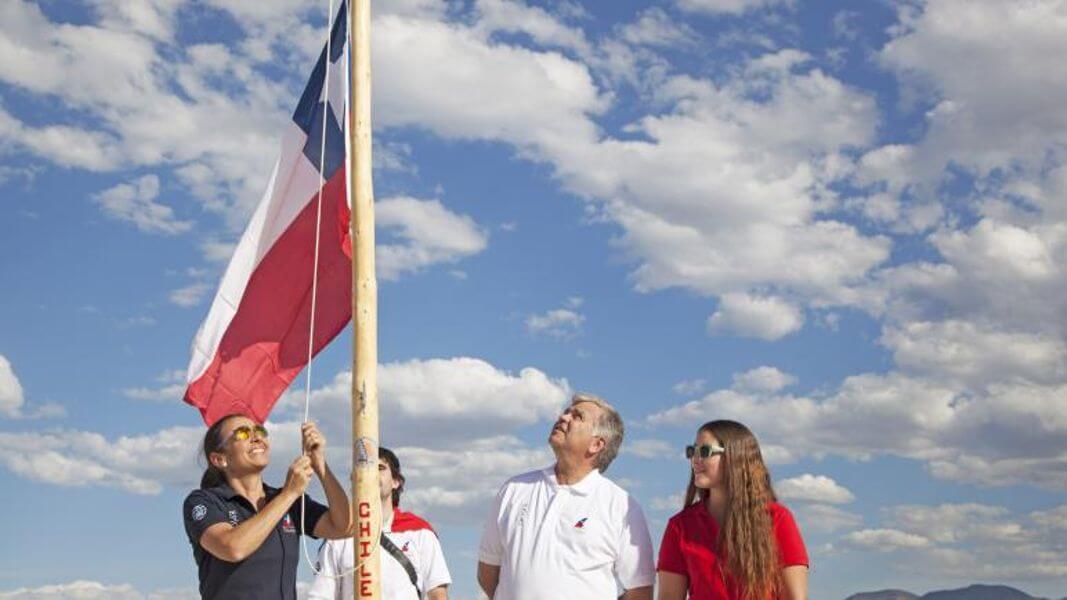 All 170 participants were there to compete, but the sense of community and kindness was overwhelming. Now that the formalities were over with, it was time to get dirty and rip that dry lake bed a new one. Not really understanding these land yachts had the capacity to reach upwards of 100 miles per hour, it was a true skill to pilot these massive crafts. Now all we needed was wind. So we waited. And waited, and waited.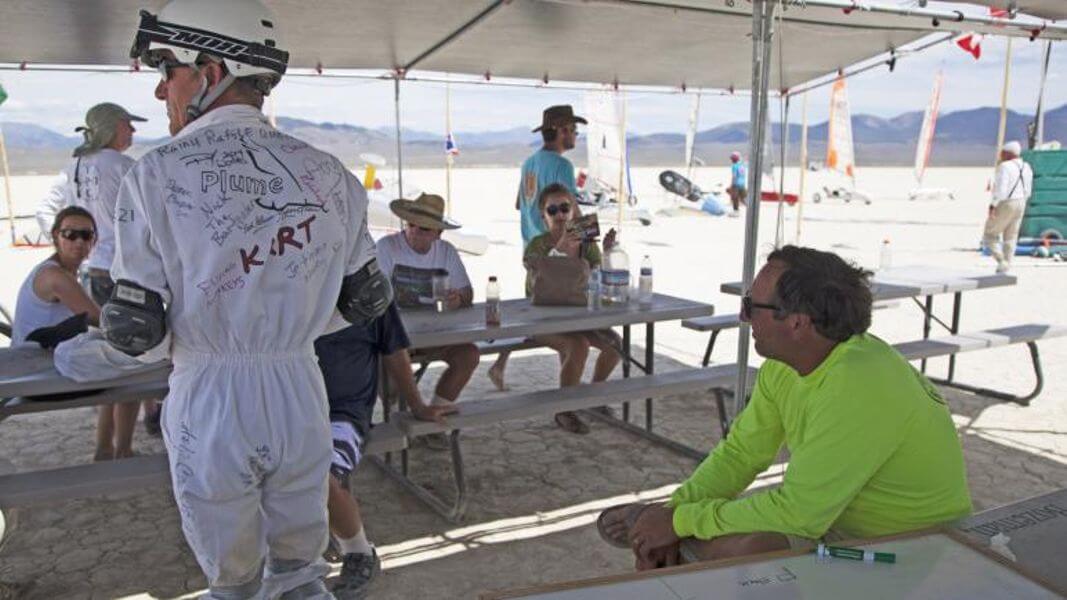 If you've never before ventured to the Silver State, just know this: we are basically the Saudi Arabia of wind, but being there on the Smith Creek Playa, I had never in my 17 years as a Nevada resident seen such a windless day. Go figure. So, checking in every hour to determine if there was enough wind to race, eight sweltering hours dragged on. With temperatures right around 100 degrees, the extra special thing about the playa surface is that it seems to radiate heat, making it feel about 10 degrees warmer. About half of the competitors in the camp rigged up enough solar panels to tune in the World Cup, while the rest of us squatted on some picnic tables and buckled down under some of the camp's sparse shade. Now if I could only mentally escape the heat and find my happy place.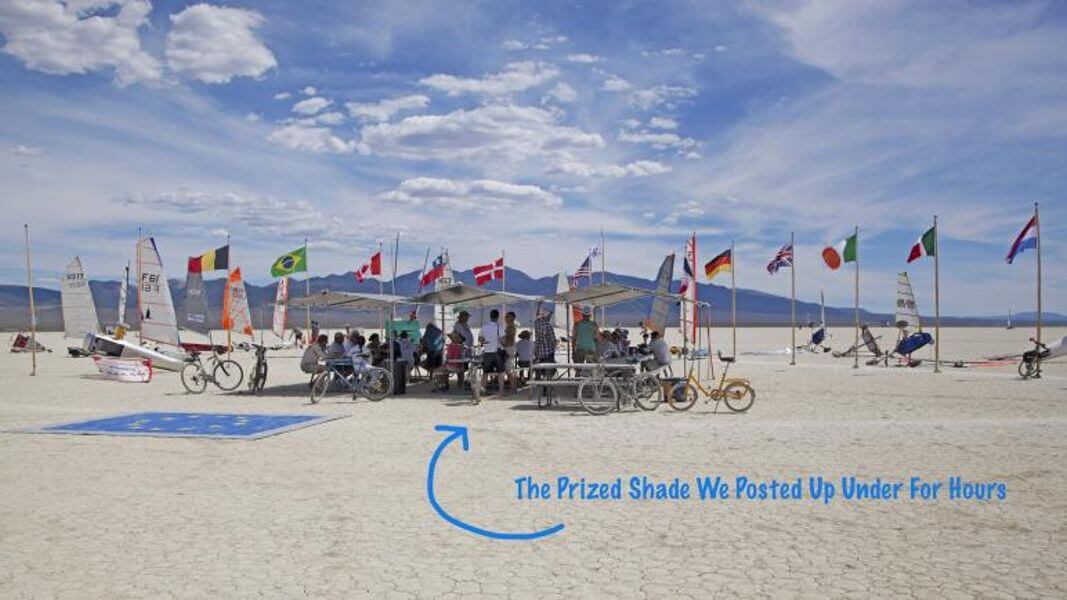 Making friends with some English-speaking Belgians, they commanded my attention for at least one broiling hour as I tried to explain what the beef jerky I was eating tasted like. Try to translate that one. The heat must've gotten to me as I had overlooked the critical fact that I had a misting fan in the car…bolting over there, I pulled that bottle trigger as fast as my little fingers would allow, burning through a half a bottle in 5 minutes. Remembering how I had pitched a fit about paying $8 for this was the most nonsensical thing I could think of—I was willing to fork over a Benjamin for another.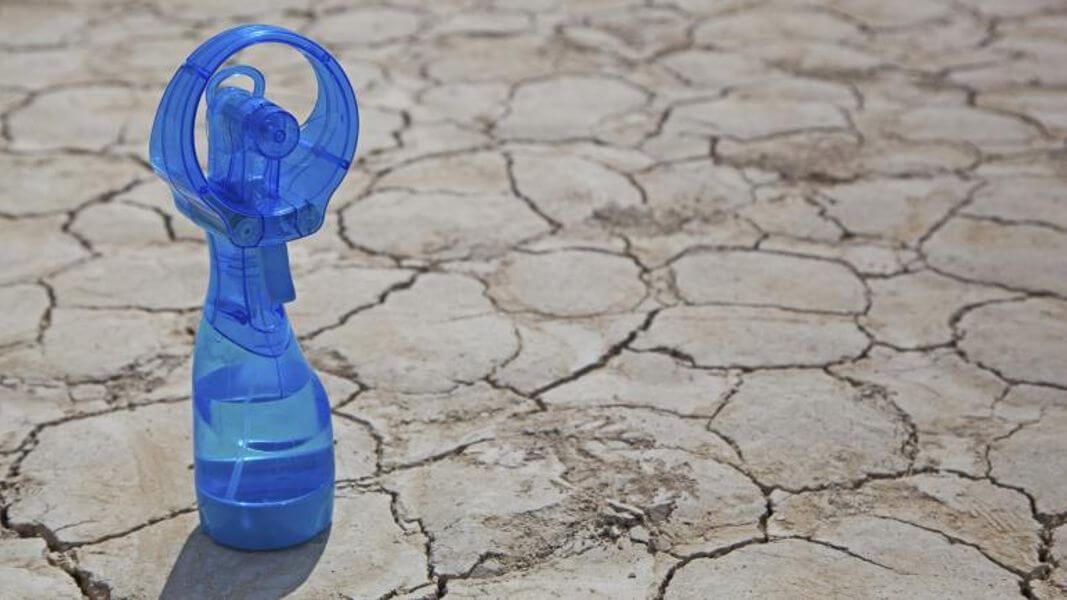 What a thing of beauty this marvelous tool was…I had found my happy place and was pretty much letting that freak flag fly. Like I was feasting on a steak dinner in the middle of the Donner Party, it didn't take long for this extraordinary little apparatus to command the attention of everyone around me. A few friendly faces made their way over to me and gestured for approval to use it themselves, and then bam it hit me: my opportunity to mingle with some worldly individuals was staring me straight in the face. I popped up and made my way around each table, asking or simply gesturing if each person wanted to partake in the magic this invigorating gadget divvied up. While some spoke English, it was so exciting to hear a different response, person to person. "Aaaaah, Danke!" or "Merci, Merci!" or "Prego, Grazie!" or my personal favorite: "I never thought I'd be asked if I wanted to be sprayed" in a thick Irish accent, delightfully sprang up around me. Being immersed so many cultures in one space was like no experience I've had in my lifetime, and so energizing.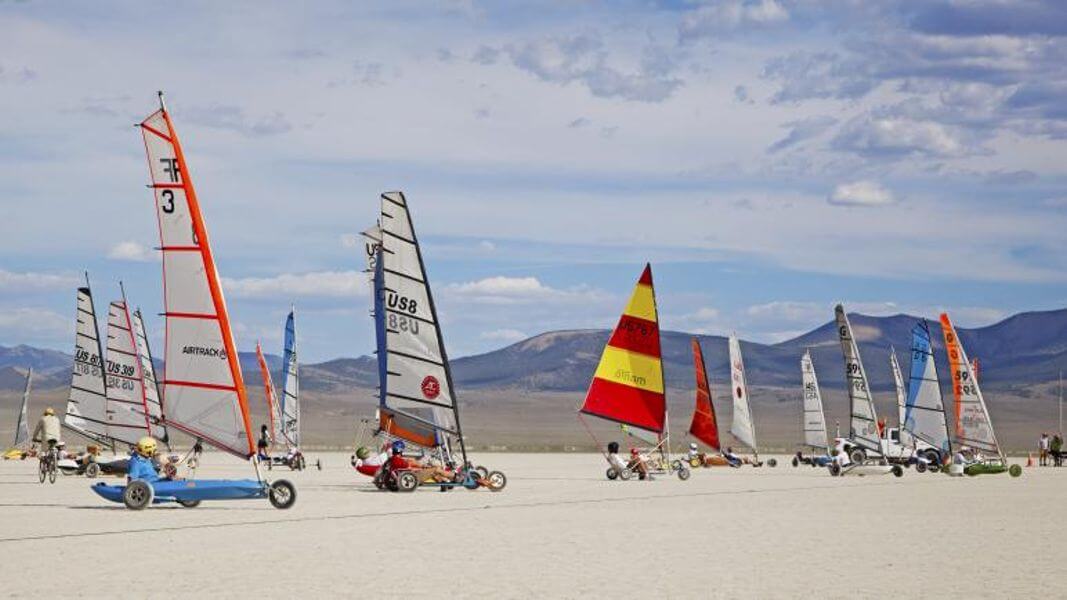 Now that I'd passed my hard-to-describe jerky around and misted the life back into an entire fleet of athletes, guess who decided to show up? The wind, baby. In a frantic scurry, each competitor strapped on their gear, sprinted to their land yacht, and with one huge running push, sailed off into the wild blue yonder. Talk about a something you couldn't possibly plan, something that could only occur at a particular time at a specific place. And what a satisfying, unforgettable memory it is—only in Nevada, right? #WeirdNevada
Get Inspired
Related Stories