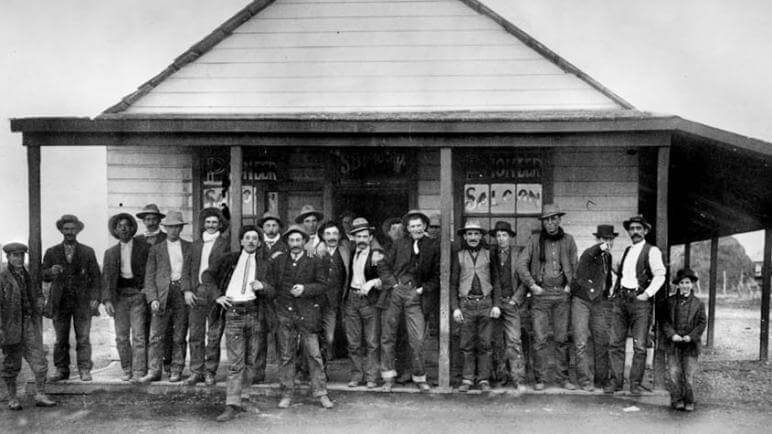 A Heartfelt Hunk of Nevada's Past, With A Side of Garlic
With a state larger than the entire UK, we've got a whole lot going on. Extraterrestrial alien land, the glitz and glam of the Strip, the hypnotically hued waters of Big Blue and of course, a whole lot of cowboy country. While there are massive amounts of other attention grabbing elements within all 110 thousand square miles of Nevada, we have an undeniable western vibe that we think most people have embraced. We are meat eaters through and through, hold the largest Cowboy Poetry Gathering in the country, and are completely swept up in all those wide open, still wide basin and ranges. With real cowboys stealing the show, one other culture has quietly lived on for generations.
Meet the Basque culture, guys. Pronounced just as if you'd want to bask in the gleaming Nevada sunshine, the irony is real because having learned about this fascinating culture, funny because all we want to do is bask in Basque culture. We're talking about the Basque Country: a region straddling France and Spain, the origin of a wave of immigrants to Nevada in the mid 19th century. If you visit Nevada, you will most certainly have an opportunity to roll around in the deliciousness of Basque foods and cocktails. You've heard the saying that "man can't get by on bread alone"…and if you're in Basque country—aka northern Nevada—that is astonishingly correct. Except for "bread alone", around here, you've gotta have a side of french fries, a heap of garlic everything, and liquor, lots of strong liquor.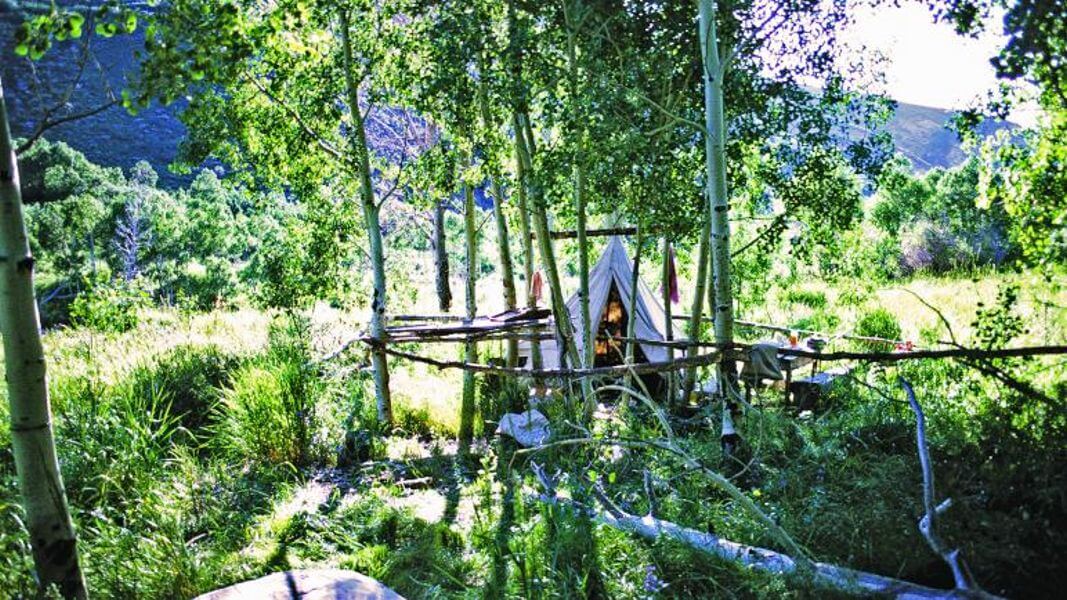 Claiming their stake in the American West, working the peaks and valleys between the Great Basin and Sierra ranges, Basques began immigrating to the U.S. from the French Pyrenees or Spain, mostly. Drawn to the country like many others during the 1860s, they had their eye on the American dream, in search of a better life for themselves. Here, in the United States, they embraced what they knew so well to earn a living— sheepherding—and created their own sheep empires with herds of up to 1,500 to earn their daily wages.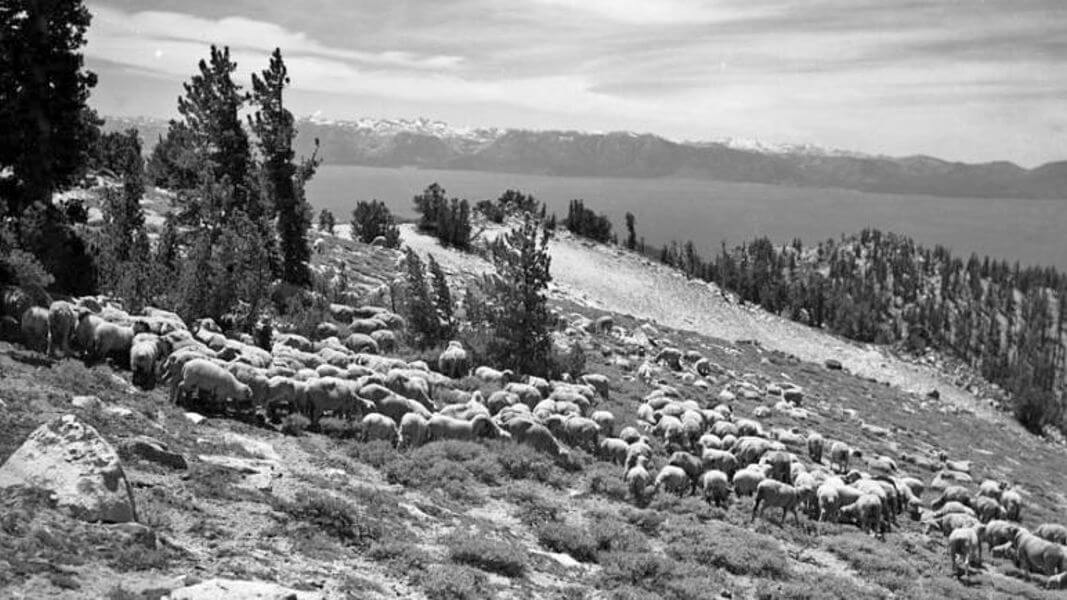 Conveniently, who else was pouring into the American West at this time? A whole rail line of prospectors. And what did they lack? Adequate winter wear and reliable nourishment. While the Basques had basically developed an airtight reputation of being crazy-dependable as sheepherders, they became even more trustworthy and relied upon by supplying wool and meat to the miners. While most Basques eventually returned back to their native lands, the Basques left a lasting impression on some places—Nevada is lucky to be one of them, and we're fully leaning into it.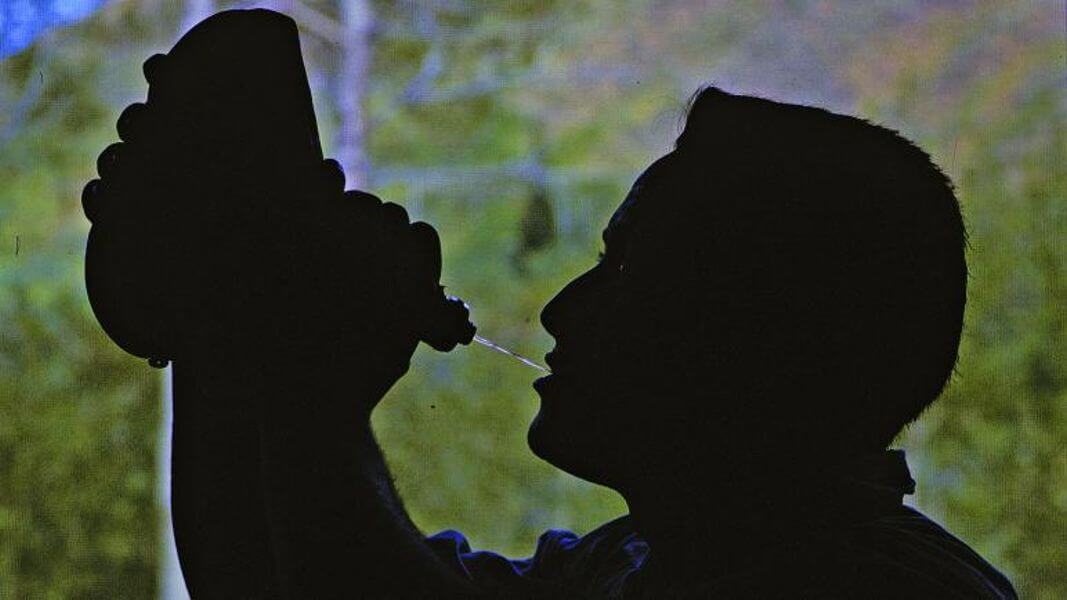 While they were tending to both their flocks and prospectors, Basque immigrants also opened several other businesses throughout the state to accommodate the Basques—overlands, or boardinghouses. These businesses popped up all over the state and region, creating a home-away-from-home sort of situation for Basque sheepherders. Here, they did everything communally—from bunking, to eating family-style together in hopes of combating the loneliness associated with leaving your homeland and working in most cases, alone in the Nevada mountains. Today, many of these overlands and boarding houses can still be found throughout northern Nevada where these men would've worked.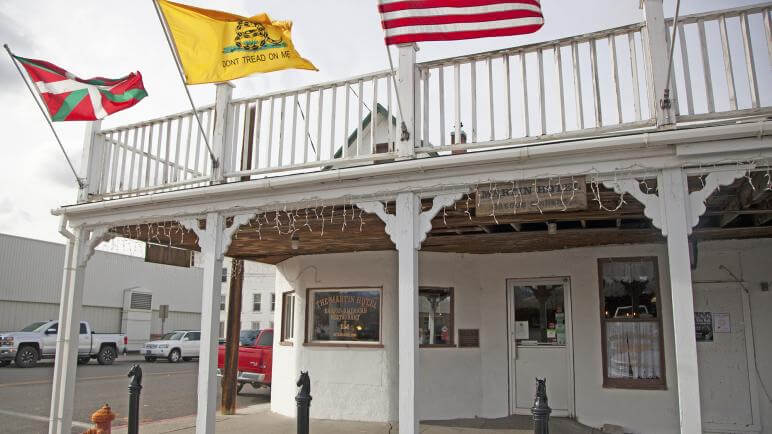 This magnetic culture is something you might not be aware of unless you just so happen to swing by one of these restaurants, and even then so, you might not fully understand the historical jackpot that awaits inside. This fascinating culture often times even slips under the noses of native Nevadans—but hey, hash it up to geography of gargantuan proportions, or the fact that many Bascos did in fact, return to their Sweet Promised Land.
Knowing this was certainly a piece of the Nevada puzzle, my interest went zero to a hundred when hiking Mt. Jefferson's Alta Toquima Wilderness—Nevada's fourth tallest peak. Rumored to have unbelievable tree carvings, I had hoped to spot some through the trek, and was lucky enough to spot TONS. In most of the aspen groves, there were arborglyphs dating back to the 20s and 30s, complete with gnarled symbols, shapes and names…clearly left by sheepherding Bascos keeping watch over their herd this enormous canyon. Perhaps these illustrations were done out of boredom or loneliness—regardless, they remain as one of the only records of Basque immigration and can be found throughout northern Nevada.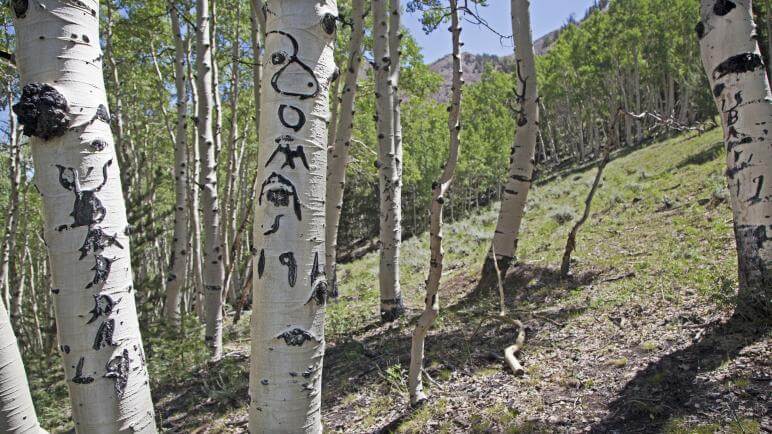 And, just like the arborglyphs that are peppered throughout Nevada's Great Basin., so are the maddeningly delicious, historic Basque overland restaurants. Though I'd been lucky enough to check out some of the big dogs—The Star, and The Martin—I was ready to embrace the last one on my list: JT Basque Bar & Dining Room in Gardnerville.
With a stomach still stretched out from my one-man-eating-competition a month prior, I wised up this go-around and brought another person. No sir, I will not strap on a bib or elastic pants on another Basque bender…this time I would savor this communal style meal, and bring another person to help me tackle it, too.
Walking up to this undeniably cool old building in a particularly charming downtown block of Gardnerville, we were ready to be wined and dined, and suddenly felt like we had almost traveled back in time as our footsteps echoed against the wooden boardwalks in front of J.T. Basque. It kinda sorta depends on where you are in the state along with who you're asking, but every Basque place claims to be the best. It's true, they all are the best in their own individual ways. By the looks of this place, this was going to be the "best in Nevada', too.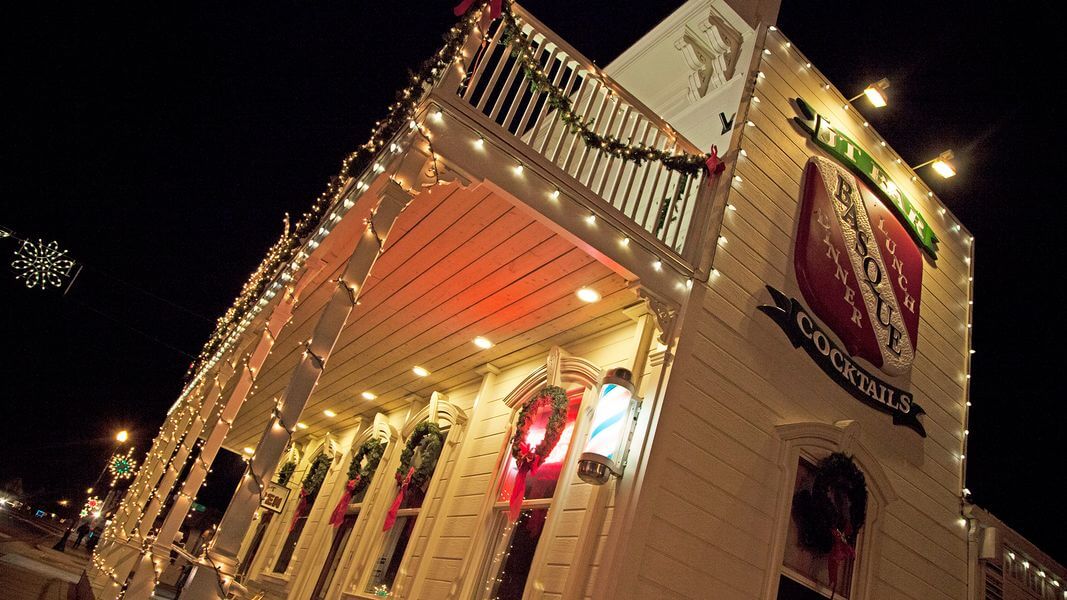 All the stepping back in time feels strengthened even more when the weathered wooden front door swung open to a whooping good old fashioned time. With every barstool filled along with packed bar tables, everyone was clearly having a damn good time. If we weren't already excited to test this place out, now we definitely were. Cutting through the crowd, countless dollar bills pinned to the ceiling caught my attention—another bullseye this place was sure to satisfy. It wasn't long before the maître d' spotted us and corralled us in one of the only remaining two toppers in the fun and boisterous dining room.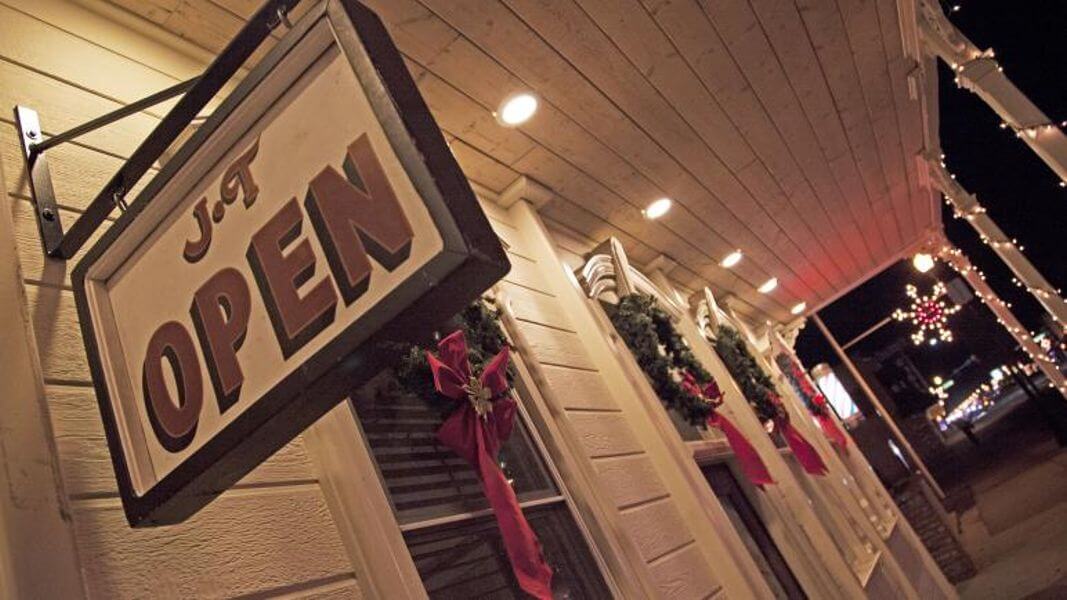 She didn't leave us with any menus, and there wasn't going to be one—it was all pre-set with a bazillion mouthwatering courses, and we would get our choice of the main entree. A simple, yet enjoyably personal facet of Basque dining that broke up the routine of a conventional restaurant that I soo enjoyed.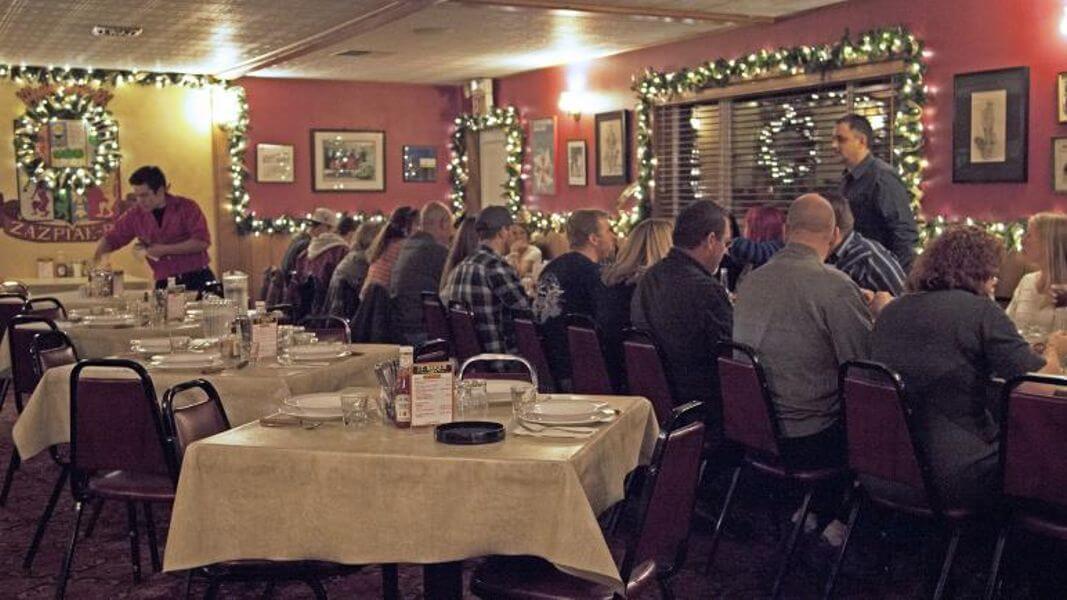 Before long our waiter made his way over to deliver the usual bottle of red table wine that always comes with your Basque meal, and our first two courses: soup and bread. Instantly, he cast a culinary spell over us by rattling off options for our main course: top sirloin steak, lamb shoulder steak, Basque chicken, sweetbreads, pigs feet with tripe, lamb chops, shrimp scampi or roasted rabbit. The gang's all here—this was your tried-and-true Basque lineup, just about as authentic as it gets.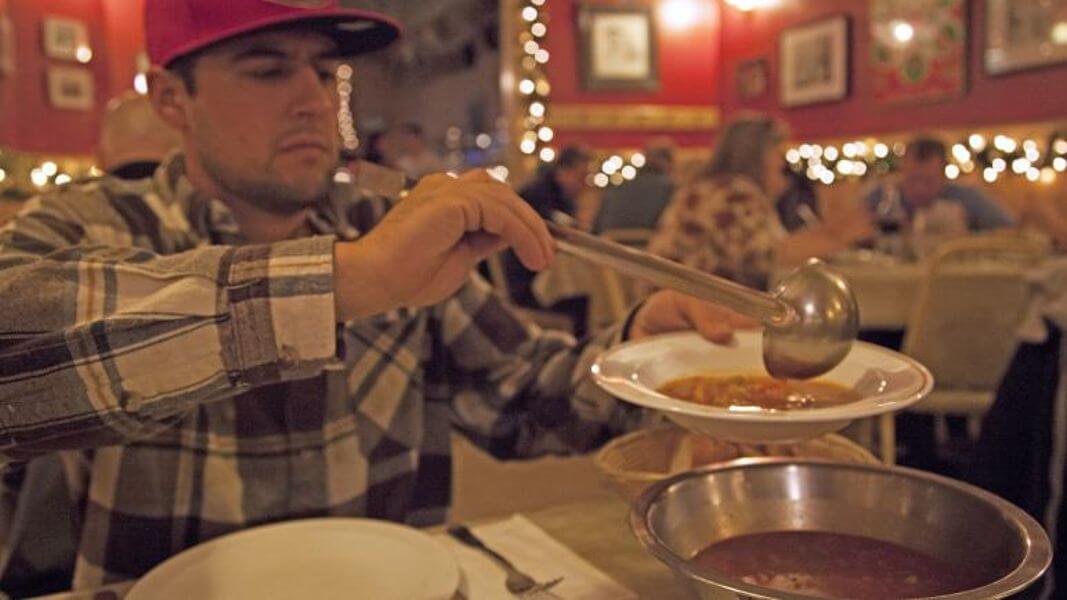 With our decisions made—steak with garlic and shrimp scampi—the only thing left to get this party started was to indulge in some real Basque cocktails. The bases were loaded with three integral classics: the Picon Punch, the Kalimoxto, and the High Ball. Having had a Picon Punch just a month earlier—hands down, the most significantly important and well known of the three—I thought I'd opt for the dangerously delicious Kalimoxto [or cal-ee-MO-cho] this go around. Besides, I already had half the ingredients on the table, now I just needed a cola. Yep, it's a cocktail made with two simple ingredients: red wine and Coke. If this is wrong, I just don't want to be right.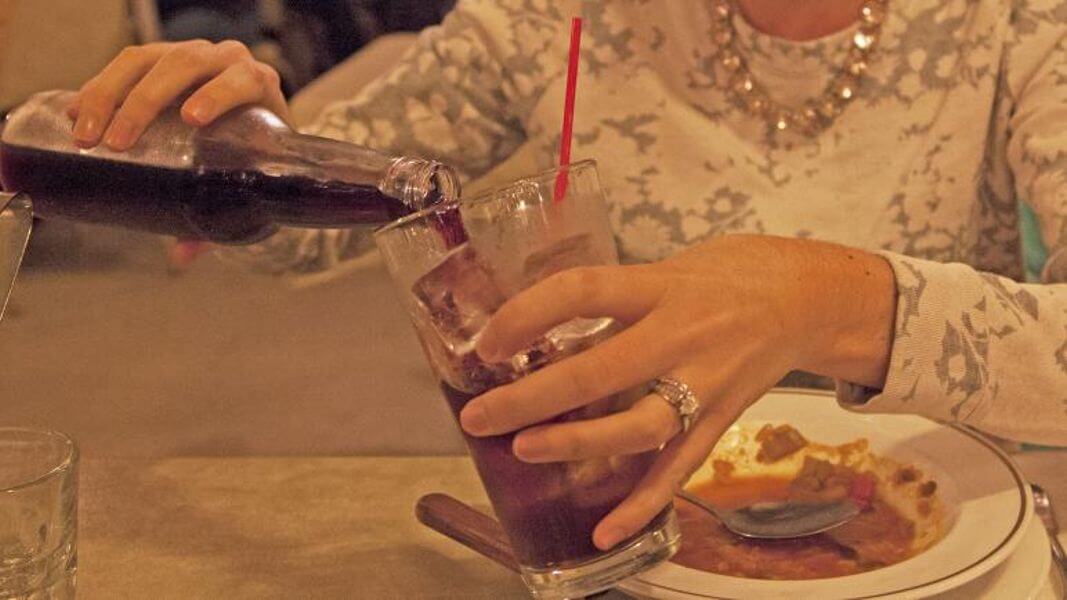 While my cocktail choice was an easy one, my dinner date to his guns and got the good ol' Picon—pretty much as traditional as it gets with this tried and true gem, straight from the old country. The main ingredient? Mostly booze, an orange flavored liquer called Torani Amer. If you imbibe remember one little quintessential rule: 1 is just not enough and 3 is too many. With each Basque restaurant making their own mark on the drink—at The Martin, it's stirred 13 times—we were excited to see the J.T.'s twist on this Nevada icon. After all, this is the unnofficial state drink of Nevada. Surprised to see it arrive in any glass other than a Picon glass, we liked it…straight to the punch in a no-BS kind of way that was unwaveringly delicious. I got my cola, whipped up my own drink, and now we were really ready to roll up our sleeves and get down and dirty on some Basque delights.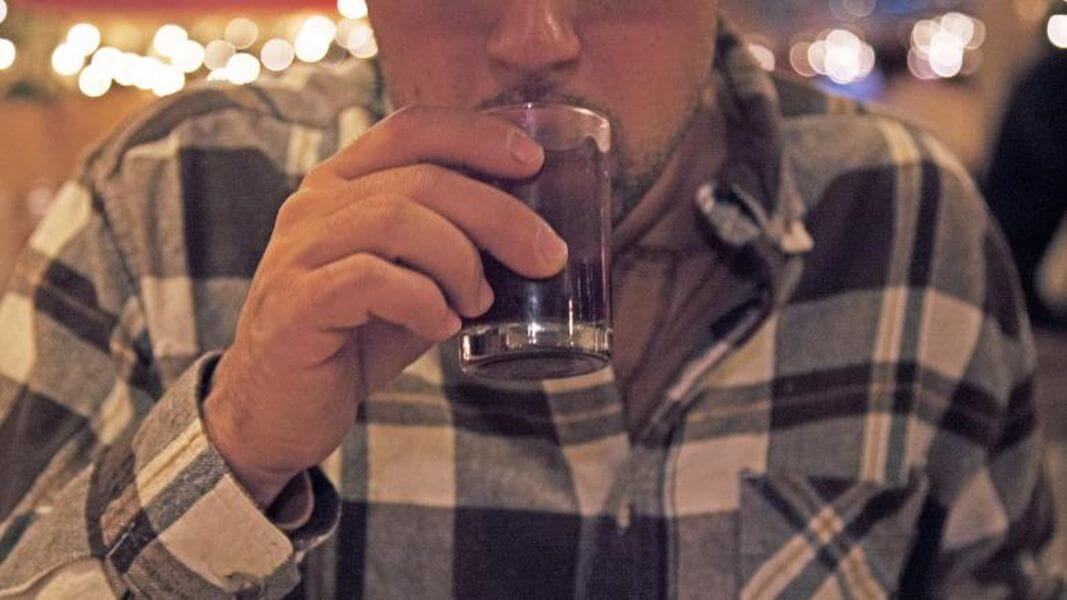 With the soup and salad down the hatch, our server promptly delivered the next course: beef stew, beans and salad. Each course seemed to be better than the one before. The soup was seasoned to perfection and had the right amount of heartiness, the bread was soft and delicious, and the beef stew was tender and flavorful…all of which tasted amazingly good on a brisk winter night. And the salad?! TravelNevada PRO TIP: Be sure to combine the beans with the salad. Crispy greens offset by the salty perfection of pinto beans? It's making my mouth water right this second, just thinking about it.
It wasn't long before we'd had all five courses in the books and were presented with our entrées, and the sixth course: french fries. All of the food is plain and simple…it follows the tradition of the original meals served in these storied boardinghouses, and to be honest, why mess with that anyway? That being said, I'm not sure where the french fries course came in as it doesn't exactly seem on par with the rest of the cuisine, but if I had to guess it's probably because it's flipping delish. The french fry course is always the favorite for me…because who doesn't like a gigantic plate of friends with their entrée??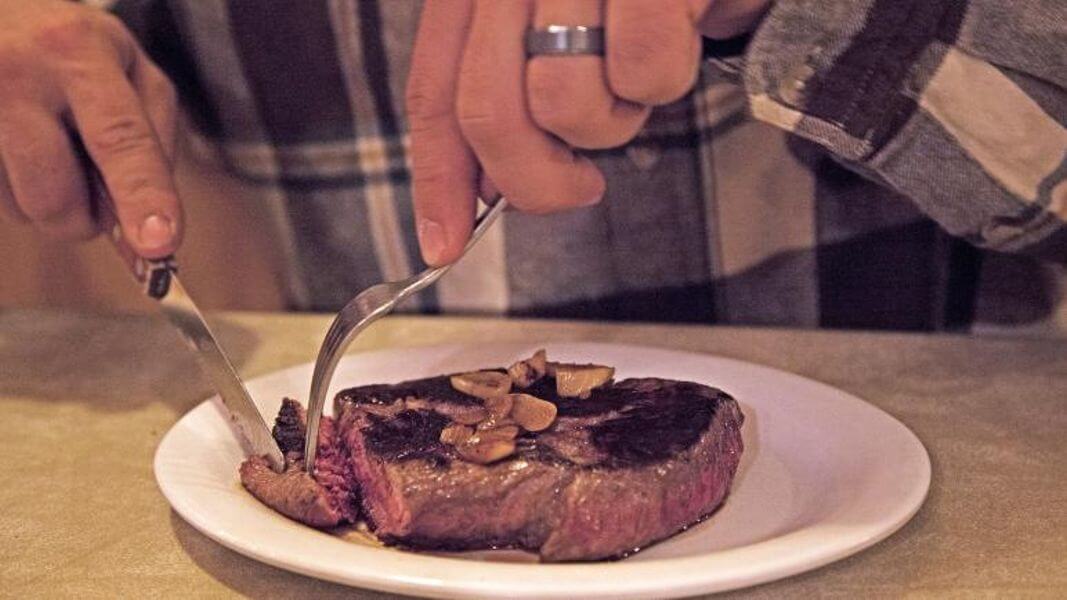 Yowza. The entrée's were off-the-charts tasty. True to Basque form, everything was loaded down with gobs of garlic…just the way I like it. The scampi was crazy-delicious, but the steak, covered with practically an entire clove of garlic, is what stole the show. If you've never been to a Basque restaurant, you just can't go wrong with a steak.
We polished off our scrumptious entrees with gratifying ease, and were quickly presented with the two remaining courses of coffee and ice cream—dessert and coffee is also usually included in most Basque family-style meals. With a sense of contentment I'd been out of touch with for years, we HAD to find out the story behind the hats and dollar bills in the bar. Plus, we wanted to be part of all that good energy in there, too.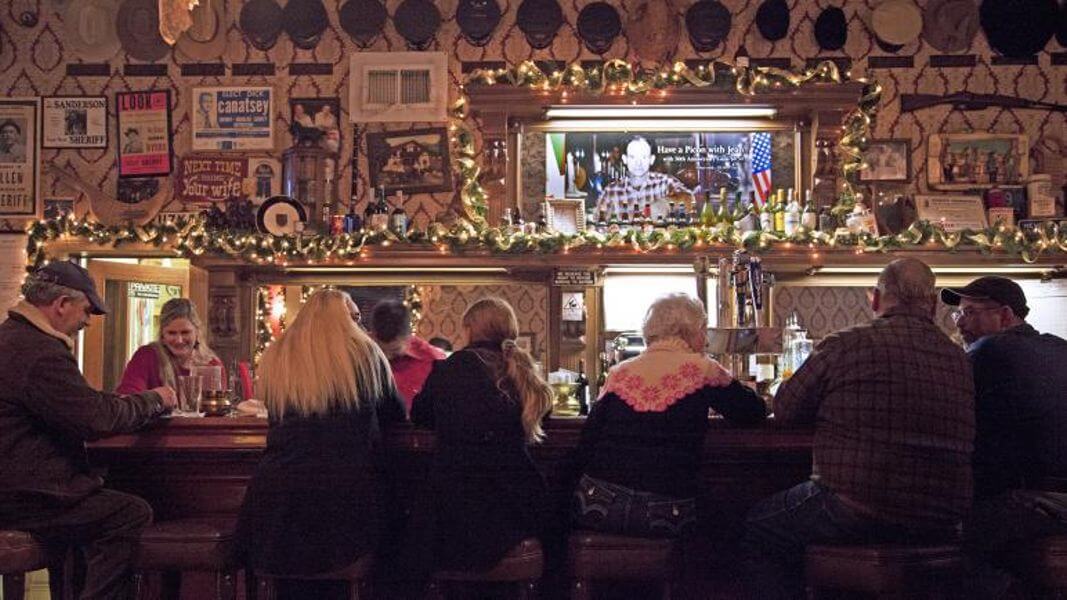 Unable to lock down some bar side seats, we went for the next best thing: a bar table right next to the jukebox. About ready to flip a coin over my next libation, I remembered another Nevada-style cocktail I had to order, something that was in just about every buckaroo's hand at The Star: The Highball. What was it about this drink that has everyone coming back for more? Was it a cultural thing? Was it just downright tasty? Maybe the Highball's popularity was related to its name, derived from a signal used in the 1800s on the American railroad. If a ball was raised high on a signal post that meant the train could drive through at speed. With a highball, you could get somewhere fast. With a Highball cocktail, you could get on your way to loosening up fast.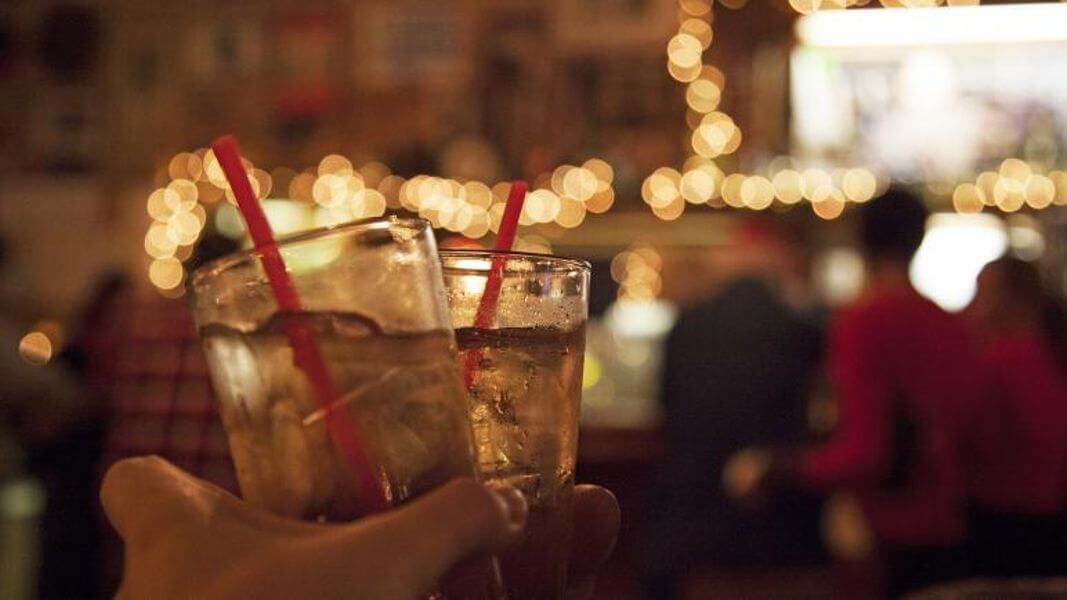 Five minutes spent in this rambunctious bar seemed like the best five minutes of my life. We were comfortably full, surrounded by good people, and sipping on some liquid heaven…talk about having a ball. Everyone seemed to know each other, with one person as the common denominator. As I watched a cheerful woman energetically bounce around the bar—it became hard to ignore her, especially when she popped over to the jukebox to lineup more tunes.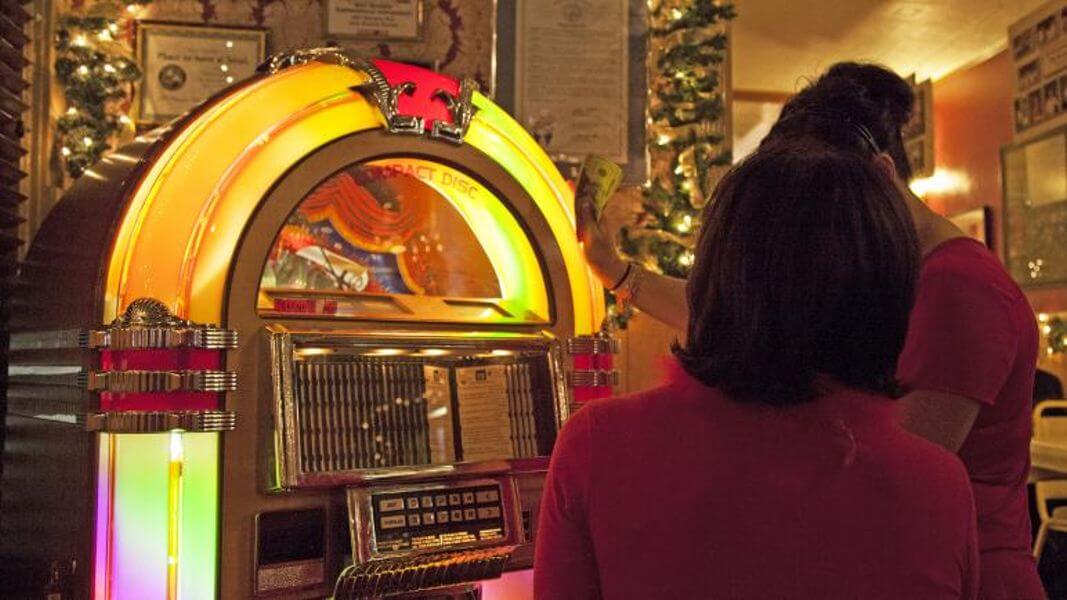 We said hello to her and immediately, she pulled up a chair. It soon became clear why everyone knew and loved her: she was the owner! Perfect timing, considering I had an itch that needed to be scratched…I must know the history behind this ultra cool establishment. And boy did she lay it on me. She told us how the JT was originally moved from Virginia City (world-renowned silver mining mecca just up the road) to Gardnerville in 1896 and opened up for business as a Basque restaurant later that year.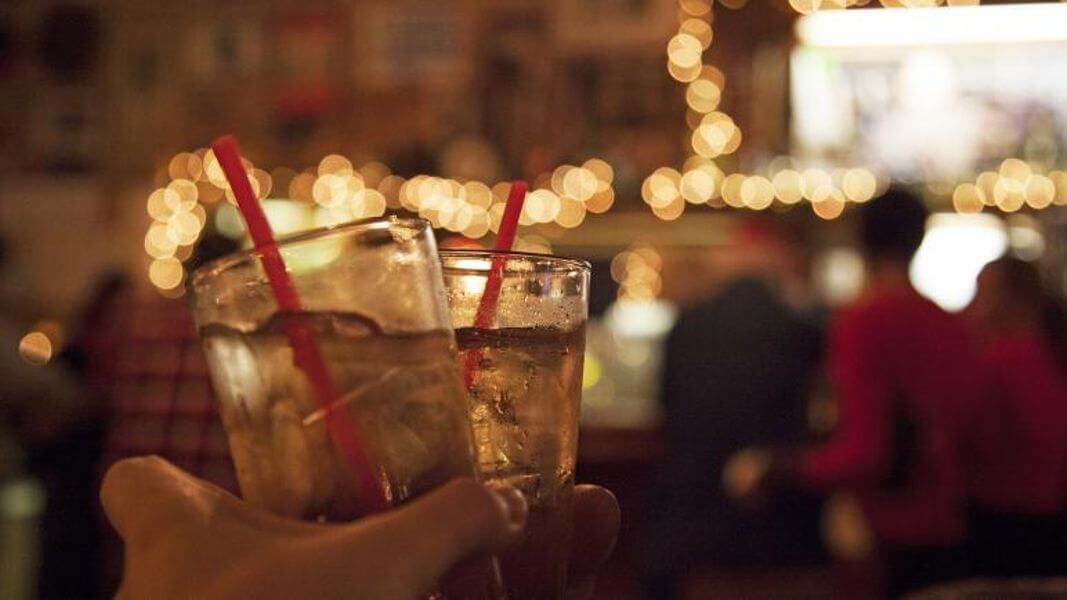 Named JT after the Jaunsara and the Trounday families, it was changed hands in the 60s after another Basco—Jean Lekumberry—bought it. His daughter, Mary Louise, is also of course 100% Basque, and resident historian. Could this night get any better?! We asked her for the story behind the dollar bills and hats lining the walls, and it all began when one day, a man showed off his fancy bar trick making a dollar bill stick to the ceiling. Mary Louise's brother picked up on the secret of this kitschy trick, challenging people to do it in the decades since. As for the secret in getting them to stick? You'll just have to go there yourself and give it a go for yourself.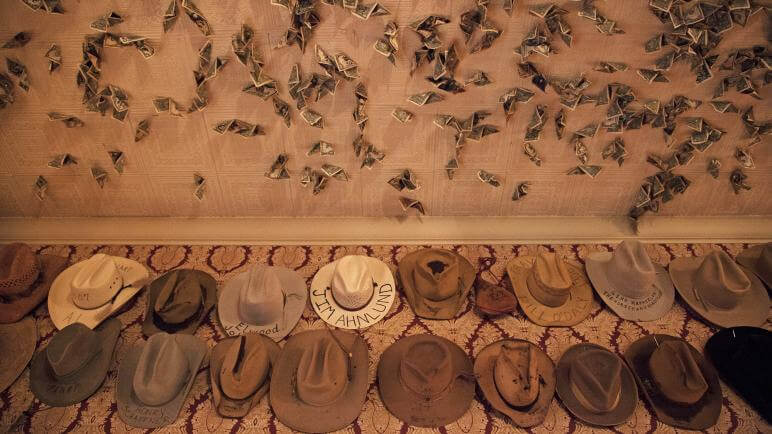 As for the hats lining the walls, that came from an old, local Basco who would come to the bar each afternoon, escaping the mundane day-to-day routine with a Picon or two. Eventually, he developed the playful habit of purposely leave his hat behind so he'd have to turn around and go back for it….buying him more time at his favorite bar. As this became a regular habit Jean Lekumberry started hanging it on the wall, Gardnerville was, and still is a small community. Before long, everyone knew whose hat it was and wanted to know why their hats couldn't be on the wall too. One thing led to another, and now the place is covered in hats—super-cool, lived in hats, each with their own stories to tell, mind you. With Basque names written on some Buckaroo flat hats, a big bunch of military style caps, and the tried and true cowboy hat, it definitely made for some fun conversation, and was in itself a unique way to flip through history.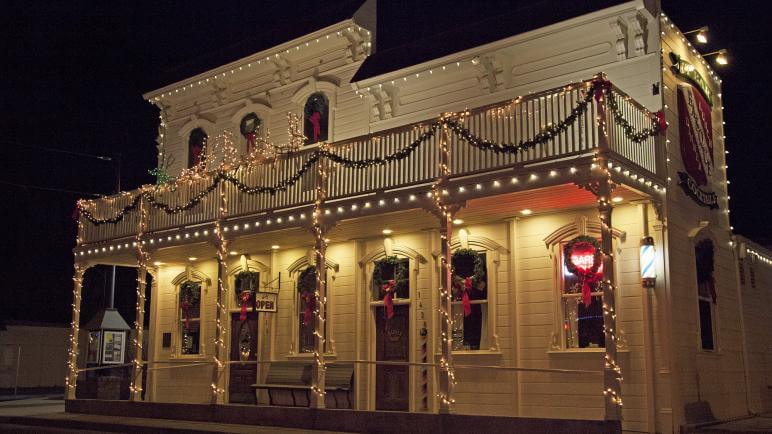 Marie Louise explained that it was very important that her family maintains a reputation of having a restaurant where everyone felt welcomed and satisfied, and good grief, are they masters of their trade. Sometimes outsiders aren't so sincerly welcomed in a local hangout, but that couldn't have been more the opposite at the JT. The food and drinks lived up to their reputation of being unbelievably delicious, the unavoidable history was so fun to learn, and combined with the the best Wild West vibes, concocted an experience most people can't resist. The whole-hearted, sincerity and candor the JT presented was truly what satisfied me the most. Talk about wanting to make you kick off your boots and stay a while. #NVEats
Get Inspired
Related Stories