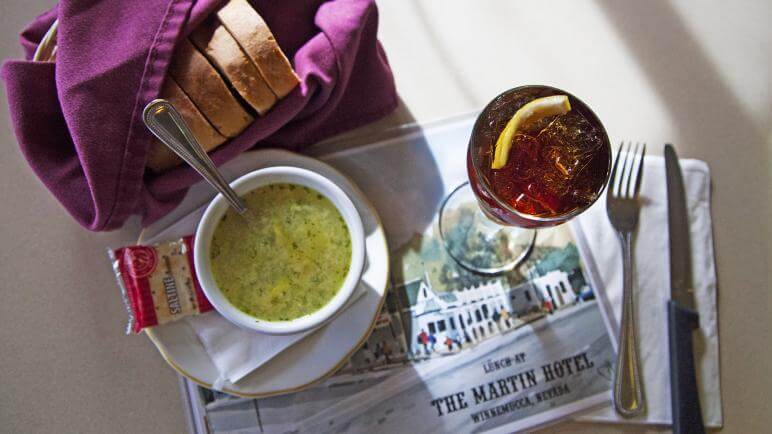 Binging On Basque With Some Real Buckaroos
It was a mighty fine Friday morning as I departed Reno in hot pursuit of some delish Basque fare…a few handsome cowboys wouldn't hurt either. Keyed up to get the heck out of dodge, I mapped my solo jaunt, planning a weekend trek to Winnemucca and Elko along Nevada's Cowboy Corridor before flipping a u-ey to return home. Having tried all the Basque spots close to home, it was time to get serious and visit the two other state icons in north central Nevada. With a recipe for an already amazing weekend, throw a hot springs in the mix and now this was a trip I just couldn't fight.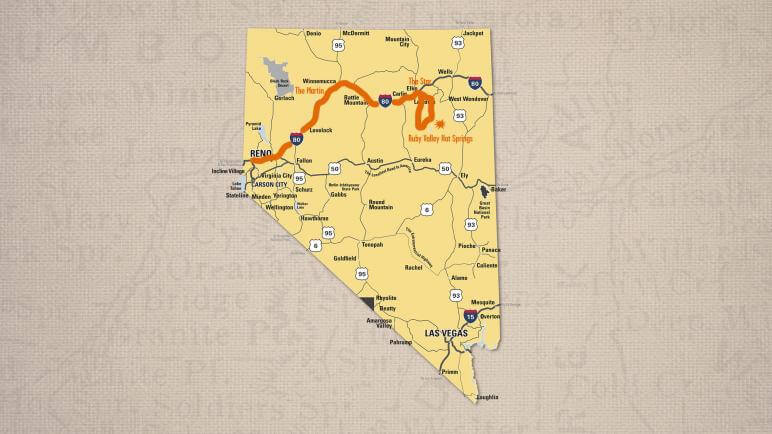 Although it was the end of November and a soberingly brisk day, the skies were clear, the sun was shining and I could finally drop it into fifth gear and get out on the open road. Drinking in one expansive valley after another some people see desolate nothingness, but as one basin connects to the next, it's almost like another phase of my mind unlocked along with it. Already I could breathe a little more deeply.
A truck stop presented itself in between Lovelock and Winnemucca right in the knick of time [thanks a lot, extra large coffee] and, as a fun surprise on my way out of there, a photo op hollered at me. I mean, with a sign like "Entering Puckerbrush Nevada, Population 28" how could you seriously just keep driving? Posing for about 45 gazillion selfies it took me a minute to notice a guy had been watching me from his car…who had seen the whole thing go down. Awesome. Hope he enjoyed the show!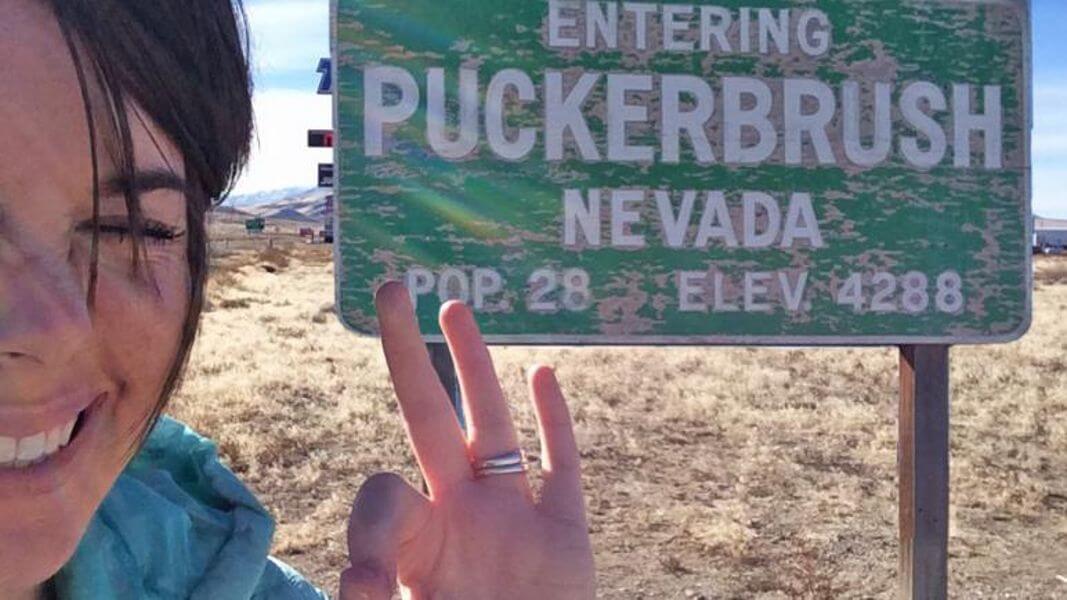 Less than an hour later I was in Winnemucca with a famishment I hadn't experienced in a while, but lucky for me, a legendary Basque lunch awaited me at The Martin. Doing my best to keep it under 25 while pulling through main, I was taken aback with what a cool town Winnemucca truly was. Considering I-80 wraps around the edge of the city instead of through it, I'd never really had a good solid excuse to check out the center of town…until now of course.
The best surprise was to see Johnny Cash's interpretation of the situation was dead wrong. Yes, I had crossed the desert [it's bare man] and breathed the mountain air [man,] but there was not a one person totin' a pack along a dusty Winnemucca Road. Instead, I saw things like electrifying lodging and dining, a fascinatingly old cemetery and timeless western vibe that was impossible to refuse. I had a feeling I was about to dip a big toe into my first taste of cowboy country, and was all over it.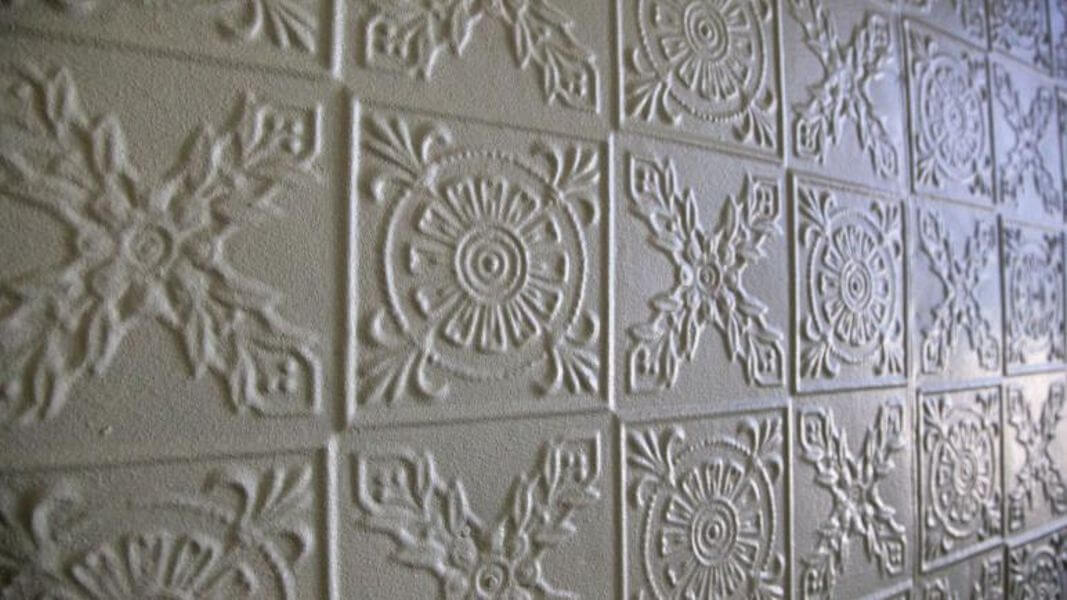 This was totally confirmed with one look at The Martin's parking lot as I parked my puny Rav-4 next to a row of gleaming, chromed out, American-made pickup trucks stacked 20 deep. Lets do this, Martin, spread your Basque-American deliciousness on thick. Inside, every expectation of an iconic 1890s vintage restaurant came to life: it was a delicious sensory and textural overload. Originally serving as a boardinghouse for Basque sheepherders in the region, the place was designed to cater to communal living and exemplify a home away from home. My initial hunger pains dissipated almost immediately as the original sinks near the restrooms, along with the authentic tin tile walls had me in a tizzy. Even 50-year-old hunting pools commanded my attention, especially with contenders named Etcheverry, Uriguen, Laucirica and McEachron. Can you say super Basque? Confirmed authenticity and I hadn't even had one bite.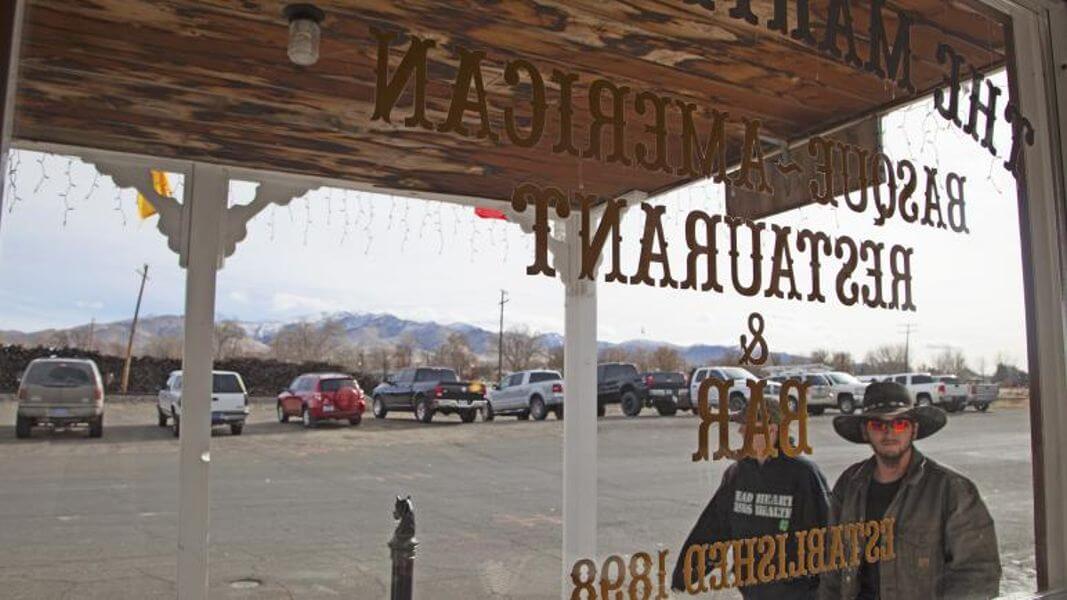 Settling on a window seat at the bar, I truly enjoyed watching the place explode with rowdiness as lunchtime neared. I'd never enjoyed garlic soup, but heck yes I wanted to try it. Let's just start and end with the fact that it was bomb. Yes, yes and more yes. While I so badly wanted to say "Picon Please" and indulge in the most traditional of Basque drinks, I still had a long way to travel and had to settle for another amber hued beverage…iced tea. Groan.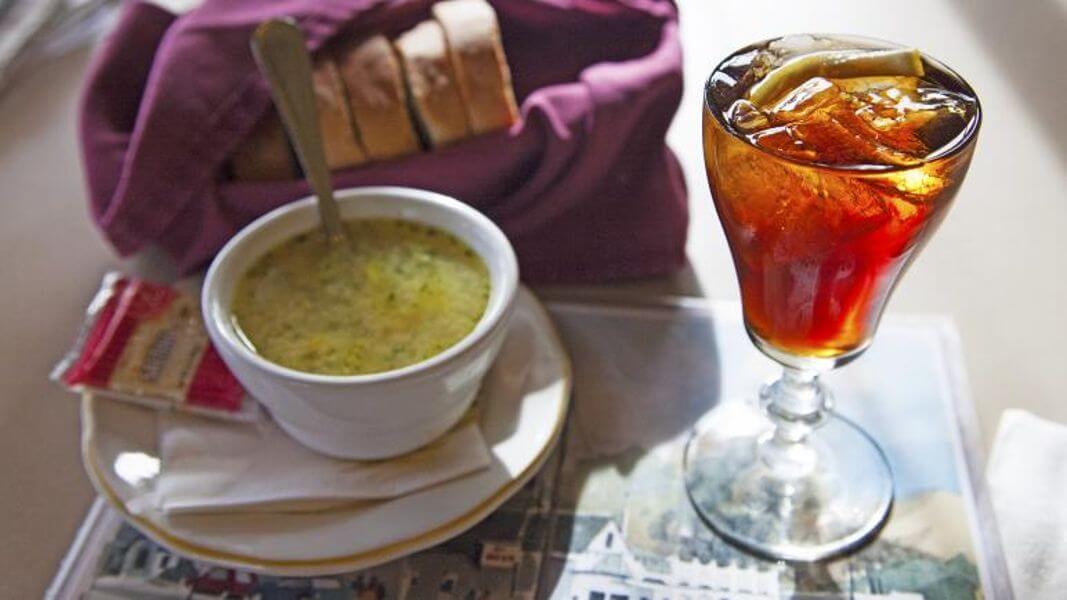 While I could have rubbed elbows with the locals and devoted myself to learning every last shred of history at The Martin, I needed to get back on the road to Elko. After all, I had some serious shopping to do and another Basque eatery to check out. The good news was, if this was my first stop, I'd say the trip was looking pretty dang good. Still about 130 miles out, I snaked my way across Nevada's north central sea of sagebrush and made it to Elko in record time.
With a rugged, no frill sort of a landscape and downtown area, and Elko's western influence became unmistakably obvious as I weaved through town. Although it was originally founded as a result of the railroad and is presently considered the emperor of Nevada's goldbelt, it's rough and tumble, working class vibe was a no-brainer. Each downtown storefront emanated a 1950ish sort of feeling, which was oddly comforting in a lot of ways. Something I cant put my finger on made me feel welcome in a town I'd never been to.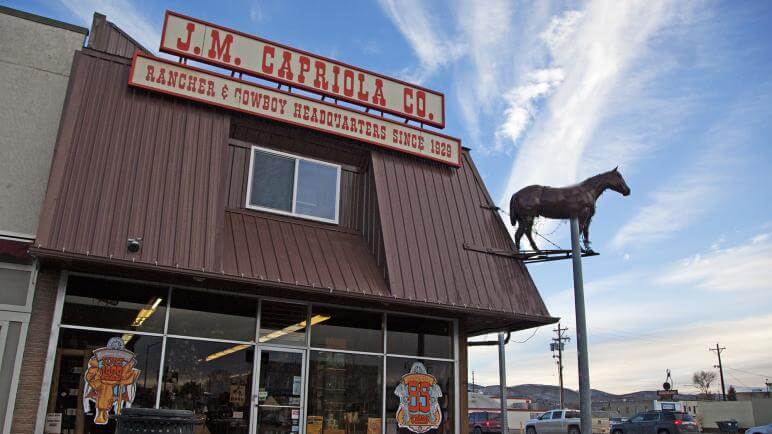 Fighting the urge to hit up every last shop, I settled on the mother lode of all western stores: none other than the legendary J.M. Capriola's. Outfitting Hollywood stars and more interestingly, cowboys and ranchers who are the real deal, wanting to check this off the list was the understatement of the millennia. As the unmatched, pungent aroma of finely made leather goods filled my nostrils and everything in sight glistened in shiny perfection, J.M. Capriola's was already batting a thousand. I was on retail overload and ready to pop some tags until I discovered their upstairs museum…and Armando, commander of all things leather. While I thought I was enchanted by the retail and historical end of things, I was completely spellbound by the confident twirl of Armando's hand as I watched him manipulate his tool freehand, crafting the most impeccable custom leather goods under the sun. Talk about artistry that's basically lost…or maybe just hidden in the heart of Elko. This place completely exceeded every expectation, but yikes, I had to get out of here before I drained every last cent in my bank account.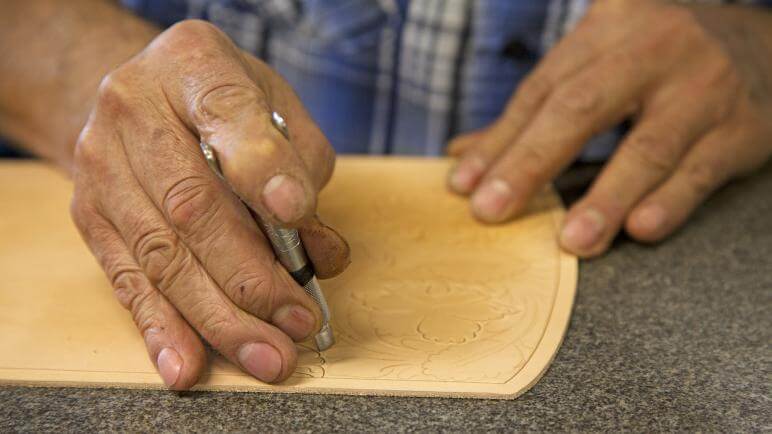 With the Stockmen's in walking distance, lugged my bags across the street, checked in to my lavishly comfy room for the night and kicked up my boots before heading out for my second Basque meal for the day. I definitely don't consider myself to be a foodie or marathon eater of any sorts, and had a sneaky suspicion I needed to get my head in the game for the gargantuan meal I was about to face.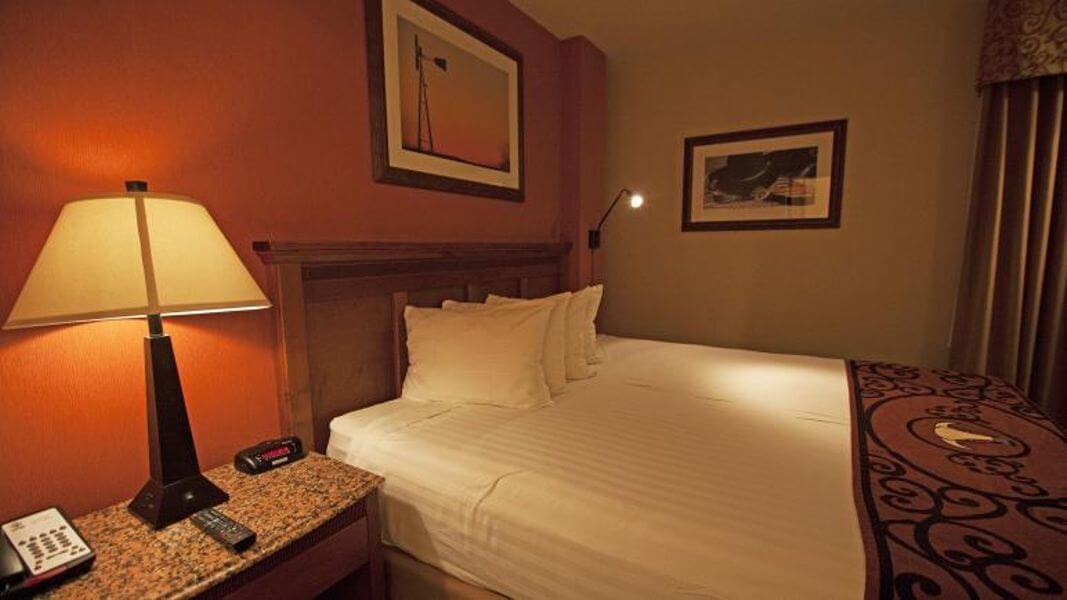 Sliding into my loosest fitting pants, I was pumped to see The Star was just behind the Stockmen's. Considering I was chomping at the bit to get my hands on some Picon Punch [aka straight alcohol,] the fact that it was walkable was a double bonus. I weaseled out of the family-style dining at lunch, but now? Now I had to face the facts and figure out how the heck was going to get through a communal meal alone. "Dinner for one please," I said as the waitress kindly seated me with a you don't know what you're in for expression on her face. Oh boy.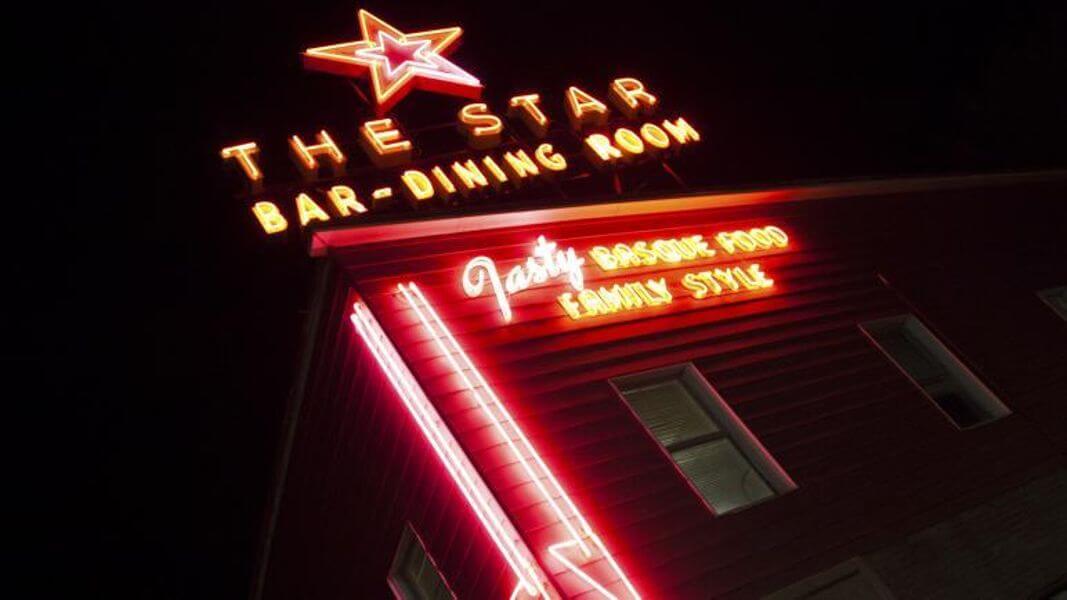 It was pretty tough to choose between a filet and sauteed shrimp, but I mentally ro-sham-boed for the latter. And then the brigade of food kept coming…and coming…and coming. Just like a bunch of bears tumbling out of the back of a Ford Pinto at the circus, it was actually pretty hilarious. The world's largest single-man eating competition had begun and, as a petite lady who can normally get by on one meal a day, I was totally screwed. In order of courses, they brought out soup, salad, bread [a loaf of it mind you,] pinto and kidney beans. I was consoled to see the waitress deliver my main entrée and thought this smorgasbord was about to come to a close…but couldn't have been more incorrect, as another guy followed her out of the kitchen to present french fries, spaghetti and green beans. Forget the loose fitting jeans, I needed elastic sweatpants and a handcart to roll me out of this Basque bender of a day.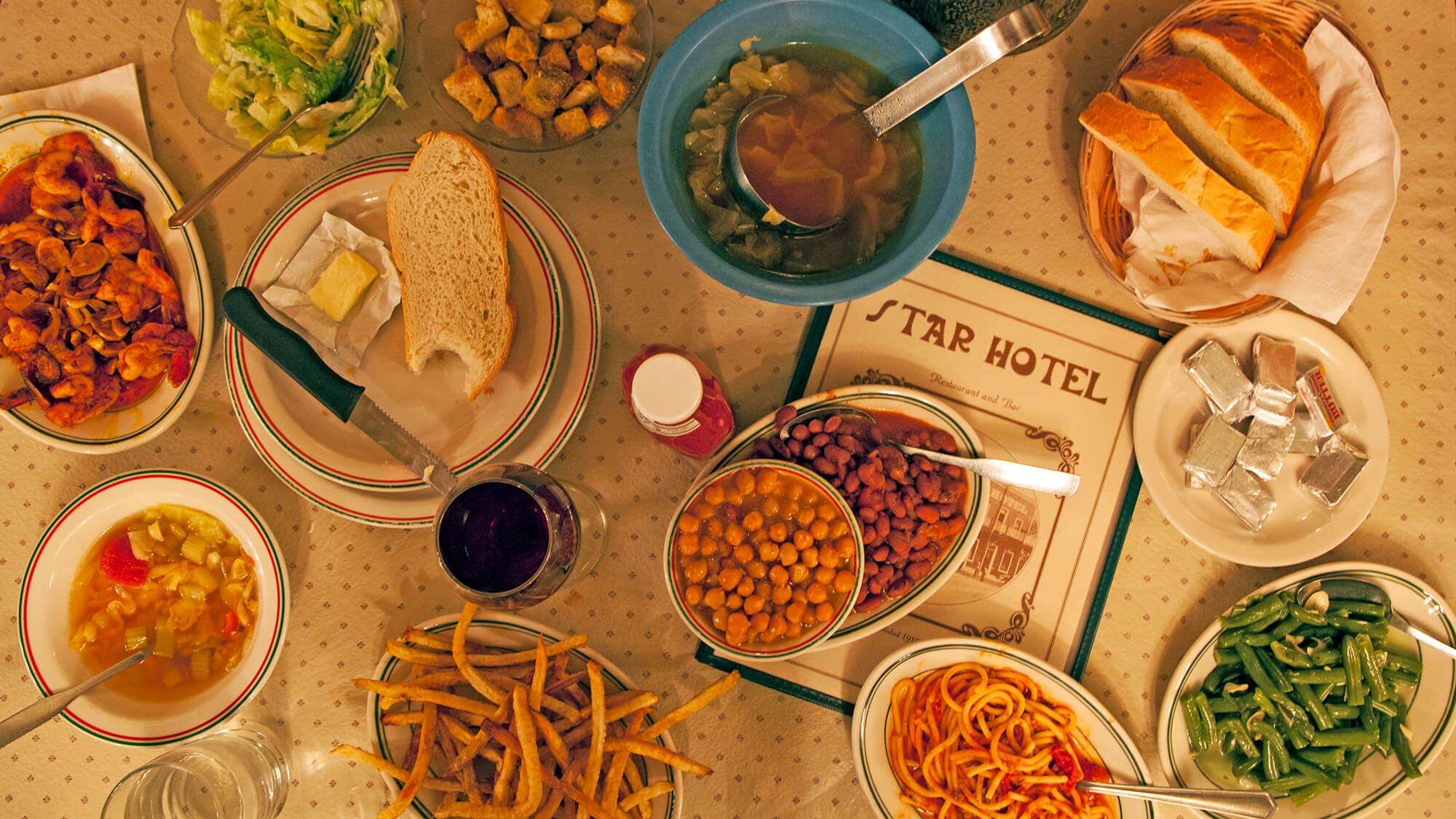 The kicker? It was all so flipping delicious I couldn't even stand it. With enough food to feed a troupe of peeps, I could only take a few bites of each dish when I secretly wanted to lick the plate. If only my stomach was 5x its actual size. Engorged to the point of delirium, I staggered to the till to settle my tab and asked the lady if she thought I could find a seat the super-packed bar. If there was one thing missing from this equation, it was the one-and-only Picon. If I've already binged on 20,000 calories of Basque deliciousness, lets just keep this thing rolling.
She responded with, "Oh, I bet you'll find a spot. If you're lucky, you might even score a seat next to one of those old Bascos at the end."  Ok, whatever that means. Making new friends is no challenge for me, but aside from the lady bartender, it was very obvious that I was the only girl attempting to hang out in the bar packed full of guys. They seemed like locals, they were rowdy, and I wanted in on this.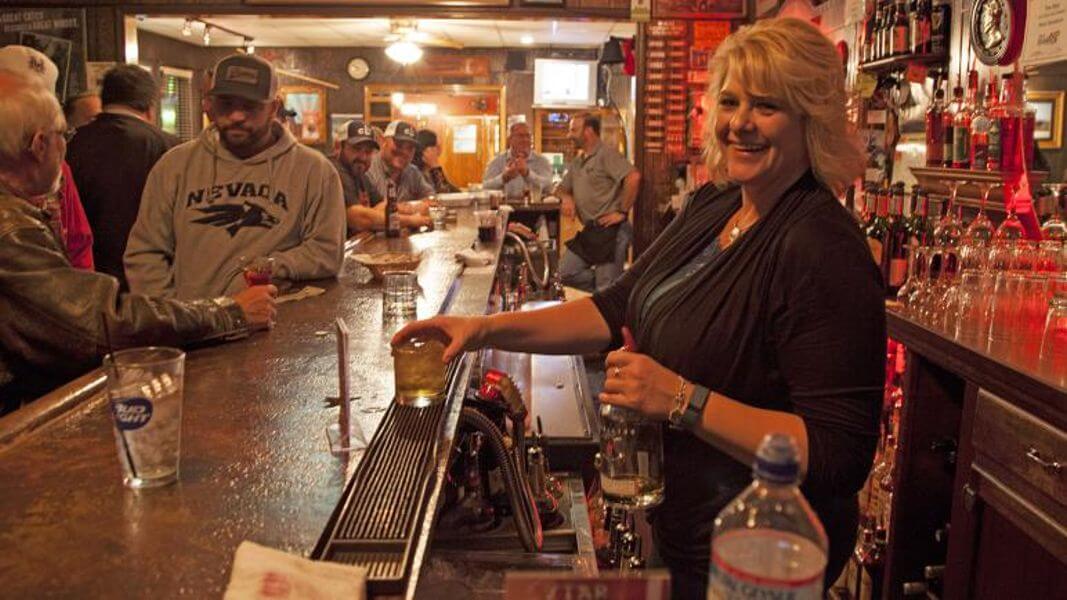 I found a seat, ordered a Picon and the whooping good time lulled a bit as I could feel them watching me take a sip. This wasn't my first rodeo, I knew this thing was straight liquor. I was an unrecognizable outsider, but after I savored my first swig without a grimace, I was in. The guy next to me began to ask me questions about where I was from and what I was doing in Elko, and naturally, I inquired about him. "Born and raised here, 100% Basque," he replied. DING. He was a Basco!
I polished off my Picon and immediately I had another drink in front of me, this time a tall glass with a mysterious scarlet drink on ice. "From the gentleman over there…" she exclaimed. "Why thank you, but what is it??" She responded with, "Just try it, we'll tell you after you take a sip." Now all the eyes were REALLY on me. After one tasty sip in my gullet she informed me it was another Basque staple called a Kalimotxo [cal-ee-mo-cho]…or red wine and coca cola. Probably not something I'd initially suspect to be delicious, but hey, this was the nectar of the gods and going down alarmingly smooth.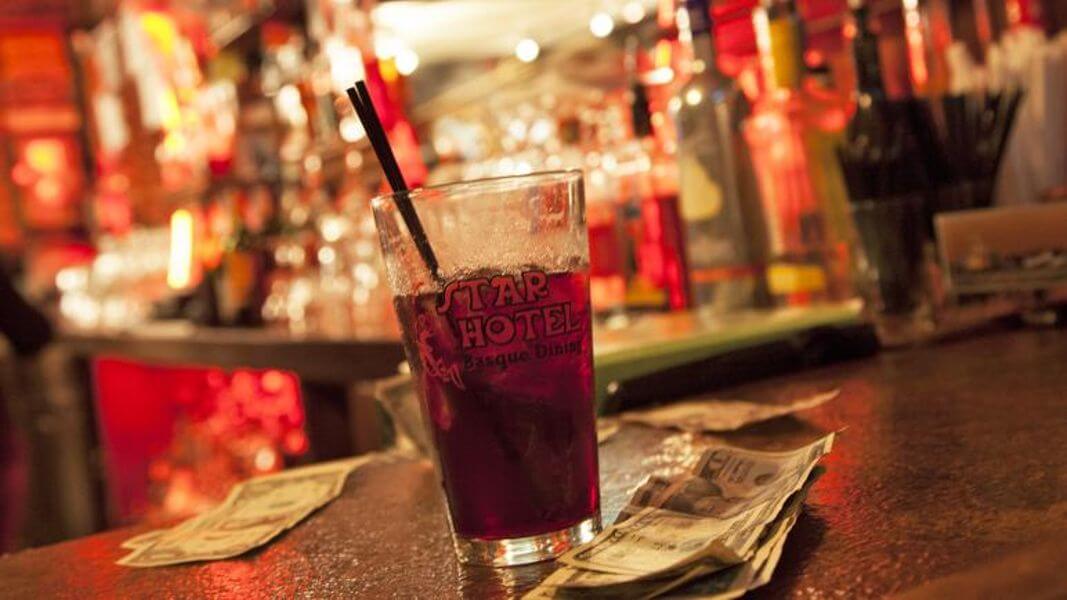 What started as overwhelming intimidation ended in some sort of awesome conversation with just about every person in the bar…talk about a welcoming and friendly place. An intriguing, sharply dressed cowboy had slipped onto a seat next to me while I was distracted by the delicious libations. "How are you? What's your name?" I asked. His buckaroo flat hat that shielded his eyes tilted up and he exclaimed, "Bridger." Elko is the place where you can find real buckaroos, clearly. It wasn't long before I had his hat on my head and we were acting like old friends.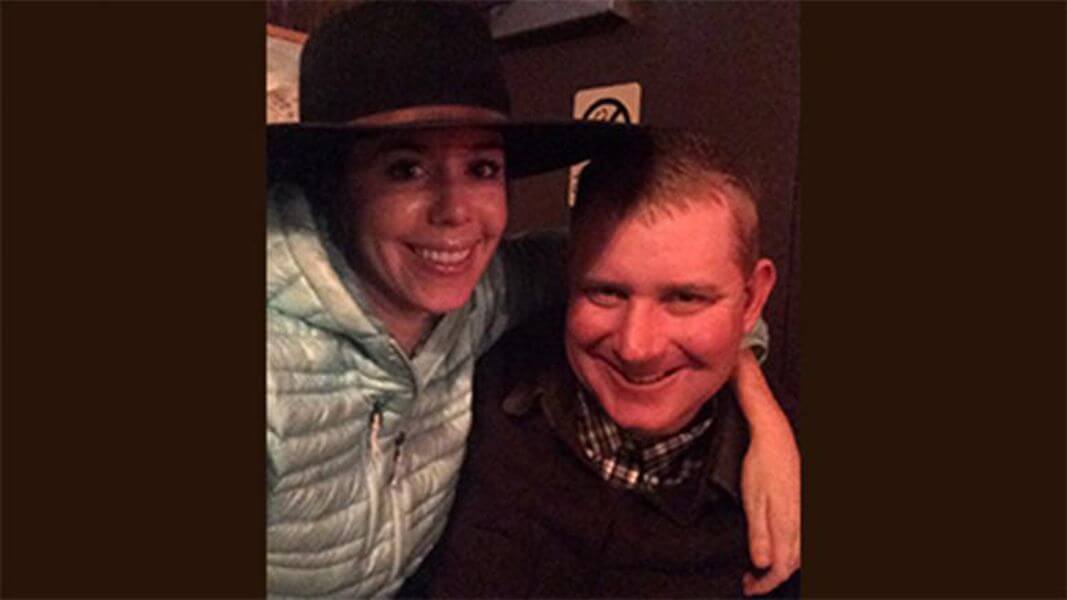 Coming up for air after one of the funnest nights I've had [as in EVER,] I pulled myself out of bed the next morning and was ready for what this trip had been missing: adventure. Sad to see Elko slip behind me in the rearview mirror, I dropped south toward Jiggs and up and through Harrison Pass in the Rubies. I realized I had gotten what I'd wished for when I saw a sign nagging "NO REGULAR MAINTENANCE, TRAVEL AT YOUR OWN RISK"…right as the road had converted to dirt.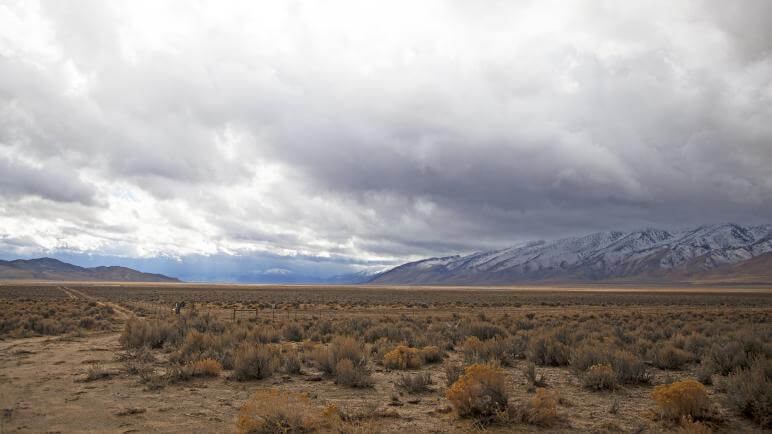 I was at the mercy of the Rubies, without cell service, in a barely acceptable vehicle, and it had now just begun to rain. Crap. As I turned down the 'very rocky unstable road' my questionable directions had pointed me toward, it was an all or nothing, no turning back sort of a situation now. A white-knuckling 20 minutes later I made it to the springs, my car unstably slithering around on a muddy marsh before sliding to a stop. Now I just had to attempt changing into a swimsuit in 30 degree, mach five windy rainstorm.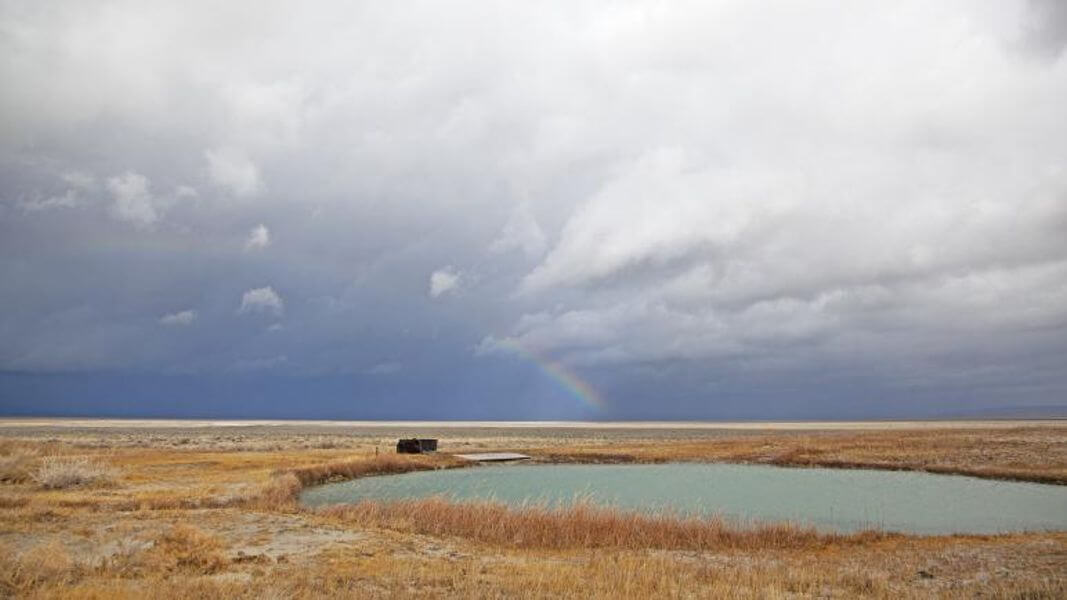 Believe me, I wanted to sprint across that marsh and cannon ball into that hot spring, but instead was forced to trudge toward this aquamarine pool in a pre-hypothermic state. I was a mess, and definitely thanking my lucky stars that my boots were a knee high, rubberized mukluk sort of a situation, as I sunk up to my ankles in mud the consistency of peanut butter quicksand. Adventure level: EXPERT.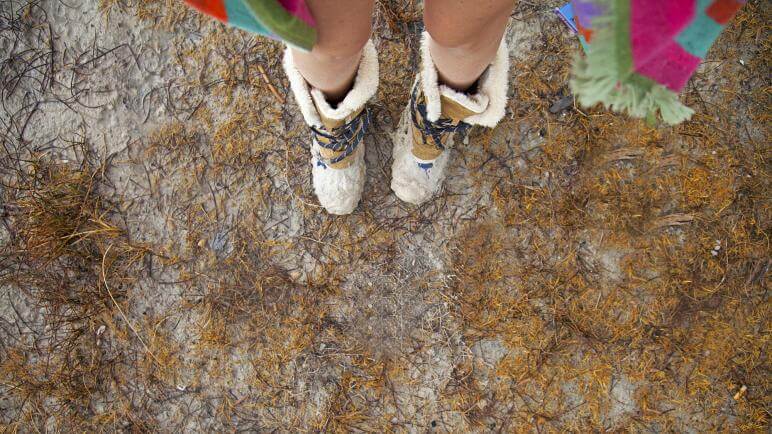 A frigid eternity later, I dunked into the bottomless springs, relieved for only a moment before the apocalyptic gale force winds ripped the wooden platform off the hinges and blew it across the Ruby Valley like a scene out of Twister. Well, if that's not a clue to head out before Mother Nature gets really angry, I don't know what is. As one of the scariest afternoons of my life—second to racing a camel—this was quite the trek…but for some crazy-amazing hot springs. Just maybe not attempt it on any sort of day other than sunny.
Back on a paved highway and en route for home, I was thankful to be alive but sincerely disappointed the weekend was over. It felt a little like teleporting through time with all the things I experienced, frantic to say the least. But, there is something calming and comforting about this countryside…something that soothes me in a way I cant describe, it just feels right. Unforgettable food, genuine and good people and some amazing scenery that makes me feel whole. I will be back for you, northern Nevada, and next time, it will be for much longer than a weekend. #NVEats
Get Inspired
Related Stories