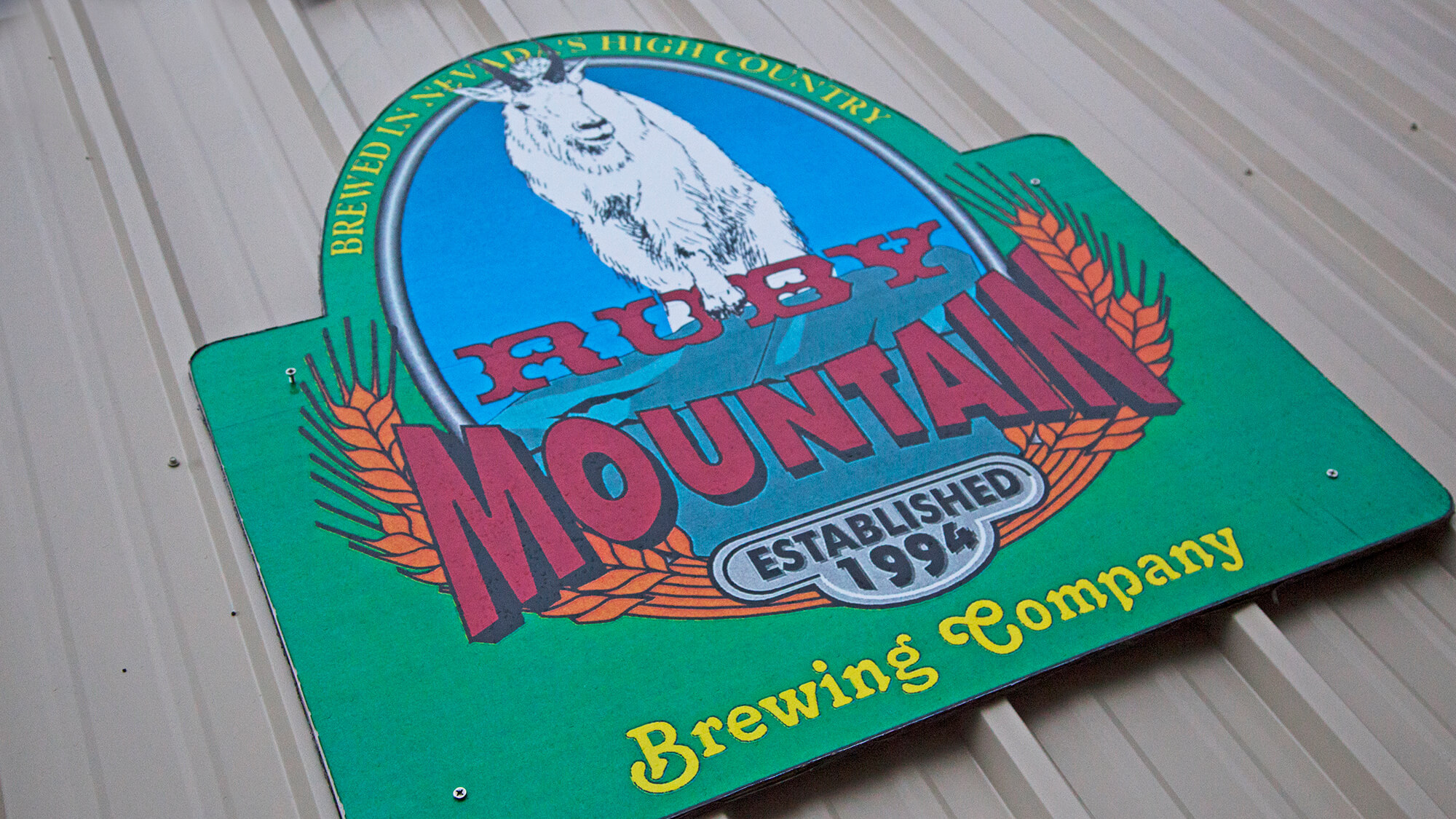 Relishing Ruby Mountain Amber Ale
When it comes to Nevada, we have a way of doing things our own way…even when it comes to the delicious art of beer making. It makes sense to want to have the newest, shiniest growlers, glimmering tasting rooms, and the punchiest catch phrases, but if I can toss in my two cents it's this. Sometimes the best things in Nevada don't ask for attention. The proof is in the pudding; the product just sells itself.
Having drank my way through just about every brewery from Jarbidge to Laughlin, I felt like I had a pretty good handle on the Silver State's brown bottle scene. But, I needed to check one very important yet mysterious brewery off the list in order to really have that feather in my cap. Ruby Mountain Brewing Co. had beckoned me.
And hey, any excuse to get up to this countryside and I'd be there just as fast as my wheels would carry me. I was going to be in this northern neck of the woods for the famed Cowboy Poetry Gathering and I couldn't think of a better reason to pop over to Wells and meet the pair behind this iconic northern Nevada brewery.
I knew things were looking good from the get go when Steve and Maggie [the owners] shot me some classic Nevada directions. 'Make a right hand turn on the first dirt road you see, travel about seven-ish miles down and we're the first ranch with a white farmhouse on the right.' I'm surprised I didn't have to look for some kind of distinctive outcropping of sagebrush, or a burro-shaped mailbox, but hey, I got it.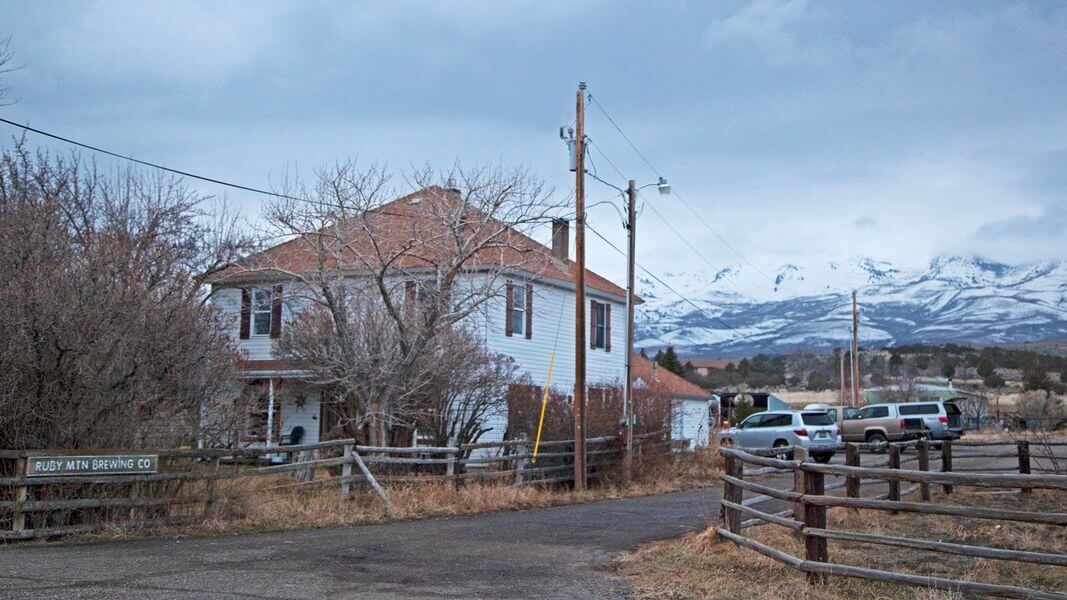 So on a nippy January morning I rolled into the heart of Clover Valley without passing one single person…just the way I like it. Already I felt free. Known for their delicious Ruby Mountain Amber Ale, their picture-perfect spread couldn't have been more beautiful as it clung to a foothill not far from the Rubies themselves. Right out of the gate, I understood that the whole beer thing was a tiny sliver of the work that went down on this working ranch, but the reality of the situation was confirmed as I parked my car and was greeted by a few friendly cow dogs. Before I could sort out where to go, Maggie appeared from the farm house with a greeting that made me feel all in the family, and told me to head for the outbuilding on the back of the property…aka THE Ruby Mountain Brewing Co.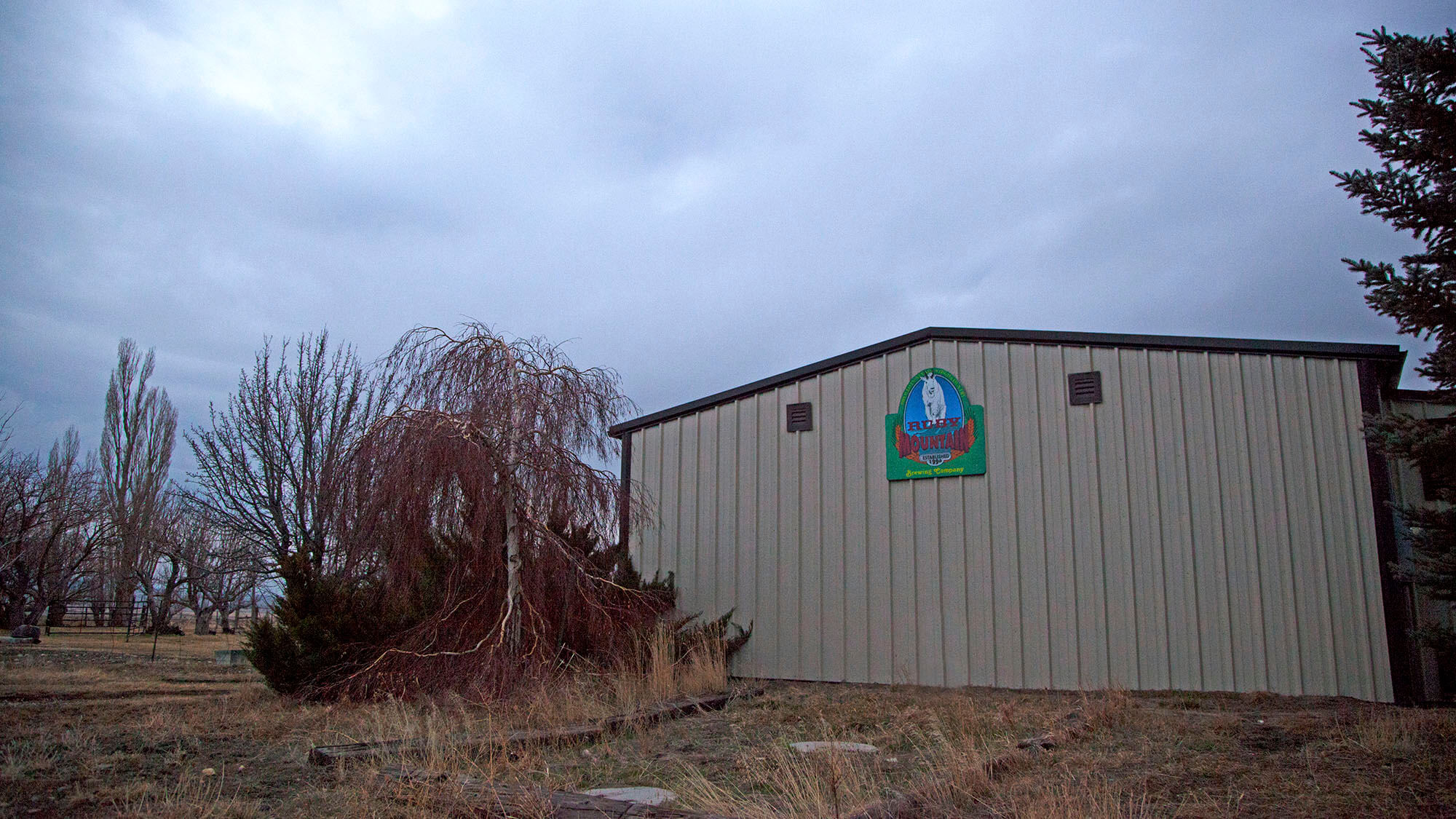 Lets just get one thing straight in case there is any confusion: I was the ONLY patron here. Looking for a tour. In the middle of a workday. On someone's private land. Reaching the outbuilding I thought to myself, what do I do? Do I just barge in? My conscience told me I was trespassing but I swiftly ignored it and flung the door open.
Steve popped out of a back room and waved me in like I was an old friend. 'You must be Sydney! Well come on in!' he spouted out. Gripping Steve's hand, it felt just like a lobster claw—the mitt of a guy who wasn't afraid of a lifetime of real work. From the looks [or feel] of it, I'd say his dedication to hammering out top-notch products was not limited to his tasty beers.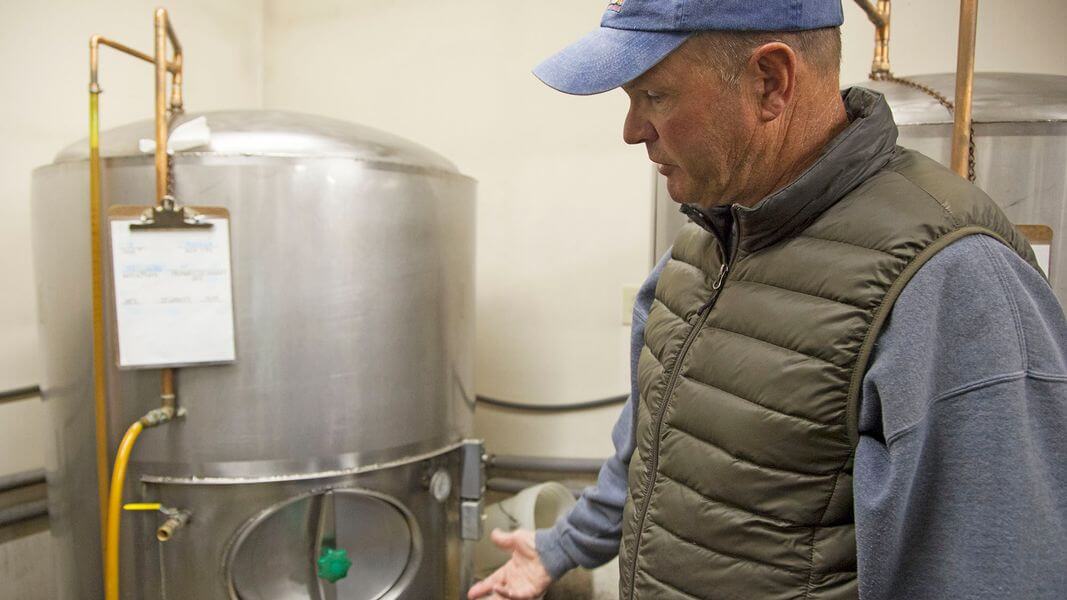 As my eyes scanned the shiny barrels in this surprisingly small operation, I felt like I'd hit a Nevada jackpot. I know I'm not supposed to name favorites, but this scrumptious amber ale would make any teetotaler change their ways, lickity-split, and here I was in the belly of the beast with the man behind it all. Lucky for me, Steve pretty much let me run amok in the place, allowing me to wander in and out of the stacks of malt, the keg room and the bottling and labeling operation.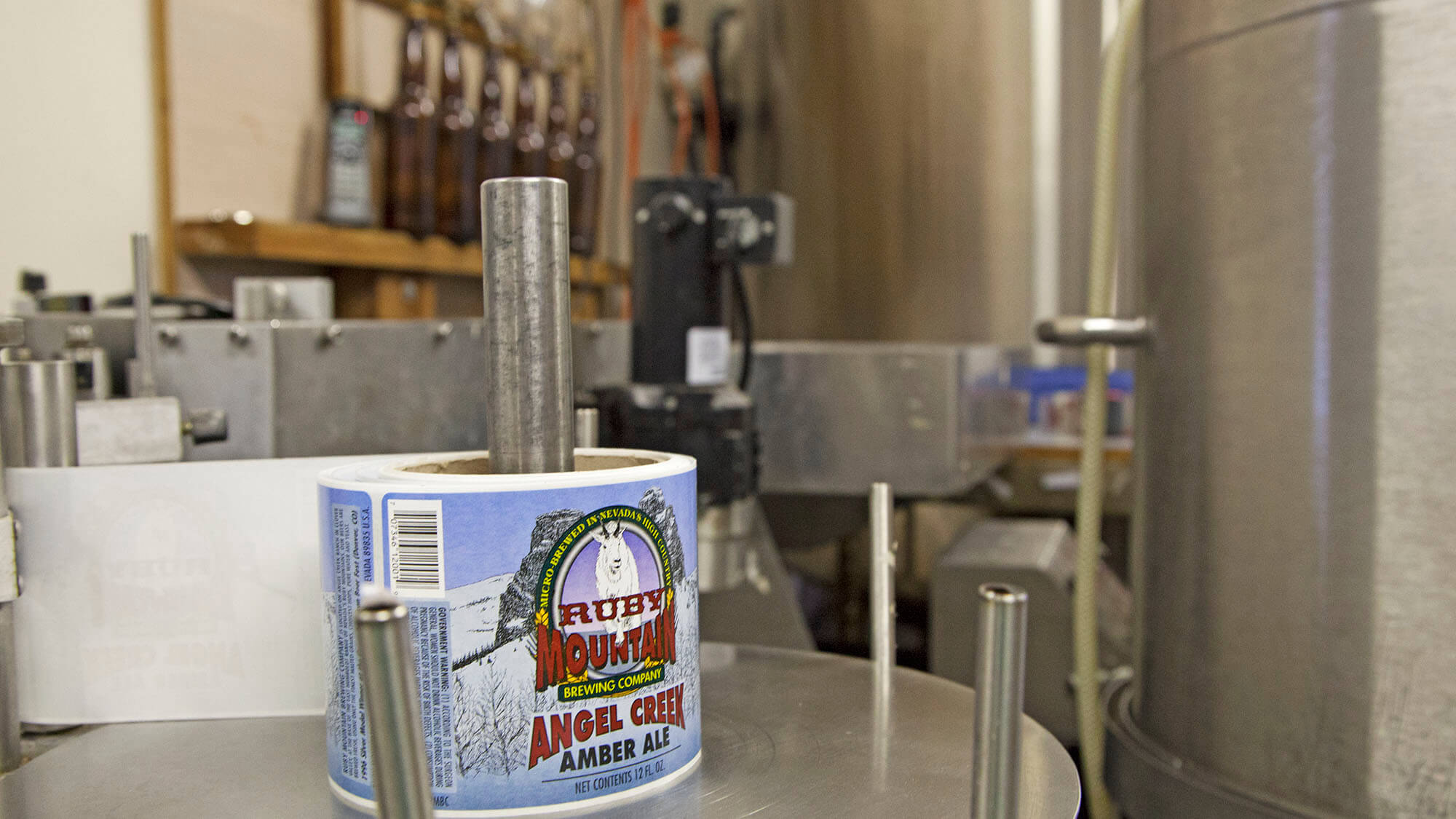 Steve went on to explain that he wasn't originally from Nevada, but relocated for the lifestyle…that he wanted to live and work on a ranch in a place that meant something to him. Before long, he and Maggie really did it, uprooting their lives and starting what turned into quite the successful Black Angus and hay operation in this seemingly unblemished corner of Nevada paradise. The day-to-day traditional ranching operations got off the ground without a hitch, and just a few years later Steve wanted to diversity their ranch economy and started dabbling in the home brew scene. Initially, this totally began as a hobby to turn to when he wasn't out in the fields, but eventually became more and more serious. The root of it all? He just wanted a damn good beer to drink after a long day of running cattle and slinging hay.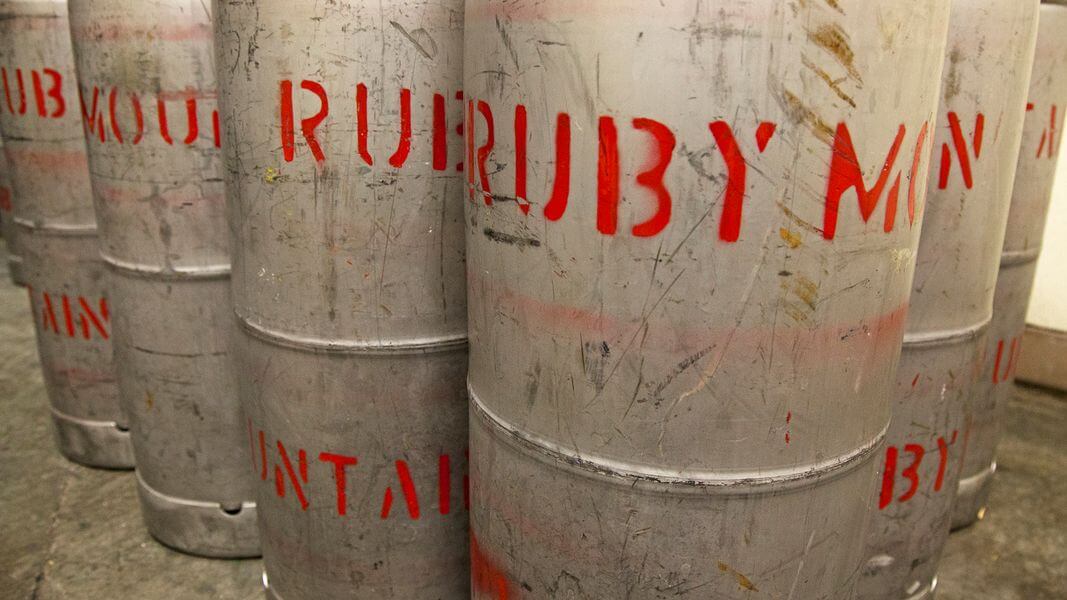 By the mid '90s, Steve had a recipe down pat and beer making became part of his routine. A long time beer-crafting comrade passed through the area after entering one of his bubbling beverages in a beer festival in Juneau. Reluctant to encourage him to enter [in fear of losing to him, ] Steve jumped in with two feet and submitted his now well-known amber ale the following year. Countless awards later, it's safe to say that the rest is in the history books.
So the next logical question swirling in my noggin was, why not go big with this whole thing Steve??! Well, because that's just not how he sees the company playing out, that's why. Ruby Mountain has always been relatively small on purpose, he likes being involved in the beer-making process first hand, and that's just the way it's going to be. He doesn't do it alone though, but instead relies on his ranch hand and right hand man, Mario to execute this killer product.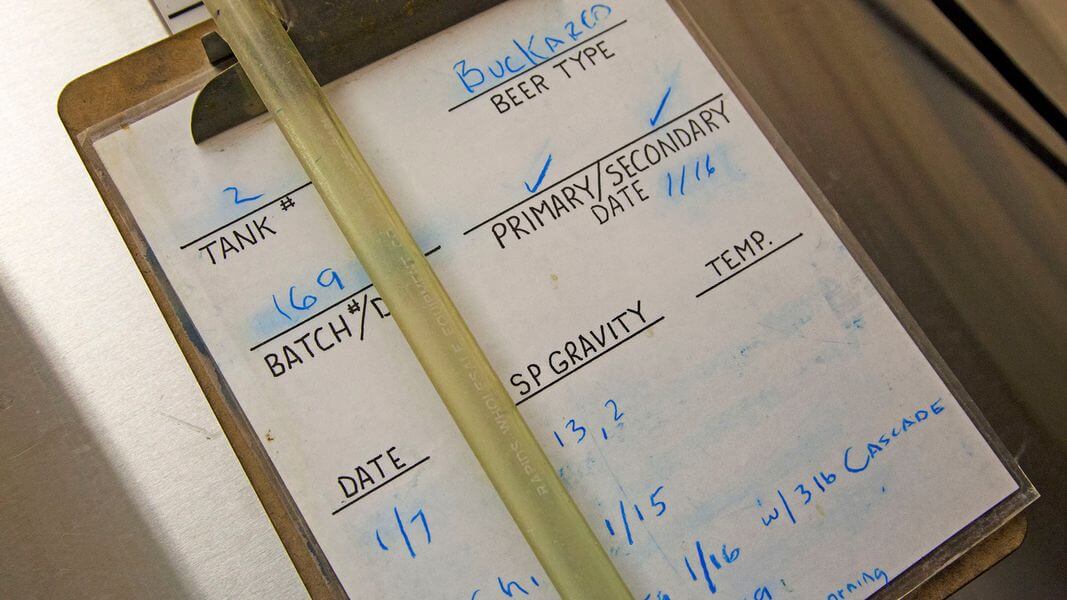 Having soaked up all the information I had so fiercely obsessed over for months on end, the only thing left to satisfy my literal craving was some barley pop itself. 'I suppose you want to try some, is that right?' Steve said. The beauty in all this, was there was no beauty about it…this legitimately was a no frills operation. There were no leather adorned bar stools, perfectly polished countertops or hipster light fixtures here. Instead, Steve busted out a freshly made, unlabeled bottle of my favorite Nevada beer, popped the top, and poured it into a disposable cup for my tasting pleasure. Mmmmmmmmmmmm, frosty goodness that hit all the right spots.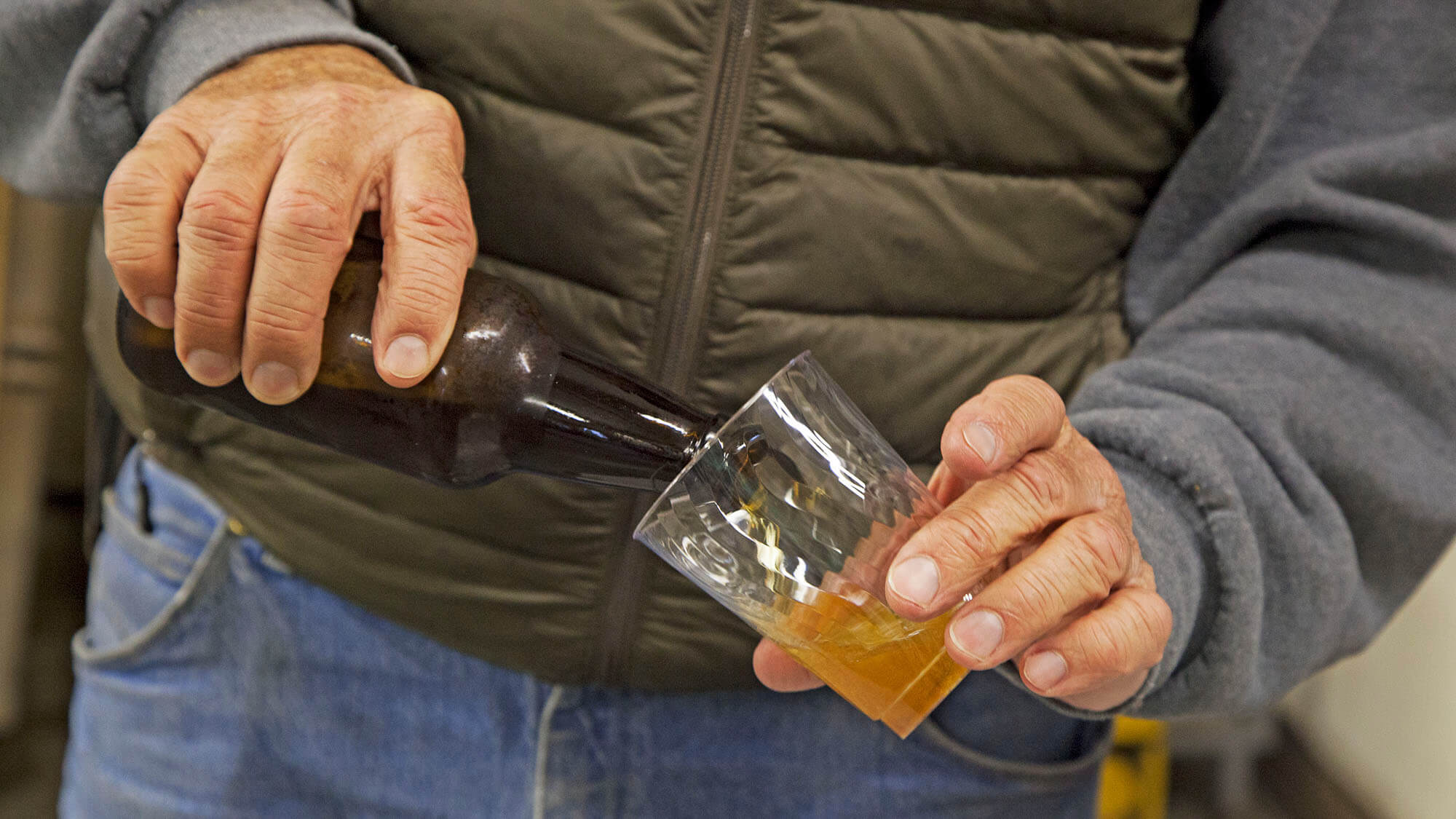 He graciously let me imbibe in the Ruby Mountain Amber Ale, Bristlecone Brown Porter and Buckaroo Pale Ale, keeping me hooked with really interesting history on the company and the area all the while.
The beer was certainly flowing and I was in hop heaven, and was the cherry on top for an absolutely perfect afternoon spent with Steve in Clover Valley. The terrain was unmatched and the vibe was right…everything was so uncalculated in the best way possible. It made sense to me that after all these years, Steve didn't need Ruby Mountain Brewing Co. to be a big, mega enterprise. It wasn't the quality of the marketing that kept them going, it was the quality of the beer itself. That day, Steve told me that the secret ingredient is pure Ruby Mountain water, but to me it just had a little bit of Nevada in it. The weathered hands that labored over it, the actual ingredients itself and the heartfelt mantra behind it all is what makes Ruby Mountain Brewing Company the only place I want to give my business. And that my friends, is a true Nevada original I will back any day of the week. #NVEats
Get Inspired
Related Stories