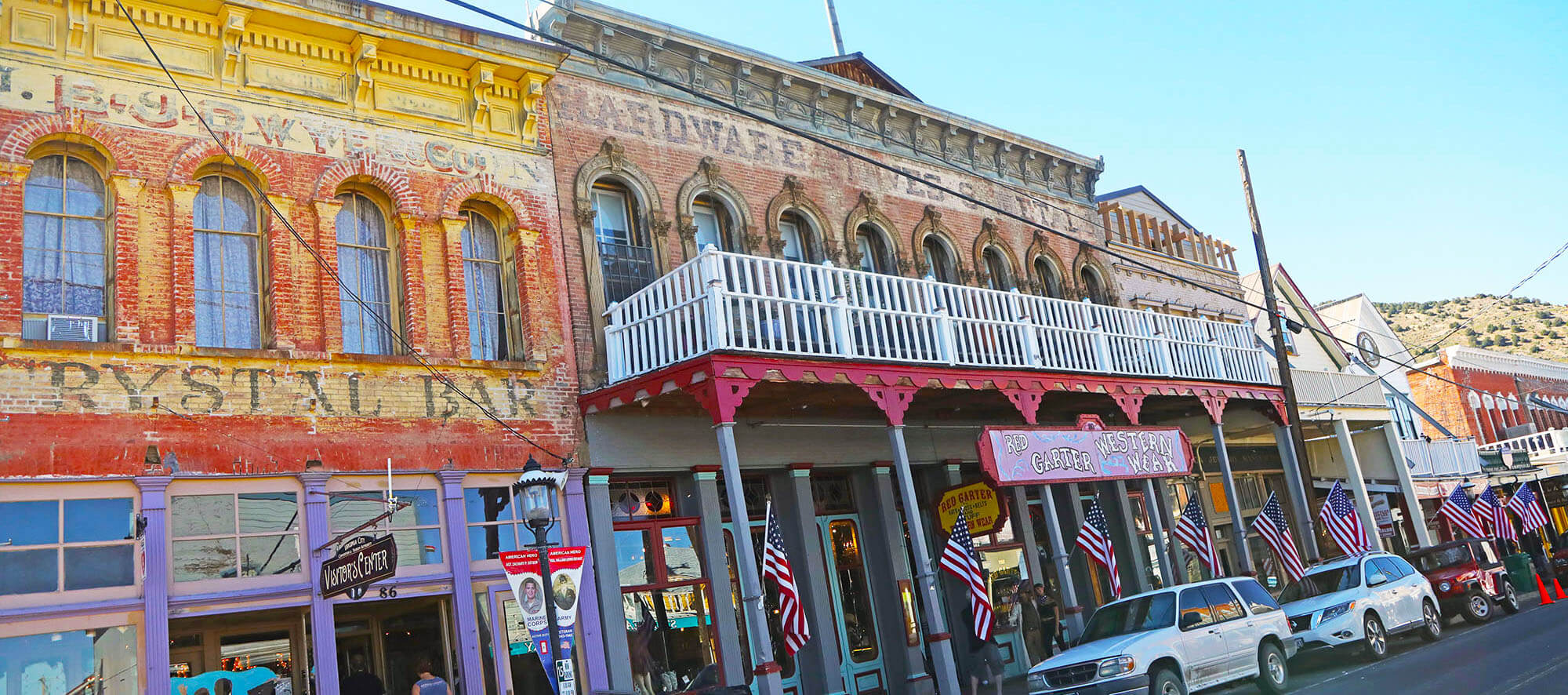 Virginia City
Virginia City, Nevada is an old west town that's famous for 1859's Comstock Lode silver ore discovery. With wild Virginia City events, sights, and culture that celebrate its deep roots, Virginia City is a step back in time, any day of the week. After all these years, Virginia City remains one of Nevada's most popular and historic destinations.
Party Like It's 1859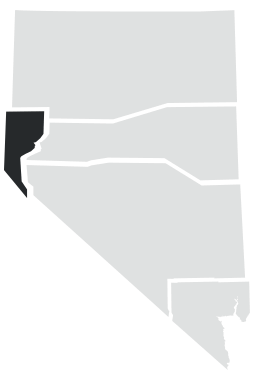 Season
All Seasons
Region
Northwestern
Wandering among the boardwalk-lined streets and original buildings in the famous frontier mining town of Virginia City, Nevada, it's easy to believe you've taken a "Step Back in Time" to the days of the Comstock Lode. Then again, while dancing to live western tunes with locals clad in 19th-century American West getups at places with names like the Bucket of Blood Saloon, it's hard NOT to. Get a vivacious taste of Nevada's Wild West past at more than a dozen museums, outlandish monthly events, historic saloons, and more.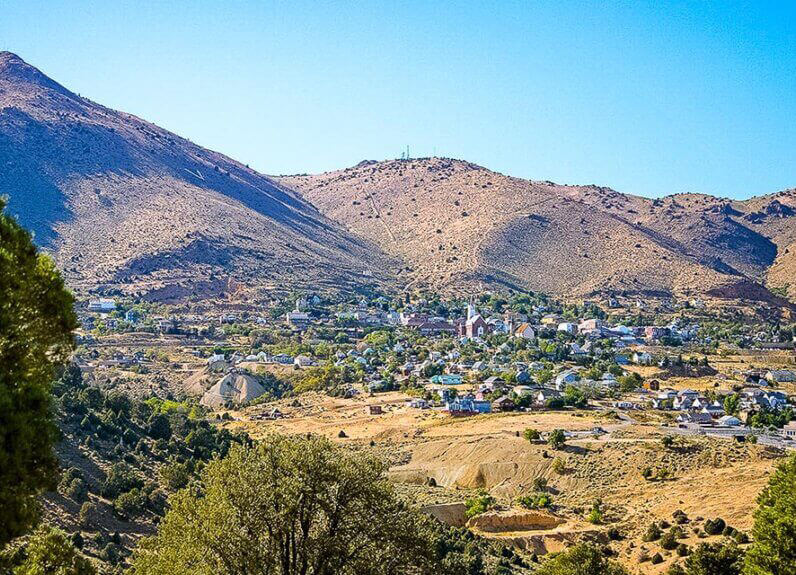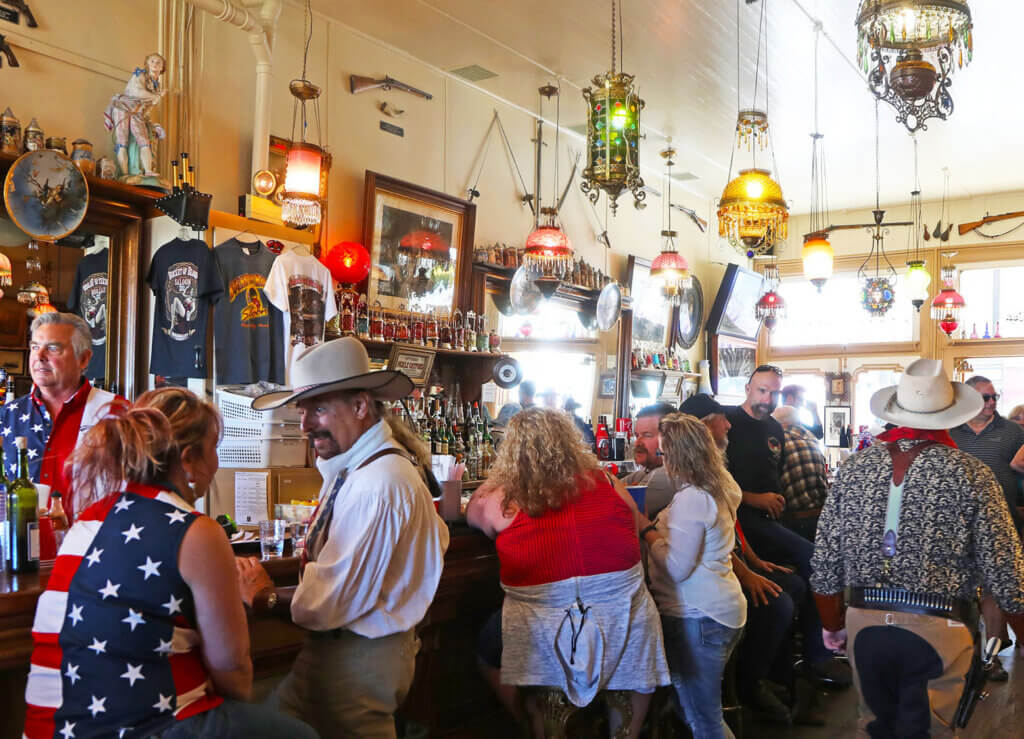 So Where is Virginia City, Nevada?
Virginia City sits about forty minutes southeast of—and almost a couple thousand feet of elevation up the Geiger Grade from—Reno, and about twenty-five minutes northeast of Nevada's capital, Carson City. Built on a mountain side in the Virginia Range, the town's stunning "hundred mile view" eastward can be taken in from many restaurants, saloons, and hotel rooms. But before there even was Reno, Carson City, or even the State of Nevada itself, there was a silver strike up in them thar hills—one of the biggest in history.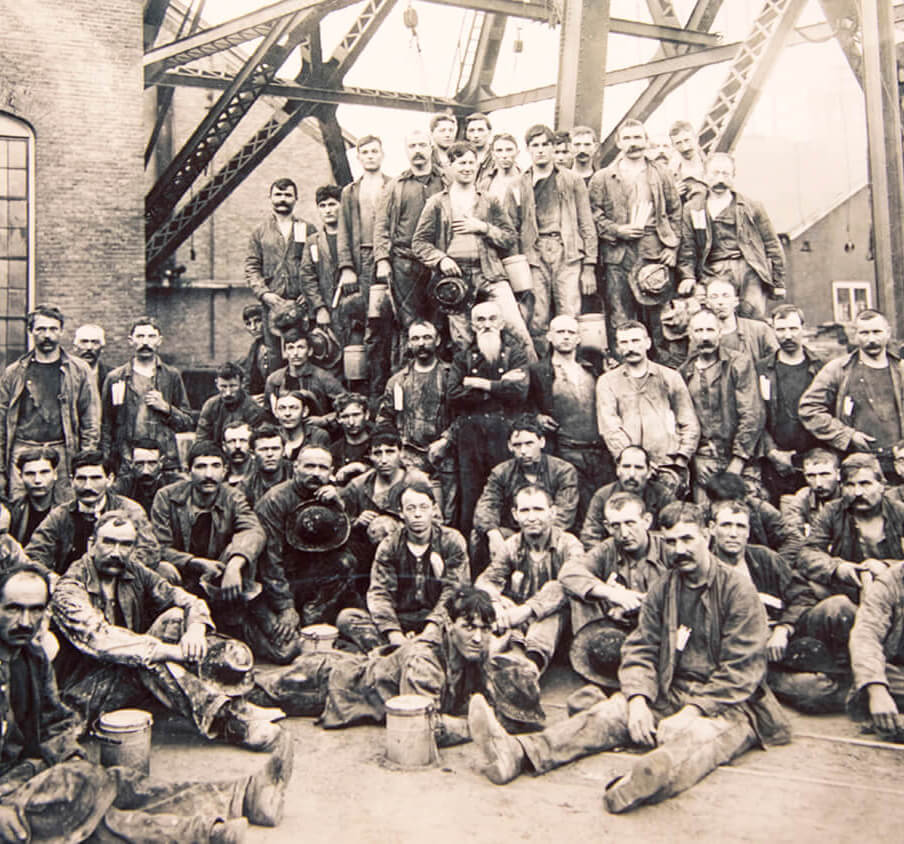 Virginia City History & Culture
In 1859, miners, suppliers, businessmen, deep-pocketed investors, and other fortune-seekers followed news of what could be (and was) the greatest discovery of silver ore in American history, and flooded to the Virginia Range from San Francisco, all over the American West, and world. booming the settlement of Virginia City into existence, practically overnight.
The success of the mind-bogglingly large "Comstock Lode" shaped the town into a bustling, rough-and-tumble mining center that overflowed with unimaginable wealth and prosperity, rocketing Nevada Territory into statehood, and earning Nevada our famous nickname: the Silver State.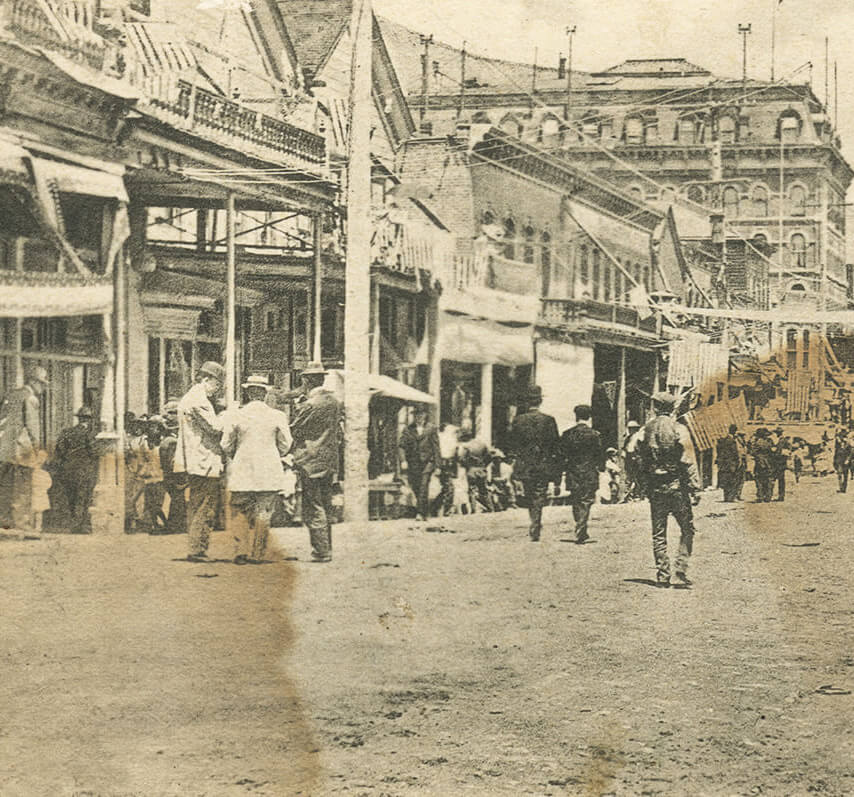 The mining camp quickly grew into a full-on city, with 25,000 residents at its peak. Over the course of decades, miners unearthed hundreds of millions of dollars—billions in today's money, much of which was funneled to Washington D.C. to fund the Union Army, as well as to San Francisco, the West Coast's major financial center, and helped fund both the construction of that then-young city and it's reconstruction, following the Great 1906 Earthquake (and fire), not to mention many other parts of the West Coast.
The combination of the sheer richness of Virginia City's silver ore, the pace of late 19th-century technology, and the amount of wealthy players in the game led to inventions and technical mining advancements we take for granted today, and planted the seeds for many fortunes—the names on many of San Francisco's streets are those of men who got their start (or made their names) right here in Virginia City.
From Ghost Hunts and Walking Tours to Museums, Mines and More
Today, Virginia City is home to about 1,000 residents and some of the most beautifully preserved homes, churches, saloons, cemeteries, and other historic structures in the West—a claim to fame that earned the entire town a spot on the National Register of Historic Places. History buffs fill days museum-hopping, bargain hunters delight at amazing antique and curio shops, and revelers go all out in authentic saloons, especially after a day of wild weekend events.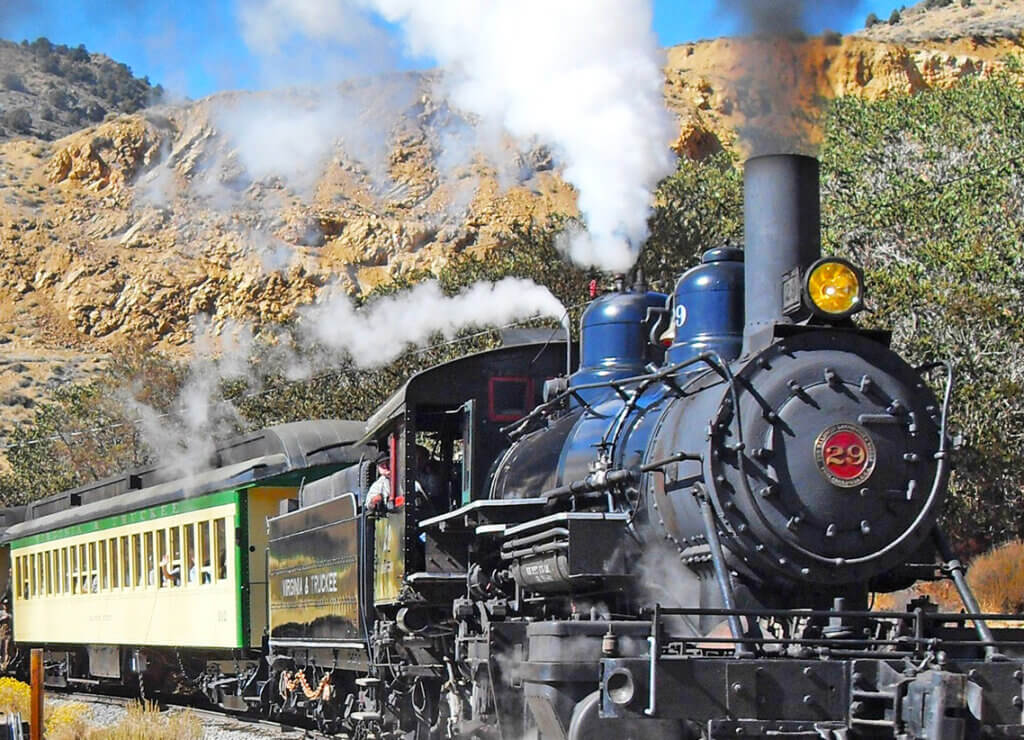 Historical tours are plentiful—on foot or rail, self-guided or expert-led, around town or in a mine, or even in a haunted building in what some experts claim is the most paranormally active town in the U.S. But no visit to ol' VC is complete without a ride on the ol' V&T railroad. Simply put, the Virginia & Truckee Railroad is the most famous of all American Short Line railroads. Construction began in 1869 and over the next 74 years, this busy railroad hauled millions of dollars in gold and silver ore from the mines deep below the city, through brilliantly-built tunnels, and down the mountain. Today, you can hop aboard the ornate, century-old, open- and closed-passenger cars for a truly scenic ride up to neighboring Gold Hill and back, chugging through 17 historic mine sites along the way.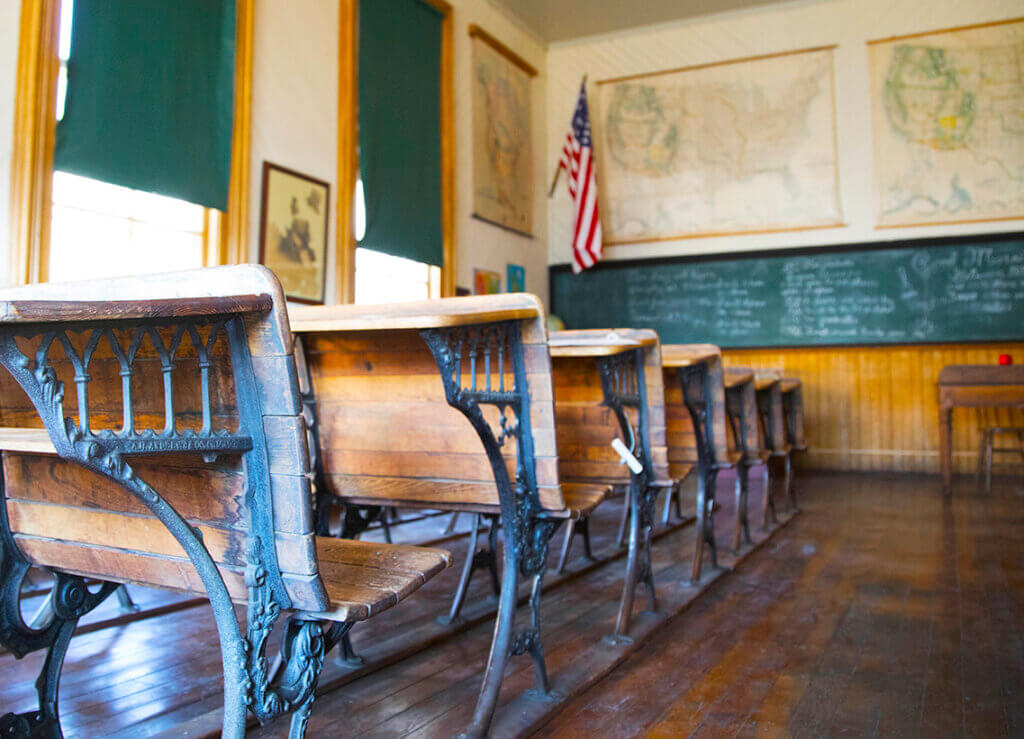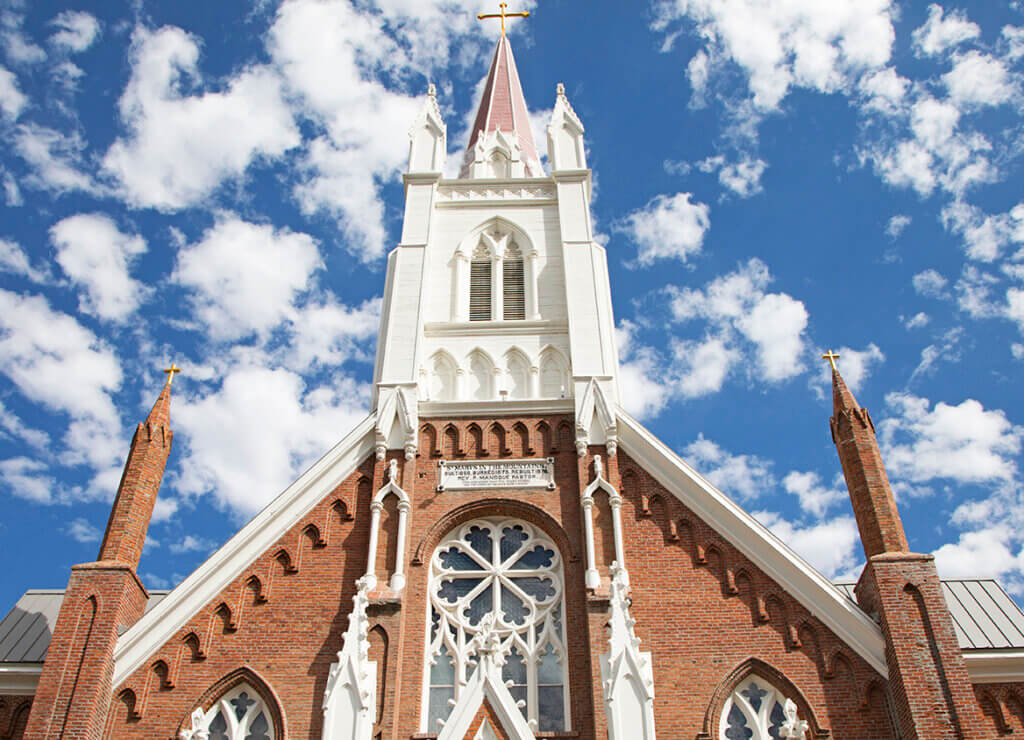 Museum Madness on the Comstock
In a town where the National Park Service has designated the entire place a National Historic Landmark, you'd expect to find some museum action around. You'd be right, to the tune of around 17 such institutions.
Did you know Mark Twain was "born" here? That famous one-time Nevadan caused plenty of in-print mischief with Virginia City's Territorial Enterprise, and gave what many consider his first live show at Piper's Opera House, which also hosted Buffalo Bill, Al Jolson, and countless other famous performers in its now-tourable hall, still home to concerts, performances, and other special events.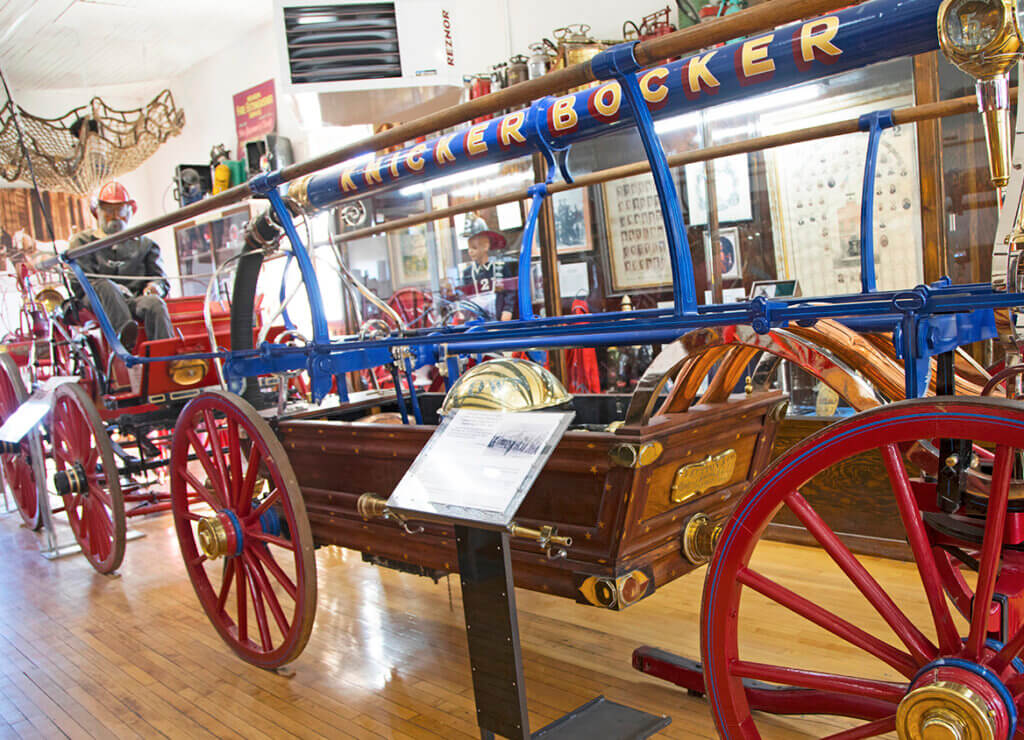 One of our favorite places to get schooled is the Historic Fourth Ward School Museum & Archives, which houses some of the best exhibits on Virginia City history. Kids of all ages love the State Fireman's Museum for its original gear and vintage vehicles, as well as the artifact-packed The Way It Was Museum. Meanwhile, history and contemporary art collide across seven rotating galleries at the old-hospital-turned-gallery known as St. Mary's Art Center. And if the kids are acting up, scare 'em straight (and learn 'em a thing or two) at the photo-rich Courthouse Slammer & County Museum.
Virginia City Mine Tours
Virginia City's underground legacy can still be glimpsed today, in the mines that made it all happen. In just 25 minutes, the Ponderosa Mine Tour shows you its complete underground mine workings—tunnels, crosscuts, winzes, and shafts, in addition to over 300 pieces of antique mining equipment. Up the road at the Chollar Mine, where miners carted out some $17 million in gold and silver, a 30-minute guided tour takes visitors on a 400-foot level walk to check out the original square-set timbering, silver ore, and more.
Back up on the surface, if you're still digging it, check out the Comstock Gold Mill and get a "lode" of how gold was processed from ore to recovery. After all these years, all that wooden and metal machinery is still fully operational. And trust us, you won't soon forget the soundtrack to this place—or the characters who run it.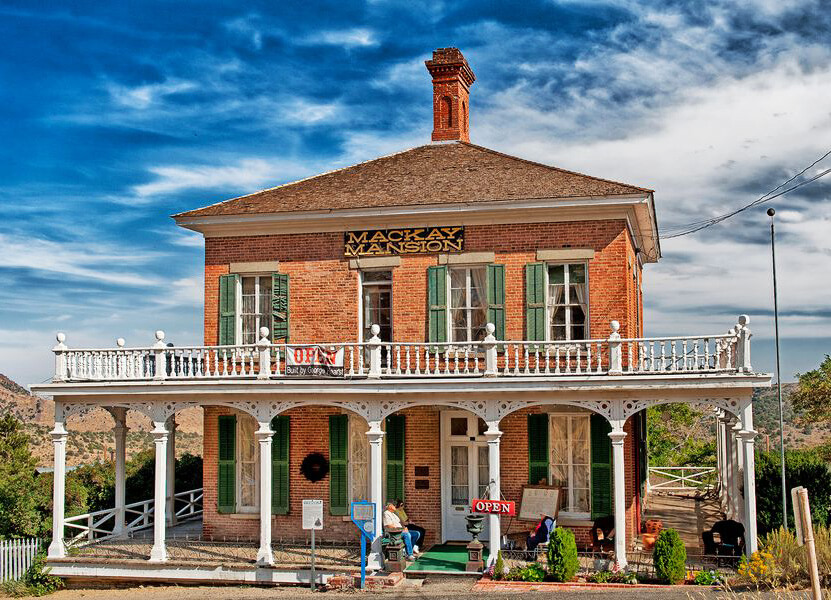 Make sure to cruise a few minutes down the hill to the storied Gold Hill Hotel & Saloon—the oldest hotel in Nevada. Sip sagebrush-infused cocktails, learn about one of the deadliest mining accidents in U.S. history, or stay the night and see if resident ghost Rosie pays you a visit.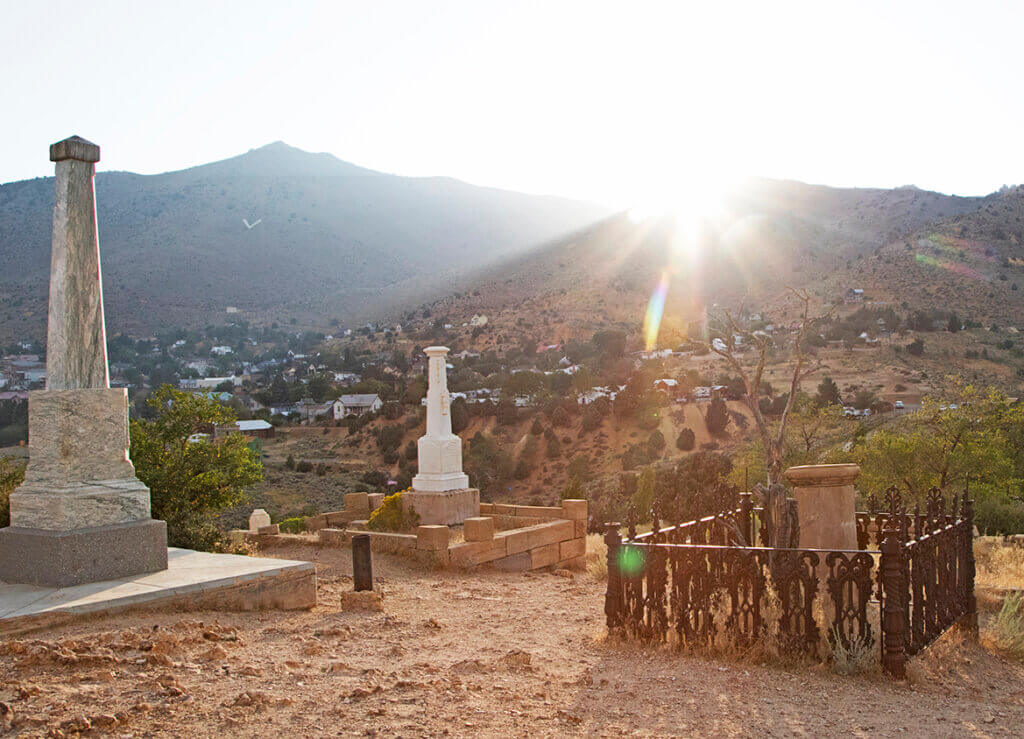 Or crank it up with a visit to the Washoe Club & Haunted Museum, a towering brick building in the heart of bustling Historic C Street that is believed to be one of the most haunted locations in the West. The property has been extensively featured on many ghost-hunting television shows, including Travel Channel's Ghost Adventures, and SyFy's Ghost Hunters. A legitimately creepy crypt and museum dedicated to the mystery of the building lends some serious spook cred to the property's ghostly claims.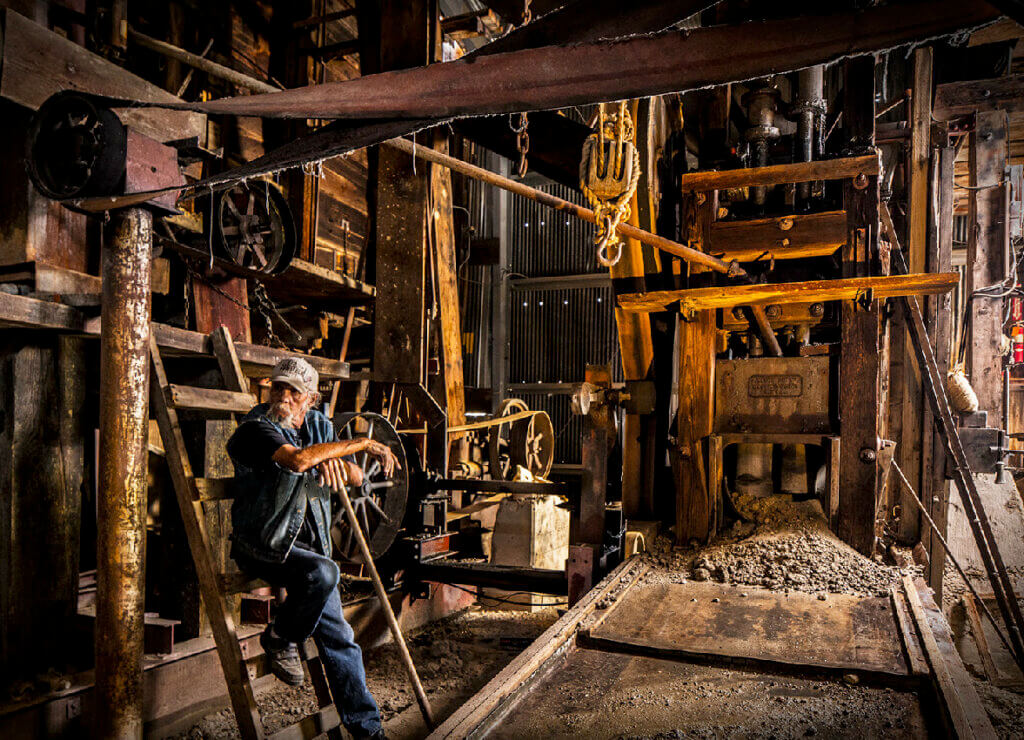 Ghost Tours & Good Ol' "Haunts"
For a spookier perspective, hop on one a couple different Virginia City ghost tours Virginia City's "Bats in the Belfry" walking ghost tour focuses on the paranormal, investigating multiple old homes and businesses, along with a narrative that will chill you to the bone. This walking tour will take you through the Silver Queen Hotel, Mackay Mansion, and other historic haunts, while the local guide tells tales of the locations.
Travel Nevada Pro Tip
Get into Virginia City's "spirit" with the town's very own, oh-so-Nevada-tasting Cemetery Gin. Order it in an authentic saloon, or bag a bottle or three at the Visitor Center, where $1 per sale helps support upkeep of the actual Silver Terrace Cemetery.
Although not known for being haunted, also worth a stop is the Silver Terrace Cemetery. Far from spooky, this beautifully-situated place of rest is full of elaborate headstones, statues, and fascinating epitaphs that highlight the opulence of Victorian life—and afterlife—in Virginia City. And, located on the north end of town, it makes a great "final destination" on your way back down to Reno.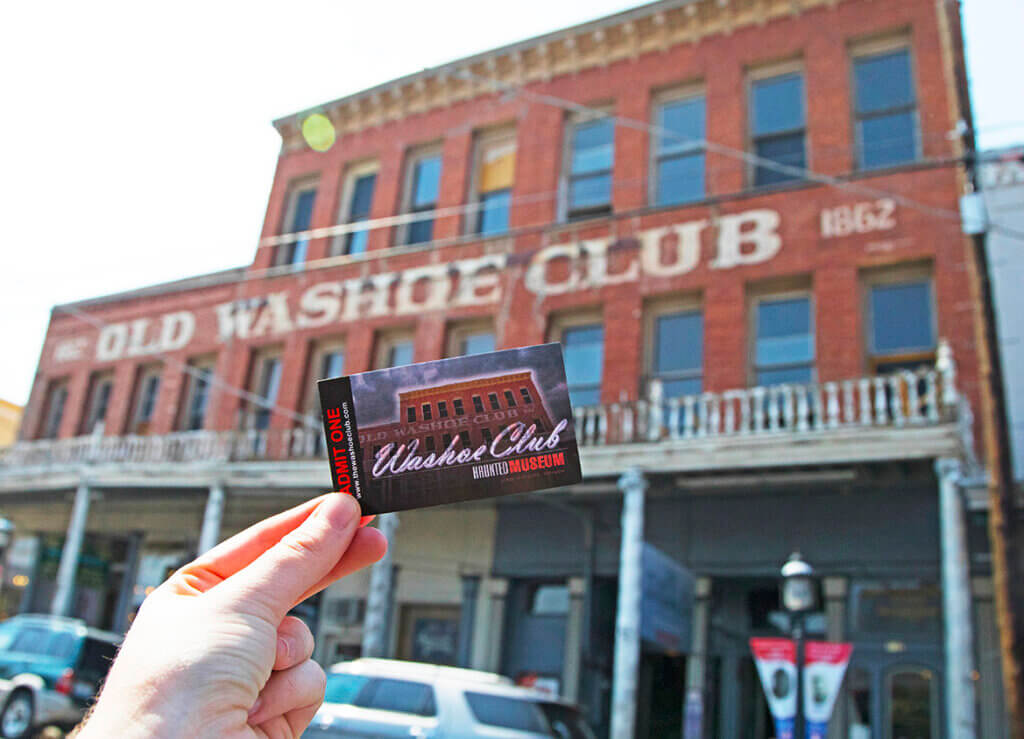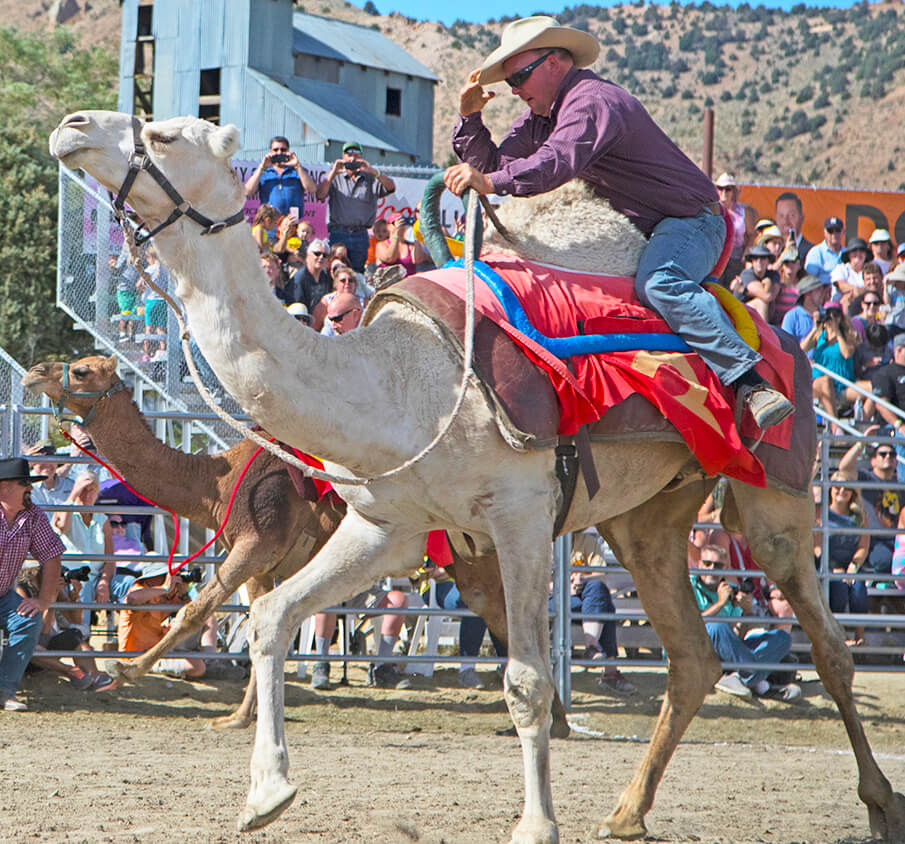 Virginia City Events
As exciting as Virginia City's past is, if there's one thing "V.C." knows how to do, it's live in the moment. Time it right and you may find yourself crawling among Historic C Street's Old West saloons, catching a show at Piper's Opera House, or generally whooping it up at dozens of raucous, street-closing, crowd-drawing weekend Virginia City events.
Root for curious competitors in September's International Camel and October's Ostrich Races—a six-decades-old tradition born of a prank and rivalry between the Territorial Enterprise and the San Francisco Chronicle—or World Championship Outhouse Races (don't miss the period-attired, all-women Flapper Crappers). Taste your way around town at Chili on the Comstock (May) and the Rocky Mountain Oyster Fry (March). And cheer on one of ten all-out holiday parades—especially Fourth of July, Veterans Day, and Christmas.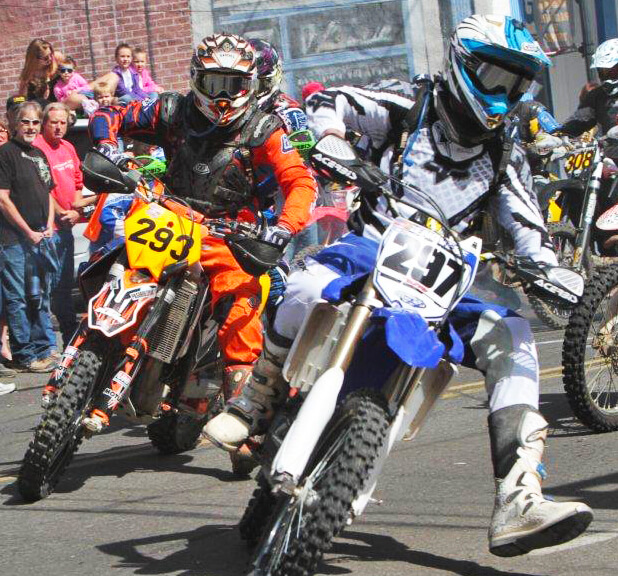 The days of riders galloping through the middle of town on horseback may be history, but how about on motorcycles? In April, the Virginia City Grand Prix gives spectators an about-as-close-as-it-gets view of one of the West's largest and most competitive motocross races, with dirt bikers rippin' mountains trails, old mining roads and, best of all, right down Historic C Street. And each September, Reno's annual celebration of choppers, hogs, and badass bikes spills up the grade to VC during the Street Vibrations Fall Rally, with show-and-shines, group cruises, and special events.
With so much going on here, just pick a weekend on the calendar and show up ready to have a historic time.
Virginia City Restaurants & Bars
Back in the bonanza days, Virginia City restaurants and saloons numbered in the hundreds. Today's portion is a tad smaller, but still plenty full of fantastic flavors. For one, there aren't many towns where you can legitimately go on a "saloon crawl," but Virginia City's Historic C Street makes it easy, with thirteen of them within sipping distance of each other.
Many Virginia City saloons still rock their authentic Old West auras (and aesthetics), starting with the (in)famous Bucket of Blood Saloon, built in 1875, where regulars don Victorian garb and dance to the house band, David John & the Comstock Cowboys in a period-perfect room adorned with original art and historical ephemera. Original chandeliers light up the 1862-constructed Washoe Club, the oldest (and possibly most haunted) saloon in Virginia City and the preferred hideaway for a troop of miners-turned-magnates who dubbed themselves the "Millionaires Club."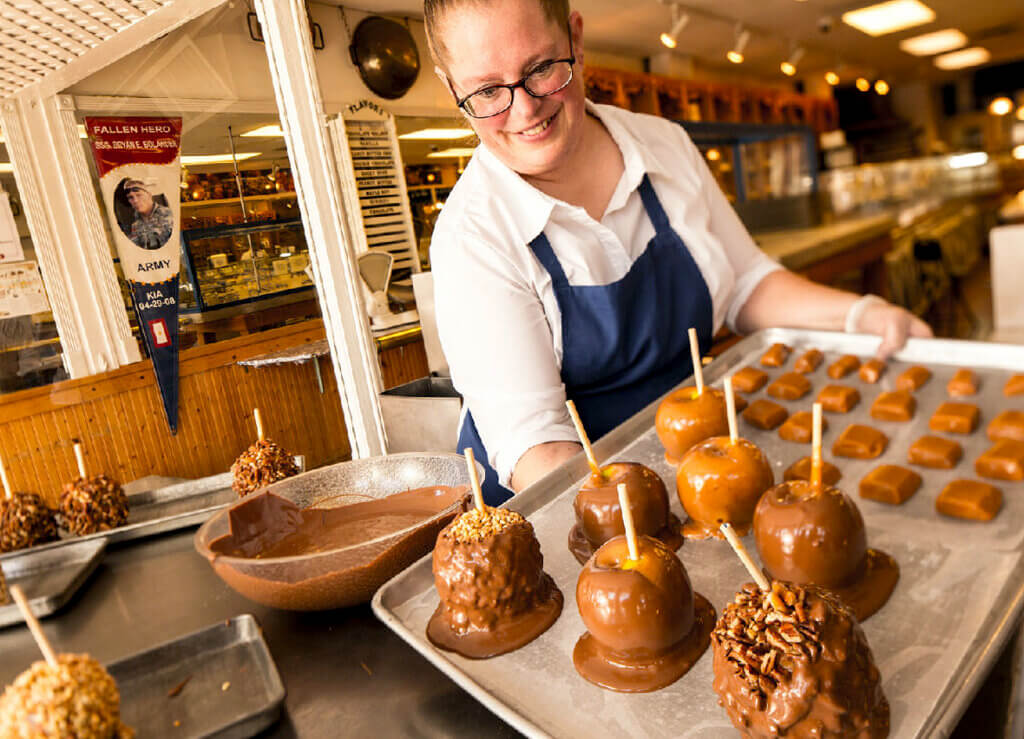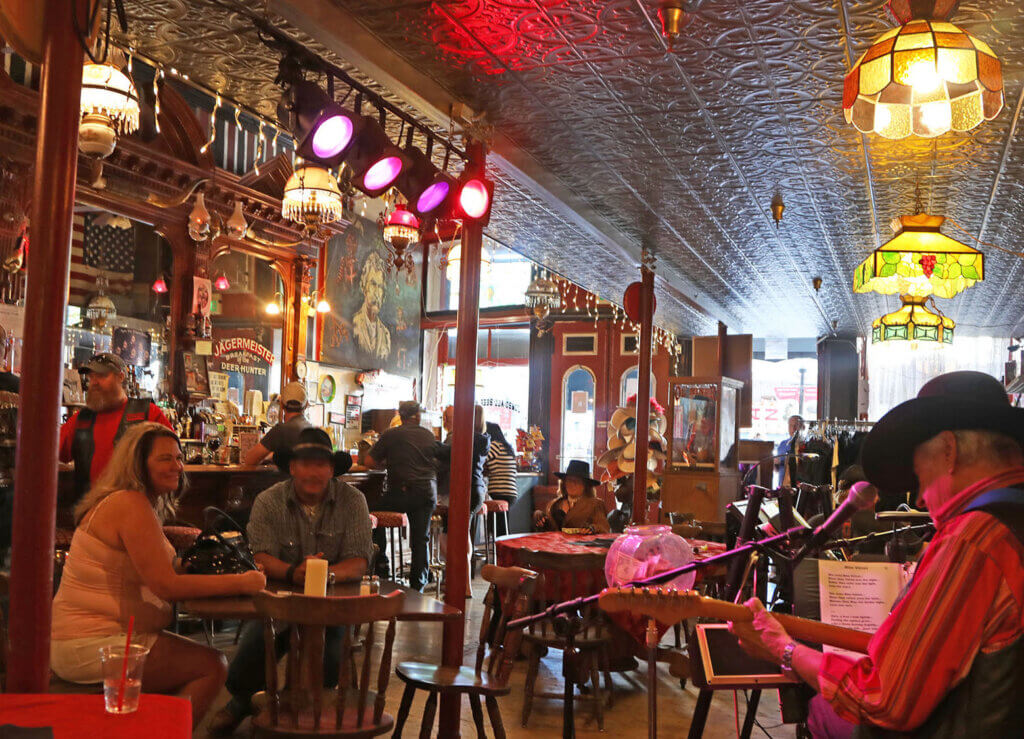 Sidle into the Silver Queen to pay homage to the saloon's eponymous and unmissable matron saint, whose dress still dazzles with 3,261 silver dollars—a nod to how many feet down the Combination Mine Shaft goes—and 28 twenty-buck gold pieces. Get a taste of VC at the Virginia City Brewery & Tap House, and by ordering cocktails with the town's own spirit, Cemetery Gin.
If all that saloon-crawling earns you an appetite, hit up the Virginia City Jerky Co. & Smokehouse for hickory-smoked ribs, tri-tip dips, house-made chili-mac, and more. Grab a slice of pizza and rock 'n' roll history at the Red Dog Saloon, where live bands follow in the foot-taps of Janis Joplin, the Grateful Dead, and other music legends. And for tasty Mexican favorites with some lively ambience, Café Del Rio may just steal your corazon.
Satisfy your sweet tooth at Red's Old Fashioned Candies with delectable fudges, brittles, and chocolates, or Grandma's Fudge Factory, where candy makers still churn fudge the old-fashioned way, right before your eyes. For AM urges, cruise to Canvas Café and help yourself to a breakfast benedict, a homemade pastry, or a piece of locally made art off the wall. And for all things caffeinated, roll into The Roasting House for espresso, gluten-free goodies, and, as the name implies, house-roasted coffee.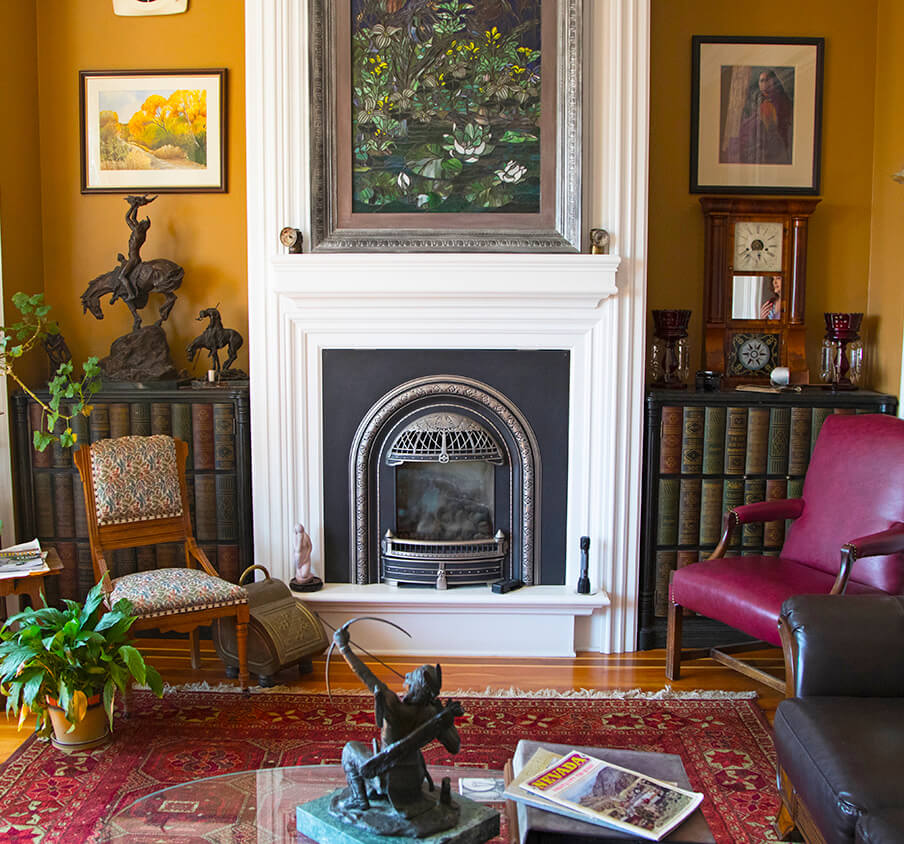 Virginia City Hotels
Virginia City has a way of pushing your fun-filled day (well) into the night. Luckily, plenty of Virginia City hotels and properties make it easy to call it a night just a short walk or drive from all the action. The town boasts 227-rooms, spread across fanciful old inns, modern-comfort motels and hotels, and charming bed & breakfasts. Check into quaint, comfy rooms at the Sugarloaf Mountain Motel, or go all-out on amenities at the Silverland Inn & Suites—pool, hot tub, and on-site bar (this is VC, after all) included.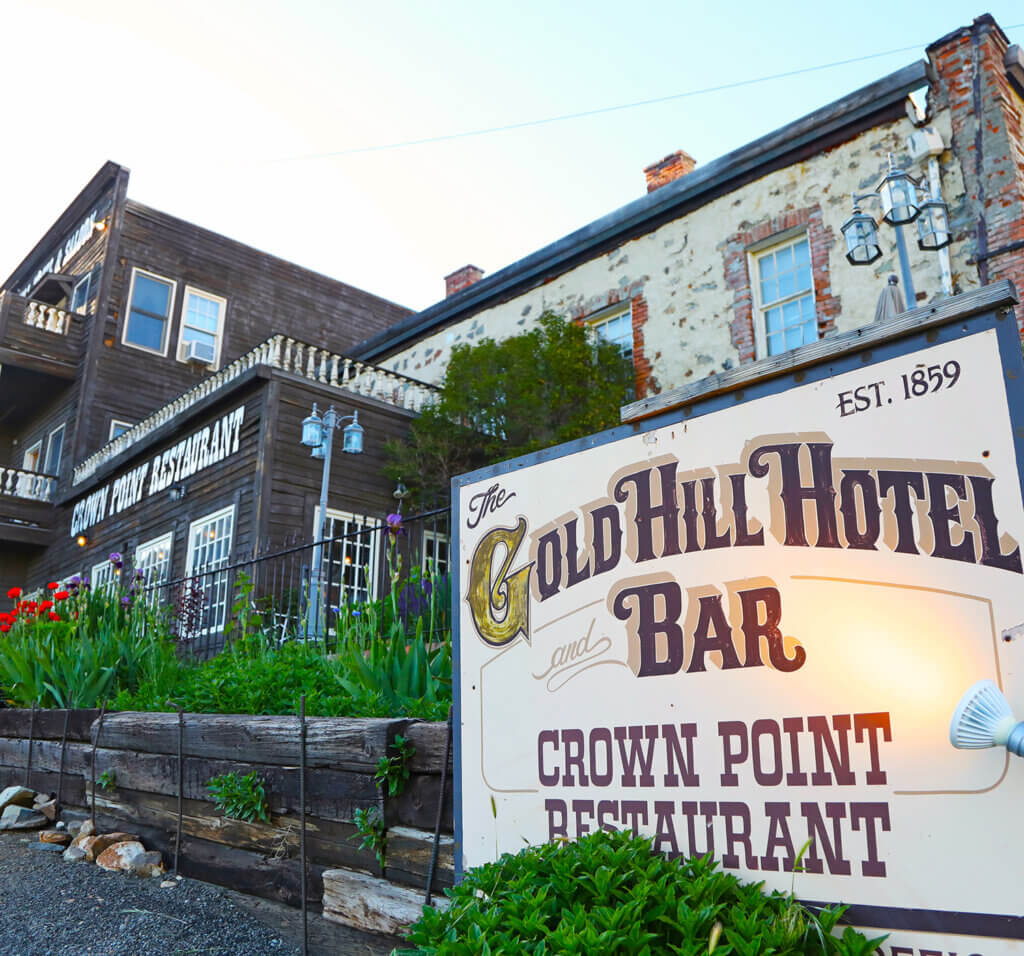 Or get a historic night's sleep in one of VC's oldest original buildings, including at the wonderfully preserved Silver Queen Hotel, where delightfully old-school rooms boast clawfoot bathtubs and sweeping mountain vistas. The elegantly restored, 1876-built, three-story Cobb Mansion B&B, lets you bed down in fanciful, Victorian style, complete with period furnishings and antique opulence galore. Or catch more Z's than Mark Twain probably ever did when he was living at the Tahoe House Hotel (blame that on the Delta Saloon), in gorgeous rooms that date back to 1859.
Meanwhile, just a few minutes down the hill is the Gold Hill Hotel & Saloon, the oldest hotel in all of Nevada, which also boasts about as authentic of a saloon as it gets, plus fantastic fare—serving everything from Angus steaks to chicken marsala—at its on-site Crown Point Restaurant.
#TravelNevada
Whether you're boardwalking, saloon-crawling, Outhouse Racing, or taking in VC's history (while making a bit of your own), tag your photos with #TravelNevada and you may just see them here.