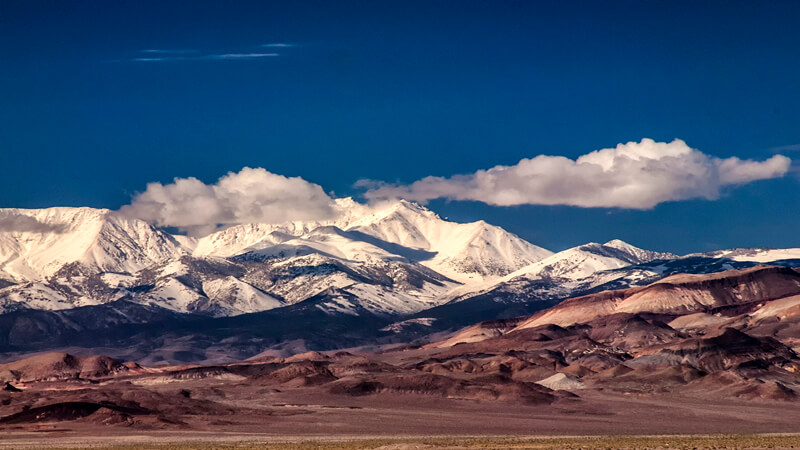 Story brought to you exclusively by Nevada Magazine
ADVENTURER | MATTHEW BROWN
Climbing Boundary Peak is more about the journey than the thrill of victory. Sure, it's nice to reach the summit, but there's only so much you can do on a rocky space that's roughly the size of a small living room—besides feel relief. Upon reaching the pinnacle, I laid down for a few minutes to catch my breath, and get some reprieve from the furious winds that were blowing on this winter day, January 17. It's the highest elevation I've been, which is appropriate seen as how Boundary Peak is Nevada's highest point (13,141). My climbing partner, Associate Editor Charlie Johnston, practically raced to the peak and was already taking photos when I crawled, literally, to the top.
Boundary Peak, near the California-Nevada border, is almost directly west of Goldfield. It's a popular hike not so much for the views (mountainous Nevada desert is beautiful, but it can become overwhelming), or the terrain (scree, anyone?), but simply because it's the highest summit in the Silver State. Don't get me wrong; the view of a snow-covered Boundary Peak from Highway 6 (your gateway no matter what direction you're coming from) rivals any winter scene in Nevada.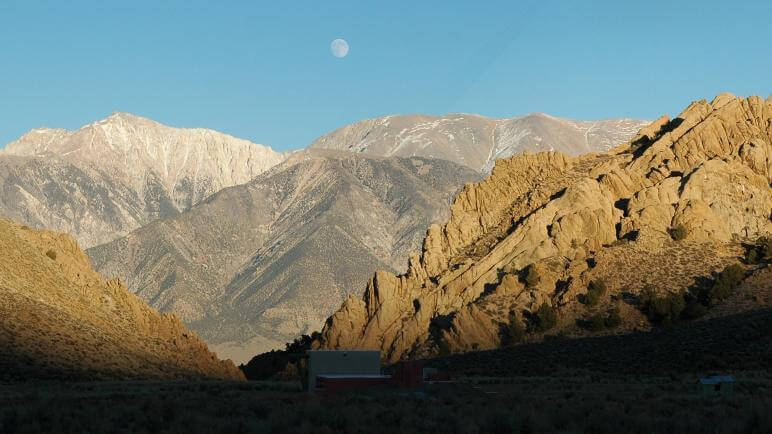 On Highway 6, traveling west from Nevada, you pass the ghost town of Mount Montgomery. You can also explore a few abandoned mining camps after turning southeast on Queen Canyon Road. In the winter months, how far you get up this dirt road via a four-wheel-drive vehicle is going to determine how long the trip takes. This being a light snow year (so far), we made it to Queen Mine (about 9,200 feet), which left us with a two- to three-mile hike to Trail Canyon Saddle (about 10,800 feet). This is an ideal base camp, although we were hit with some high, cold winds overnight. The next day, we awoke at 7 a.m. and were able to summit Boundary and return to the truck well before sundown. Given our four-hour drive from Reno to Queen Mine, the trip took two full days.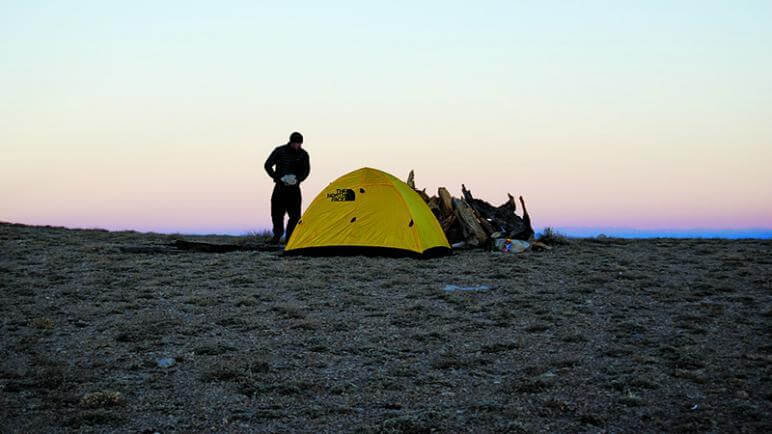 If you're making a winter ascent, dress in layers, bring something to melt snow for drinking water, and be prepared for a wide range of conditions (in a normal or high snow year, crampons, an ice axe, rope, and snowshoes are essential).
Water is scarce, meaning you will need plenty if you prefer summertime conditions. So figure the weight you save shedding the winter gear will be made up in H2O.
Now get out and explore Nevada! #NVAdventure
Get Inspired
Related Stories