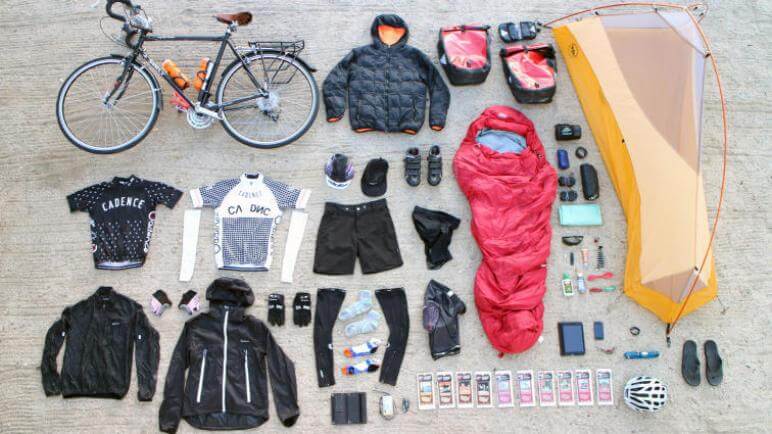 Cycle Across America On The Western Express Route
ADVENTURER | GLEN COY
Up until I was about 25 years old I don't think I can remember ever running a mile or riding a bike for more than 20 minutes at a time. I have always been a skinny person, but it took getting dumped and being talked into joining a running class at the local community college by my roommate to realize how out of shape I was. Within a few months, I went from running a 10-minute mile to running a few decently timed half marathons and a marathon. I never thought I was an athletic person, but I guess running came pretty natural to me.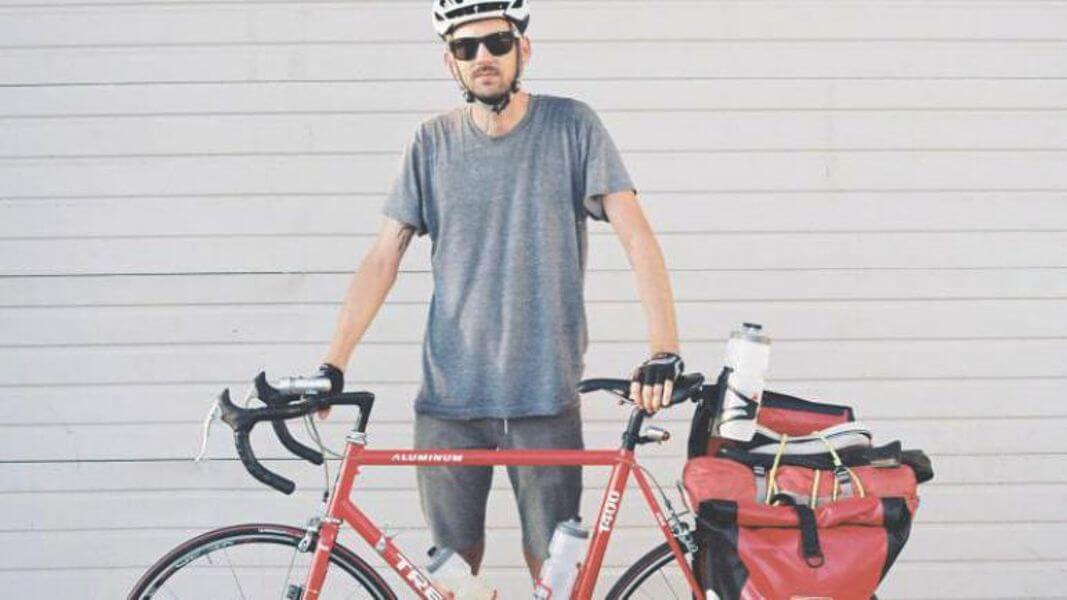 After a couple of years of running, I came across a website for a retired skateboarder, Heath Kirchart and his photographer friend, Jeff who were planning on making a cross-country bike trip. That whole summer I was glued to their blog. It motivated me to get a bike and sign up for the Aids Life Cycle, a charity bike ride from San Francisco to Los Angeles.
Sitting in a storefront for 14 years gets to you. In the last year, I've really started to think about what I want to accomplish with my life, and things I want to do. Thankfully I have a wife with the same mindset and she gave me the green light to start planning my ride.
THE WESTERN EXPRESS ROUTE
The Western Express Bicycle Route connects San Francisco, California, on the west coast to the TransAmerica Bicycle Trail in Pueblo, Colorado. It provides a shorter mileage option (476 miles less when compared to the TransAmerica Trail) on a central cross-country route but challenges the rider with extreme weather and riding conditions, as well as logistical obstacles. One's efforts are rewarded, however, by experiencing some of the least visited and most magnificent areas of the American West.
From the metropolis of San Francisco, the Western Express Route passes through lush agricultural valleys and climbs over the Sierra Nevada. In Nevada, it follows The Loneliest Road in America—a term coined some years ago by a Life Magazine writer for U.S. Highway 50. The route then winds among the magnificent monuments and parks of southern Utah. It crosses the spine of the Rocky Mountains over numerous passes to end in Pueblo, Colorado, the gateway to the Great Plains.
After the food and fun of San Francisco by the Bay, a relaxing ferry ride eliminates a hard day of urban cycling and deposits the cyclist in Vallejo. The route parallels an interstate and winds through suburbs to Fairfield and then passes through rolling, verdant agricultural areas before turning east. Urban riding conditions prevail along the section from Davis through Sacramento, Folsom, and Placerville. Separate bike paths, which start in Davis and extend through Sacramento to Folsom, provide welcome relief from busy surface streets. Wineries abound east of Placerville and the route begins to climb the Sierra Nevada foothills to the 8,573 foot Carson Pass. It then descends into the historic mining region around Carson City.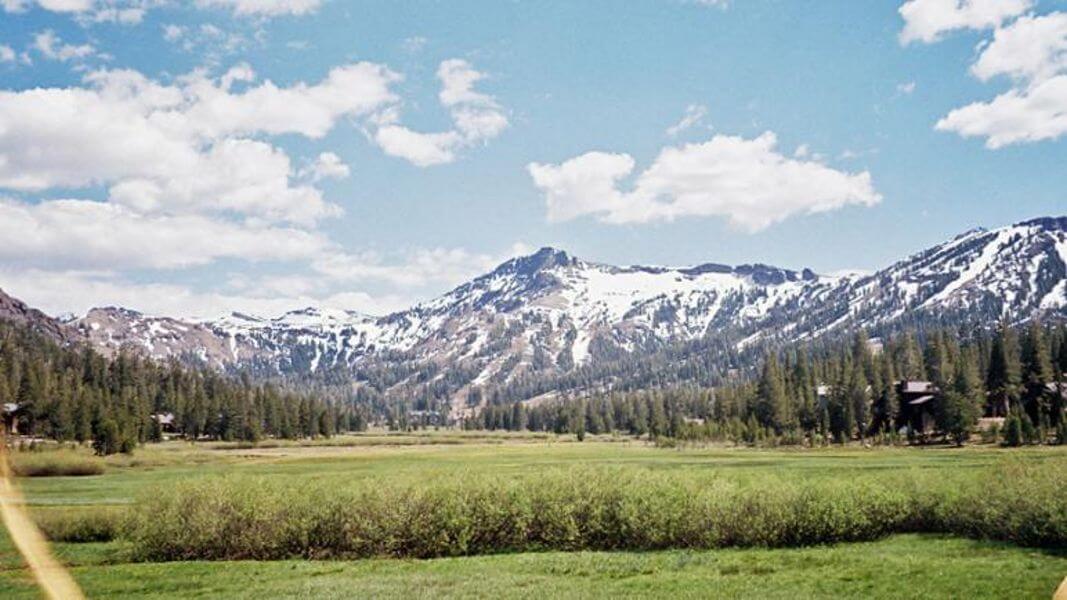 People watchers will enjoy a casino visit in Carson City, assuming you don't plan to finance your trip there. Here the route joins U.S. Highway 50 into Fallon, where the challenging part really begins. A dozen climbs await the rider on "The Loneliest Road in America" as it traverses the roller-coaster range and basin country paralleling the route of the famous Pony Express. Nevadans are noted for their self-reliance, hospitality (as long as you are not a federal employee), and whimsical sense of humor as evidenced by such unique attractions as the "Post Impressionist " (fence post) art between Baker and Lehman Cave in Great Basin National Park.
East of Cedar City, Utah, the route passes through some of the nation's most isolated communities and several of its most spectacular scenic wonders. Take some time to explore Cedar Breaks, Escalante, and Natural Bridges National Monuments; Bryce Canyon and Capitol Reef National Parks; and Glen Canyon National Recreation Area. To even the most experienced of travelers, these natural sculptures, spires, buttes, and canyons are no less than humbling. The Utah portion of the route could be a worthy destination in itself. After passing through the bean-growing capital of the nation in southwestern Colorado, the route swings north and then east through the small tourist communities of the Rockies where one can always find an espresso and a ski hill, however modest. The route traverses forested mountains to Salida and from there into the narrow valley of the Arkansas River to Cotopaxi. Here the route leaves busy U.S. Highway 50 and winds through quiet wooded foothills until reaching Pueblo.
With a plan of attack in hand, I had estimated it would take 47 days to complete the entire trek. I started in San Francisco, and by day 5 had almost reached the California/Nevada border.
Day 5—Hope Valley, CA to Dayton, NV
Thursday, June 5, 2014
45 Miles, Total So Far: 270
Today I woke up freezing cold. I threw on my leg warmers for the first time on the trip, as well as my down jacket and full fingered gloves. It took me an hour and a half to pack up camp, eat, and get warm enough to get on the bike. My butt has been starting to develop some "issues". My saddle is made out of leather, and takes a couple of weeks to break in. However, break in period is said to be a brutal experience. Long story short, getting on that thing in the morning, especially in the freezing cold isn't fun.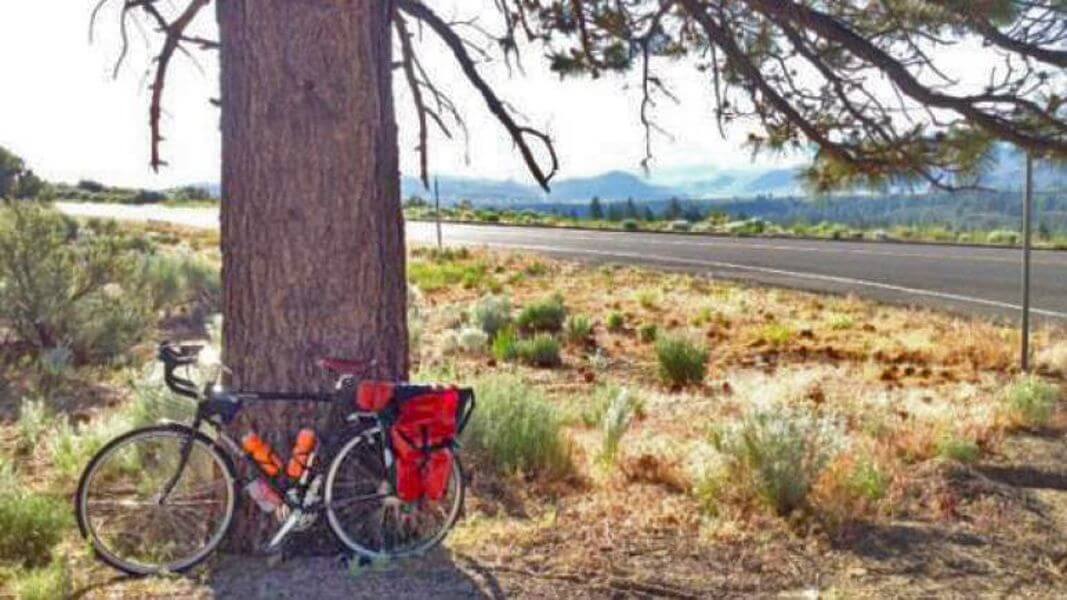 The ride from camp was a very quick descent down a few thousand feet. What took me 2 days to climb only took me about and hour to get down. As soon as I made it thru the pass I started to heat up and shed my cold weather gear.
One thing I forgot to mention in my day 4 post, is that my bike has been starting to develop some skipping in the chain/crank area. Not knowing much about bikes, I was getting very nervous. Every fourth pedal would skip a chain link and make it ever harder to climb the hills. Luckily, I was only about 25 miles from Carson City, and could stop in to get the damage assessed.
On the way, I finally passed in to Nevada.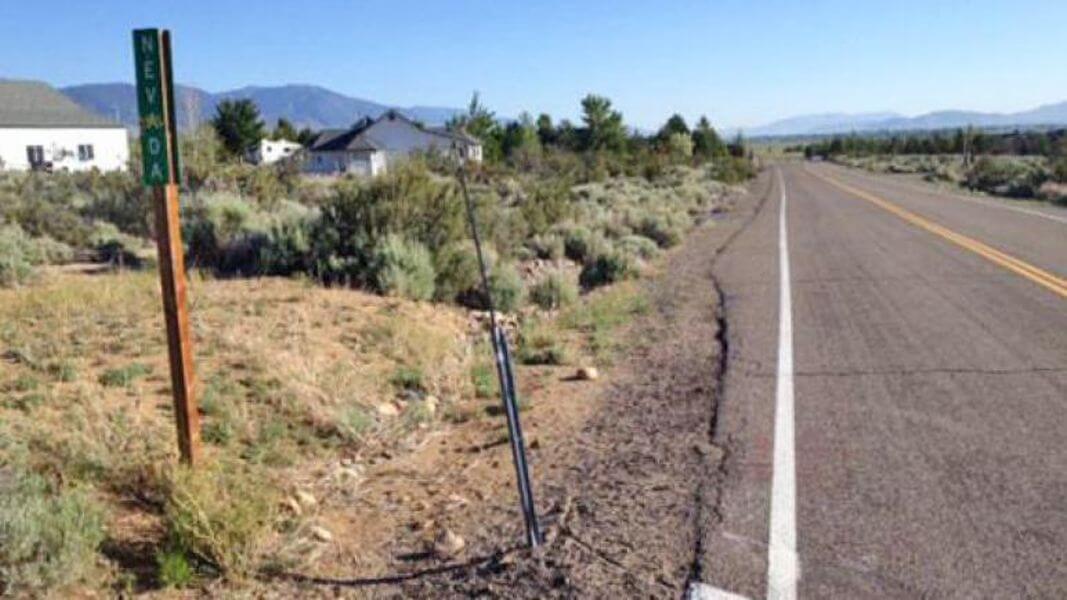 The first strip mall I encountered was the largest in town, and had a bike shop that had just opened for the day. I explained the situation to the guy behind a glass one-way mirror. He said, "you have a chain link that's stuck." He came out from the back, bent it back and forth and solved the problem. I picked up a new bike lock since I lost mine in Folsom, and also grabbed some cream to help my lack of an ass make it thru the next week. I was able to leave my bike there and grab some In-N-Out next door. In the process I lost my gloves.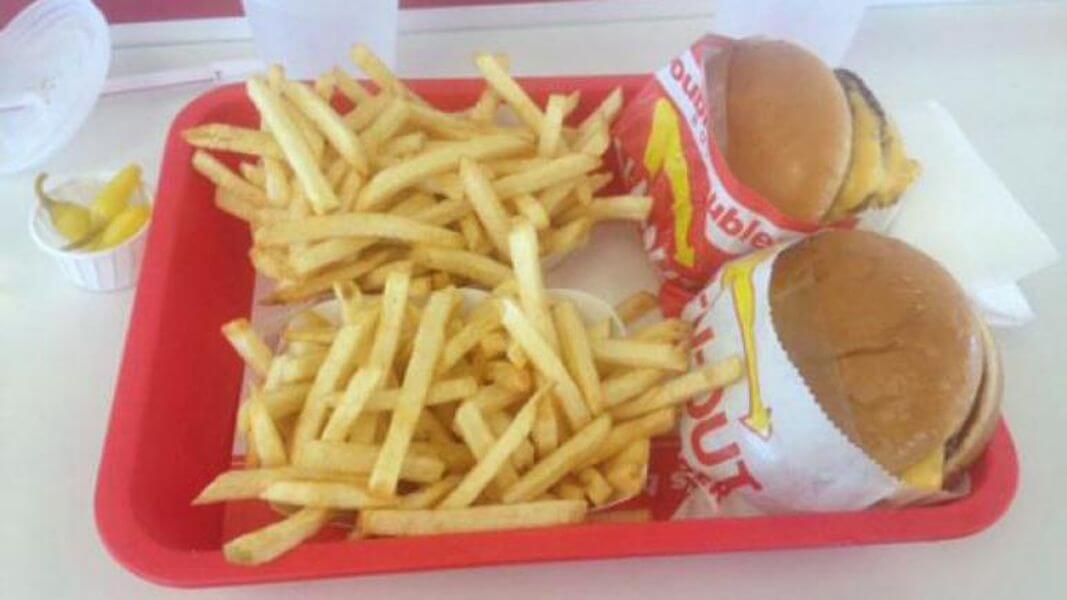 I left there and headed to the next town, Dayton. I am currently at the public library using a computer. It makes it A LOT easier to blog compared to my phone or iPad.
I headed out of the library when they closed at 5pm in search of a campsite at the local campground. I also put in an email to a Warm Showers host in my next destination for tomorrow night in Fallon, NV. That's the last town before I run into nothing for 100 miles or so. Plus, I need a shower.
Day 6—Dayton, NV to base of Carroll Summit, NV
Friday, June 6, 2014
114 Miles, Total So Far: 384
Last night I made it to the totally deserted city campgrounds in Dayton. It looked like it was going to rain so I decided to camp under the shelter at the back of the park. I woke at 2am to sprinklers hitting my tent, then at 5:30am by a ranger telling me I shouldn't have camped in that spot.
I was up and rolling out of camp at 7am, and had lined up a Warm Showers host in the next town, Fallon. The ride from there was quick, flat and had me at my destination at 11am. I decided to call the host and let him know I just peddled on to the next stop, 60 miles down the road.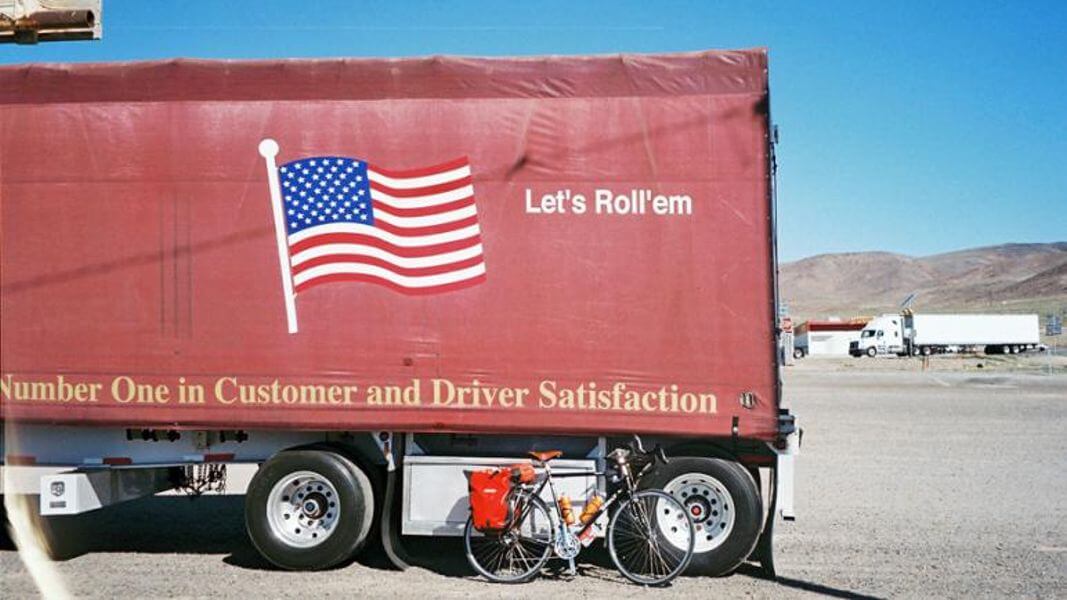 This also marked the end of my first 1 of 12 maps that will lead me to Virginia.
My plan was to make it to a small intersection stop called Middlegate, which had a restaurant, bar and allowed free camping in the back.
The road there again was pretty fast and flat.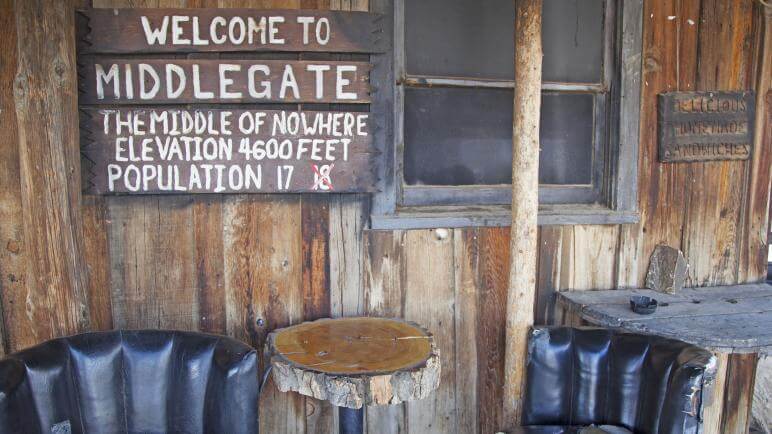 The bar was amazing, and sort of reminded me of my grandpas. I had a warm meal, cold corona, talked to the locals, and decided to try and push for a few extra miles before the sun went down.
The route had two options from this point. One being flatter and longer, and the other being over a mountain, and a bit shorter. I decided to take the shorter/steeper one and ended camping alongside the road just before it started getting really steep.
This also marked the start of the 16 hours I'd only see 2 human beings.
Day 7—Base of Carroll Summit, NV to Bob Scout Camp, NV
Saturday, June 7, 2014
57 Miles, Total So Far: 441
Last night I woke up alongside the road at the base of Carroll Summit, took down camp and started the long climb up and over the hill. This route soon had me regretting my decision to take the shortcut.
This was probably the hardest day I've had so far. I would climb a hill, ride across a valley for 2 hours, climb another hill, ride across another valley over and over again. I literally saw 2 cars and 4 antelope in 16 hours. It was the terrain that was difficult.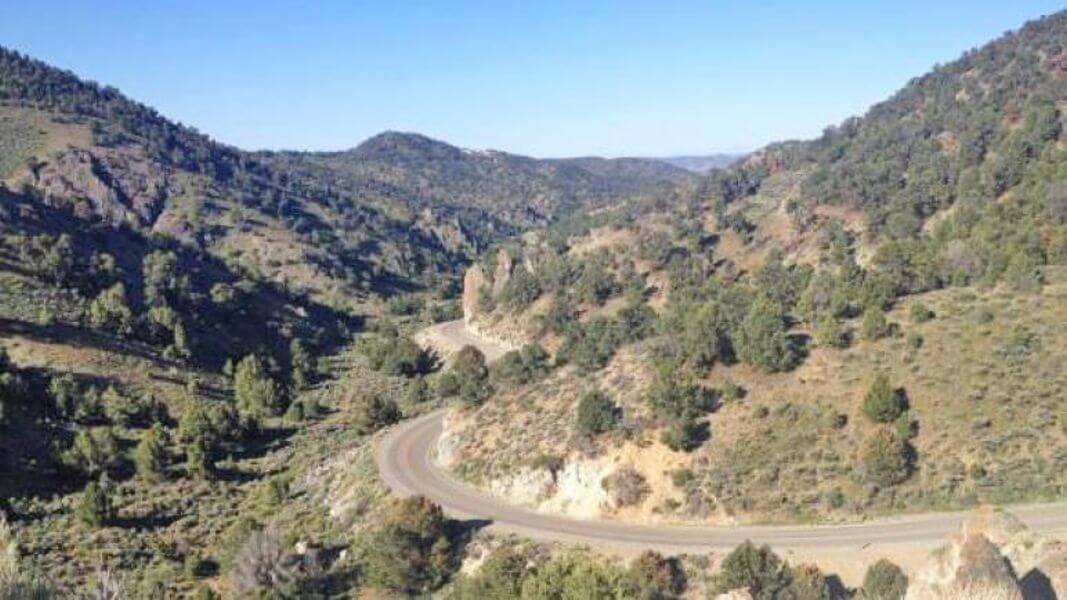 I finally rejoined the original route and climbed up a big hill to Austin. I was about out of water and starving. As I pulled in to the first gas station two guys, (Jim and Lonny,) yelled to get my attention. I was pretty excited to see people that I could talk and relate to. I stocked up on Gatorade, hung with them in the local park for a few hours, and took my first shower in 5 days.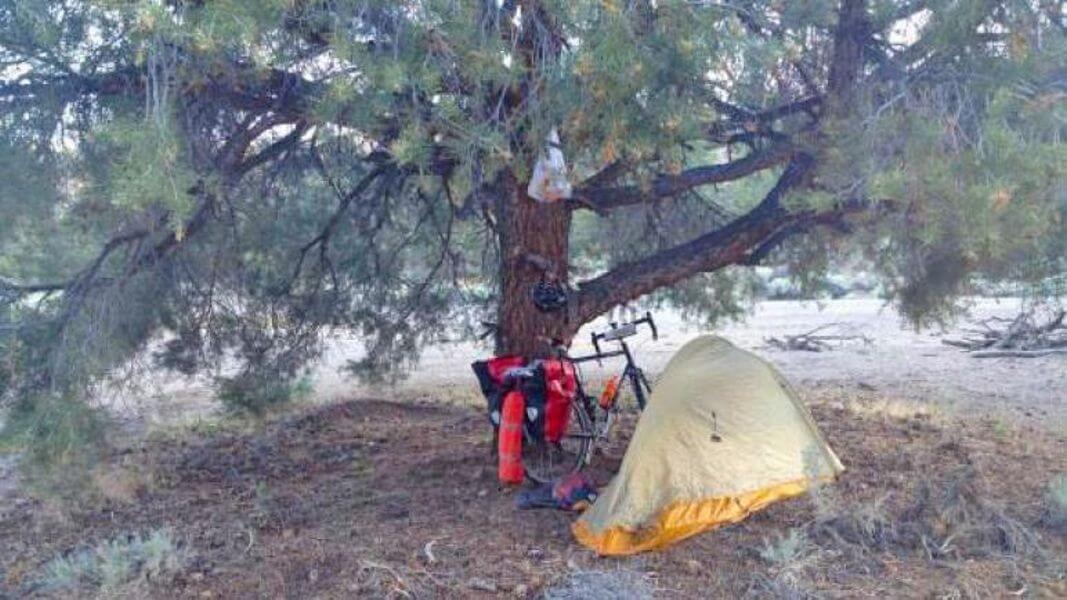 We decided to ride up the mountain 6 miles and camped at the state campground called "Bob Scout Camp". It was nice to endure the long climb during the coolness of the evening. I've started to realize I want to be done riding by 1pm, and can try and get through a few extra miles after 6pm if I feel like it. Also, it's easy to knock out more miles than I'm averaging strength and endurance wise, but the towns are so spread apart, and it's so hot that logistically it's not possible yet. Hopefully I can increase the mileage when towns start to be a bit closer.
Day 8—Bob Scout Camp, NV to Eureka, NV
Sunday, June 8, 2014
63 Miles, Total So Far: 504
Today was one of the best days I've had on the trip so far. I started out at 6:30am tagging along with the guys I met yesterday, Jim and Lonny. They remind me a lot of my Uncle Tom, but with a shit ton of outdoor skills. It seems as if Jim has been to many continents and hiked every state in the US. His favorite saying is, "I need to spend all my money before I die".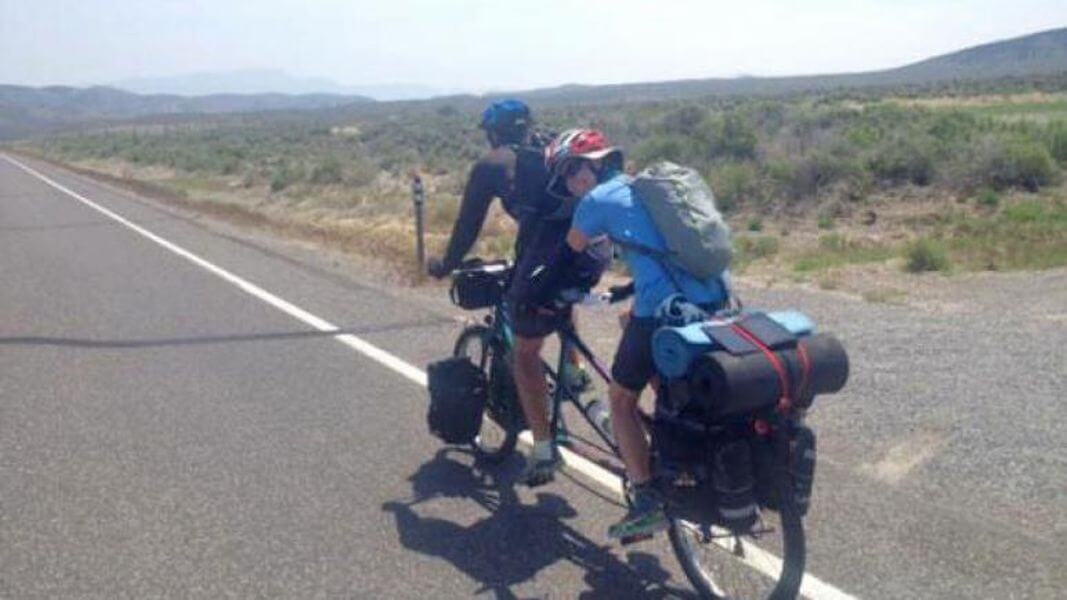 The ride today was a lot like yesterday. The wind was coming from different directions every 15 minutes or so, and made our speed very inconsistent.
About 20 miles in we saw a husband and wife tandem team that Joe and Lonny rode with a few days prior. We decided to group up and take advantage of drafting off each other and made really great time.
We rode hard all day together and covered over 60 miles before 1pm and landed in Eureka. Most of the towns we have stopped in were very popular for mining in the late 1800's, and still have a bit of mining going on today.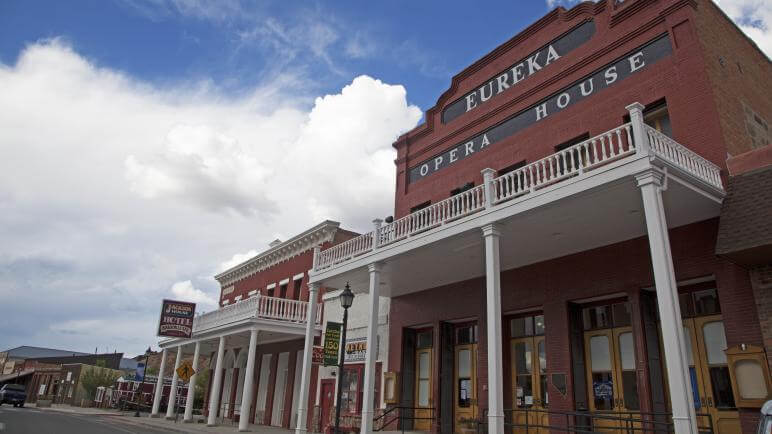 Camp for the night was the park behind the bar. The city allows free camping to cyclists and hikers.
I must say, riding with a group makes things so much easier and enjoyable. I'm not sure I would have made it these last 2 days on my own. Hopefully I can stick with them at least to the end of the desert.
Day 9—Eureka, NV to Ely, NV
Monday, June 9, 2014
78 Miles, Total So Far: 582
Sorry for the lack of updates on this thing the last few days. We've literally been riding from small town to small town, and stealth camping alongside the road for the last few hundred miles.
Today I woke up in the city park to what seemed to be a zoo full of birds. They started going nuts at about 3am and had us all up early and on the road before the sun was even up.
First thing out the door was an hour-long climb to the summit. The Great Basin is what we have been riding all week and is essentially a long strip of peaks and valleys stretching across Nevada and part of Utah. I didn't realize Nevada was the most mountainous state in the continental US until I had to cross what felt like each peak and valley myself. We tend to climb 3-5 of these hills/mountains each day.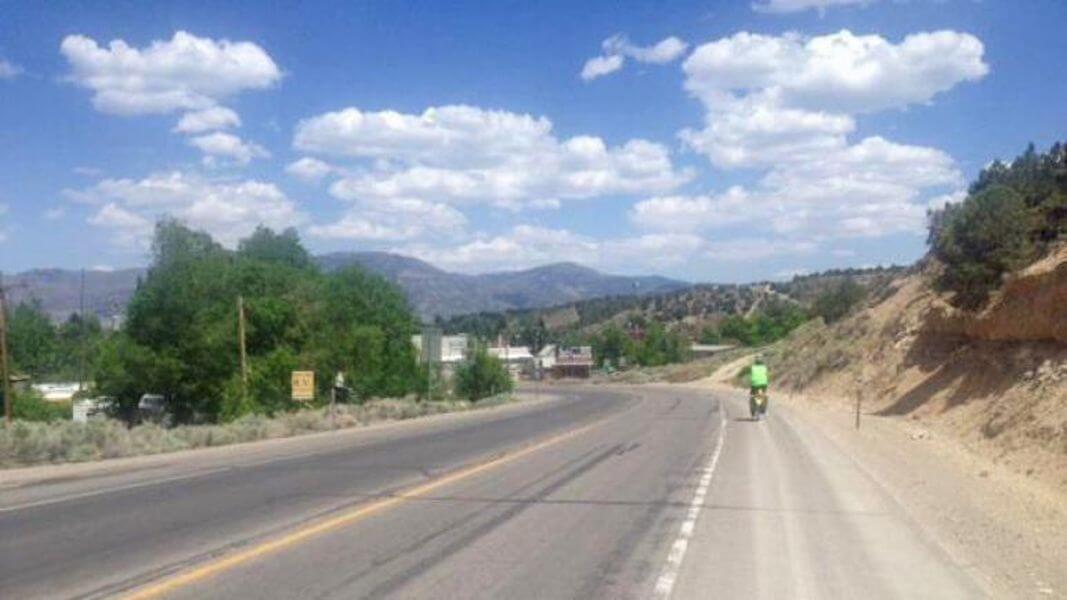 My butt continues to really hurt. Every few miles I have to stand up and give it a little relief. The saddle is starting to break in though so hopefully that is remedied soon.
Jim was really excited to see a billboard of McDonald's. Most towns we've been staying in only have one small restaurant. Most McDonalds now have free wifi, outlets for our phones and $1 endless Poweraids.
The last few miles had us with a massive downhill tailwind. Nothing more than I can ask for on such a dry, hot day.
By the time we got to Ely, we decided to book a hotel at Hotel Nevada and rest up a bit for the next stretch of Nevada.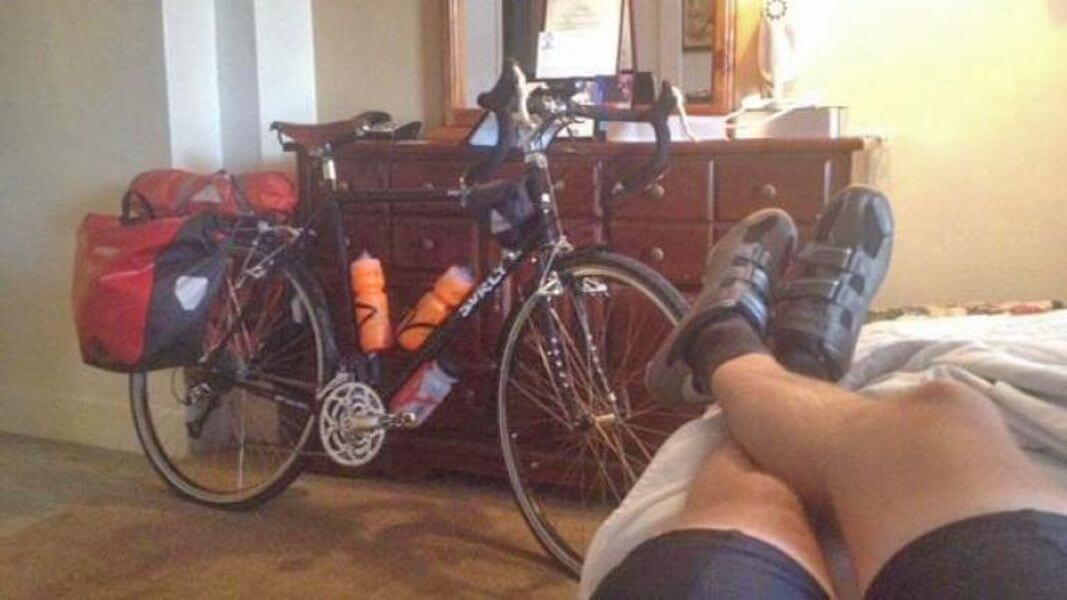 Free wifi, TV and free beer was a nice change of pace. This was also one of the "larger" cities along The Loneliest Road in America, so I decided to walk around and see some sights.
All 5 of us met up for drinks and dinner at the hotel diner. After that I went back to my hotel room, caught up a bit on work, and knocked out a few prior days blog posts.
Day 10—Ely, NV to 20 miles past Utah border
Tuesday, June 10, 2014
87 Miles, Total So Far: 669 Miles
I woke up today in a bed for the first time in over a week. I went 6 days without a shower and loved every minute of it.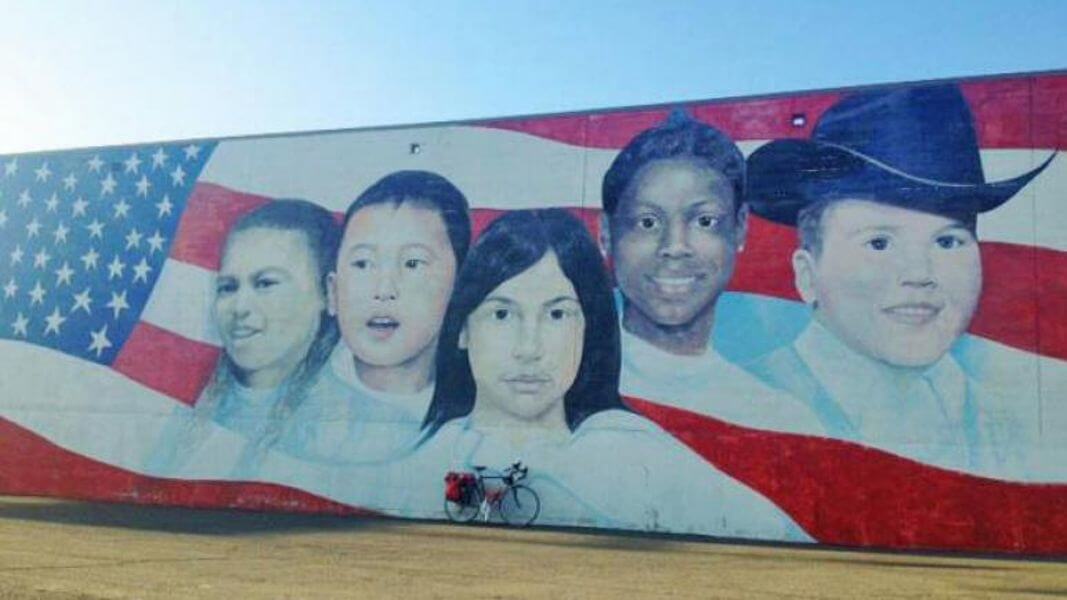 Joe and Carroll decided they were going to stay in town for an extra day and would not be riding with us any longer. They were super positive people and super fun to ride with. Glad I ran in to them along with Jim and Lonny.
We also met a few other groups going our way today. Not sure if we will see them again since they are on a more mellow schedule.
Unlike the other Nevada days today's route had a place in the middle of our ride to get supplies, Major's Place in Major Junction. However they were closed for the morning, and we had to refill our bottles from the hose out front. The bar is all hunting-themed and lined with elk antlers. We noticed a massive migration route a few miles before it… my guess is that's where they get the antlers from.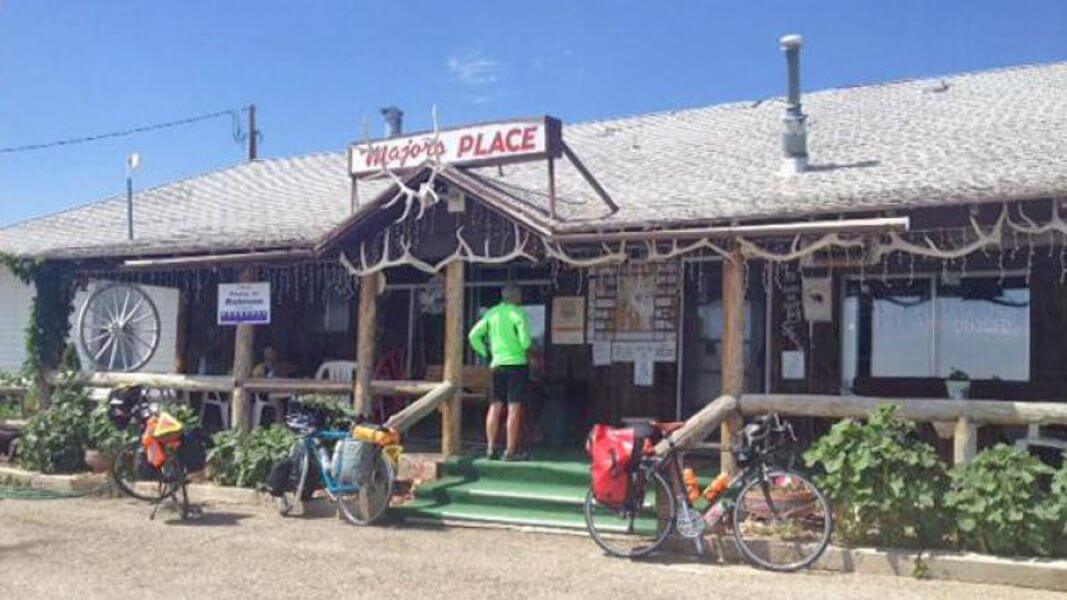 We had amazing tailwinds all day riding by a windmill farm that kind of made me homesick. But it was nice to cover 60 miles with not a ton of effort. We rolled in to Baker, around 1pm and hung out in town for a few hours. Here, I was able to recharge a bit and decided to roll out with Jim and Lonny to cover an extra 16 miles before it got dark. We rolled past the Utah border, almost ran over a rattlesnake, and changed in to a new time zone!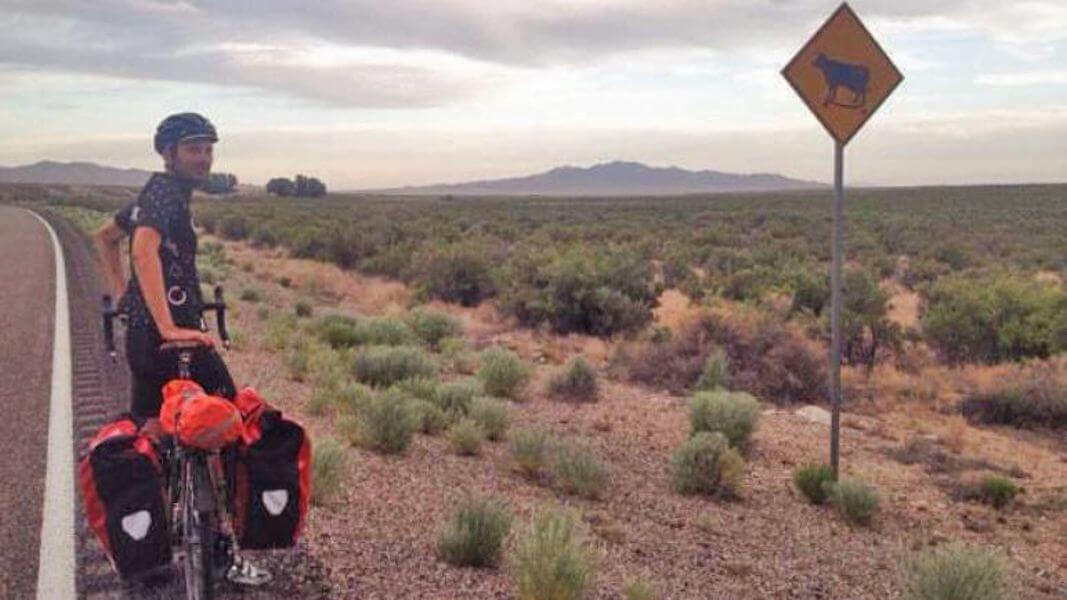 Throughout the next 37 days, we rode across the entire United States. All 47 days seemed to fly by, in the grand scheme of things, and we were in Yorktown before we knew it.
Day 47—Midlothian, VA to Yorktown, VA—LAST DAY!!!
Tuesday, July 15, 2014
86 miles, Total So Far: 3225
I'm done!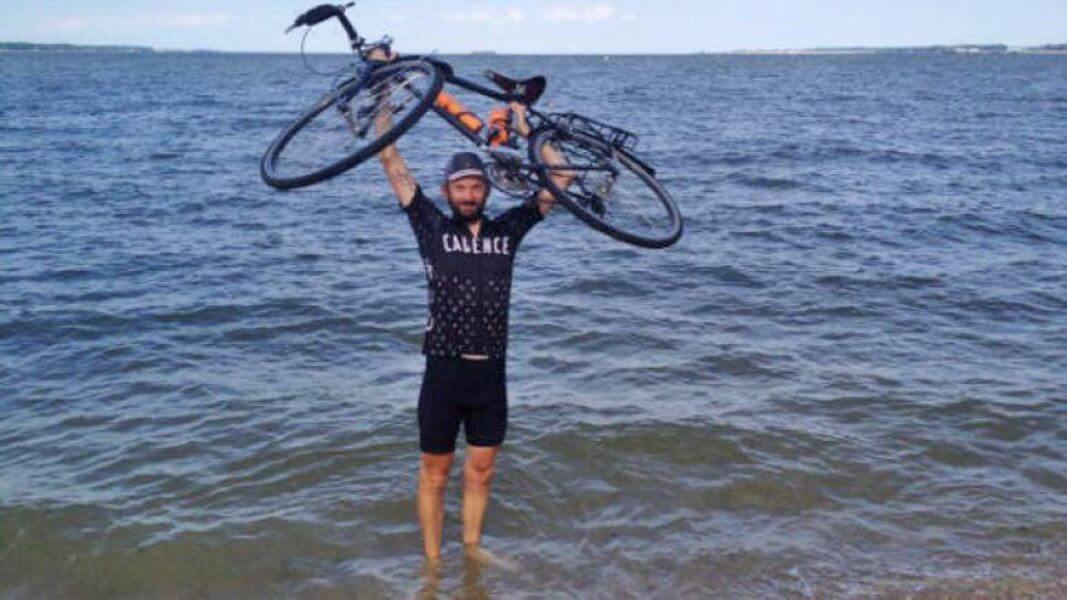 Days Riding: 39
Days Resting: 5
Sick Days: 3
Vertical Feet: 191,000
Total Mileage: 3225
0 flat tires
2 hours of rain
47 Twinkies
53 McDonald's Sweet Teas
When I look back to the many states I traveled through, Nevada definitely sticks out as the most memorable one. Being from a desert (Palm Springs) I can easily enjoy the vast empty spaces that I am already so familiar with. I have to admit though, I was sort of uneducated on the landscapes to come heading into the journey. I was not familiar with Nevada's expansive "Great Basin" until I reached the outer end of it at the bar in Middlegate and got the breakdown of what was to come from the locals.
Up a 1,000 foot hill for an hour or so, down it for 10 minutes, and then across a long, flat barren piece of desert for a few hours and all over again a few times a day until you finally hit a small town of a couple hundred people.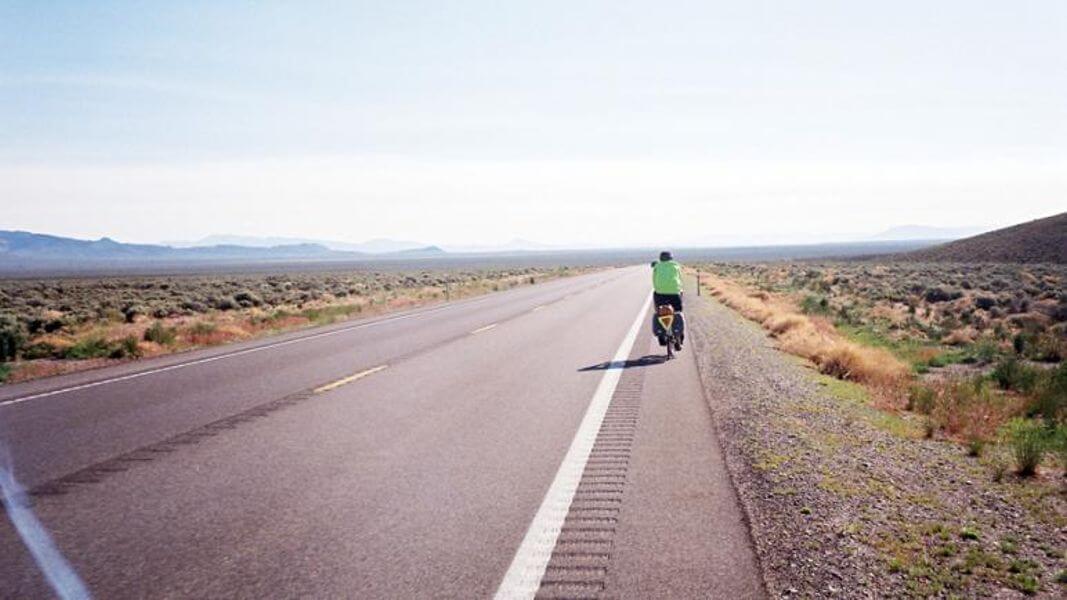 One thing is for sure: the state is really hard to ride. Endless ups and downs both physically and mentally… but I think that's exactly why I enjoyed it so much. Most people tend to avoid this stretch of the cross country route called "The Western Express" and start in Oregon on "The Transamerica Trail", but if you enjoy a great challenge this route is for you. Talk about something that will stick with you for the rest of your days. #DFMI
Get Inspired
Related Stories