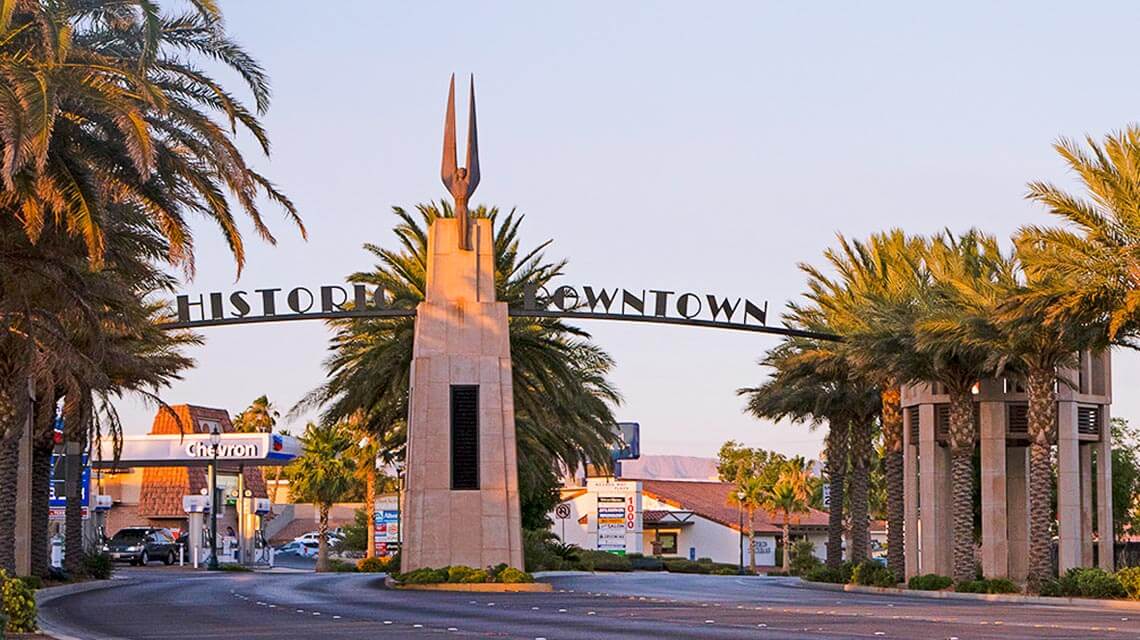 Boulder City: One-Night Near-cation
Know Before You Go
Recreate Responsibly – Whether you're highway road-trippin' or backroad rippin', get the scoop on how to explore the Silver State safely and respectfully.
Heading off-road? Brush up on Nevada's Dirt Road Code to ensure you're prepared for an off-pavement adventure and all that comes with it.
Nevada Travel Alerts – From temporary park and road closures to unusual environmental circumstances, if we know of something going on that may affect your visit, you'll find it here, along with links to further resources to get more info.
Get the Full Itinerary
For a family outing that's sure to satisfy, hightail it down the highway to Boulder City. Less than 30 minutes from Las Vegas, this decked-in-Art-Deco community is positively beaming with rich history, small-town charm, and kid-approved activities. Start packing your bags now, because pedal-powered railroad rides, a vintage bowling alley, and picnicking alongside desert bighorn sheep are only the beginning of this overnight adventure.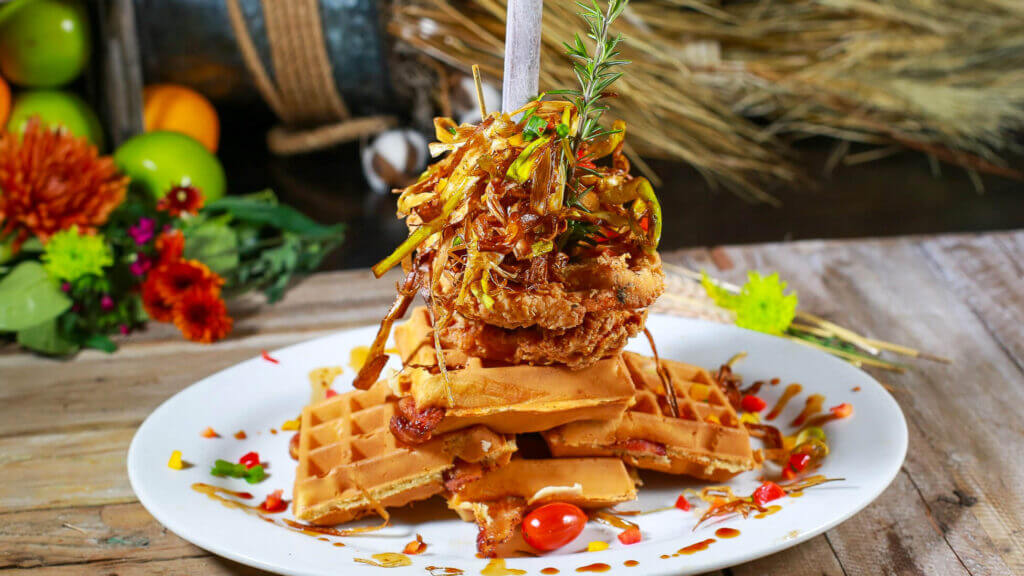 Here's The Story, Morning Glory
They say breakfast is the most important meal of the day, and we couldn't agree more. Start your morning in Henderson, which'll get you halfway-ish to Boulder City. Pile on the pancakes at BabyStacks Café, or let more than 100 cereals from around the world bowl you over at The Cereal Killerz Kitchen. If it's a hearty party you're after, Omelet House and Hash House a Go Go both serve up mondo portions of extra tasty morning classics.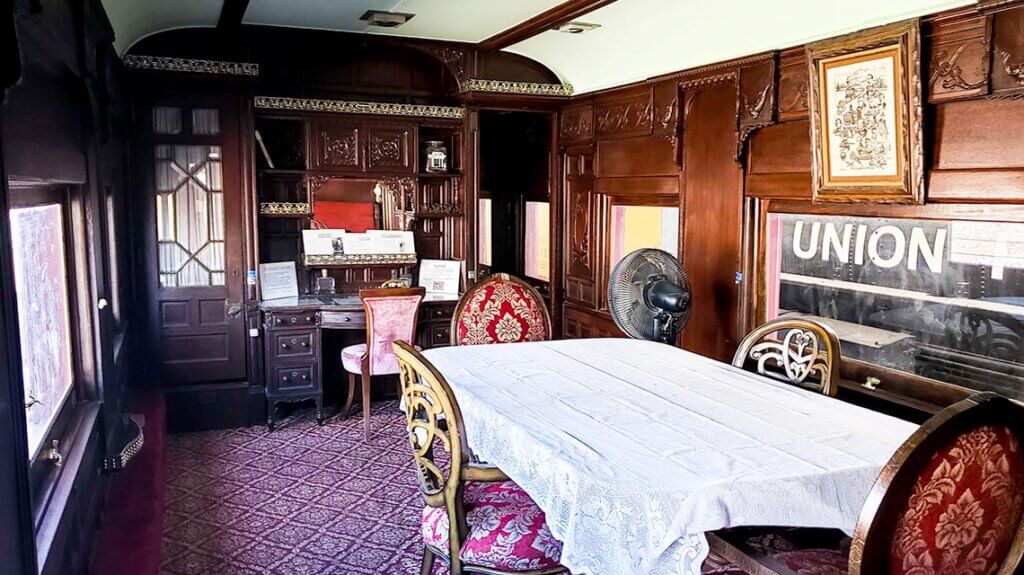 Up Your Train Game
On your way into town, choo-choo-choose to stop at the Nevada State Railroad Museum–Boulder City. It's here you can marvel at the grand machines originally used to construct Hoover Dam, along with historic artifacts and rotating exhibits.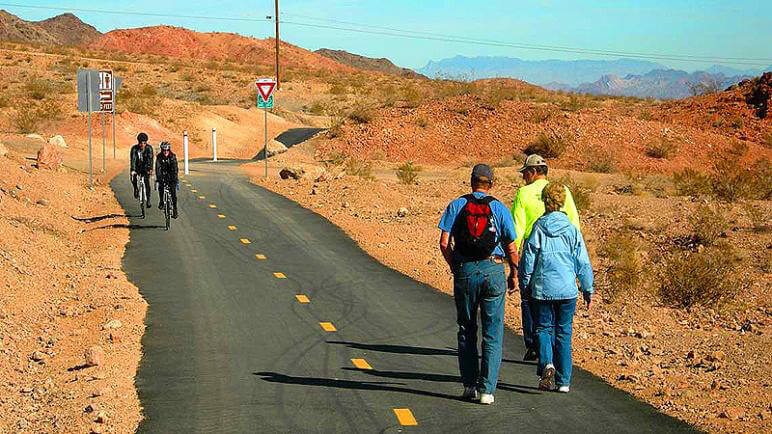 This Trail Rocks
Big ol' photo-opp-worthy statues of desert dwellers (like a jackrabbit, tortoise, and Gila monster) await at the Nature Discovery Trail and Rock Garden, less than a mile away from the Nevada State Railroad Museum–Boulder City. The trail itself is less than half a mile, but it's packed with interesting fact plaques on the flora, fauna, and rock gardens featured along the path. There's also a covered pavilion with a picnic table if you need a shady retreat.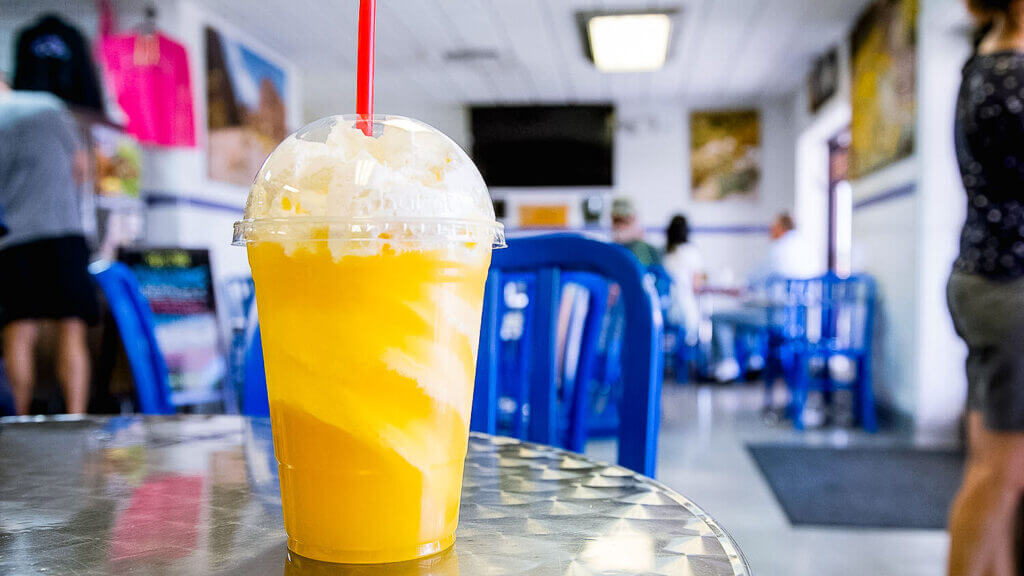 Dig Into Some Dole Whip
Sure, Chilly Jilly'z has menus overflowing with homemade pastries, beefy Angus burgers, juicy Broaster chicken, and fresh fruit smoothies. But we gotta be honest – we beeline it straight for the Dole Whip floats, malted milkshakes, and shaved ice. No matter what you pick, you're gonna be back for more.
Travel Nevada Pro Tip
Take your Chilly Jilly'z grub to go and picnic it up at Hemenway Park, where odds are likely you'll enjoy your meal in the company of a herd of desert bighorn sheep.
Snag Sweet Deals
Shop and stroll at some of Boulder City's most fun boutiques, like Sherman's House of Antiques. You'll find retro threads, classic toys, and even more eclectic goodies in Coca-Cola, 1950s, and western-themed rooms (plus a vintage library).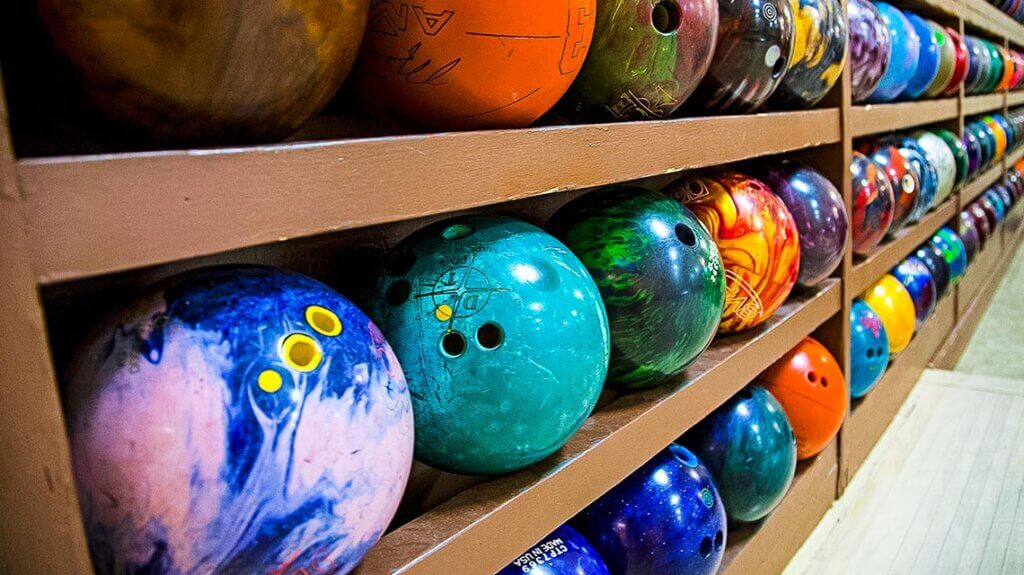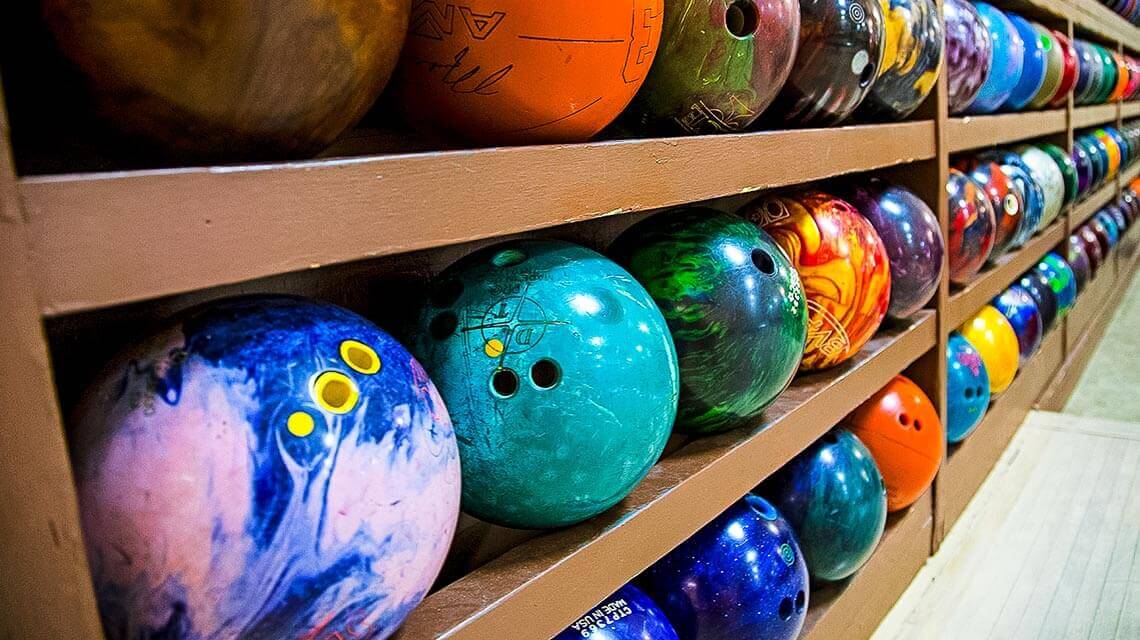 Strike It Rich
Nostalgia's the name of the game at Boulder Bowl, an eight-lane bowling alley that dates back to 1947 and boasts the authentic, original, retro decor and machinery to prove it. Aim for strikes and turkeys all night long, then snap a family portrait below their old-school signage.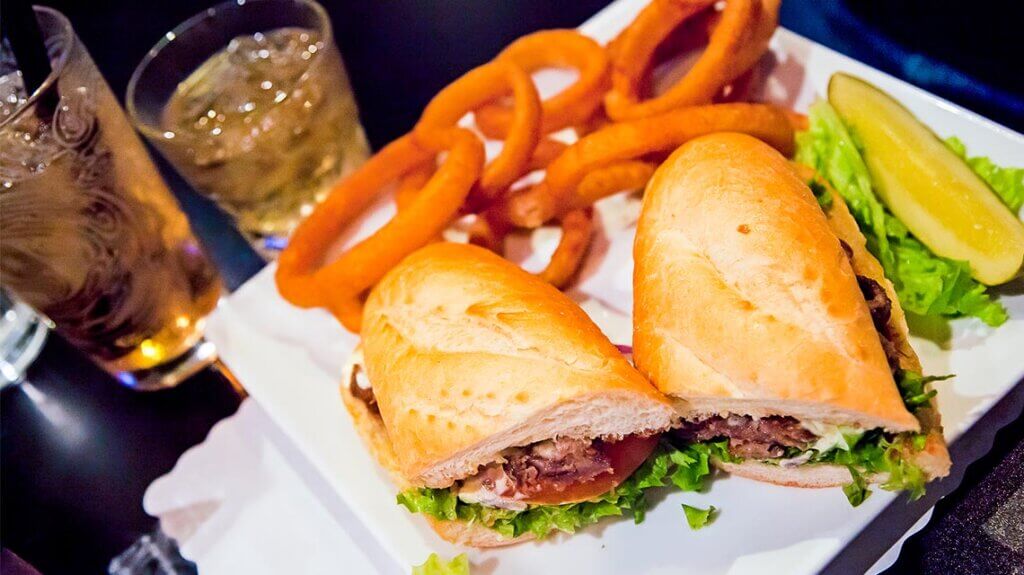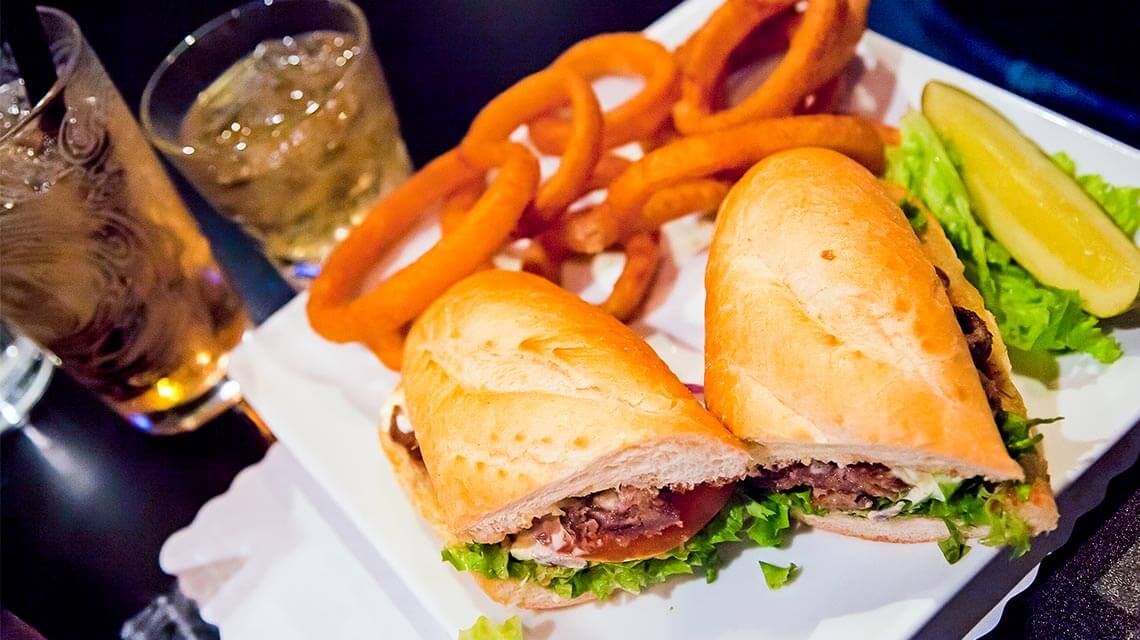 Burgers, Beers, and Bank Robbers
When you're ready for dinner, you can't go wrong bellying up to Boulder Dam Brewing, The Dillinger, or Milo's Cellar & Inn. Locally made craft beers – like the Powder Monkey Pilsner, named after the Hoover Dam workers who packed explosives – pair perfectly with wings and sliders over at Boulder Dam Brewing. Inside The Dillinger, housed in the historic Bank of Nevada building and named after infamous bank robber John Dillinger, gourmet burgers and hearty steak and chicken sandwiches will sate any appetite.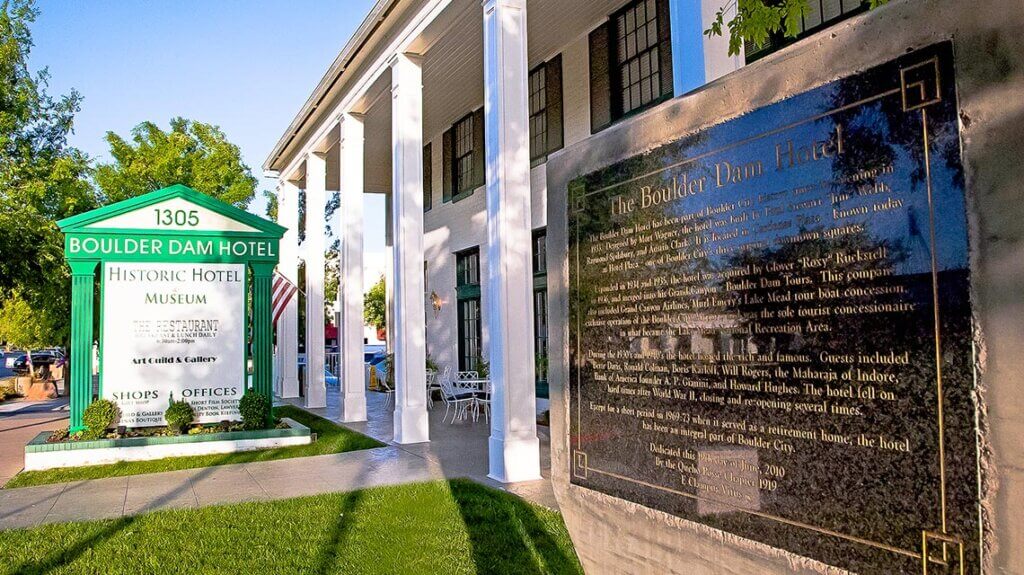 A Dam Good Night of Sleep
Skip the late-night drive and snuggle in for a sleepover at the beautiful, retro Boulder Dam Hotel, a gem of a place that's listed on the National Register of Historic Places. Originally built in 1933, you may find yourself snoozing in a room previously occupied by Bette Davis, Will Rogers, Howard Hughes, or Shirley Temple.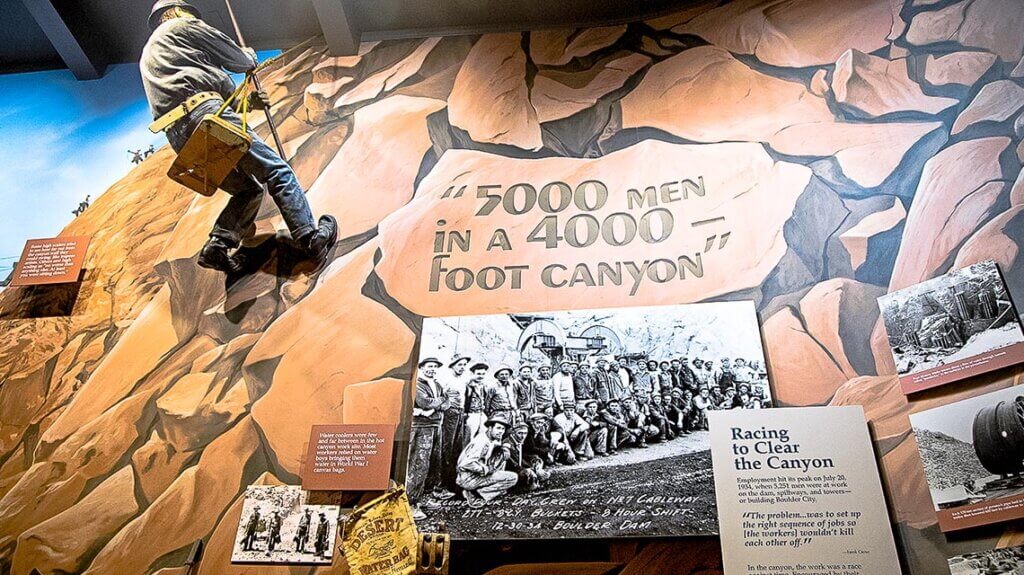 Also A Dam Good Museum
Before you check out of the Boulder Dam Hotel, check out the Boulder City-Hoover Dam Museum, conveniently located on the first floor. Dedicated to the history of the men and women who built the awe-inspiring Hoover Dam, you can peruse interactive, three-dimensional exhibits and displays that provide a real sense of the danger and sheer size of the project. The 20-minute movie screening inside the museum is well worth a watch, too.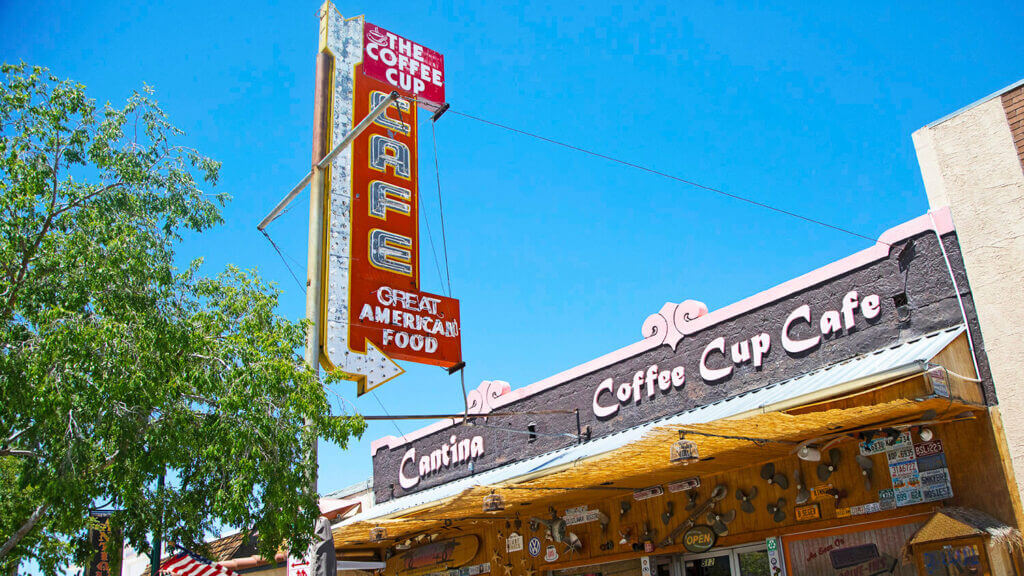 Grab A Cup of Joe (And More)
If the classically iconic sign doesn't grab you, maybe the "Diners, Drive-Ins, and Dives" feature will. The Coffee Cup Café is a MUST for breakfast, and it'll only take one bite for you to see why locals and visitors alike can't stop coming back. And if you're into it (and of age), their Bloody Marys are highly regarded!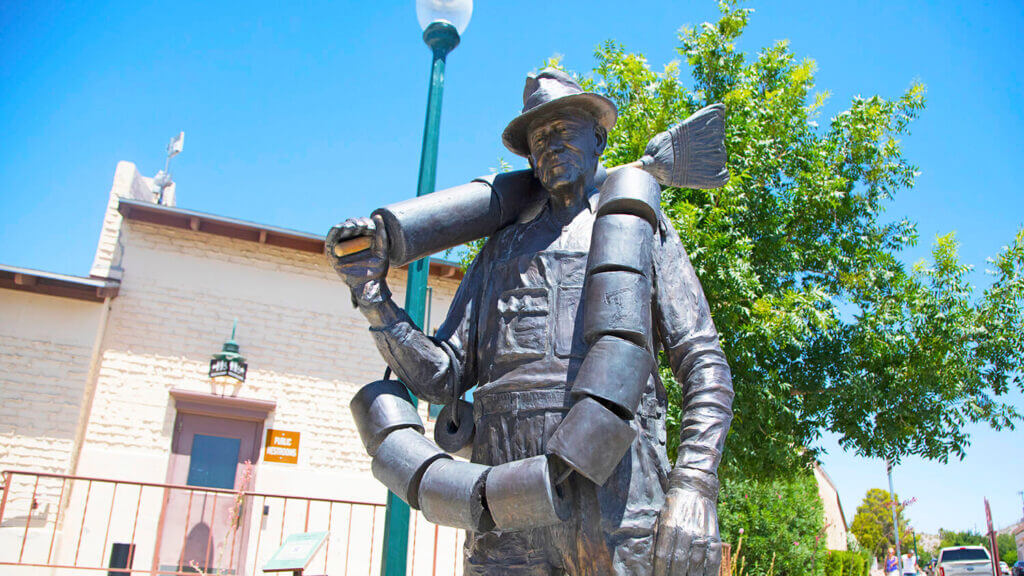 Snap Selfies With Alabam
Stretch your legs after breakfast and say hello to Alabam, the Toilet Paper Hero of Hoover Dam. Imagine being part of the Hoover Dam construction crew back in the 1930s, blasting rock and pouring concrete in triple-digit heat alongside thousands of coworkers. Bet you'd be pretty grateful to walk into a clean and tidy commode, fully stocked with toilet paper. (A feeling we can all relate to, thanks to the TP hoarding episodes of 2020.) The one-of-a-kind statue of this unsung hero is less than a block from the Coffee Cup Café, and one of our favorite #WeirdNevada points of interests.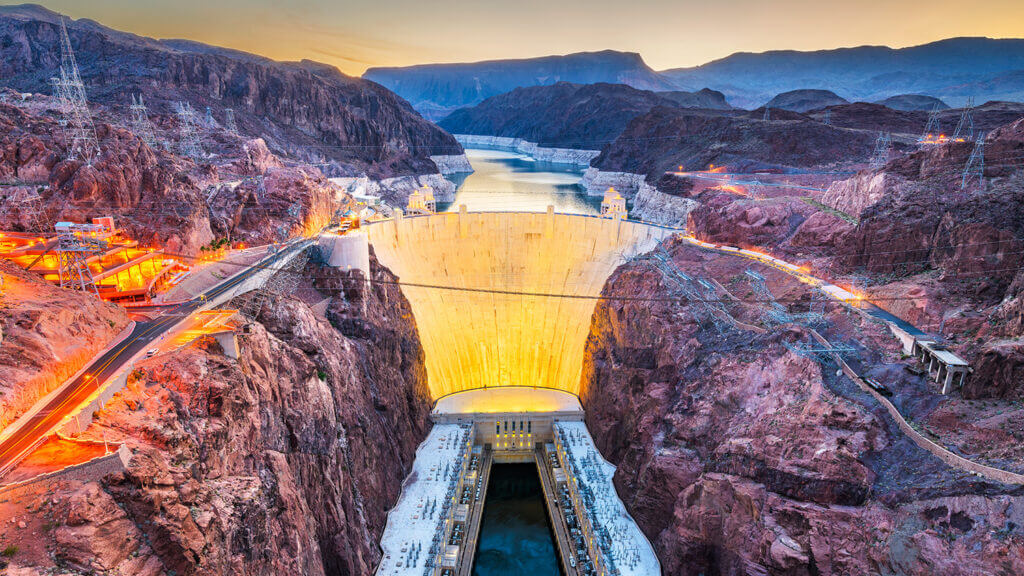 Have a Dam Good Time
Standing proudly as a symbol of what people can accomplish during even the toughest of times, Hoover Dam serves more than seven million visitors each year and is one of the most popular tourist attractions in the Silver State. And trust us – the sights you'll see on a guided tour will give you an entirely new appreciation for this modern marvel. If you're short on time or budget, though, you'll enjoy sweeping vistas of the 880-foot-high Mike O'Callaghan–Pat Tillman Memorial Bridge and surrounding geographic features, along with vertigo-inducing views looking straight down the dam.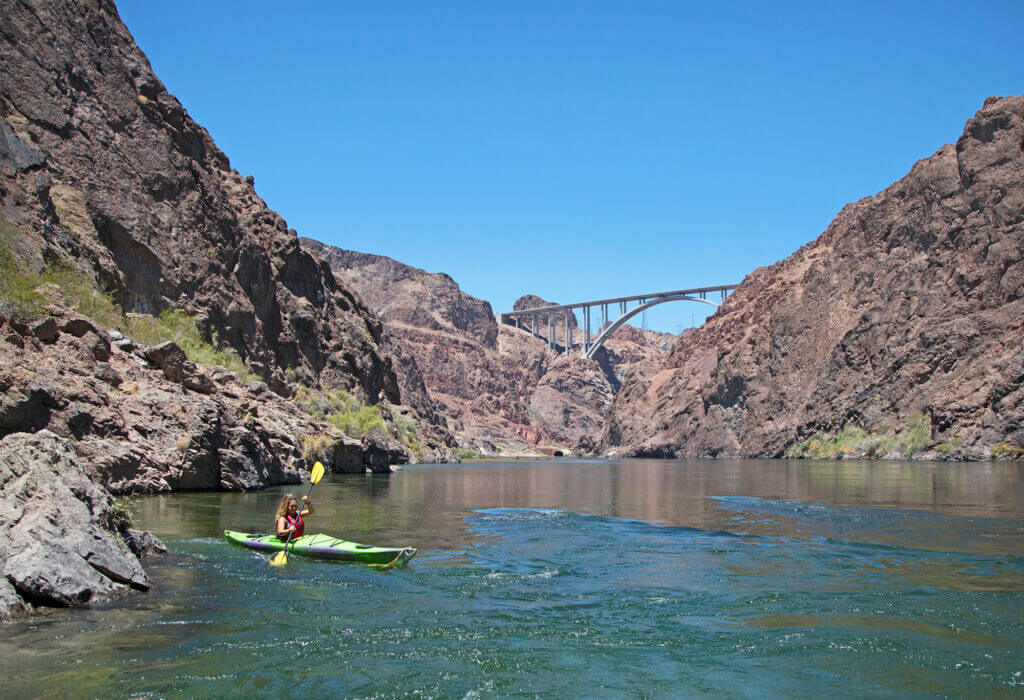 Paddle Down the Colorado River
Got time for the great outdoors? If the whole family wants an unforgettable experience, take a guided kayak tour on the Black Canyon Water Trail. Dropping in beneath Hoover Dam offers some of the best possible views of the famous landmark. Meanwhile, Emerald Cave and Gold Strike Canyon really up the wow factor, along with possible sightings of bighorn sheep, bald eagles, turkey vultures, and other wildlife. Plus, there's a picnic lunch and hot spring soaks, too!
Travel Nevada Pro Tip
A kayak tour is typically an all-day activity (think 6 a.m. to 6 p.m.). If this just jumped to the top of your Boulder City to-do list, adjust the rest of your itinerary accordingly!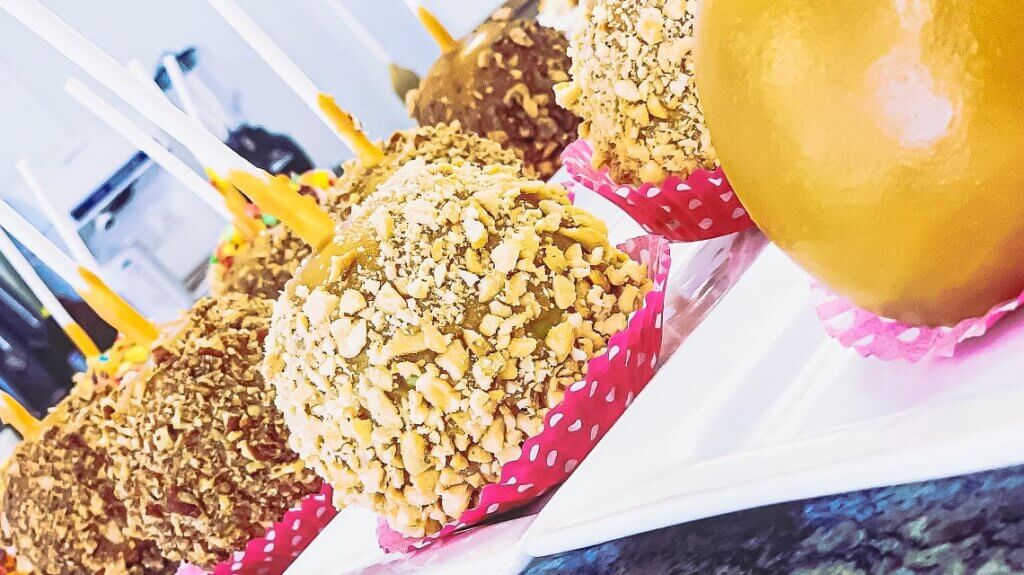 Sweetly Say Goodbye
Before you bid adieu to Boulder City, fuel up with some sweet treats for the road at Grandma Daisy's Candy Store and Ice Cream Parlor. We're talkin' fresh caramel apples, homemade fudge made right in the store, and candies from as far back as the 1920s. Family owned and perfectly old fashioned, Grandma Daisy's is one tasty blast from the past.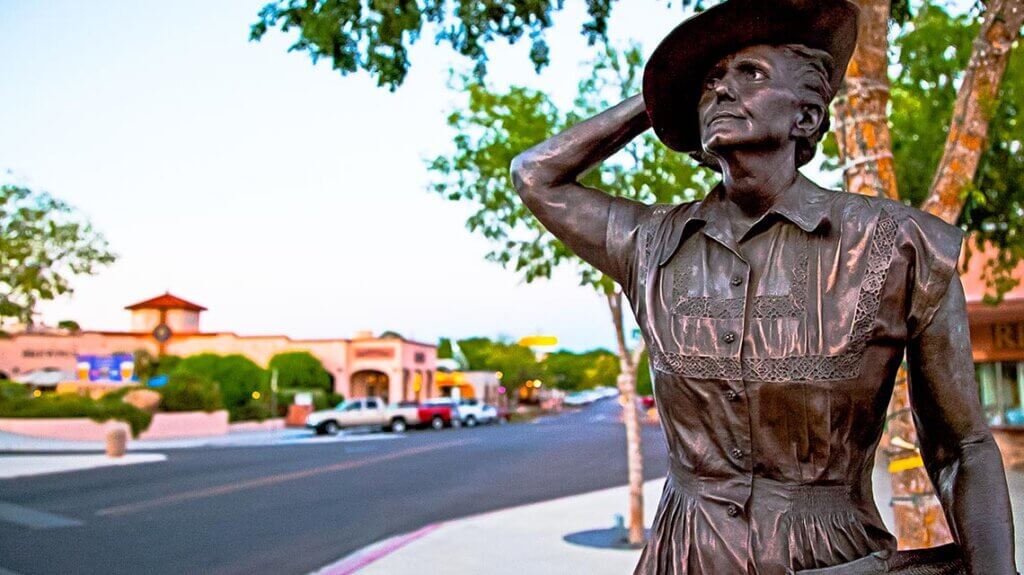 The list goes on and on for things to do in Boulder City. Get the latest information on Lake Mead dinner cruises, zip-lining in Bootleg Canyon, helicopter tours, and more from Visit Boulder City.
In need of another #NVRoadTrip? Go from Neon to Nature and see what else you'll find outside of Las Vegas!
Get Inspired
Related Stories