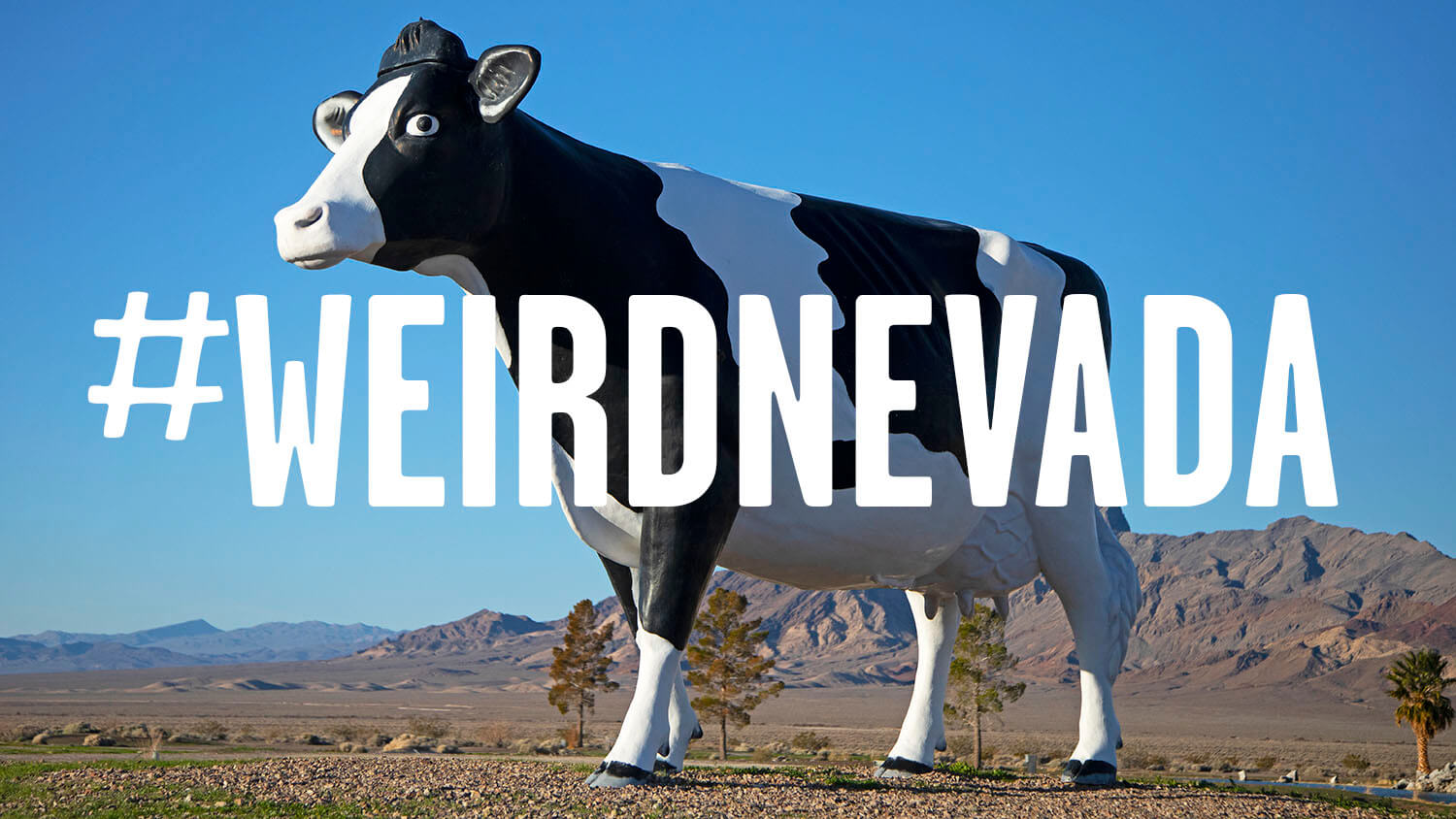 35 WAYS TO GET DOWN IN SOME #WEIRDNEVADA
We'd be willing to put it all on red, betting you've experienced some #WeirdNevada—whether you wanted to or not. Let's see… a creepy clown-themed hotel nextdoor to a cemetery full of miners who met their fate in a mining disaster over a 100 years ago? GOT IT. The largest man-made crater in the world, thanks to nuclear testing? Yep, totally in Nevada. A "forest" of perfectly balanced junk cars, giant fluorescent rocks stacked in the Mojave, an entire highway devoted to little green men, and a sovereign nation smack dab in the middle of a rural town. NO DOUBT! The world's largest taxidermied polar bear, amateur taxidermy in a fireworks shop, the Toilet Paper Man, and Big—no really, it's big—Bovine? Oh yes, we got all that too. Embrace it, and participate, people. Don't even try to pretend—we know you want to get all up in that #WeirdNevada.
1. A "FOREST" OF CARS IN GOLDFIELD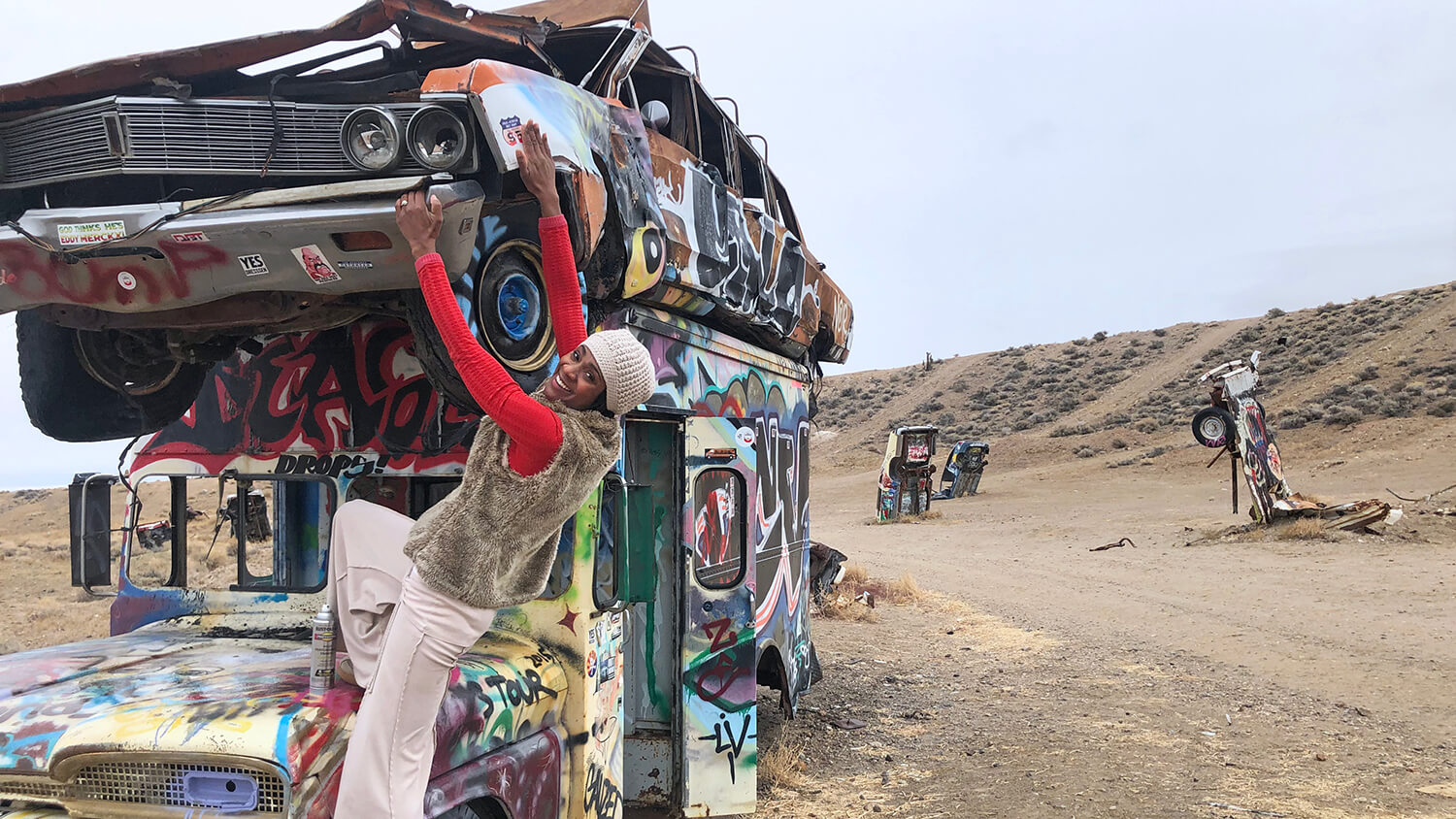 Down to participate in dragging some old broken down cars into the desert and transforming them into art? Then you, my friend, need to grab yourself some spraypaint and hightail it to Goldfield. On land that was formerly part of the "Last Great Gold Camp in Nevada," three German families purchased different plots of land for the novelty of owning a piece of the American West. Then a modern day desert renegade posted up on the land and developed an unconventional art gallery with his buddy. Together, they curated funky old cars considered to be plain junk and pumped new life into them by creating interactive exhibits. Most cars you see at the International Car Forest of the Last Church are perfectly balanced in some way or another, either propped against a giant boulder or stacked on top of each other or even straddling a natural crevice… and of course painted by anyone who wants to participate, pros and amateurs alike.
2. THUNDER MOUNTAIN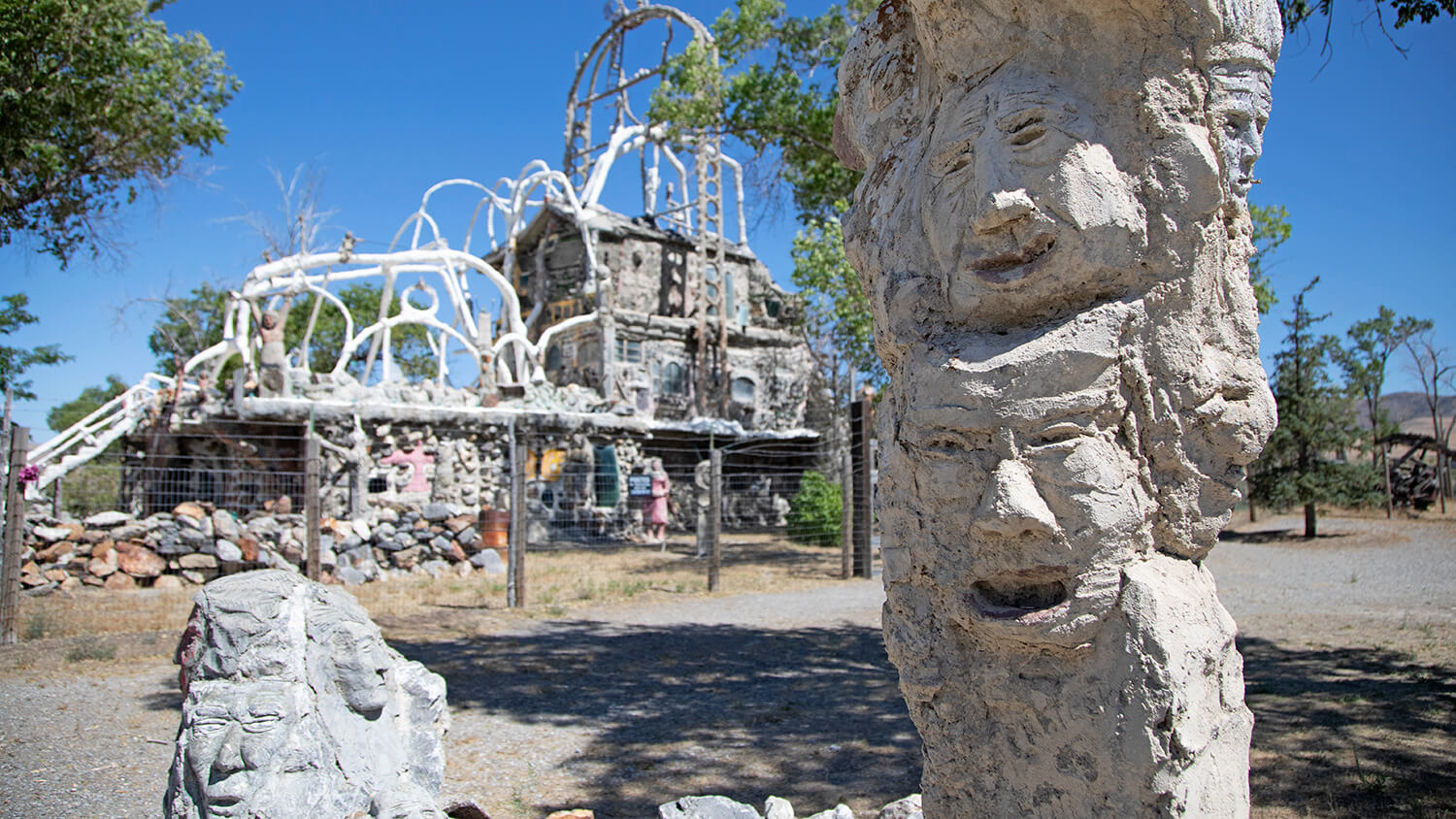 If you're traveling down I-80—or Nevada's Cowboy Corridor—Thunder Mountain is an obvious stop worth stretching your legs at, and I bet will be one you'd have to try hard to forget about. Maybe you've even caught a glimpse of it already and just didn't know it… you're blowing down the highway covering some serious ground, see a roadside structure worthy of a Cormac McCarthy novel and think to yourself, "What did I just see??!" Believe it: yes indeedy this is an actual attraction and you've got Chief Rolling Mountain Thunder himself to thank for it. After being offered a job anywhere in the nation in exchange for plat maps (they're a thing), his Imlay presence was a happy accident after his car broke down on the side of the road. His methodology in creating Thunder Mountain was simple: live completely off the land, using some next level resourcefulness. Everything you see [and trust me, there are a ton of buildings and sculptures going on] was made out of something found on the side of I-80 or somewhere near it, repurposed into structural materials, and fused together with cement for some not-so-typical amusement.
3. THE BIG BOVINE OF AMARGOSA VALLEY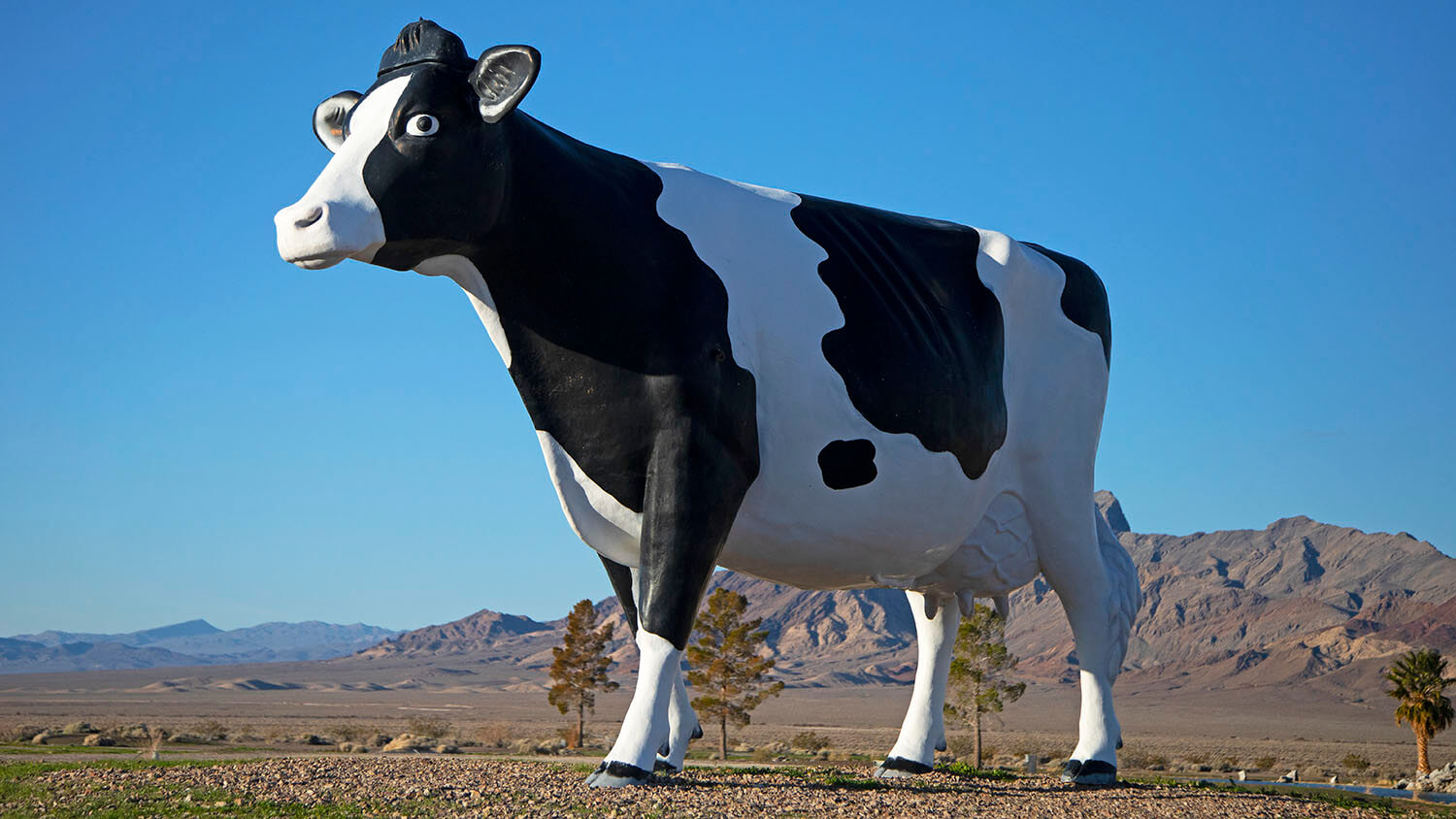 Like a true desert mirage, you may not be ready for what's over that threshold (and state line) at Longstreet's, at least we weren't. Perched in the otherworldly foothills of the Funeral Mountains on the outskirts of Death Valley National Park, this state-straddling overnighter feels a bit funky anytime, especially after you've been ripping through one of the hottest and driest places on the continent. Those electrolytes are probably a bit off-kilter, but we guaran-damn-tee everything you see in front of you at this place is real. The wooden guy on top of his motorcycle greeting you at the front door, the live performers who ask the audience to work their fog machine during their show, and the cat who comes nightly to his own table—yep, it's all real. It's one of those places where you can't help but feel like you're inside some weird dream… and can't get enough of it. And then, out front, there it is: Big Bovine. In line with the "can't believe all this stuff is actually happening to you, especially in one place" vibes, there really is an enormous, two-story cow statue, offering a warm, Weird Nevada hello for all those travelers headed for the good stuff on our side of the border. Travel Nevada PRO TIP: While you're here, be sure to inquire about the actual 3,000-pound cow that inspired this very weird, very appropriate installation, too.
4. THE BOULDER CITY TOILET PAPER MAN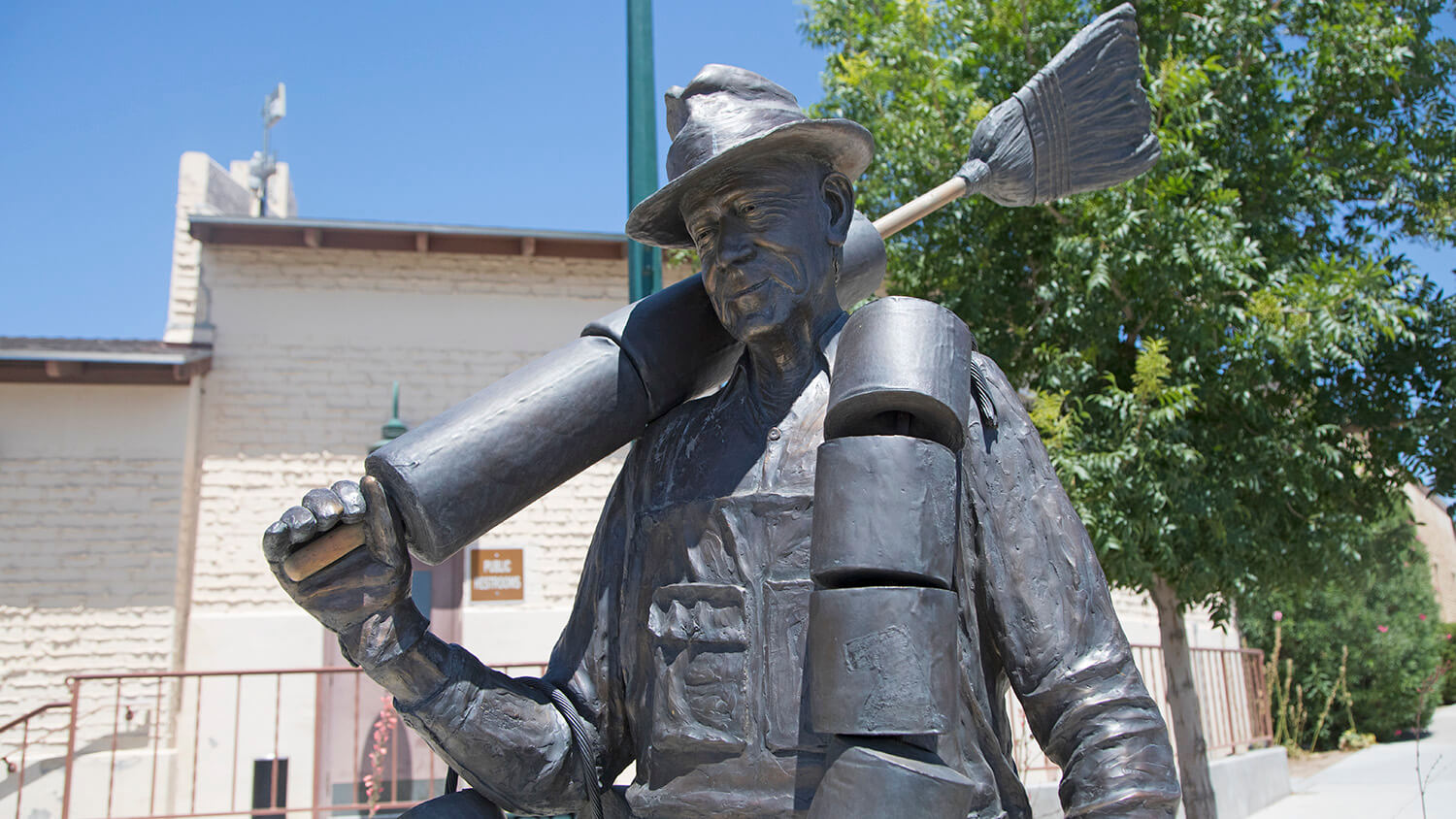 Engineer or not, it doesn't take a genius to realize that Hoover Dam is a modern marvel of the world. Probably, having been to other dams in your lifetime, we get what you may be imagining—how cool could this place really be? The answer is REALLY COOL. But once you've wrapped your mind around the mightiness of this place, you'll start to wonder how it was ever built, let alone 90 years ago with less sophisticated construction techniques, next to zero safety standards, and no way to escape the 110-degree shifts. Many of the 7,000 jobs at Hoover were dangerously sexy—like the high scalers, or the guys dangling from Black Canyon by a rope and 2×4, shoving sticks of dynamite in the walls, and kicking away as the fuse blew. It was dangerous but important work that cost a lot of guys their lives. Like every workplace on planet earth, not every job is exciting but still totally and completely important to the overall operation… like the Toilet Paper Man. Oh yeah, you read that one right—even a place like Hoover Dam can't escape the weird. While cableway operators kept concrete buckets moving 24 hours a day, the Toilet Paper Man also played the very important rode of keeping those commodes clean and tidy and stocked with well, toilet paper. Though every job was definitely important, it's funny how some of the more underplayed roles rise to the top, eh? You won't see any statues commemorating those high scalers in downtown Boulder City, but what you will find is gleaming monument to the legendary Toilet Paper Man, 'cause #WeirdNevada.
5. A TWO-HEADED CALF AND OTHER TAXIDERMIED DELIGHTS AT JIGGS BAR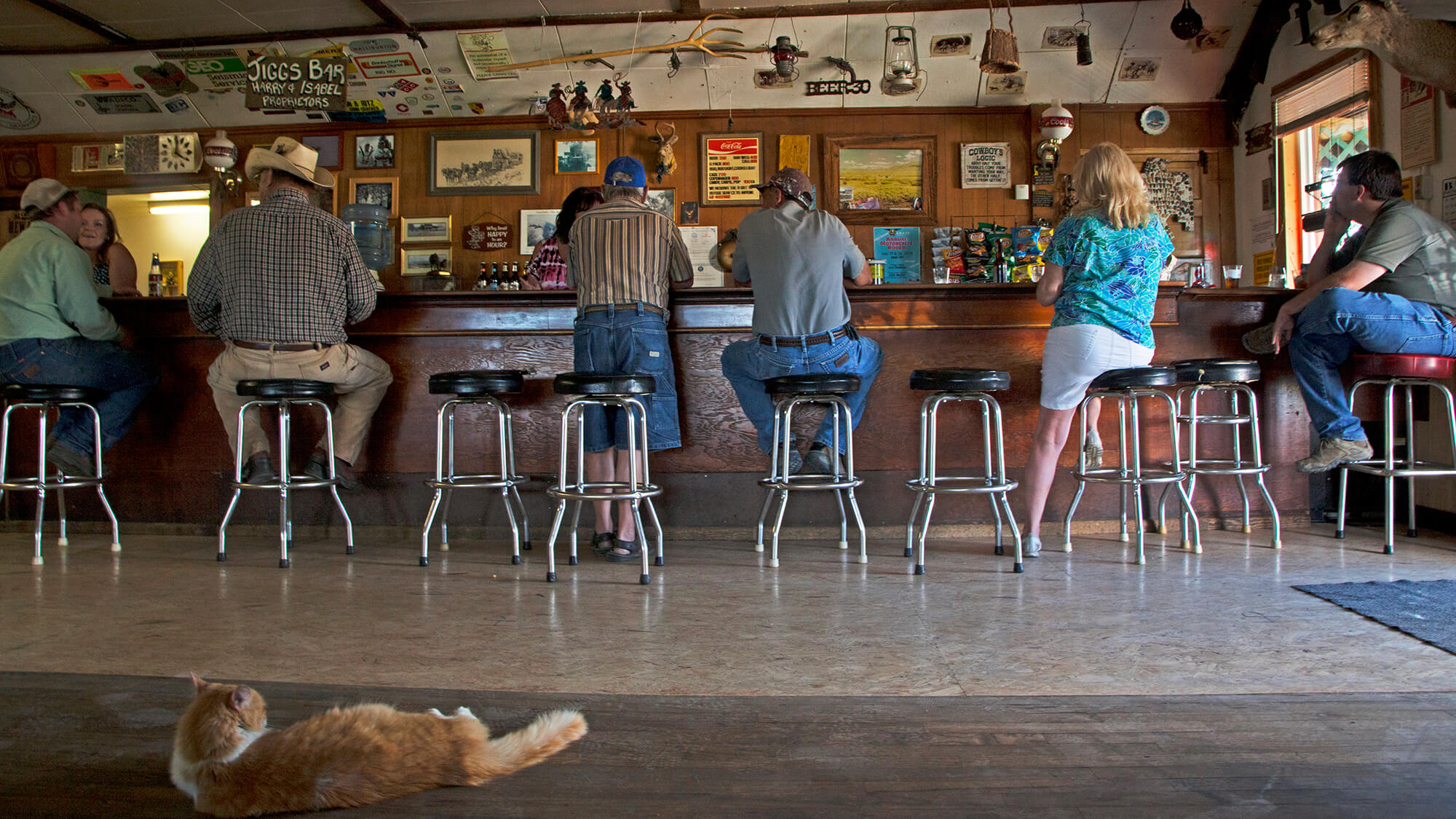 Ooooh those Sagebrush Saloons—you know we're all about 'em. After ripping around Nevada backroads all day, these places emerge out of the sage like the stuff thirst-quenching dreams are made of. But when they've got a dose of weird tethered to 'em? Now we're really here for it. Tucked away in the "if you blink you'll miss it" town of Jiggs, you'll find one hell of a Sagebrush Saloon, usually loaded down with locals looking to get away from the "big city"… of Elko (population: maybe 20k). The common denominator of these backcountry saloons we love so much is the awesome, friendly conversation. What isn't so common about this place is the crazy array of taxidermied creatures looking down at you from just about every square inch of wall space in the joint. Most of the wall mounts are fauna found in the nearby Ruby Mountains or countryside surrounding Jiggs Bar—one of which is the Rocky Mountain Elk donning a cowboy hat, which you should be certain to snag a selfie with before your departure. But don't let the albino porcupine (say it right, "al-BEAN-oh PORK-a-pine"), authentic local jackalope, or two-headed calf hanging above the threshold escape your attention, guys. Oh, and be sure to give the unstuffed, still-living, 20-some-odd-year resident bar cat Tiggs a head scratch too—practically another Nevada rite of passage. It's not your normal saloon scene at Jiggs Bar, but hey, what even is normal anymore?
6. HAUNTED MUSEUM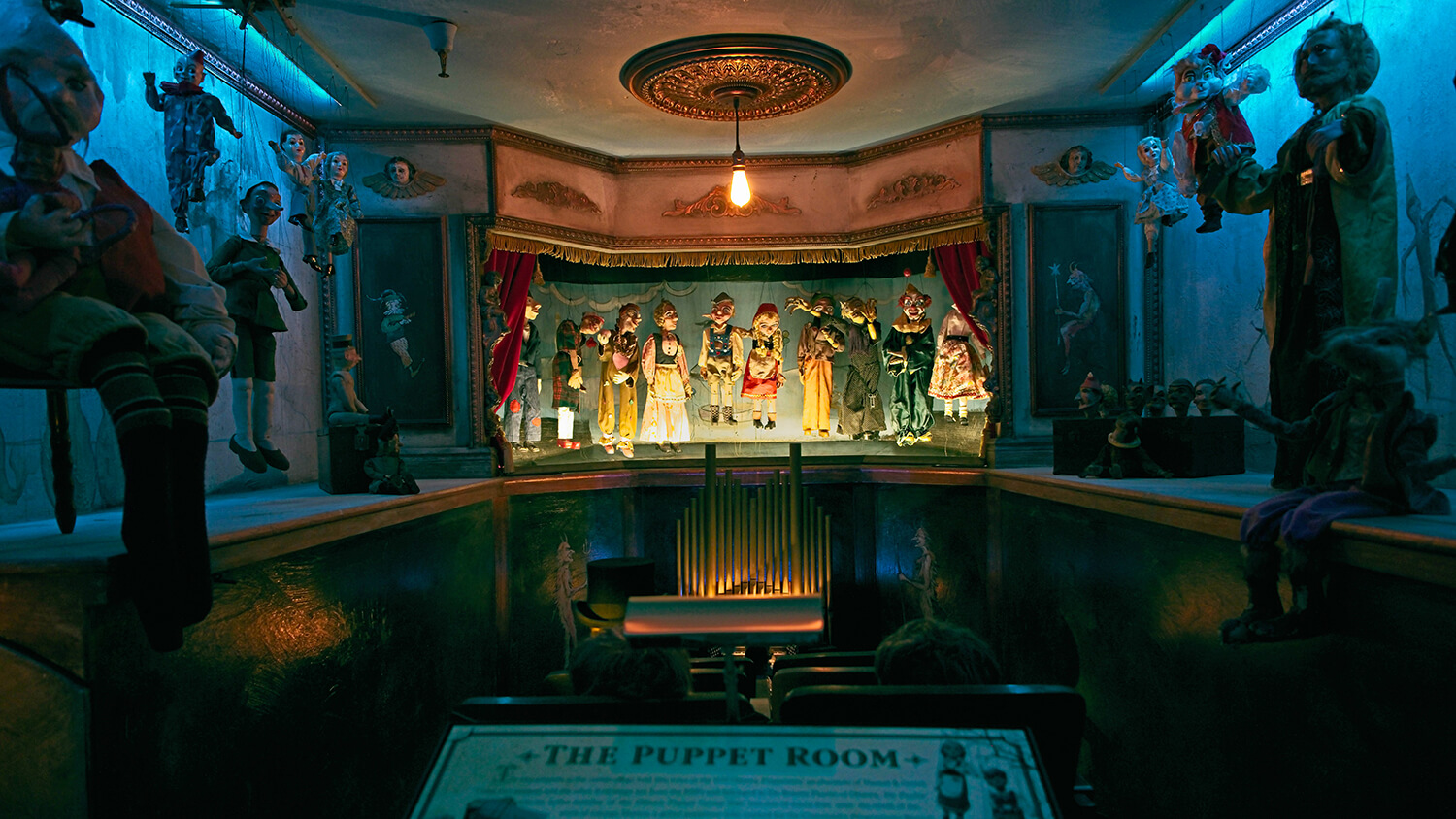 "Ok, Google. Show me ghost museums in my area." You know we're not about to be letting some scary weird pass us by, and this haunt couldn't be a more quintessential qualifier. Situated in the heart of Vintage Vegas, not far from Fremont Street, is this haunted house turned museum. Yep—as in, some guy lived here for decades, a couple people died of natural causes in the house, and story goes that even some dark rituals went down in the basement. Flash forward to 2018 when longtime Ghost Adventures host Zak Bagans caught wind of the property's horrifying history and of course snapped the place up, turning it into a museum. And what a totally perfect venue to showcase an assortment of artifacts he's spent his entire life collecting? If you're even remotely interested in anything Haunted Nevada, you better beeline it to this place, guys. Not only does it have 30 rooms packed with some seriously spooky artifacts important to the paranormal picture—think Sharon Tate's wedding dress, or an ENTIRE ROOM full of cursed puppets—but is also home to artifacts rumored to be the world's most haunted objects. The tour isn't for the faint of heart, either—they even require you to sign a medical waiver before diving in.
7. LAUGHLIN LABYRINTHS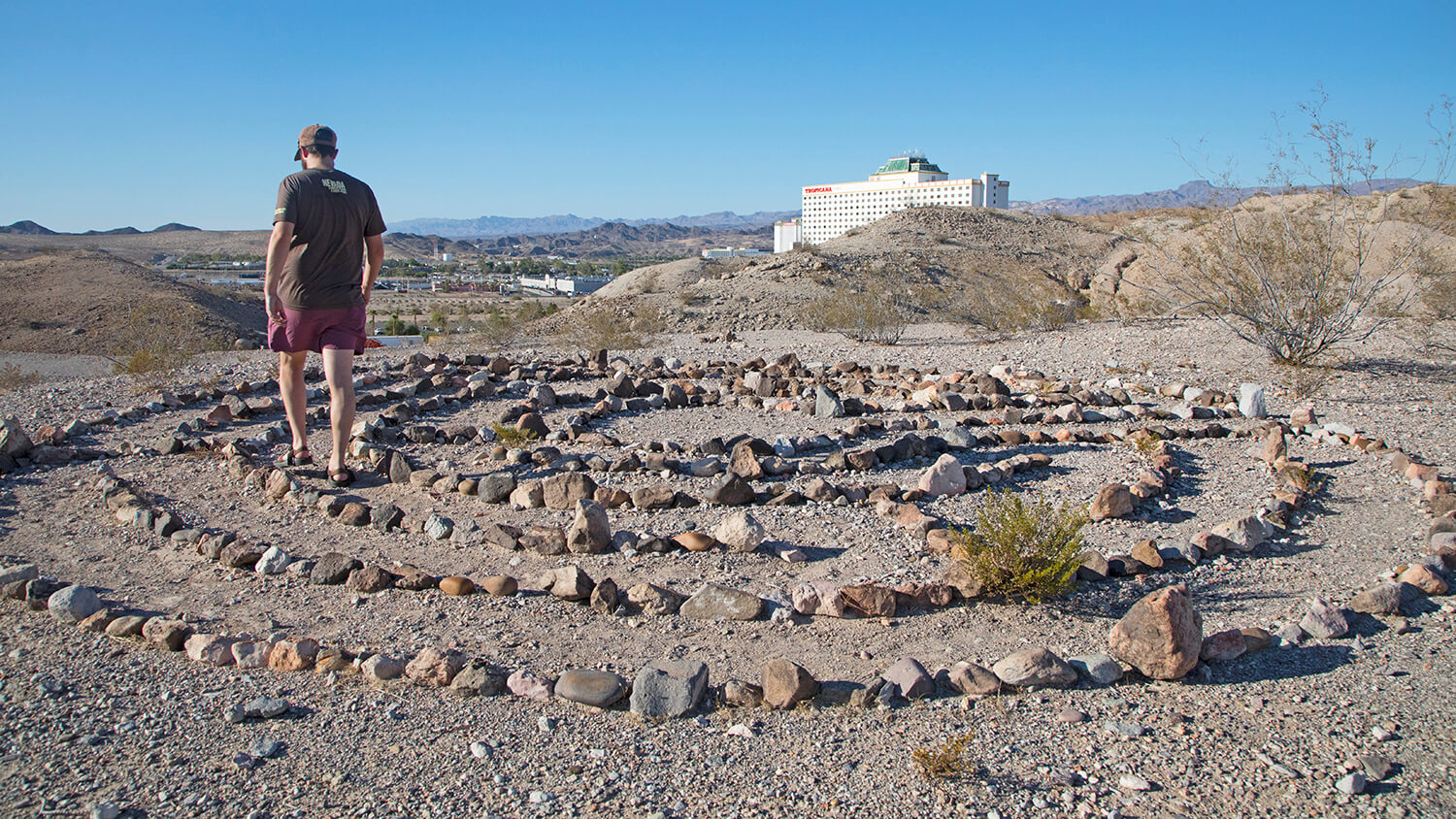 Those old abandoned lots behind Laughlin's casino strip land? You know, the kind that you usually see guys who made poor choices in casino-land receiving a little mob-style "justice" in Nevada casino movies? Thanks to Wes Dufek's vision, the open lots surrounding Laughlin's strip are the actual opposite of that experience, and home to 8 walkable labyrinths he personally built. We get it, Wes, that flurry down on the strip can be a little overwhelming and, depending on where you are, sometimes its own version of Weird Nevada… and you just need a relaxing place to hit the eject button. Navigating labyrinths are said to help drop blood pressure and breathing rates, minimize chronic pain and insomnia, and help you find your center. Do that; then look up and remember you're behind Tropicana's back lot and you'll get it. It's a weird way to relax, as well as one of Laughlin's best secrets, and we're all about it.
8. THE STOLEN BELMONT CHURCH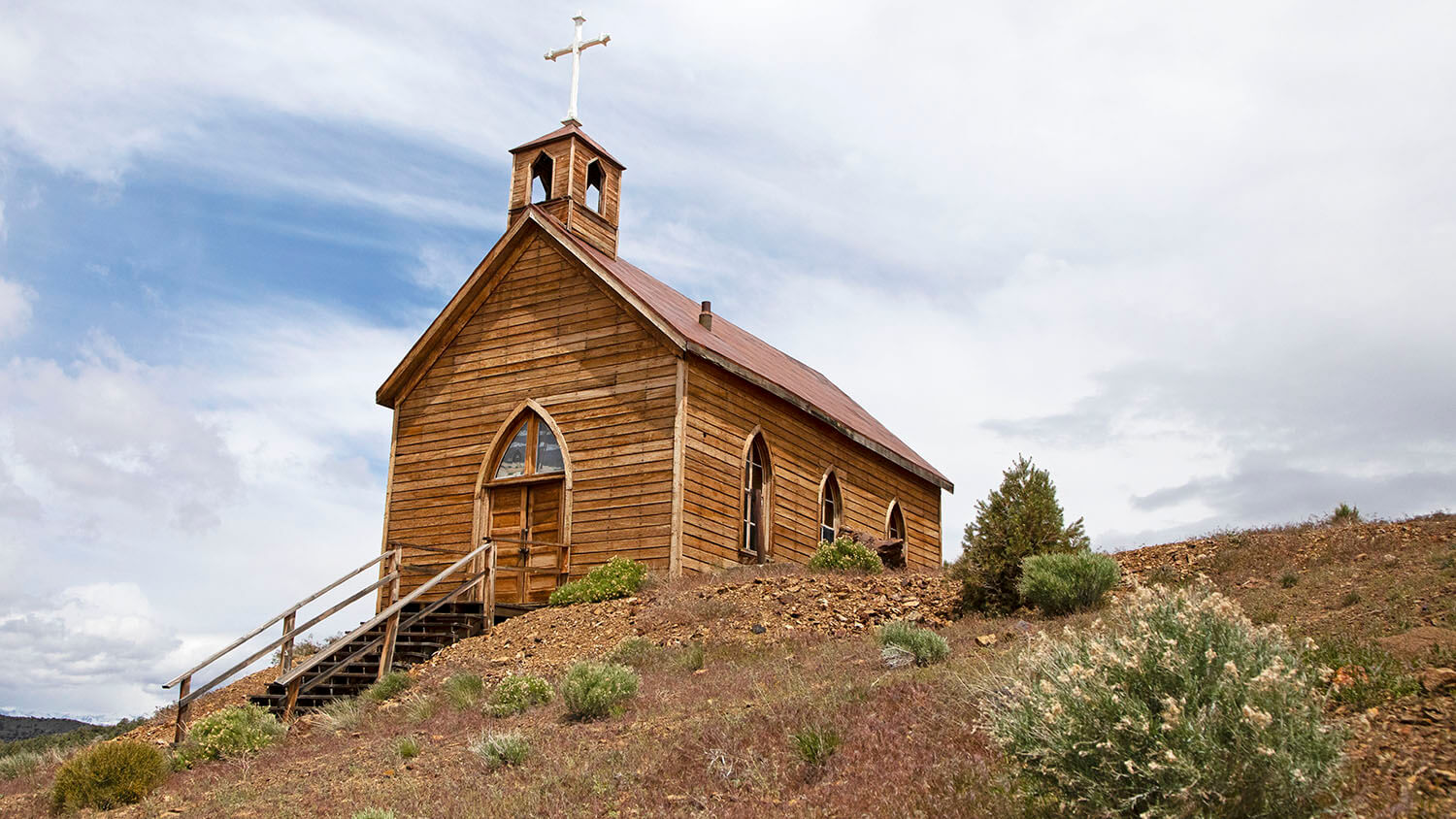 Real lawlessness—think about it. Everything about the world we live in today is regulated, but in 1860s Nevada, people just basically did whatever they wanted. Sometimes they paid the price, other times they didn't, and in some cases it perpetuated a 160-year feud. Before the massive silver strike was discovered, there was a lot of mining action that was enough to entice westward pioneers back east. Belmont, Nevada—a big enough deal to become the county seat—was a place where many prospectors finally struck it rich. Life in Belmont was grand, and continues to be one of the state's best ghost towns, period. But once the silver dried up and everyone moved on to the next big boom in nearby Manhattan, they started to miss some of the grand infrastructure they'd cushied their lives up with in Belmont. They wanted their church, damn it! But the people still hanging on in Belmont said no way, Jose. However, hardly afraid to face whatever little consequences existed, a band of Belmontans-turned-Manhattanites up and stole their church back in the middle of the night, rolling it—yes, the entire church—on timbers a whole 17 miles to Manhattan. Understandably, the next morning, folks in Belmont were pretty peeved… but one of the weirdest things? They still are. (Seriously, don't bring it up in Belmont, and at least be careful how you ask in Manhattan.) Finally accepting that their beloved building wouldn't ever be rolling back, the Belmontans built a replica church just a few years ago, but the fact of the matter is, it just doesn't do the original place justice. That notorious church still stands in Manhattan and is worth peep, as does its estranged sister structure in Belmont, but just remember this: be careful who—and how—you ask about it, or you'll be stuck in territory that gets as weird as this chapter of oh-so-Nevadan history.
9. THE R.I.P EXPERIENCE AT THE MONSTER MUSEUM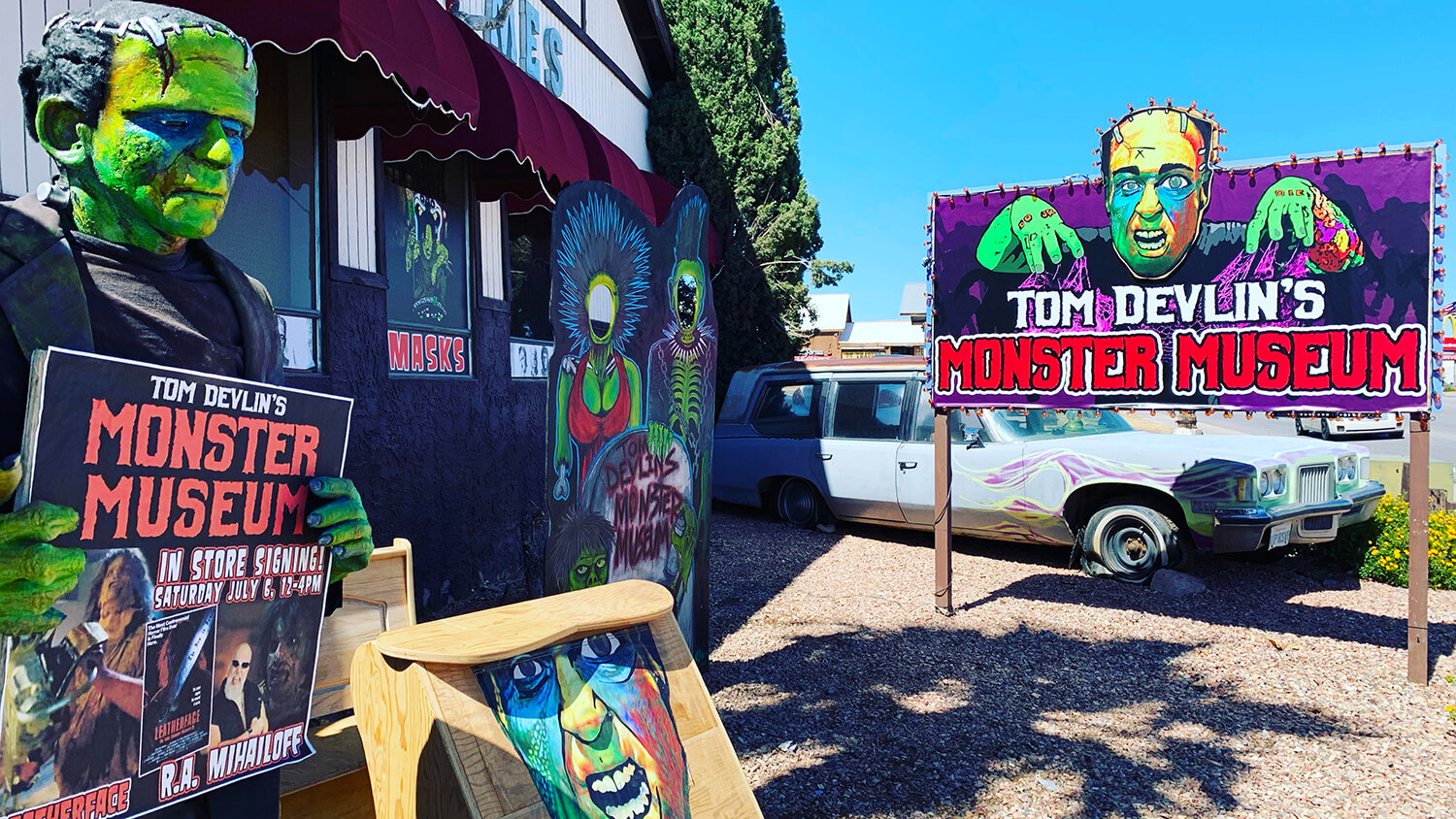 So, what do you do when you've got monsters on the brain and can't quite turn it off? If you're Tom Devlin, you open a real-deal monster museum, that's what. Tom isn't just your typical fan though—he's logged some serious hours in the special makeup effects industry, and even worked alongside some of his horror movie idols that inspired the monster mania. He even created a special line of Halloween masks that he sold across the country from 2010-2015 that you can get your hands on—along with tons of other awesome monster merch—at the Tom Devlin Monster Museum. Since opening in 2018, his private collection of screen-used props, creature suits, and custom pieces representing monsters throughout movie history makes for about 101 reasons to visit this weird Nevada haunt, and then? Then there's the R.I.P. experience. Perfect for special occasions—we're looking at you, Vegas-style newlyweds!—the Monster Museum will pick you up from your Vegas hotel in Devlin's custom hearse, and Devlin will give you a private tour of his monster museum himself. Does it get any weirder?
10. FIREWORKS, AMATEUR TAXIDERMY, AND A SMALL MUSEUM THAT PACKS A BANG
Honestly, what more do you need out of a trip to Nevada? From dining to recreation, you can have similar experiences in just about any state, but when it comes to Battle Mountain's Roller Coaster Fireworks Outlet, there is no substitute. Roller Coaster Fireworks Outlet? Yeah, right on the money. Between the personal advice straight from the (taxidermied) horse's (grinning) mouth to the boundless variety of fireworks, Steve Cassorla's place is bound to leave a mark, but in a good way. After relocating to Nevada from New York, Cassorla and his late brother Earl has devoted every essence of their being to selling some badass explosives, while making sure you leave aware of all the laws surrounding them (no matter where you plan to set 'em off). He'll hook you up with the right setup to light your fire, point you in a direction where you can actually test 'em out, and show you historic and not-so-legal-anymore fireworks from days past in their small but impressionable fireworks museum. Oh, and don't be shy about their go at taxidermying a cat, horse's head, and real-life chupacabra. Talk about an afternoon to make those memories go boom.
11. EXTRATERRESTRIAL HIGHWAY EXPERIENCE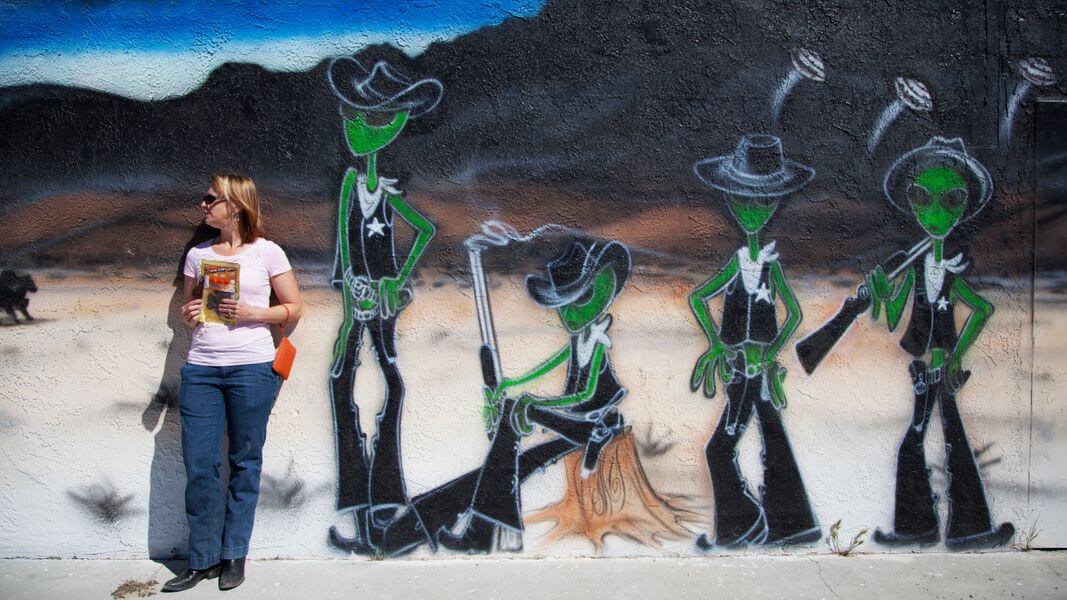 With less than a total of 200 cars a day on the Extraterrestrial Highway, you could say there's room for that wild imagination of yours to run wild. From start to finish, there are a series of Nevada bucket list-worthy experiences you should be striving to bag while rambling down this lonely stretch of road. Grab some road tripping snacks and "Drop Your Toxic Waste at the Cleanest Restrooms in Area 51" at the start of your journey at ET Fresh Jerky [think flavors like Turkey Terrestrial Teriyaki]. And after you've snagged a selfie with that legendary road sign, travel minutes down the road for the Alien Research Center—you won't miss it. Gleaming in the desert sun like an actual spaceship itself, this silver quonset hut donning a two story silver alien to user you in offers the latest alien apparel, hats, and mugs. It's not only the only place to get your hands on this sweet swag, but an unforgettable way to chat with locals to get all the info you've been wondering about—like where to spot a UFO and the Area 51 lowdown. Pay homage to the legendary Black Mailbox memorial, and commit to a Nevada rite of passage by snapping a pic of yourself laying down in the middle of this infrequently traveled route—it's freeing and awesome guys, trust us.
12. …AND THE ENTIRE TOWN OF RACHEL
Don't think that the wacky ET Highway vibes ends when the pavement does. This tiny, off-the-beaten-path Nevada town is the ONLY thing located along this famed route, so you're basically required to stop and check it out… and the only establishment to do is the Little A'Le'Inn. You know that movie Men In Black? You know, the part where crazy aliens look like regular people? Yeah, that's kind of what this place is like—the characters you meet and the stories they tell are unlike any other. Between motorcycle clubs, military personnel, people with exotic accents from faraway places, or the guy who lives up the street, the people in this place know how to spin a yarn. Pony up to the bar for some hard-to-beat convo with locals, order up an Alien Stout and don't be afraid to get chatty. At this very weird Nevada favorite, you're sure to go home with more stories than souvenirs (but you can snag those here too).
13. APPLE II DOOMTOWN AND THE J.C. PENNY MANNEQUIN CREW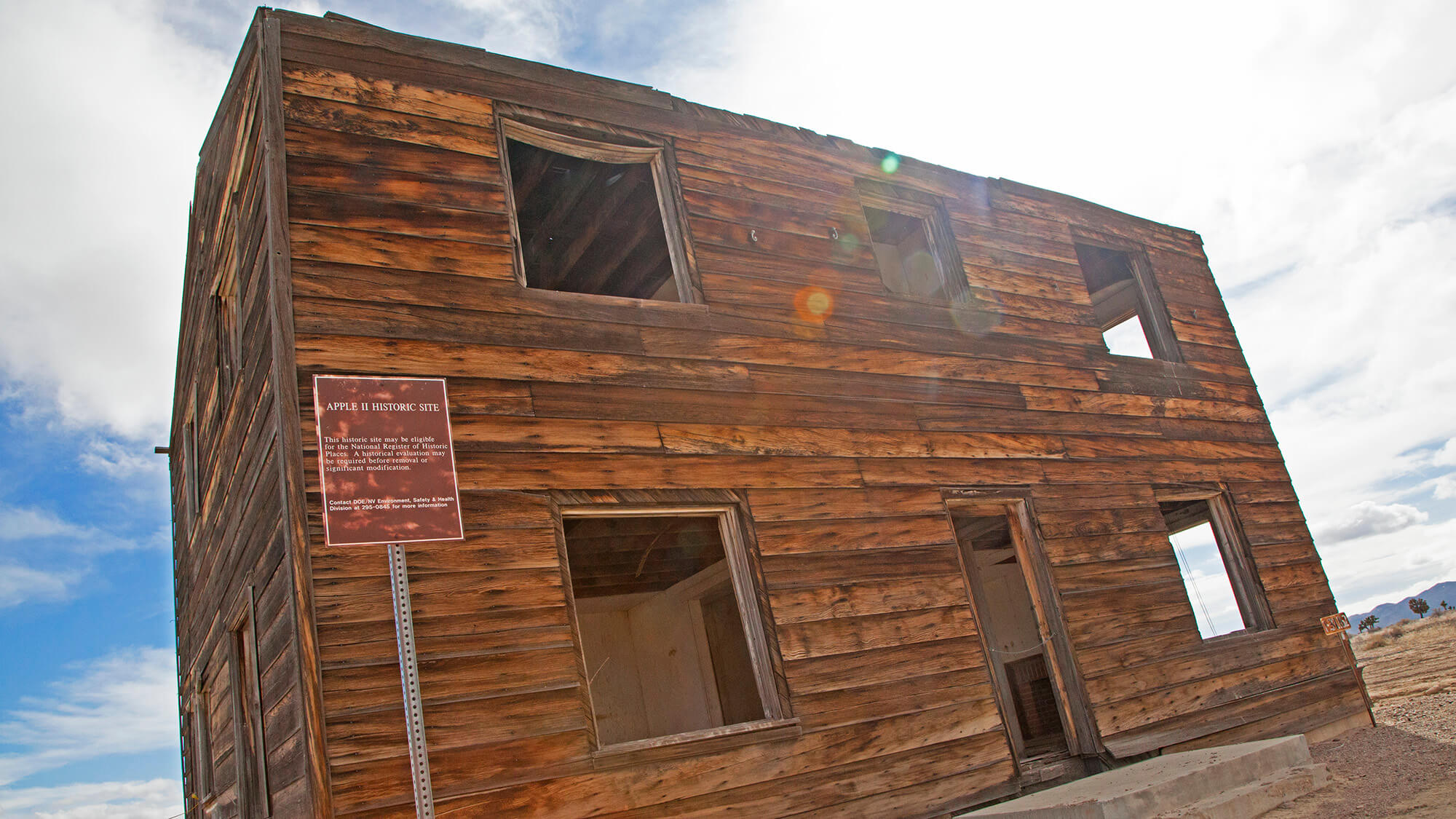 Plan ahead and get organized, because the Nevada National Test Site Tour is one you're going to want to get in on. To say this mega-historic site that was (and still is) critically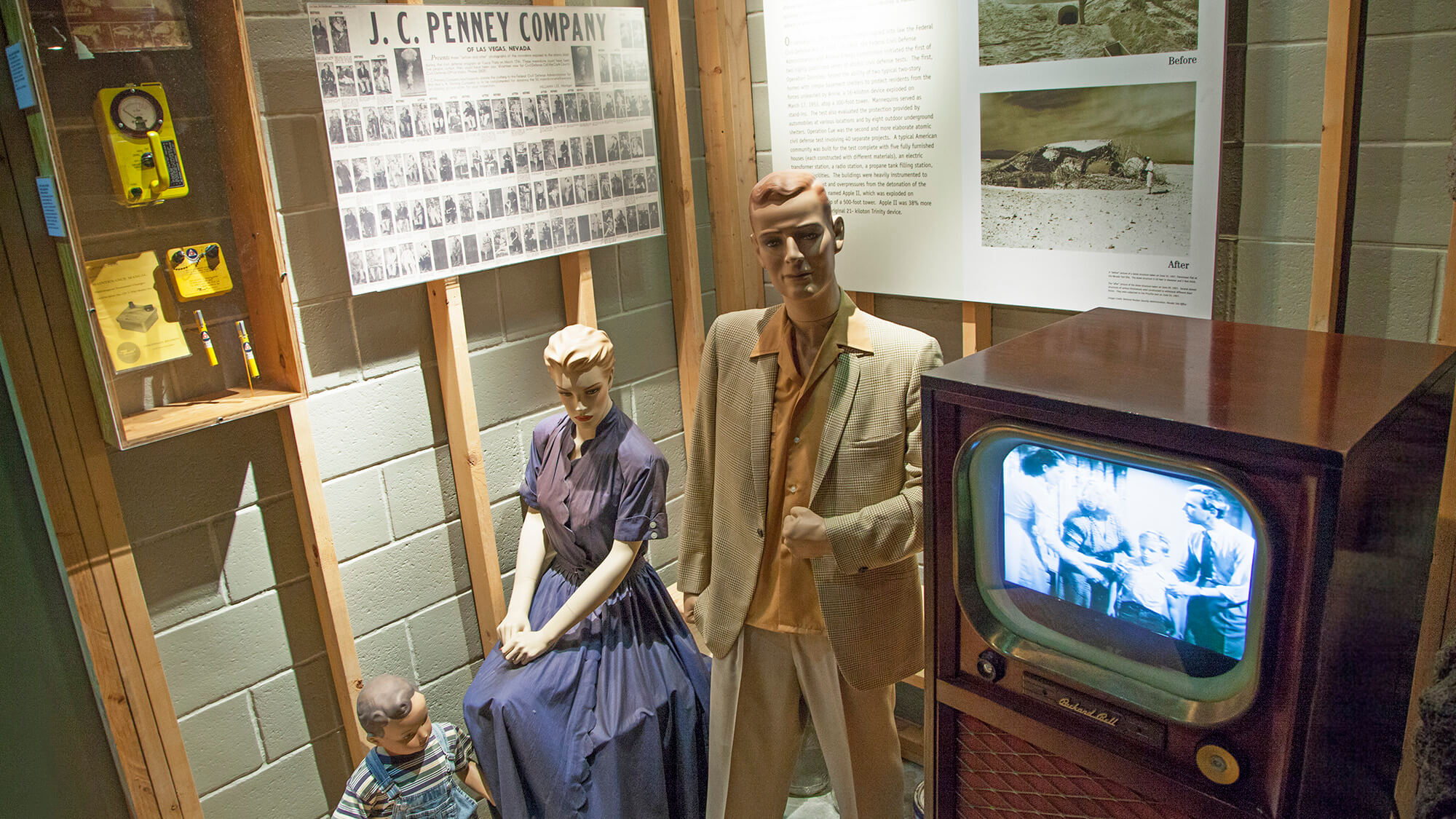 important to National Security is very seriously guarded is the understatement of the millennium. Surprise, surprise: this totally IS a tour that's open to the public; you just have to be on the ball. Every year, they announce upcoming tour dates that are totally FREE—you just have to pay attention and sign up. And when you do, it's hard to not be romanced by this incomprehensibly alluring piece of our American history at the Apple II test site. Maybe you remember back to your high school history class, learning of staged homes that were totally nuked while nationally televised? Yeah, THAT'S APPLE II. Back in the 50s when above-ground tests were still going down out there, scientists were trying to figure out how atomic blasts would impact real, live communities. So what did they do? Built an entire series of homes made of different building materials, spaced different distances from ground zero and stockpiled them with working appliances, filled the pantries with food, and even parked working cars in the driveway. They wanted to make this as realistic of possible, so to up the ante, the government partnered with J.C. Penny to outfit the homes with mannequins dressed in their company swag, staged in typical lifestyle scenes. What's left of these mannequins are showcased in the museum downtown, but walking right up to houses that survived the blast is unlike any other: humbling and terrifying all at once.
14. ROCK AND ROLL ALL NIGHT… AND PUTT-PUTT EV-E-RY DAY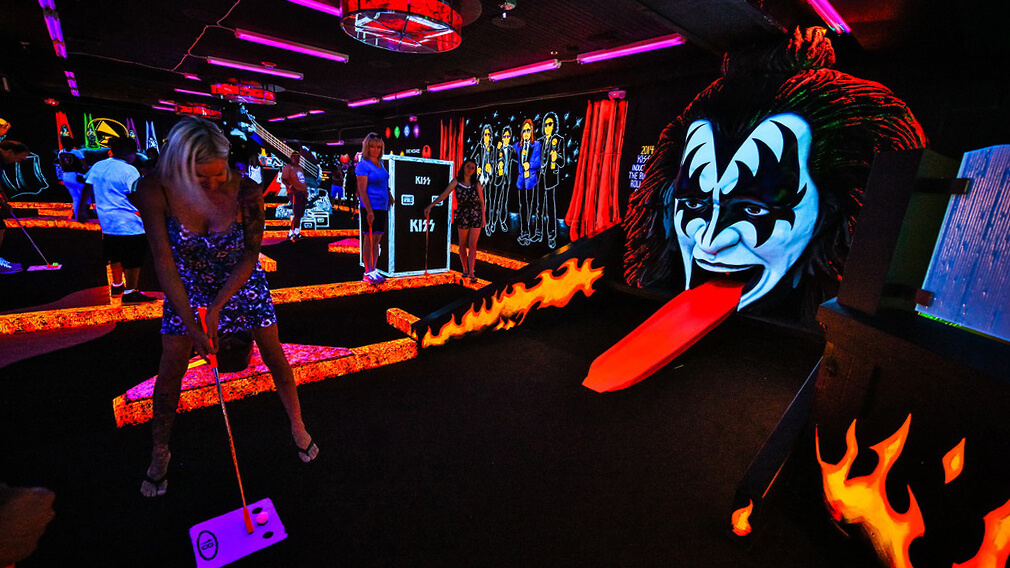 KISS ARMY, UNITE! Time to be a "Strutter" with that putter because, folks, we have ourselves a real-deal mini golf course entirely devoted to the American rock band KISS. Sometimes it is too good to be true. [This time it's 1000% real.] Tucked inside the Rio, visitors can expect to get down in a full scale KISS experience sure to reinvigorate the senses. From the neon and blacklight displays to the non-stop KISS soundtrack, from trivia to the rock 'n' roll wedding chapel, it's safe to say that this place sets the mood for even the bougiest music enthusiasts. I mean, Gene Simmons' oversized tongue even rolls out of an interactive display, taunting you into refining that putting stroke. After you play the 18 holes, go back through the course to drink in some serious museum-quality memorabilia, like Eric Carr's Porsche, every KISS album since inception signed by every member, and an original 70s vintage KISS pinball machine. Oh, and "Shout It Out Loud" on those feeds to instigate some serious Insta FOMO. With a place this over-the-top, how could you resist?
15. SCI-FI TUFA FORMATIONS AT PYRAMID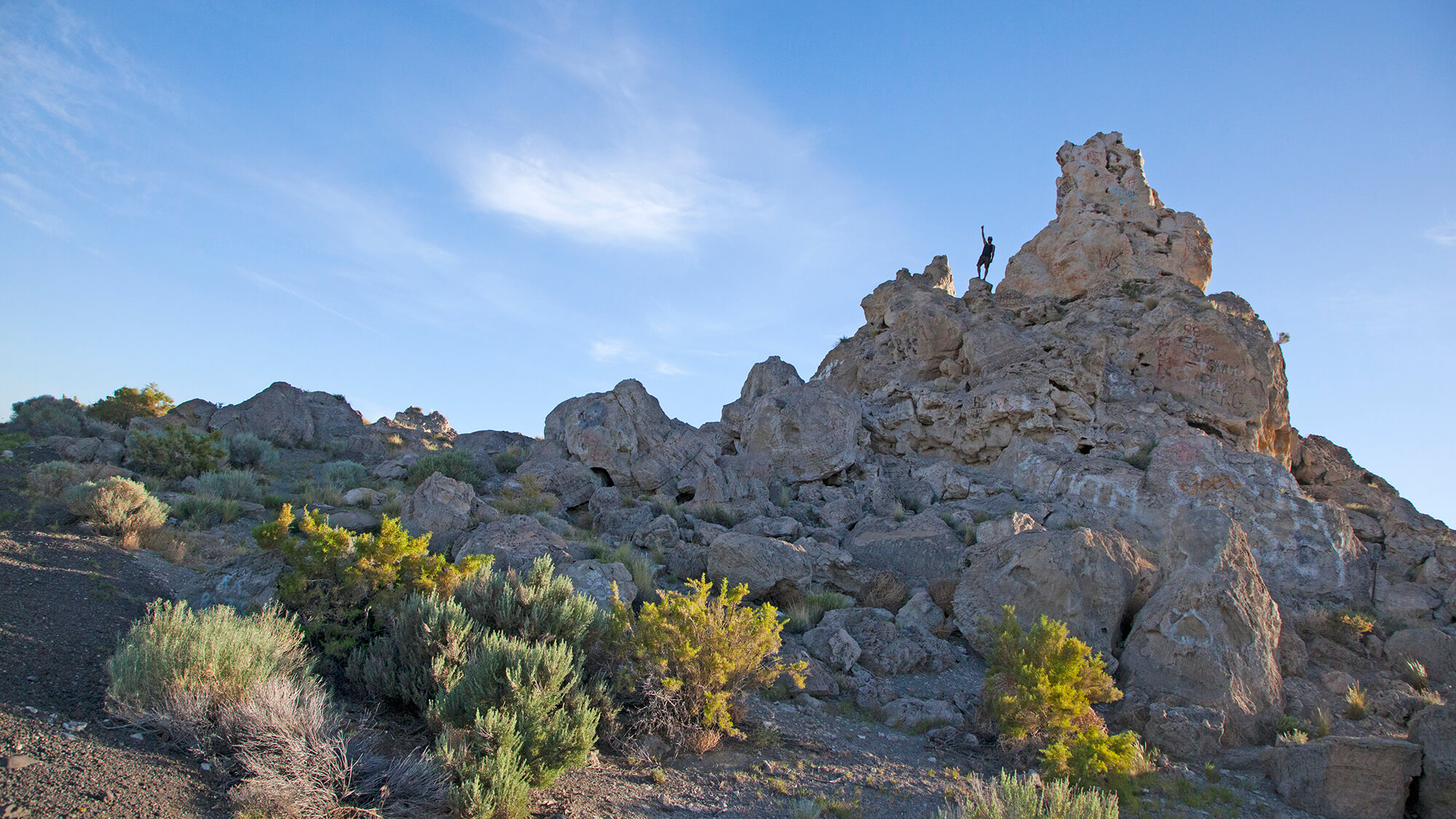 It's kinda true, guys: if you want to see what the bottom of the ocean looks like, come to Nevada. Or at least in this case, it's very much true. To the untrained eye they may just appear to be boring rock formations… but the landscape surrounding Pyramid Lake is so. Much. MORE. This ancient lake (along with a few other lakes in Nevada) is what's left of a 21,000 year-old prehistoric sea—Glacial Lake Lahontan. Over the course of thousands and thousands of years, the landscape changed in a very serious way… mainly with a drastic drop in water level. What once were completely submerged under water slowly became more and more exposed over time and, today, are completely above ground altogether. What's part of a mountain to us today was probably the bottom of the sea back then— total mind blower, right? But the thing is, these aren't any ol' rock formations; they're TUFA. These crazy, otherworldly type formations going on take shape in lakes with a high alkalinity—or a "soda lake." Tufa forms when it's covered in water—meaning this all went down ages ago—think 26k years—but happens when underwater springs pump out calcium-saturated water. When the spring water meets the alkaline water, the calcium and carbonate salts go haywire and form this crazy limestone situation, and bam—TUFA. It's otherworldly and awesome, and you should see it for yourself.
16. YEP, A REAL MICRONATION, RIGHT IN THE MIDDLE OF NEVADA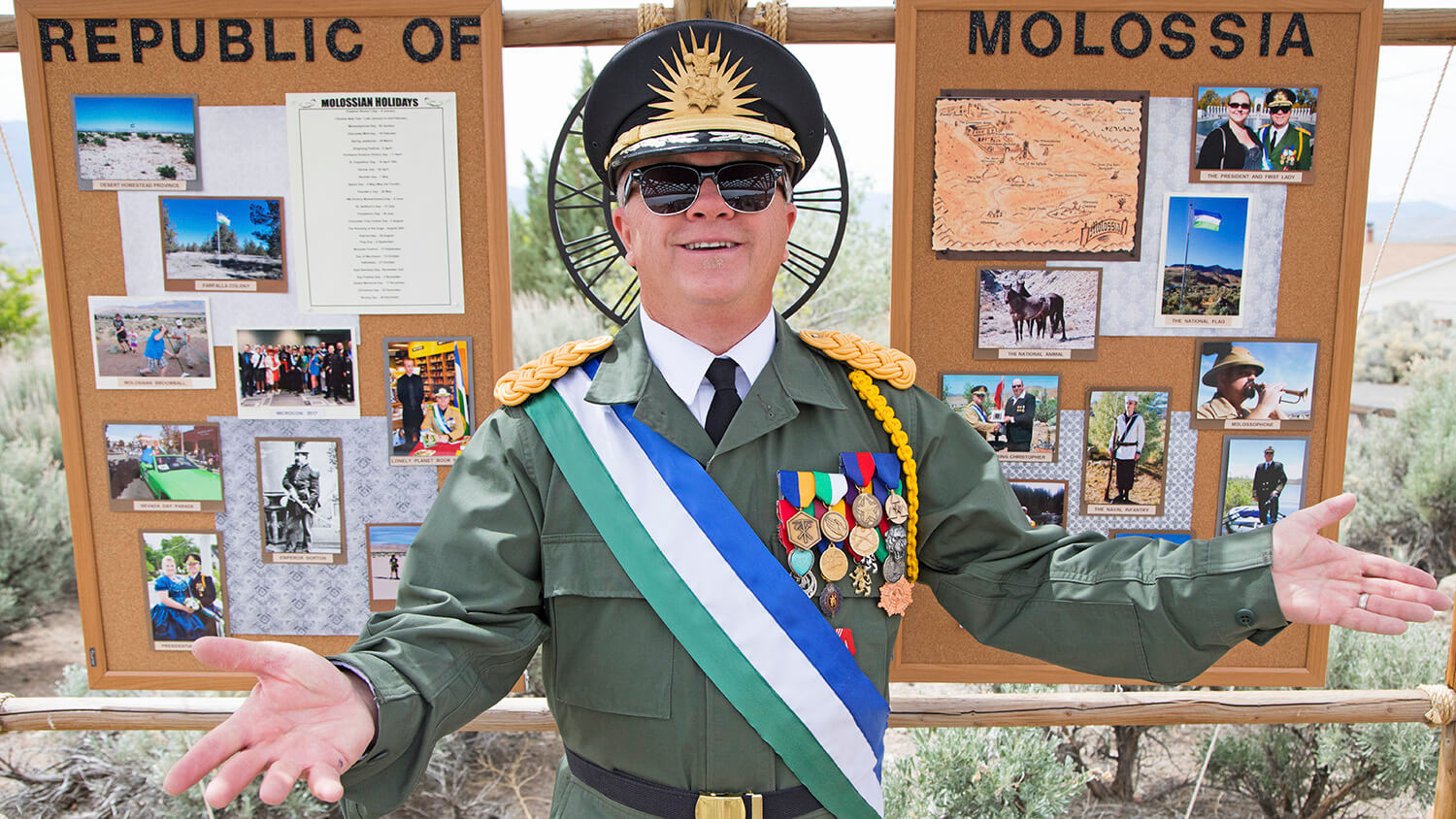 Guys, there's an entire independent nation inside Nevada that I bet you've never even heard of, and you can bet your sweet bippy it's nothing short of a delicious dose of #WeirdNevada. Dayton is a town that's most commonly associated with old-timey sorta Wild West stuff… the Pony Express, part of the Loneliest Road in America, and the site of Nevada's first gold discovery. But a random, sovereign nation, smack-dab in the middle of a residential neighborhood? Even we never even saw it coming. Loaded with the craziest quirks like an official customs station, a national instrument and its own postal service, Kevin Baugh and his wife Adrianne—we mean First Lady of Molossia— formed the Republic of Molossia decades ago. Aside from the Harmony Province in Dayton, the Republic of Molossia has wrapped its mitts around land in Pennsylvania, southern California, a giant chunk of the Pacific Ocean floor, and about 50,000 square miles on planet Venus. Now officially referred to as His Excellency President Baugh and Madame Adrienne, this duo welcomes visitors to their sovereign nation by appointment. Bring a passport to be stamped, but be sure you leave your incandescent light bulbs, catfish and onions at home—those contraband items will be strictly confiscated at customs.
17. THE SUPER BOWL… AND WE AIN'T TALKIN' 'BOUT FOOTBALL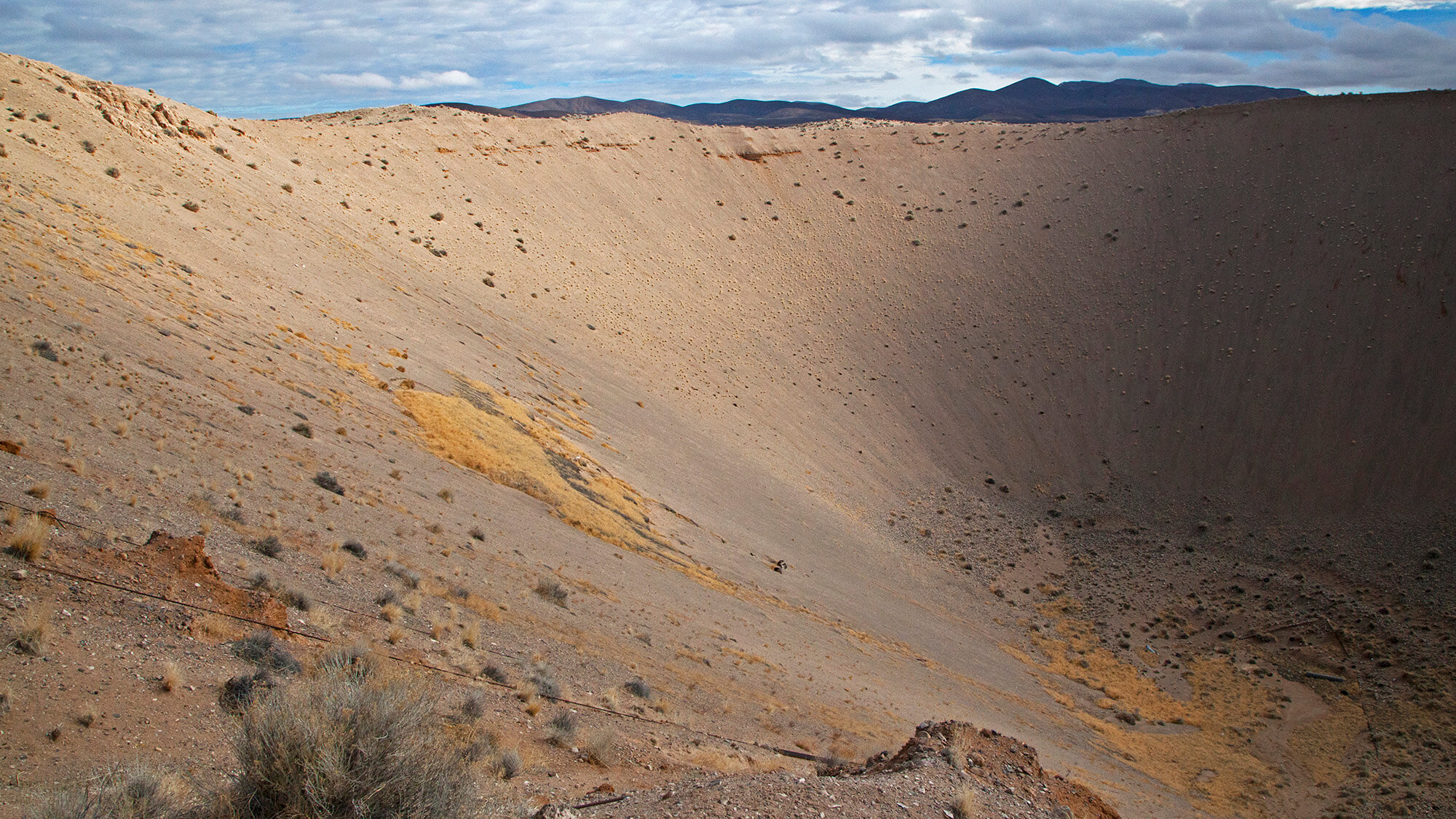 Remember that Atomic Test Site stuff we ran through above? How you need to get on a tour immediately to enjoy endless bucket list-worthy stuff and all of that? Yeah, well we're about to hit you with another reason to get on top of that tour schedule: the Nevada National Security Site is also home to the largest man-made crater in the WORLD. Don't believe us? Dial up Google Maps and you'll see this thing in the upper right chunk of the very locked down test site. Aside from being as close to Area 51 as you possibly can, a visit to Sedan Crater promises standing near the rim of a 320-foot crater that was created after 104 kilotons went boom. This thermonuclear explosion moved 12 million tons of earth… an underground explosion that would replicate a 4.75 magnitude earthquake. Tons of fallout resulted from this big ass explosion—it wasn't even safe to enter the bottom of the crater for 7 months after the detonation due to radiation exposure. Although this test certainly left its mark it wasn't all bad… this redefined landscape provided NASA a choice training ground for lunar missions. Why? There's nothing in America more similar to the lunar landscape than Nevada's craters, natural or otherwise. But that comes later [if you're impatient, jump to #33].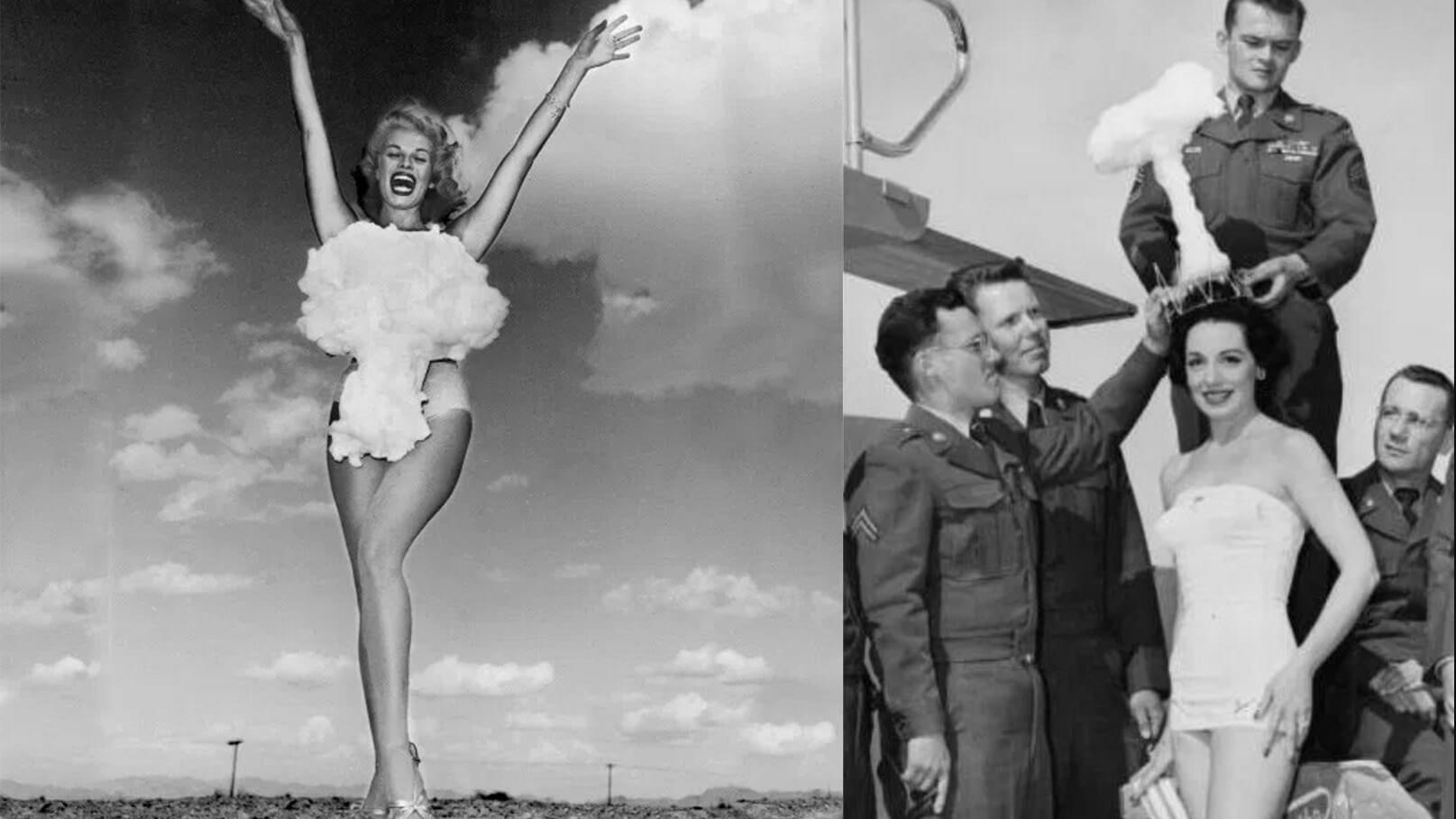 Travel Nevada PROTIP: Atomic testing left a weird mark on Nevada… this weird subculture emerged and continues to be totally fantastic. Bars, hotels, all kinds of businesses opened up claiming they had the best poolside view of atomic bomb testing on the horizon and it WORKED. An entire Miss Atomic Bomb beauty pageant even materialized, crowning beautiful women as "Miss Atomic Blast." That in itself is super flipping amazing, but get this: Nevada gets another fat brag because the bikini debuted at these pageants for the very first time in history. It's true, though this belly button-exposing garb was first revealed Paris and NOT well received, the clothing designer outfitted pageant contestants striving to be Miss Atomic Blast. Specifically, the bikini was first shown during a 1946 beauty pageant showcasing the "four triangles of nothing"…an homage to a highly covered nuclear test named Operation Crossroads that went down earlier that year… on the Bikini Atoll of the South Pacific.
18. WARNING: DON'T EAT THE LIBRARY PASTE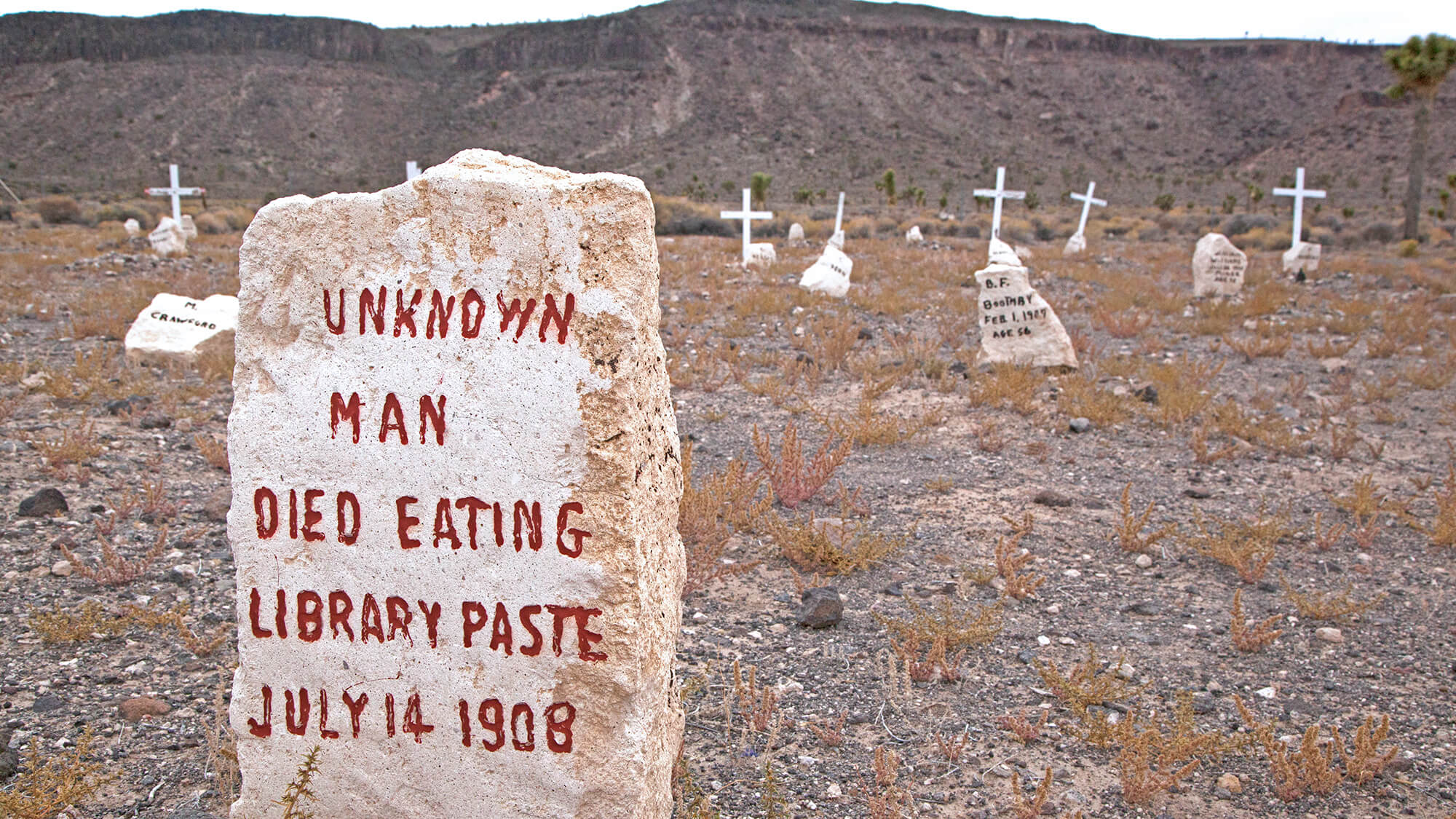 Hey, who knows, maybe he died doing what he loved? Was it was the library paste that mutilated him or if no one truly knew who this dude was—we're not sure. But bottom line? Some guy slurped down enough glue during Goldfield's gold boom to kill him. It's certainly sad that someone lost their life to such a silly snack, but the fact of the matter is this: this tombstone is just ONE of the graves with a gut-busting epitaph. Remember, this was back when it was totally acceptable and commonplace to actually spell out what led to your demise. While most other Nevada cemeteries deliver by describing ill-fated mining accidents or death by ambush, actually dying from library paste and then having it broadcast on your grave for all of eternity is a qualifier of weird. See this not-so-common epitaph and other colorful passing inscriptions at the historic and modern-day burial ground in Goldfield.
19. TOWERING DESERT DAYGLO
By now, you be closer to pickin' up what we're puttin down': when it comes to art in Nevada, it's far from the norm. We march to the beat of our own, ummm—palette? And things start to get to a point where it's too good to resist, at least with this baby. The delightful dayglo you've eyed down on the horizon, sticking out of its surrounding neutral landscape, is Seven Magic Mountains—an exclusive art installation that's entertaining the masses on borrowed time. Other than being the perfect backdrop for a selfie or family photo op, this temporary installation is a pretty baller engineering feat, to boot. Swiss artist Ugo Rondinone is the man behind this southern Nevada color explosion, and went to extravagant measures like sourcing and shaping native boulders before carefully stacking them just perfectly. The impressively distributed, massive amount of weight is compelling enough to merit a visit, but the vivid colors Rondinone integrates is another dose of Nevada neon sure to garner some immediate Insta-attention.
20. CALLING ALL ROAD TRIP GURUS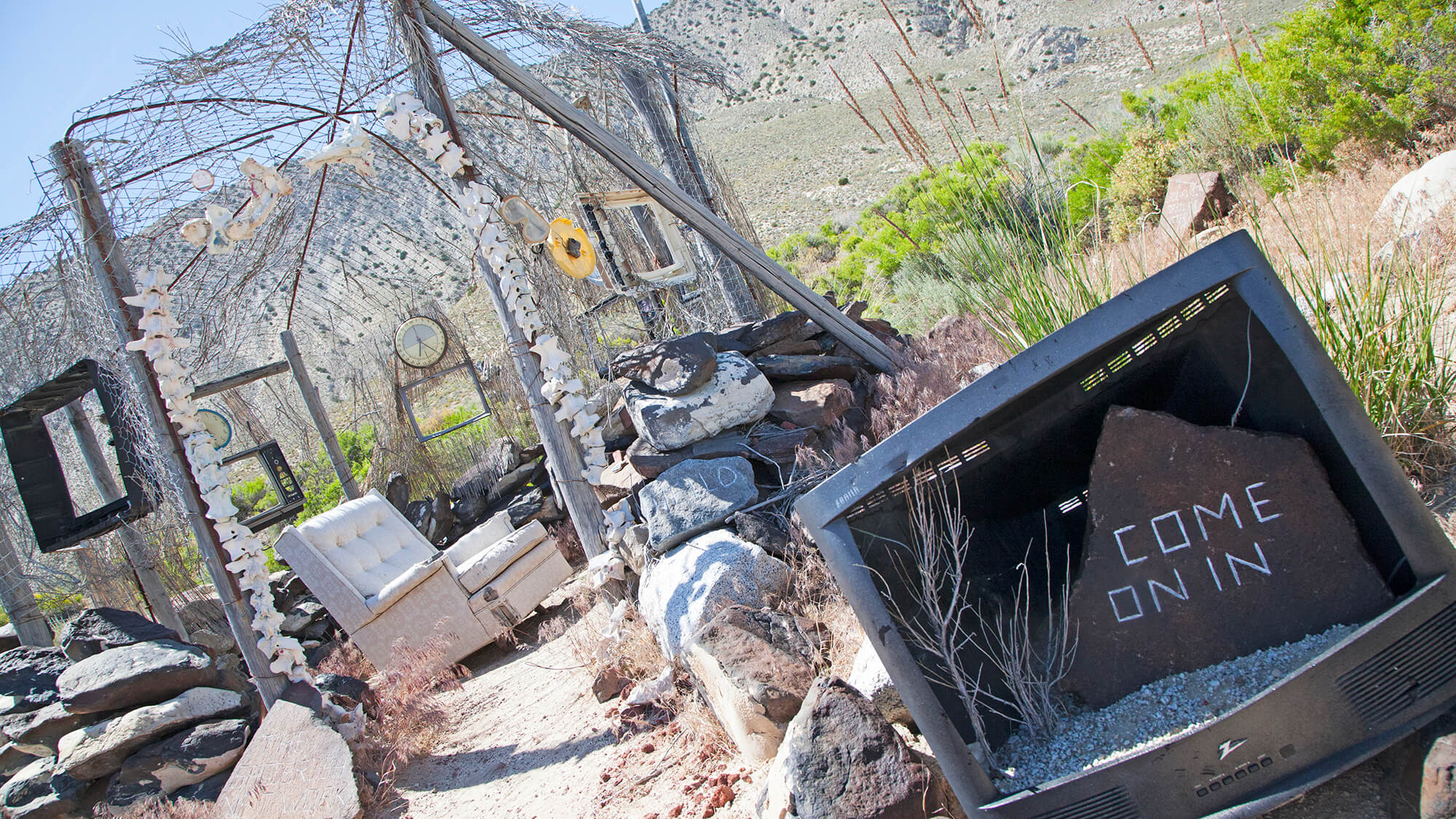 Fancy yourself a ride-or-die road tripper? Maybe you've dipped a toe in the Loneliest Road, or gotten deep into some off-grid bliss on the Rubies Route. BUT. A road trip that's sure to deliver a dose of #WeirdNevada every step of the way? Burner Byway all the way, baby. As a whole, the route is pretty out there, considering it's chock-full of Burning Man sculptures from years past, an official Burner hostel and out of this world playa excursions. But the real cherry on top is the storied Guru Road, or what call Doobie Lane—adjacent to the Black Rock Desert in northwestern Nevada. If you've been living under a rock, this is the same neck of Nevada where 70k people cut loose at Burning Man each August. Like Reno, a bit of an unintentional counterculture emerged leaving a traces of Black Rock City magic and, in this case, we have DeWayne "Doobie" Williams to thank for that one. Guru Road's collection of desert-style art was Doobie's brainchild, delightfully oozing funky, and more often than not, empowering sentiments out of each weathered crevice. On Highway 34—aka Guru Road—visitors can drink what feels like endless motivational sentiments, a tribute to Elvis, stacks of old appliances, the "Desert Broadcasting System," and quite an assemblage of curated animal skeletons.
21. SEQUINED, FEATHERY GOODNESS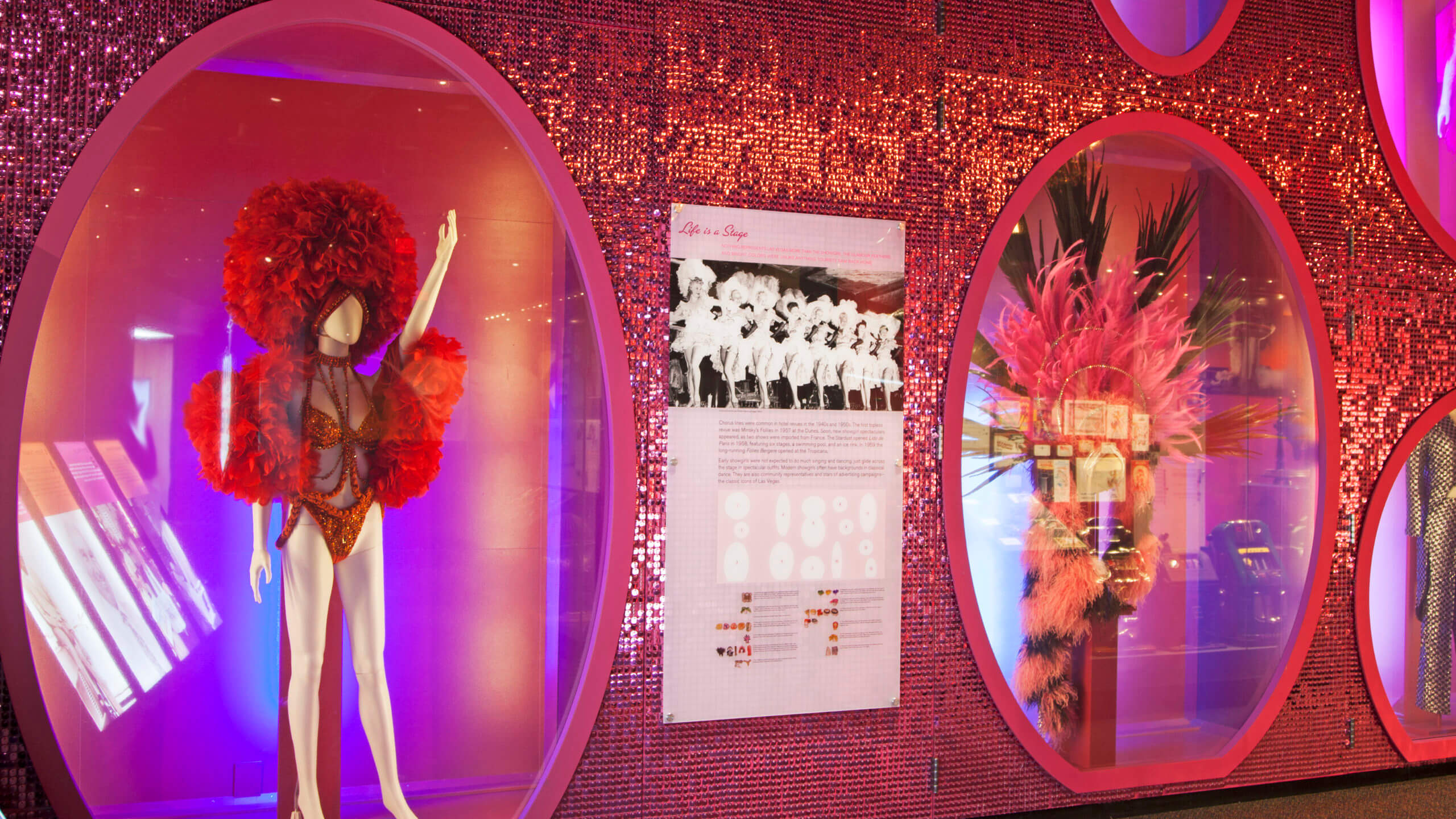 We're seriously doubting that any other museums out there have an entire wing devoted to SHOWGIRLS. Can we get an amen? It's true, our official Nevada State Museums pack a punch, because honestly, where would Nevada be without properly glorifying these glittery goddesses? Showgirls are to Vegas like the Statue of Liberty to New York. Totally synonymous and we are here for it. At the Nevada State Museum—Las Vegas, visitors can get an endearing lowdown on all the Nevada greats, but one particular exhibit swinging for the fences is Showgirls, Showgirls, Showgirls. Breaking down the importance of this Nevada icon one sequin at a time, this charmingly unique exhibit hashes out the beauty, artistry and of course over the top, in-your-face extravagance behind Vegas' longest running Parisian cabaret-style shows. Peruse photographs that have been locked down in archives until now, actual stage costumes worn by performers, and personal stories straight from these showstopping babes themselves.
22. FEAR FACTOR: NEVADA EDITION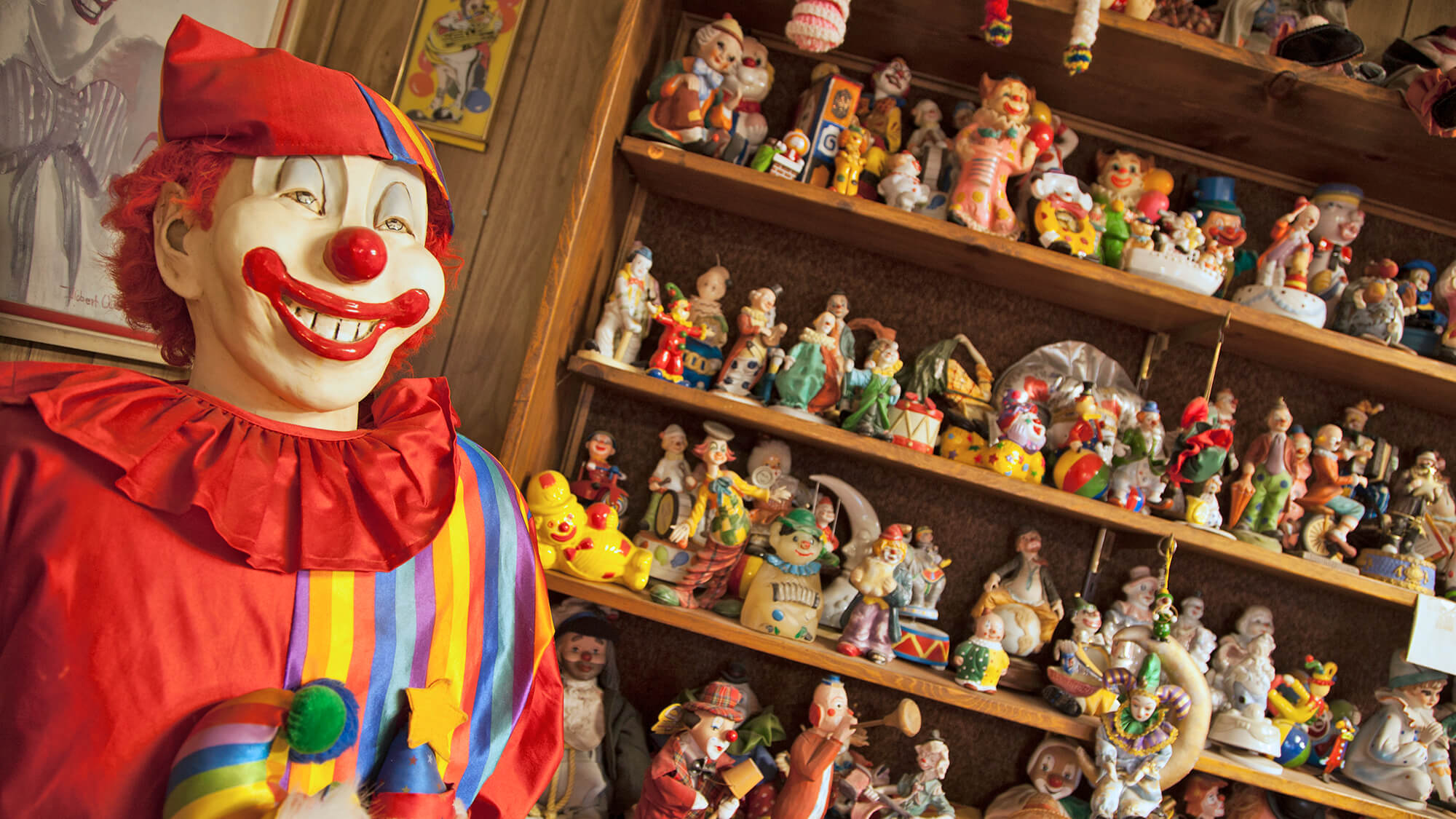 If the creepy clown vibe isn't enough to spook your run-of-the-mill, stable-minded person, the historical cemetery entombed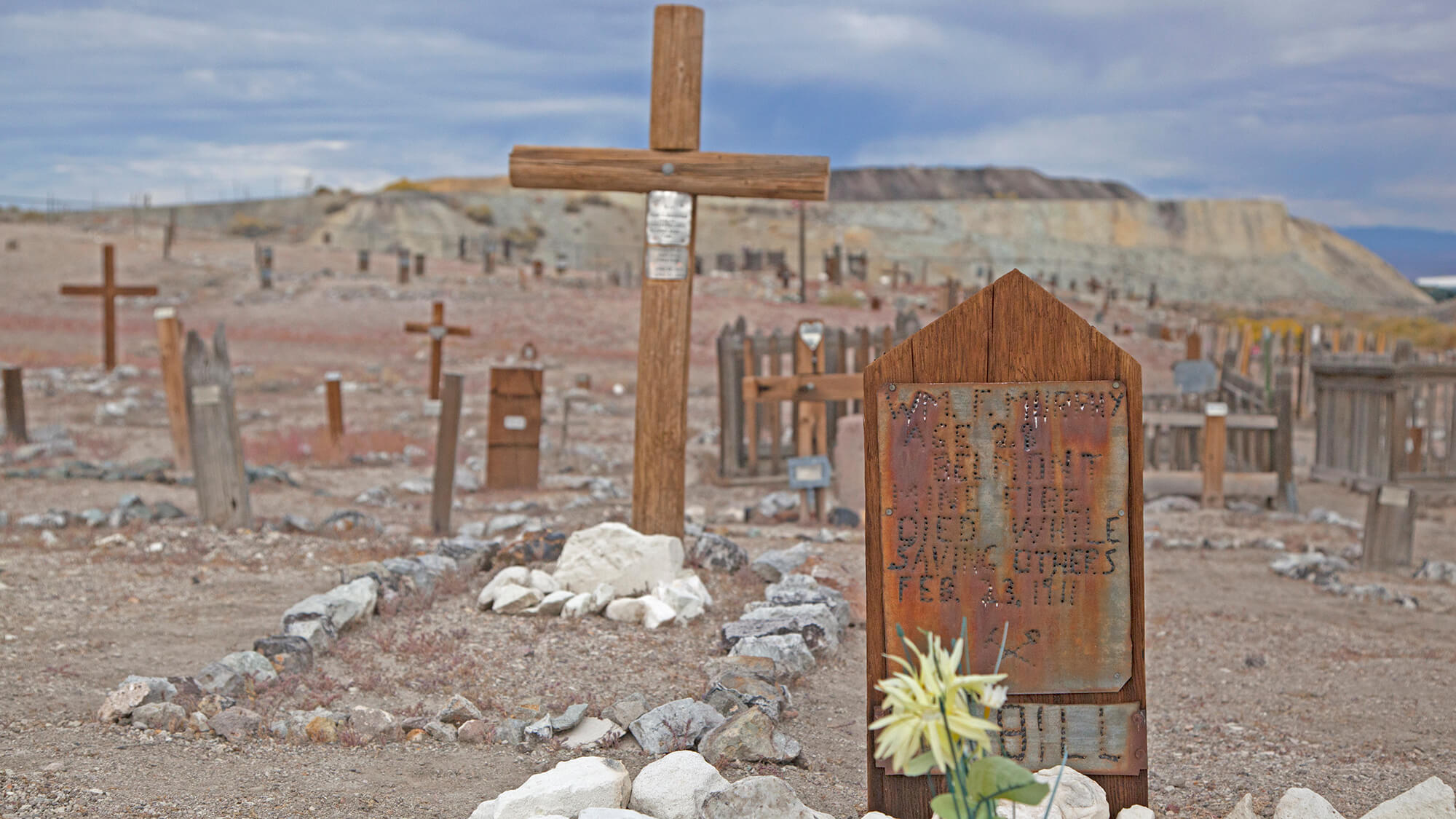 with those who perished in a mining accident might just be the ticket. Oh yeah, and it's not just the fact that you can actually step out of your hotel room and into a cemetery, the miner ghosts are supposed to haunt the freaking place, too. So where is that you can pay to have this freaky experience for yourself? Only in Tonopah, baby, at the legendary Clown Motel. When visiting, brace for life-size clown statues in the hotel lobby, and hundredS of clown figurines everywhere in sight. That, and you can even get your hands on your own personal clown nose for a couple bucks, too. If that's not enough to send you running for the hills, count on some eerie clown portraits hanging over your hotel bed staring down at you, as you try to catch some shuteye. YEAH. Directly adjacent to this Weird Nevada jackpot, guests can peruse the century-old cemetery—the final resting place for 14 young men who died in a horrible mining accident. Whether it be a spirit reminiscent of IT, or a restless miner looking for peace, there sure are enough stories coming outta this place to substantiate a serious haunting. We'll let you be the judge of that one.
23. COFFIN IT UP AT COFFINWOOD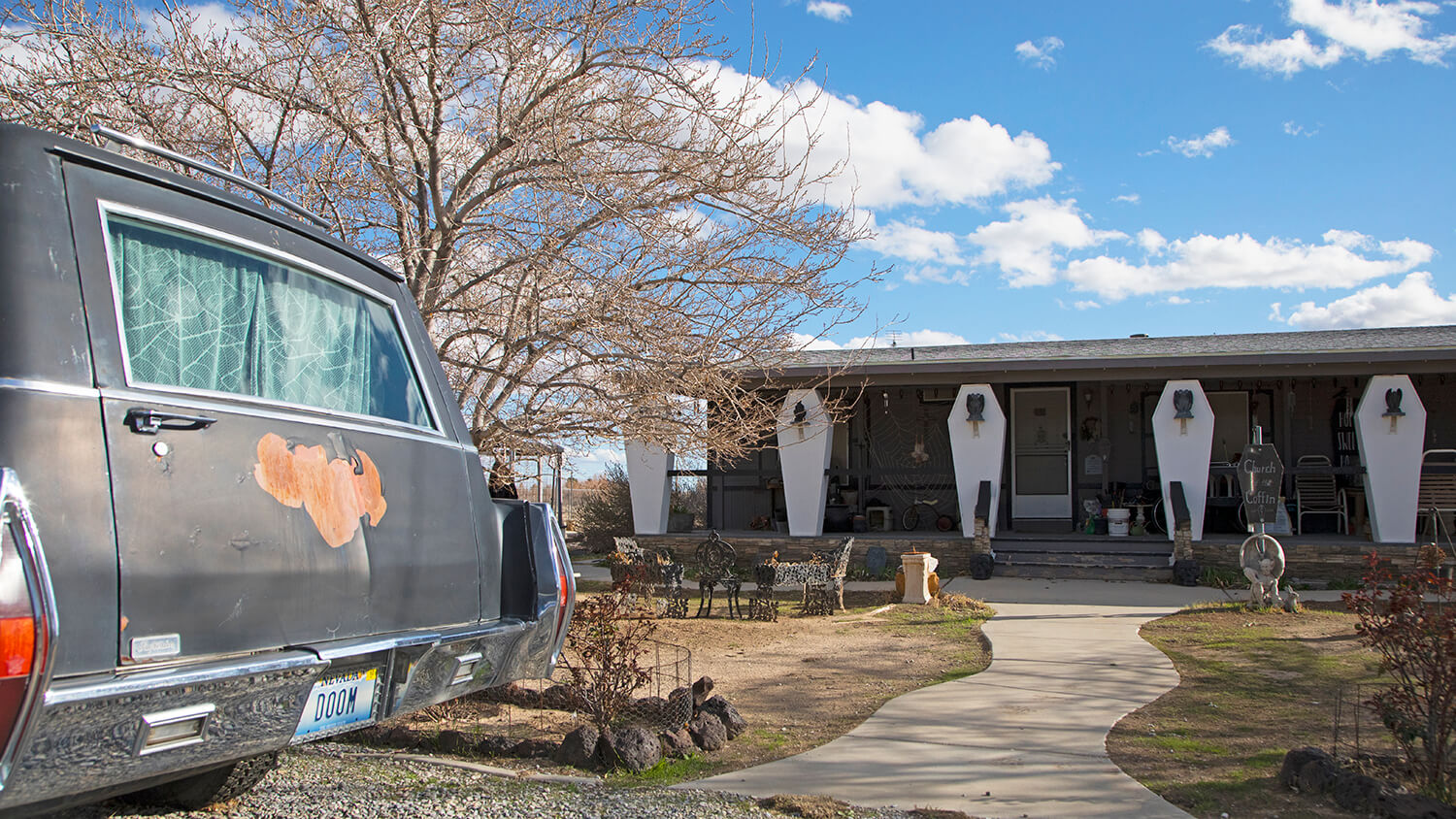 With such a focus on all things death, this place is bound to have sad vibes, right? Man oh man, we couldn't be more pumped to tell you that couldn't be farther than the truth,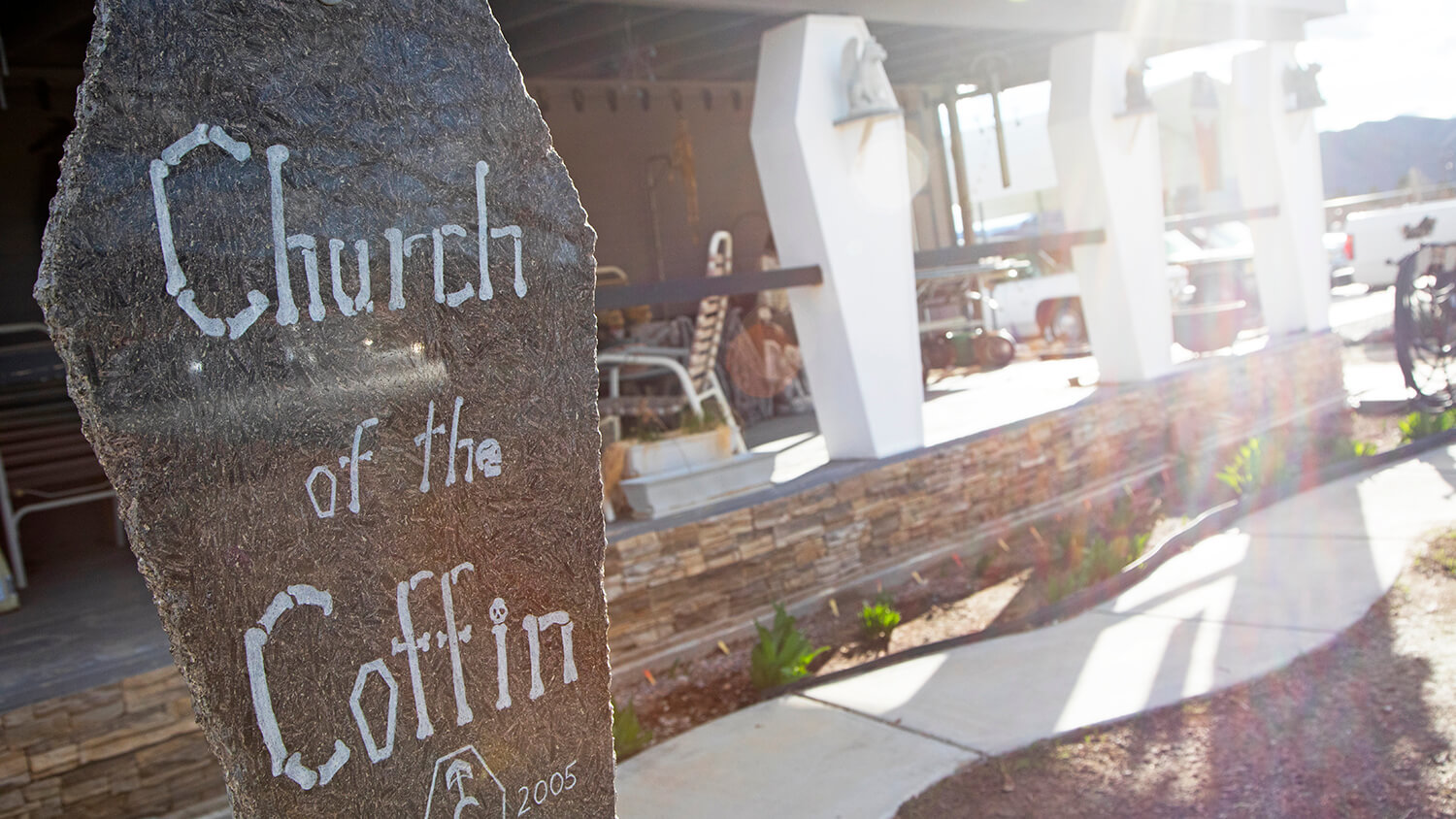 when it comes to what's going down in this quiet Pahrump neighborhood. Meet Bryan and Dusty Schroering, the masterminds behind their charismatic coffin-themed business: Coffin It Up. Inspired to make actual coffins for people who were getting reamed by exorbitant funeral industry costs, this amazing husband and wife duo opened up shop with one mission in mind: to make all the custom coffin-shaped swag you can ever dream of… coffins for human and pet burial included. Bringing the old-school, 6-point coffins back to life, Bryan has been commissioned by some pretty fancy celebs to make one of a kind pieces. Jeff Hanneman of SLAYER hired Bryan to make some custom coffin-shaped furniture for his home, and one time a coroner even challenged Bryan to make him some coffin-shaped luggage. No item is out of the question—Bryan is a true artist and has the bad ass carpentry skills to prove it. Coffinwood itself is their private residence—which mind you, can be seen from outer space. All the specially designed coffin-shaped structures? Dead giveaway. Tour Bryan's workshop, peruse the pet cemetery, check out their award winning hearse collection and hey, even say "I Do" on a not-so-common wedding ceremony in a church none other than the official "Church of the Coffin," of course.
24. THE SHOE TREE OF MIDDLEGATE
People pulling over on the side of the road and tossing their shoes on a random tree? Like, hundreds of pairs of shoes among other random relics? Yeah, been happening for decades… NBD. It all started with a pair of newlyweds returning home after tying the knot in Reno. They got in their first major fight as husband and wife, made a scene on the side of the road, some terse words were exchanged, and someone had to walk home—without any shoes. Push came to shove and they ultimately made up, returning to the tree every anniversary to commemorate making it another year by tossing another pair of shoes up on the tree. Oh, and it's not just a very strange tradition that's persevered all these years—the real shoe tree was cut down by vandals in 2010. It didn't take long for outraged locals and visitors alike to spring into action, decorating the nearest tree with decades worth of poor unfortunate soles. Like stretching out in the middle of the ET Highway, this baby is a straight up Nevada rite of passage. Check it out, embrace its weirdness, and most importantly unlace those sneakers.
25. THE GHOSTS OF GOLDWELL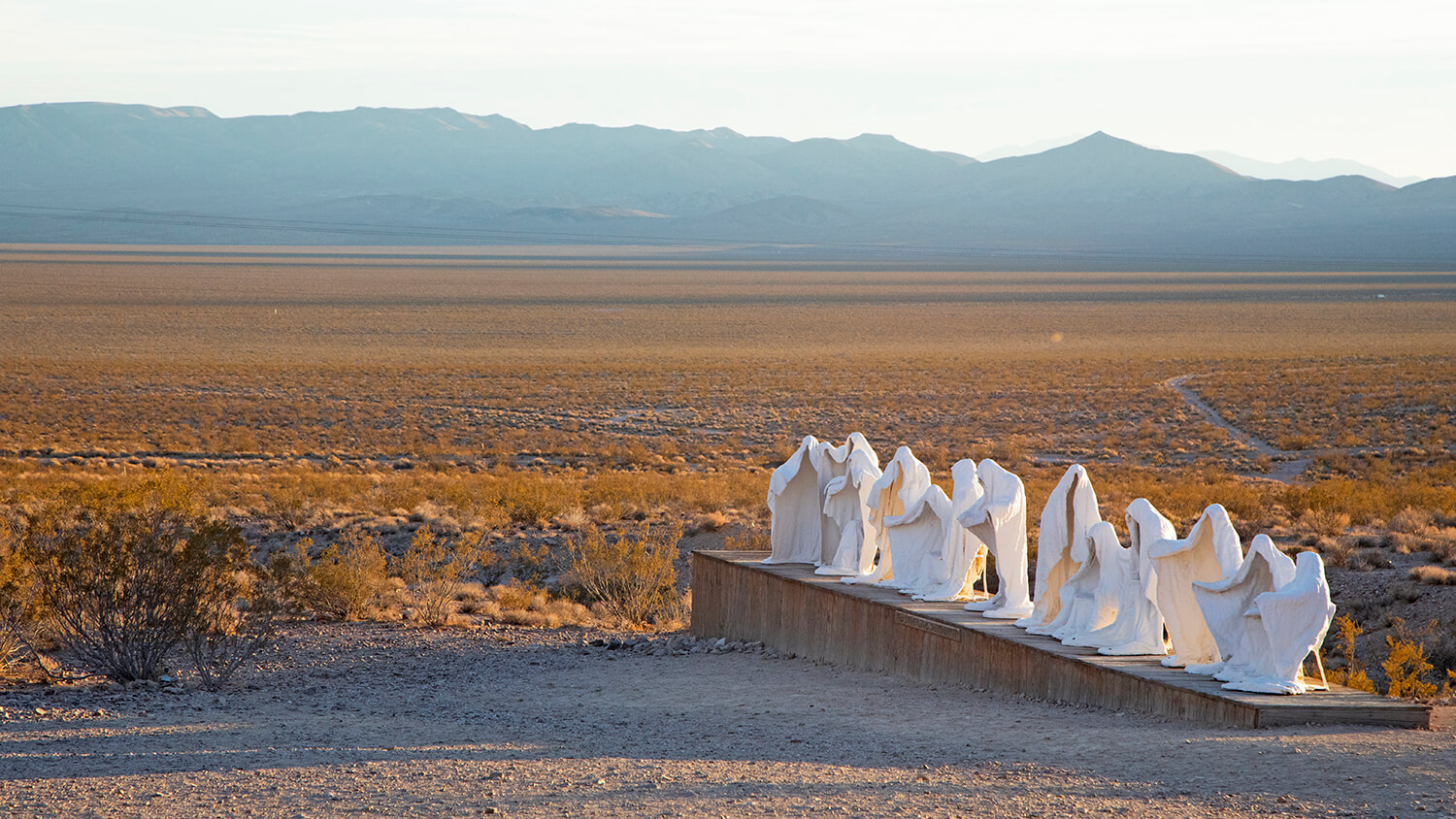 As if the most photographed ghost town in the entire dang state amped up by the largest and oldest still-standing bottle house in the world aren't enough to reel you in—well then hang on tight because it's about to get even better. Rhyolite is one of those places where you get a serious bang for your buck in just about every way we can come up with. Western heritage, amazingly picturesque ruins with photo ops galore, an idolized lady of the night, and amazingly convenient access to Death Valley National Park. But then there are the famed Ghosts of the Last Supper—one of those places you see in photos and say "WHOA, where the F is that?!" And guess what? When you show up, this thing totally delivers, too. To me, it's insane to think about artist Albert Szukalski's brainchild sitting in the very hot Nevada elements for over 40 years, looking like they were just installed. He's the man behind the lego-looking woman, prospector and penguin and other installations, but the Goldwell Ghosts are totally the main event. Modeled after Leo Da Vinci's actual Last Supper, Szukalski created this interpretation using real people as models. What does that mean? Standing inside the molds is actually a possibility for a spooky snap. Up the ante even more, and show up during the annual Perseid Meteor Shower for a real face-melter of an evening.
26. A BIG OL' GOLD NUGGET, AT THE GOLDEN NUGGET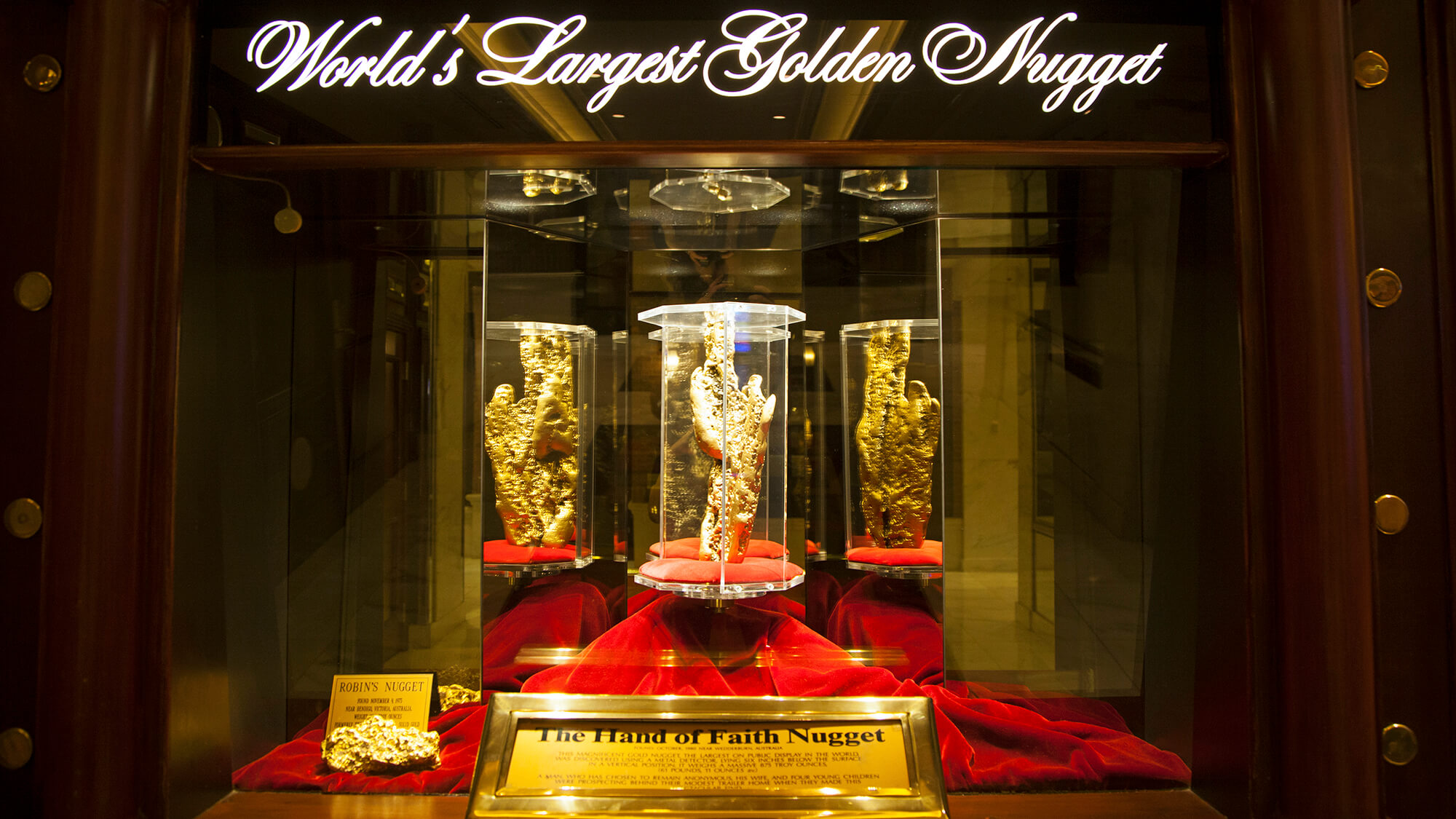 If you are under the impression that Nevada's gold mining days are a thing of the past, you're sorrreelllyyyy mistaken, suckaz. Obviously we're called the Silver State because we produce boatloads of silver, but we'd be willing to bet you'd be surprised to find out that the State of Nevada is still ranked as a top five gold producer in the whole world, going toe to toe with entire nations. Some may think those mining days are gone, but the reality of it is they're far from over. We're still out here producing hundreds of tons of gold each year. Though the largest known gold nugget in the world was discovered in Australia (another of those top five producers), the Hand of Faith nugget was sold to none other than downtown Vegas' Golden Nugget Casino. Call it a hand, but to us, this thing looks more like the size of both arms put together. It was discovered in 1980 using a metal detector (crazy, right?) and an awesome place to hit up when you're on Fremont, cause if you're down here i know you're already knee-deep in that Weird Nevada life.
27. MANSON TIES AT THE BELMONT COURTHOUSE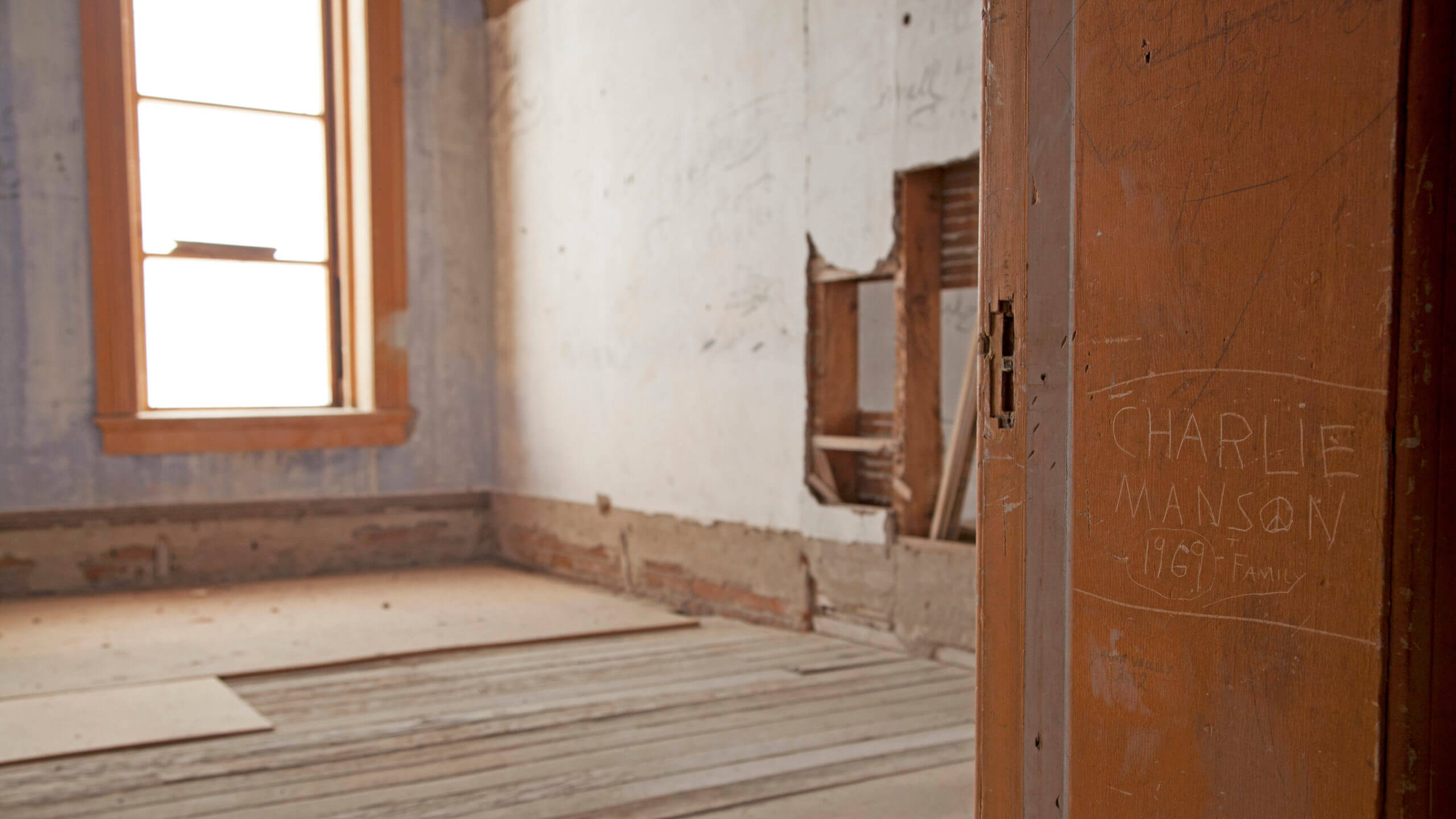 Juuuuuuuuuuuust before Manson's murderous brainwashing kicked into high gear in the fall of 1969, he and his clan of misfits were frequent visitors of southern California and Nevada deserts. Their bizarre philosophies were rejected by anyone of sound mind in metro areas (besides certain Beach Boys…), so they retreated to places with little to no population where they could really go full-bore cray-cray—so it DOES make sense, right? There's still so much spiritual solace out there to be enjoyed without going off the deep end, but it's no secret that Manson's cult hung out in some Nevada desertscapes right before the killing sprees started. Death Valley is a common one for sure, but he and his devotees allegedly made it out to Belmont—one of the best ghost towns in the entire state—for a multi-week camping bender. At the time, neither Nevada State Parks or the Friends of Belmont Courthouse had stepped in to preserve the Belmont Courthouse, but the place was under the watchful eye of a full-time caretaker. Story has it that he and his cult following showed up, were promptly greeted with the business end of a shotgun, and redirected to Pine Creek Campground in Monitor Valley. They didn't actually spend the night at this Nevada icon, but he did manage to leave his killer John Hancock before hitting the road.
28. ELKO'S WHITE KING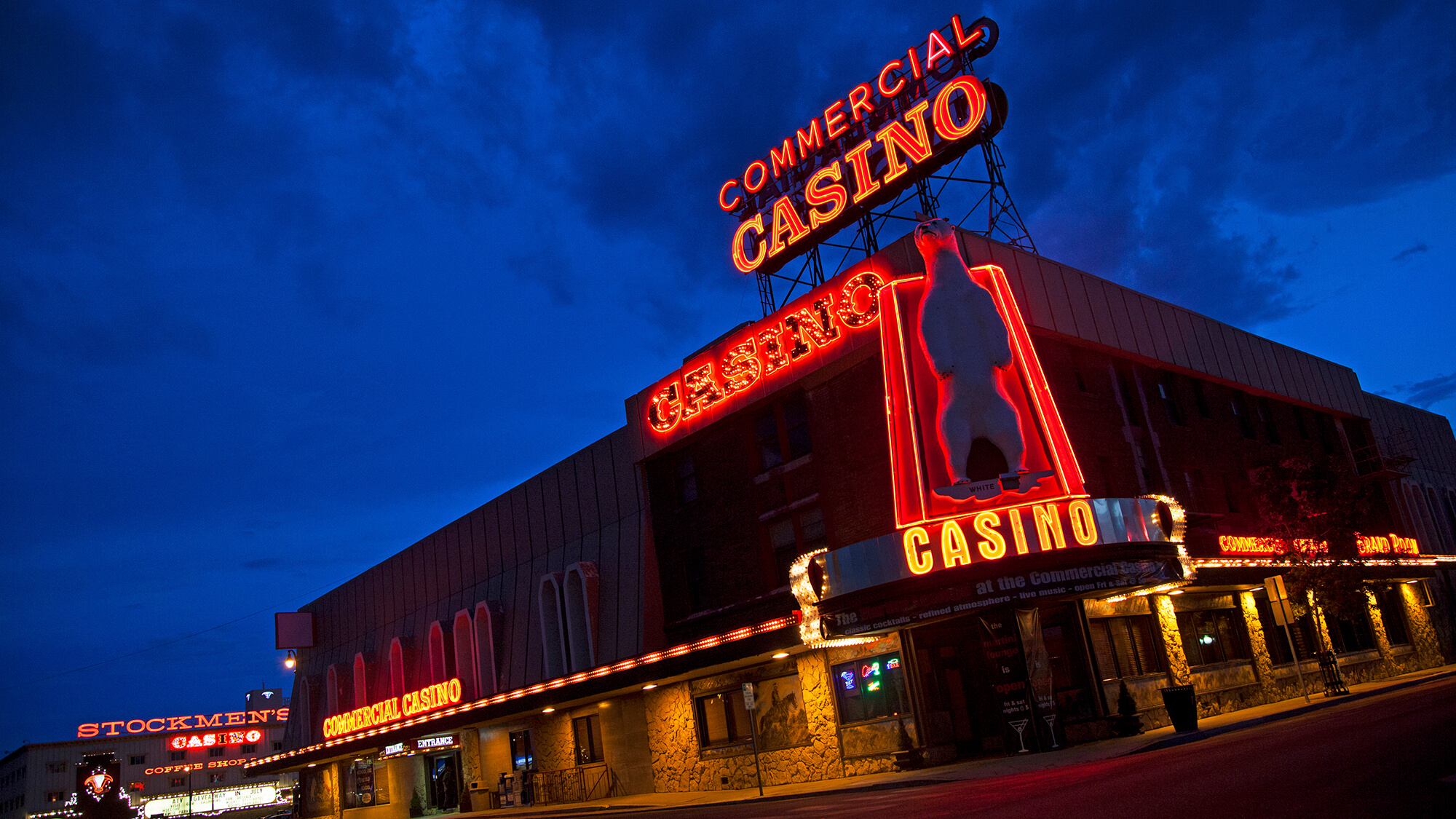 Nevada is definitely a long place from anywhere that you can actually see a polar bear in the wild, which makes this entire situation that much stranger. Yusss. Right in the middle of one of the Last Great Cow Towns in America stands a glass-encased 10-foot-4-inch taxidermied polar bear—the world's largest to be exact. Weird, right? So how in tarnation is this thing in the middle of a place where it doesn't belong? The White King was killed in Alaska by an Eskimo hunter at some random time decades ago that no one can really nail down. It was a long time ago… let's leave it at that. When it was hunted, it weighed in at a whopping 2,000 pounds and got shipped to Denver to be taxidermied by some dudes called the Jonas Brothers (not those ones), confusing the masses for all eternity. It was, and still is thought to be the largest dead polar bear on the planet. The capper? The White King can be admired inside the Commercial, which just so happens to be Nevada's oldest casino. Records on records.
EDITOR'S NOTE: The Commercial Casino is temporarily closed, as of January 2021. Please continue to check back for updates!
29. PINBALL HALL OF FAME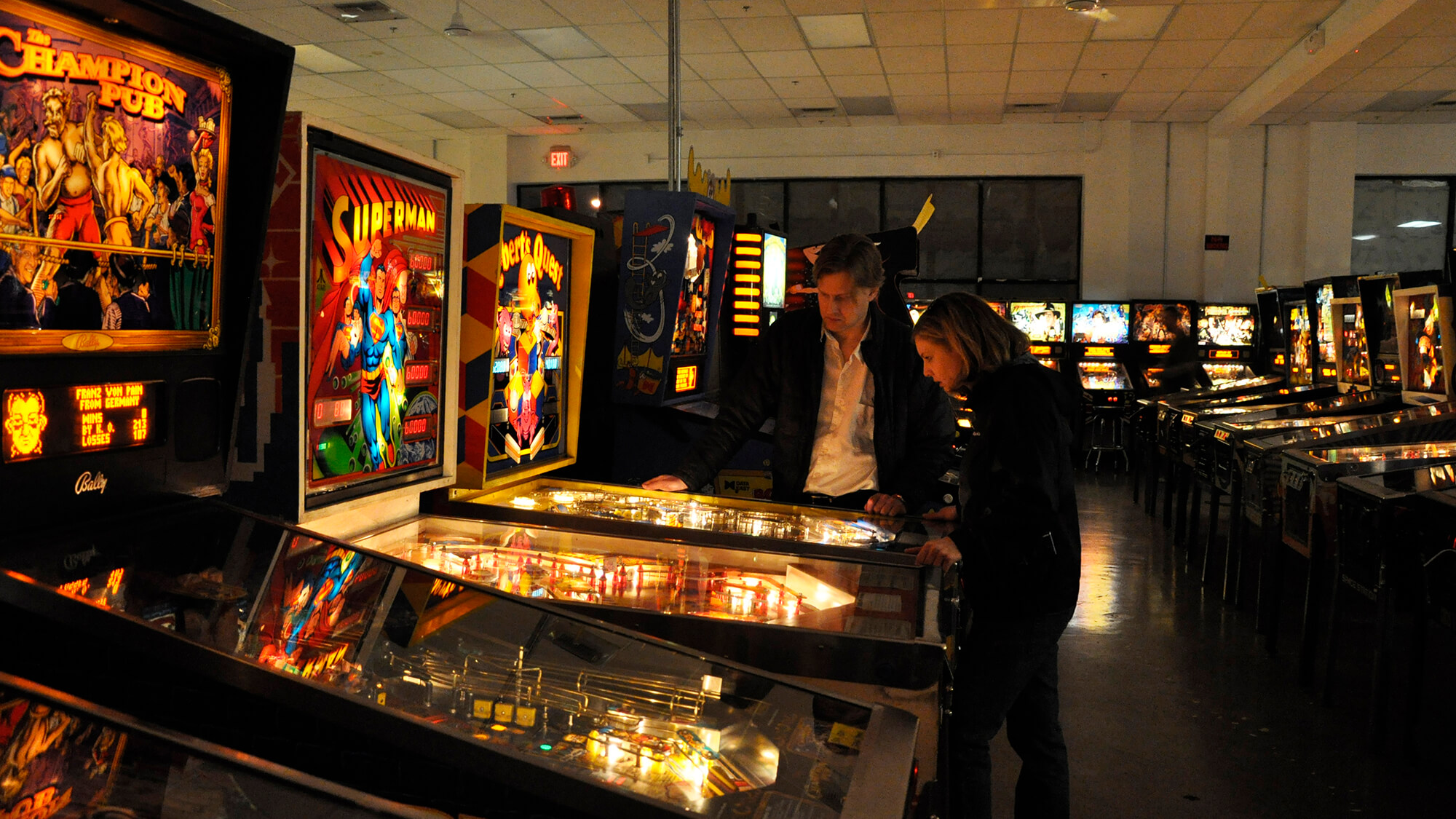 So many machines of so mannnny vintages. Just when you thought that the slot machine was the only light-up, thrill inducing game to play in Nevada is right where this whole thing starts to go sideways. You, my friend, have forgotten about the Pinball Hall of Fame, which is in total  walking distance of the Las Vegas Strip. Here, expect to flip out over the world's largest collection of pinball machines in the world—a staggering 152 tables of all vintages, and 54 arcade machines, too—ranging from early woodrails and wedge heads to brand spankin' new releases… from ultra-rare or experimental designs (Cactus Canyon… Pinball Circus!) to classic universal favorites (Twilight Zone, Addams Family). It truly is impressive and delightfully off-kilter all at the same time. All we're saying is, if you have a game in mind, these dudes have probably got it. Better yet, if you fancy yourself a pinhead—but in a polite way—you can totally make your fury official by joining the rankings of the 206 registred Pinball Hall of Famers. Bring quarters or exchange your greenbacks for pockets full of 'em.
30. CLACKERS, DRONES AND AMUNITION GALORE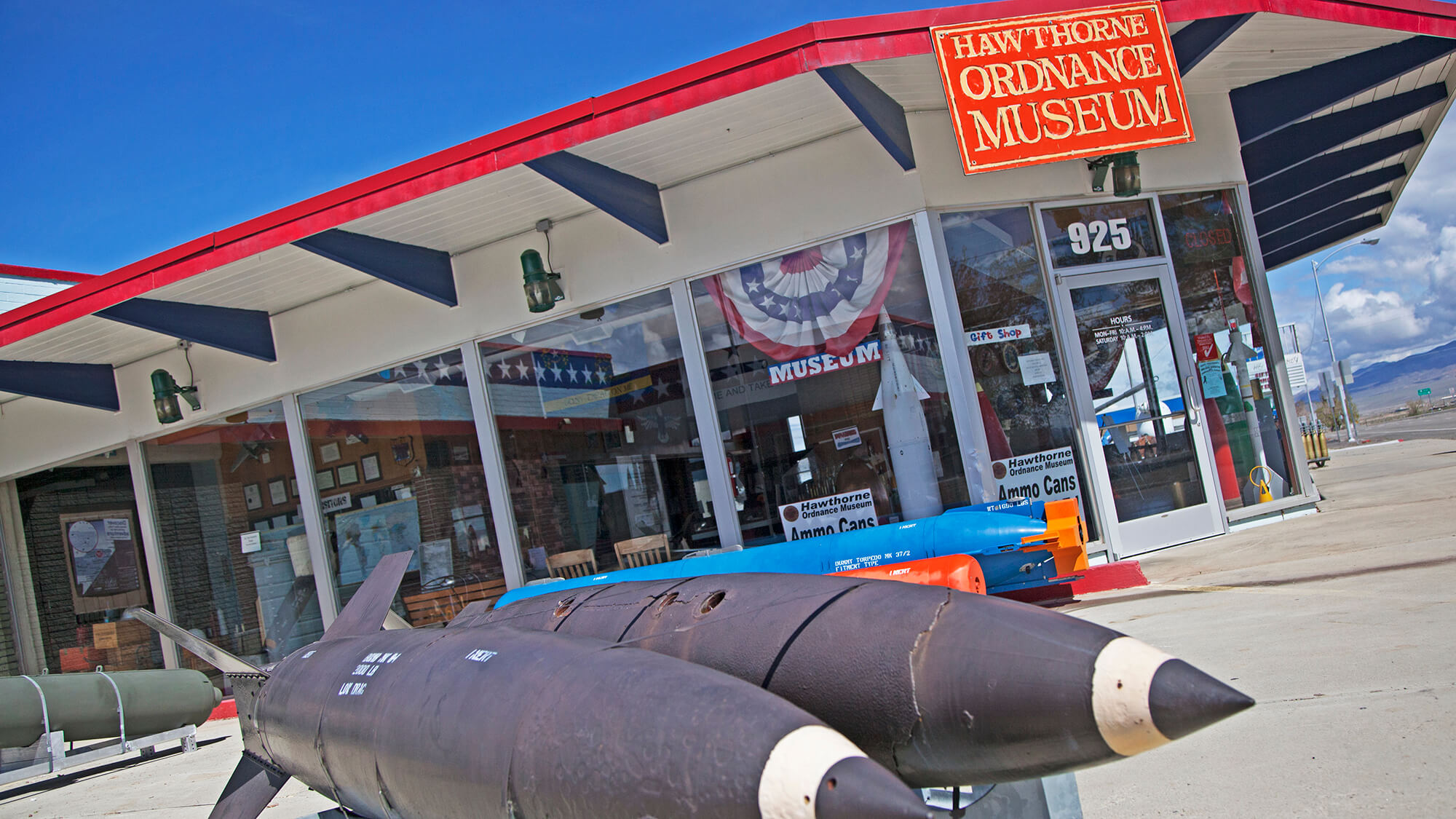 Hawthorne: the beautiful weird little hero of all things guns, ammo, and weapons of mass destruction. Of course, in "America's Patriotic Home", and site of the world's largest artillery base, I guess that should come as no surprise, but hitting up a museum devoted to all things ammo might. Having that superlative—as the world's largest artillery base—is pretty brag worthy, but Hawthorne takes it a step further with the Ordnance Museum…an entire museum devoted to showcasing weaponry like cluster bombs and other historical ammunition you never knew. Oh and CLACKERS. Back in the day, submarine hunters basically had these super powerful magnets called clackers that they used to track down opponents through sonar. You can get up close to these antiquated yet alluring things, and as a whole, really take the whole "Proud to be an American" thing to the next level… or ten.
31. A 12,000 YEAR OLD POOL THAT MAY CONNECT TO OTHER PARTS OF THE WORLD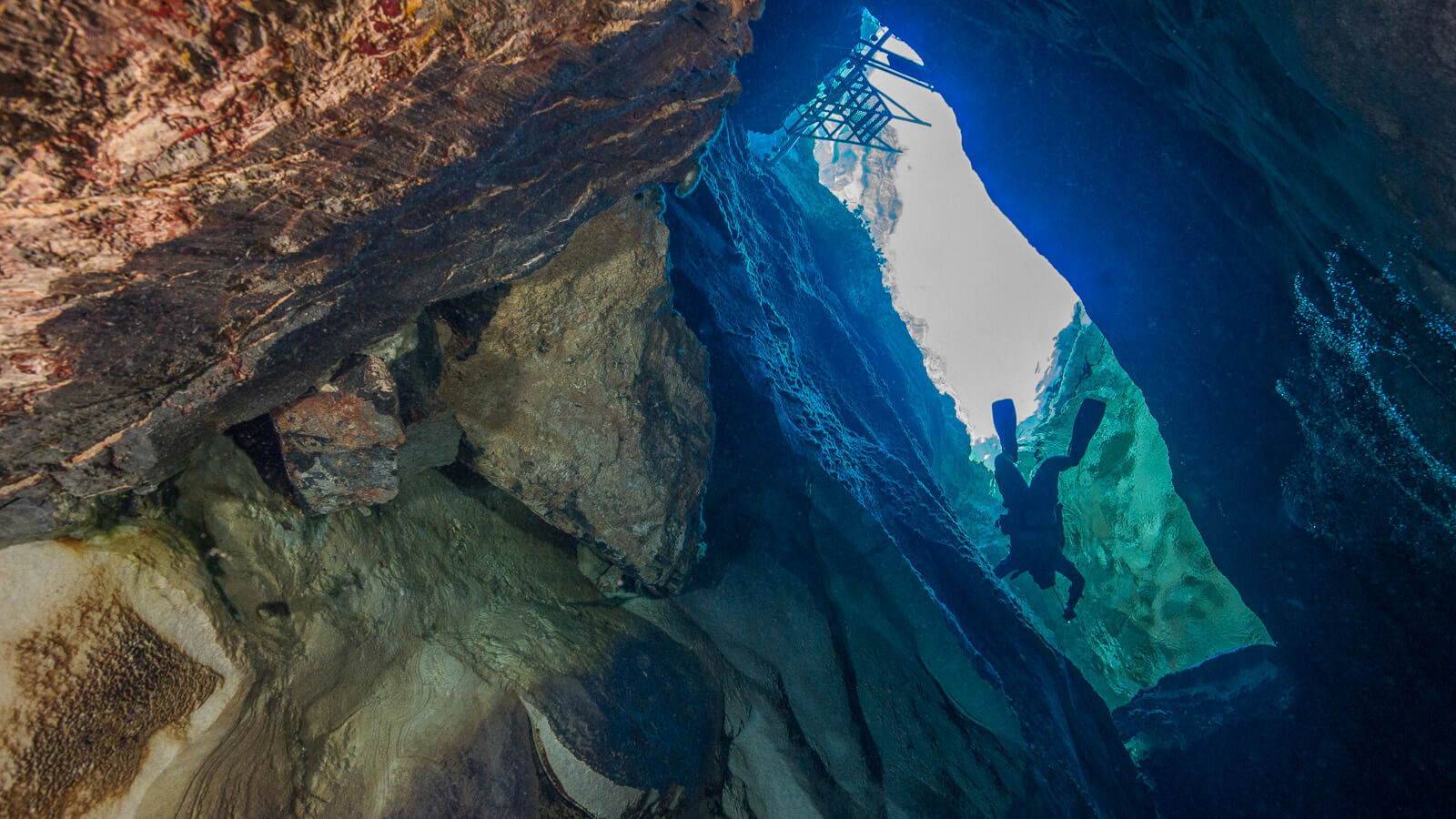 Part of the Death Valley National Park, Ash Meadows National Wildlife Refuge is where you'll find the entrance to DEVILS HOLE. This thing is on serious lockdown because it just so happens to be the home of the first species ever added to the Endangered Species List and the world's rarest fish. The entire fish thing is brag-worthy on its own, but there's something about this dang cavern we can't turn our laser focus away from. In the grand scheme, the opening is tiinnnyyyy—only about 8 by 60 feet. The earth opened up 60,000 years ago, and it became an isolated pool with the Devils Hole Desert Pupfish about 12k years ago. The thing is, the water in this thing is so crystal clear, that, together with the limestone walls create just about every color of the rainbow. The water itself? What scientists call fossil water… meaning it's taken 15,000 years to travel underground to this very spot. The tiny opening is enough reason to probe what lies beneath, but here's the kicker: we as humans can't understand just how deep the thing is—as in people have gone missing and never returned, and no one has ever found the bottom. Researchers think it could be connected to other parts of the world, too. In 2012 a 7.2 magnitude earthquake in Mexico (a place that's 2,000 miles away, mind you) created a tsunami here. All that, annnnd this was allegedly another one of creepy ol' Charlie Manson's hangouts, too.
32. THE NEON BONEYARD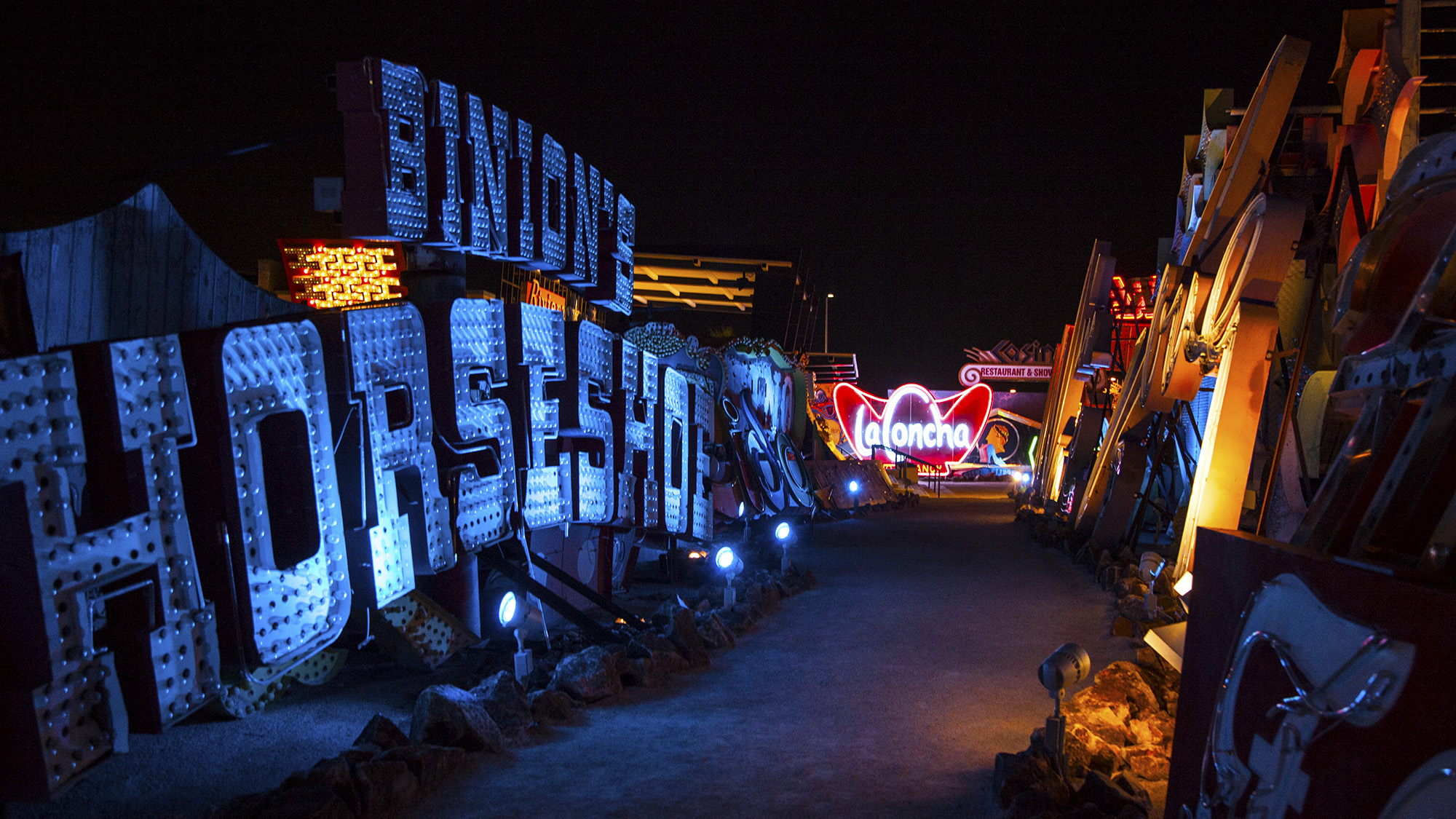 What happens when old-school Vegas casinos are torn down, or that throwback vintage sign that was impressive in the 60s is suddenly no longer "cool" in the 80s? They accumulate in random places. Whether it be in some dark, cobweb covered corner of a Vegas casino, in some dude's garage, or split up by random letters and sold in an out of the way thrift store, these unusual (but very important) threads of Nevada history tends to disappear if someone's not keeping proper tabs on them. And in this case, this very specific thread is under the watchful eye of the folks at the Neon Museum in downtown Las Vegas. Many of these deliciously retro signs were sold off to random people in other states, fell victim to time, or were repossessed by YESCO altogether… that is, UNTIL the Neon Museum became, well, the Neon Museum. Thankfully, some very smart curators realized that these works of industrial art were part of Nevada's DNA— if they were stripped from Nevada, it would be a total loss. Since 1996, the Neon Museum has been saving literal tons of these vintage signs from an unsavory fate ever since. Some have been brought back to their original glory and are working again in downtown Las Vegas (thanks to a lot of funding and special care), while others are stored in what is a fully tour-able BONEYARD. In the museum, visitors can expect to pursue working and non-working signs anywhere from a few feet to several stories tall, all while getting a complete historical rundown from a museum expert. Whether you're drinking in some neon at this must-see, or coming across it in the "wild," it's safe to say we've got the neon market cornered in all the right ways.
33. A SINGING SAND DUNE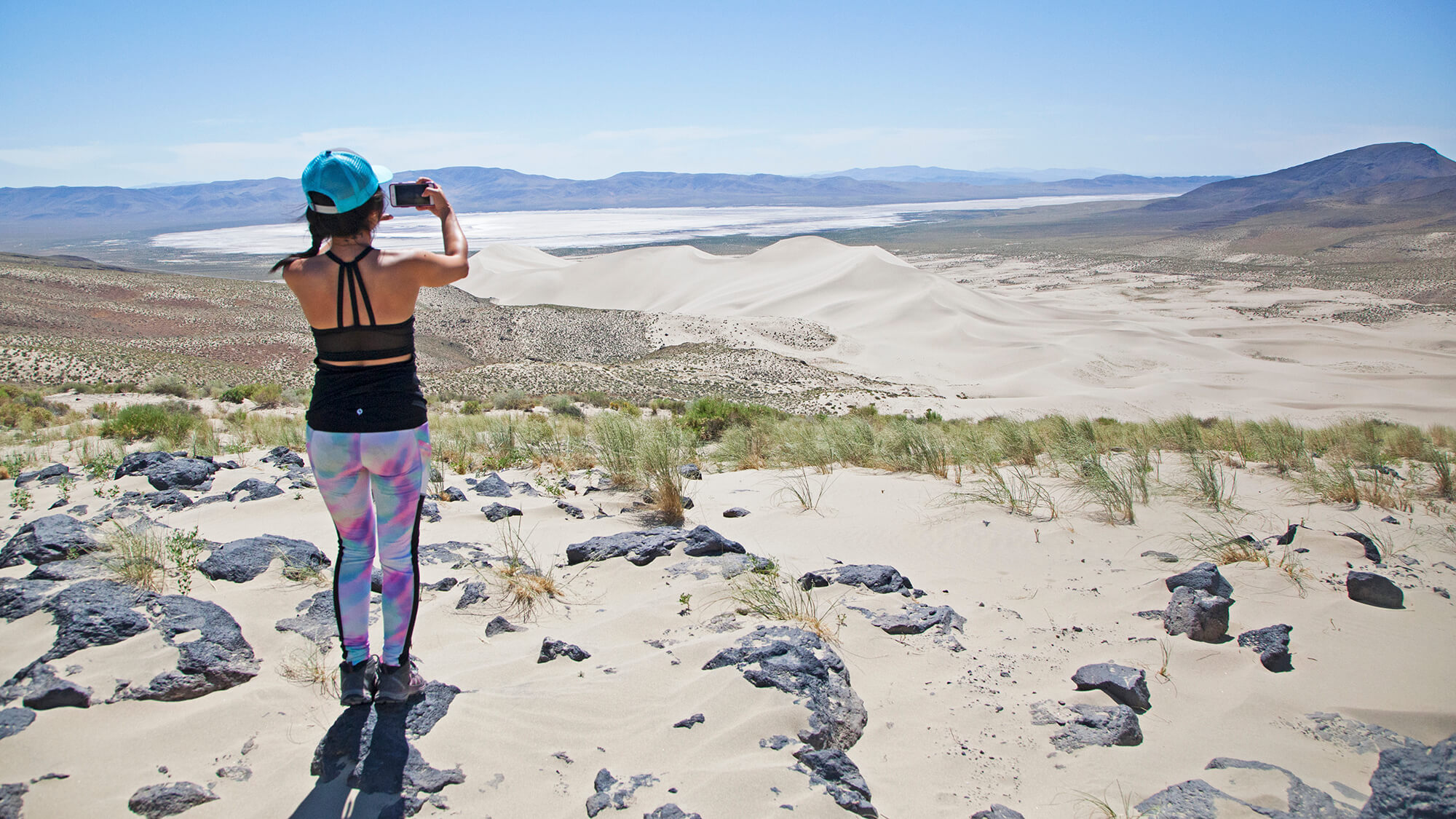 You're traveling an otherwise particularly isolated stretch of the Loneliest Road in America, come 'round the bend, and there it is: a gigantic, totally out-of-place mountain of sand. I'm talking 6 stories tall and several miles long… just like someone came out there with, oh, several hundred dump trucks worth of sand as a pet project. WTH? Yeah, a "this doesn't belong here!" #WeirdNevada qualifier for sure. This thing, believe it or not, it's what's left of a gigantic, prehistoric glacial sea that covered most of northern Nevada about more than 20,000 years ago. The water dried up over time, and a lot of its sandy beachline accumulated in one place—right outside Fallon on Nevada's Highway 50. As if the sight of it alone isn't crazy enough to merit a visit, it's home to a very specific type of butterfly found nowhere else on the planet: the Sand Mountain Blue Butterfly. PLUS, it's the site of a former Pony Express Station that was uncovered in recent history after decades of being totally buried in sand. Oh, and this thing sings! Gigantic mountains of sand are not super rare [there are several in Nevada alone], but what makes Sand Mountain that much better is the fact that she groans… and is one of only a few in the world with this impressive quality. This natural sound phenomenon can reach 105 decibels, lasting as long as several minutes.
34. A 1960s BOND-STYLE HIDEOUT MEETS "FEAR AND LOATHING." WITH GUMMY WORMS… LOTS OF GUMMY WORMS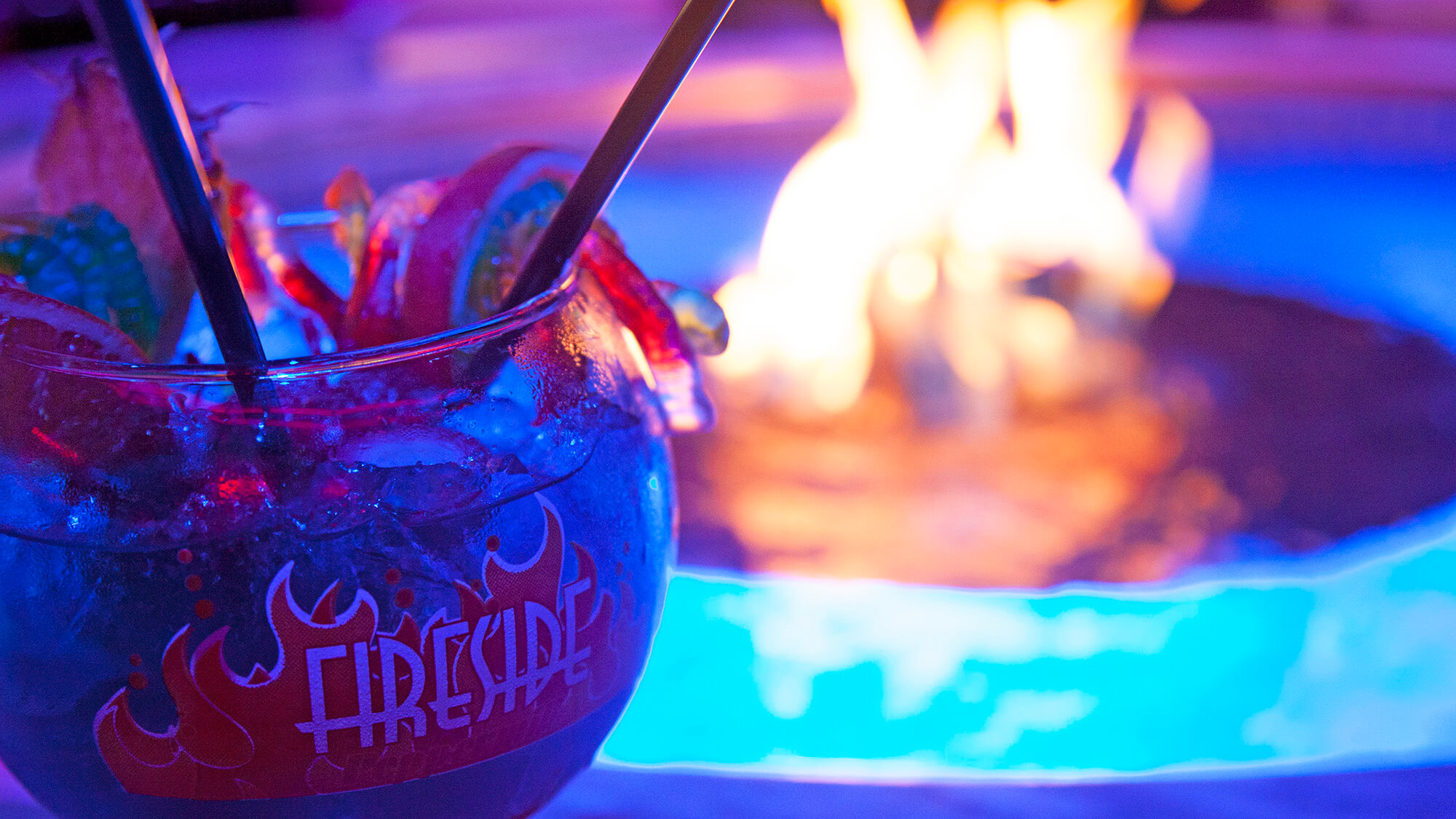 Anyone out there lookin' to channel some serious Fear and Loathing vibes? Well then! The Fireside Lounge, in both Vegas AND Reno will surely please. Both are part of Peppermill properties, and channel this incredible, unmatched 1960s Bond Tiki Bar meets walls-are-melting sorta situation. No matter which undeniably-Vegas vibe you're aiming to accomplish, The Fireside swiftly delivers both. Voted as the best Vegas bar to have your bachelor party in (by Playboy, of course), the minute you step off the casino floor and into this throwback delight, you'll be working this oddity into each and every Nevada excursion from here on out. And here's why: to start, there's this weird, tropical outer space vibe going on, complete with a neon-ish, blacklighted situation you can only get away with inside a casino. Yeah, it's that good, but manages to get better. Most of the bar tables are actually recessed, with floating firepits, surrounded with a 90s R&B-style blue fire glass with red crushed velvet seats. Oh, and Sir Mix-A-Lot and Destiny's Child will sign, seal and deliver the ambiance because guess what, each fireside seat comes with a mini flat screen TV blasting throwback classics… just in case you're not wooed enough by your very curated surroundings. Order up their specialty array of 30 oz. tropical drinks with gummy worms spilling over the top and get into it… you're so totally in bat country now.
35. LUNAR CRATER: THE STUFF KARATE-CHOPPING DREAMS ARE MADE OF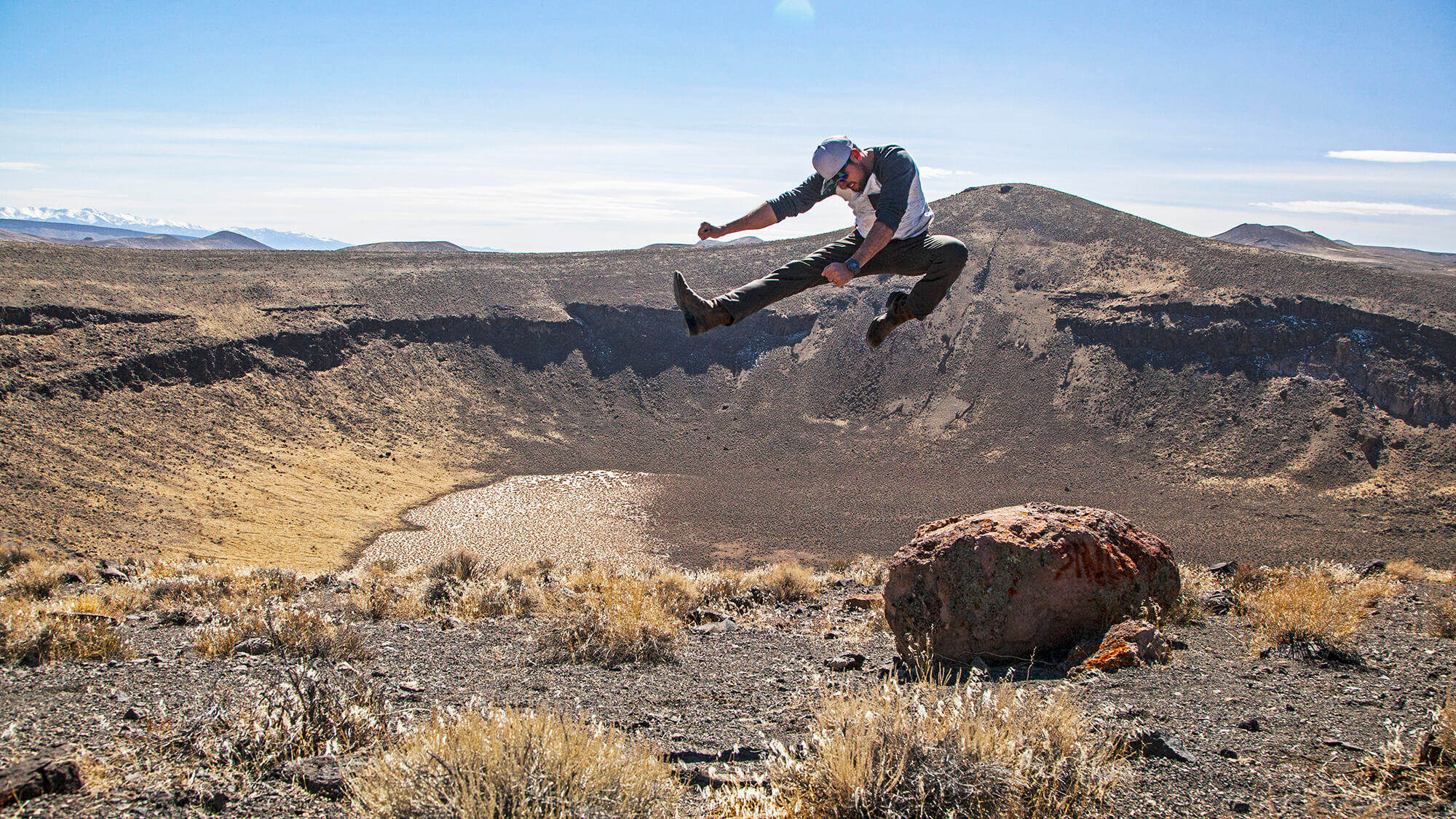 World's largest man-made crater? Got it. But natural craters? Betcha booty we got it, too. Oh, and get this—they're both shockingly close to each other, to boot. The infamous atomic blasts that happened at the Nevada National Security Site went down almost directly south, but what you see at Lunar Crater is alllllll natural, baby. Aside from it's eerily close proximity to the ET Highway, it's not just us catching some alien-esque vibes from this place. It's so otherworldly, that it was classified as a "terrestrial analogue site" when we're trying to get a dang American man on the moon…which basically means it was a perfect place to train astronauts how to walk on the actual moon. In fact, 11 of the 12 American moonwalkers trained in Nevada craters before their missions, collecting rock samples, doing checklist procedures… you name it. Although there are over 20 extinct volcanoes in the area, along with some obsidian-laden ancient lava flows, the main event in these parts is Lunar Crater. This thing is 430 feet deep [compared to Sedan's 320 foot depth] and formed about a bazillion years ago when volcanoes were going gangbusters and groundwater collided with hot magma. The crater formed and—boom—it's here for you and all of your karate chopping needs till the end of time. #WeirdNevada
Get Inspired
Related Stories