Cruisin' For Christmas Lights
The ho-ho-holidays are here, and dazzling displays of twinkly, glittering lights are popping up all over the Silver State. And this year, you don't even have to leave your car to scope out impressive displays of Christmas magic. Pack up a handful of candy canes and a thermos of hot chocolate, then buckle up for a bevy of places putting on safe, socially-distanced drive-thru light shows that'll jingle bell rock your stockings off.
Bright Lights, Big City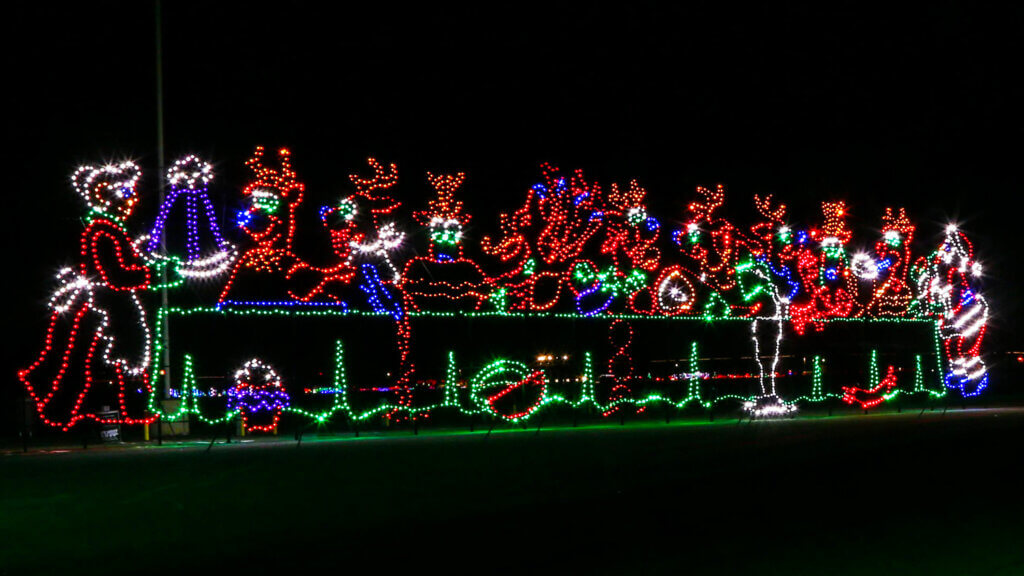 When it comes to the holidays, you can count on Las Vegas to go bigger than big – and nothing's bigger than literally MILLIONS of glimmering bulbs. Head up the highway to Las Vegas Motor Speedway's annual Glittering Lights extravaganza, a massive 2.5-mile drive-thru experience with Christmas scenes at every turn. Debuting this year is The Neon Forest, brought to life by fairy dust and a mythical guardian by the name of Gumdrop. And if that's not sweet enough? A portion of every ticket goes back to southern Nevada charities.
You'll also wanna cruise by Tropicana Las Vegas, which has decked the corner of Tropicana and Las Vegas Blvd. with more than 25,000 lights. The free-to-experience Holiday in Paradise is aptly named with a tropical forest of glowing palm trees, plus a 20-foot Christmas tree and 10-foot live poinsettia wall.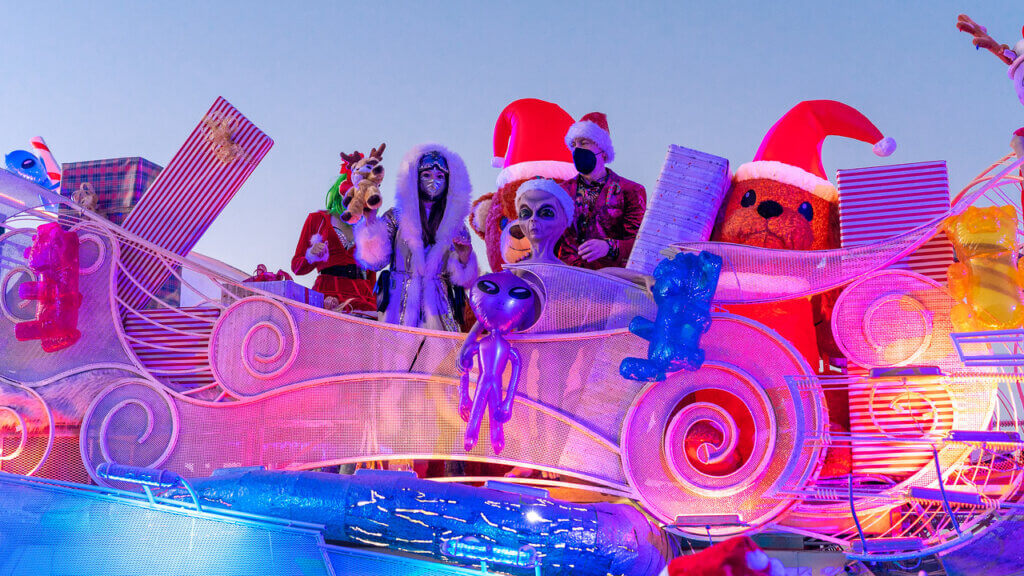 If you're looking for an outdoor option outside your vehicle, Area 15 wants to welcome you to Wanderland, which promises "weird, wonderful surprises" in socially distanced settings. We're talking Insta-worthy vignettes (like an igloo stroll), a 30-foot-tall intergalactic art sleigh lit up with hundreds of Christmas lights, and the ability to sip hot chocolate inside your own private snow globe.
(Not So) Hidden Valley
The Biggest Little City is home to Hidden Valley, a community overflowing with holiday cheer of Clark Griswoldian proportions. Now in its 38th year, the Parade of Lights takes its Christmas lights game to a whole 'nother level – the top ten decorated houses receive yard signs indicating their award-winning status, as does the best street with a theme (that's right, entire streets get in on this!). Plot your course to these brilliant abodes with this neighborhood map.
Two more Reno favorites have both come out of retirement to help spread extra holiday joy this year. "Thankful for smiles," the Lights of Tanea combines a must-see pixel tree with animated effects, all set to a soundtrack that pipes in through 106.1FM on your car radio. Over at the Solitude Drive Christmas Lightshow, 30,000 lights (on one house!) are also musically synced – and you know you're in for something special when RenoLightWizard is the YouTube channel for past displays. Both sights are well worth the drive, and guaranteed to leave a giant grin on your face.
[Insert Dad Joke Here]
And if you're too stubborn to ask for directions, the Reno Dads Blog crew mapped out their favorite flauntings of festiveness across the entire Greater Reno Area, from Cold Springs on down to the Mount Rose Highway. Think a friend's house (or yours) should make the cut? Submit it here.
All Aglow in Boulder City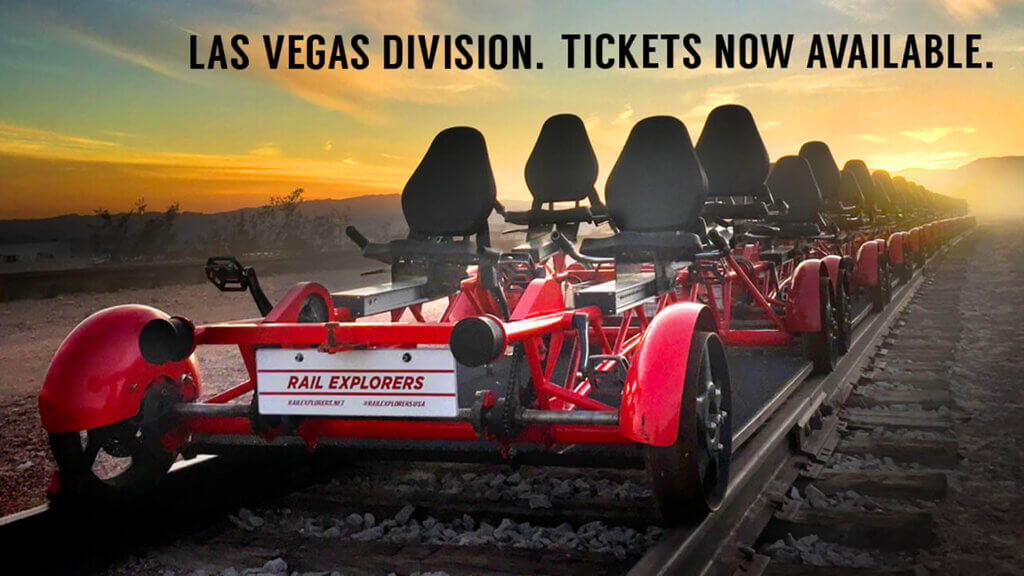 Did someone say, "Winners of The Great Christmas Light Fight on ABC?" That's the level of razzle dazzle you'll find throughout neighborhoods in Boulder City. This Holiday Lights list features more than a dozen residences that love sharing the holiday spirit, and actively invite folks to drive by and admire their efforts. Winter wonderland and Nativity scenes are only the beginning of what awaits you a short drive from Las Vegas.
Before leaving Boulder City, treat yourself to a hands-on (or more accurately, foot-on) holiday excursion with Rail Explorers. Evening tours on pedal-powered rail bikes along historic train tracks are the way to go now through December 31 – elves will greet you and bring goodies like cookies, candy canes, hot chocolate, and hot apple cider.
Pahrump-Pa-Pum-Pum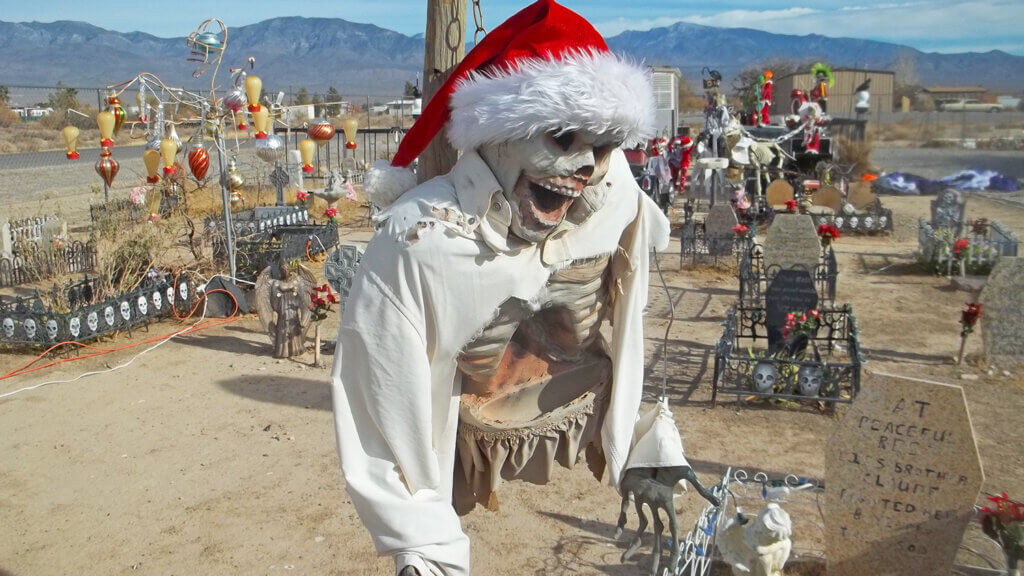 The Nightmare Before Christmas fans will want to beeline it to Pahrump, as the movie practically comes to life at Coffinwood every December. An hour outside Las Vegas, this non-traditional display will quickly become your family's new favorite holiday tradition. Tune into the posted radio station from the comfort of your car and enjoy a synchronized audio-visual light show to 18 different songs. The twist? Your Christmas carols come courtesy of Blink 182, Korn, Weezer, Weird Al, the Ramones, and more.
Love sightseeing the Silver State by car? No time like the present to daydream about your next #NVRoadTrip. Need some inspo? We've got ten tried-and-true treks all mapped out for ya!
Get Inspired
Related Stories