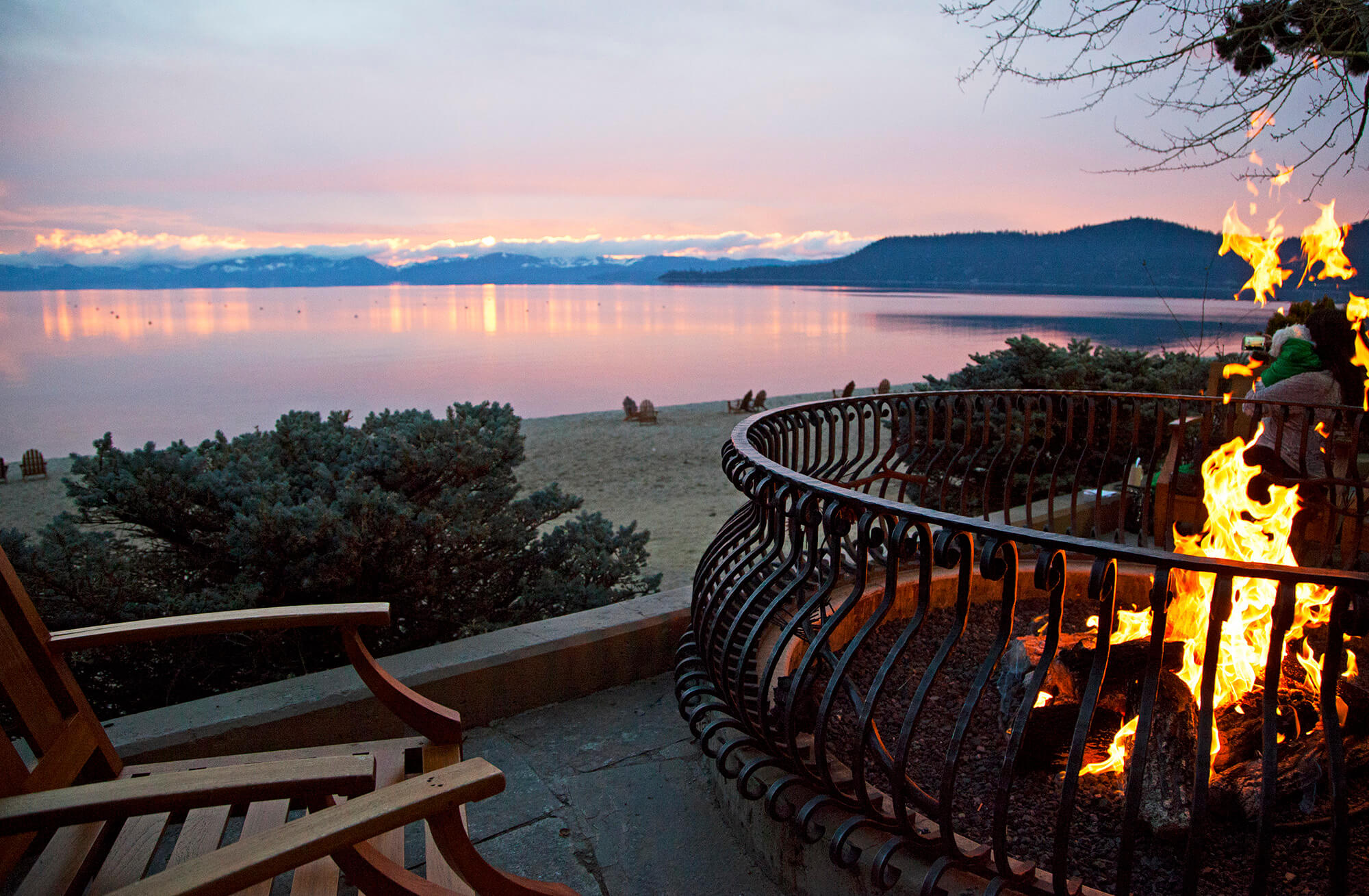 A Couple SureFIRE Ways To Kick Jack Frost To The Curb
No matter where you call home, it just doesn't feel like winter without a perfectly stoked fire and a few holiday libations in hand. Maniacal firebug or not, there's something about posting up for the afternoon and getting lost in the enchantment of a good ol' fashioned fire that most people cant resist. And, despite any preconceived notions, yes, the Silver State gets snow…lots of it up north, and yes, even Vegas gets chilly enough to enjoy a blazing inferno.
We've taken the liberty of putting together a few irresistible Silver State fire pits, totally worthy of an afternoon…like all afternoon. Hit the slopes or the slots, and get to these glowing getaways quick fast in a hurry. With hot spots this level of awesome, it's something even Frosty would totally want to get in on. Annnnnd, go!
Fireside Lounge at The Peppermill
Get Your Tiki Chic On While Heating Up In This Iconic Casino Lounge
Whether you're in search of R&R in northern or southern Nevada, make sure the Fireside Lounge at the Peppermill is first on the list. That is, only if you want to get a good solid dose of '70s casino throwback…which, let's be honest, who doesn't want that in their life? And just when you think glitzy, retro casino décor and tiki culture don't mesh well together, you couldn't be more wrong.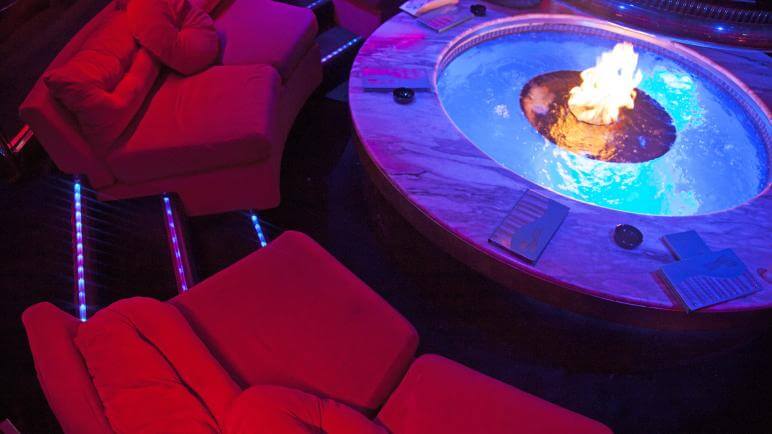 With mirrors covering every wall in sight and each piece of furniture engulfed in Pepto-Bismol hued velvet, it's hard to NOT feel like the entire place is Robert De Niro and a Hula Goddess' swanky love nest. Our imagination might be getting the best of us there, but we aren't toooooo far off. In fact, this pipedream is so on the money that Robert De Niro himself filmed a scene for his legendary flic Casino in the Fireside Lounge in Vegas.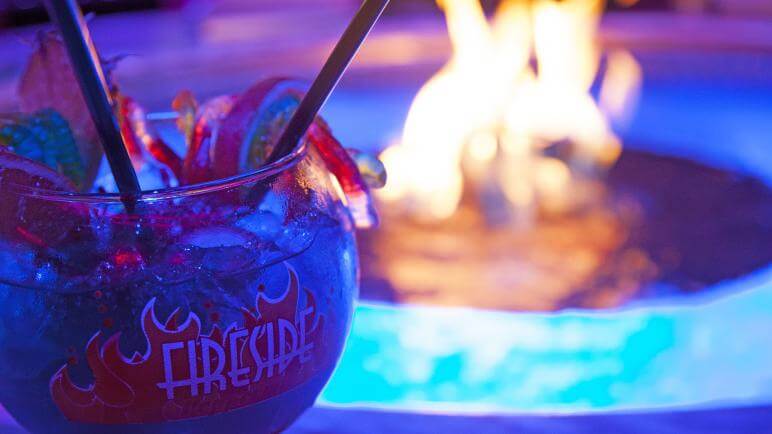 Also on Playboy's list of best bars to throw a bachelor party, Fireside Lounge has quite the impressive list of tropical drinks that will have you whipped into fruity delirium in no time. The showstopper is their signature drink: The Inferno. How appropriate. With ounces of sugary excellence complete with just about as many gummy worms you can imagine, one thing is for sure…if the fire pit didn't manage to warm your cockles, a drink of this caliber will have you feeling like you're on fire by the time you leave. An assuredly iconic bar, northern or southern, the Fireside Lounge is one you've just gotta see for yourself.
The Griffin
Scratch That Itch For Some Sultry Mystery With A Solid Prohibition-ish Bar
If you're either A) obsessed with Harry Potter or, B) bewitched by the Prohibition Era, The Griffin is totally your best bet. Not far from the fabulous Fremont Street Experience, The Griffin is a few blocks east in an up-and-coming sector of bars called Fremont East. While it's supposedly a theme-less bar, it's easy to let your thoughts carry you away at this hot spot.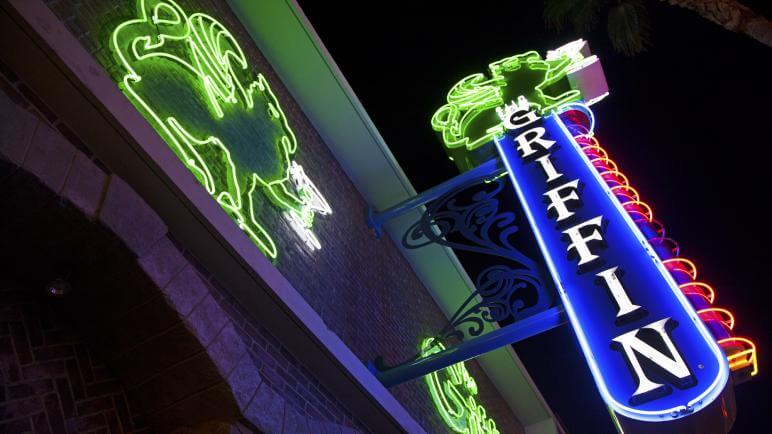 Although you maybe feel like you need the 'secret password' to get into The Griffin, once carded at the door, visitors can slink through a plush velvet curtain to enter this mysterious abode. On the other side, you'll find a richly decorated, luxurious brick room, complete with a solid wood bar counter and scarlet red leather upholstered seats. Like you're roaming the halls of Gryffindor with your old pal Ron Weasley, it really does feel like a Chamber of Secrets.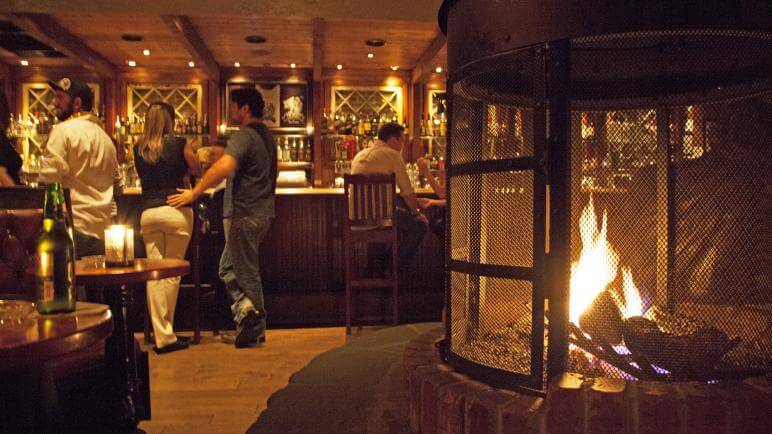 Lock down a spot next to one of the circular fire pits then crank it up a notch and get a few swigs of Fireball in your gullet for an ultra-relaxing evening at The Griffin. If that doesn't light your fire, get your speakeasy on and make your way to the back of this fine establishment. Here, you'll find a 'secret' room, where a DJ blasts some killer music into the wee hours. If you can't heat up from a seriously cool fire pit straight out of a movie scene, or by boogying into the night in a secret back room, then I'm just not sure we can help you any further.
Resort On Mt. Charleston
Best Bet For A Cushy Cabin Escape…Fireside
If you're ever been to downtown Las Vegas, you would fall off your chair if you knew of the woodsy delight awaiting you just 45 minutes away. Burrowed deep in the core of the ridiculously scenic Charleston Wilderness Area is a cabin retreat so charming it's going to totally knock your socks off. We're talking about none other than the Resort on Mt. Charleston, friends.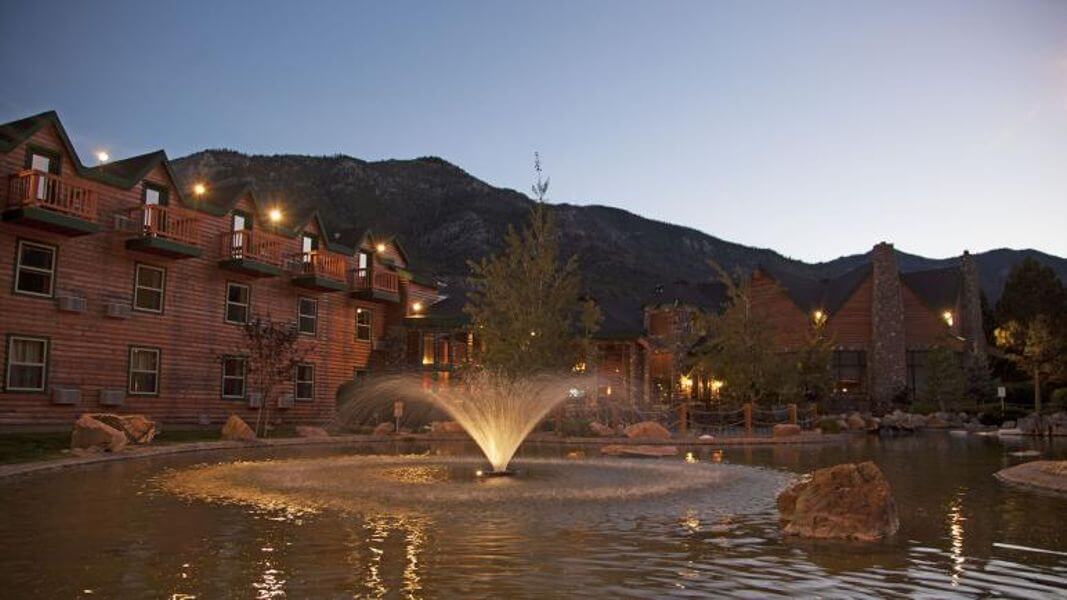 The beauty about cozying up next to the super cool fire pit is the fact that this is a totally seasonless getaway.  Just like you might have envisioned Vegas being a crazy-hot destination, the secret about Charleston is the fact that it carries you up and into the mountains where temperatures are generally much lower. This makes the fireplace inside the Resort on Mt. Charleston completely ideal to cozy up next to in winter months, but you can totally get away with a little canoodling around this one in the summer too.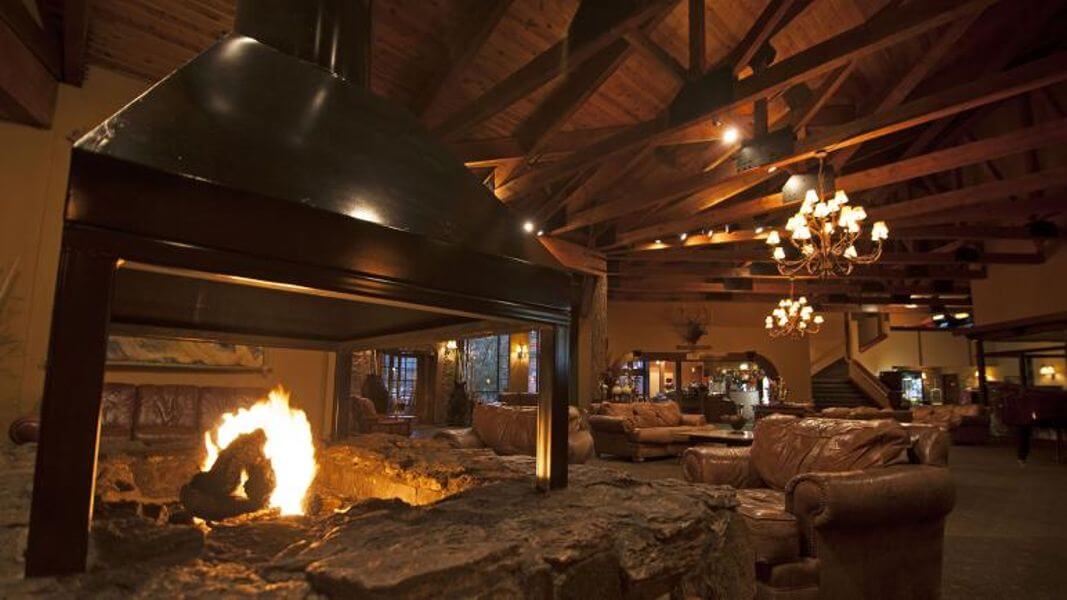 Thoroughly outfitted with a preponderance of cushy leather chairs, guests can loosen up next to this drastically handsome fireplace. Check out Resort at Mt. Charleston for a supremely delicious steak dinner, head up to the fire pit to knock back a few hot cocoas, or just rip that Band-Aid off and just get serious by committing to a seriously incredible mountain hideaway for the weekend. The choice is yours…just get here one way or another.
Fireside Restaurant & Tavern 
Best Ways To Dine Fireside Among The Locals
Just when you thought Vegas was hot enough in both nightlife and temperatures alike, guess again. Vegas really turns up the heat at the Fireside Restaurant & Tavern in the southern burb of Henderson. A pyro's total fantasy, you'll really be able to listen to that fireplace roar in one of three places at the restaurant.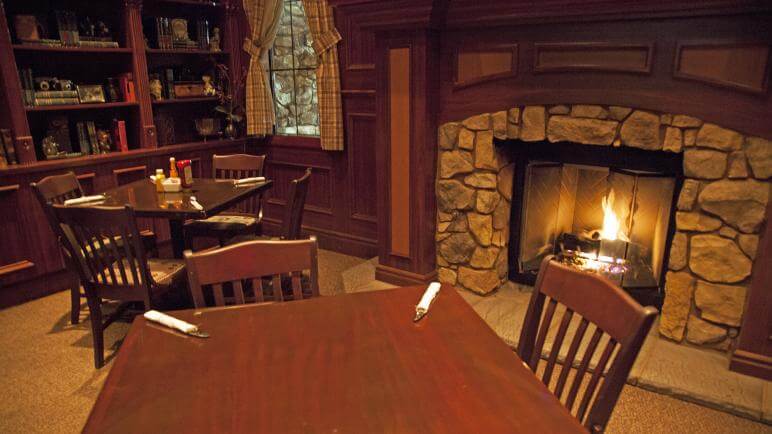 With a monstrosity of a fireplace in the bar area, visitors can sling back a few beverages on some lofty leather couches, or can opt for a more intimate experience in a smaller room with its own regular house-sized hearth. If you really want to get crazy, you can even reserve a private room at the Fireside Restaurant & Tavern too, complete with…you guessed it…its own gorgeous fireplace. Decorated with some cabin-esque swag, it's hard to not feel at home in this local heavy joint.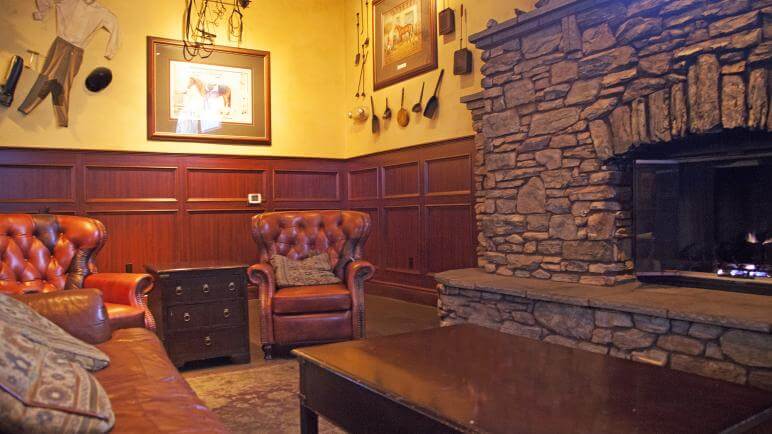 Plus, while we know you'll have no problem keeping the seat warm at this place, don't forget it's an actual restaurant, a damned good one. Maybe they secretly prep their savory spread over one of these colossal fireplaces, and that's what sends you into mouthwatering delirium, but the food is off the charts tasty. Rub elbows with the locals, try your hand at a mean game of video poker, and fill your belly next to some seriously relaxing fireplaces at Fireside Restaurant & Tavern. For sure, the coolest [or should we say warmest?] place to dine fireside in the Silver State, hands down.
Lone Eagle Grille
Soak Up Some Bougie Mountain Splendor At The Best Outdoor Fire Pit
If you want to get straight to the source and immerse yourself an epically enjoyable afternoon, search no further. Incline Village's Lone Eagle Grill is where it's at, trust us. Nestled on the spectacular northern shore of Lake Tahoe, this one is a game changer and tough to beat. The mothership of all fireplaces, the mack daddy, the grand poobah if you will.
With massive windows in both the incredible restaurant and amazing bar area, they've totally nailed the interior of this luxurious mountain sanctuary. With fireplaces—majorly beautiful fireplaces, mind you—scattered throughout the place and a seriously enchanting view of Big Blue, you'll be whisked away in mountainous delight in no time.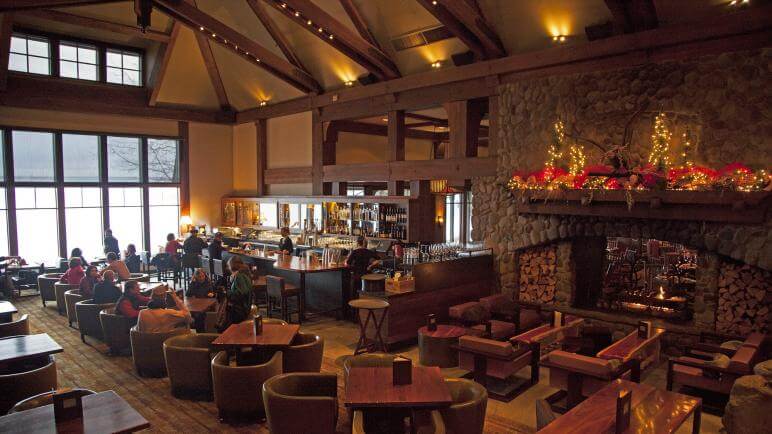 All of that is without a doubt extraordinary, but the real pot of gold at Lone Eagle Grille is the outdoor fire pit. When you arrive at this hot spot, don't waste any time fooling around and beeline straight for the fire pit and secure your chair…they'll definitely go quick. Saunter along the private beach or pier if you like…but our guess is that you wont be able to peel yourself away from this sublime situation.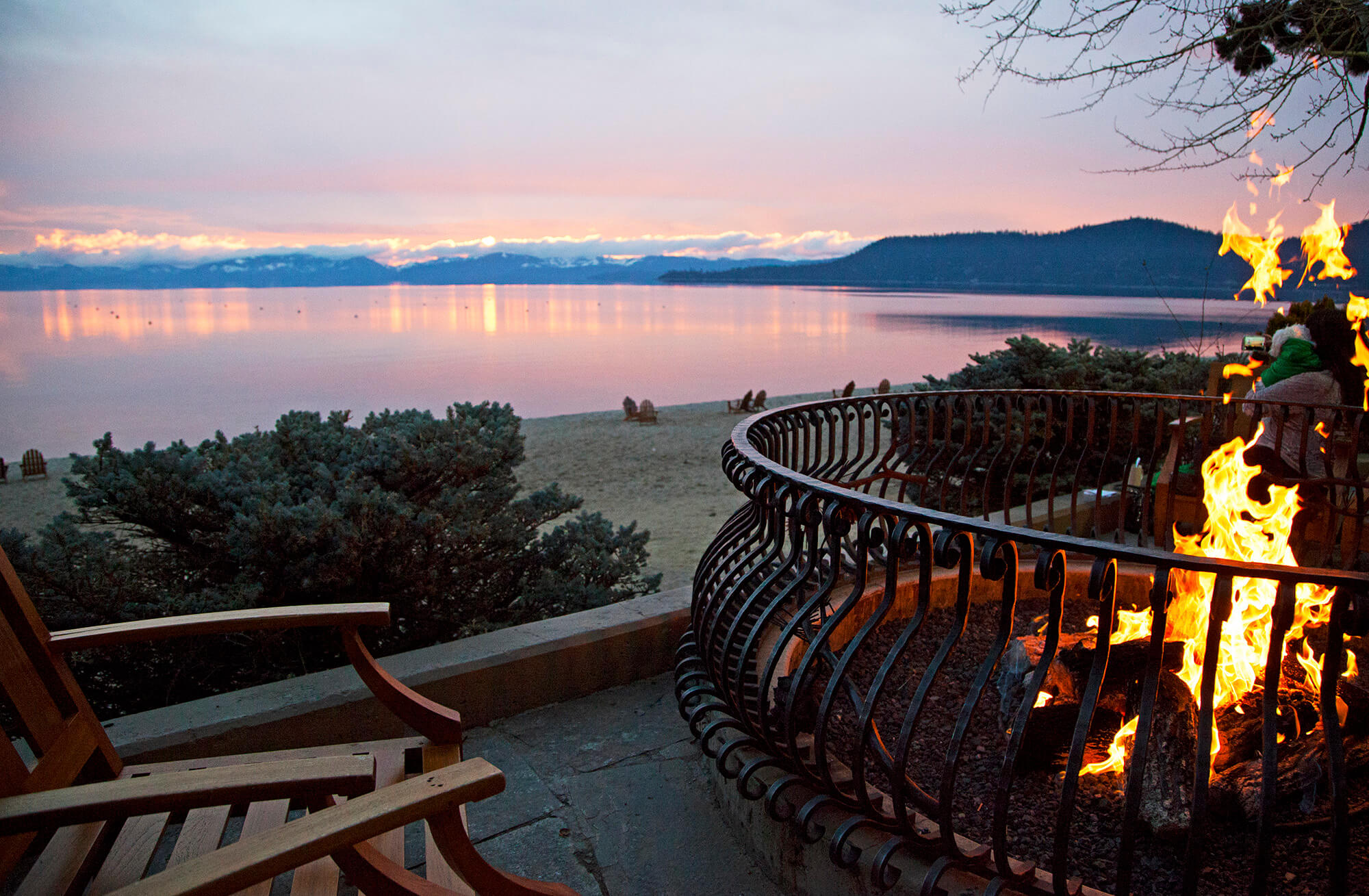 You still might be able to see your breath fogging in front of you, but if you're posted up next to this idyllic fire pit, you will be toasty as all get out and will never want to leave. This little nugget of fiery delight is our kind of heaven, and in a world-class destination the boot. You can't beat the view, you can't beat the setting, and you surely wont be fighting the yummy cocktails. Just the bomb, period. Everyone's gotta cross this item off the list.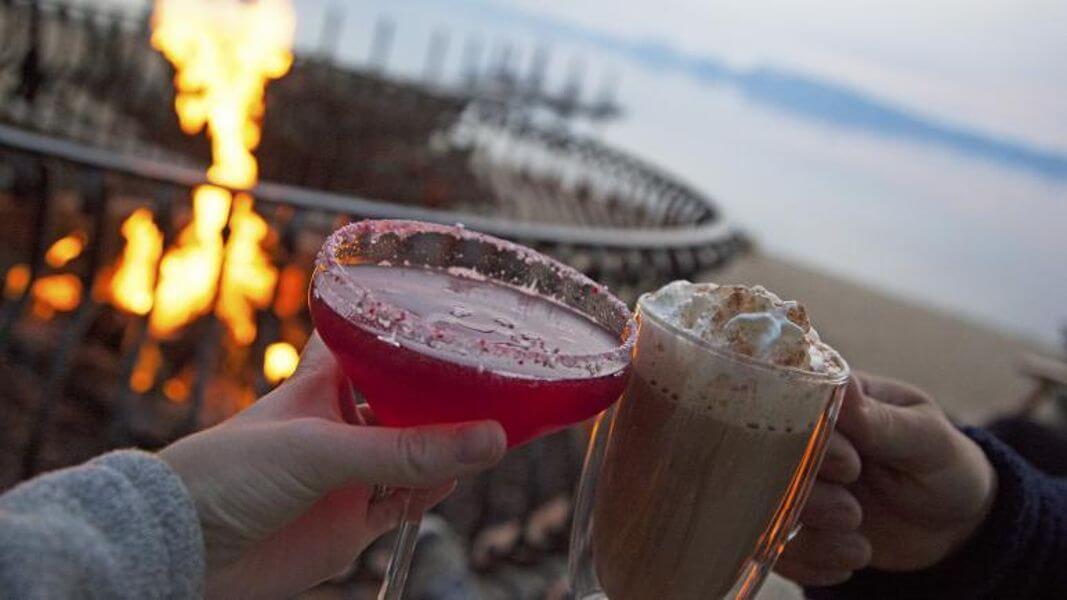 Get Inspired
Related Stories