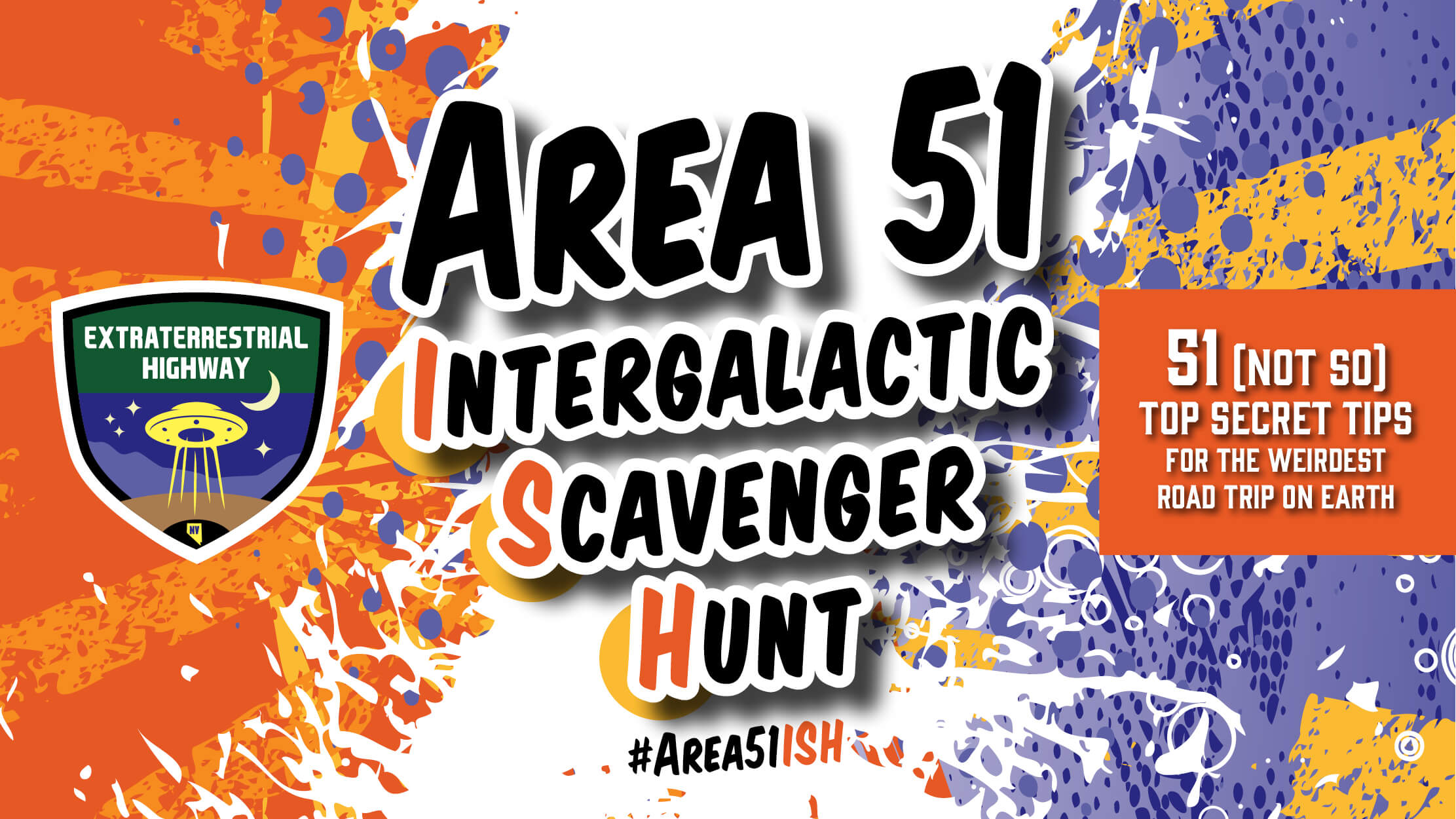 Area 51 Intergalactic Scavenger Hunt
So! You're headed to our funky little corner of the planet. In that case, WELCOME, EARTHLING! Whether you're on an alien-tastic adventure, hitting up a festival, or simply passing through central and southern Nevada, we've whipped up a guide to help you find extraterrestrial fun all over central and southern Nevada.
View or download our Area 51 Intergalactic Scavenger Hunt* to discover 51 areas of Nevada alien expertise to master, ones that will help you uncover stellar local sites, explore new territory, and discover why visitors come from across the universe to experience the Silver State!
(*See what we did there? It's not Area 51, but it's Area 51-ISH enough!)
Unidentified Free Objects!
You'll also find our list of not-quite-secret hotspots where you can find each of seven totally unique, found-nowhere-else-in-the-galaxy Unidentified Free Objects (from buttons to bandanas to coozies and beyond!) to take home. Space swag… nice!
Share Your Voyage!
Share your exploits and we may just feature you in our social transmissions. Complete the whole list (or close to it) and there might even be something special in it for ya…
#area51ish • #ETHighway • #TravelNevada
And feel free to signal us—we're @travelnevada on all the channels.
WARNING – Know Before You Go: DON'T BE A SPACE INVADER
So. The I.S.H. doesn't actually take you to Area 51. To be fair, Area 51 does indeed exist (officially now). It's also part of an active military base, patrolled and guarded by some of the heaviest security on Earth or anywhere else. That means what it's NOT is a tourist attraction. Definitely do NOT even try to go there. Don't touch it, don't even look at it. If you do find yourself close by, obey all posted signs and don't even think about trespassing. Then leave. Otherwise you will be caught and you will be prosecuted (at the very least). Even worse, you might even end up being meme-ified for all eternity. And let's be real, no selfie or amount of likes are worth that kind of headache.
Other than that, have fun!
Get Inspired
Related Stories