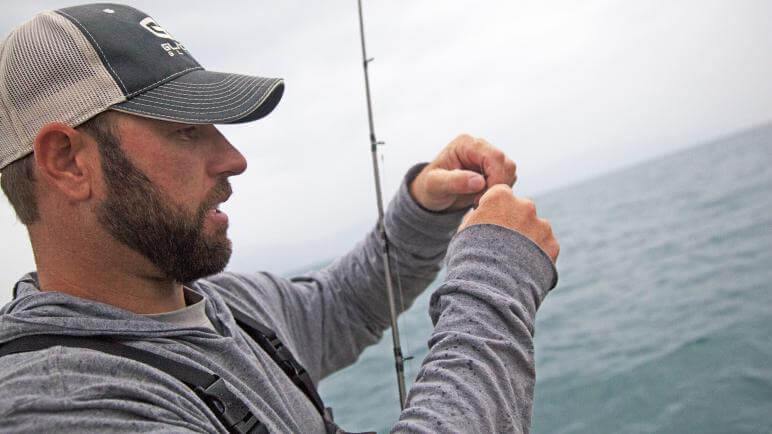 Baited Bliss at Pyramid Lake
One thing is unmistakable: I've got an over-the-top, intense love affair with the state of Nevada. Just when I think I've traversed each road-less-traveled, or assumed I've memorized every last weird little factoid, there's still just so much more. This seemingly boundless artery of recreational splendor keeps me feeling full and alive…something that is straight up addictive.
Last year I had a terrible case of summit fever, and this year? This year it's fishing…in a bad way. I'll go ahead and just come out with it and show you all my cards. I know NOTHING about fishing. Zip, zero, zilch. Sure I'd grown up in Colorado and spent long summers in Nebraska with my grandpa fishing occasionally, but I can count the number of times I've been fishing on my thumbs.
And then, just like a glimmering miracle beaming down from the Nevada Angler Gods, who walks into my life? Denis Isbister. For those of you who have been living under a rock, this dude is the doctor, lawyer and Indian chief of fishing…a true master of his trade and television host of Wild Fish, Wild Places. He's the real deal. And best yet, he's a third generation Nevada boy, so you can bet your bottom dollar he just gets it, period.
A few minutes in, Denis proposed to rip that bandaid off and get to fishing in the sapphire waters of Pyramid Lake. No big deal, just start me off at one of the world's craziest fishing destinations ever. Known for its endemic, usually gargantuan strain of Lahontan Cutthroat Trout and mysteriously small crowds, Pyramid Lake is every angler's paradise. Let's just say it's not unusual by any means to reel in literal boatloads of these beauties, some of them being 10 to 20-pounders to say the least.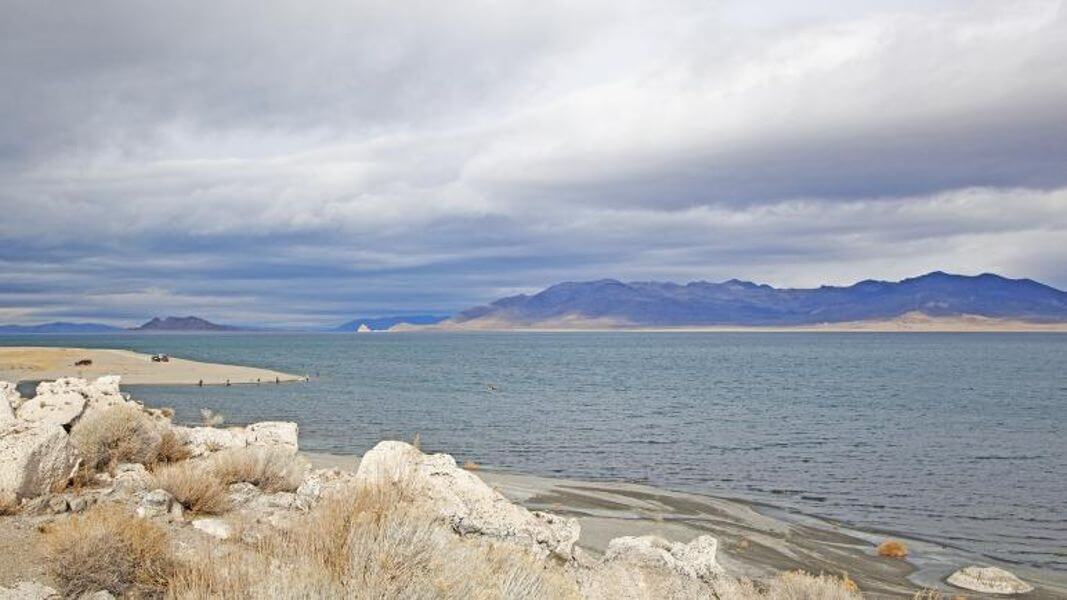 Although Pyramid Lake is only about an hour north of home base and easily drivable, we decided it would be best to get after it in the wee hours of the morning. So, all ears to the sage advice of this master fisherman, I met up with Denis on a glowing June evening at one of his favorite spots: Crosby's Lodge in Sutcliffe.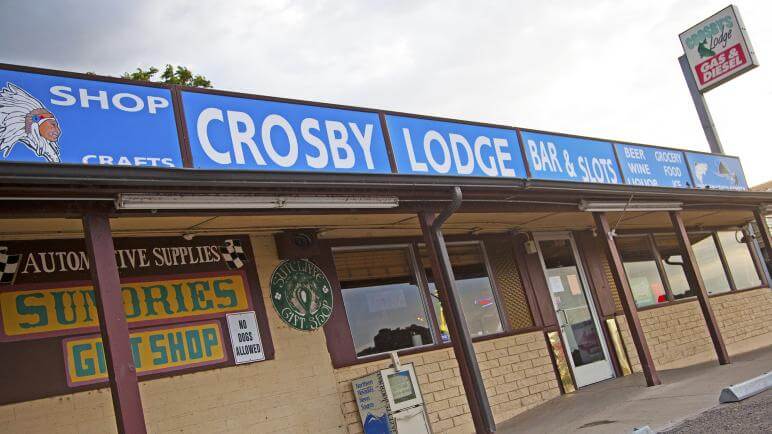 Holy smokes, guys, this place is legit. Like this amazing, untapped resource I never knew existed, Crosby's was the mack of all fishing lodges. Imagine what you'd expect, and then multiply it by 8,234,928,597. Looking like it came straight out of a movie set, I made my way through the prismatic custom neon signs, walls of record holding fisherman of years come and gone and exceptionally welcoming locals before I spotted Denis.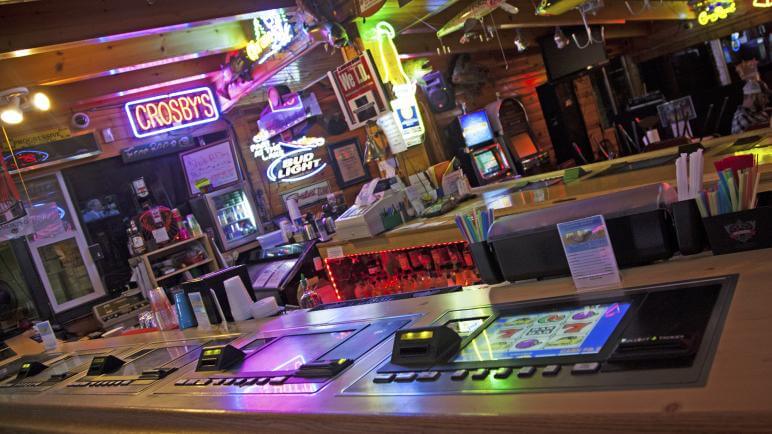 Together, we got down on some dinner, threw back a few cold ones and mapped our early morning attack before retreating to our cush little setup at the cabins at Crosby's Lodge. I was feeling pretty cozy and about to cash in when Denis really started to get going on what was about to go down the next morning. Rigs, spoons, barbless hooks, trolling, jigging, game changers, down riggers, you name it. It was then that I realized that this entirely different language that was about to unlock a wild, secretive world of amazingness. I had been pumped on this excursion to begin with, but now? I was totally reeling in it [all the puns!] like a kid on Christmas Eve, trying my damnedest to nab any shuteye.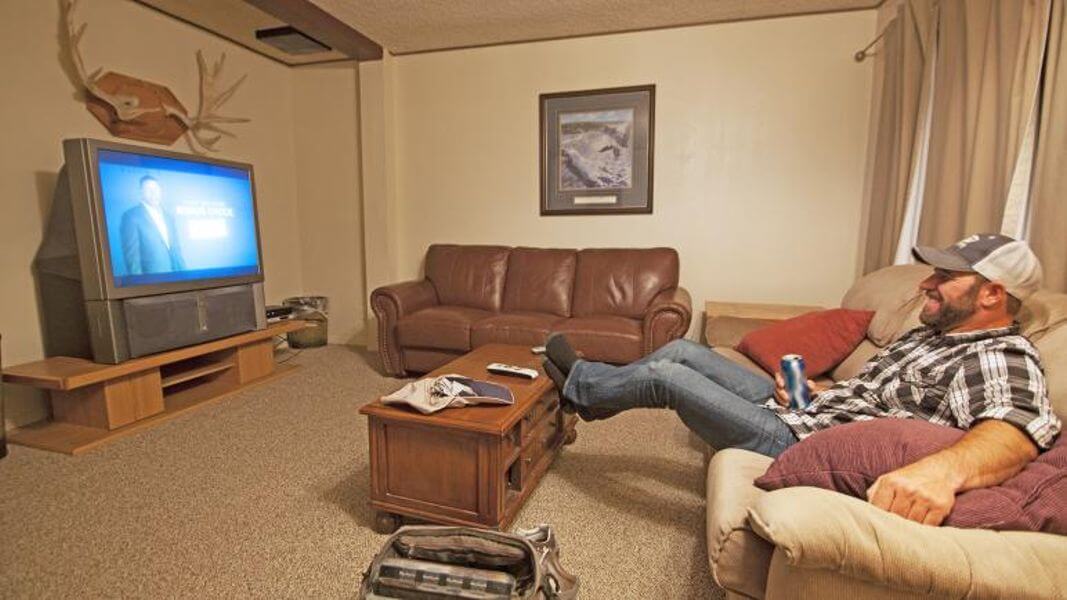 For me, the best part of true adventure is when things unfold that cant be planned or predicted, but instead kind of just happens. As a matter of fact, sometimes I think the word 'adventure' itself is overused, or maybe just innapropriately used…I want to reserve it for when some major stuff starts to go down. I realized just that was about to shake out as I woke up to the sound of rainfall instead of my alarm clock at 4:30 a.m. I had a sneaky suspicion things were about to get interesting.
Denis was already up and at 'em, brewing a fresh pot and whipping up some eggs. "Well, did you hear it??" he said. Uhh yeah, but what exactly did that mean? I stood there wondering if the whole thing was off or if we were going to brave it. Sure, Nevada is a land of 'doers' but when it comes down to it, we're desert folk…we specialize in dry and hot. Sure, we can totally hang in blizzards, scorching hot playas, sandstorms, you name it…but the rain? We just ain't equipped for that, I'll be the first one to admit it.
To my relief, those few seconds of doubt were shut down with a quip response from Denis. "Hell yes we're going to brave it. We didn't come all the way out here to look at the lake." I knew I liked this guy. We gobbled up our breakfast, slipped into the impermeable gear we had, and 10 minutes later were backing the Fisher 186 down the boat launch.
It was sprinkling a bit, but the temperatures were warm which was the saving grace in all this. That, and we were the only people crazy enough to try to get out there [hey, more fishies for us.] Explaining that his favorite, most lucrative spots on the lake were at Warrior Point, Hells Kitchen and Windless Bay, we dropped the hammer and blasted to the nearest and safest of the three at Warrior Point. We would've opted for the farthest of the three at Hell's Kitchen, but with unpredictable weather in front of us we stuck a little closer to the boat launch. We're adventurous, but we're not crazy.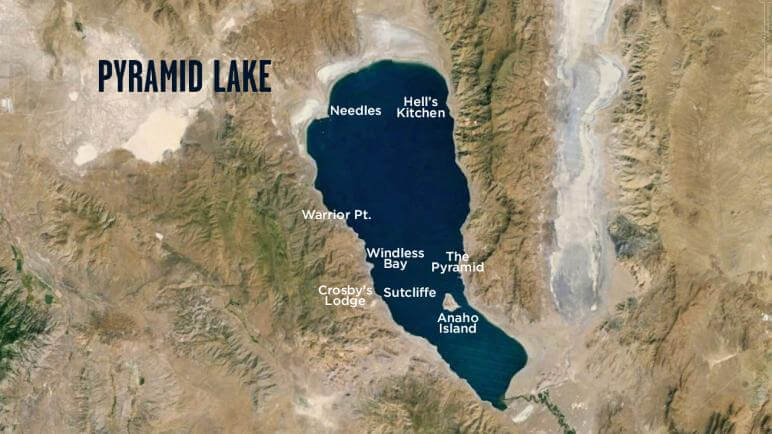 I froze my little heiny off fly-casting on ladders in the winter, so I was anxious to learn the world of trolling, especially from such a world-renowned expert. We sped over to Warrior Point, the storm nipping at our heels. Denis went zero to one hundred into business mode, powering up the depth finder, busting out some impressive Sierra Spoons, prepped two down riggers and set up one rod with lead core line. I had a feeling I was 'bout to catch my first fish.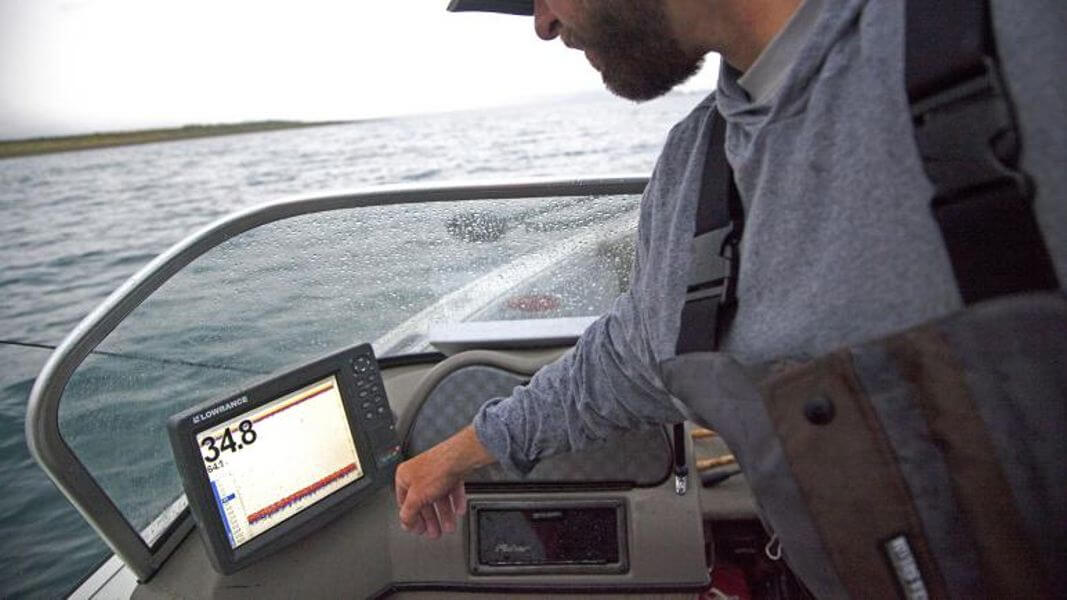 We trolled back and forth about 30ish feet from the bottom, time and time again before I could sense that Denis was starting to get a little disappointed. Revisiting each line in a hypnotic ritual over and over again, Denis almost reminded me of a mad scientist hovering over test tubes…it was impressive and entrancing to watch such a sportsman at work. "We should've caught something by now!" he'd say. He told me that he pulls in an average of a few dozen fish each time he's out at Pyramid…even catching up to 300 on one red-letter day. On top of it, the rain was picking up in a concerning way and we were getting dumped on. We're talking full on white squall status.
Feeling a smidge defeated, we trolled by a fly fisherman near shore asking if he'd had any luck. And just like that, mid-sentence, Denis practically did a seven-foot leap in one fell swoop to a line that tugged. Like a well-oiled machine, he grabbed it, reeled in it a bit and said, "HERE, TAKE IT!" See what I mean about the zero to 100 thing? Hesitant doesn't even begin to describe it, but damnit, I was going to learn…slowly, but I was going to learn it.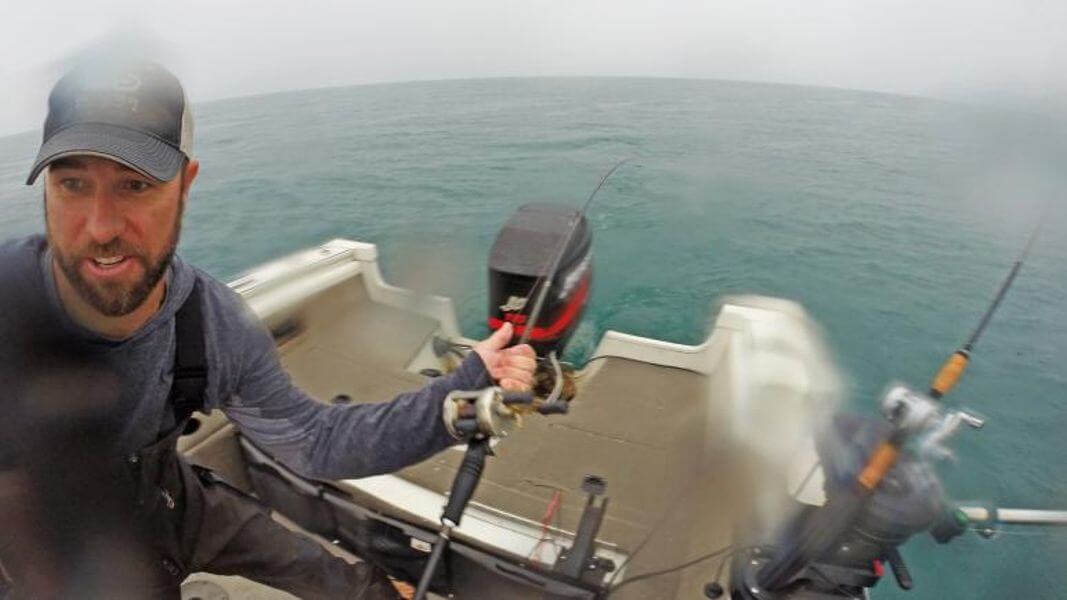 I began reeling it in, and in a matter of about 30 seconds a shimmering silver tail popped up, Denis scrambled toward the edge of the boat with his net, pulled out the hook and we were busting out the selfie stick! I was impressed with his dexterity to begin with, but this series of moves really confirmed he really was a smooth operator.
Compared to the lunkers Denis has hooked in the past, we got a kick out of what a tiny little baby fish we had nabbed. Coming from a guy who is no stranger to reeling in beasts, the size of our infant LCT was hilarious but hey, I wasn't complaining. The first fish I'd ever caught was officially in the bag!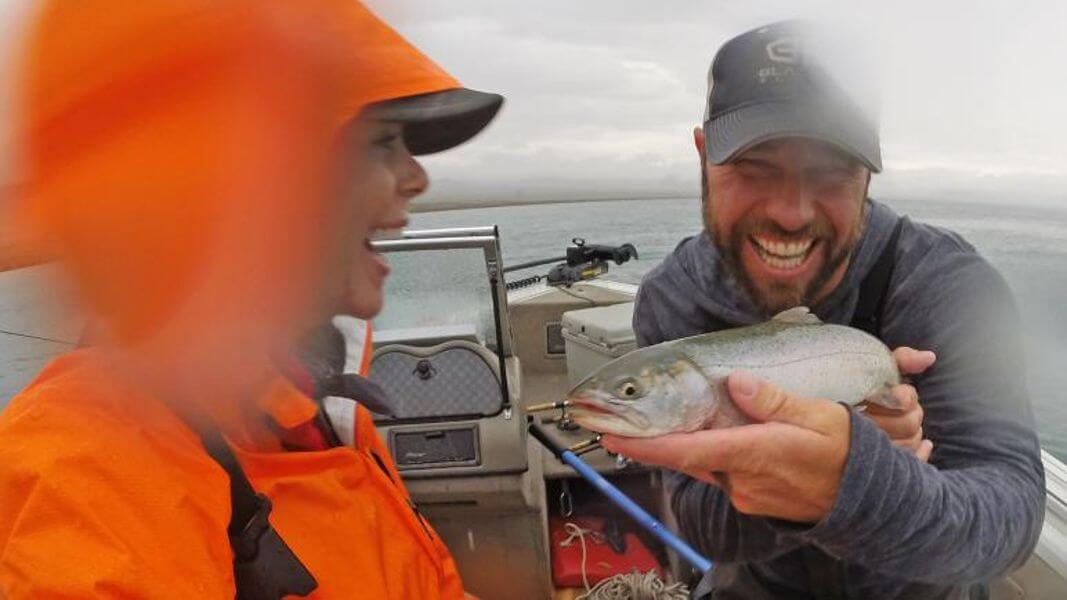 We released that little whippersnapper and just like that were off and running. The squall was in full swing, but we didn't care—our spirits were lifted and there were waaaaaay more fish to be had! Back at it, determined to catch that dude's grandpa, Denis carefully set the downrigger and we were back to trolling again. BOOM. Fish two hit, and soon thereafter I was reeling in numero three.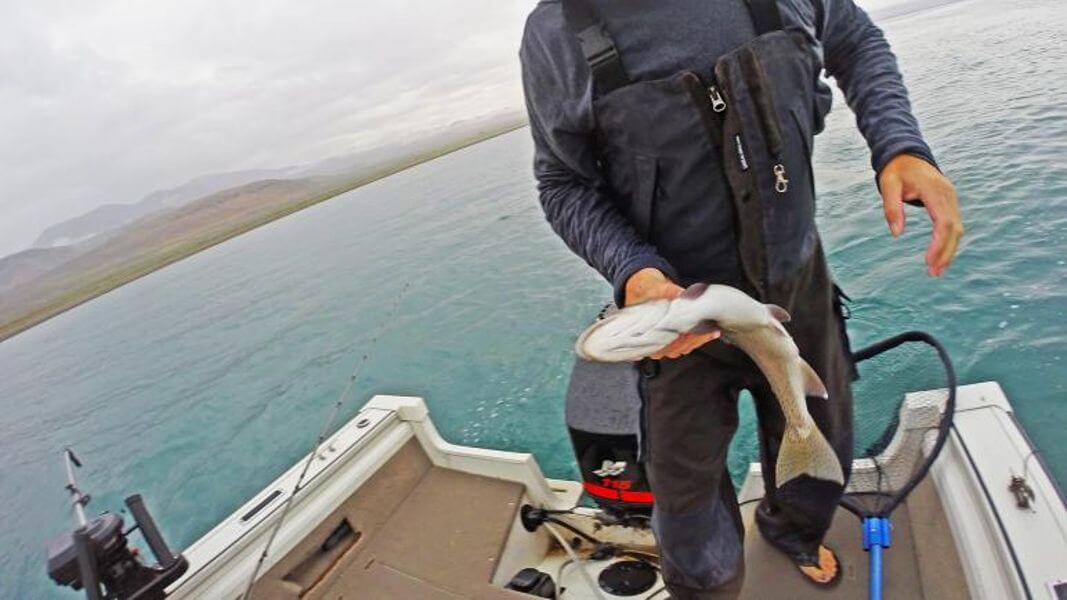 Hash it up to a colorful imagination, but each fish seemed to swell bigger and bigger in size. Let me just set the record straight here: if there is ever any notion that this sport is boring, that's just stupid. I was starting to feel more comfortable just being around the gear, let alone handling it. By that time we had hooked our FOURTH fish of the day [cash money!] and this time I was going to learn how to handle it. No more selfies while Denis holds the fish, now I had to step up and grip this slithering beaut. Denis unhooked what seemed to be the largest catch of the day [to me it was a 20 pounder, in all actuality—less than 1 pound] and shoved it over to me. "Here, grab it under the belly and with your other hand, squeeze onto the tail as hard as you can grip it!" Seems easy, right?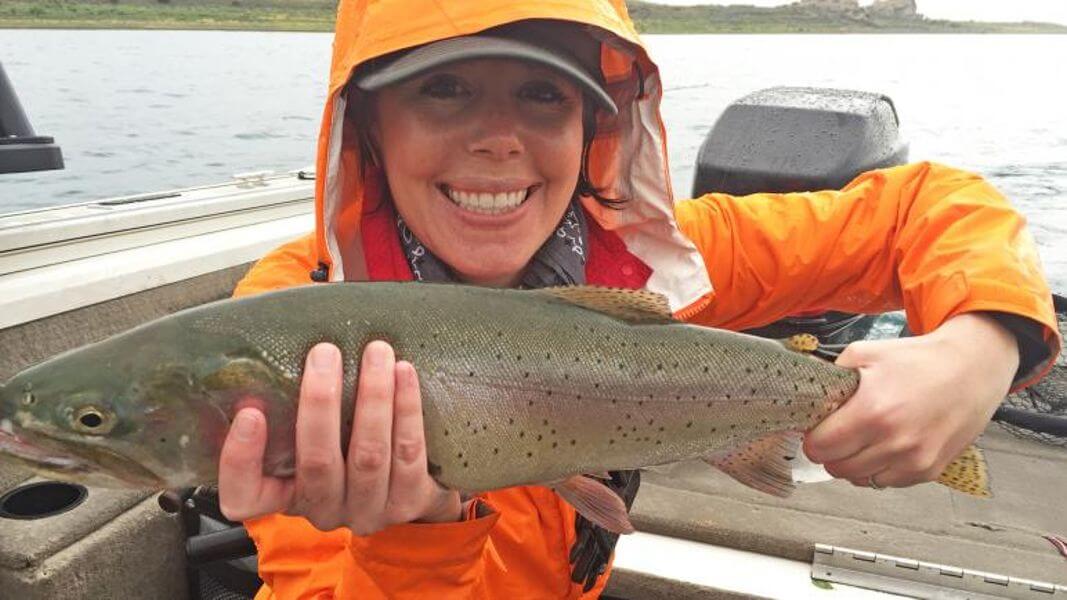 Let me just tell you two things. Those fascinating little creatures are alarmingly mighty [even if they are less than a pound,] and they are more slippery than an ice skating rink covered with banana peels. I barely gripped it long enough for Denis to snap a pic, and freed the 'river monster' back into Pyramid. Ahhhh, the satisfaction.
Turning back for shore, a wave of contentment consumed me in a way I hadn't experienced since summiting Wheeler last year. Angling Addiction is real! Sure I had a professional fisherman in tow and hooked all those trout with some impressive hologram Tui Chub patterned Sierra Spoons, but dang it, I reeled in some fish for the first time ever. My mind was racing a bajlilion miles an hour dreaming up all the Nevada fishing hotspots I could get to over the summer. Places I'd been formerly intimidated by, but now were within reach.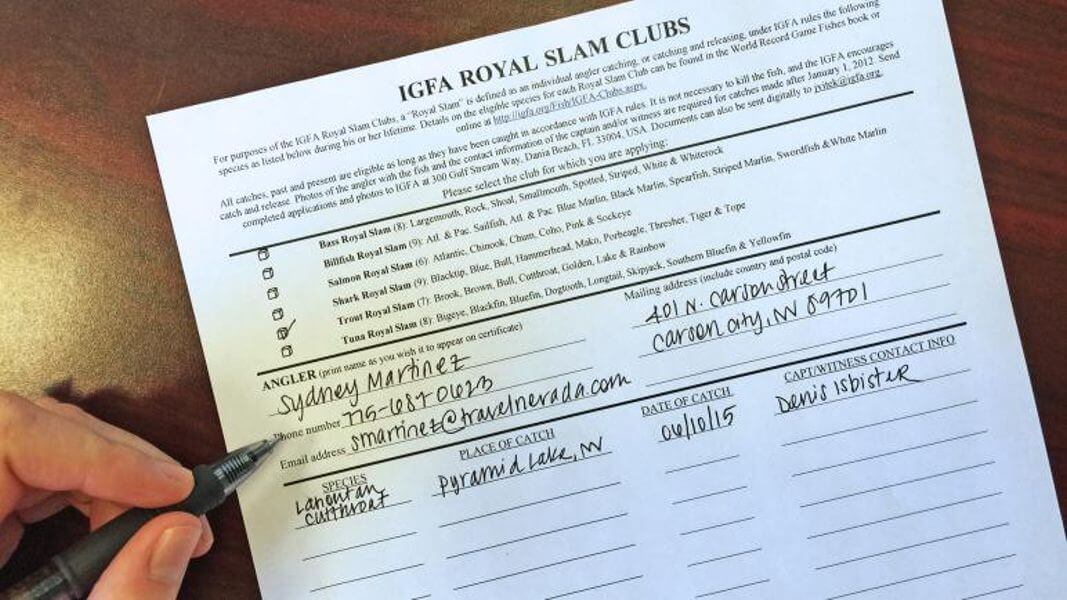 This is exactly how it happens. Nevada finds new ways to creep into your life and has you doing things you never thought possible, with people you assumed you'd never have the chance to meet. Crosby's couldn't have been a more perfect way to tee up this monumental journey and there is no better fishing companion in existence to show me the ropes. And now guess who's helping me work toward my IFGA Royal Trout Slam in Nevada? One down, six to go…And so it begins. #NVAdventure
Editor's Note: Pyramid Lake is the property of and managed by the Pyramid Lake Paiute Tribe. Permits are required in order to fish at Pyramid Lake, which can be obtained at the Pyramid Lake Ranger Station and the Marina Store in Sutcliffe. For more information on this stunning desert lake, please visit www.pyramidlake.us.
Get Inspired
Related Stories