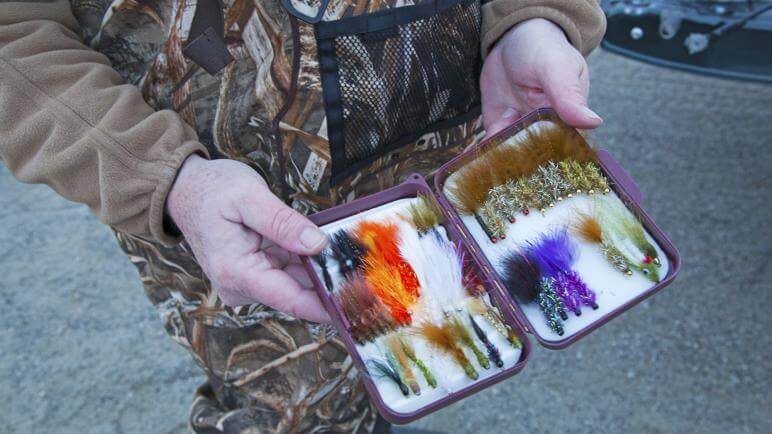 Fly-Fishing at Pyramid Lake
After 18 years of calling Northern Nevada home, I was finally getting to rip that damned band aid off and partake in one amazing fishing trip. Sure, the super beautiful hues of Tahoe are good and fine, and so is the Truckee River, but now I was getting the chance for some world-class fishing at a place that's been enjoyed for years…as in hundreds of thousands of years. Yep, I'm talking about Pyramid Lake, the other renowned northwestern lake.
So, on an especially nippy, extremely early January morning, I raced out there anxious to learn it all. Show me whatchu got, Pyramid. Since I clearly had zero idea how to enjoy this larger-than-Tahoe lake, I had a few insider tips on what to hit to make this day a slam-dunk. First up? A bonafide fly fishing excursion…in spine-tinglingly brisk waters, in the dead of winter. Why you ask? Because it's the most clutch time of year for wrangling in some Lahontan Cutthroat Trout, my friends. A $9 day use pass and 8 layers of clothes later, I met up with Chris—fly-fishing jedi master.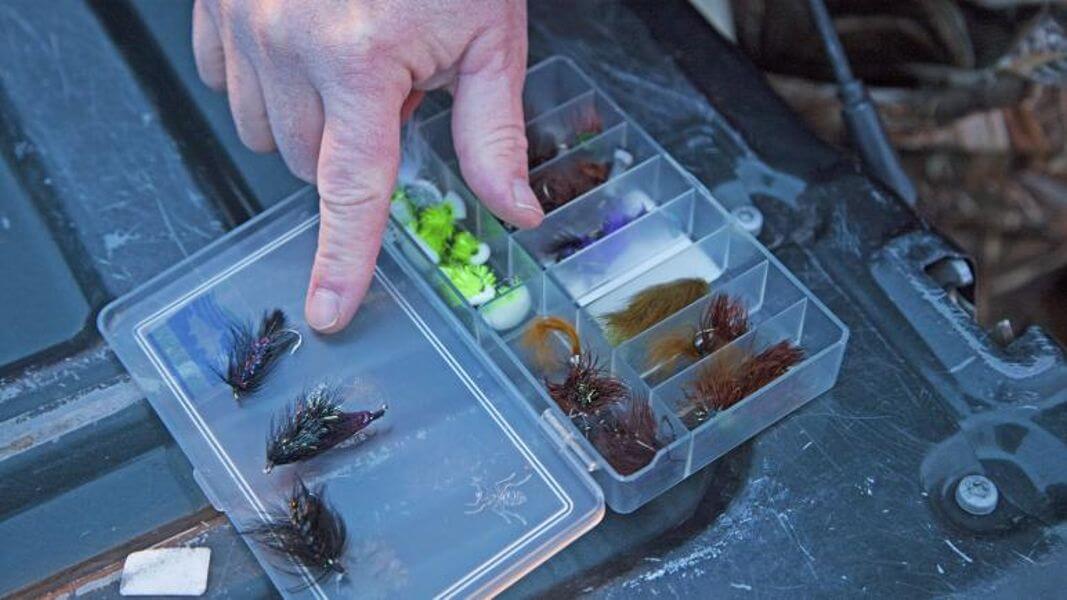 I was giving it my best, trying to navigate through gobs of fragile reels and flys in the dark as Chris gave me the inside skinny: the fly fishing scene here is as huge as the fish, totally the type of thing that could be Northern Nevada's best kept secret. And the record for 2014? A 25-pounder. Two. Five. Fishing from a boat is a surefire way to have fun, but the way to reel in a ringer is to fly-fish from a ladder, just off the shoreline.
As he prepped and loaded all the gear for the both of us, two completely baffling things unfolded in front of me. First off, a devout fisherman just down the shore was rolling out of his camp, making his way into the water with his customized, rolling ladder. The kicker? He did all of this with crutches and one leg. Considering I hadn't gone fishing since I was about 5, I was intimidated by this experience to say the least—but, if this guy had the impressive stamina to do this, I really just needed to buck up.
And as for the second mindblower of the morning? This melt-your-face-off sunrise, guys. No description required on this one.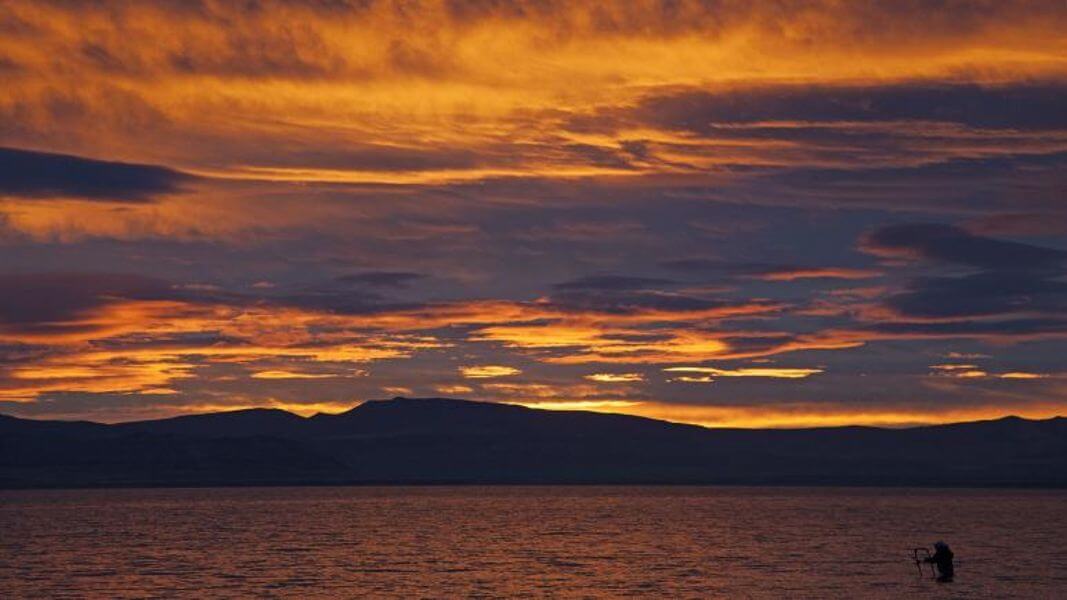 With our looped and swooped swooped jigs and rigs, now it was time to suit up. Chris then helped me wriggle into a pretty boss wader setup…and to think there was no such thing as fisherman chic. Trudging toward the water, I became especially psyched to see our neighbor already hooking a doozy.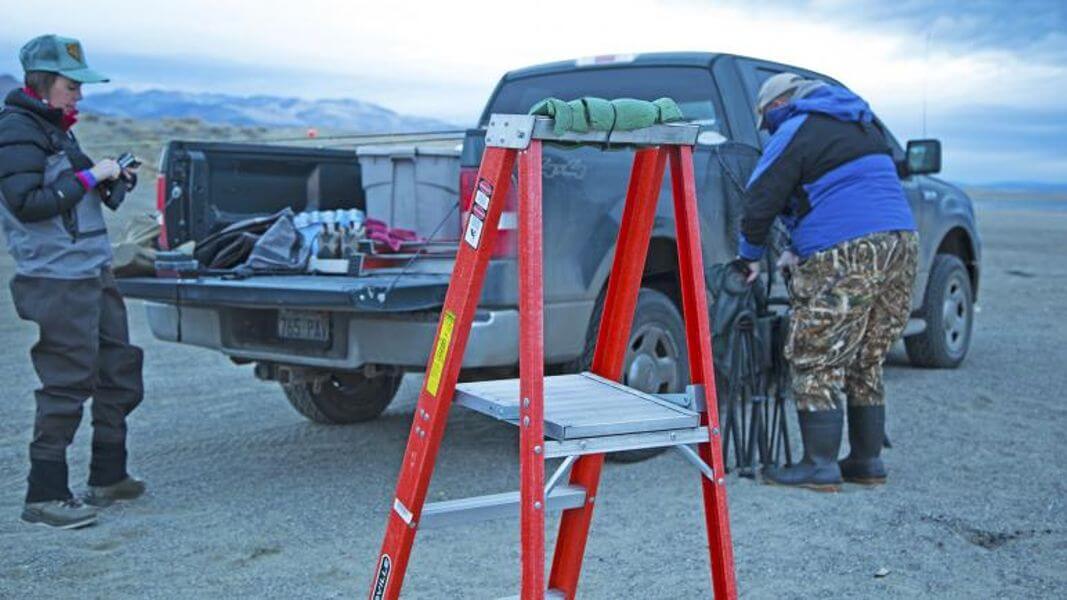 This might be a run-of-the-mill sorta thing for some recreational goddesses, but I was totally psyched to walk into water with clothes on. And the crazy suction/pressure/awesome sensation that goes along with it? It felt like I was beating the system and was super fun. It's the small things in life, right?
Wading out about 30 feet from the shore, the secret in the sauce became pretty evident. While it was all pretty shallow for a ways out, the bottom dropped off about 15ish feet and was the most perfect setup for nabbing one of these gargantuan fish. We posted up our ladders right on the cusp of the drop-off, tried to wiggle them into a stable position, and got to work. Now we would wait. And hope we wouldn't fall over…a Pyramid-style 'sheep dip was not on my agenda today.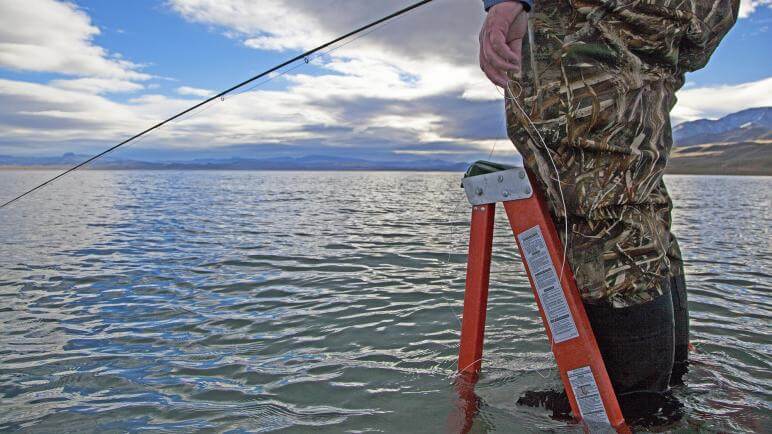 Chris' skilled precision of each cast was totally trance-inducing to say the very least…something that certainly required oodles of skill, quietly perfected over many years. While I could be totally content with watching the hypnotic flick of his wrist for hours, this was an entirely new way to enjoy the ravishingly gorgeous scenery I was literally standing in. Connected to Tahoe via the Truckee River, this desert lake totally does NOT get enough credit. The water was just as clear and beautiful as Big Blue, and the range of light? Forget about it. Just insanely beautiful and an awesome way to just be quiet and turn it all off for a while—two things I could use more practice at to say the least.
Being out here totally made it understandable why this is such an intensely important place for the Paiutes…it's pretty easy to get lost in its massiveness and undeniable beauty, not to mention the abundant resources it spits out. The whole thing is completely on tribal land, and has some pretty extraordinary history to back it. Pretty much the entire northern half of Nevada was covered in Lake Lahontan about 15,000 years ago. As temperatures have increased, basically all of this glacial lake dried up with the exception of Pyramid Lake…it's the only real body of water that exists from this formerly massive body of water.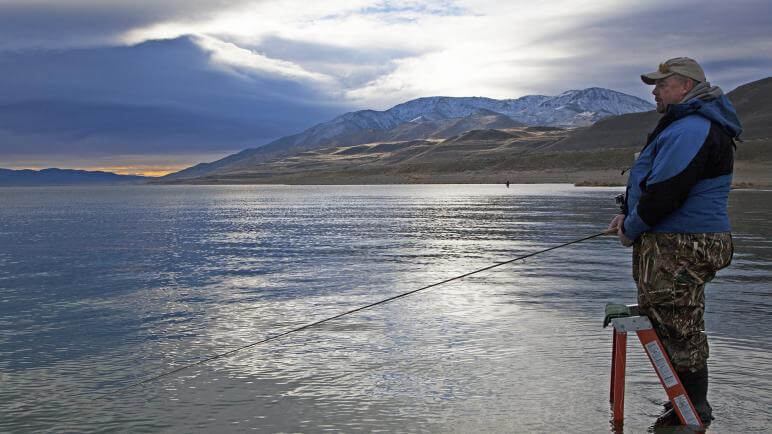 And I haven't even gotten to the fish. You already know that they're HUGE, [the world record for the Lahontan Cutthroat Trout was a 41-pounder in 1925] but they're also incredibly rare. In fact, Pyramid Lake is the only place in the entire world where you can fish for Cui-ui [pronounced like quee-wee,] and was also the very first fish to be added to the endangered species list. The Lahontan Cutthroat Trout is also on the list, and are what makes this place any angler's pipe dream. A fantasy, but I think I might be a little freaked out if a 25 pound fish swam up next to me, just sayin'.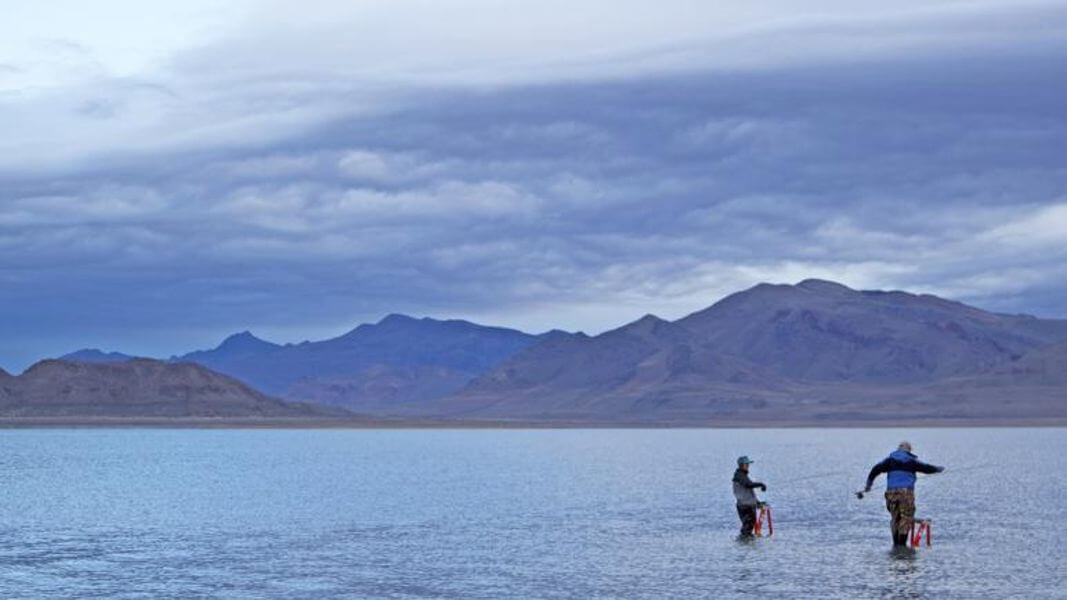 As the hours melted away, our recuperative silence was broken with an enormous splash…almost like someone had thrown a large rock into the water from the shore. While I can totally appreciate an authentic wildlife experience, this one was a smidge freaky…I guess wildlife at its finest. The splashing sound was definitely no rock, but instead a peregrine falcon bombing another bird for his morning meal. Nature is unforgiving, man.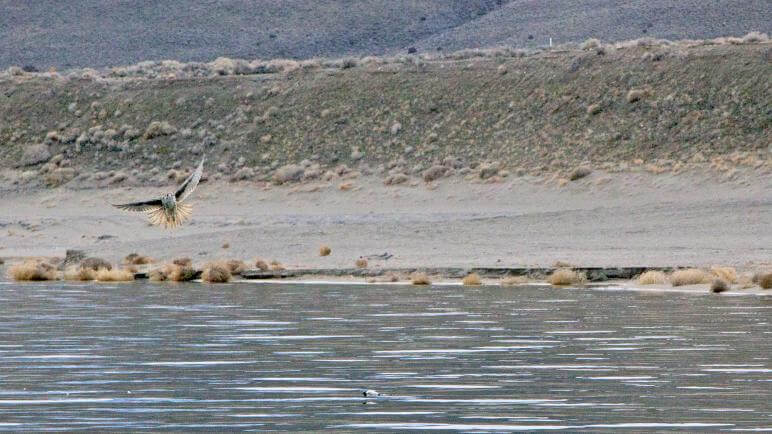 Although I wanted so desperately to reel in a whopper and personally set the annual record for these beasts, we just didn't have any luck. But, fish or no fish, I got to try my hand at some of the most top-notch fly-fishing in the country. Take that, bucket list.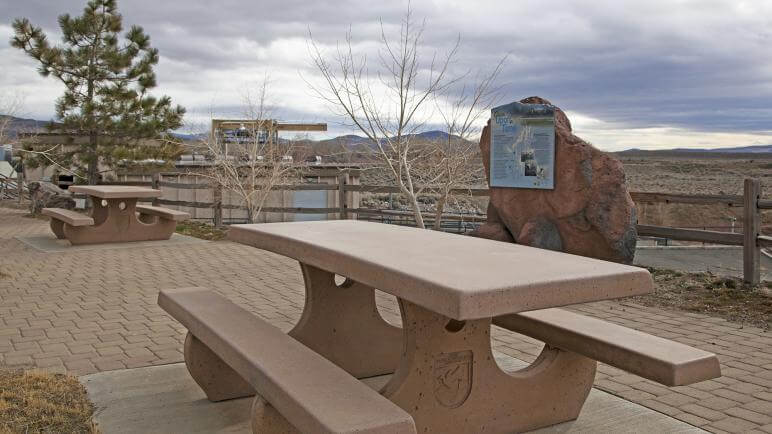 Next, I was headed to Marble Bluff…a place I'd been tipped off as a pretty amazing picnic area. Perfect, as lunch was right around the corner! I made my way around the southern tip of the lake, through Nixon and posted up in yet another crazy-relaxing area of the Lake. Being totally underwater at one time, there is definitely no shortage of tufa—or freshwater coral—in sight. Eating lunch in a place that was totally under water, like a ton of water, was and still continues to blow my mind.
I'd been completely immersed in the lake [both literally and figuratively,] seen some pretty raw wildlife experiences going down, definitely realigned my chi, gotten the lowdown on some of the history, but craved more. And for that, I went straight to the source…The Pyramid Lake Paiute Tribe Museum and Visitor Center.
Lucky for me, I could really peel back the onion by spending some time with the Paitues who ran the place…double bonus. Yowza. If you have any lingering questions on the American Indian background in the area, you need to get here, like immediately. I got what I was after here, learning about the fish hatcheries, scenic byways, the inside skinny on the glacial lake, tufa, and I even got to see a prehistoric horse head uncovered in the area. Crazy. I also had the chance learn about the Pyramid Rock formation the area is so fittingly named after, along with the scoop on Anaho Island, one of the two largest breeding grounds for American White Pelicans in the US. Despite spending a short time here, I was completely mesmerized by such a tremendously rich and vibrant culture that dated back thousands upon thousands of years. I thought I was spellbound before as I watched Chris cast his reel, but now? I'm talking next level stuff.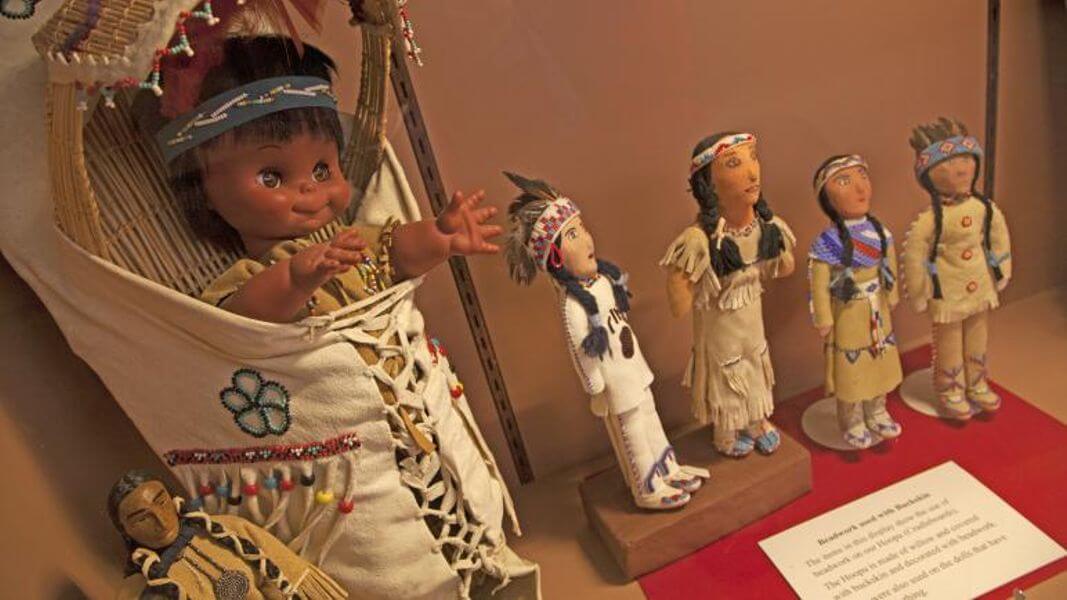 Being out here at the lake that day was something I hadn't experienced before on my other Nevada adventures. Recreation, check. Awesome picnic spot, check. Rugged wildlife experience, check. Brain bending information straight from the source, check.Tahoe is certainly beautiful, there's no doubt about it, but Pyramid? There's a lot of undue credit happening here. As one of the most spectacular desert lakes imaginable, trust me on one thing, this place is neat. You've opened my eyes, Pyramid and I will be back for you…and soon. #NVAdventure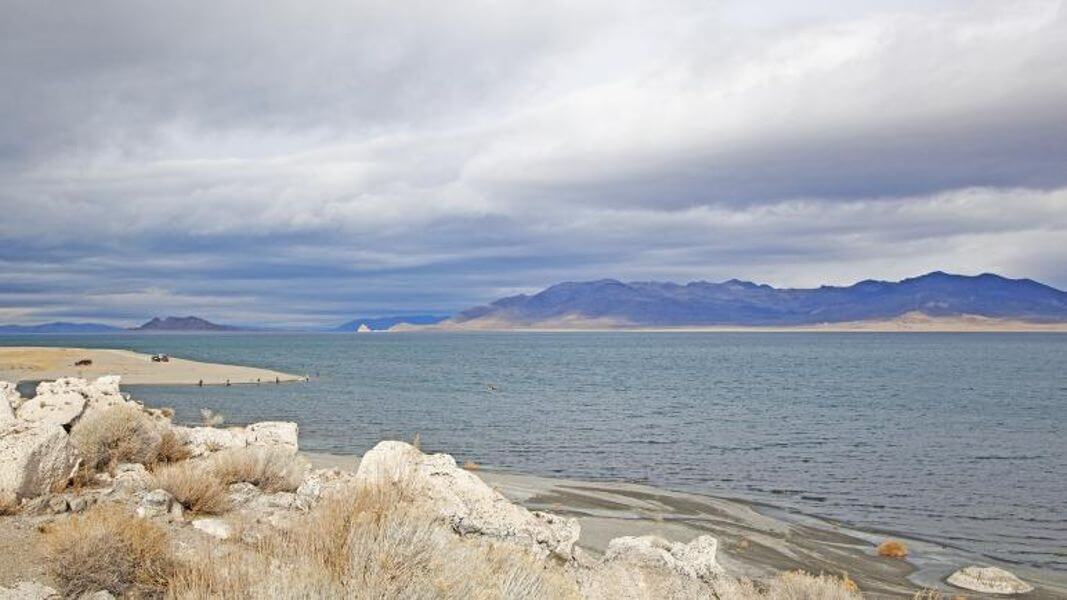 Get Inspired
Related Stories