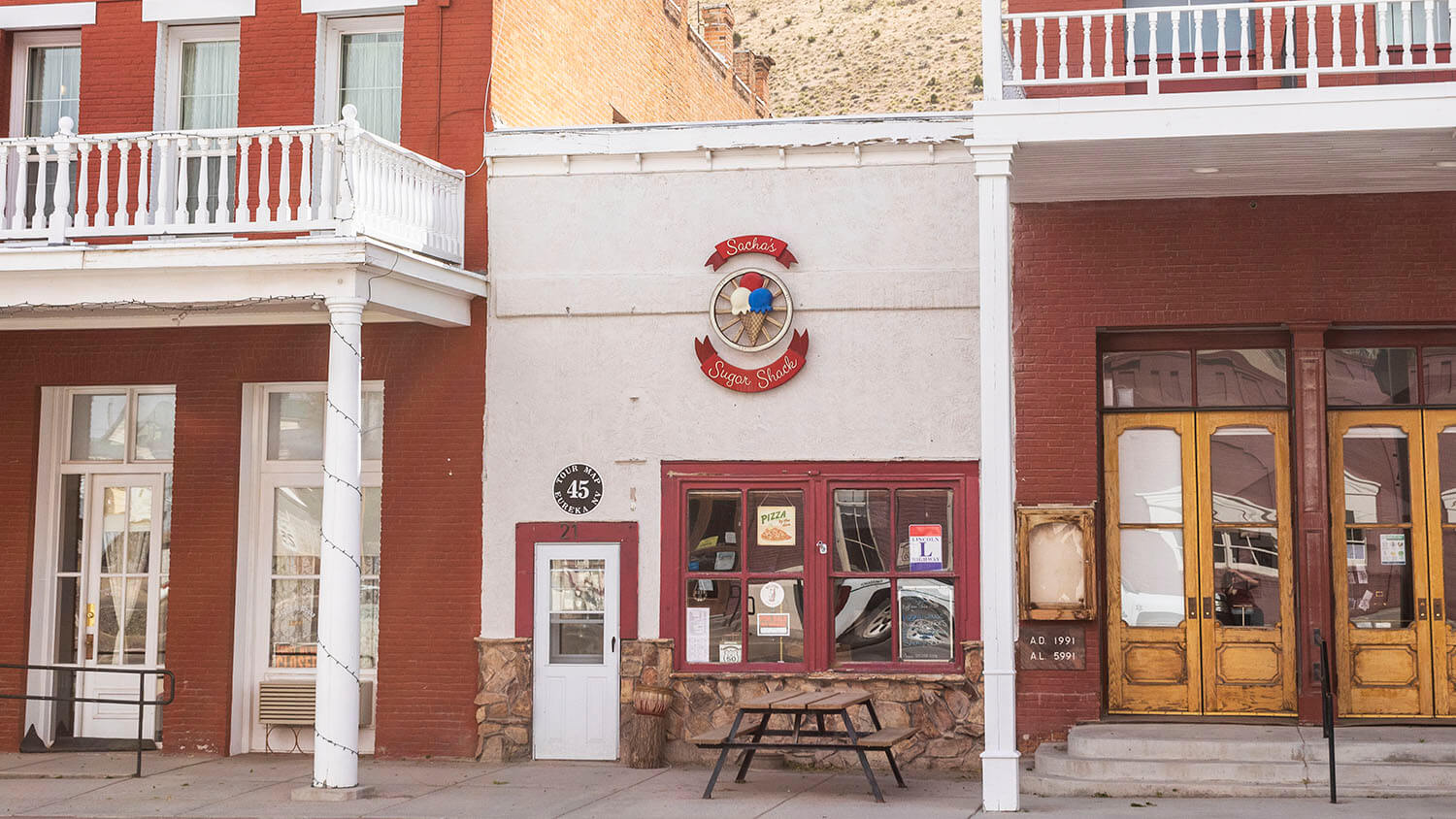 Sacha's Pizza & Sugar Shack
As one of the best preserved 19th century silver boomtowns in the Silver State, embarking on the self-guided Eureka Historic Walking Tour is one of the Loneliest Road's top must-see attractions. And as you get to know one of the most prolific silver bonanzas in the Silver State, one historic building at a time, there's no better spot to stop and refuel than at a historic location that's been part of the Eureka story since the very beginning.
Located along Eureka's main street in between the Jackson House Hotel and Eureka Opera House, Sacha's Pizza and Sugar Shack has been a series of businesses throughout its past 150 years of existence. While the original structure was lost in a fire that wiped out much of the town, it was rebuilt and reopened as a morgue, and later became a boot shop, meat market, and coffin shop. By the 1950s it became the Silver Club, then the Keyhole Bar, and finally Sacha's in 2019.
Open daily for lunch and dinner, stop by Sacha's for piping hot pizza, paninis, and sandwiches, all kinds of hand-scooped ice cream, shakes, sundaes, and floats, along with fresh salads, homemade soups, and baked goods made daily. Order up local faves like the chicken pesto pie, BBQ chicken pizza, and many other classics, and don't forget to ask about gluten free options and pizza by the slice. Best yet, Sacha's offers a long list of sweets for the whole fam, ranging from ice cream cones, to floats, shakes and malts, hot chocolate, fountain slushies, and fruit smoothies, along with a long list of Boozie Shakes. Try the Strawberry Boozie Shake, made with tequila rose, vanilla ice cream, and loads of strawberries, or the Grasshopper, made with creme de menthe, creme de cocoa, and vanilla ice cream.
Hours:
Sacha's Pizza and Sugar Shack is open daily for lunch from 11:30 AM to 2:00 PM, and for dinner from 4:00 PM to 8:00 PM. For more information about hours and availability, get in touch with Sacha's directly at (775) 237-5158.
This Location: