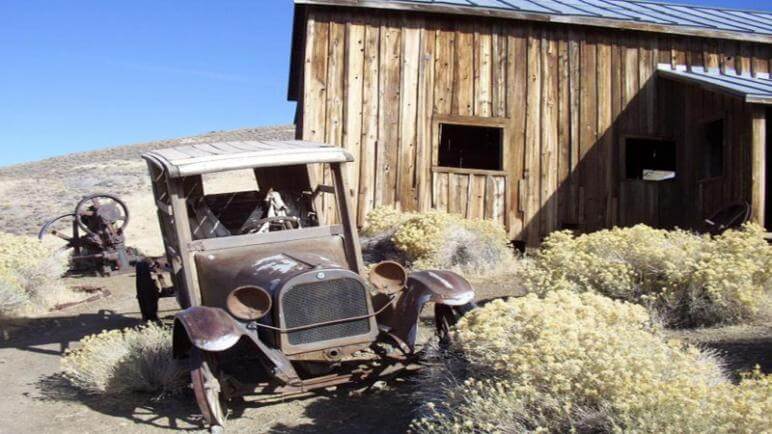 While most ghost towns in the West are left to the wear and tear of weather and time, Berlin is preserved by the State of Nevada. In this turn-of-the-20th-century mining camp you can peek into wooden miners' cabins and see what it might have been like to live in these flimsy quarters.
If you have any questions, a Berlin-Ichthyosaur State Park ranger will gladly answer them. The self-guided tour features signs with information about the dozen remaining buildings as well as Berlin's history. Visitors can see a 30-stamp mill where ore was processed and an assay office where the quality of the ore was determined. Inside the cabins stand dusty iron bedsteads, chairs, dressers and tables with cutlery, dishes and bottles. One cabin even boasts a typewriter—you can't help but wonder what the owner wrote on this quaint machine. Miners without a cabin could live at the boardinghouse and travel to nearby camps via the stage line. Total production of the Berlin Mine came to $849,000 at a time when gold sold for $20 an ounce .At its peak in 1908, Berlin and its Union suburbs supported about 250 people, but three years later the area was in a permanent decline.
The ghost town is not the only attraction at the park, which was established in 1957 to protect ichthyosaur fossils discovered by scientists in 1928. Known as Shonisaurus popularis, the fossils were named after the Shoshone mountain range where they are found. The remains of a giant prehistoric marine reptile (some were as large as 50 feet in length), Shonisaurus popularis is the Nevada State Fossil. Rangers offer the 40-minute fossil shelter tour from mid-March to mid-November. The 1,540-acre park sits at about 7,000 feet and is open all year, although access can be limited in winter. There are 14 camping spaces and a day-use picnic area.
Berlin-Ichthyosaur State Park is 269 miles from Las Vegas via U.S. 95 N, S.R. 361 and S.R. 844 and 158 miles from Reno via I-80, U.S. Alt. 50 and S.R. 361 and S.R. 844. The last two miles are on an unpaved road. Fast facts: There are 14 historic buildings on the park's grounds, but Berlin has 44 buildings and features all told. Entrance fee is $4 per vehicle; $12 for camping, which includes entrance fee. The fossil shelter tour costs $3 adults; $2 age 6 to 12. Group use area reservation is $15 plus entrance fee per vehicle; group camping reservation, $15 plus camping fee per vehicle. Call 775-964-2440 or fax 775-964-2012.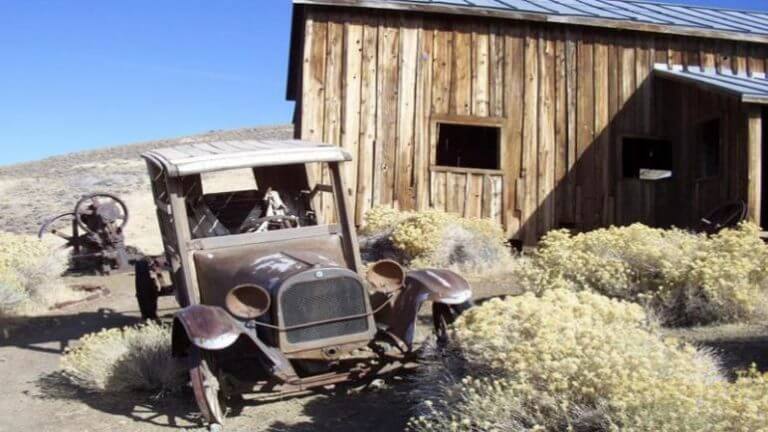 This Location: