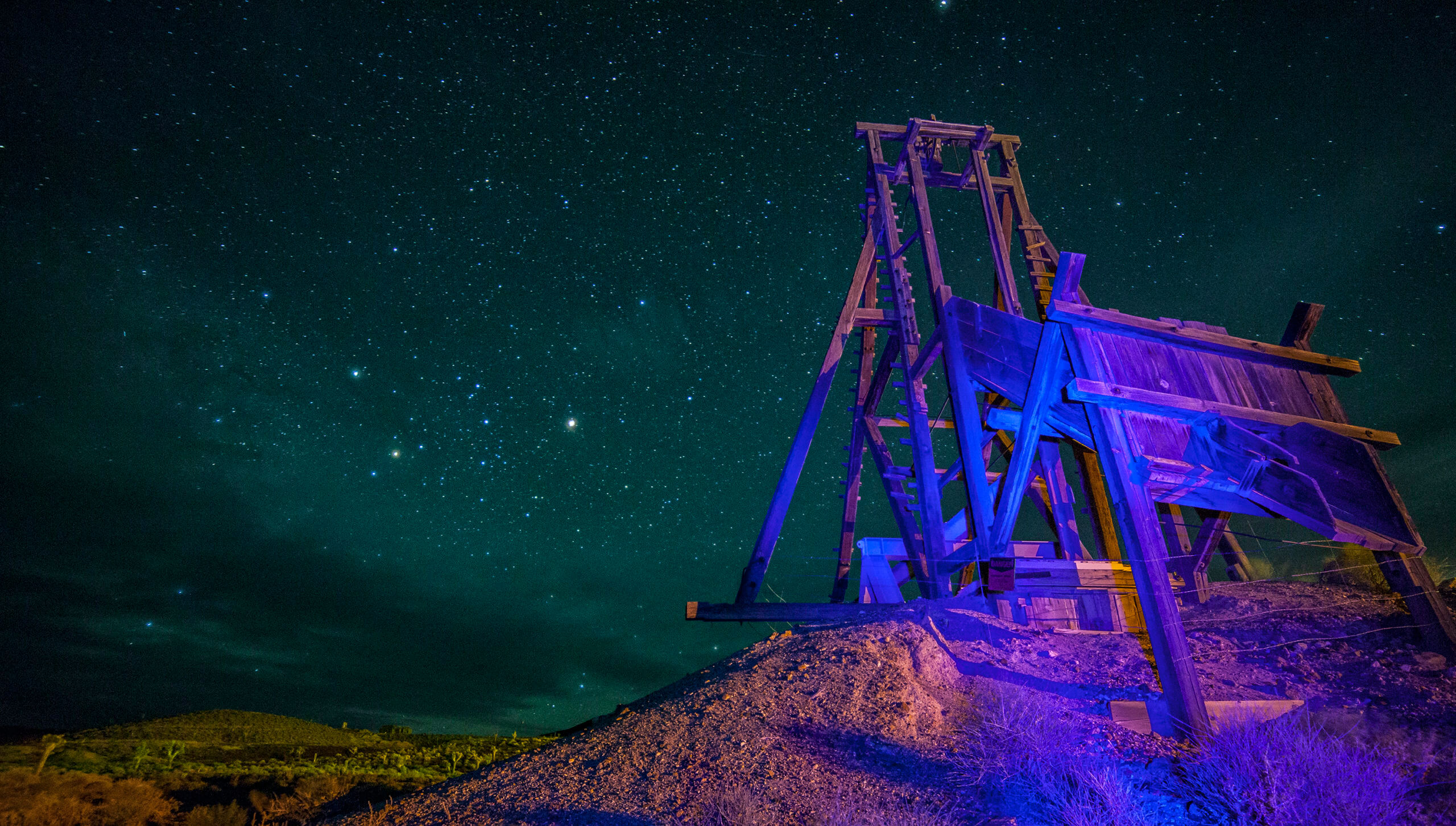 Nevada Ghost Towns
Ghost towns. They practically hide in plain sight in our state is unbounded wilderness. The phrase ghost town intrigues the mind with its mysterious, timeworn essence. And, with Nevada claiming more than 600 of them, many of these historic landmarks beg to be explored. An adventurous group of Toyota FJ Cruiser owners and I had the pleasure of doing just that during a June road trip in the southwestern portion of the Silver State my first journey as associate editor of Nevada Magazine.
Not Your Average Road Trip
The crackle of a CB radio complements the drone of my truck tires on the pavement as we make our way out of Hawthorne. As my mind becomes entranced by the lure of U.S. 95, I'm convinced highway hypnosis will soon set in. A lukewarm cup of cheap, black coffee and the vast expanses of sagebrush and rock occupy my thoughts as I scan through dull folk radio stations. Our caravan advances quickly on the desert, and I have only vague suppositions of what adventures lie ahead. I'm touring some of southwestern Nevadaís ghost towns, expecting to see not much more than a few old wooden shacks and a lifetime supply of rusty punch-top cans. Little do I know that some of these ghost towns hold an extensive history of our state some are even considered early cornerstones of Nevada.
Las Vegas resident Nick Moody, off-road expert and ghost-town enthusiast, has invited me on this expedition. The trip consists of more than a dozen people who share Nick's love for off-roading, some making the trek from as far away as New Mexico. Having previously spent hours upon hours exploring ghost towns, Nick acts as our group organizer and leader, making sure our experience is exciting and informative. This trip has special meaning for Nick. In December 2012, he was diagnosed with Lymphoma. In the wake of this unfortunate news, he began planning a ghost-town trip as a way to get out and bask in some soul-soothing isolation. Everything [in Nevada] is sparse, spread out, and you have to go looking for it, Nick says. You can travel off road for days and not see anyone.
Blair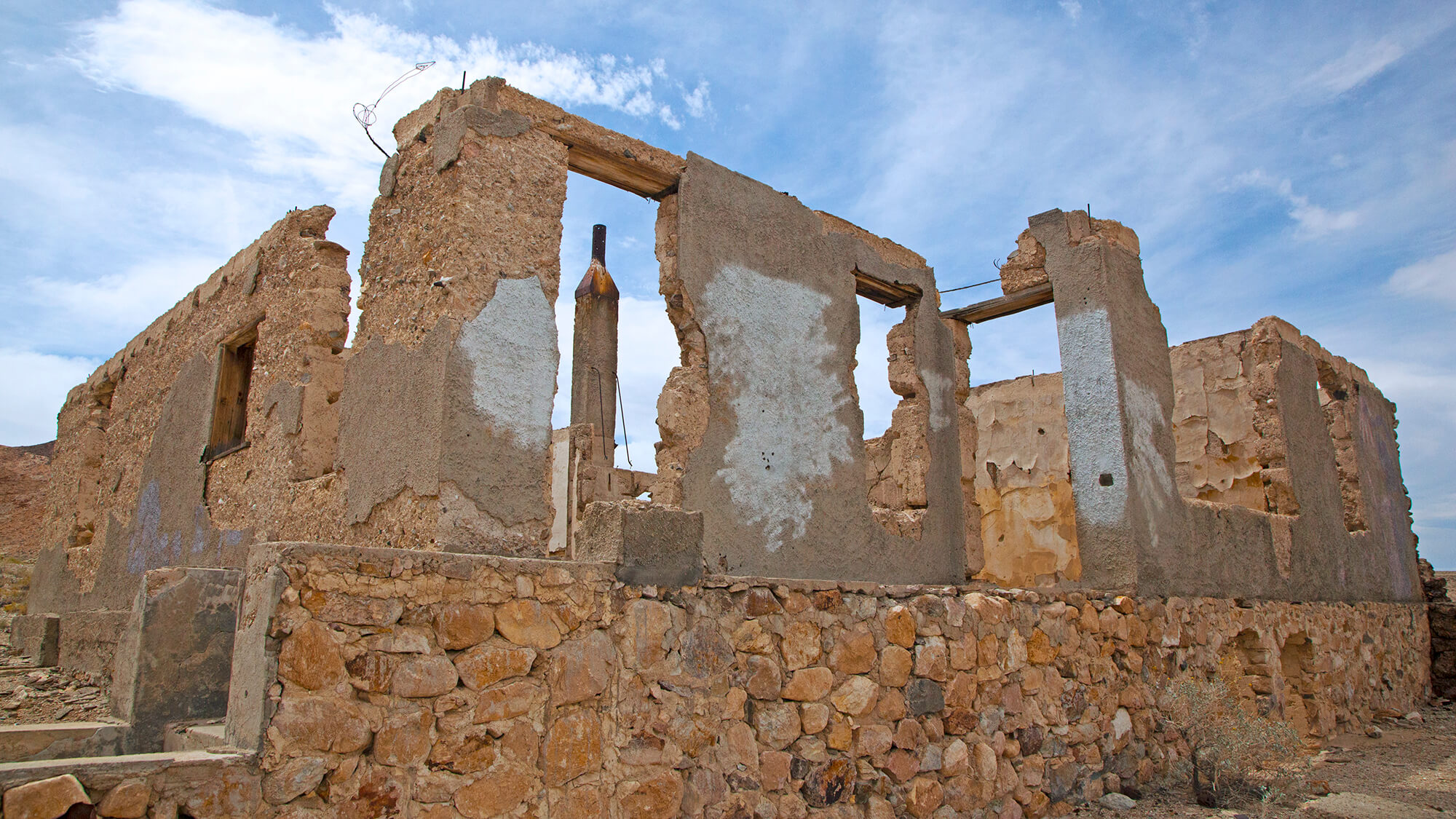 S'Socorro's Burger Hut in Mina and the ruins of abandoned Coaldale are a few of the signs of civilization before we turn on State Route 265, headed for Blair. As we continue south, anomalous soot-black cinder cones dot the desert scenery. Stone rubble appears on the horizon, and I know that we've reached our first ghost town. Once a thriving boomtown, Blair holds a history similar to many of Nevada's ghost towns. In 1907, the Pittsburgh Silver Peak Gold Mining Company, which had originally planned to mine in Silver Peak, decided to build its mill several miles out of town because of expensive land prices. Once the mill was built, a post office and the Silver Peak Railroad followed, creating the town of Blair. In 1915, the mill closed, and five years later Blair was essentially abandoned.
Today, Blair is comprised of several stone and cement structures. Rusty combinations of artifacts and old trash speckle the surrounding area, while fragments of fine china can be found in the cracked mud floors. An old wood-burning fireplace and chimney act as the optical centerpiece amongst the walls, which, remarkably, still hold strong after nearly a century of withstanding the elements.
Atop the mill site stand several more stone structures, which provide a view of a peak in the distance with the intriguing name of Alcatraz Island. One strange, misplaced single-room building on top of the mill holds a different type of history. With almost every square inch of the wall covered in names and dates of visitors to the site, the building acts as a time capsule.
Silver Peak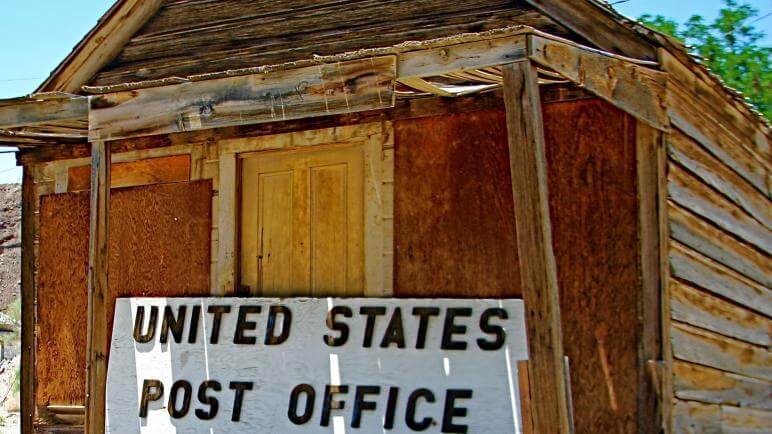 What we and others deem a living ghost town, Silver Peak is not completely abandoned. Only a short drive south from Blair, itís one of Nevadaís oldest mining communities, founded in 1864. Although the town is sparsely populated, the streets are still lined with weathered early-Nevada artifacts, including an old post office. Silver Peak is still a mining district, only instead of silver, it is now known for a different type of element. The Chemetall Foote Lithium Operation, just east of Silver Peak, is the only mine of its kind in the country.
Goldfield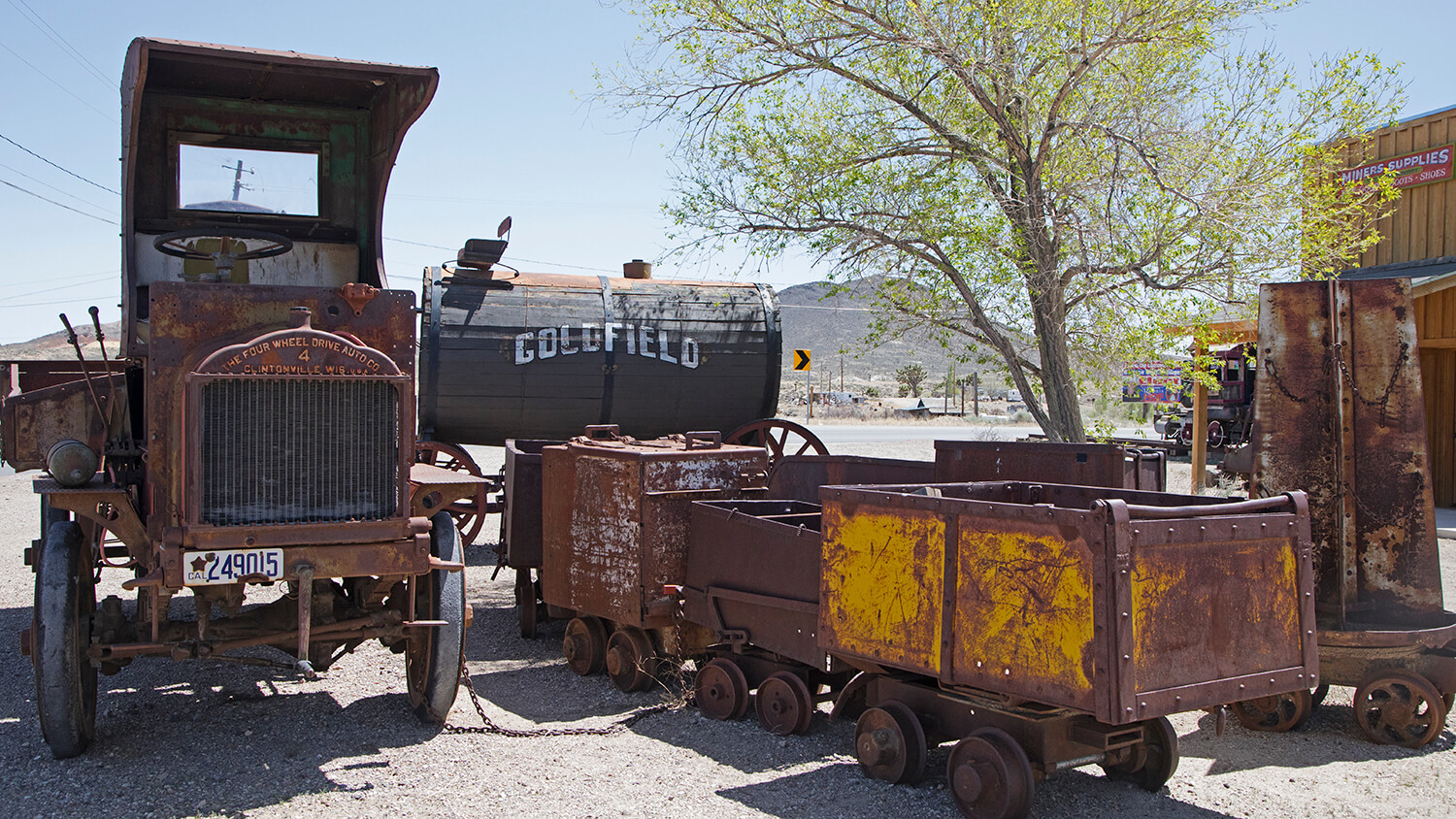 Herds of wild horses and cattle trot across the dirt road as we continue our journey east toward Goldfield. "Why would they raise cattle all the way out here?" a voice crackles through the CB radio. "That has to be some tough beef." It ís true. Things do have to be tough to live in Nevada. I begin daydreaming about what these ghost towns were like in their prime more than a century ago and how Nevada's early inhabitants must have been as tough as the cattle that now surround their rubble remains. Before I know it, we're in another living ghost town, our first stop the Historic Goldfield Cemetery.
I have only moments to wander amongst the headstones and begin snapping photos before I hear a car coming up the road toward the cemetery. Immediately, I know that one of Goldfield's most well-versed historians has arrived: Virginia Ridgway.
As I approach the door to greet Virginia and offer her help out of the car, I notice her holding a bouquet of flowers. "May I hold those for you?" I ask. "Oh," Virginia replies. "No, these are for the spirit, Elizabeth." It is at that moment that my heart begins to race in anticipation knowing that Virginia is about to guide us through one of the most historic and haunted places in Nevada, the abandoned Goldfield Hotel.
I stand and gaze upward at the famous hotel in eerie marvel. The towering edifice of cracking brick, granite, and hazy windows command a presence over the entire town. The boarded-up door lets out a creak as Virginia welcomes us in for a tour and detailed history of the building.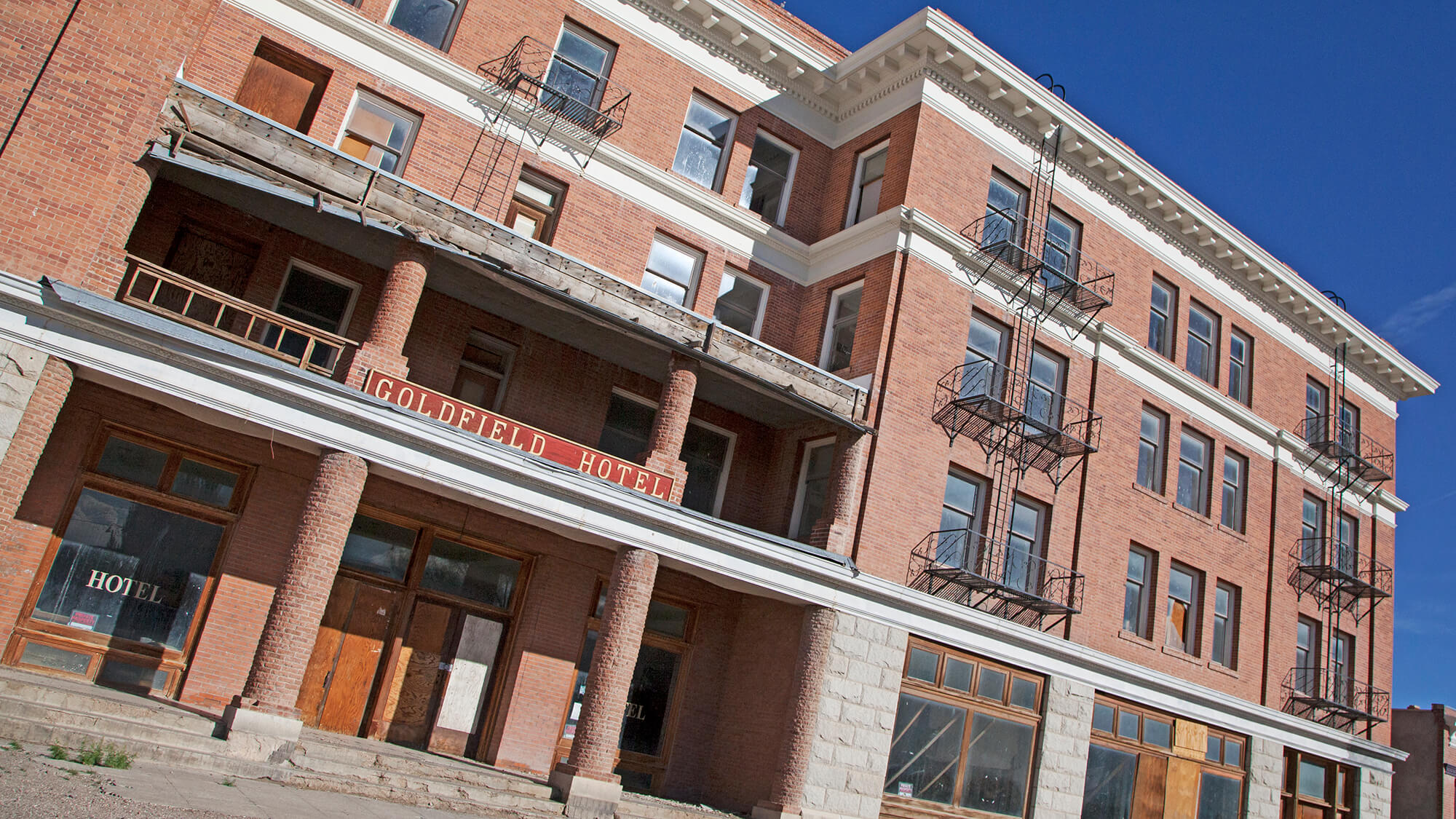 Built from 1907-08, the Goldfield Hotel was said to be the most remarkable hotel in Nevada at the time of its completion. With black leather upholstery, crystal chandeliers, a mahogany-trimmed lobby, and private baths, the hotel was a bastion of luxury during its prime. The hotel remained in use through the end of World War II, eventually falling into disrepair.
Virginia takes us room to room, showing us strangely displaced children's toys while telling the tales of the men and women who lived here and the spirits that now haunt the hotel. After we finish the tour of the lobby, Virginia brings us to notorious Room 109, Elizabeth's room.
"Please say hello to Elizabeth, and she will give us a sign that she's here," Virginia says. As we individually greet Elizabeth, I have a chance to look around the room. As my eyes adjust to the light, I see the floor is lined with cracker-dry flowers and old teddy bears. Timeworn paint seems to be dripping down the walls, and an old cast-iron radiator sits in the corner. After spending a mere minute in the room, I understand why this place holds such a unique history. Once the sun begins to set, we thank Virginia and continue our trek down 95. We pick up the pace knowing we have a steak-and-potato dinner waiting for us at our next stop: Gold Point.
Gold Point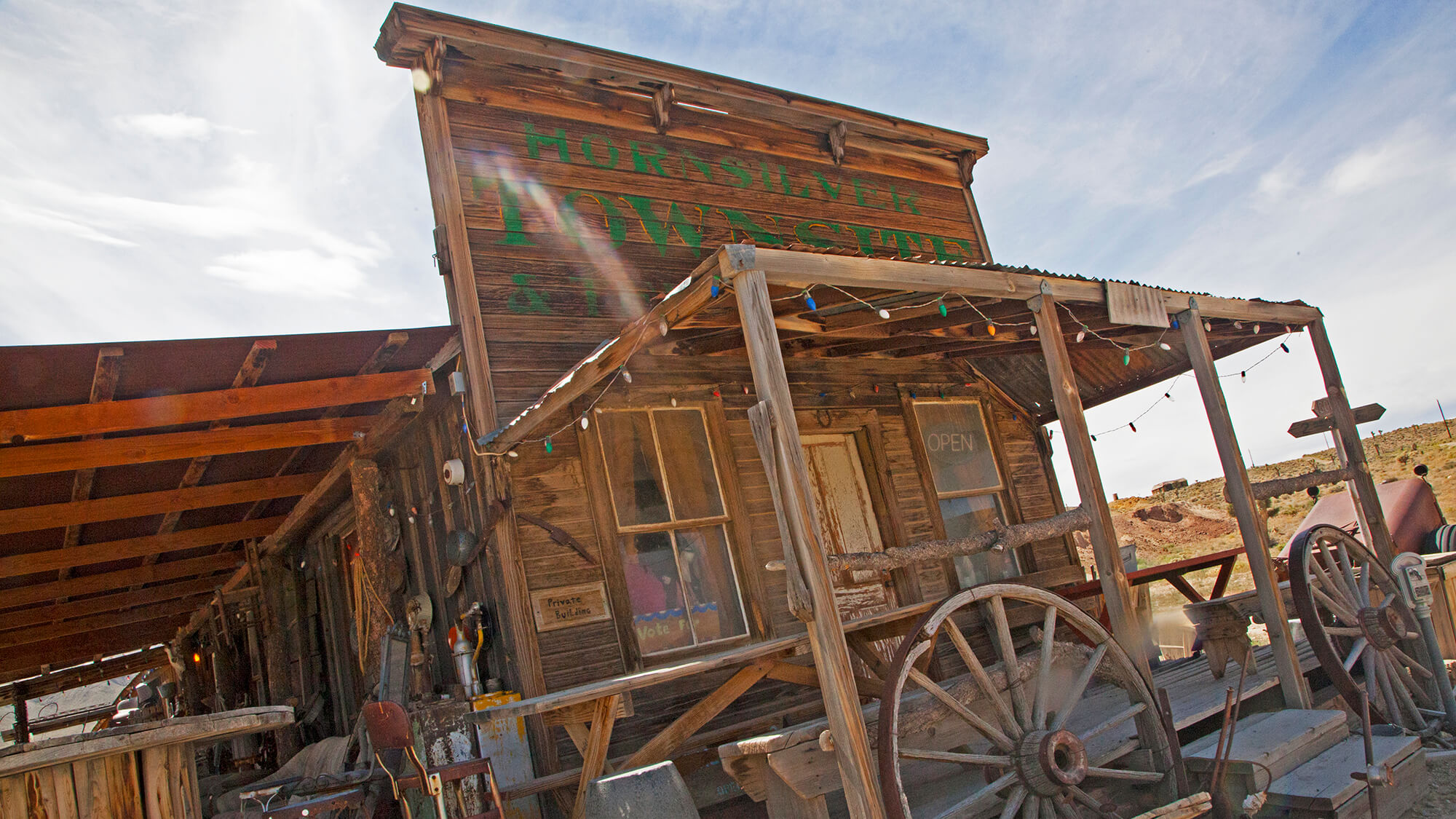 I know what you're thinking, steak and potatoes waiting for us in a ghost town? Referred to as " the friendly ghost town", Gold Point has been restored and maintained to provide creature comforts. With all the amenities of a lodge (bathrooms, hot meals, cabins, and a bar), Gold Point creates a happy medium for explorers looking to experience a historic ghost town, and afterward sleep in a warm bed with a full belly.
After enjoying our meal I wander around Gold Point wondering how it came to be so different. An owner of a sparsely populated ghost town must wear many hats. Herb Robbins (co-owner, cook, historian, bartender, and official fire chief) came across Gold Point on a ghost town trip similar to ours. "Gold Point didn't make a lot of money in gold and silver," Herb says. "But because of the lack of people, it's stayed pretty well preserved."
The next morning, we awake to another hot meal, and then we're on our way to the Hard Luck Castle.
Hard Luck Castle
Constructed in a relatively isolated area of the Nevada desert, the Hard Luck Castle is a work of art. As we approach the castle, a cylindrical central granite column is visible, decorated with forest-green roofing and an American flag blowing in the breeze. The structure is impossible to miss against the customary sagebrush backdrop of the desert. Though we donít have to cross a moat, we are greeted at the castle door by two barking dogs.
The Hard Luck Mine operated from 1897 to around World War II. Because of looting, the mine could not reopen after the war. When Randy Johnston and his son sought shelter near the Hard Luck Mine during a desert snowstorm, they decided the location would be an apt area to build a legacy.
In 1998, Randy purchased the 40 acres that encompass the Hard Luck Mine and its neighboring Emerson claim, with the purpose of building his dream home. Beginning construction in 2000, Randy has since nearly completed the four-story, 8,000-square-foot castle, complete with a theater, game room, two kitchens, four bedrooms, and two grandiose pipe organs that fill the walls of the castle.
Tours of the castle are available daily from 10 a.m. to 3 p.m. Visitors also have the opportunity to sleep in an original minerís cabin. The cabin sleeps up to five adults (with space outside for trailers and tents) and includes a kitchen, shower, toilet, and fire ring. Visitors are encouraged to call ahead for availability and road conditions.
As we depart I have one final chance to look back before the castle disappears from view, and it's on to the final ghost town of our trip to Bonnie Claire.
Bonnie Clair
Only a short distance from 95, Bonnie Claire is the quintessential ghost town. Old wooden structures falling into disrepair, abandoned mining shafts, and piles of rusty debris complete this small settlement.
Originally settled under the name Thorp, the Bonnie Claire town site was established in the early 1900s, with the post office opening in 1905. The town went through periods of boom and bust, until it was eventually deserted, the post office closing in 1931. Later the area was revived by the construction of the Lippincott Smelter. The smelter, which processed lead ore from the Lippincott Mine until 1953, lies on the hill near the town site. The Lippincott Smelter is closed to the public because of vandalism, but this industrial work of art can still be enjoyed from a distance.
Home Means The Hills…
With the expedition coming to a close, we hit 95 and head south to Beatty for fuel. I have one last chance to thank Nick and the group for graciously hosting me on this awesome journey. With a full tank of gas I hit the open road on my way back to Reno, not missing an opportunity to reflect on the unique history of our state, all the while knowing why home means Nevada to me. #NVGhostTown
Get Inspired
Related Stories