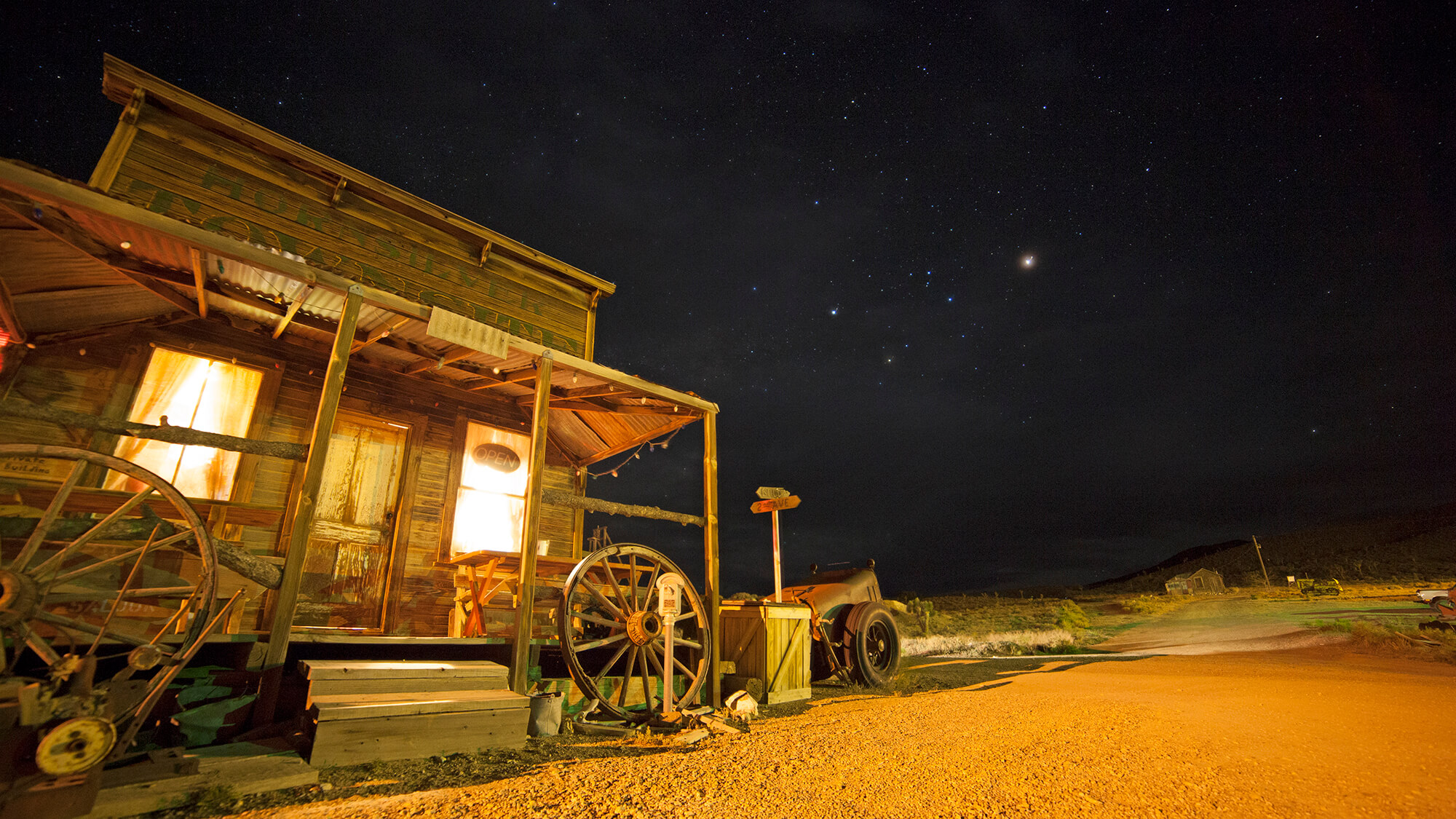 Nevada Ghost Town Throwdown
Manhattan Ghost Town
In the heart of Big Smoky Valley—aka one of the best damn places in the Silver State—is the living ghost town of Manhattan. And, the place is so off the radar that many native Nevadans will snivel the minute you bring up this three-syllable community, automatically assuming you're just confused. But oh no, the history here dates all the way back to a silver strike in 1866, just two years after Nevada entered official statehood. Small mining operations went down throughout the next handful of decades, but the real boom occurred in the early 1900s when thousands of people flocked to the area with visions of grandeur. Conveniently, another busted community was just winding down: Belmont. The mines there had just shut down and people were moving on to the next happening hot spot, which was? You guessed it, Manhattan. But, they didn't leave town without taking what was theirs, which included the exquisite Belmont church. As actual thieves of the night, these new Manhattan dwellers traveled all the way to Belmont and snatched their church, moving it to their new community. Rightfully so, it caused quite a rumble with people who chose to say in Belmont, and in the years since, Belmont has replicated an identical church. But, the original and very much treasured Belmont church actually sits in Manhattan. Howard Hughes also dabbled in gold and silver mining in Nevada, and owned a chunk of land in Manhattan that his empire owned all the way up until the 1970s. While he claimed to have mined all over Nevada, he himself only mined in one actual place, which was none other than Manhattan. Best yet, some major mining operations are still happening not far from here today. Spend the afternoon exploring this living ghost town, grab a room at the Manhattan Hotel, and hang out with some modern-day miners in the legendary Manhattan Bar—all of which will be worth your while.
Paradise Valley Ghost Town
If a place is so gorgeous that its original founders thought that it was in fact, Paradise, well then hey, it's good enough for me to want to check out. Period. That's the case when it comes to the truly spectacular living ghost town of Paradise Valley, just a short jaunt north of Winnemucca. Expansive views of the Santa Rosa Mountains and dilapidated buildings that make you feel like you've just walked onto a movie set are just a few reasons to high tail it up to this beautiful countryside. About 100 people called this slice of heaven home when originally setting up shop, and the same is true today. As if there were any more reasons we needed to throw out to convince you to get there immediately, here's one more: Paradise Valley is such a special place that the Smithsonian, American Folklife Center and U.S. Library of Congress executed a fascinating ethnographic study of the history and culture of the area's mega-interesting ranching community. Remarkably, PV is home to an astonishing variation of ethnic groups, including Apache, Anglo, Basque, Chinese, German, Italian and Northern Paiute. Oh, and did we mention that there's a super cool bar with even cooler hosts? Head to Paradise Valley Saloon & Bar G for some unforgettable homemade chorizo and stories from locals that cant be matched.
Jarbidge Ghost Town
If you like your history with a side of recreation, Jarbidge is your jam and you should probably just pony up and secure your stay in this little slice of heaven. Tucked far away in the northwestern corner of Nevada, this quiet community isn't just a geographical opposite of Vegas…it couldn't contrast any more in lifestyle either. While jaw dropping landscapes and big game trophy animals draw outdoor adventurers into this sleepy town today, life didn't always move this slowly in these parts. Jarbidge was quite the happening mining community in the early 1900s, so much in fact, that it was one of the last true gold rushes in the American West. As a result, visitors can check out astoundingly cool original miners' huts and other buildings, like the present-day Jarbidge Community Center. Feast your eyes on historical bulletins, original oil paintings and other fascinating relics. And, with successful mining enterprises comes what? BANDITS. A trip to Jarbidge is far from complete without a trip to the original jail. Here, visitors can check out the inside of the jail cell, complete with a chamber pot, chair and other interesting nuggets of history. Perhaps the most noted prisoner—Ben Kuhl—robbed the Rogerson-Jarbidge stage in 1916, which resulted in the death of the stagecoach driver. Jarbidge can also claim that it is the site of the last stagecoach robbery in the American West, but what's especially interesting is the fact that this was the very first time a palm or fingerprint had ever been admitted as evidence in a court trial in the WORLD. A bloody handprint that was lifted from the stagecoach is ultimately what threw Kuhl in the clink. Need any more reasons to visit this amazing place?
Rhyolite Ghost Town
Name my favorite Nevada mining district, you ask? Duh, the Bullfrog Mining District. And with that, comes a whole slew of kick ass ghost towns…LIKE RHYOLITE. Yes. Yes. Yessss. The history in this little burb is far too grand to recount, but let me just tell you that a little guy by the name of Charles Schwab saw the promise of the riches coming out of this canyon and invested. BIG. Within a few short years, one speck of a mining camp turned into a 5,000-person community with 50 saloons, 35 gambling tables, 19 lodging houses, and four daily stagecoaches that connected to the nearest town of Goldfield—a whopping 97 miles to the north. Even more so, Schwab kicked it up a notch and made Rhyolite quite the swanky boomtown for the mining elite with the implementation electricity, plumbing, concrete sidewalks and telephone and telegraph lines—all of which were practically nonexistent in other towns during 1907. Slowly, the mines became less profitable and the San Francisco Earthquake tragedy struck which was ultimately Rhyolite's kiss of death because the rail service was seriously disrupted. By 1910, mines closed, businesses failed and people moved on. Just as grandly as Rhyolite sprung into existence, it crashed. But alas, Rhyolite has managed to stay front and center when it comes to Nevada ghost towns…as it's probably the most photographed in the Silver State. Get up close and personal to the old miners' union hall, or school. Trust us, it's easy to let your imagination wander, dreaming of what bustling excitement assuredly took place here a hundred years ago.
Berlin Ghost Town
After a small group of miners discovered silver in some central Nevada hills in the late 1800s, the town of Berlin popped up and was crazy prosperous for years on end. But, true to typical ghost town lore, it wasn't long until the mine dried up and Berlin's residents moved onto more lucrative Nevada boomtowns [like Tonopah and Goldfield.] Luckily, Berlin's multi-faceted pockets of the past are preserved by the watchful Nevada State Parks system. Old miner cabins are still furnished and are worth checking out. When perusing the place today, former miner cabins, a 30-stamp mill [the best example of one in the state, in fact], the assay office, and machine shop are without a doubt compelling.  Plus, the old Ford truck that sits outside the mill is probably one of the most photographed things in Nevada, but just one of the killer photo ops in this historic hamlet. But what makes the area a no brainer is the fact that Berlin ghost town isn't all you'll see with a trek to this place. Oooooooh no. If you make the time to check Berlin out, you'll get to tour the Diana Mine—probably one of the most legit historic mines in the Silver State—and get an up close view with the world's largest concentration of Ichthyosaur [50 foot long marine reptile] fossils. A stunning ghost town, a legit mine, annnnd some mind boggling natural history? Talk about a ghost town grand slam, friends. Get here!
Unionville Ghost Town
Does the name Mark Twain ring any bells, friends? If you answered yes, then you're going to want to get the teensy little town of Unionville on the docket ASAP. With a gargantuan population of 20 people, some could say this is a bonafide example of a living ghost town. But with the closest services about an hour away and spotting someone with an actual pulse is few and far between, Unionville definitely feels pretty ghostly. Back in its heyday, many gold hungry prospectors were drawn to the canyon for its stupendous gold-rich-ore, including the esteemed Samuel Clemens, aka Mark Twain himself. In fact, he wrote of his time spent here in his classic Roughing It, and today, travelers can even swing by his former abode, buried in the mouth of Unionville. How cool is that?? Best yet, if you want to extend your stay—and trust us, a few minutes spent here and you will—be sure to check out the Old Pioneer Garden Country Inn. After all, there's nothing better than a farm-to-fork breakfast to propel another day of Nevada ghost towning, right?
Midas
A true off-grid favorite, visitors can take pleasure in a trek to the living ghost town of Midas, which is just north west of Winnemucca. Drawing its roots from—you guessed it, mining—at the turn of the 20th century, a few residents have stuck around after all these years, despite the fact that the town didn't even have electricity until 1989. Today a hardy bunch call Midas home, making sure the Midas Saloon & Dinner House opens up every weekend. And take note, this is one backroads bar you're going to want to hit up. The main street is a combo of dilapidated ghost town relics peppered with new, fancy hunting lodges, and its this combination of old and new that makes any time spent in Midas fascinating. Check out downright amazing artifacts like the picture perfect old fueling station, complete with weathered sarsaparilla signs promising the questionable pros of 'blood purification.' Most certainly a wanderer's utopia, everyone must opt for an afternoon in Midas…definitely an experience you wont soon forget.
Goodsprings Ghost Town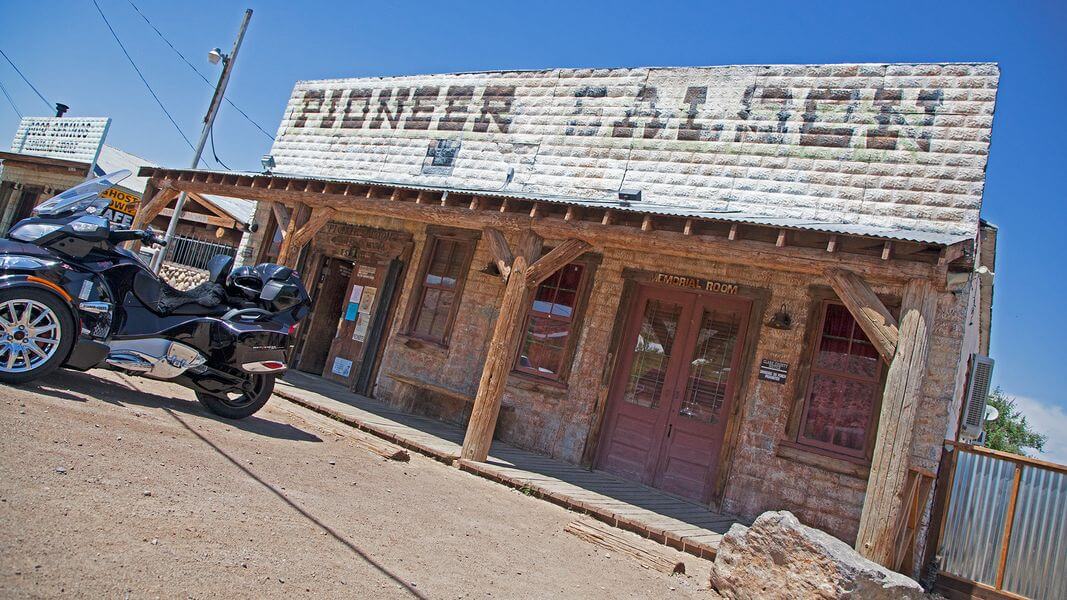 If you're the betting type, consider going all-in on one undeniable truth: most Nevada towns got their start after some kind of crazy ore strike. That's certainly the case with Goodsprings, in fact mining operations here were so significant that the town is still considered to be one of the most productive mining districts in all of southern Nevada. When checking out this living ghost town, travelers will take delight in a downright cool walking tour that skirts some seriously intriguing historic buildings.  It would be a serious lapse in judgment if you skipped out on the best part of Goodsprings…The Pioneer Saloon. As southern Nevada's oldest bar, quench your thirst at this 1913 establishment with a Schlitz beer. After all, it is the only beer served in 1913 that is still served there today. Visitors can marvel at the original Brunswick Bar and original heat stove too. [Pro tip: be sure to locate the bullet holes that ripped through the Sears Roebuck tin walls after a patron was caught cheating at cards.] Visitors can even become a certified as*hole here [just ask Tom, the bartender and he'll give you the deets.] Plus, it wouldn't really be a ghost town without some reported ghosts, right? Supposedly haunted, sign up for the ghost tour through the property or get your hands on a downright delicious Ghost Burger, which has been featured on the Food Network. Bottom line is, if you only have time for one excursion way from the Las Vegas Strip, make sure Goodsprings is #1 on the list.
Pioche Ghost Town
While the modern-day vibe in Pioche is certainly a laid back and inviting one, it was once known as the roughest, toughest mining town in the Old West. Yep, most people associate Tombstone as one of the most legendary shoot-em-up towns, but would be surprised to find out that they're dead wrong. It's Pioche…by a long shot. Like most of Nevada's other boomtowns, people were drawn to the area because of a gigantic silver boom. A mind-numbing 72 people were laid to rest before someone actually bit the big one from any natural causes, that's the level of Wild West we're talking about. To put it into perspective, Tombstone only had a couple of murders each year, while Pioche had dozens with literal shootouts in the streets on the regular. This notorious resting place, otherwise known as Boot Hill Cemetery, is where these murderous savages are buried, which is also directly underneath the original Pioche aerial tramway, which was used to transport ore during early 1900s mining efforts. If that's not enough to get you here, check out Pioche's storied Million Dollar Courthouse, or the said-to-be haunted Overland Hotel & Saloon.
Belmont Ghost Town
If it's some off-grid bliss you're after, Belmont is the place to get to, STAT. Nevada has quite the hefty list of ghost towns to take your pick from, but Belmont is a personal favorite. If we had to choose just one to steer you toward, perhaps this would be it.  Not far from the geographic center of the state [and a bevy of pretty incredible hot springs to take a dip in] what sets Belmont aside from other abandoned burbs are the impressive structures still standing. And the whole place is not far off the mark from movie set quality either, mind you. It's undeniably interesting wandering the perfectly executed craftsmanship that has seemingly withstood time. Considering buildings are over 150 years old, the fact that any portion of these beauties is still standing is really quite remarkable. When the town was nearly abandoned during the late 1800s, prospectors took their timber roofs with them—something that during the era was their most valued commodity in a sea of sagebrush. As a result, many of the buildings have fallen victim the harsh Nevada elements, but Belmont's pride and joy still remains: The Belmont Courthouse. Arrange a tour of this extraordinary Nevada treasure with the Friends of Belmont Courthouse or explore some fascinating mill site ruins with original chimneys that tower over the expansive Monitor Valley below. Just make sure you don't leave town without a visit to the oh-so-enjoyable Dirty Dick's Saloon. Almost a Nevada rite of passage, cap off a memorable day exploring with some frosty drinks and friendly banter with a few hardy residents.
Goldfield Ghost Town
Let's just start and end with one simple fact: Goldfield is a ridiculously enchanting slice of Nevada that totally catches you in its web. Just about half way between Reno and Vegas, ruins like decaying homes made entirely of bottles will likely lure you out of your car, and before you know it, eight hours later, you're getting back on the road not knowing which was is up. Goldfield's history runs deep…like REAL deep. As one of Nevada's most iconic boomtowns at the turn of the 1900s, Goldfield also suffered one of the state's more drastic busts. Now home to less than 300 people, the gold-riddled hills once drew in 30,000 people in a matter of a couple years. Unimaginably wealthy gold mines propelled the most opulent lifestyles of the era. Goldfield proudly boasted the longest bar in Nevada with a whopping 80 full-time bartenders and built a courthouse adorned with Tiffany and Co. lamps, electricity and luxurious heating system [which you can still visit today, and I'd suggest you do.] But, it's the historic—and reportedly haunted—Goldfield Hotel that really stands out among the rest. Today, visitors can peruse some hard-to-find antiques at the Elite Trading Post, get your hands on some tasty salt water taffy at Goldfield Historic District Gifts, or even try to get the 'Meanest Bartender in Nevada' to crack a smile at the historic Santa Fe Saloon. #NVGhostTown
Get Inspired
Related Stories