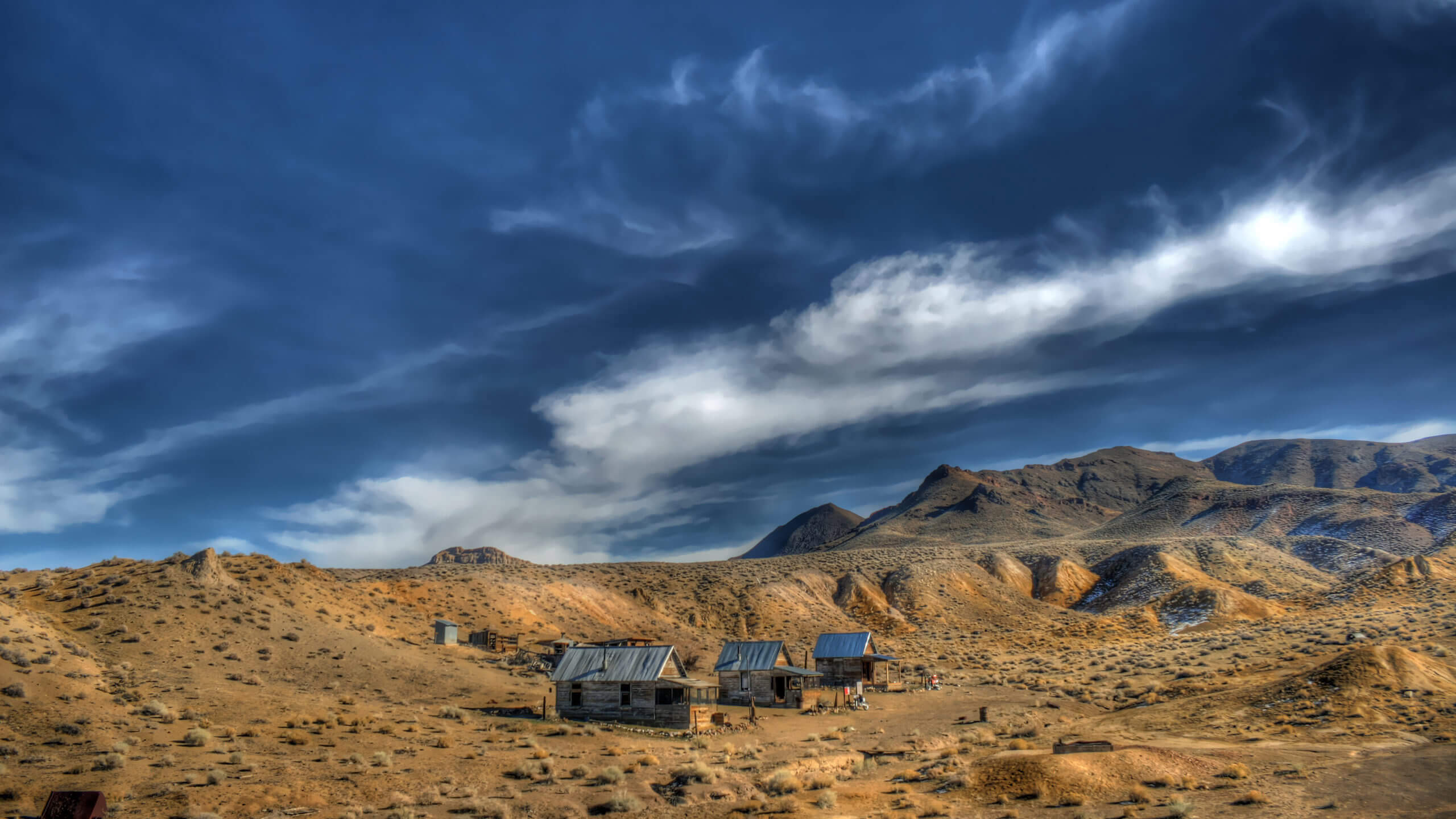 Nestled in central Nevada's wide open basin and range northeast of Hawthorne, buckle up for an off-roading adventure to the fantastically picturesque Poinsettia Mine. Practically hidden within plain sight, the Poinsettia Mine and surrounding structures are situated within a steep, round basin hidden from surrounding dirt roads in the valley below. There was massive mining activity with proper established ghost towns in the area—we're lookin' at you Rawhide, Mina and Gabbs—and while serious mercury and cinnabar prospecting did happen here, a true town never followed. While so many other Nevada ghost town greats transformed from modest mining camps into sensational boomtowns practically overnight, a visit to Poinsettia offers a window into what those early, simpler camps really looked like.
With a state as mineral rich as Nevada, all kinds of minerals were, and still are discovered in all corners of the state. Gold, silver, and copper beckoned prospectors from all over the world, but Nevada also experienced its fair share of other completely pure mineral discoveries, too. In Poinsettia, they were after mercury and cinnabar. These discoveries nudged the development of a hoist house and other buildings to support the mercury and cinnabar mines, along with a handful of small miner cabins. Not a whole lot is known about who exactly first discovered mercury-rich deposits, but the mining activity was active from 1929 up until World War II.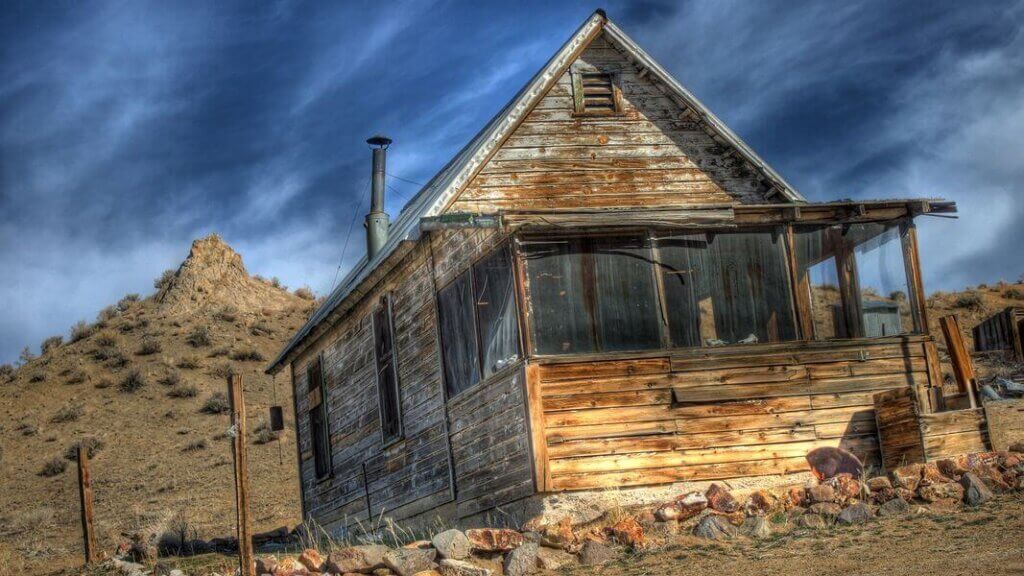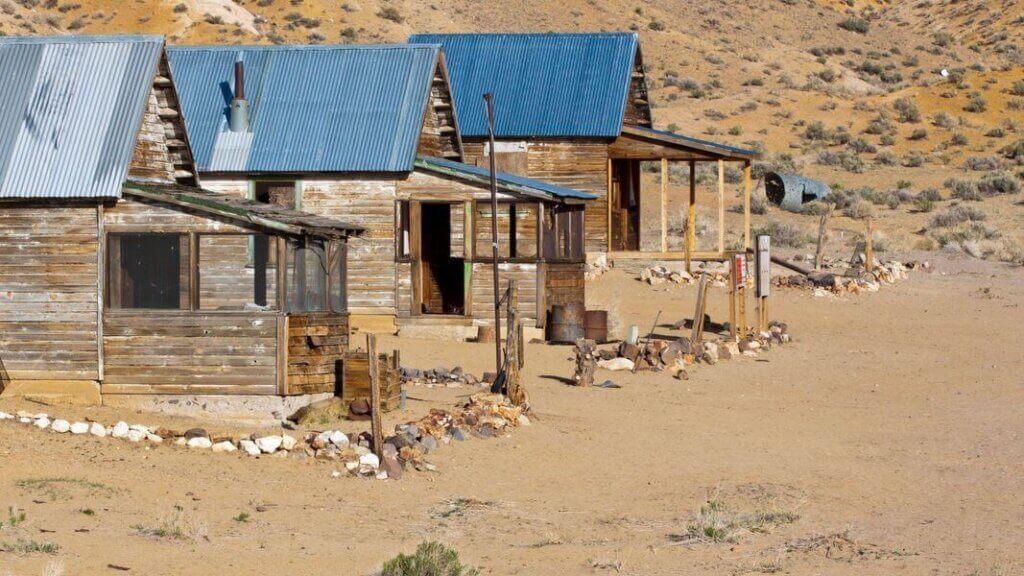 The Poinsettia ruins sat deserted from the 1940s to the 1980s—that is, up until Hawthorne-area boy scouts became involved and began preserving Poinsettia Mine buildings, transforming the place into their unofficial camp. Three original miner cabins are structurally intact, complete with wooden platforms to lay a bedroll or sleeping bag out for the night. Some buildings don't have windows, and there is quite a bit of mice and rodent activity within. But! If you're up for a true Nevada adventure, nothing beats stargazing from within a ghost town on those warm summer nights. It looks like it's been a while since consistent boy scout maintenance has happened around here, but keep an eye out for a guest book while you're here. Beyond the miner cabins, a few other structures remain, like an old headframe, outhouse, and a grave with a small wooden cross.
Getting There and Info to Know Before You Go
Poinsettia Ghost Town is situated in central Nevada, northeast of Hawthorne. The easiest way to find it is from Hawthorne, or US 95. From downtown Hawthorne, follow State Route 839 northeast for 38 miles or one hour. Accessing this Nevada ghost town requires 4×4 clearance and the ability to navigate with a paper map in remote conditions without cell service.
When traveling Nevada backroads, be sure to live by the Dirt Road Code by traveling with 4×4 access and a spare tire. Carry plenty of snacks and water, be sure to let someone know where you're headed and when you plan to return, and practice Leave No Trace methods whenever possible. That, and there is only one safe way to deal with historic mine sites—stay out, stay alive. From shaky timber, cave-ins, dangerous air quality and old explosives, exploring in and around old mining sites is extremely unsafe. Do not attempt to enter old mine shafts or adits when exploring any Nevada ghost towns.
Hours:
Poinsettia Ghost Town is open 24 hours a day, 7 days a week. The only thing preventing you from accessing Poinsettia would be a seasonal, weather-related closure. For more information on Poinsettia Ghost Town, and to check conditions for heading to this historic townsite, get in touch with Visit Mineral County directly at (775) 945-5854.
Admission:
No admission is required to access Poinsettia Ghost Town.
This Location: