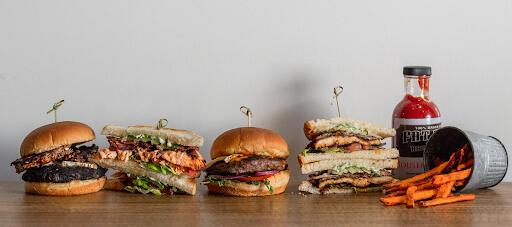 Good-To-Go: Nevada's Delivery and Takeout Restaurants
While we're staying home for Nevada, dig into some places where you can grab grub on the go. Besides, doesn't everything taste better when you eat it in your PJs?
Grabbing a bite at your favorite local Nevada eatery is back on the table. However, there is still no shortage of options when it comes to pick-up and curbside. If you need a break from cooking or are looking for ways to help support the local economy, you're in luck—we've rounded up lists of Nevada restaurants open for delivery or takeout orders across the Silver State.
And besides, doesn't everything taste better when eat it in your PJs? Dig into some places you can grub on the go, and if you do leave the house, make sure you're embracing the latest expert advice on how to stay safe out there by protecting yourself and others. 
We know there are always a few places that roundups like these just don't quite catch. While these lists are a great starting point (and our hats are off to those who've worked to compile them), if you've got a hankerin' for the flavors of your favorite Nevada restaurant, be sure to find them on social media, or simply call 'em on up. They'll appreciate it, and so will your taste buds. Bon (socially distant) appetit! 
Las Vegas
From tiki bars to world renowned buffets and bistros, the Las Vegas food scene has always been top tier. Check out this list of restaurants that you can still grab takeout food from, offering curbside pickups and more.
Las Vegas Weekly: Las Vegas Food Takeout and Delivery Guide
Reno
Whether you're craving Italian pasta made from scratch, hearty German brats, fresh vegetarian favorites, or a sweet treat, the Biggest Little City has every appetite more than covered. Find updated hours, discounts, and more at the links below.
Reno Gazette Journal: List of local restaurants doing takeout and delivery during coronavirus closure
Midtown District Reno: Curbside Pick-Up, Online Classes, and Gift Cards
Carson City
Locally brewed beers and tasty cups of joe are only the beginning of what Carson City has to offer. Pick up pastries, pizza, poke, and more from this list that gets updated daily.
Visit Carson City: The Complete List of Open Carson City Restaurants
Carson Valley
Big Basque dinners. Locally made chocolates. Artisan charcuterie. Carson Valley has all this and more from 50+ eateries who can't wait to feed you.
Carson Valley Chamber of Commerce: Restaurants Available for Take Out or Delivery
Ely
With options ranging from classic American diners to national acclaimed roadside finds, you have nothing but choices in the Ely area. Zero in on everything from one of the best chorizo burgers in the state, to artisan pizzas and handcrafted cocktails and beyond. 
Visit Ely Nevada: Dining in the Ely area
EDITOR'S NOTE: Have a list of open restaurants for your community? Reach out and let us know!
Get Inspired
Related Stories