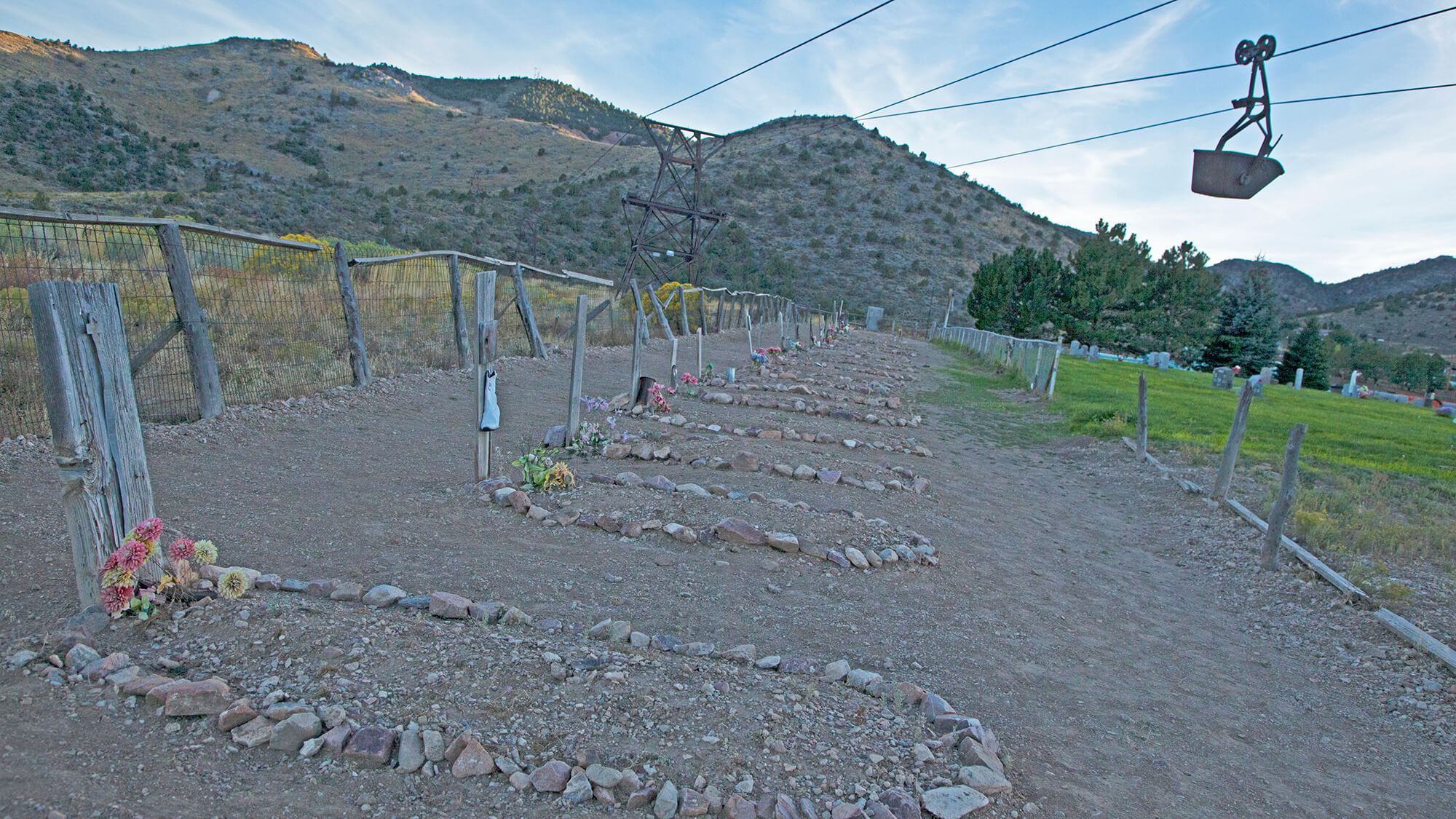 18 Ways To Get Into Nevada's Haunted History
1. Boot Hill Cemetery—Pioche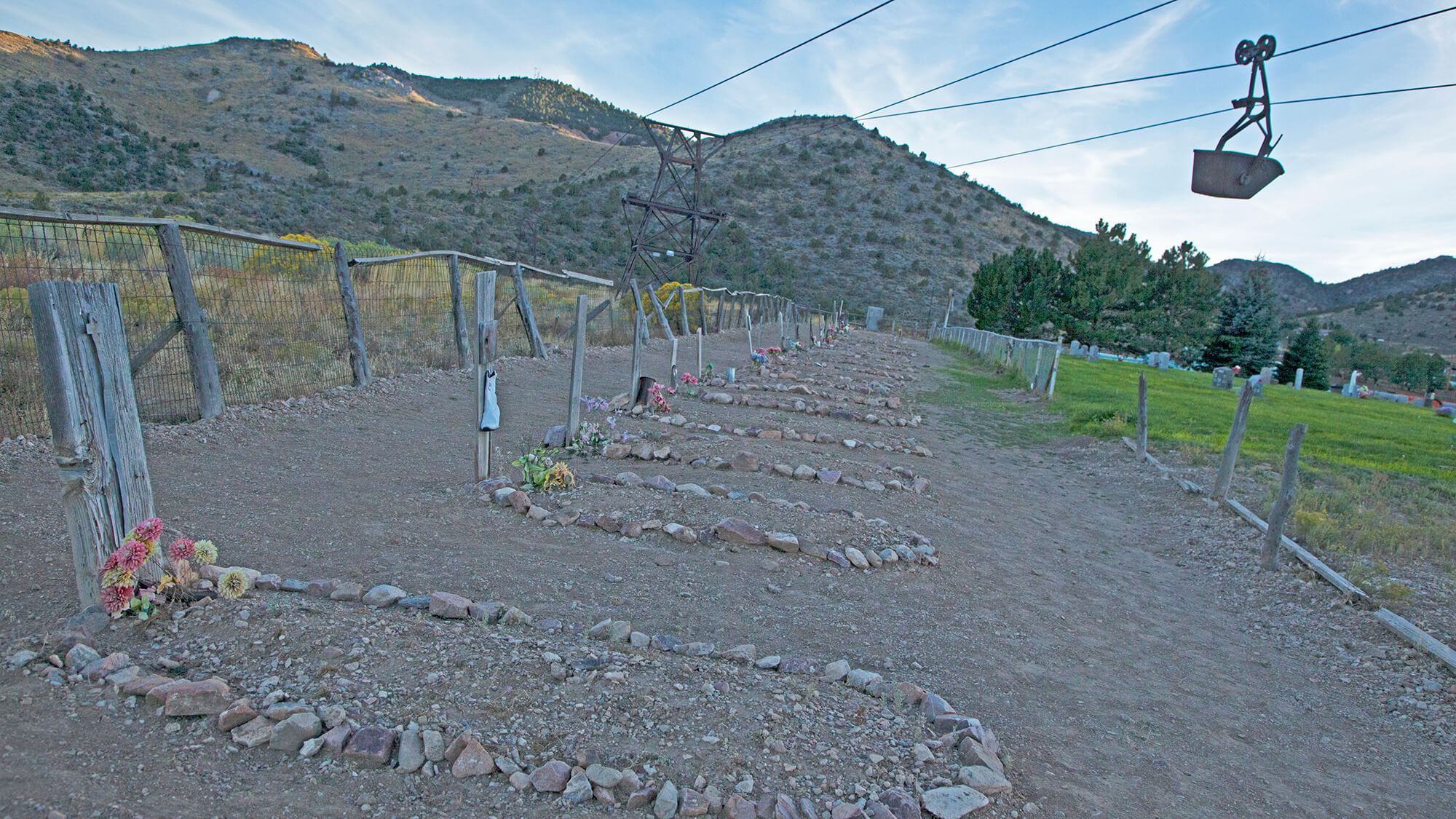 If you are as fascinated by the American West as me, you've probably heard of a lil ol' town known as Tombstone. The doctor, the lawyer and Indian chief of the Wild West, amIright? Nope, not even close. Today, Pioche [pronounced pee-OATCH] is quiet and relatively unpopulated compared to its glory days in the 1870s after a massive mining boom, but blew all of Tombstone's murderous, bandit-rambling, gunslinging, high-noon shootout qualities to smithereens in a hot second. Yep. Pioche was so brazenly violent that a whopping 72 people were laid to rest in one year's time before a single one died from natural causes… and a whopping 60% of homicides in the entire state during the 1870s occurred in Pioche. To compare, Tombstone had three. Ever.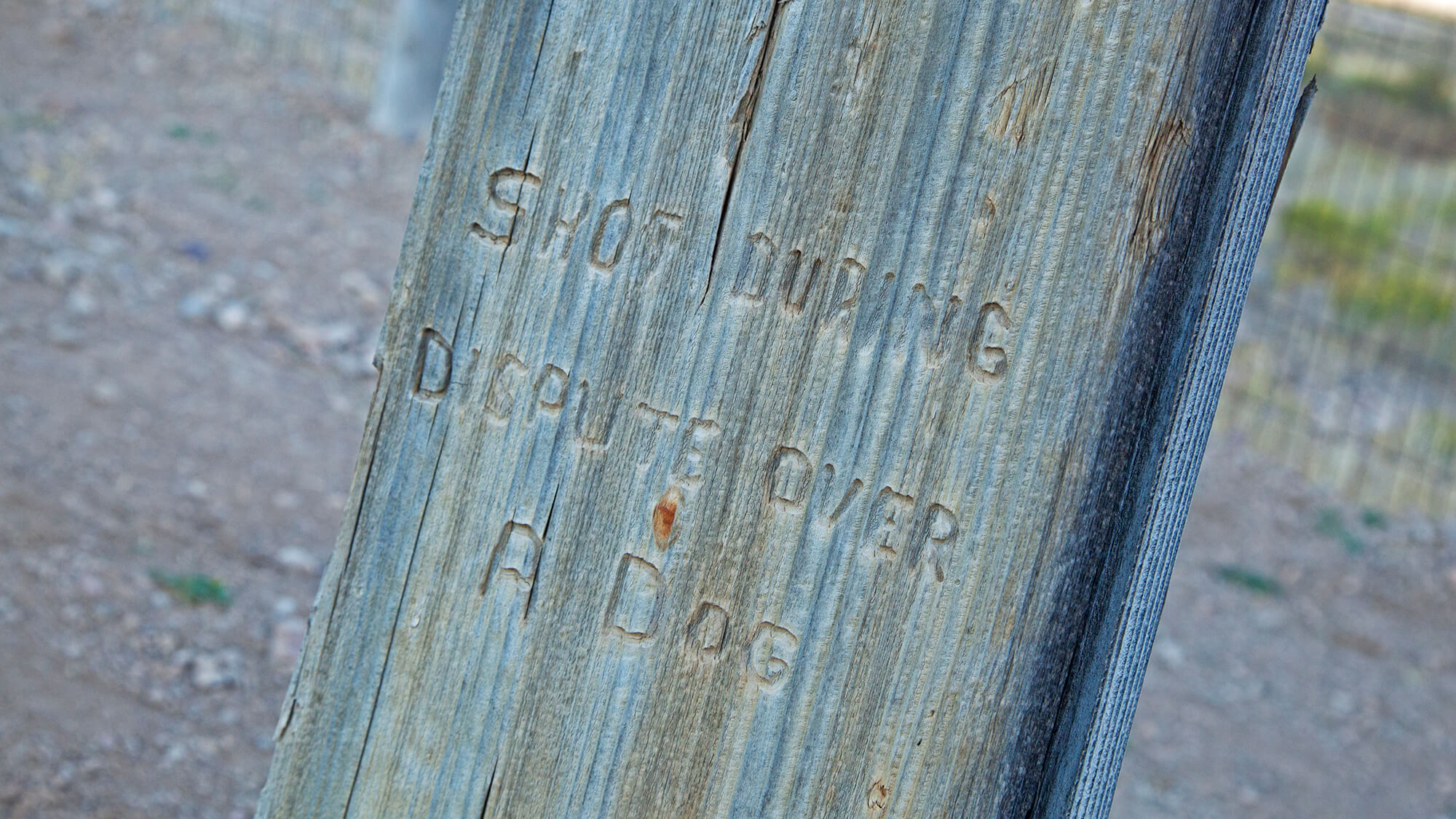 Pioche's slain were all entombed in Boot Hill Cemetery, and here's the kicker: you can still visit this rough-and-tumble burial ground. Pay attention to "Murderer's Row" near the back of the cemetery, where you can read some fascinating causes of death, inscribed on these hooligan's headstones. It's totally commonplace to find "Shot During Dispute Over A Dog" or "Feared By Some, Detested By Others, Shot in the Back 5 Times from AMBUSH." Plus, it all lies right under the mega-cool still-standing aerial tramway the town is known for.
2. Pioneer Saloon—Goodsprings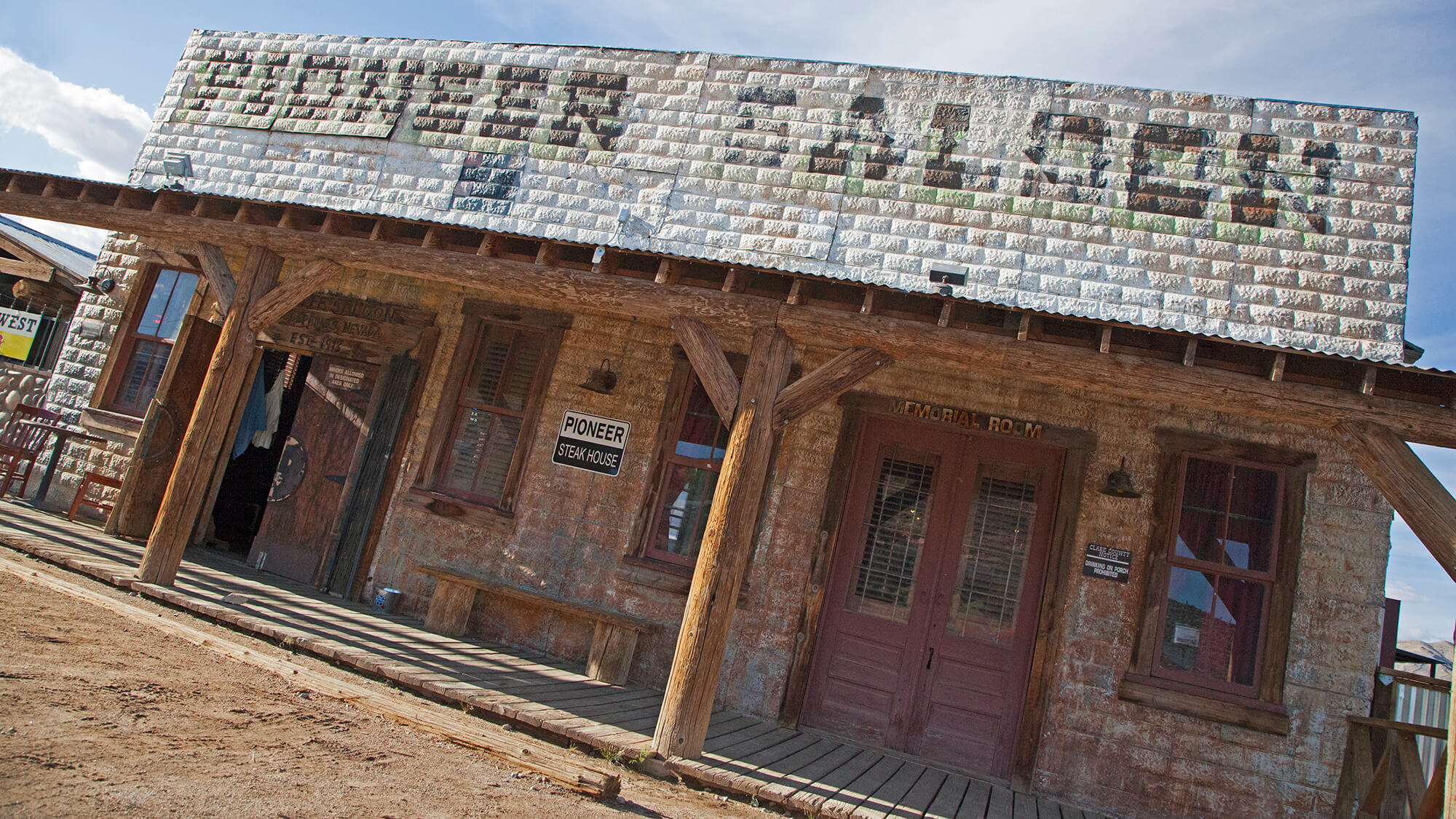 Having opened in 1913, the Pioneer Saloon is officially the oldest bar in southern Nevada. As you can imagine, the place undoubtedly has that "if-these-walls-could-talk" sorta vibe and is just one of the reasons to make the 45-minute drive south of the Strip. Of course, if these walls could in fact talk, they might be a little miffed about the three bullet holes that pierced through their original Sears and Roebuck stamped tin perfection after the heated card game gone awry wherein one participant was caught cheating and shot dead on the spot.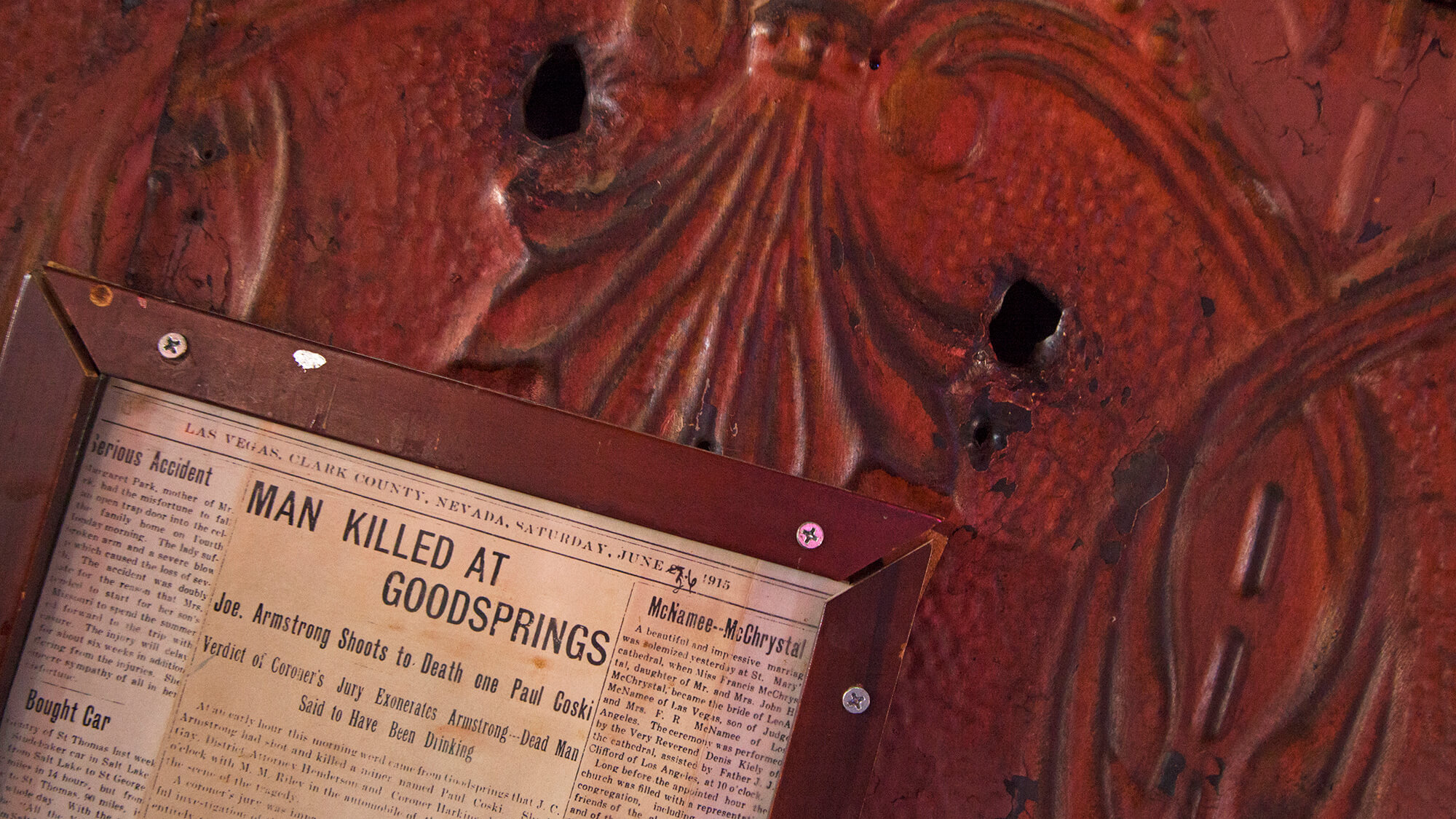 Or the time the bartender committed suicide behind the counter with a full lineup of patrons. Or maybe even the time Clark Gable nodded off at the bar, waiting for Carole Lombard's search party to return after her plane crashed on nearby Mount Potosi. Many have said that the Pioneer Saloon is home to a whole mess of ghosts, like the gunshot gambler's ghost, "Ruby's Ghost," and even Carole Lombard, but don't take our word for it. Snag a spot on the Pioneer Saloon's Haunted Lockdown, where visitors can take part in an active paranormal investigation with EMF readings, EVP recordings and infrared vision videos.
3. Goldfield Historic Cemetery—Goldfield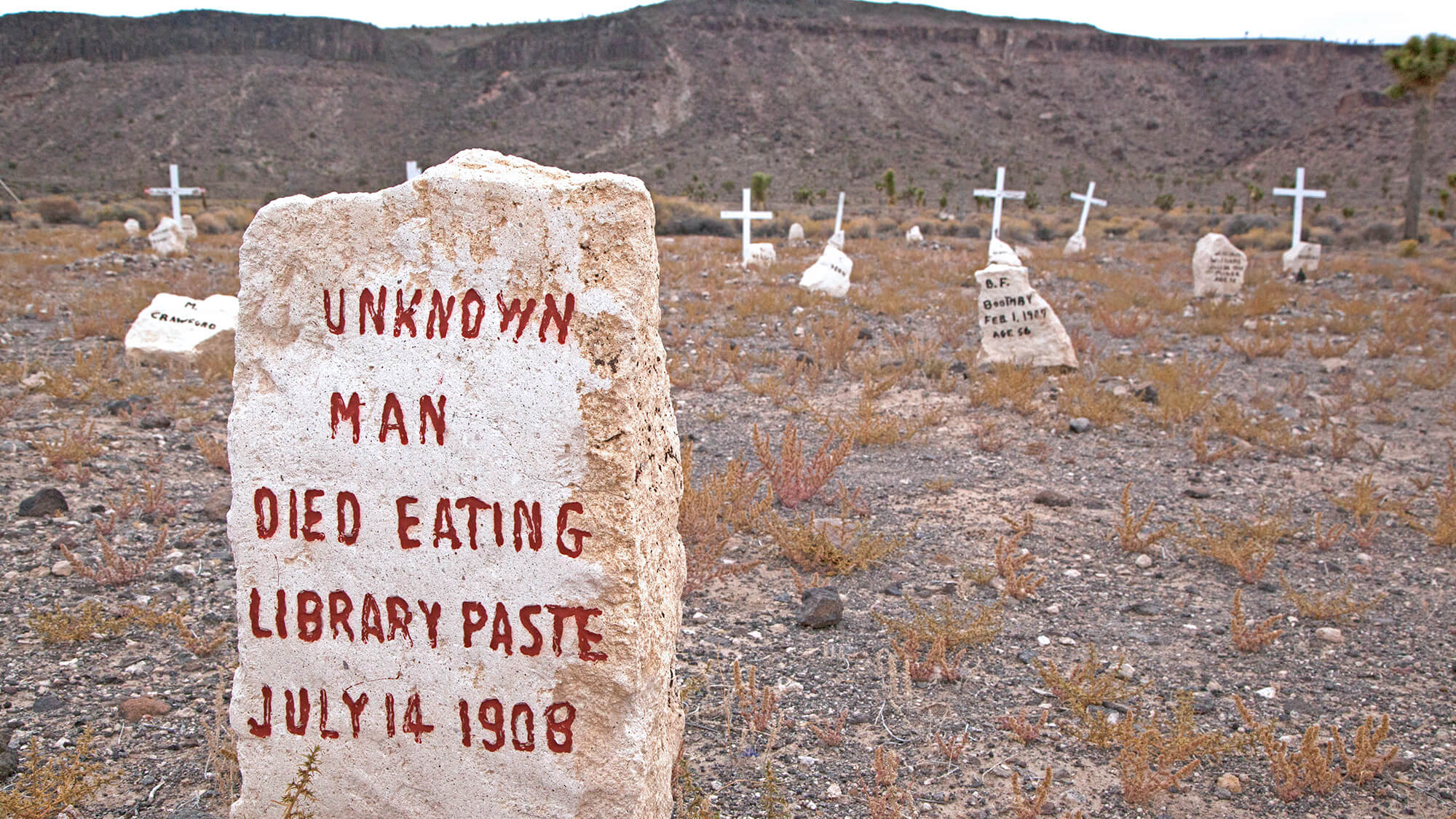 Of all the fascinating cemeteries in Nevada—and trust me, there are a lot—Goldfield's is one of the more entertaining. Goldfield, also known as the "Last Great Gold Camp," really lived up to it's name. Wealth and opulence we can't understand once existed in this town, after multi-millions worth of gold ore was extracted from nearby mountainsides. As a rule of history, what goes along with a happening boomtown? An endlessly interesting cemetery, of course. Goldfield's cemetery was originally located near the center of town. However, as the population swelled toward 20,000 people, the newly arrived railroad decided that their passengers stepping off the train onto graves wasn't making the best impression, so a group of men assembled to relocate the burial ground. Known as the "Official Ghouls," they unearthed the remains in the middle of the night and moved them to the modern-day location. Aside from connecting out-of-town residents to ancestors buried in Goldfield, there are some seriously captivating causes of death etched on a few of the headstones, like the one pictured above.
4. Old Middlegate Station—The Loneliest Road in America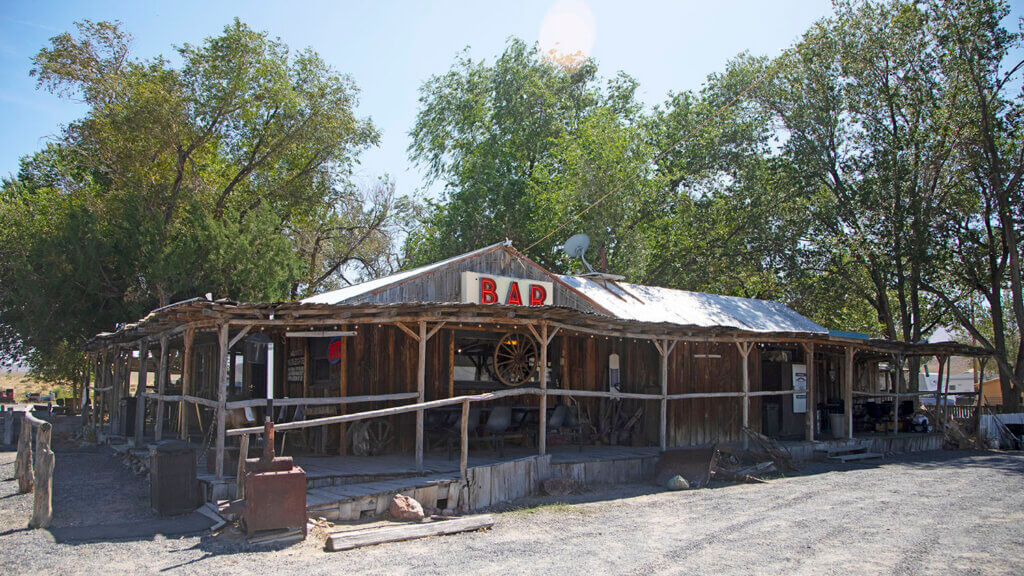 Despite the legendary Pony Express' brief, 18-month stint, there's no doubting its impact on the nation. That Wild West mystique that people round the globe are after. In the grand scheme of things, it was a blink of an eye in the most truest sense, but hey, what's not to love about a bunch of young orphaned badasses carrying mail on horseback throughout most of the western United States? There were 30-ish changing stations—checkpoints that riders could stop, recharge, restock supplies, and rest their horses—peppered throughout the Silver State, but not very many of them are in existence today. With the exception of Middlegate Station, which served as a Pony Express stop from 1860-1861 and continued to thrive until surrounding mines closed. Despite people snatching up a lot of the building materials used in the original construction, the location was preserved in the 1940s when it became the infamous bar and restaurant we so intensely cherish today. So, 156 years of history going down in these digs practically begs for a poltergeist or two, right? Guests of the on-site motel have claimed to hear footsteps and knocking sounds on the boardwalk in front of the rooms. While some may just stem from other full-bellied guests retreating to their rooms after taking down the Middlegate Monster burger, could others be the riding-bootsteps of a few ghoulish Pony Express riders themselves? No matter how you cut it, making Middlegate Station a stop is a no-brainer for the great food and conversation alone.
5. Boulder Dam Hotel—Boulder City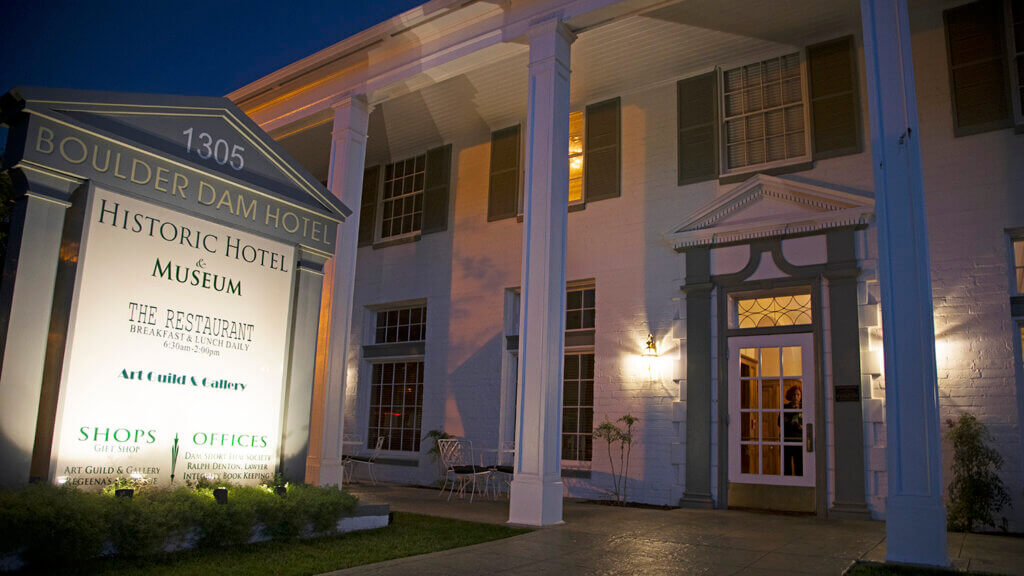 With a guest list that includes celebs like Shirley Temple, Howard Hughes, Bette Davis, Will Rogers and many more of the elite, upper crust, it's almost safe to say that Boulder Dam Hotel rivals the actual Hoover Dam's monumental history. Almost. If only it too, were 70 stories tall. Regardless, it was built specifically to host celebrities, politicians and others visiting the nearby Hoover Dam. This art deco gem, constructed in 1933, just after the Dam was completed, was the finest hotel in the area, attracting all the who's-who. Aside from visiting the Hotel, certain guests felt so at home that they extended their stay, like Howard Hughes, who spent several months recuperating there after crashing his plane at Lake Mead. Although that hallway pictured above is looking a little Red Rum-ey, the vibe in this place is far from anything spooky, despite a few guests reporting the feeling of something cool touching them on the shoulder, and unexplained noises. Casper or not, one night spent here and you'll realize what a serious treat it is to stay in such a masterfully restored and tremendously iconic southern Nevada hotel.
6. West Side Historic District—Carson City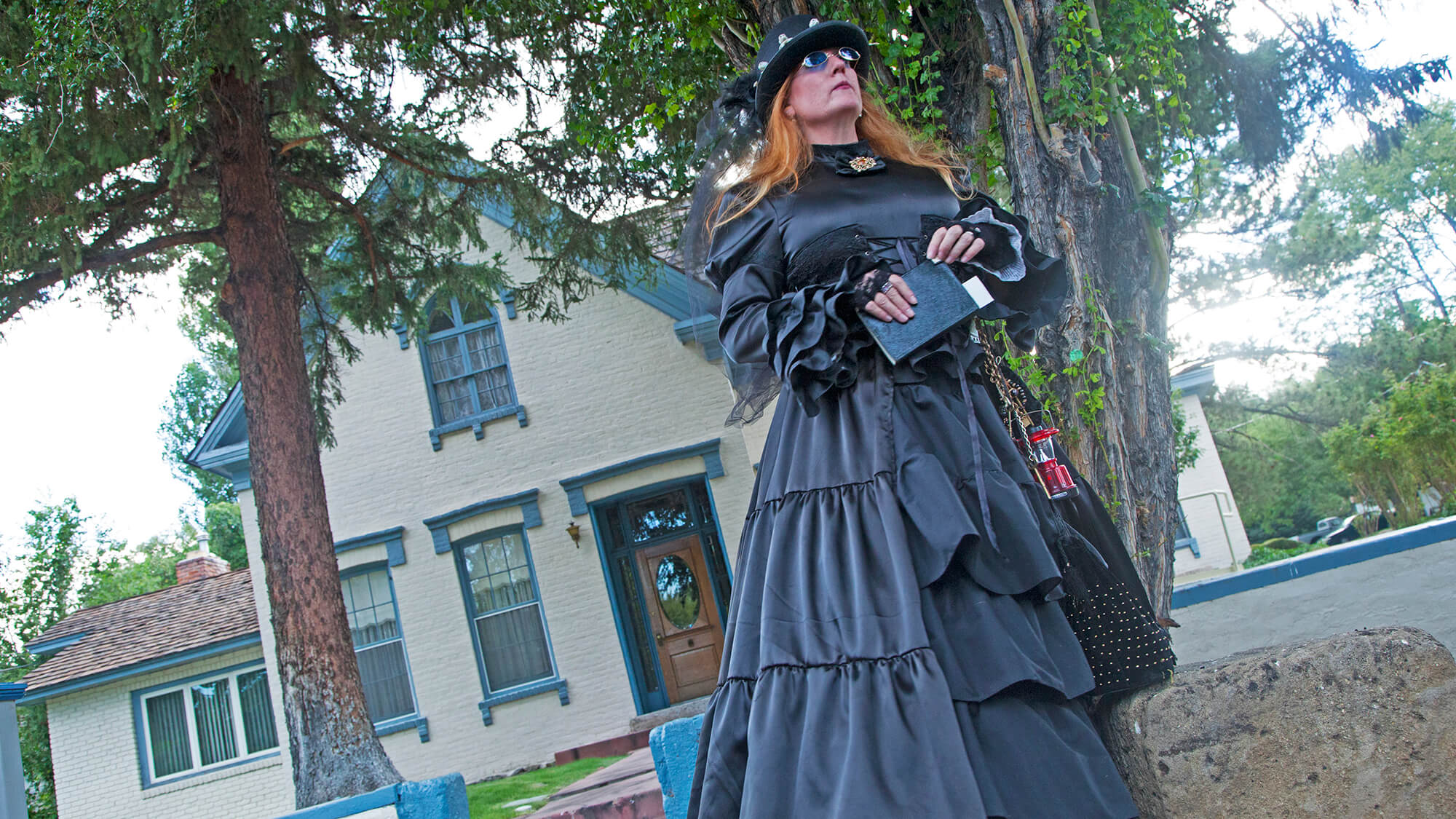 When visiting the Capital City, it is a absolute MUST to dive into the Kit Carson Trail, which takes you through the perpetually alluring West Side Historic District. The outskirts of this extraordinarily interesting historical area has been swallowed up by modern infrastructure, but the core of this burb is very much preserved and begs to be explored. Nevada entered the union in 1864, but many of the houses and buildings in this district predate statehood. In fact, the largest collection of historic buildings in Nevada is found in this exact neighborhood, dating all the way back to 1858. Starting at the State Capitol Building or the Paul Laxalt Department of Tourism, follow a blue painted line that weaves you in and out of this amazingly preserved pocket of Nevada History.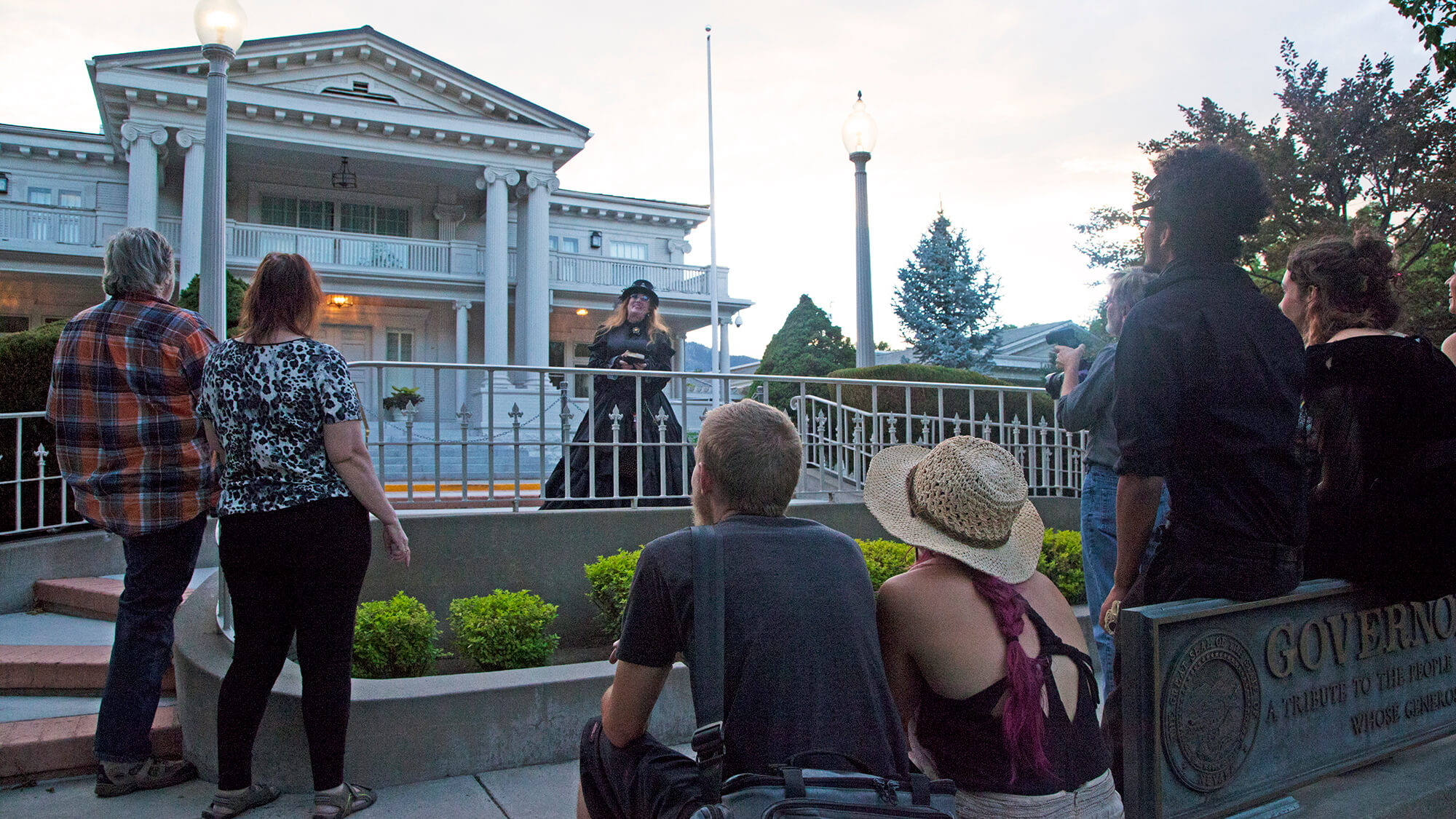 Best yet, if you swing through the Silver State in the month of October, you will have the opp to sign up for the Carson City Ghost Walk, which closely follows the Kit Carson Trail but focuses on ghostly encounters in the West Side Historic District exclusively. Some stops include the Nevada Governor's Mansion, which is allegedly haunted by the first family who lived here: Denver S. Dickerson, his wife Una and daughter June. Here, visitors have claimed to see a woman and young girl wandering the mansion's hallways. Other haunted stops are Abe Curry's house [the founding father of Carson City,] who haunts his 1858 home, and the Ferris Mansion [inventor of the Ferris Wheel] whose property is visited by a bride ghost. Also, count on swinging by Orion Clemens' home, brother of the famed Samuel Clemens (aka Mark Twain), who lived in downtown Carson City with his family until his daughter became ill and died suddenly. His daughter Jenny is said to frequent the home, appearing in the second story window for ghost hunting enthusiasts.
7. Silver Queen Hotel—Virginia City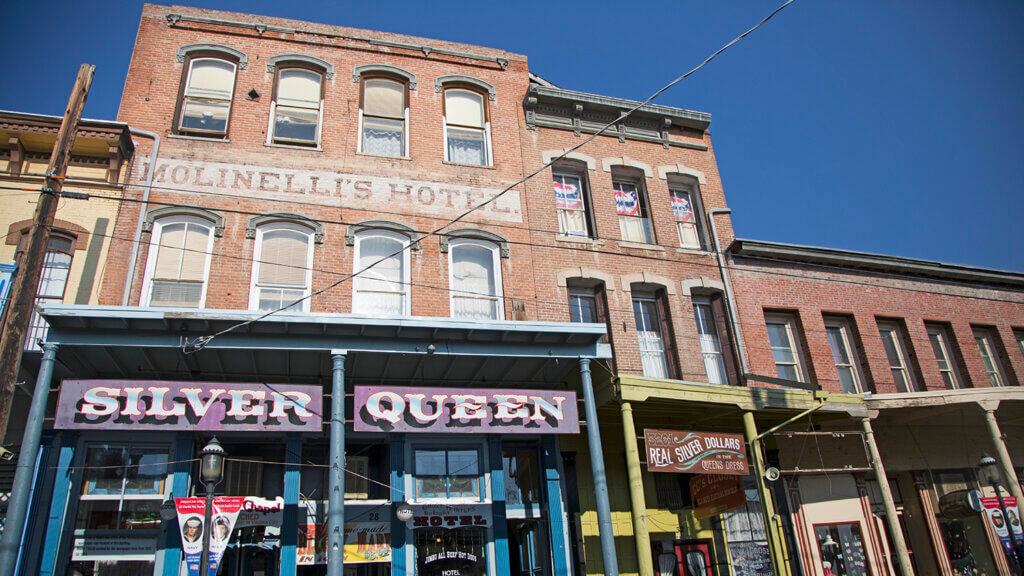 Of all the haunted places in the state, paranormal experts tend to agree that Virginia City, as an entire city, is the most collectively haunted place in Nevada. So instead of just one edifice that's crazy-haunted, we're talkin' about an entire TOWN. If you like visiting the west coast of the United States, you've got the miners of Virginia City to thank, who chased football field-sized veins of silver during what became the Comstock Lode. The wealth from this bonanza essentially built the entire western United States, extending rail lines, and propelling westward expansion in general. This all went down during the 1860s, booming and embodying luxury and wealth in ways many other places never did. BUT, it was definitely not a safe place…as in, OSHA woulda been upset. Lots of mining accidents happened, a few super devastating fires, and a couple of good old fashioned murders went down. The Silver Queen Hotel, built in 1876, is Virginia City's oldest hotel and one of the city's most haunted. A prostitute named Rosie operated some business deals in the Silver Queen, and supposedly slashed her wrists in the bathtub of Room 11 sometime during the late 1800s. Her story remains mysterious, but Rosie is said to have never left the Silver Queen, making countless appearances in the decades following her suicide. Even though the entire hotel is carpeted, guests have often reported loud steps on a wooden floor, rattling doorknobs, the sound of voices, or even the sight of Rosie herself at the top of a long staircase where she is known to linger. The Silver Queen is such a paranormal hotspot that several reality TV ghost hunting shows and paranormal experiments have been conducted here, too.
8. The Mizpah Hotel—Tonopah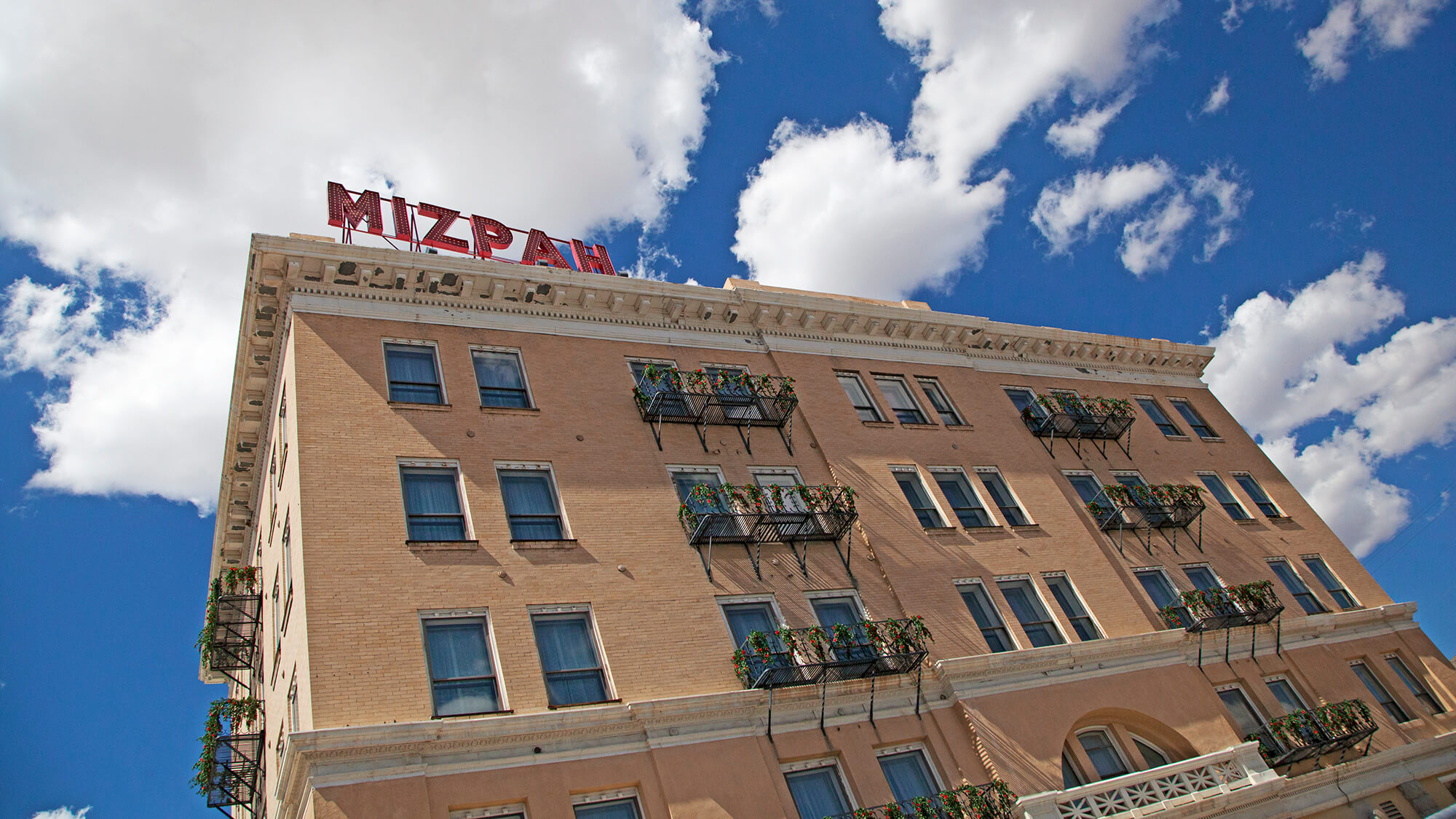 There are quite a few legendary ghost stories in the Silver State, but Tonopah might have the most romantic version, if I do say so myself, and it all takes place in The Mizpah. Located in the heart of downtown [and of the main drag; you can't miss it if journeying between Reno and Vegas on US-95] this five-story hotel, was once referred to as "the finest stone hotel in the desert." That's still basically true. The joint opened in 1907 and has maintained its grandeur throughout the past several decades, with some recent help from a truly masterful era-specific renovation. While some of the other hauntings throughout the state are definitely a bit spooky, all of the spirits present at this Nevada gem seem to be friendly and do lovely things. For instance, the Lady in Red, said to haunt the fifth floor. Quite the popular lady of the night, she lived on the top floor of the Mizpah and had quite the slew of customers until she was strangled to death outside her living quarters by a jealous ex-lover. Her demise was a violent one, but she couldn't be more of a pleasant ghost today, as she is said to whisper into the ears of men—often in the elevator—or leave guests a pearl on their pillows.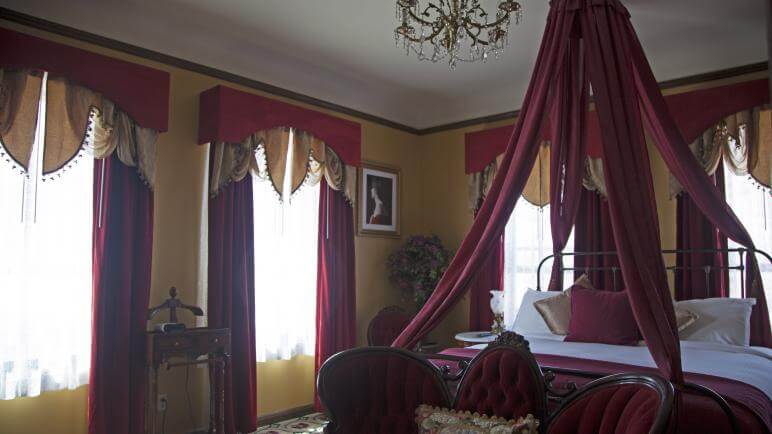 Stay in the themed 'Lady in Red' room on the fifth floor, which makes for quite the exciting and luxurious weekend escape. BUT, the haunted room is a few doors down, in room 502, nearest where she was killed in the hallway. Also known to roam the property are several playful children; thrown from the roof after their father died in a mining accident, they now play tricks on the maid service and guests on the third and fourth floors. A couple angry miners are said to haunt the basement, but it's off-limits to the public anyway.
9. The Commercial Casino—Elko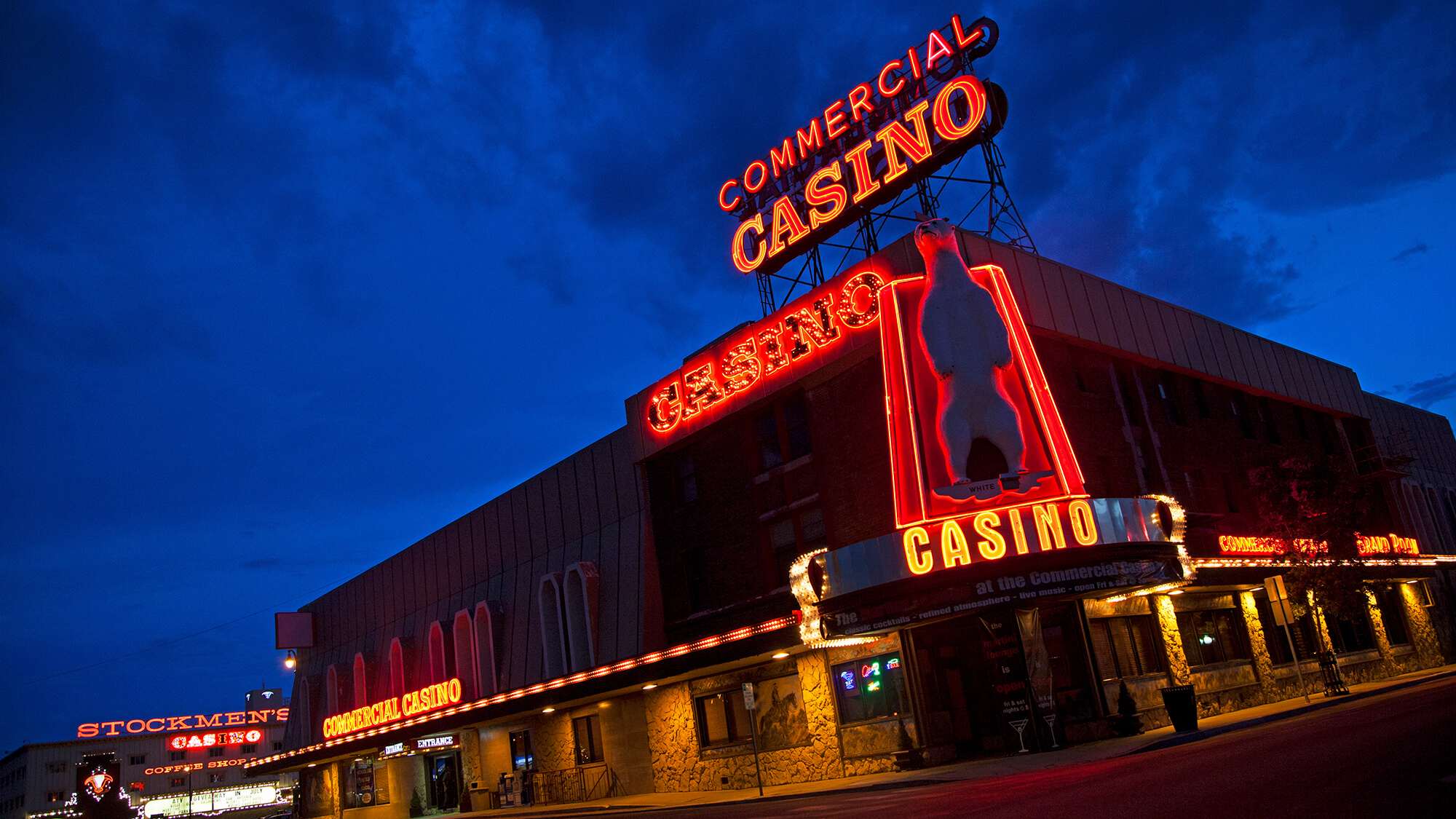 You may not realize it at first glance, but the Commercial Casino in downtown Elko is the oldest casino in Nevada. That alone means it's probably safe to say it's haunted, right? [Science!] Built in 1869, the casino became the Commercial Casino in 1941 and is said to have some serious supernatural occurrences on the second and third floors. Lots of big performers came through these doors in years past, including Bing Crosby, who often relied on the Commercial as a local hangout. While the Commercial still operates a casino, martini bar, and barbershop on the main floor, the hotel rooms on the second and third floors are either empty or converted offices. A whole string of spine-chilling stories have come from this portion of the famed Commercial. Like that of Handsome Harry and his mistress, an infamous Elko prostitute, who were shot dead by the mistress' own husband in one of the second floor hotel rooms. Harry is said to wander the second floor, searching for his lost love. Other spooky instances have been reported, including a glimpse of a shadow floating down dark hallways, or hovering in corners up near the ceiling, but the most extreme hauntings are said to take place on the third floor. Here, visitors have reported loud arguing, gunfire, moaning, babies crying, unexplainable floating lights, violently rattling doorknobs, doors that slam shut and then open on their own accord, and even the sound of a creaking rope suspending something heavy. Office occupants have also said that they have been locked in their own offices, and doors that have been locked shut for 50 years will suddenly burst open.
EDITOR'S NOTE: The Commercial Casino is temporarily closed, as of January 2021. Please continue to check back for updates!
10. Gold Hill Hotel—Virginia City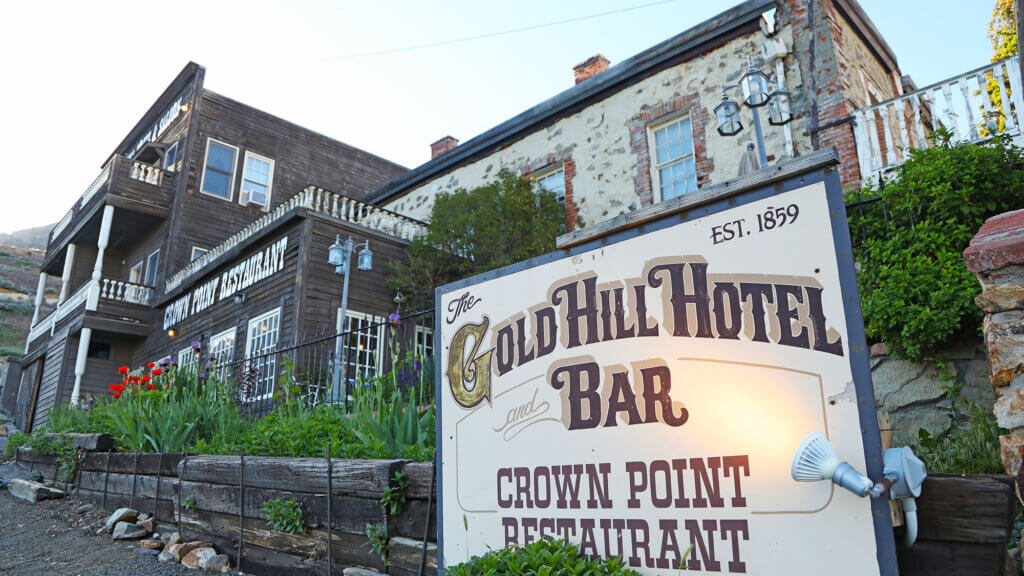 Opened in 1861, the Gold Hill Hotel is officially Nevada's oldest [and maybe eeriest] hotel. Located just down the street from Virginia City, an exorbitant amount of mining occurred in just about every direction of the Gold Hill Hotel, dialing it in as a boisterous afterwork hangout for many. One of the most disastrous mining accidents in Nevada history took place just a stone's throw away, at the Yellow Jacket mine in 1869 when a massive fire ignited at the 800-foot level. As if the fire wasn't bad enough, smoldering timbers collapsed, flooding poisonous gasses into adjacent mines nearby, resulting in the death of at least 35 miners. Perhaps some of these miners haunt the Gold Hill Hotel, as paranormal experts say the Great Room is a popular spot for ghosts to hang out. It makes sense, as this was the original location of the bar within the hotel. Aside from that, a Wild West gunslinger either committed suicide by rope or was deliberately lynched on the third floor. His ghost allegedly roams the property, along with the spirits of children heard giggling in the hallways. Best yet, the oldest part of the hotel, located just above the Great Room, is frequented by two ghosts in rooms 4 and 5. Room 5 is said to be haunted by William, and is believed to be one of the miners who perished in the Yellow Jacket Incident. The smell of tobacco is evident in the room, and William has been known to play a practical joke on a guest or two. Room 4 is home to an entity named Rosie, a lady of the night at Gold Hill, who has been known to trick guests by misplacing personal items, turning the lights off and on, and flooding the room with a captivating rose scent.
11. Hoover Dam—Boulder City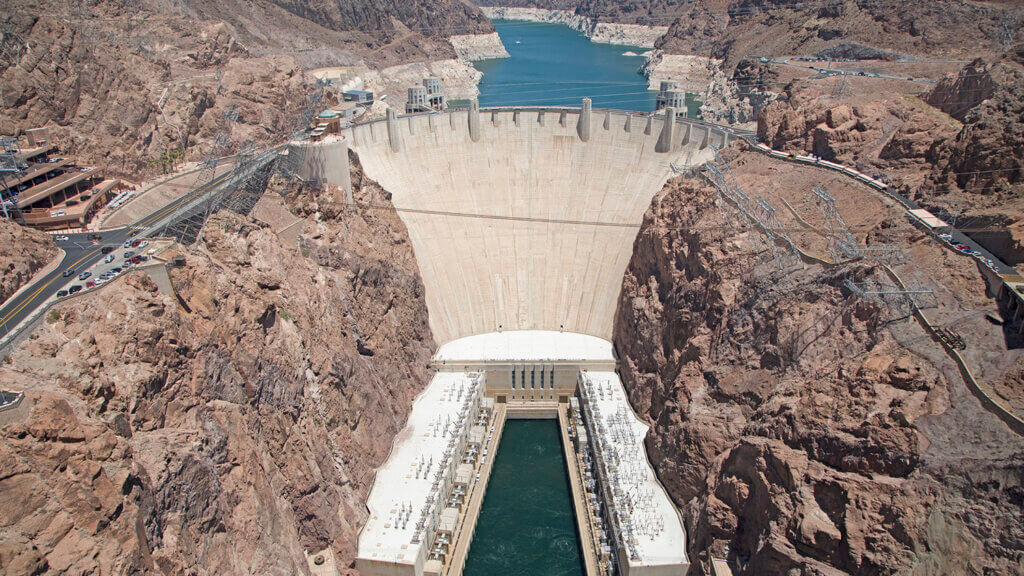 A structure that's 70 stories tall and 660 feet thick certainly earns its spot on the list of modern marvels in the world, and is so magnificently engineered that it's said it will outlast the water supply in the largest manmade reservoir in the United States. A Depression-era works project, Hoover Dam put thousands of men back to work and is ultimately a symbol of the American Dream, but it was a deadly place to earn a paycheck. Interestingly, a total of 96 deaths were reported during its five year construction, but there's a major loophole here, friends. Of those deaths, the only actual fatalities recorded as a result of this project were those men who actually died on site, meaning that anyone who was involved in an accident and transported to a hospital and later died, is not included in this figure.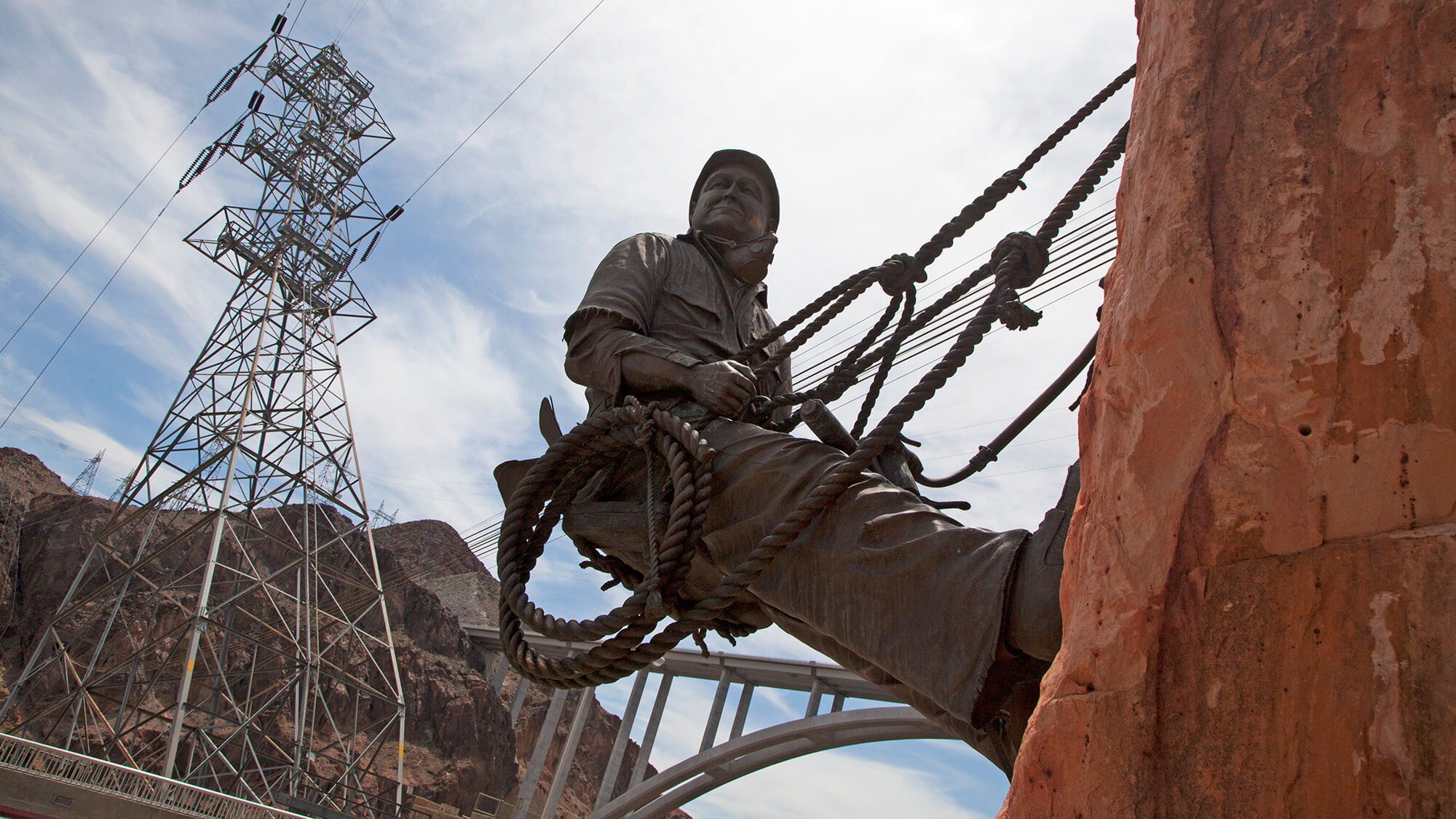 Also, while the number 96 encompasses what officials referred to as 'industrial fatalities,' which means drowning, blasting, rock fall, rock slides, falls from canyon walls, being struck by heavy equipment, or truck accidents, it does NOT include deaths resulting from heat, pneumonia, or heart issues. Given how dangerous the work at Hoover Dam was, it leads me to believe that number would've been much, much higher based on those two details alone. Also, while we all WANT to believe the local lore that mobsters were buried in this tremendously thick concrete wall, no evidence backs it. Bummer. But, there are several accounts of men dressed in old-fashioned work clothes seen in restricted areas, but who disappear when approached. Visitors touring the Power Plant portion of the Dam have also reported hearing footsteps echoing in long, empty corridors.
12. Carson City Mint—Nevada State Museum-Carson City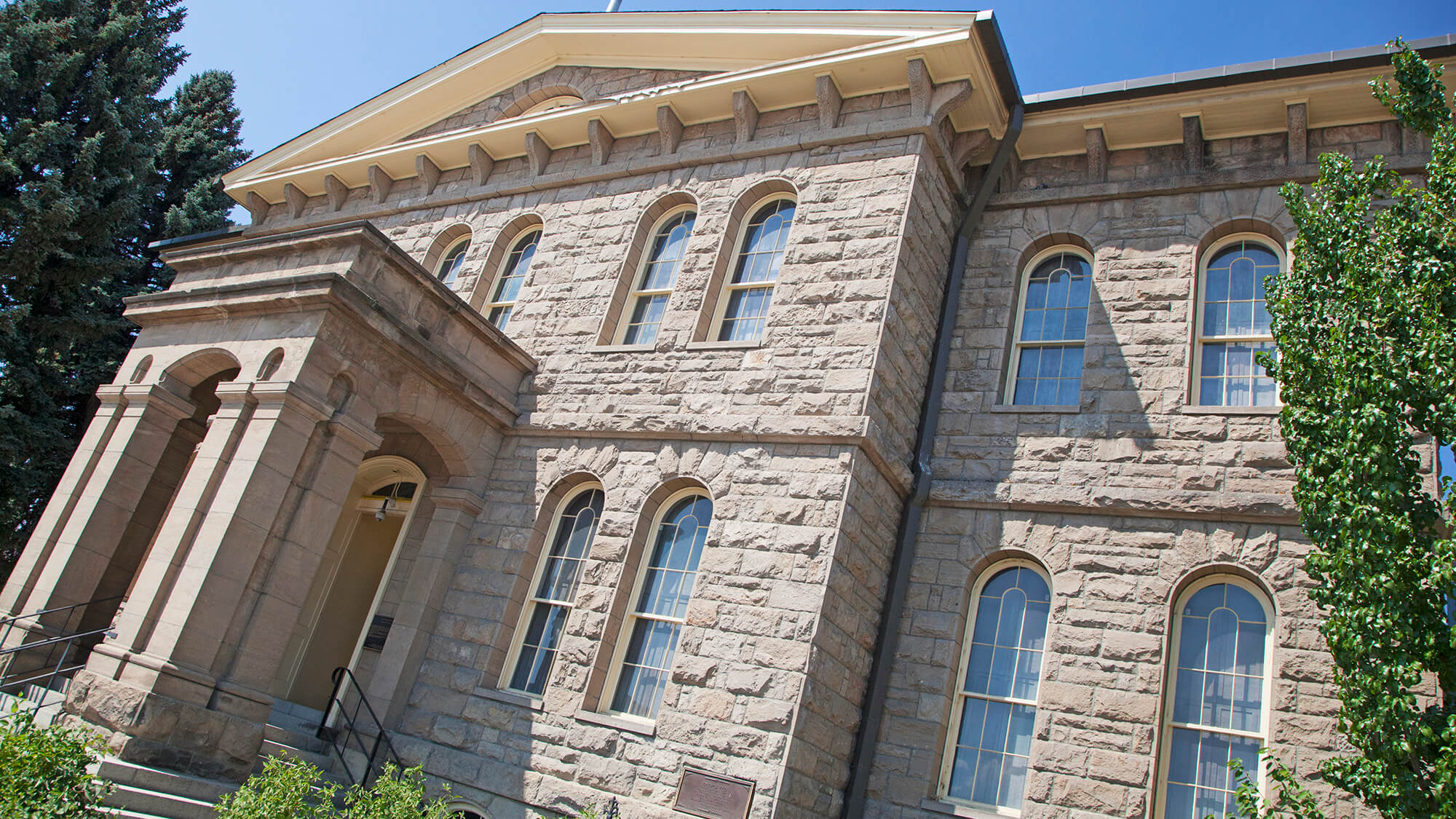 Today, this architectural masterpiece is home to the Nevada State Museum, but was originally built to be a United States Mint, due to its extremely close proximity to a whole boatload of silver mines just up the mountain. The mint was created in 1863 and the project was supervised by Abe Curry, otherwise known as the founder or "Father of Carson City." Curry adored his job here, and led the mint to a full-scale operation by 1870, producing $49,000,000 in gold and silver coins throughout a 13 year stint. In 1872, a worker named Osborne Parker was accidentally crushed to death when equipment fell on him in the basement.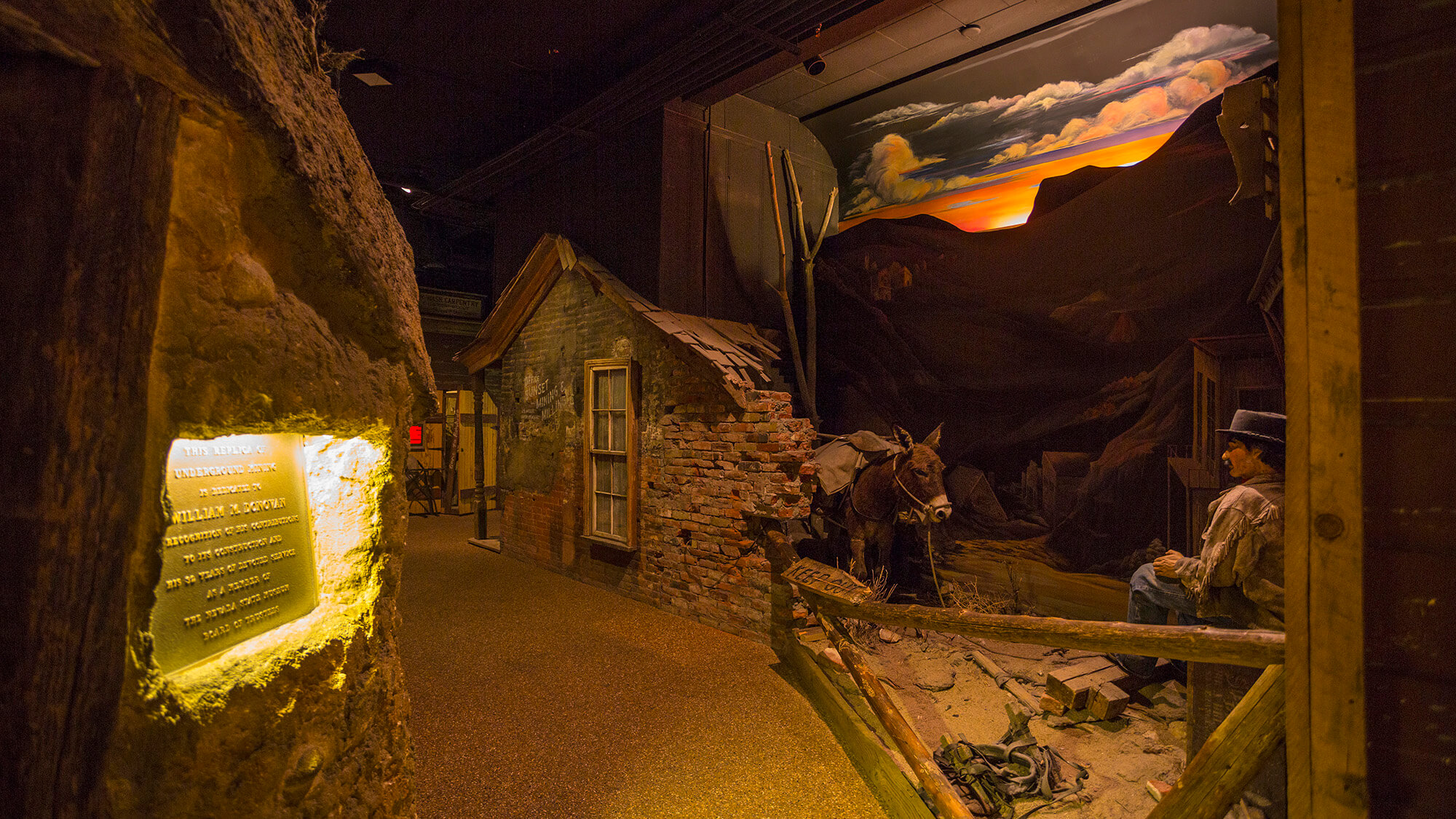 Museum staff claims to hear unexplained footsteps throughout the building, and the elevator has been known to run at random… both things the staff consider to be evidence of Parker's ghost milling around.The replicated ghost town and mine shaft portion of the museum is considered to be haunted as well, perhaps by parker or an unknown cohort on the other side. Abe Curry adored his role as superintendent of the Carson City Mint; while his ghost mostly haunts his nearby house, it has been known to roam dutifully back to work at times.
13. The Clown Motel—Tonopah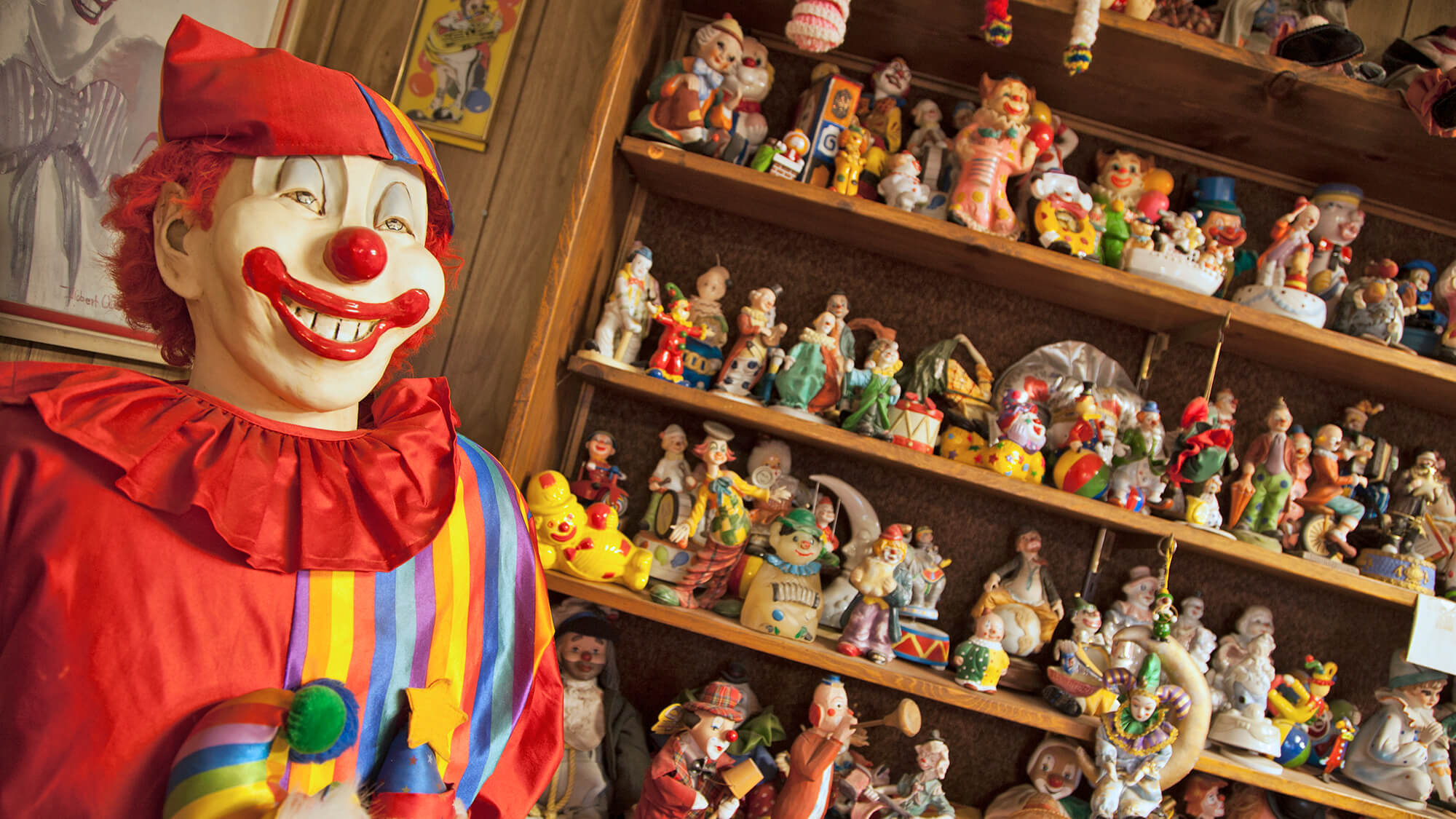 If a clown-themed motel adorned with hundreds of figurines isn't enough to terrorize you, an early 1900s-era miner cemetery 100 feet away should do the trick. Located off US 95 in Tonopah, visitors can get two thrills for the price of one at the Clown Motel. Coulrophobics beware, it's not just the lobby that's crammed ceiling to floor with clowns. Each individual room is clown-themed with clowns on the doors and portraits of clowns hanging on interior walls. A handful of visitors have claimed to see a creepy clown ghost lingering outside their hotel room once the sun goes down, but the real fright fest around this area is the historic Tonopah Cemetery, alongside the Motel. Long before the Clown Motel came to fruition, this section of town was reserved for the local cemetery… in an unforgiving, seriously dangerous mining town, where accidents were commonplace. Within ten years, around 300 people were entombed into this cemetery.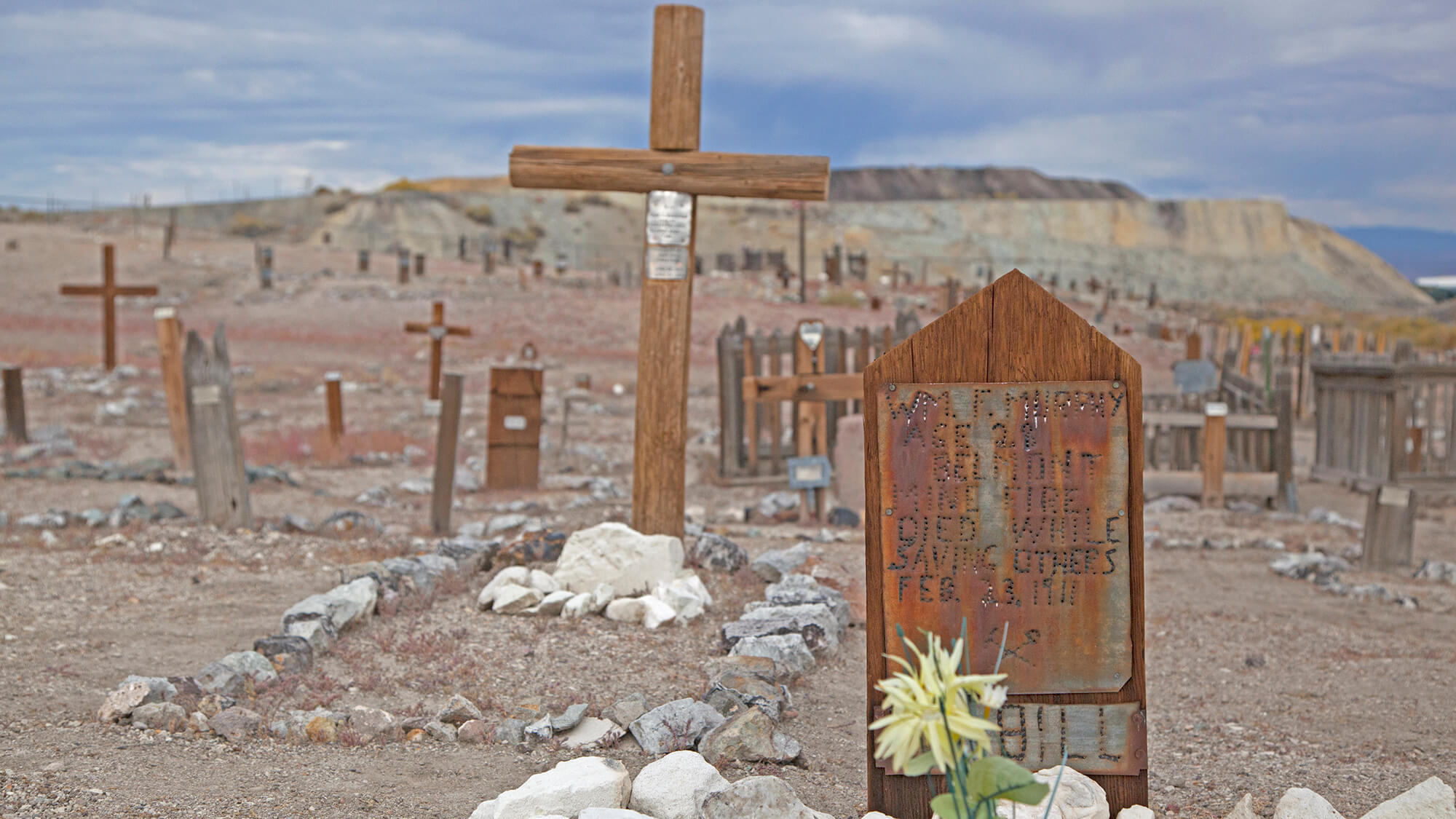 Aside from a mysterious plague that took a substantial amount of Tonopah's population out in 1902, 17 miners perished in the Belmont Mine fire in 1911…14 of which are entombed in the Old Tonopah Cemetery. Questionable activity, like unexplained footsteps and voices, have been reported by guests of the Clown Motel. Bewitched by this wacky combo, ghost hunting aficionados from near and far are drawn to the Clown Motel in hopes of spotting an early 1900s-era miner ghost, a supernatural clown, and if they're in luck, maybe both.
14. Bowers Mansion—Washoe Valley
Another impressive product of the mighty Comstock Lode is Bowers Mansion, built by Lemuel "Sandy" Bowers and his wife Eilley. The Bowers made millions after selling a mining claim in Gold Hill, and made their dreams become a reality building their $300,000 mansion–an unimaginable amount in 1856. To put Sandy's incredible wealth into perspective, he was once quoted saying, "I've had powerful good luck, and I've got money to throw at the birds." The mansion was designed with Georgian Revival and Italianate architectural styles in mind. We're talking lavish opulence here. Then, after building this crazy-expensive home, they went on a nonstop two-year tour of Europe, purchasing extravagant furnishings like paintings, furniture, and even statues. While living here, Sandy was amused by reading fortunes and playing with crystal balls, and would even host seances at the mansion. Rich and miserable, Sandy preferred living in more modest homes, but his wife was obsessed with spending their millions. He died at the age of 35 from silicosis, a common lung disease for miners during this time, and was buried behind the mansion. After Sandy's death, Eilley hit some serious financial roadblocks and eventually lost their mansion to foreclosure. She tried her hand in fortune telling, calling herself "The Famous Washoe Seeress," but ultimately wound up destitute and passed away in 1903. She is buried next to Sandy in the cemetery behind the mansion, along with their children. Eilley, considered to be one of the most famous 19th century female pioneers, is said to haunt the second floor of Bower's Mansion to this day. People participating in tours often claim to experience cold spots, eerie mists, unexplained voices and even apparitions. On moonless nights, visitors have even claimed to spot glowing apparitions in the hillside graveyard.
15. The Overland Hotel—Pioche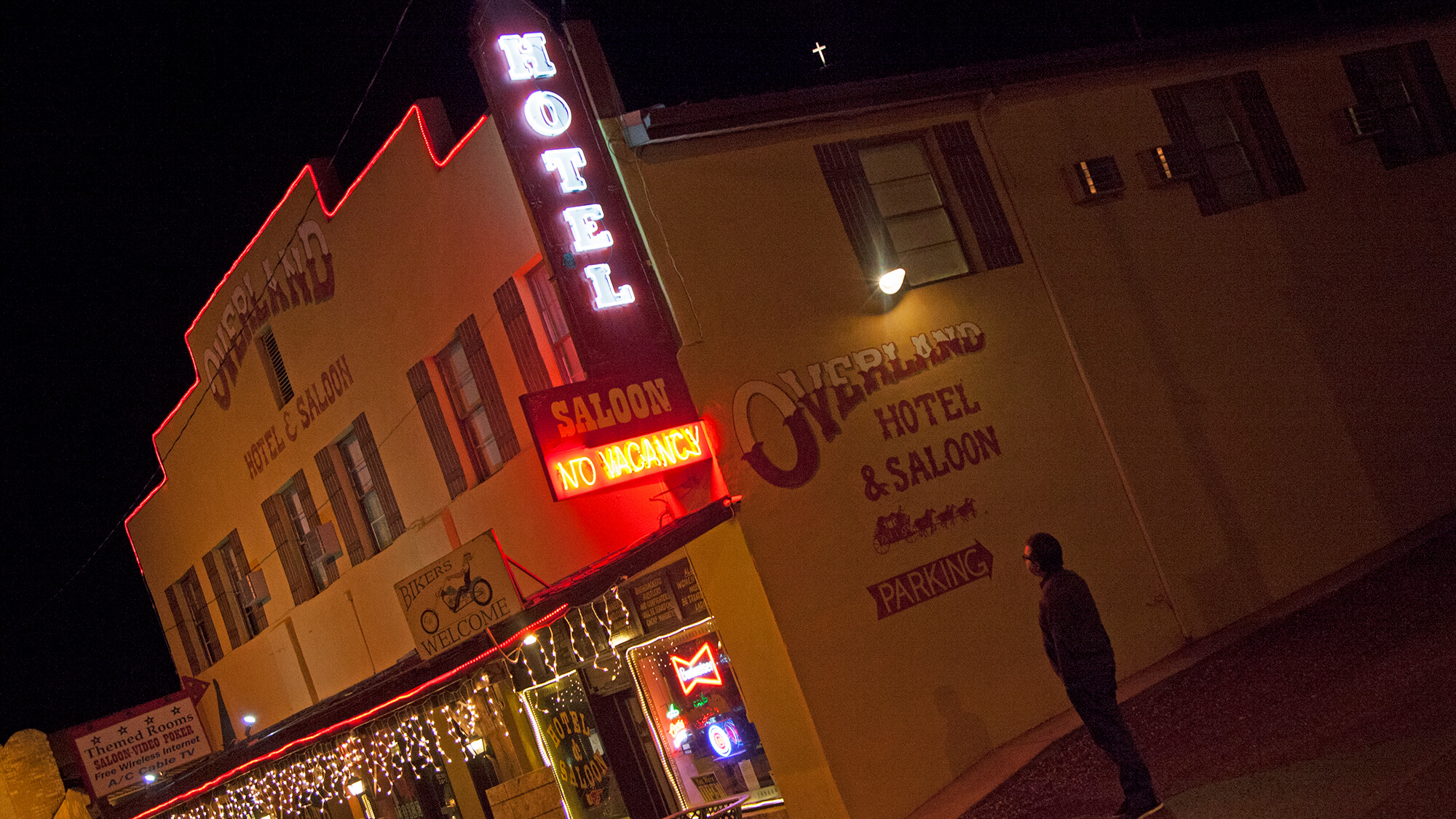 PIOCHE. A place said to be, "Badder than Tombstone, badder than Dodge City" during its heydey in the 1870s. With such a spectacular mining boom, a slew of businesses popped up to cater to the miners, like the Overland Hotel & Saloon. Today, this silver mining town is known as "Nevada liveliest ghost town," and ghosts, there are a plenty. When this location of the hotel was constructed in 1948, the entire bottom floor operated as a dance hall and grocery store, and the second floor housed doctors offices and hotel rooms. The grocery store, dance hall and doctors offices have come and gone, and the only part of the hotel that is true to it's original 1940s form is the saloon. The Travel Channel's Ghost Adventures spent an evening in the Overland conducting a series of EVP readings, and were successful in interacting with spirits. Room 8, 10 and 15 and even the hallway leading to the rooms are said to be haunted by a shadowy being, who slams doors and, in some cases, shakes visitors awake.
16. Mackay Mansion—Virginia City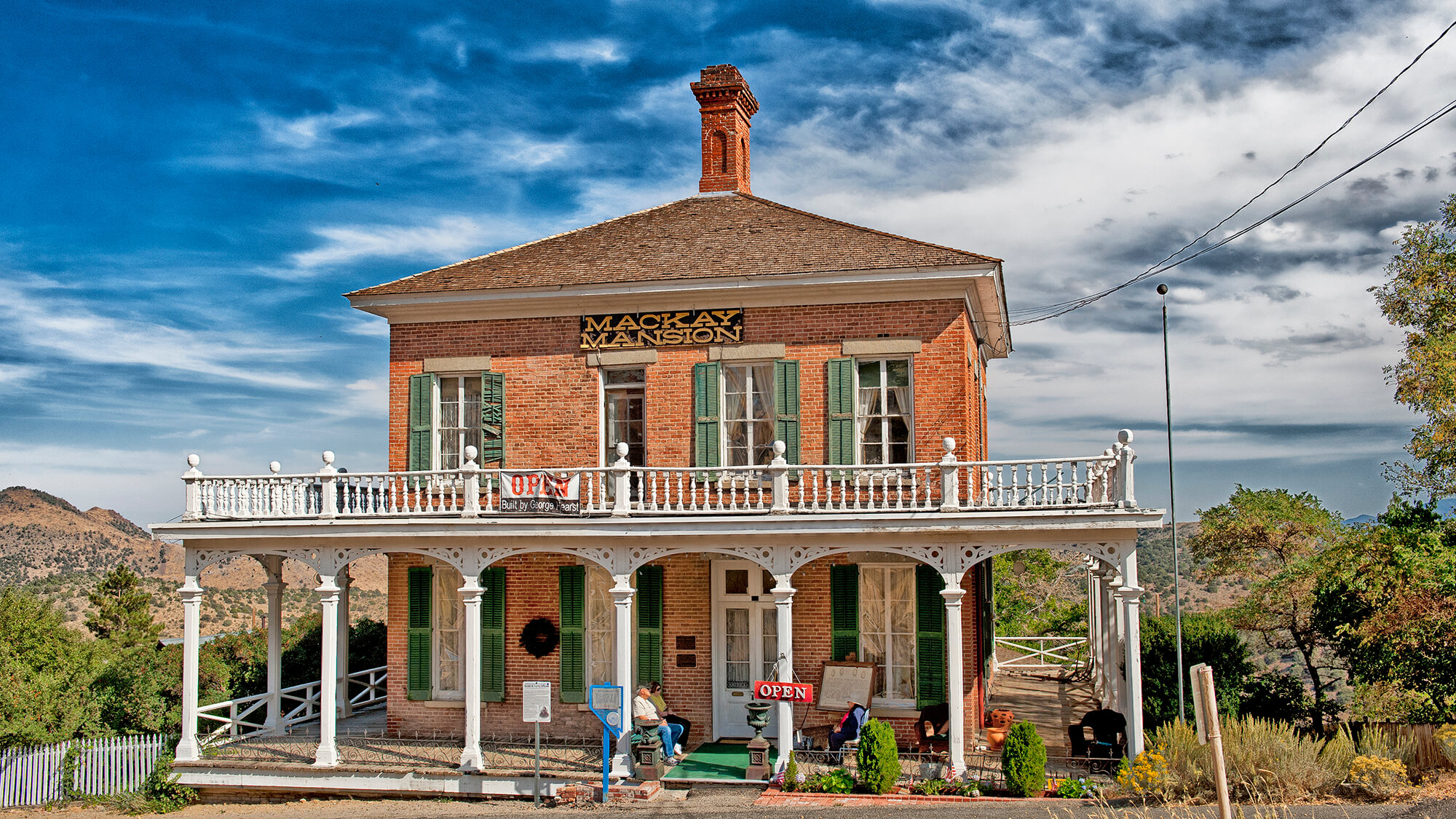 It seems almost every edifice in the legendary mining town of Virginia City comes with a ghost or two, and the Mackay Mansion surely doesn't fall short. This stunning abode was built in 1859, the same year they struck silver in what would later become dubbed the Comstock Lode… just 5 years before Nevada became an actual state. Ever heard of William Randolph Hearst, the guy behind the Hearst publishing empire and his eponymous Castle? Yeah, his DAD originally designed and built the Mackay Mansion, sold it to John Mackay, otherwise known as one of the four Silver Kings and the richest man to come out of the Comstock with over $1M in assets. One of the other Silver Kings, James Fair, also had a bedroom in the home for a brief time, along with Mackay's wife and children. The wealthiest guy imaginable, Mackay, lived in the home and had a safe the size of most master-bedroom closets. It wasn't long before two bandits got word of this and decided to rob it, but failed miserably when confronted by armed guards who shot them point blank in the chest.
Their ghosts are said to haunt the lower floor just outside the safe, as is a woman dressed in Victorian clothing, who has been seen sitting in the living room. Her apparition appears on the third floor as well, and paranormal experts have chocked it up to be the former lady of the house, Mrs. Mackay. Also on the third floor, many tour participants have claimed to see figures of two little girls Mackay Mansion staff refers to as Emma and Lily. Even Johnny Depp, who briefly stayed at the mansion, woke to one of the girls sitting at the foot of his bed. A servant ghost has been seen pacing up and down the stairs, hurrying to finish chores, and a former Army Colonel who once lived in the house has been spotted in the kitchen. A shadow man has been seen throughout the home, which many believe to be Mackay himself. Otherworldly experts suspect that the Mackay Mansion is a ghoulish melting pot of sorts, "infested" with a multitude of Virginia City's lost souls.
Travel Nevada Pro Tip
If you can believe it, the Mackay Mansion is home to Virginia City's first plumbed-in toilet. #WeirdNevada
17. Thunderbird Lodge—North Lake Tahoe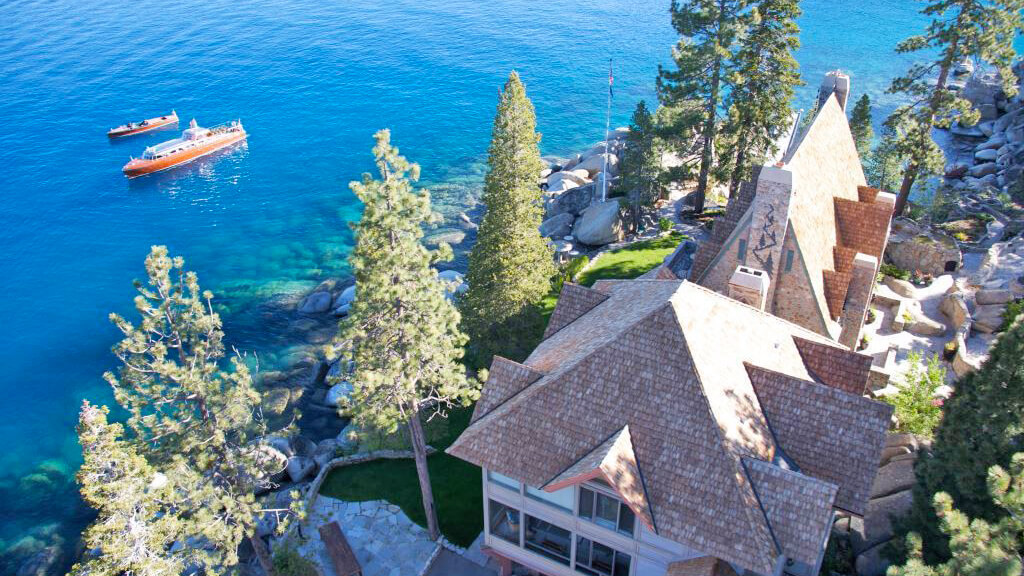 George Whittell, one of the wealthiest and most eccentric men Tahoe has ever seen, built the iconic Thunderbird Lodge as his summer home in 1936. Designed by distinguished architect Frederic DeLongchamps, the estate is comprised of several buildings including the Card House, Caretaker's Cottage, Cook/Butler's House, Admiral's House, Boathouse [with its adjoining 600 foot tunnel], Gatehouse, and the "Elephant House," where Mingo, the 2-ton elephant lived. Whittell was a bit of an oddball, reminiscent of Howard Hughes. Aside from his exotic pet interests, the property also had an opium den, and many who tour the mansion say it's Nevada's version of the famed Winchester Mansion mystery house. Despite his flashy home, Whittell was the epitome of a recluse and didn't appreciate spectators gawking at his homestead.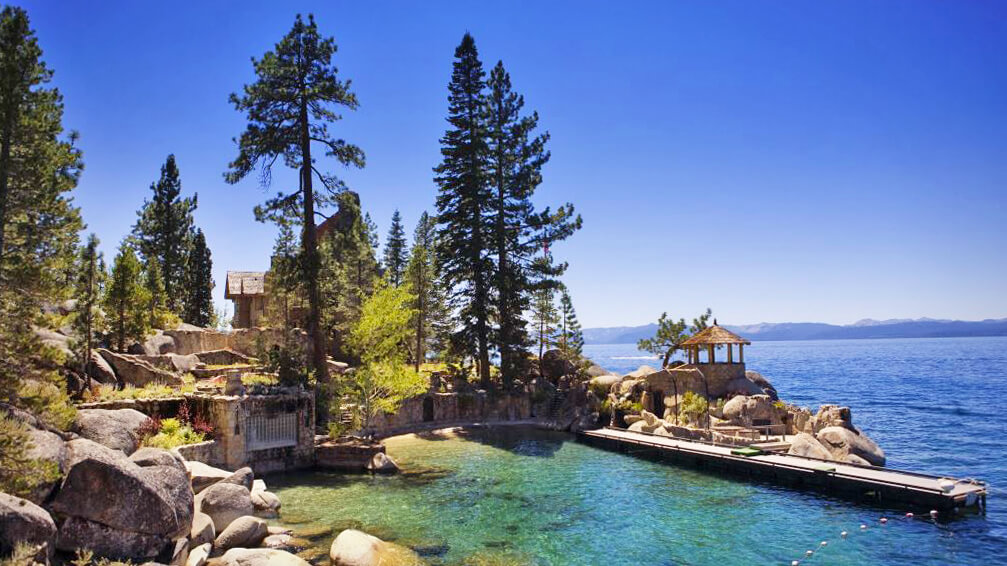 Whittell's pride and joy was his 55-foot mahogany and stainless steel yacht, The Thunderbird, which, along with his mansion, remains to be a Tahoe icon to this day. The boat wouldn't fit in the boathouse, so he decided he needed to convert it to an indoor pool house and build a bigger boathouse. A tragedy occurred during construction, when a worker in the pool house fell from a ladder, dying instantly. Whittell was so irked that he immediately halted the the project and sealed the room entirely, leaving everything exactly as it was. The pool house is said to be visited by the ghost of this workman. Tour-goers have claimed to have been captivated by apparitions and ghostly whispers in the pool house, even alleging the dripping water in the area sounds like voices.
18. Goldfield Hotel—Goldfield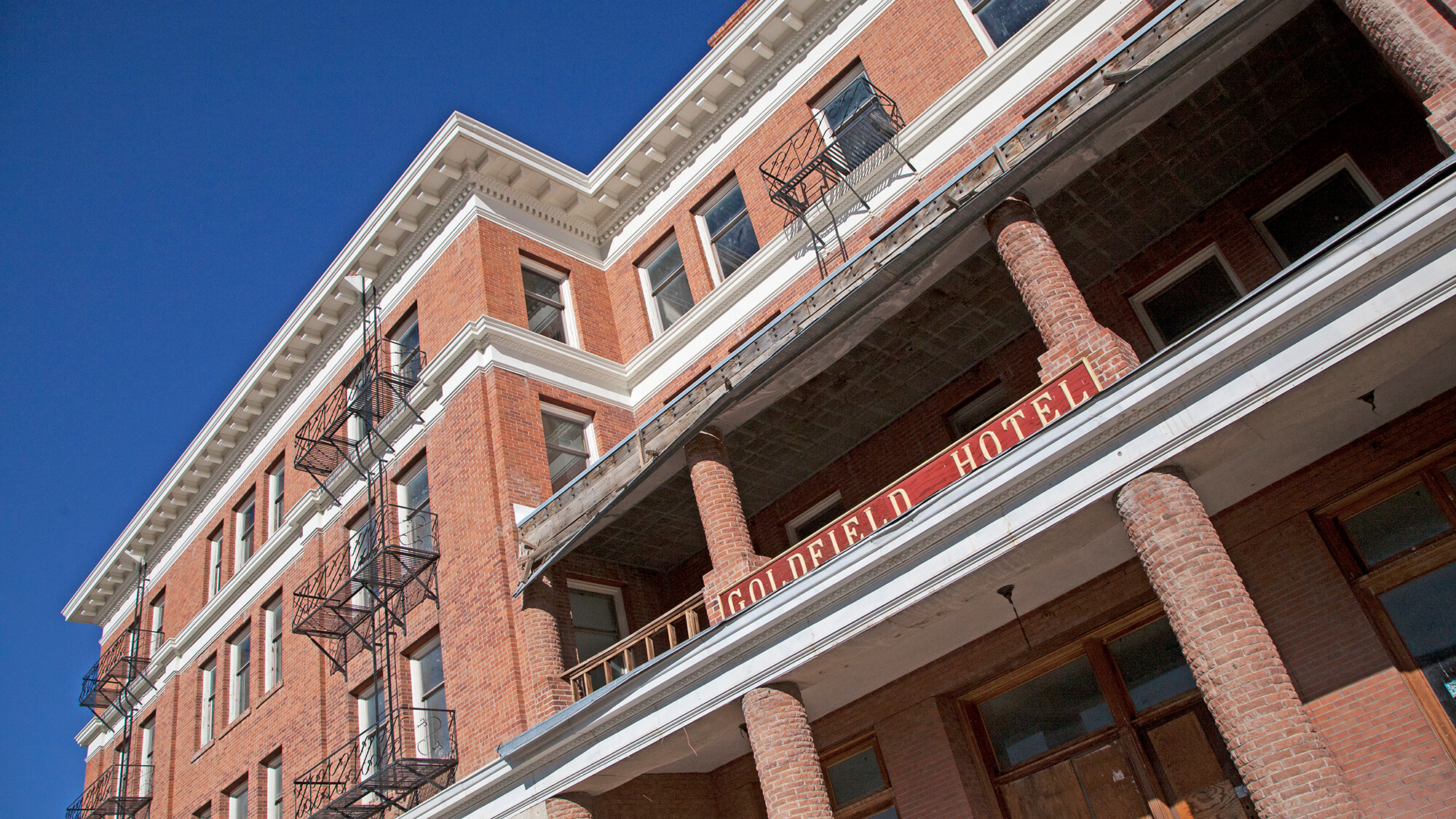 EDITOR'S NOTE: The Goldfield Hotel is currently not accepting any tours or visitors. Please continue to check back for future tours and property access!
The Goldfield Hotel, located just about halfway between Reno and Vegas, has quite the reputation for being the most haunted place in Nevada, if not the entire west coast. This extravagant hotel opened in 1908 with a different superlative: most spectacular hotel in the Silver State. Champagne flowed down the front steps during the Goldfield Hotel's opening ceremony to celebrate the property's 154 rooms that featured telephones, electric lights, and a heating system… luxuries that most people hadn't yet experienced and couldn't afford anyway. The mahogany-paneled lobby was furnished with upholstered leather benches, crystal chandeliers and gold-leaf ceilings. Plus the property had an elevator—which was extremely rare during this era—which, running at 300 feet per minute, made it the most modern elevator west of the Mississippi and one of the fastest in the state. As the hotel essentially redefined luxury, the property had no trouble with vacancies, appealing to the upper crust throughout the country. The man behind the hotel was George Wingfield, a successful and wealthy banker, mining magnate, and joint owner of the booming Goldfield Consolidated Mines Company. However, as with many boomtowns, Goldfield's mines eventually dried up causing the population—and stream of hotel guests—to dwindle.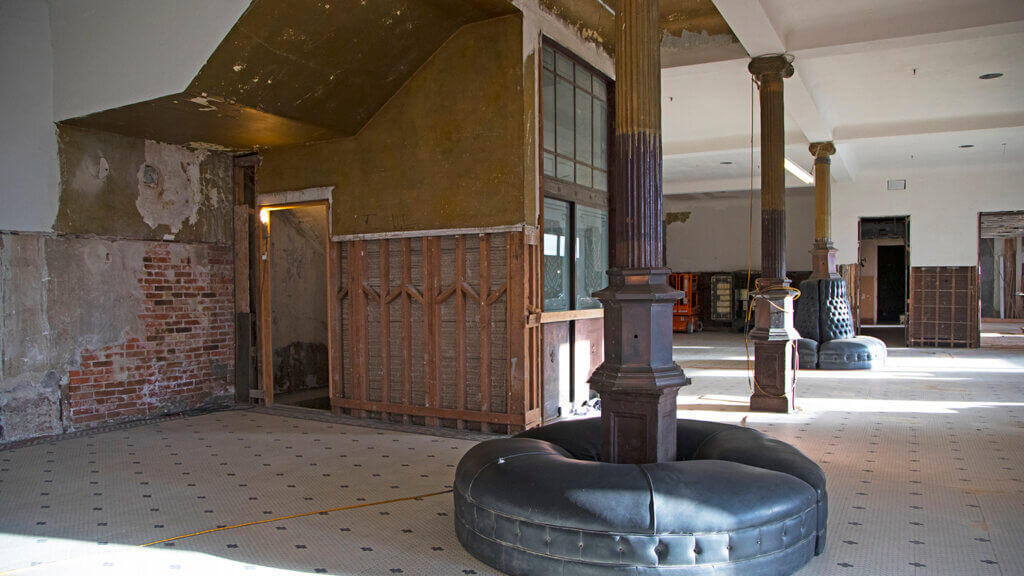 The hotel went through a series of owners, including the US Army during WWII, a private owner in the 80s who sank millions into renovations, and its current owner, Red Roberts and has since fallen to such a state of disrepair that it would need some serious love to become habitable. While it isn't open to the public, the hotel is said to have quite the slew of "permanent guests." The most well-known is a woman named Elizabeth, Wingfield's mistress, who became pregnant with Wingfield's child. To protect his marriage, he initially paid her stay to stay away, but, growing fearful of exposure, he ultimately chained her to a radiator in room 109 throughout the entirety of her pregnancy where she allegedly cried for hours on end, begging for freedom. Wingfield fed her food and water to keep her alive until the child was born, but then she disappeared. One theory is Elizabeth died at childbirth, but many suspect Wingfield murdered her. What's worse: the story goes that her baby was thrown in a mine shaft beneath the hotel.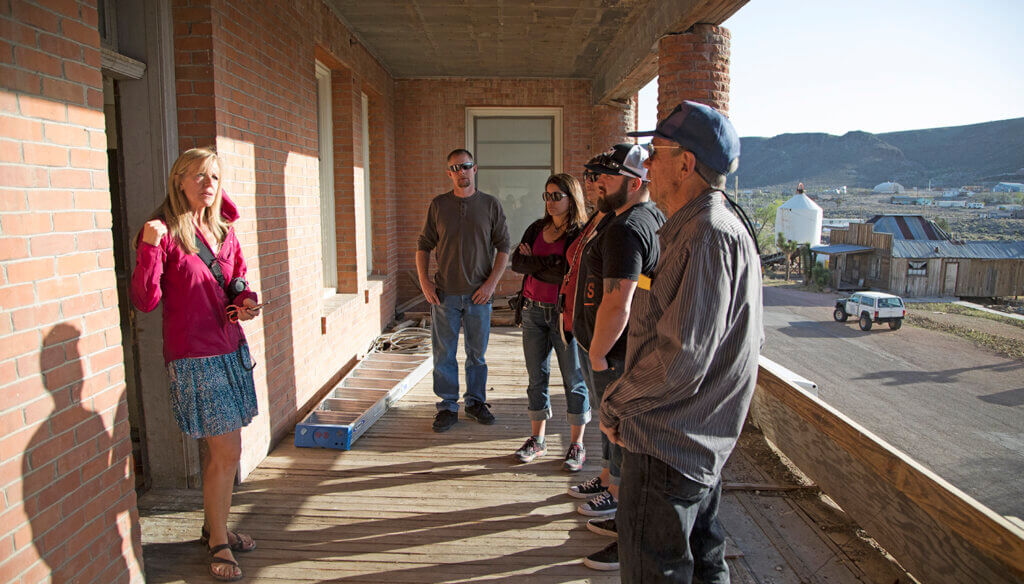 During Goldfield Hotel tours, Elizabeth's apparition has allegedly been sighted and even heard crying, presumably calling out for her child, whose crying seems to emanate from beneath the hotel. Other visitors have noticed a strong tobacco odor, thought to come from Wingfield's ghost. Two other spirits are said to haunt the property; one of a woman who hanged herself and another of a man who jumped to his death off the roof of the hotel. And then there's the "The Stabber" who is said to randomly attack those who cross the threshold with a large knife. An array of ghost hunters and paranormal experts have visited the property [and filmed a series of reality shows], ranking it as one of the "Scariest Places on Earth," and even going as far as declaring the Goldfield Hotel as one of the seven portals to the underworld. #NVHistory
Get Inspired
Related Stories