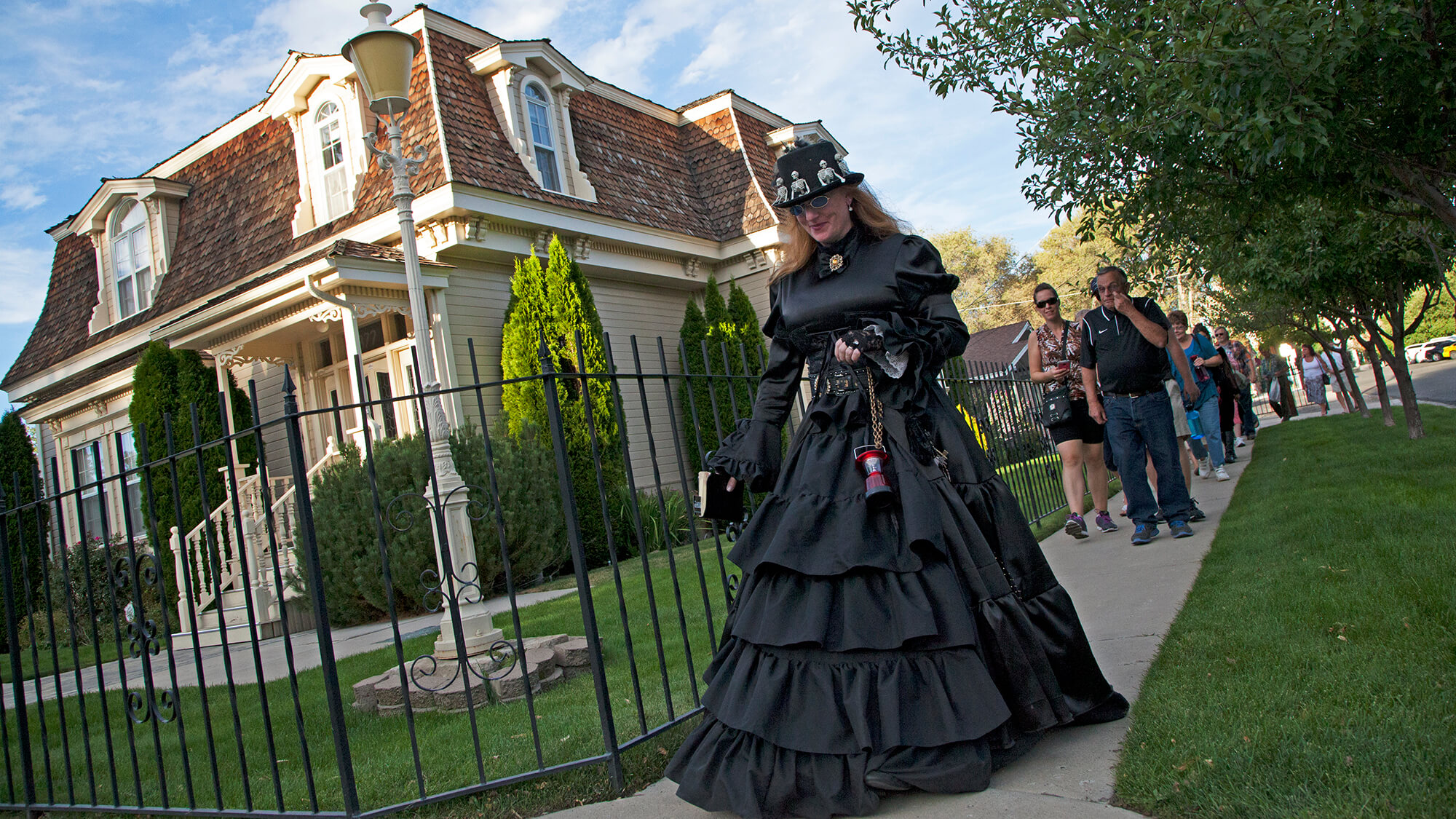 Gallivanting with Ghosts in the Capital City
I've become positively crystal clear with one concept: if you're going to navigate this striking state, you'd better be prepared to face some so-called haunts. Maybe even get downright cozy with some, in fact. Between the mining tycoons who struck it rich then lost it all, rough-and-tumble shootouts, accidental mining calamities, heated lovers' quarrels, and straight up abandoned ghost towns, there are going to be legends. And from my experience, these stories usually stem from some sort of truth. The pendulum certainly swings both ways when it comes to the paranormal—there are those who are probably hinging their theories on things that don't truly exist—a manifestation of sorts. Yet, there are non-believers who come out of these places and experiences a changed person.
And me? I don't necessarily whole-heartedly believe in all things ghostly, but even I'll admit that I have, without question, navigated some unexplainable situations in Nevada. The peculiar, unanswerable nature of it all is what keeps me interested, and with an opportunity to walk through Carson City's magnificent West Side Historical District during my favorite season, I was all in.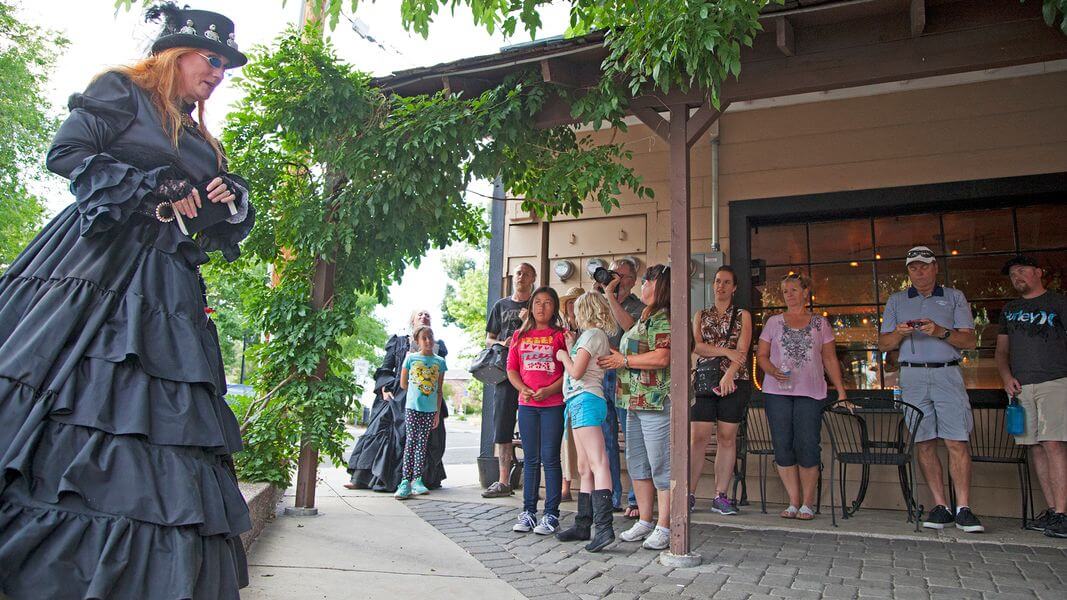 With history dating all the way back 1843, you can bet your bottom dollar Carson City has GOT TO have some ghosts. Right? You can't tell me that people like Samuel Clemens and Julia Bulette were rolling around here and didn't leave some sort of phantom footprint. Not quite sure of what to expect, I showed up for this uncanny evening stroll and greeted by a charismatic host dressed in period appropriate attire, along with a crew of other inquisitive ghost walk-goers.
To my surprise, she wasn't just a lady in costume shepherding us through the streets of Carson City. Our emcee for the evening was a full-blown impersonator of the famed Madame Curry, wife of Abraham Curry…or the founding father of Carson City. Off to a good start? I think yes. Plus, what really got me in the mood were other ghost walk enthusiasts who were dressed in themed attire too. Finally, some people who can geek out on Nevada stuff on the same level as me!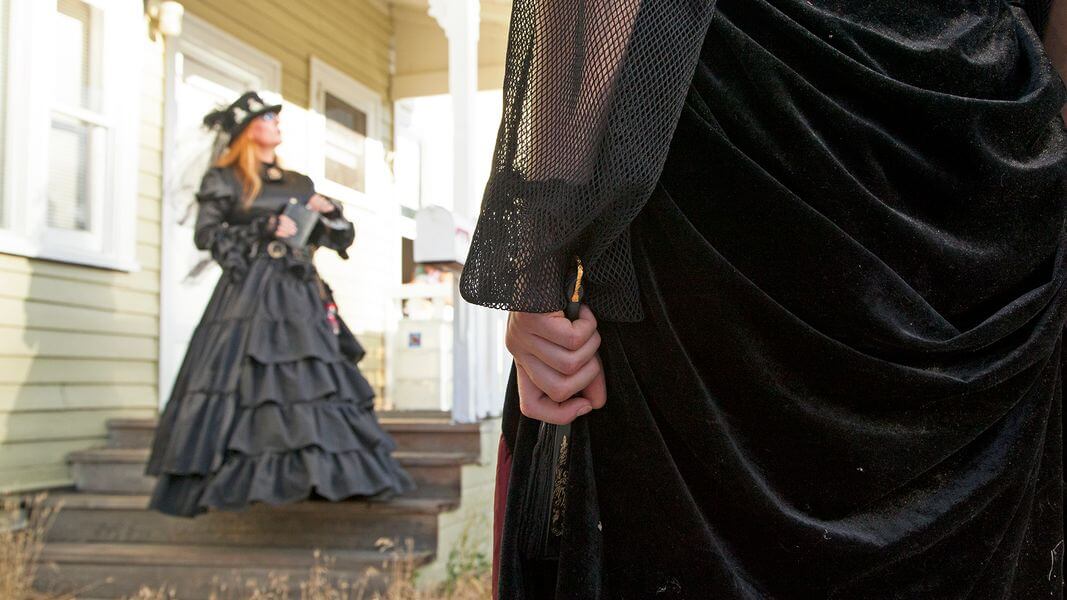 I was aware that the capital city had some impressive original mansions to say the very least, but was not clued in on a super interesting route that lead you through this historical wonderland. Also called the Blue Line or Kit Carson Trail, the route has a wondrous 35 stops, many of which are state historical markers. So, starting at the former St. Charles Hotel [now Firkin & Fox] a mere stones throw away from the State Capitol Building, Madame Curry was off and running, hot to trot for stop number two.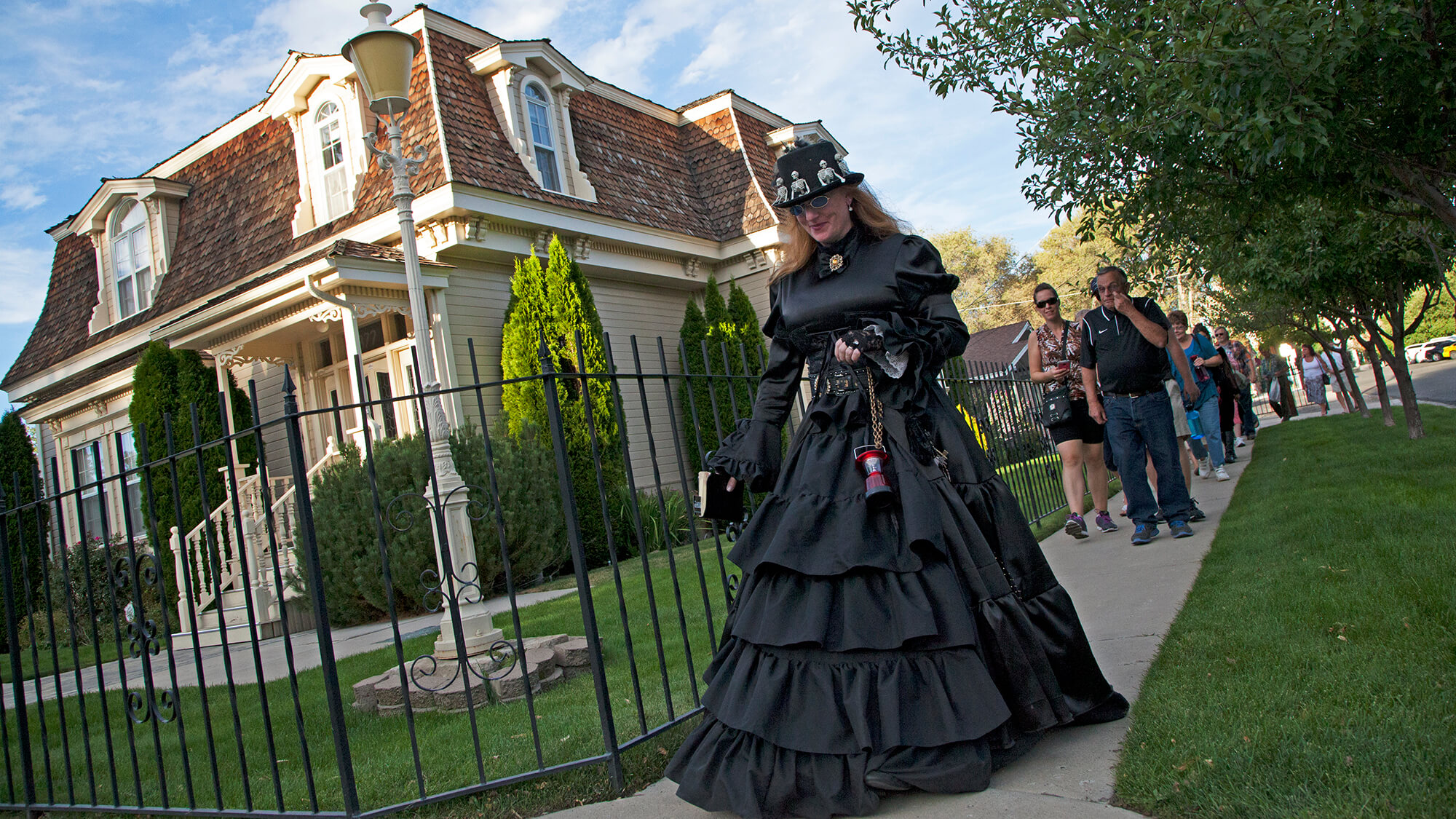 So here we are, plodding along in the middle of a modern day city before stopping in front of a pretty standard looking house—similar to one that you'd find in most American cities. Here, Madame Curry informed us that this neighborhood once served a very vital part of any Wild West community: the Red Light District. It made sense as it was not far from the famed St. Charles Hotel [a formerly and ironically still bustling pub,] but was still difficult to imagine these famed ladies of the night trolling the core of the capital city for their next clientele.
Without the slightest hesitation, Madame Curry climbed up on the porch of this otherwise normal abode and dove right into the rich history of these notorious cribs. Assuming the role of Madame Curry was a tall order, but good golly, this lady was not going to break character. Straight up stone cold. The way she recounted history was spellbinding on all counts. She not only made you excited about what you were learning, she made you believe it.
Completely entranced as she dove deeper and deeper into Carson City's seductive history, my eyes cascaded over every last ripple in her silky ensemble. She had certainly nailed each detail, except one miniature lantern that dangled from her waist. A red lantern. Just like a flick of a switch, it made sense! And here, all this time, I had envisioned the Red Light District as a modern day version, with red flickering light bulbs. Silly me, they had red glass lanterns dangling from their doorways. At only stop number two, Madame Curry had swiftly coddled me into quite the historic coma.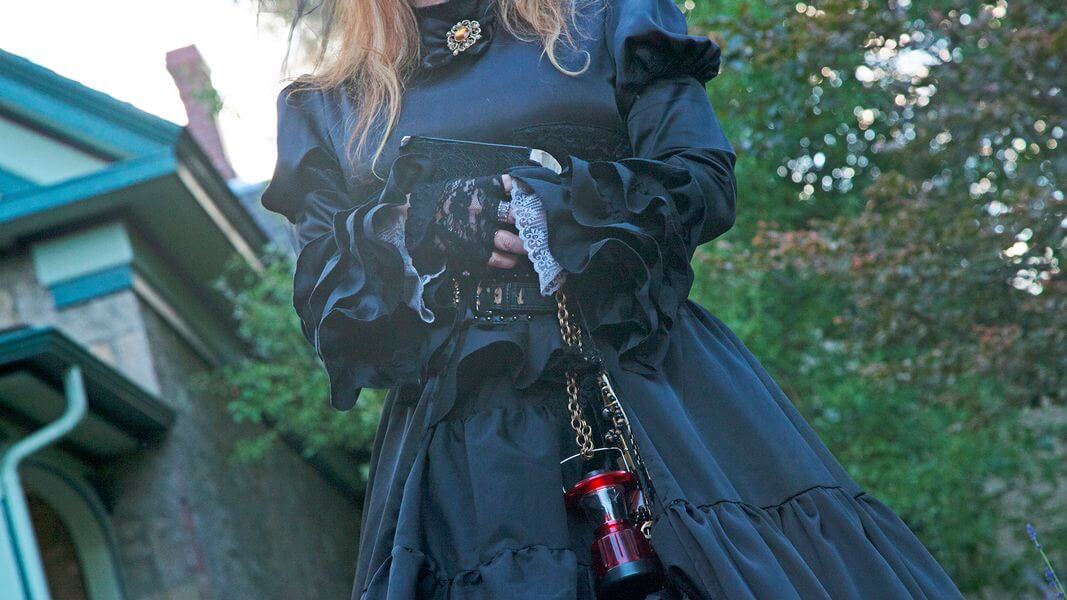 And, faster than you can say Bloody Mary we were bobbing and weaving through this noteworthy burb off to our next several stops. Here we scampered through a cobblestone alleyway that is haunted by a phantom bride, checked out the eerie Ferris Mansion [yes, the Ferris who later created the legendary Ferris Wheel,] and even got up close and personal to some architectural wonders used in movies like the John Wayne classic, The Shootist.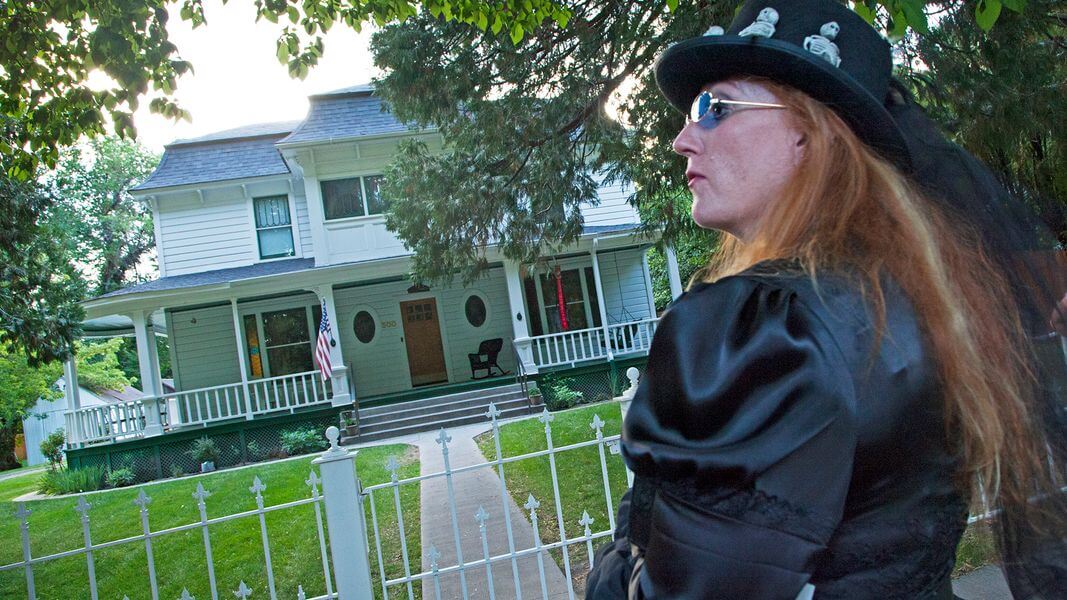 I would welcome a friendly Nevada fact-off with just about anyone, but will blatantly fess up to one glaringly shameful flaw in my bag of tricks…my Carson City trivia is embarrassing at best. Madame Curry had already remedied this problem eight ways to Sunday, but I was particularly pleased when rolling up to her 'former' abode: the Curry Mansion. Yep, poltergeists peruse the hallways of this one too, but perhaps the most interesting thing was what the home was made out of. Explaining everything you'd want to know about this distinguished founder of Carson City, Madame Curry informed us that Abe owned himself his very own rock quarry. Interestingly, many of the state buildings, like the Nevada State Capitol Building itself, along with tons of other homes in the area are comprised of a very distinctive stone. And that dear friends, is stone from Abe Curry's Quarry! [Try to say that five times over…]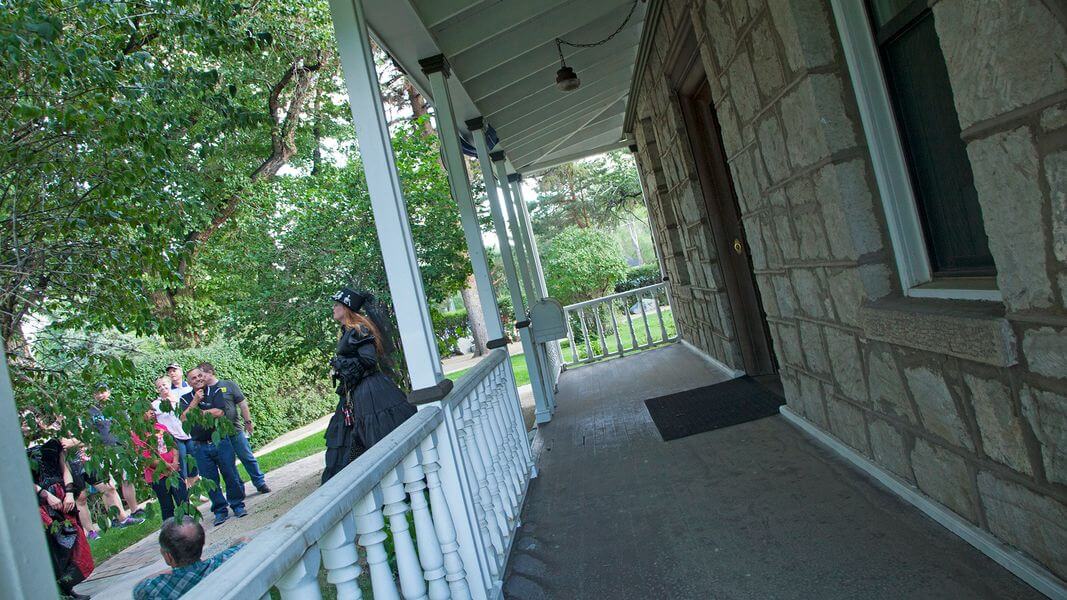 And if that's not enough to blow your dress up, Madame Curry flitted over to a very peculiar looking stone near the entrance of one of these homes. By the looks of it, it was snatched from Abe Curry's Quarry, but what purpose did it serve? Everything had been so authentically on point up until now, and to my delight this mysterious stone surely didn't fall short of Carson City's authentic shoot-em-up past. In order for ladies to gracefully dismount their horse-drawn carriages, they needed a stepping-stone. And there you have it, these hunks of rock were known as carriage stones, and also served as a status symbol in this historic hamlet…if you had one, you were probably loaded. So cool, right?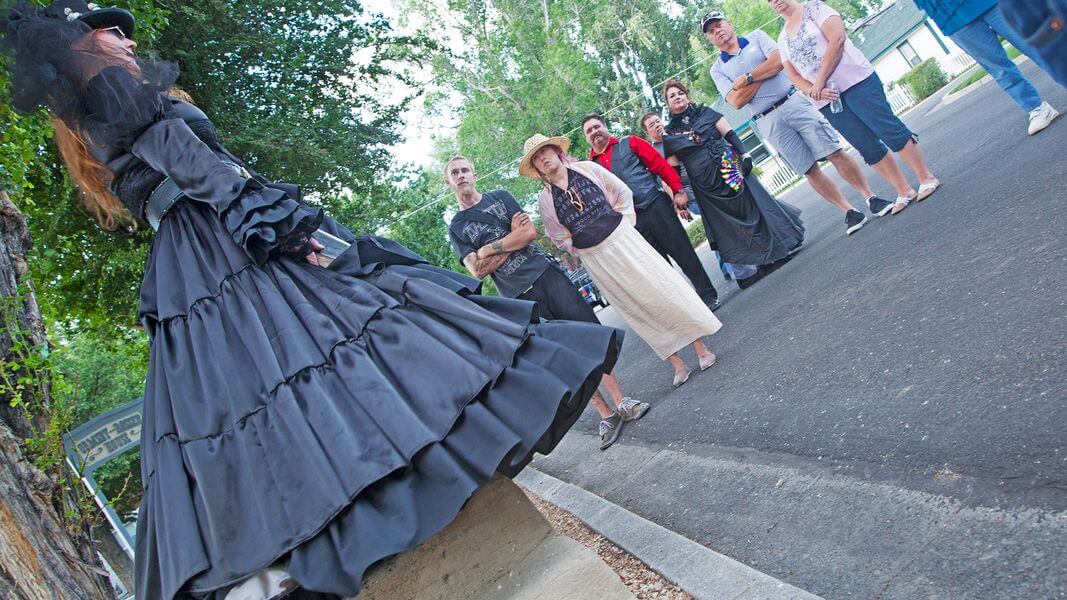 The remainder of this bewitching walkabout brought us through the Governor's Mansion grounds [yes, also believed to be haunted,] the famed Tahoe lumber tycoon Duane Bliss' 8,500 square-foot mansion, a series of homes whose architectural style was modeled after Nevada train depots and Mark Twain's brother—Orion Clemens'—former home. Madame Curry even ushered us around the grounds of what's said to be Carson City's most haunted home: The Chartz House. Yep, supposedly there are actual bodies buried in the yard. Let that soak in for a minute. YEESH.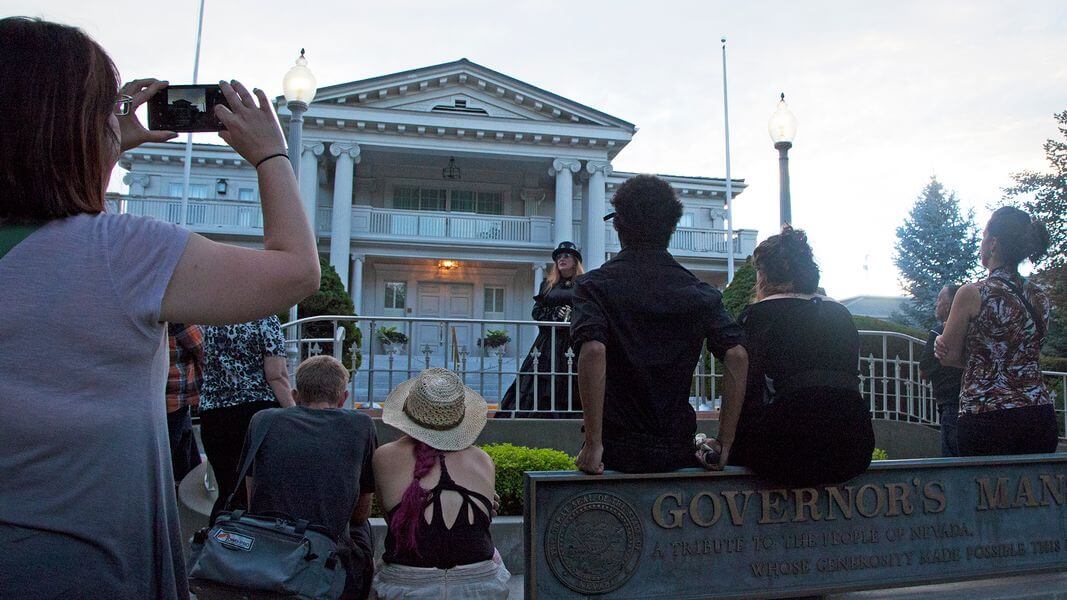 There is no witchery involved in the fact that Madame Curry spoiled me rotten on that perfect fall evening. What felt like 20 minutes in all actuality lasted several hours in Carson City's Historic Westside District. Yep, I'm a Nevada history nerd and undeniably interested in the mysteriousness of the paranormal world, but the beauty of the whole shindig was that it was a flawless balance of the two. The paranormal component was super interesting, but wasn't the entire focal point of the experience. It was fun to let my imagination get the best of me here and there, but the majority of the evening was supported by real, digestible facts. Here, I thought it was going to be silly, but the entire outing revolved around solid history.
Throughout the course of the evening, one extremely well-traveled ghost walk-goer reminded me what a remarkable place Carson City is. I guess it's always the things that are closest to home that get the most neglected, right? Here I am, in the heart of Nevada's capital city constantly, refusing to pay it the attention it legitimately deserves. And he was right, the city has such a small-town, friendly vibe that it sets itself apart from most capital cities. Much like a prism, no matter how you twist the lens, the picture changes but is no less clear. Nevada showed a new side to me, one that couldn't have been planned. And for that, I couldn't imagine a better way to kick off autumn than with Madame Curry right in the heart of this truly wonderful place.
Get Inspired
Related Stories