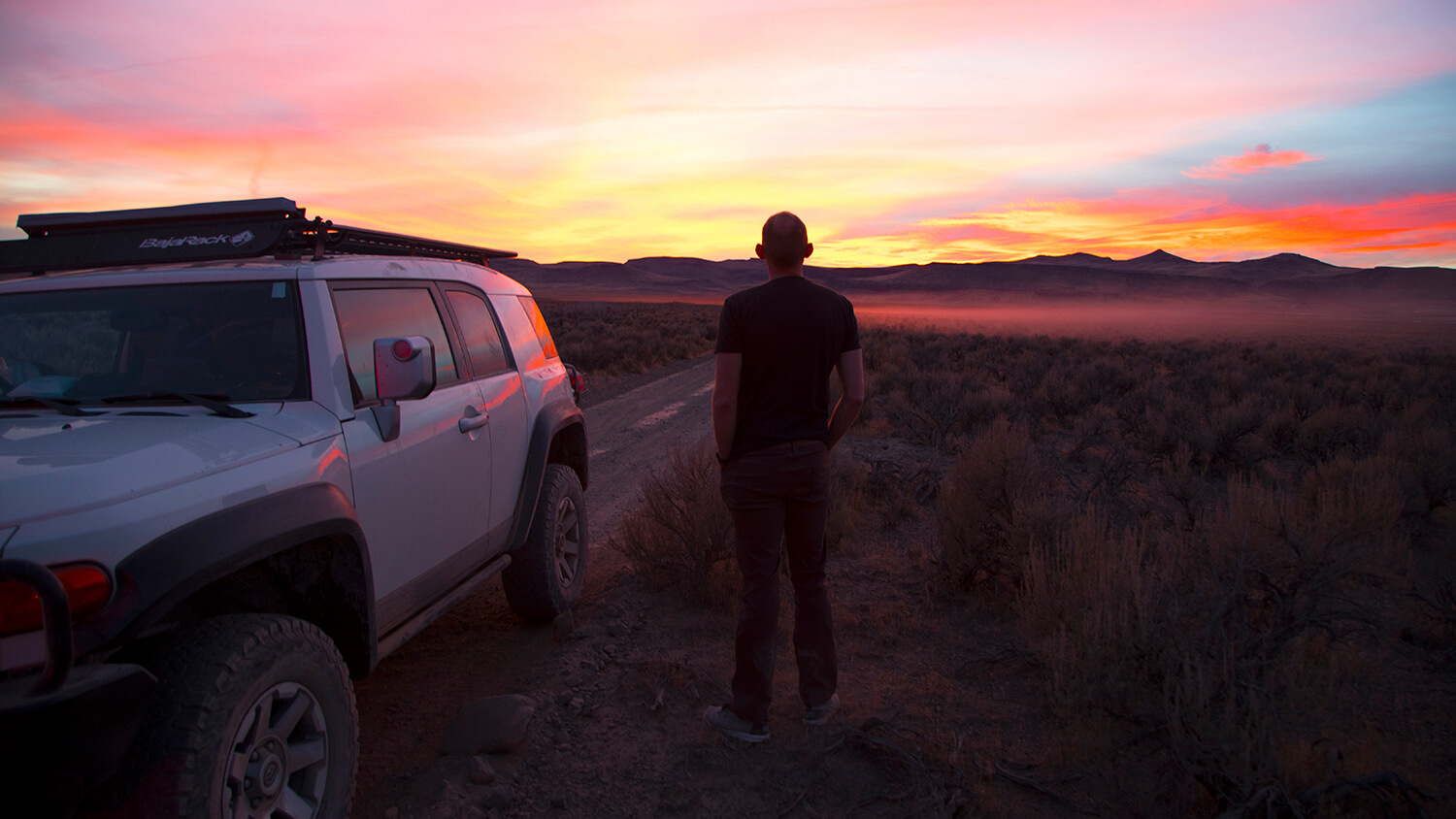 The putrid, algae-choked pool was more than I had bargained for, but there wasn't much choice. I had already rappelled in and swum halfway across it. Vertical rock walls towered above me on three sides. Forward was the only way out.
The reward was a hike through the famous potholes and crevices of Fly Canyon, a jagged slot canyon tumbling through the bedrock of Black Rock Desert. Fly Canyon is nearly invisible from the dirt road a half-mile away, inconspicuous like so many of the attractions in this vast and extreme northwestern Nevada region. One large "pothole" in Fly Canyon plunges nearly 80 feet. The canyon also contains the visible remnants of a difficult wagon slide traversed by emigrants a century and a half ago.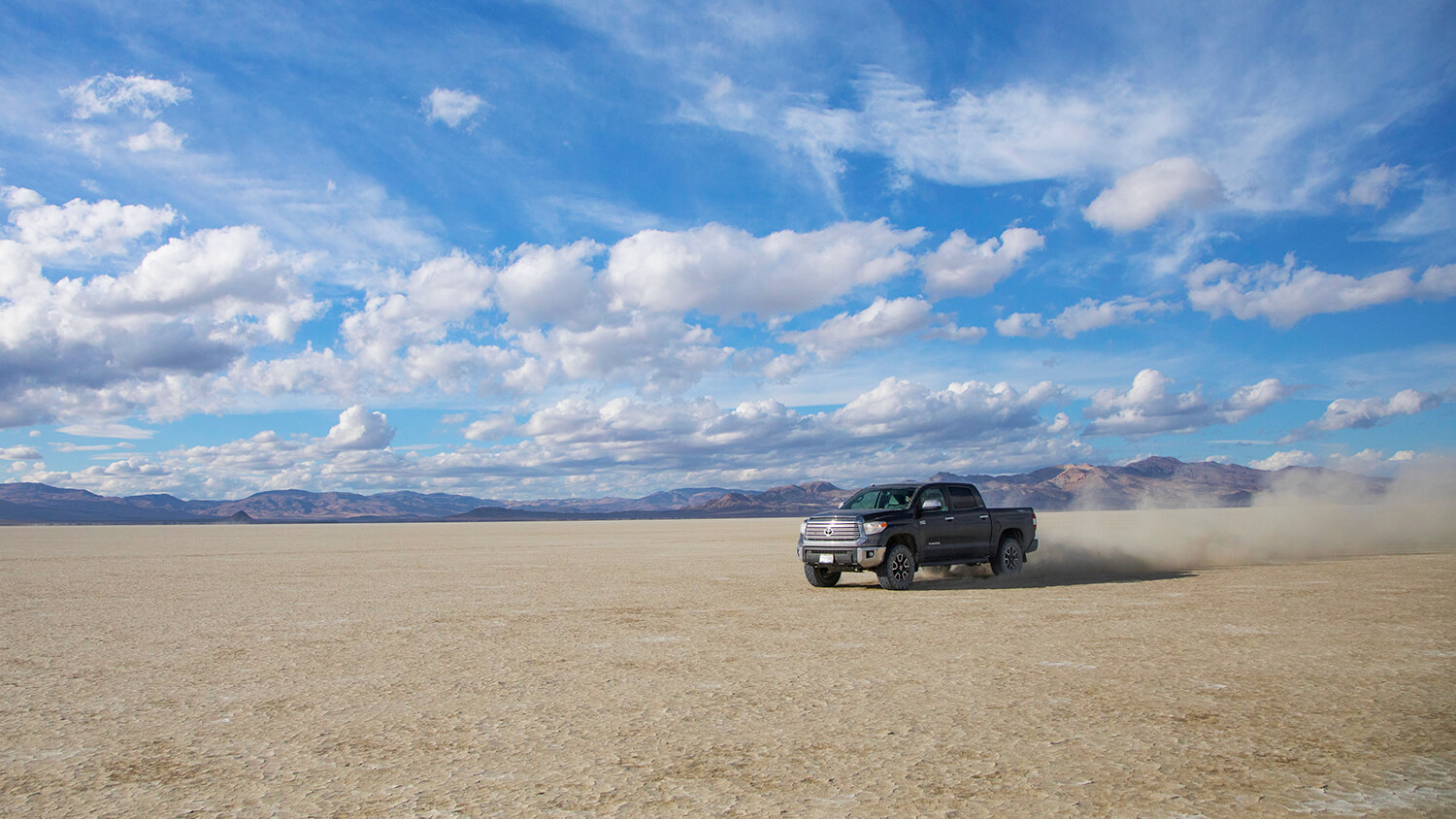 It's the intriguing combination of adventure and history that makes a journey to this isolated Nevada land so fruitful.
Mention the Black Rock Desert, which begins beyond Gerlach—a tiny town about two hours northeast of Reno—and you'll likely hear tales of dust, art cars, bedazzled bodies, and the flaming temples of Black Rock City, the 50,000-person community built to host the annual counterculture summer festival known as Burning Man. Or perhaps you'll hear the legend of Royal Air Force pilot Andy Green, who drove 763 mph in a 110,000-horsepower rocket car named ThrustSSC on October 15, 1997, breaking the land-speed record and sound barrier.
The Black Rock playa—one of the planet's largest, flattest places—makes such extraordinary events possible. Stretching roughly 60 miles from southwest to northeast, and averaging 10 miles wide, the playa is so big and flat the horizon seems to reveal the curvature of the Earth.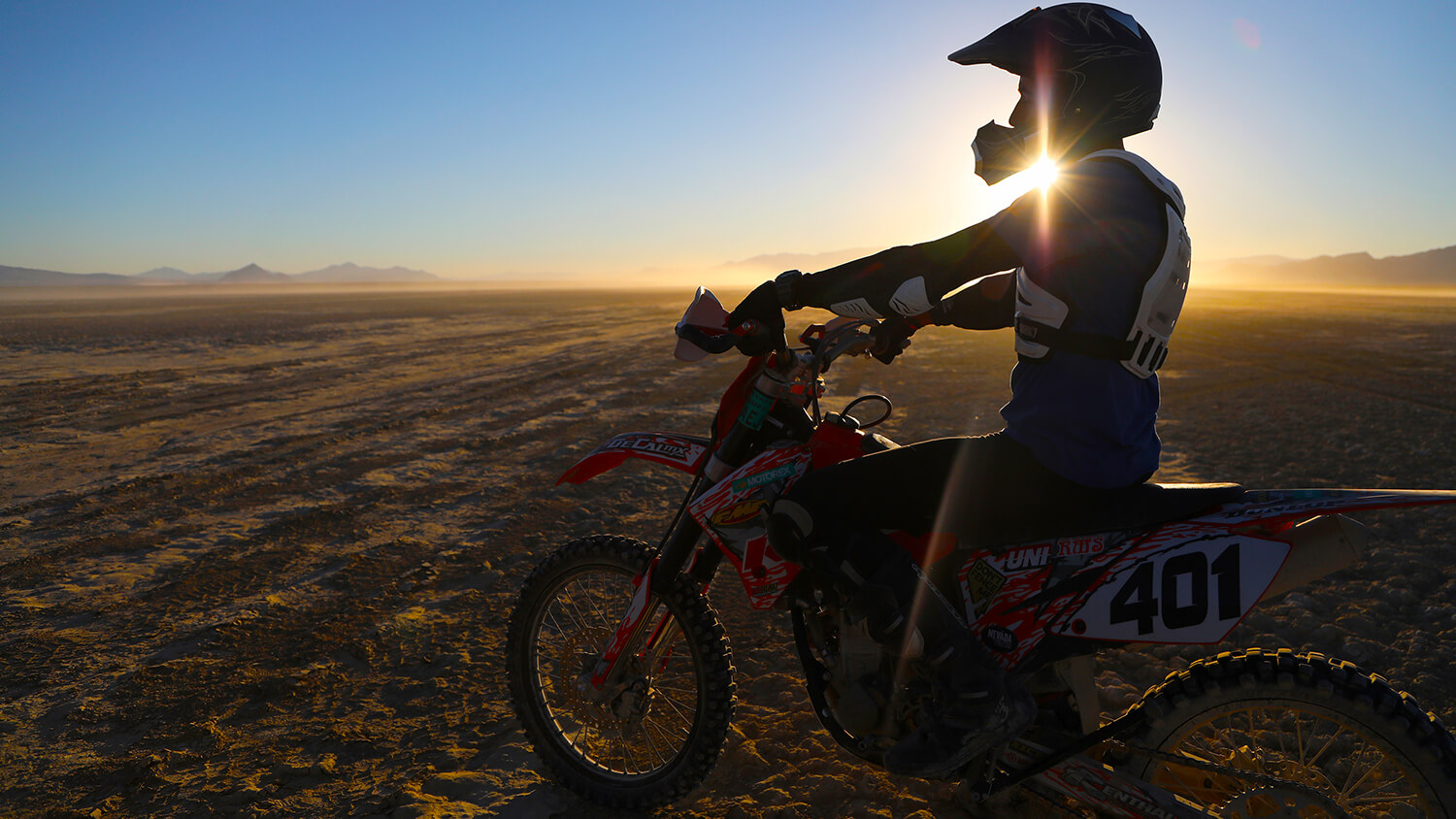 Yet the playa is just the beginning of the Black Rock Desert experience—hence the High Rock Canyon and Emigrant Trails parts of the tongue-twisting NCA name. For prepared hunters, hikers, wildlife enthusiasts, and other explorers with four-wheel drive, high-clearance vehicles, survival equipment, and common sense, a lifetime of rugged, remote, and beautiful escapades await in Black Rock-High Rock.
Pioneer Trails
Pioneers began traversing the Black Rock Desert in the 1840s. Most followed the Humboldt River from the east and veered north instead of south near today's Rye Patch Reservoir on Interstate 80. They were chasing rumors of a short cut and wanted to avoid the California Trail's brutal 40-Mile Desert and Donner Summit, which especially struck fear in travelers after the tragic fate of the Donner Party in 1846. The northwest route crossed the playa, passed through Soldier Meadow and High Rock Canyon, and trekked onward into California or Oregon.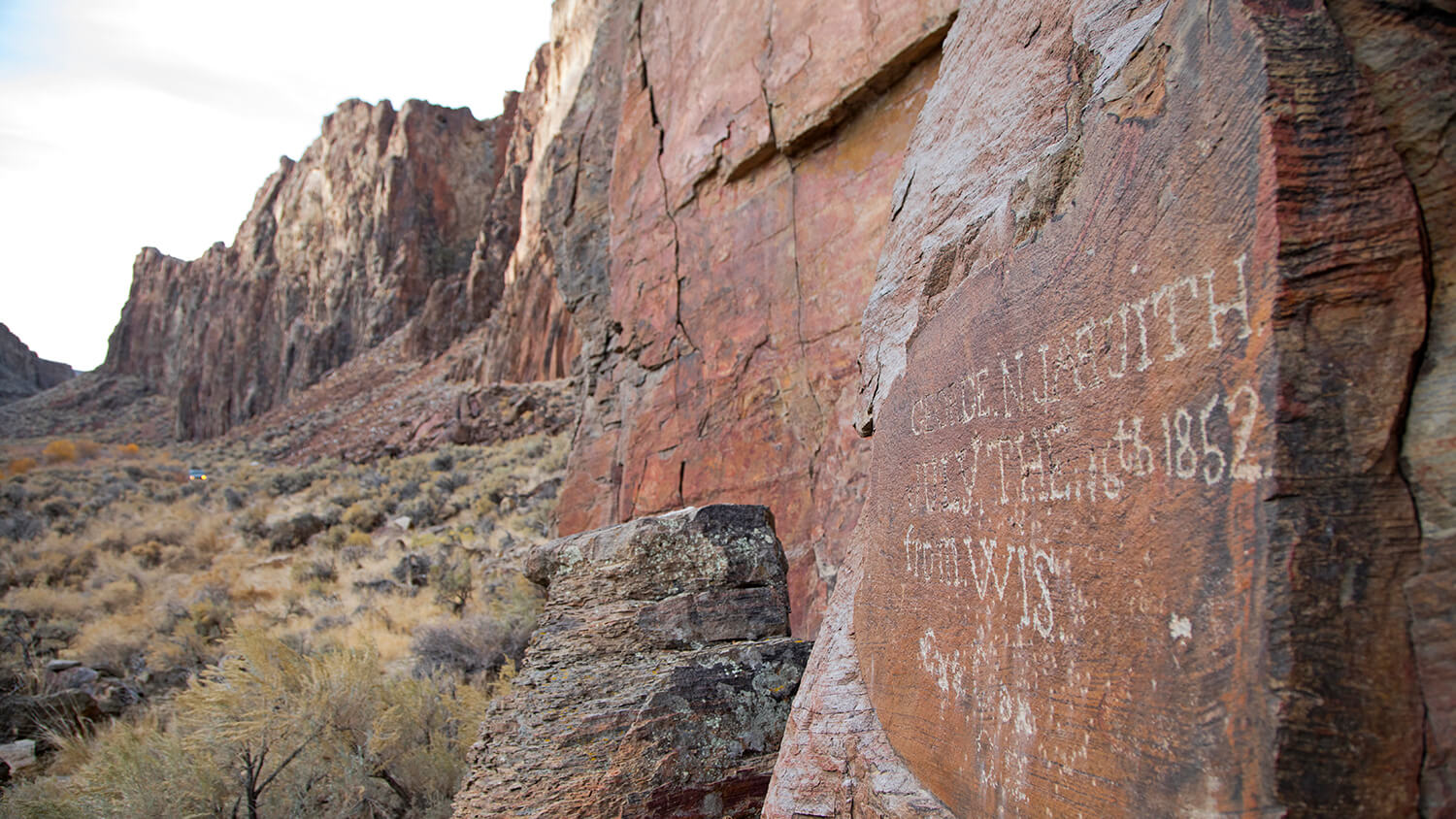 Though springs were indeed closer together than on the 40-Mile Desert, the general landscape was parched, the heat was intense, and pack animals quickly denuded the scant vegetation. '49er J. Goldsbourough Bruff wrote of the trek in his diary: "I shall never forget that night march. The road was lined on both sides with the carcasses of animals, which had perished on the way. They were so thick that from the Wells to Black Rock by stepping from one body to another one need never to have touched the ground."
An estimated 50,000 pioneers crossed the Black Rock on one of two trails: the Applegate-Lassen Trail or Nobles Trail. In 1846, Levi Scott and the Applegate brothers backtracked on portions of explorer John C. Fremont's route of 1843-44 to establish an overland wagon route to Oregon. Two years later, Peter Lassen got lost on his way to California and blazed a new road that branched off the Applegate Trail in Northern California, leading travelers to his Sacramento Valley ranch. In 1851, William H. Nobles found a cutoff that diverged from the Applegate and led pioneers west through present-day Gerlach. These pioneer paths don't get the same attention in history books as the California and Oregon Trails, but were just as pivotal to America's westward expansion. "The Black Rock Desert is home to the longest, most continuous, and least-disturbed section of emigrant trail in the country," says David Book, president of the nonprofit Friends of Black Rock/High Rock and member of Washoe County Search and Rescue.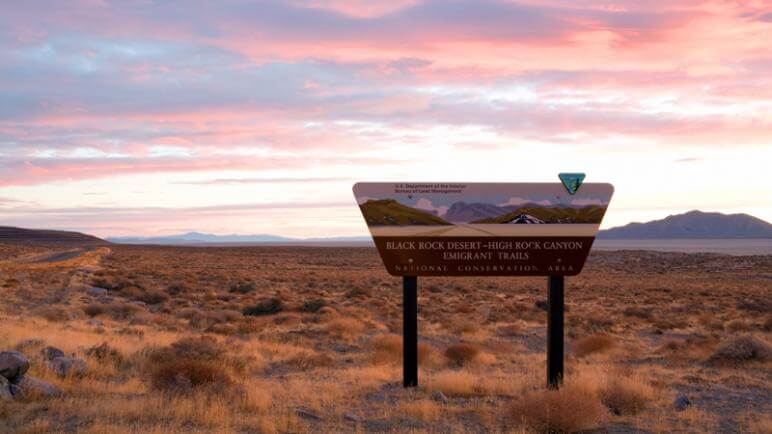 Congress understood that historic value in December 2000, when it designated the 1.2 million-acre Black Rock Desert-High Rock Canyon Emigrant Trails National Conservation Area and its 10 associated wilderness areas. Thanks to this foresight, people for years to come will be able to look across the plain, visualize wagons crossing in the distance, and imagine the emigrants' ache and thirst as they trudged on toward hope of a better future.
Modern Adventurers
Today, air-conditioned automobiles, modern camping equipment, and other toys make life a little easier, and much more exciting, in the Black Rock—High Rock. Several times each year, AeroPac and other rocket clubs get Federal Aviation Administration clearance to use the playa as a launching pad for devices you won't find in a hobby store. It's a thrill to watch an eight-foot-tall rocket sizzle from zero to 14,000 feet in just a few seconds.
Beyond the playa, Black Rock-High Rock offers about 800 miles of designated roads and vehicle trails that climb into soaring mountains, jagged canyons, hot springs, and secret stands of aspen. At one time, pioneers steered their wagons north through High Rock Canyon, the lesser-known component of the NCA. Today, a 14-mile chassis-shaking, tire-popping dirt road wanders between craggy volcanic cliffs, where attentive travelers can spot bighorn sheep, golden eagles, and graffiti carved by pioneers.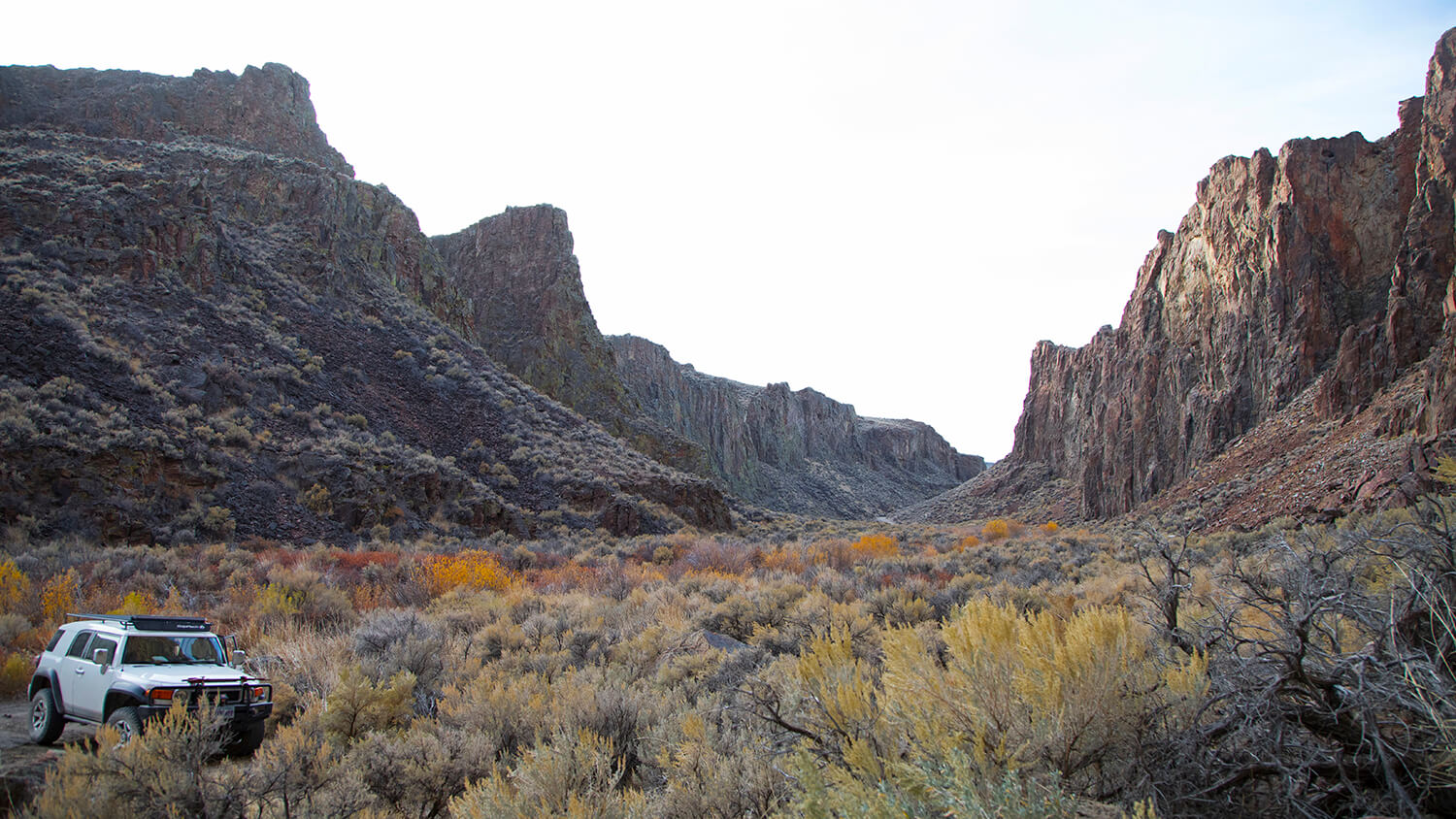 Beyond this road, most of the region is designated wilderness, where hikers, hunters, and horse-packers can explore the remote corners of Little High Rock, Yellow Rock, Monument, and Pole Canyons—landscapes untouched by roads or other modern developments. Yellow Rock Canyon is the site of a stone garage built by homesteader David B. Fox in the early 1900s.
It is the NCA's remoteness that appeals most to those with the time and mettle to explore it. "In a lot of ways, the Black Rock-High Rock region is like Death Valley was 30 years ago," Book says. "There are no developed campgrounds out here; no water, bathrooms, picnic tables, or signs." There aren't many designated hiking trails, either. But that doesn't mean there's nowhere to hike or camp.
For the fit and prepared, places such as the Jackson Mountains (capped by 8,923-foot King Lear Peak), Pahute Peak, and Calico and Black Rock Ranges make popular destinations in the Sierra Nevada seem like a crowded amusement park. In Black Rock-High Rock, you can get an entire mountain range to yourself, or at least feel like it. And all this isolation equates, of course, to some of the best stargazing on the planet.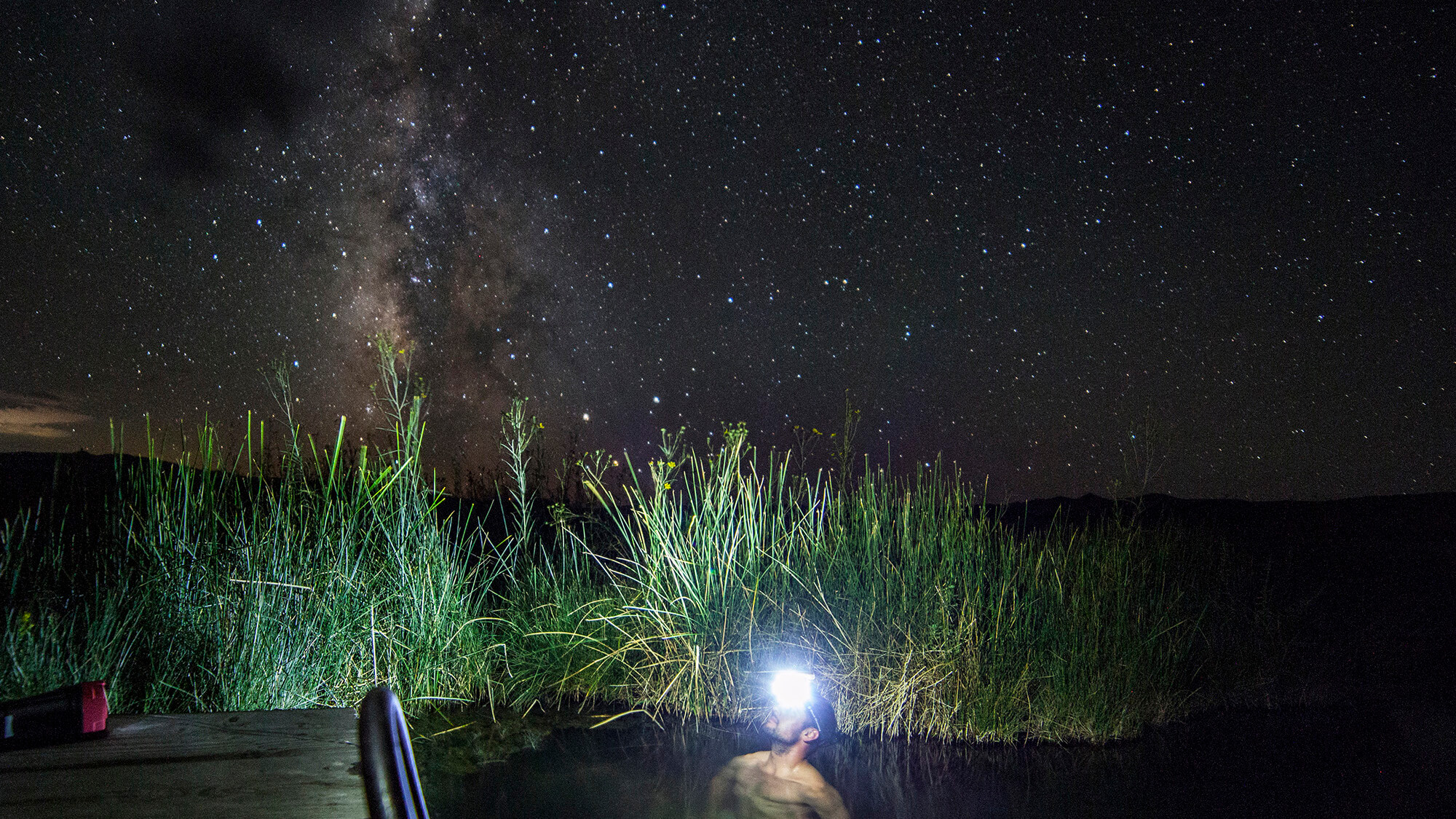 Northeast of Fly Canyon, emigrants found respite from the harsh desert in a large wet valley, home to hundreds of acres of grass and abundant water. It became Soldier Meadows, due to the U.S. Calvary's presence there and the establishment of nearby Camp McGarry in 1865.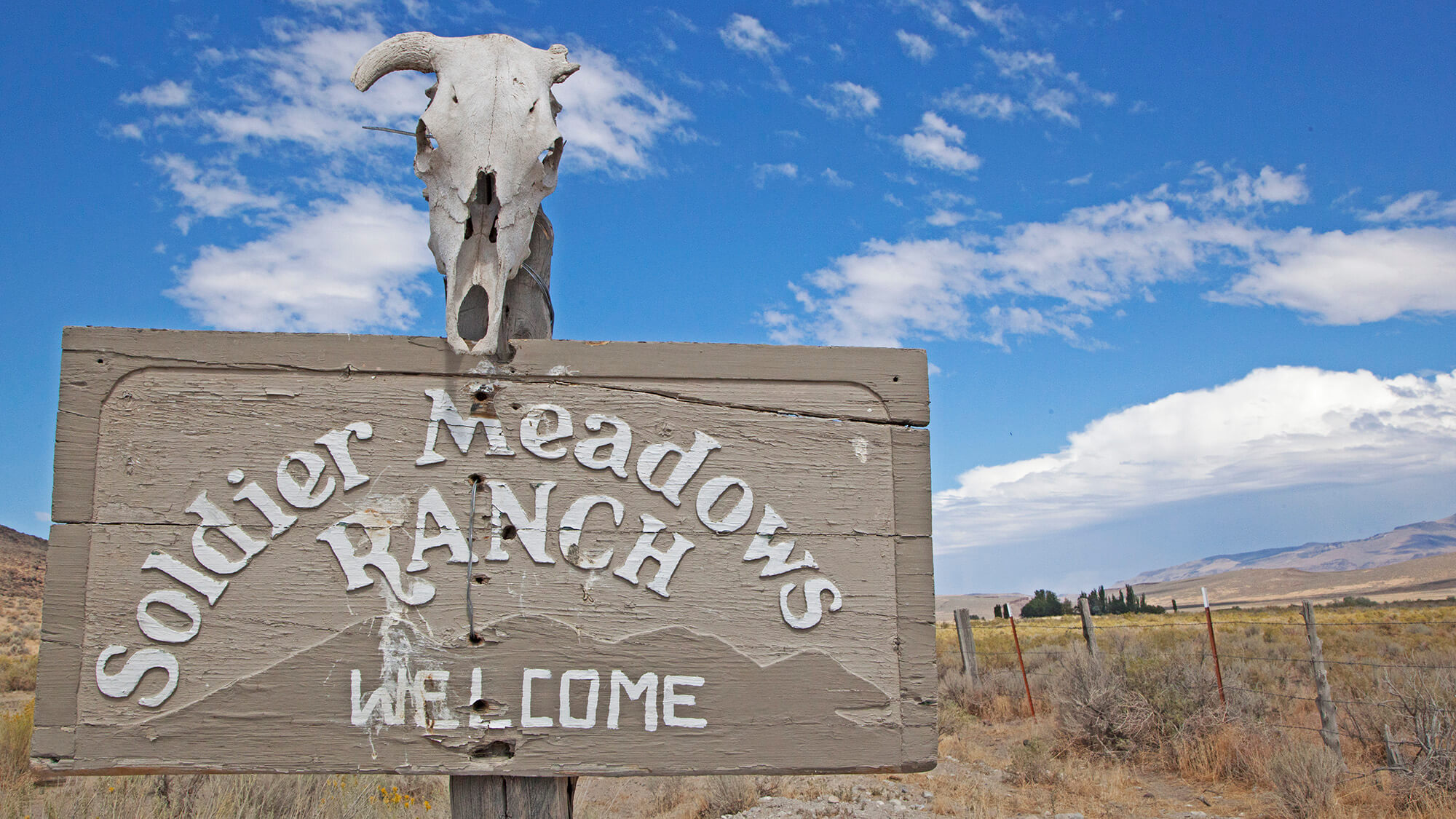 Today it is the grounds of year-round Soldier Meadows Ranch and Lodge, which even hosts a traditional Thanksgiving feast. A few miles to the west, numerous hot springs sustain endangered plant and animal life. A primitive campground near the springs provides a pit toilet, a few interpretive signs, and no other amenities to speak of. The NCA as a whole is popular for its hot springs, and Book guides a Cold Weather and Hot Springs tour in early November.
EDITORS NOTE: Soldier Meadow's Ranch and Lodge is currently closed for the forseeable future. Please continue to check back on TravelNevada.com for property opening updates.
Almost anywhere in Black Rock-High Rock, you'll see no passing cars or other signs of man. The only sounds will be wind, the occasional buzzing insect, and the hum of blood coursing through your ears. "It's fabulous, there's nobody here," says Jenny McKay, who drove with her family from Carson City to Black Rock to volunteer at National Public Lands Day. "There aren't any modern intrusions, not even cell phones, so you have to tune out. It's dirty and dusty, but the scenery's spectacular—this wide plain, mountains rising up, and mirages in the distance. There's an incredible serenity out here." #NVHistory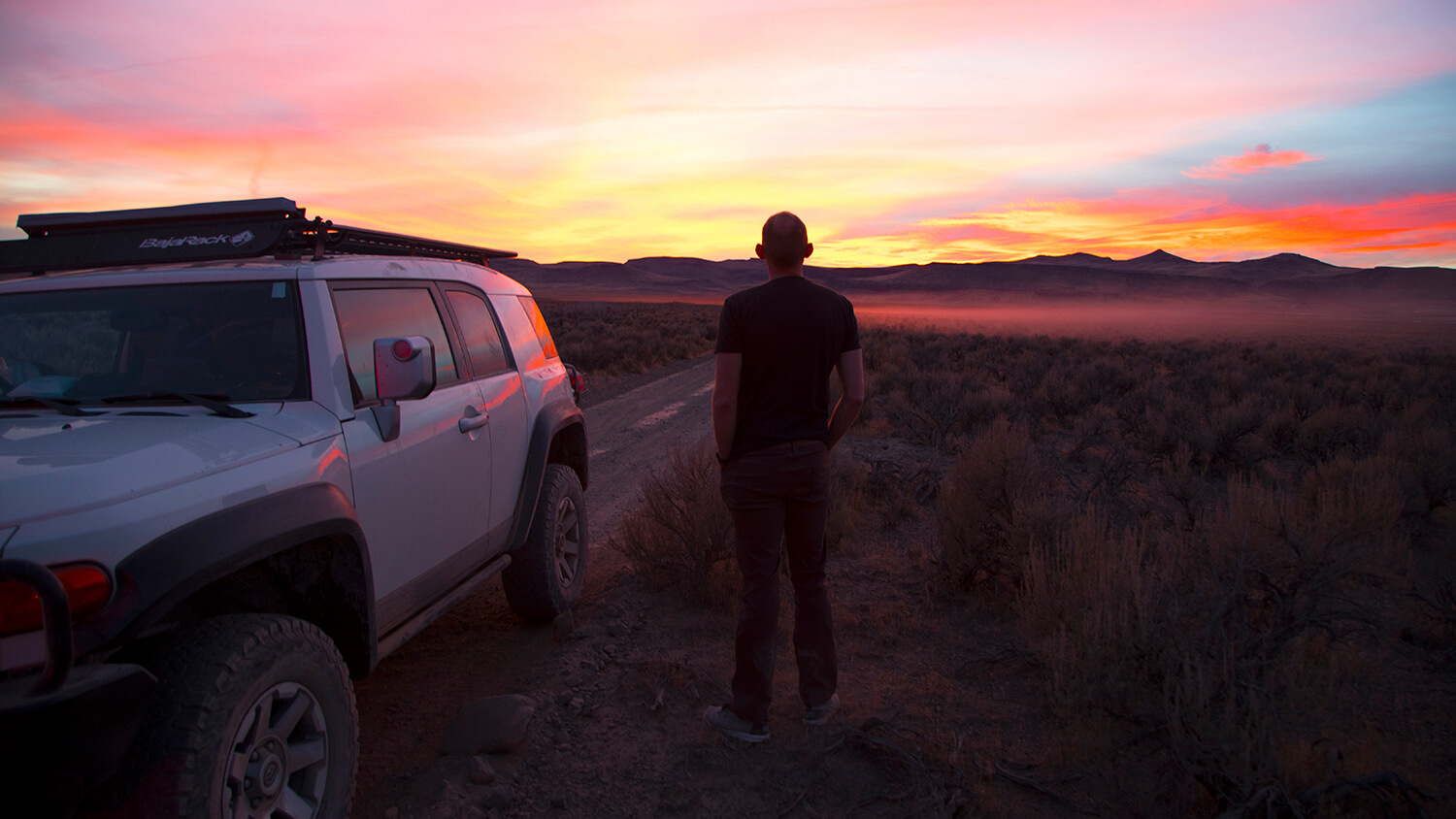 Navigating the Black Rock
First thing's first! Be sure to follow the Burner Byway #NVRoad Trip to help you plot your map up to the Black Rock. There are plenty rules of the road you'll want to get in on, before even being in this corner of Nevada.
Roads in the Black Rock-High Rock range from bad to terrible. 4WD, high-clearance vehicles are recommended. Weather ranges from dangerously hot to brutally cold. Upon your arrival to Gerlach, head straight for the Friends of Black Rock High Rock. They'll have all the pro tips required to navigating the region, from playa driving conditions to under the radar locations worth checking out.
4WD, high-clearance vehicles are recommended.Weather ranges from dangerously hot to brutally cold.
Cell service is nonexistent beyond Gerlach.
Leave your itinerary with a responsible person, and stick to it.
Do not drive on the playa if it is wet.
Leave No Trace by driving only on designated routes, washing with biodegradable soaps away from springs and water sources, and pack out what you bring in.
Know before you soak: get the full lowdown on Hot Springs Etiquette before hitting the Playa.
Helpful Contacts
Bureau of Land Management—Winnemucca Field Office
5100 E. Winnemucca Blvd.,
Winnemucca, NV 89445
blm.gov/nv
775-623-1500
Black Rock Field Station
Gerlach
Open 9 a.m.-5 p.m., Wed.-Sun., Mar.-Nov.
blm.gov/nv
775-557-2503
Friends of Black Rock | High Rock
PO Box 224, Gerlach, NV 89412
blackrockdesert.org
775-557-2900
Get Inspired
Related Stories