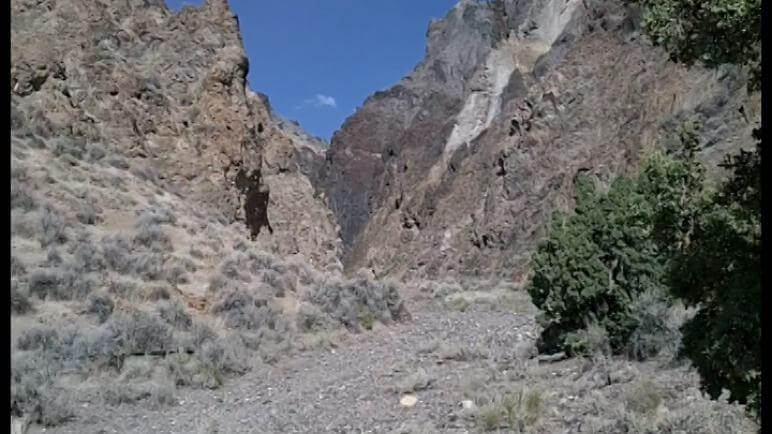 Rough Canyon, Washoe County, Nevada
Adventurer | William Weber
Most people travel to Gerlach on route 447 which is paved all the way. But, if you head toward Pyramid Lake past Sutcliff, you can travel by dirt road past the Smoke Creek Desert on the west side of the Fox Mountain range wilderness study area. Most people who have driven that way have approached this passage on the west side of the valley. But, there is a new adventure in store on the opposite side of the desert. This exciting trek will put you on the opposide of the Union Pacific Railway, which requires a four-wheel drive vehicle with ground clearance.
This hidden eastern side of the Smoke Creek Desert is barren, yet historic, with many interesting canyons to explore once you are past Pyramid Lake Indian Reservation boundary line. One of these picturesque canyons is Rough Canyon, which is interesting because of its cathedral effect ending in a water fall or water trickle depending on the time of year you go there. The canyon is quiet and still except for an occasional bird chirp, and is cooler toward the end of the passage. Any rock climber would have no trouble scrambling the end of the canyon and discovering on wonders on the other side. Others like me must be content with hiking the steep mountain wall to gain access to the secluded part of the canyon. If you like four wheel driving and blazing your own trail, you might like Rough Canyon.
The next time you're searching for an adventure less-treked, be sure to check out the beauty the eastern side the Smoke Creek Desert holds. It will make for an afternoon you wont forget.
Get Inspired
Related Stories