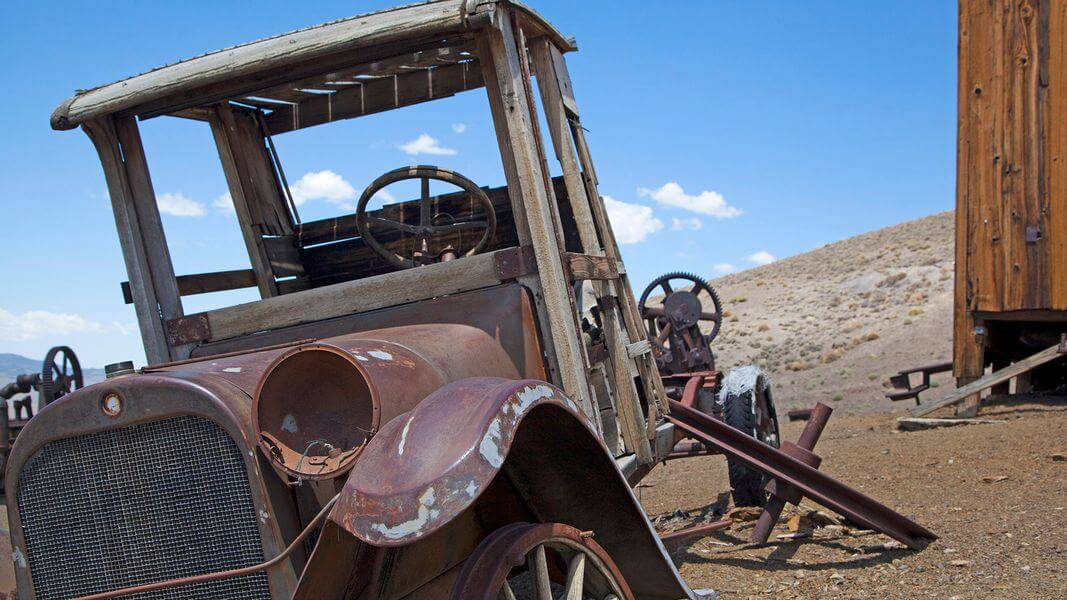 Brain Scrambled Bliss at Berlin-Ichthyosaur
Every adventure needs an unplanned detour off the asphalt and a little gravel in the tires, right? Peeling off the Loneliest Road we dropped south on State Route 361 before connecting with 844 and over to Berlin-Ichthyosaur State Park. [Ick-theo-soar, you'll get it.]
Nevada State Parks lie near and dear to my heart, guys…every single one of 'em. Having checked almost all 16 parks off the list in one calendar year, I had yet to visit Berlin-Ichthyosaur. Today was the day. And, while most have an element of surprise, I knew Valley of Fire would have some unbelievable vibrant rock formations, and Sand Harbor State Park would have some euphoric beach scenes. As internationally photographed destinations, how could they not come with a stigma of sorts? They are both gorgeous, and the most visited parks for a reason… but the crowds? Not always my bag. Berlin-Ichthyosaur though? I was digging deep in those brain wrinkles and not coming up with a whole lot, but ready to change that for good.
Though Highway 50 truly does seem to be anything but lonely, we hadn't passed a single soul en route to the park. We didn't realize it at the time, but as we blasted by the turnoff for Gabbs, this would be the only glimpse of society we would see for hours. While the dirt road in front of us appeared to lead to nowhere, a few minutes later it brought us up into the pinyon pines in the foothills and into the mouth of the Park. One thing was already doing the trick: no crowds. YUSSSS. I instantly felt a surge of excitement…considering I had no idea what I was set to encounter here, I was pumped to see a few weathered wooden buildings and mine tailings peppering the hillside. Me likey.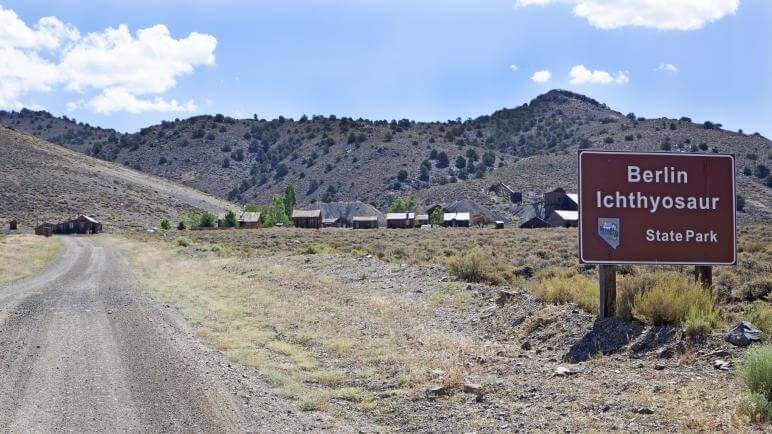 A giddy mess, I practically clawed through the glass car window as we passed by some seriously intriguing historic ruins. BUT, I gotta stay focused here. The ranger at the gate informed me that a tour was starting in five minutes at the fossil house just up the hill…and while I had nooooo idea what that was, I knew I needed to get there immediately. I'll be back for you later, you mysterious buildings, you.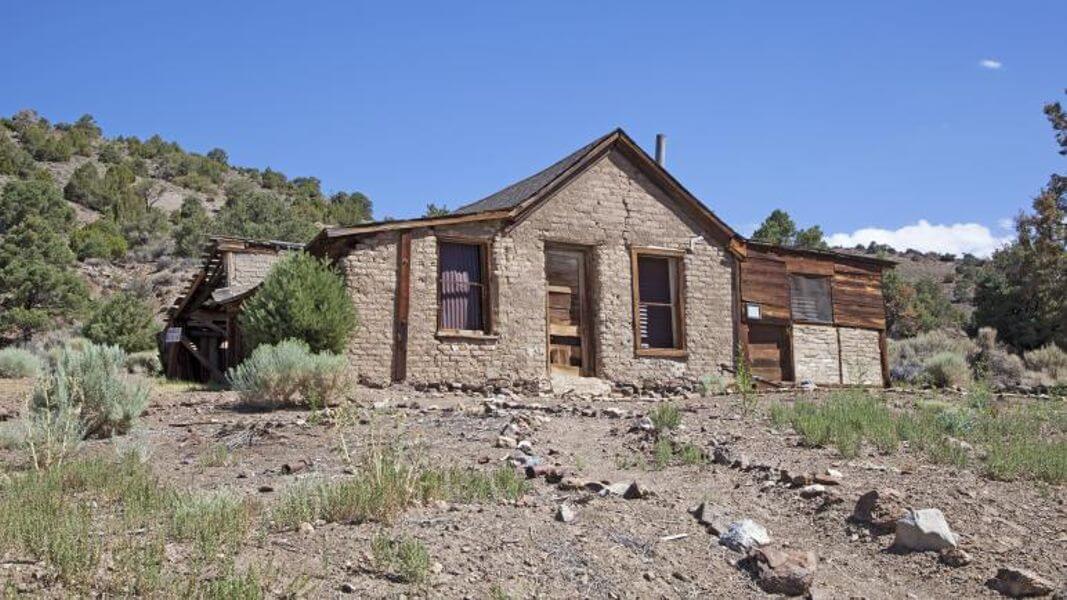 Turns out, the fossil house was just that: a gargantuan structure that protected a little thing I'd like to call the largest concentration of fossils in the world. I knew that the Ichthyosaur was the Nevada State Fossil, and will proudly admit to helping keep Great Basin Brewing in business [Icky is one of my favorites], but DANG. The ranger pointed out countless fragments of Ichthyosaur fossil, spouting off enough prehistoric facts that I'm still satisfied. Explaining that this was basically once the bottom of the ocean, he ranger said that Ichthyosaurs were these enormous marlin/dolphin/manatee/whale sorts of marine creatures…the most highly specialized reptile ever to have lived the earth in fact. And, many many of years ago when these dudes roamed the sea, the area Berlin-Ichthyosaur State Park is located in was pretty much the bottom of the ocean. When they slowly started to die off, they sunk alllllllll the way to the bottom and left an archaeologists paradise, waiting to be uncovered for millions of years. Most impressively, the 40ish Ichthyosaurs discovered at the park are the largest specimens in the world, around 50 feet long. And right in little old Nevada? Excuse me while I pick my jaw up off the floor.
The ranger had me hooked on every. Single. Word. And off to lead his next tour at a mine I also knew nothing about, I followed him around like a little puppy for the rest of the afternoon. I clearly had no idea whatsoever about the archaeological bliss that awaited, and definitely didn't see a historic mine coming my direction, either. While the fossil house was tucked up and to the right of the wooden buildings, the Diana Mine was equally inconspicuous and buried in the hills to the left of the wooden buildings.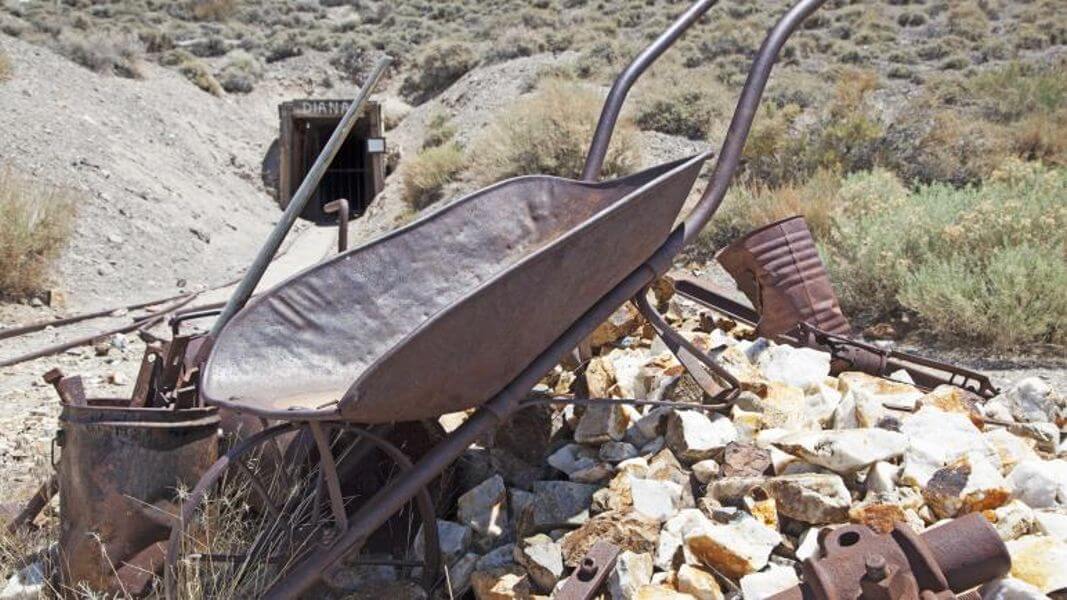 Joined by many other tour-goers—and by many, I'm talkin' about a perfect dozen or so—the ranger gave each person a hard hat, flashlight and assigned us a number…just like any other prospector would've done as they clocked in a cool 120+ years ago. Following the brass tag system, I was number one and moved my stamped brass tag from the 'In' side to the 'Out' to show that I was inside the mine.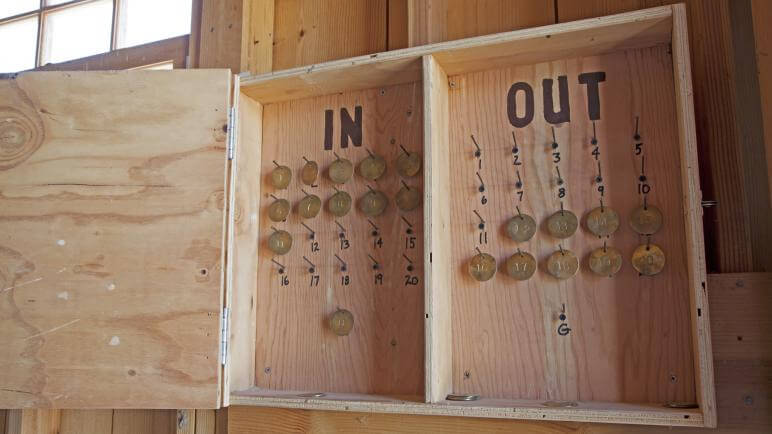 Ducking down and entering the carved rocky tunnel, it took me less than a minute to realize this was the most authentic mine I'd ever been to in Nevada. This beat the famed mines of the Comstock Lode and even those in Eldorado Canyon. As a fairly petite lady, I'd never been so closely hugged by hand carved rock walls, leading me into what was just a regular day on the job for guys in the 1890s. Call me a sucker, but the miner's helmet and flashlight totally made for a killer memory. Yeah buddy, it was a good day.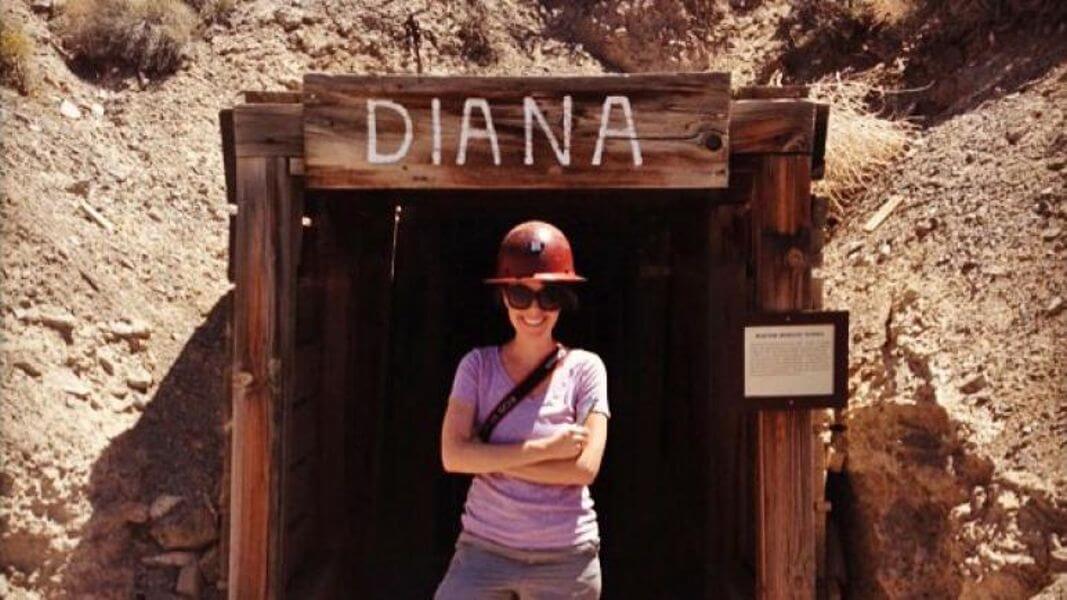 Filling my head with prehistoric splendor in the morning, and now having toured the most authentic mine in my life, the only question I had was where, pray tell, does Berlin fit into multi-era puzzle? Was there a German influence I was missing somewhere? The ranger stopped me in my tracks before I really let this Anglo pipedream get the best of me and led me over to those historic buildings that had been screaming my name so loudly all day.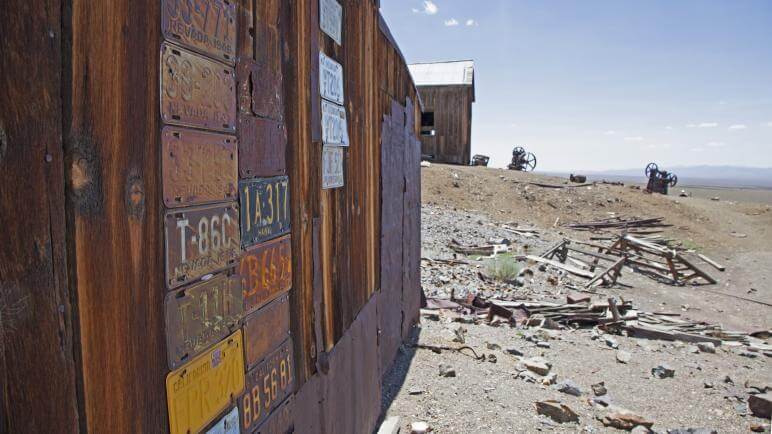 I did realize that visiting a Nevada State Park two clearly separate names would probably mean dynamic history but holy wow. Little did I know, Berlin was staring me in the face the entire time I'd been here…it was the official name of this wickedly cool ghost town, the place where Diana's miners would hang their hat after a long day's work. First the largest concentration of Icky fossils in the world, then the most authentic mine in Nevada and now an amazingly preserved ghost town?? Get out.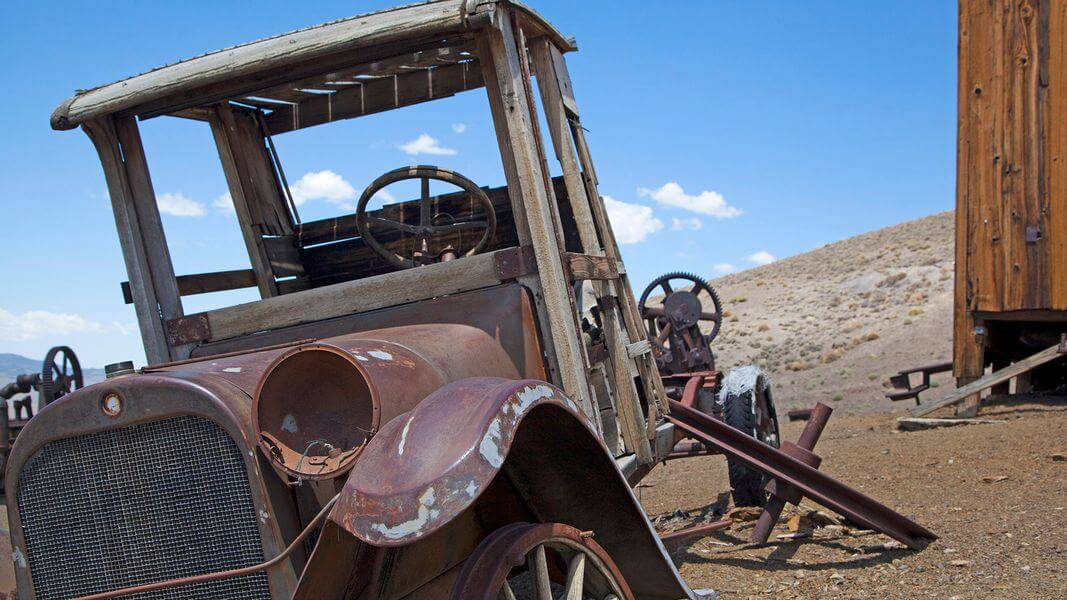 The other sections of the park were effortlessly interesting, but Berlin was easily the star of the show. Wandering in and out of Wild West ruins is my jam, and this part of the park was the hook shot for sure…maybe even the Bodie of Nevada if you will. The Berlin stamp mill site was a mind blower: the rusted out license places, the Model T Ford frame, and old frontier relics from pioneer days were hypnotizing. That was assuredly interesting, but I took particular joy in the small details, like the original porcelain doorknobs and snippets of hundred-year-old newspaper patching bits of wall space. Imagining trying to sustain a life in the rugged Nevada terrain, taking care of a troupe of children in a one bedroom home while my husband worked some terrifying operations sprung to life in front of me. These are artifacts that pioneers truly used a hundred years ago, sitting in front of me begging to be photographed. Berlin had woven its web around me and spoon-feeding me rusted shards of metal and sparkling bits of broken glass and I couldn't have been more in my element.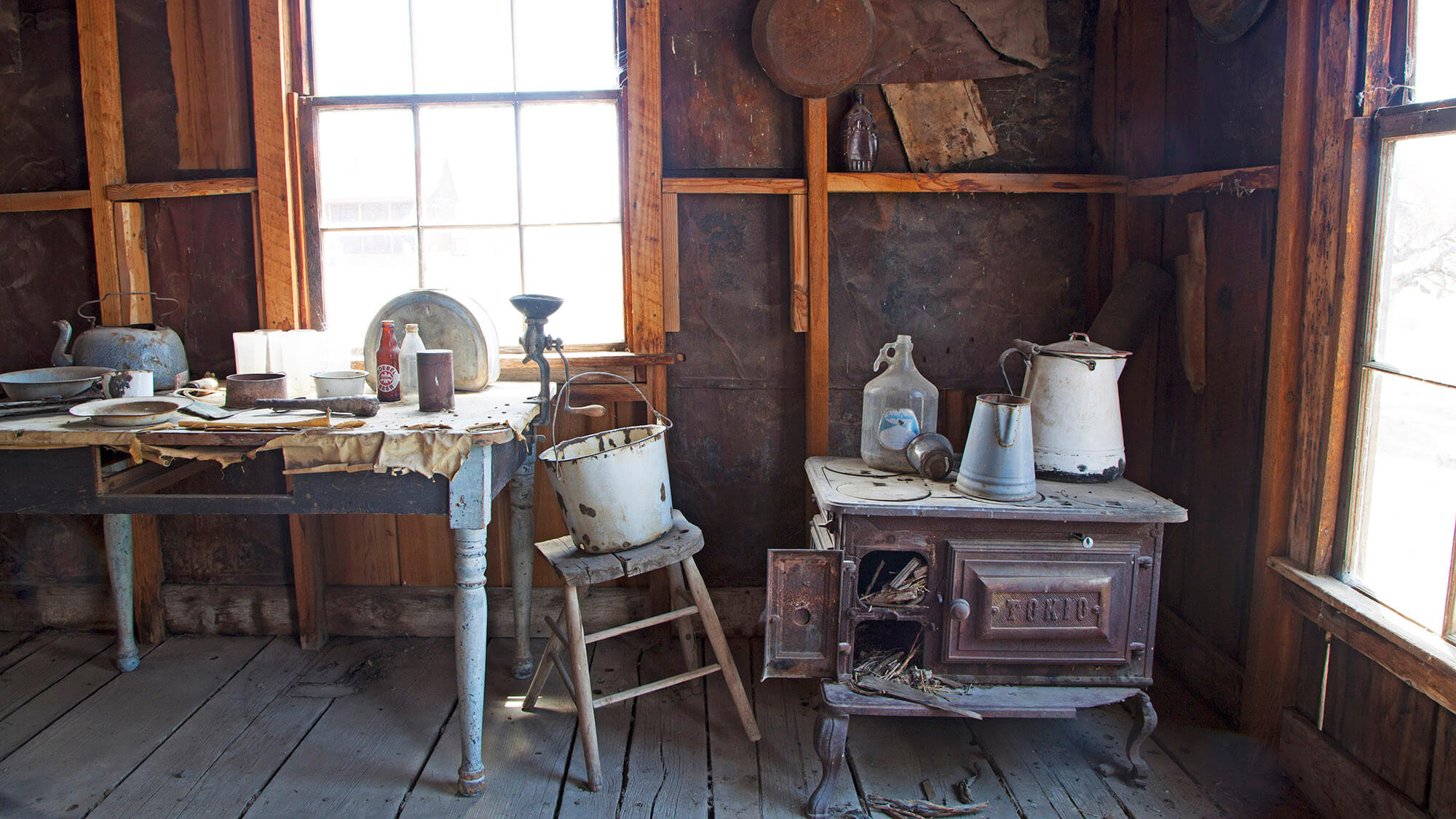 Some of those other Nevada State Parks are a complete right of passage: you cant call yourself a Silver State traveler without walking through Cathedral Gorge's slot canyons, or meandering the ruins at Fort Churchill. Berlin-Ichthyosaur is expert-level state parking at its —a melting pot of history that's not super easy to get to, but when you do, crazy-satisfying. You'll have to long some man hours, but as a brain-scrambling historical trifecta, anyone calling themselves a Nevada recreationalist has gotta tick this one off the list. #NVStateParks
Get Inspired
Related Stories