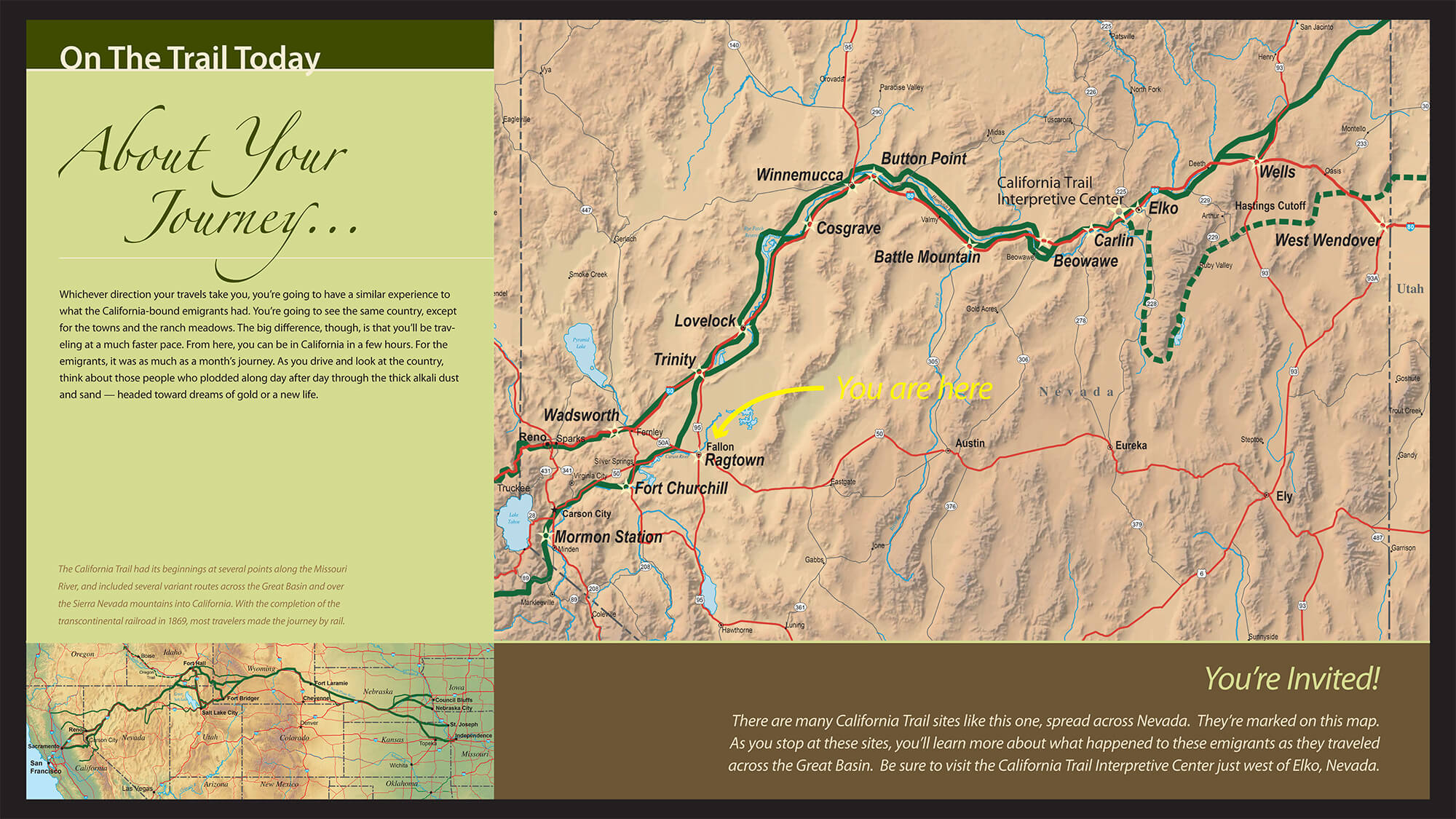 Follow The California Trail Corridor Across Nevada
Whichever direction your travels take you, you're going to have a similar experience to what the California-bound emigrants had. You're going to see the same country, except for the towns and the ranch meadows. The big difference, though, is that you'll be traveling at a much faster pace. From here, you can be in California in a few hours. For the emigrants, it was as much as a month's journey. As you drive and look at the country, think about those people who plodded along day after day through the thick alkali dust and sand—headed toward dreams of gold or a new life.
Today, visitors can follow many of the original California Trail stops as they travel through the Silver State. Whether you're traveling west to east, or east to west, be sure to add the locations below to your next Nevada itinerary. But, if you have one priority in mind when traveling Interstate 80 through Nevada—a route that mirrors Nevada's Cowboy Corridor Road Trip—make sure to stop at the California Trail Interpretive Center in Elko for a more in-depth take on this fascinating thread of Nevada history that many brave Americans endured as they made their way through the American West.
West Wendover
"Anguish and dismay now filled all hearts. Husbands bowed their heads, appalled at the situation of their families. Some cursed Hastings for the false statements in his open letter and for his broken pledge at Fort Bridger. They cursed him also for his misrepresentation of the distance across this cruel desert. Mothers in tearless agony clasped their children to their bosom with the old, old cry, 'Father, Thy will, not mine, be done.' It was plain that try as we might, we could not get back to Fort Bridger. We must proceed, regardless of the fearful outlook…"
-Eliza Donner, 1846
Wells
"This day brought us to the far-famed Humboldt River. We had left camp at five o'clock, and after traveling five hours, came to the stream which many said reached nearly to California. Others said that it ran into the ground at the edge of a great desert which the emigrants had to cross; and after that, they would have to cross the highest mountains on the route, covered with snow and ice. Rumors of all kinds passed up and down the line, for very few knew anything about the country ahead of us."
-Margaret Frink, 1850
Elko
"I also saw…a very singular hot spring. It was on the rocky bank of the Humboldt…the water came out of the solid rock in a stream as large as a mans leg and was boiling hot. Some emigrants who were camped near had clothes in a kind of basin by the falling water, where they were boiling. That was the best place to wash clothes I've seen yet."
-James Berry Brown, August 30, 1859
Carlin
"Our road this afternoon is a steep mountain side seven miles long; the steepest, roughest, and most desolate road that can be imagined. The mountains that border this valley are looking very old…they have a decrepit worn-out look…It makes a man lonesome and homesick to contemplate their forlorn, deserted, and uncanny appearance…"
-John Hawkins Clark, August 5, 1852
Beowawe
"Some of us are shoeless, hatless and nearly clothes less and we are generally so tired that when we arrive at camp that we feel no inclination to mend or repair the rents in our clothes to sustain on our journey."
-Joseph Waring Berrin; 1849
Battle Mountain
"…Here was a dreary scene, the road and trail several inches deep with ashy hot dust, occasionally large sage bushes & greasewood as far as the perfectly level desert extended, the mountain ridges bare of timber looked blue & seemed to reflect the almost insufferable heat, the sky clear & crystal white clouds, volcanic stones on desert. A profound stillness reigned here & the mind seemed overpowered with the desert scene, when breeze came up whirlwinds rose at several places."
-Peter Decker, July 14, 1849
Button Point
"…The water in this river is very muddy, warm and in my opinion very unwholesome, for in all my travels in the Snake County the camp have never been so sickly as in this stream."
-Peter Skene Ogden; 1829
Winnemucca
"A great many heavy trains and droves [of cattle] along the road to day having recently crossed the river. The emigration which has before been mostly traveling on the south side are now crossing at evry ford to the north side and though we have been almost by ourselves so there is a prospect of our having more company than is agreeable for rest of the way down the river. The cause of leaving the south side is the scarcity of grass on that side."
-James Woodworth; August 28, 1853
Cosgrave
"I wonder what our friends at home would think if they could look at us, as we are traveling along, the dust often rising so think that we cannot see a rod. Everyone so covered that we are all of a color, all ash color, hair, faces, clothes and wagons, and all in them. The men with long hair, long beards, traipsing along by their long teams, with their ox whips over their shoulders, and when we come to a hill or sand bed the women and girls get out and plod along, sometimes almost suffocated with dust."
-Asenath Larimer; August 25, 1852
Lovelock
"A very heart rending scene has just taken place within 100 yards of our camp. A man came out from California to meet his wife who was crossing the plains, cattle etc. He arrived here at 3 o'clock this afternoon to find her dying of Bilious fever. Although speechless she seemed to recognize him, looking at him for some considerable time. She put her arms around his neck and smiled. At 8 o'clock she died leaving three children she had brought with her. The eldest not four years old and she but 23. It was indeed a sad sight to see the poor husband in his anguish.
-Henry S. Anable; August 28, 1852
Trinity
"Here, in deed, was a picture of misery, which, if I had witnessed before being hardened to scenes of the like character, would have made my heart's blood run cold; and even now the chill of horror ran over me like electricity. Dead horses and oxen, in great numbers, with steaks cut out of their flesh, lay scattered over the land; and men, without a morsel to eat, were begging from wagon to wagon, offering all they had for a little dry bread. The more dishonest, however, were practicing the scheme of theft."
-John T. Clapp; July 15, 1850
Wadsworth
"I was over come and tied out, I would travel a little and I would lay down on the sand and rest on the sun shining on me. There is no timber thare I thought I would never get through and I laide down to kick the bucket; but I thought of home and it give me a little more grit and I would get up, and stager along. I was so thirsty my tonge and lips crack and bled but I was able to get to the water after drinking a little—I dare not drink much—I felt better."
-Andrew Orvis; 1849
Ragtown
"He had built a large smoke where they had found water and stayed wondering what we were about…I drank one swaller at first but could not taste it then in a minute 3 or 4 and so on increasing the numbers every minute or two until my judgement checked me. I sat and talked until I sensibly felt my faculties returning…"
-Peter Conover; 1857
Fort Churchill
"The prospect for getting through before snow sets in on the mountains, begins to look rather gloomy. Our teams are very much reduced and if they do not recruit soon we will be driven to the alternate of trading away some of our wagons and everything else that can be possibly be dispensed with, in order to get through."
-James Bennett; September 14, 1850
Mormon Station
"At twelve o'clock we arrive at Mormon station…the best of Pine timber is to be seen here…After seven miles travel this morning, we enter a canyon or narrow pass through which the Head waters of this River (which we have been ascending) Descends…When I look at the Huge Rocks, the large Pine & Fir Trees, the Steep precipices and lastly the Machy or Swampy place near the Head of this Canyon, I only Consider bare Passable."
-William H. Kilgore; July 30 & 31, 1850
Get Inspired
Related Stories