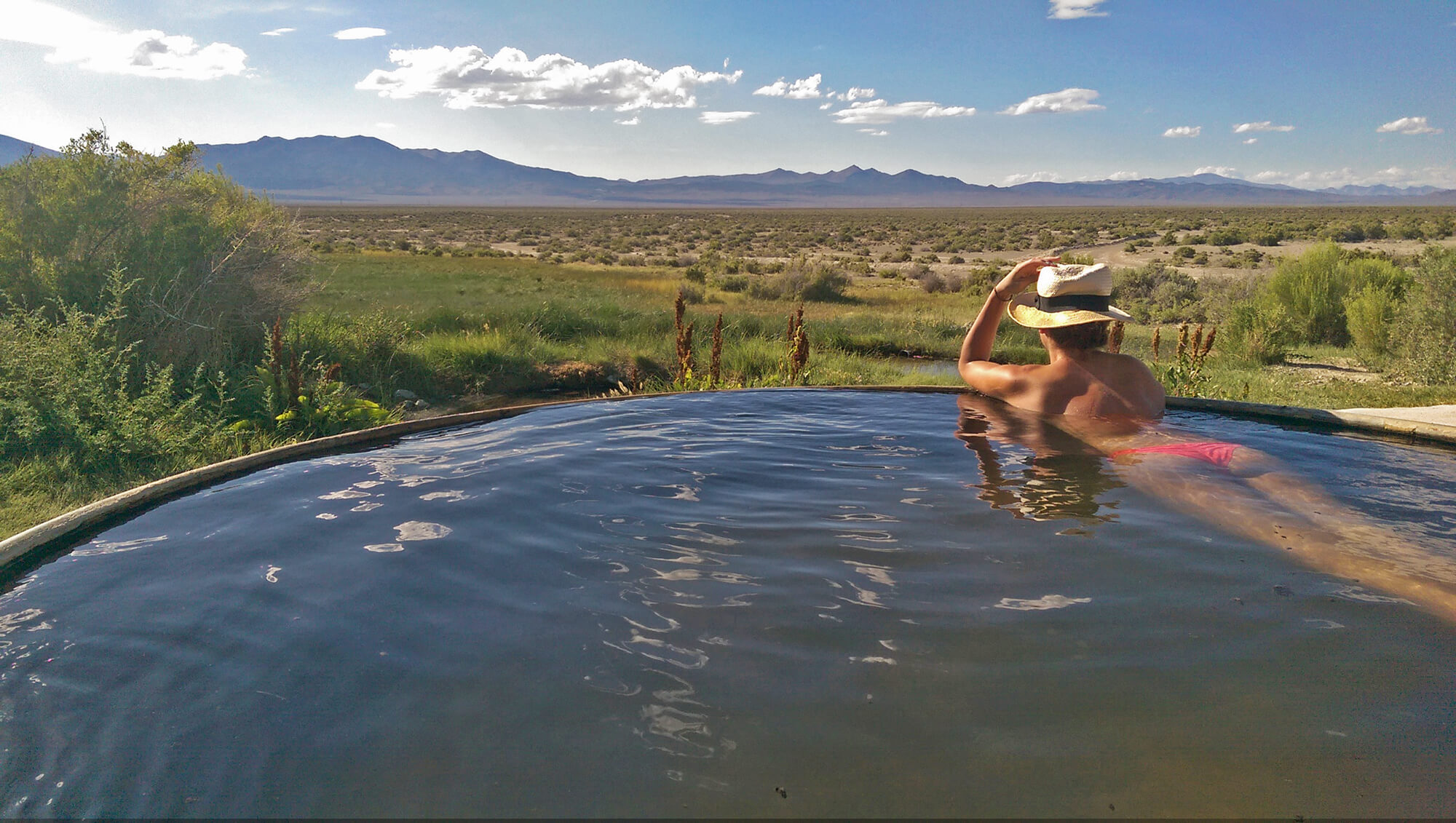 Hot Springing: In Search of the Perfect Weekend Getaway
Let's start off by defining a weekend warrior. Weekend warriors are people who work during the week but have a passion for packing in as much exploring, adventuring and action into the weekend as they can. Those of you who are Weekend Warriors, like myself, know the importance of the 2-day road trip. As a self-proclaimed "hot springs enthusiast," I believe that Nevada hot springs are the perfect weekend getaway destination for both locals and visitors. Don't get me wrong, typical Nevada hotspots like a luxury hotel casino resort in Las Vegas or a Lake Tahoe snow vacay are great, but I love to seek out hot springs wherever and whenever I can. Hot springs can be a romantic weekend getaway or just a chance to enjoy some outdoor activities with a few of your fellow weekend warriors. Best yet, Nevada is the perfect place to find them as there are over 300 naturally occurring hot springs in the state,. This means that Nevada boasts the most hot springs in the United States.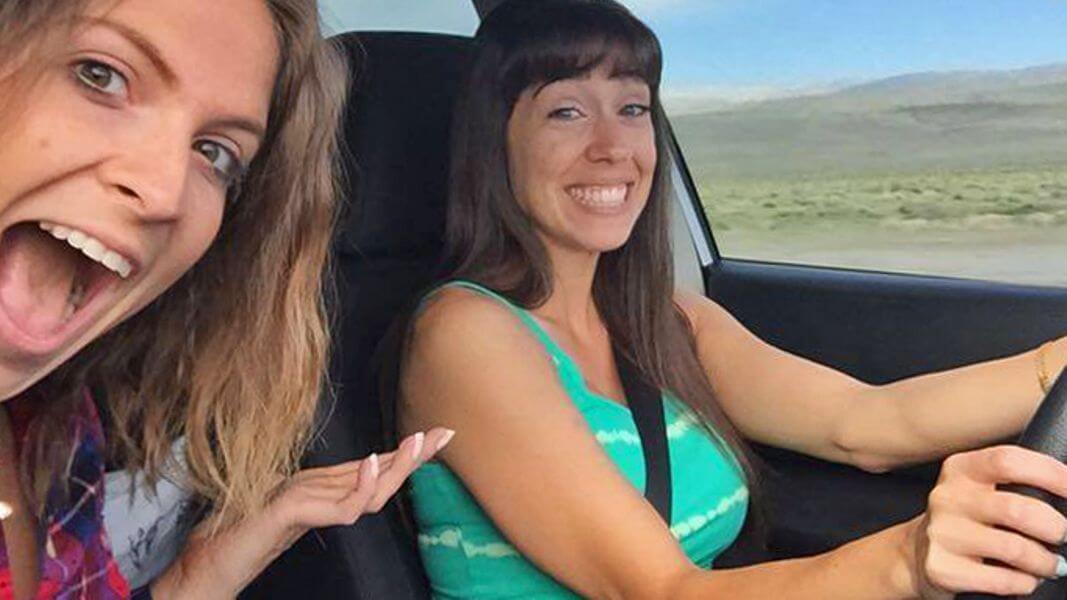 Reno to Spencer Hot Springs
One weekend in July the itch to travel and to get off the grid a bit was hitting me hard, so the decision to explore Spencer Hot Springs was an easy one. I grabbed a friend and some camping gear, and we set off early Saturday morning. It's a 3-hour drive from Reno to Austin, which is a great small town stop on its own or in conjunction with the hot springs, and then another 20 miles on a dirt road out to Spencer. The location is impressive both in terms of physical beauty and the fact that you feel like you're in the middle of nowhere, but it's so easy to get to.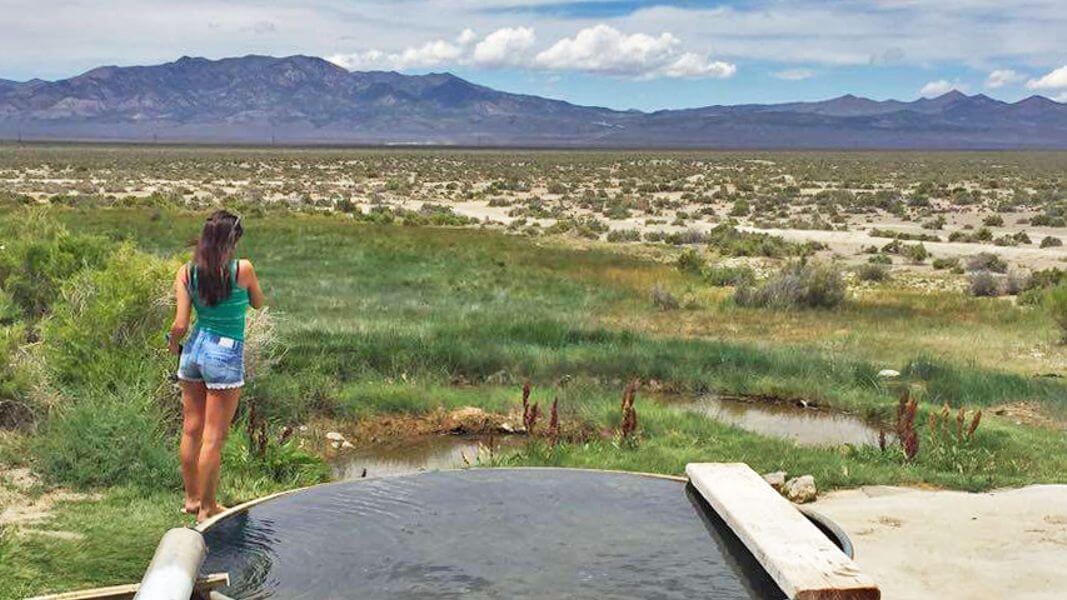 To our surprise, the area was not crowded at all. If you're in search of a more secluded hot spring retreat or to enjoy a romantic getaway, Spencer could be a great choice. We parked by the lower hot spring, which was comprised of a large metal trough that was filled up by water piped in from a hotter source just above it. From the main source, the water is about 130º and guarded by a large metal grate, but by the time it reaches the tubs suitable for human bathing a perfect 100ish° in the summer months. After testing the temperature, we immediately hopped in. The best part about this tub is that the water temperature can be adjusted by moving the pipe in and out of the tub. It was perfect!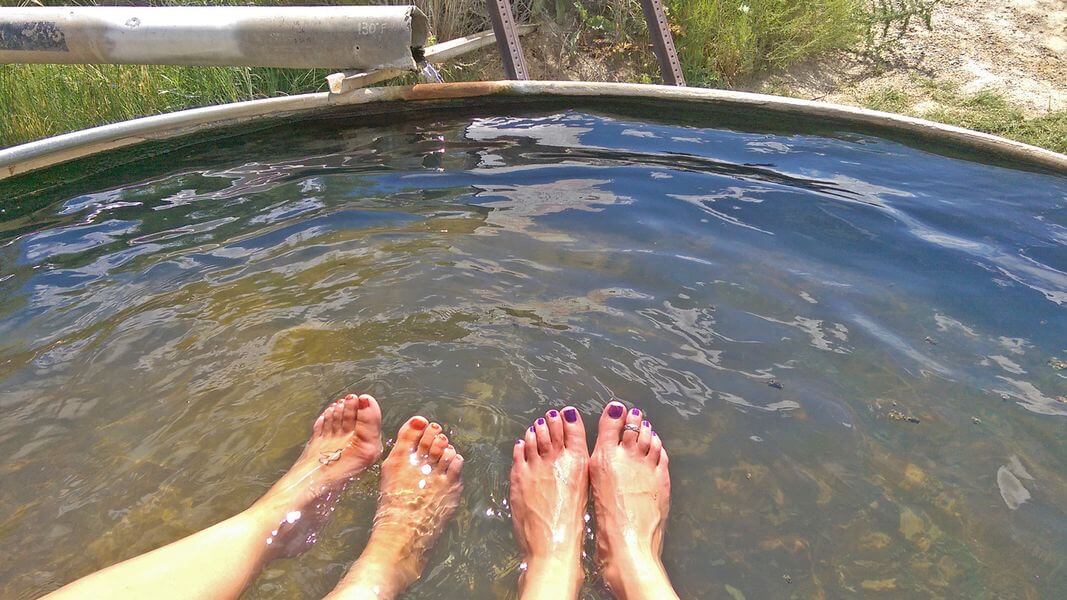 Hot Water & Stunning Views
There is something, so soul-soothing about warm, natural water, and an outstanding view. Nestled comfortably in the tub, your view is of the aptly named Big Smoky Valley with the Toiyabe Crest to the west and the Alta Toquima Wilderness to the east. The combination of water, mountains and the expansive desert is so quintessentially Nevada, and one of the things I love so much about the state.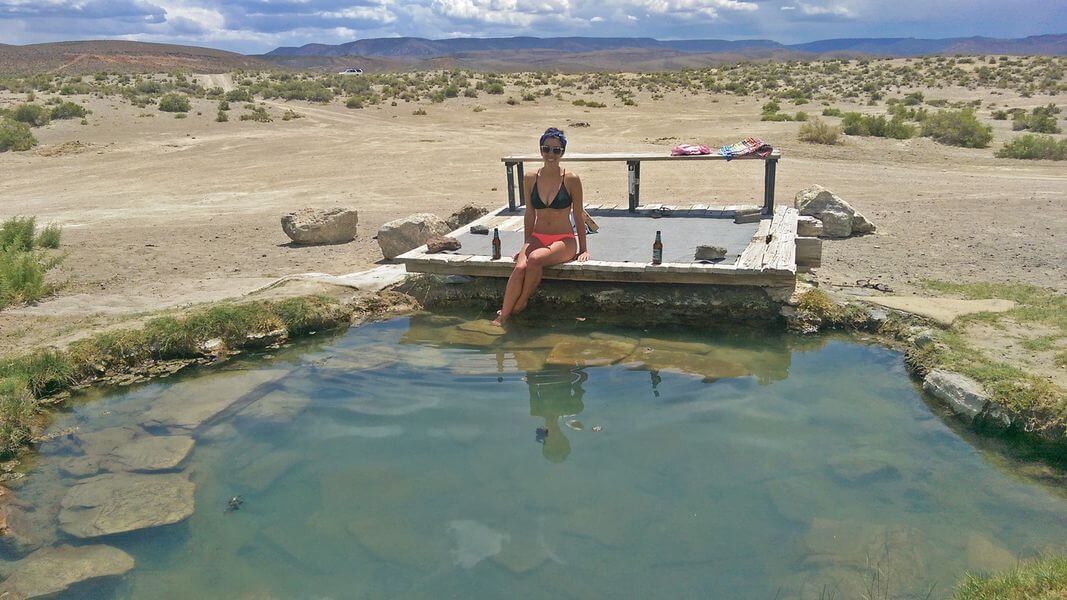 Only a handful of cars drove in throughout the day, most people opting for the larger hot spring­ a slightly cooler, rock-lined pool with a natural silt bottom. This one was the main attraction when it came time for the sun­set soak, and it seemed that most people drove out just for the hour or so around sunset and then left again, meaning it remained quiet and peaceful throughout our trip.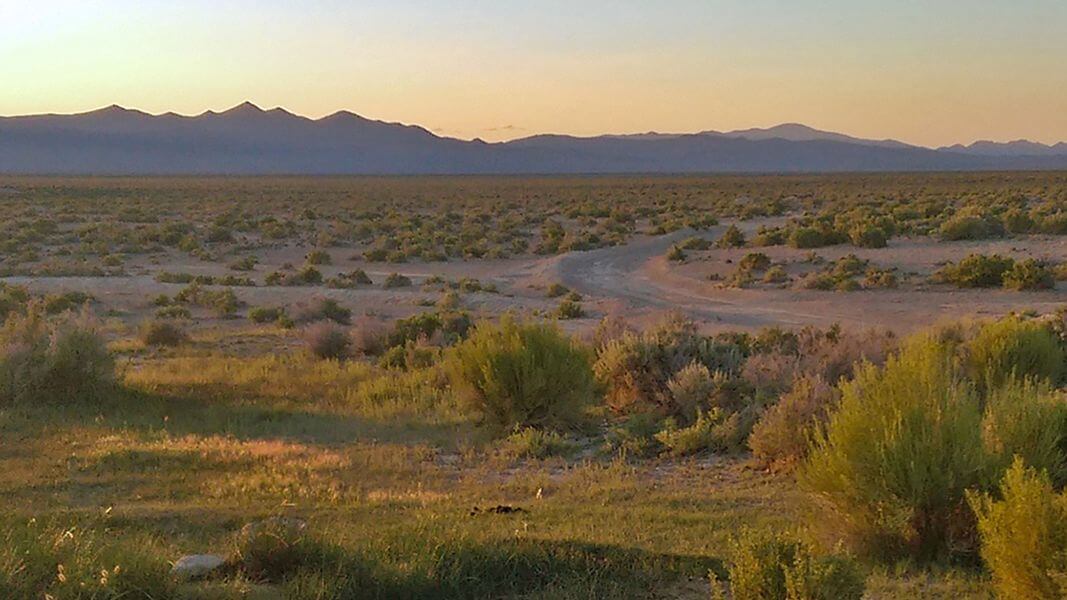 Another awesome thing about Spencer is the wildlife that is present. One of the cool, run­off pools is home to some goldfish, and we were advised to keep an eye out for the Hickison Burro Herd, and a large group of wild burros that rely on several water sources in the area. After waiting (admittedly, not so patiently) all day to see them, the herd finally made its appearance at dusk.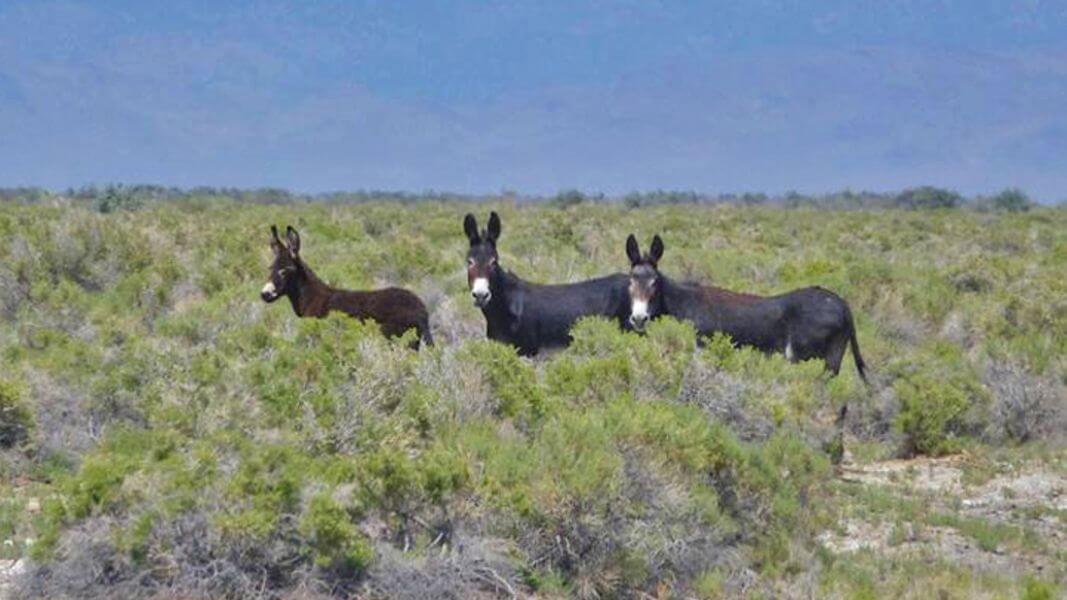 We were still enjoying the warmth of the hot spring after watching one of the most beautiful Nevada sunsets, when we heard them braying off in the distance. We could just barely make out their silhouettes as night fell on Spencer, and they continued to keep us company throughout the night as they grazed just feet from our tent. You could definitely say we were one with nature out there!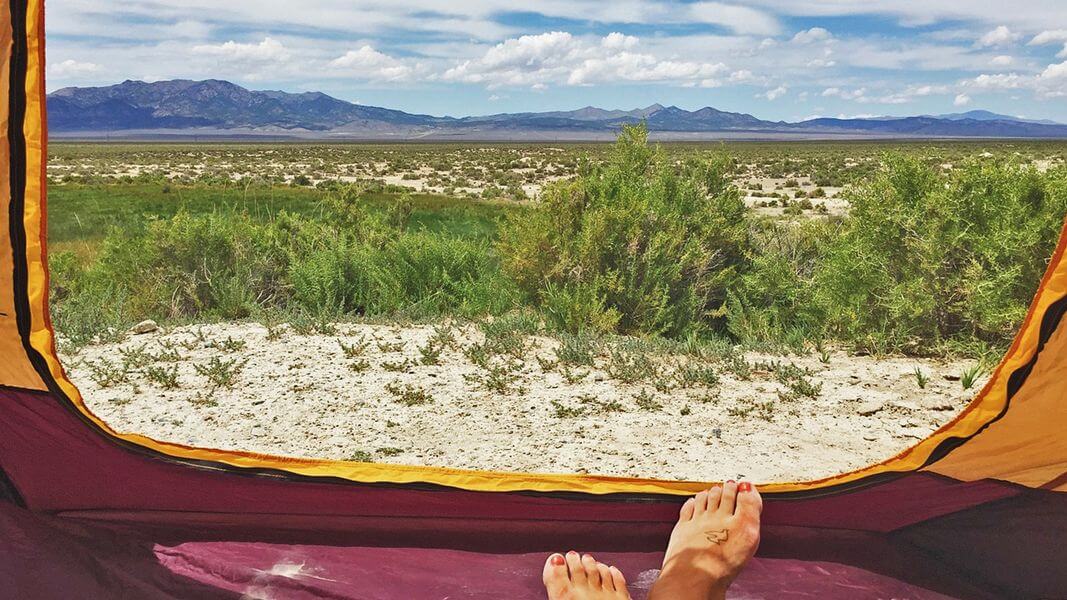 Day Trip to Toquima Cave
The next morning we decided to check out Toquima Cave, located in the Toquima range, less than an hour from Spencer Hot Springs on a dirt road. From the Toquima Campground, it's an easy half-mile hike to the cave, which is covered in pictographs from local American Indian tribes that lived in that area thousands of years ago. Pictographs and petroglyphs like this can be found in caves throughout the Great Basin.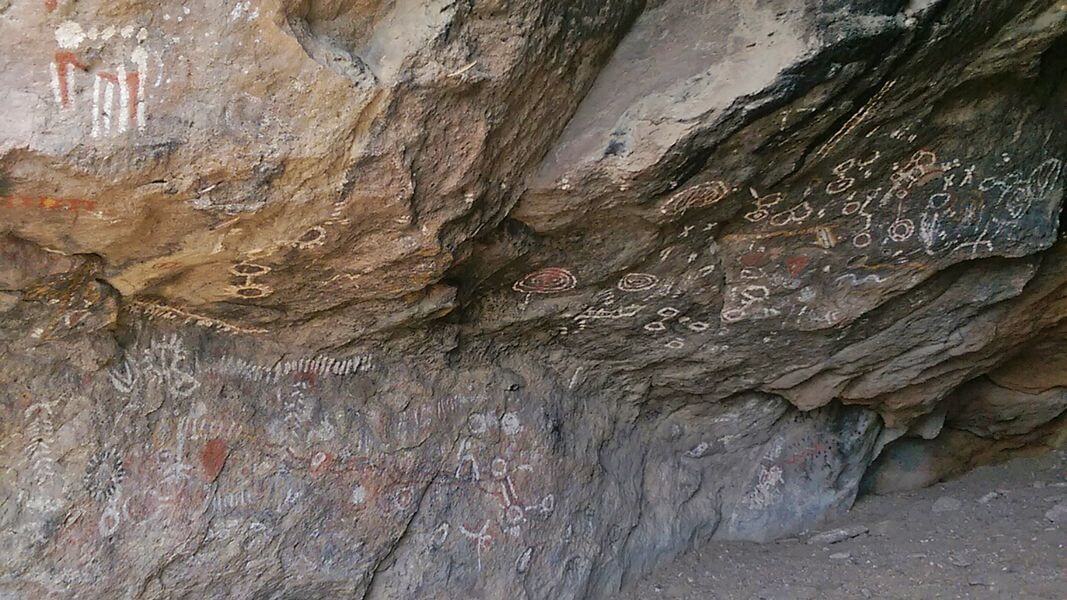 After the hike, we took a dip in the larger pool at Spencer and had great conversations with several people who did not hesitate to share their own stories and pull out maps to show us their favorite Nevada hot springs. What a wonderful experience to be able to share one of my favorite hobbies with others who enjoy exploring Nevada's hot springs scene just as much.
Ultimately, the experience was a positive one with lots of adventure and relaxation packed into just two days, making it one of my more successful Nevada weekend getaways. The best part? I was able to add some other off­-grid hot springs hot spots to my list! #NVHotSprings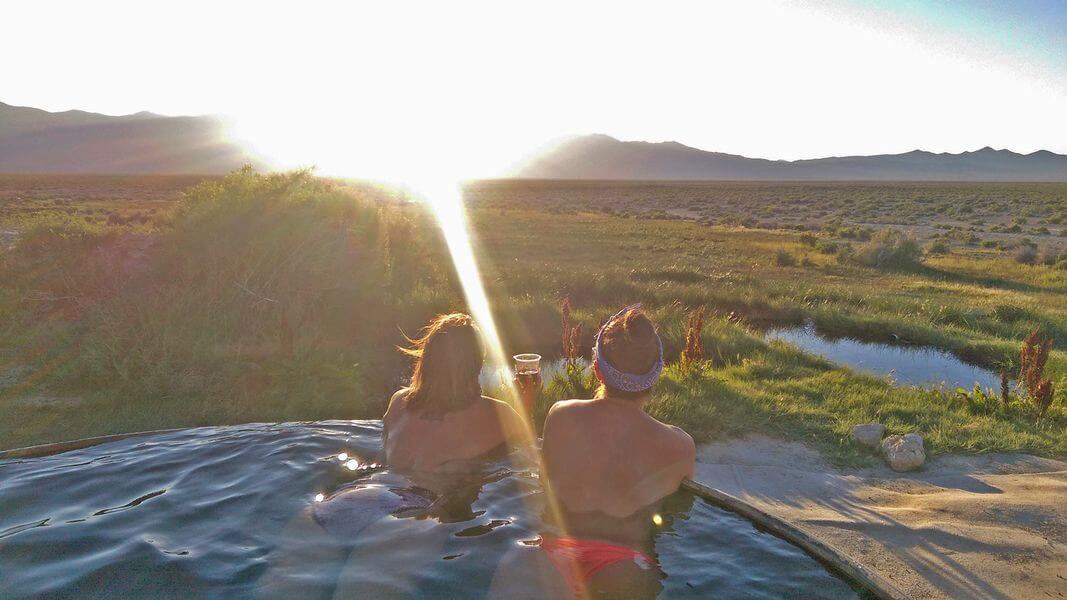 Get Inspired
Related Stories