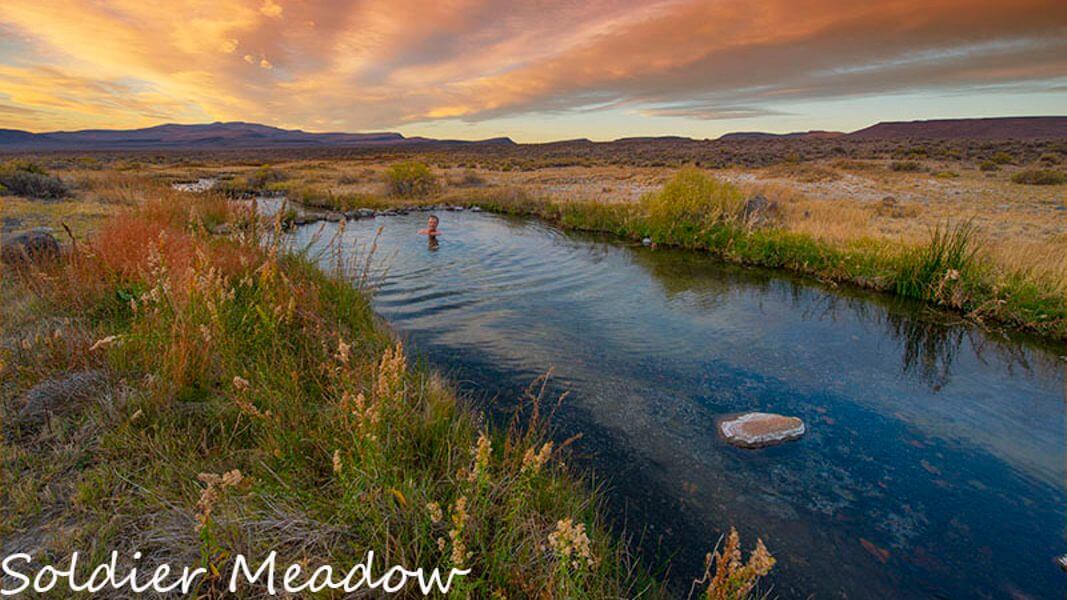 In Search of Hot Springs and Volcanic Features In Northwestern Nevada
EDITORS NOTE: This story is about geologic features and geothermal activity that makes Nevada unlike any other place. The story references a multitude of natural hot springs found all over Nevada, that lie on both private and public land. Though there is mention of a few hot springs on private land, Travel Nevada does not promote visitation to these places or how to visit them (by listing directions or location). Instead, this story showcases Nevada's large amount of geothermal activity that makes such unusual places possible.
As a photographer and geologist, the Nevada State Museum in Carson City recently asked if I could prepare another slide show on geologic features in Nevada. I decided to offer a presentation that compared geothermal and volcanic features in Nevada to other locations. Over the course of several trips, I compiled some images from my lecture. There are many possible routes and ideas from which to choose, but here are some comments on my back roads pursuit of interesting geological features in northwestern Nevada.
From the Carson City area, one could head south, then east to the central part of the state, and then back toward the northwest. I started by driving east on US 50, otherwise known as the Loneliest Road in America, and south on ALT US 95 to the geothermal field at Wabuska, which is north of Yerington. This is the site of Nevada's first geothermal power plant, which was built in 1984. Hot wastewater from the plant is discharged into a wetlands, and you may see a cloud of condensed steam at times.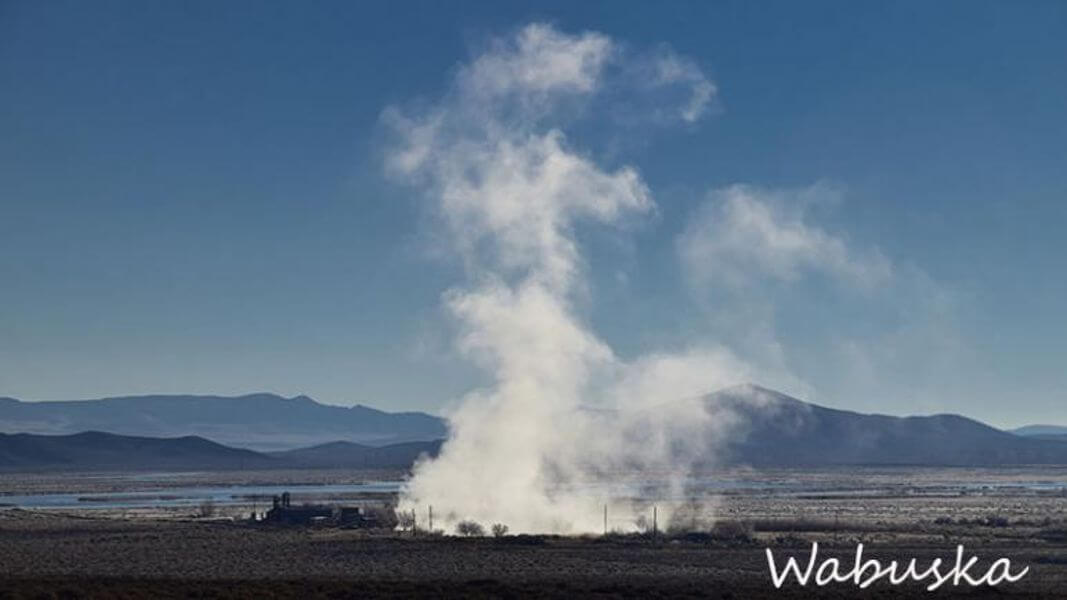 I continued my journey by traveling south of ALT US 95 and US 95 to Coaldale, West on US 6 and then south on NV 773 to the Fish Lake Valley geothermal field. This valley, which is north of Dyer, has a hot pond that is the result of runoff from a continuously flowing well. Interestingly, the well was drilled in 1970 by a petroleum company. While no oil was uncovered, an aquifer of hot water was revealed. The water flows into a small concrete pool and then to surrounding ponds that enable wildlife to thrive in the area.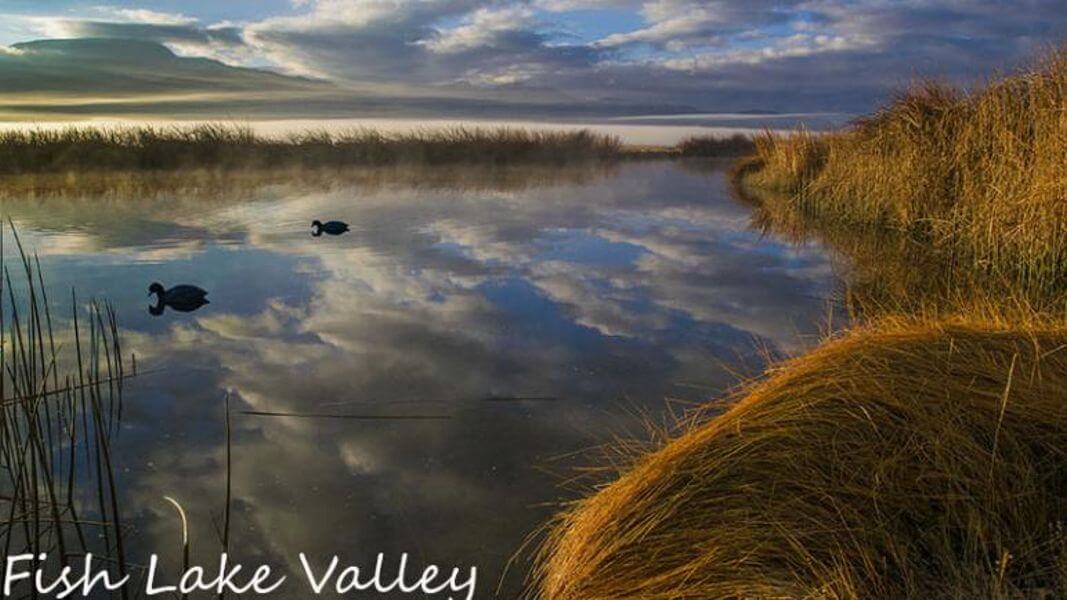 Next, I returned to US 95 and drove north into the Monte Cristo Range to look at the spectacularly eroded rhyolitic volcanic tuff of this region. Truly fascinating stuff that's worth checking out.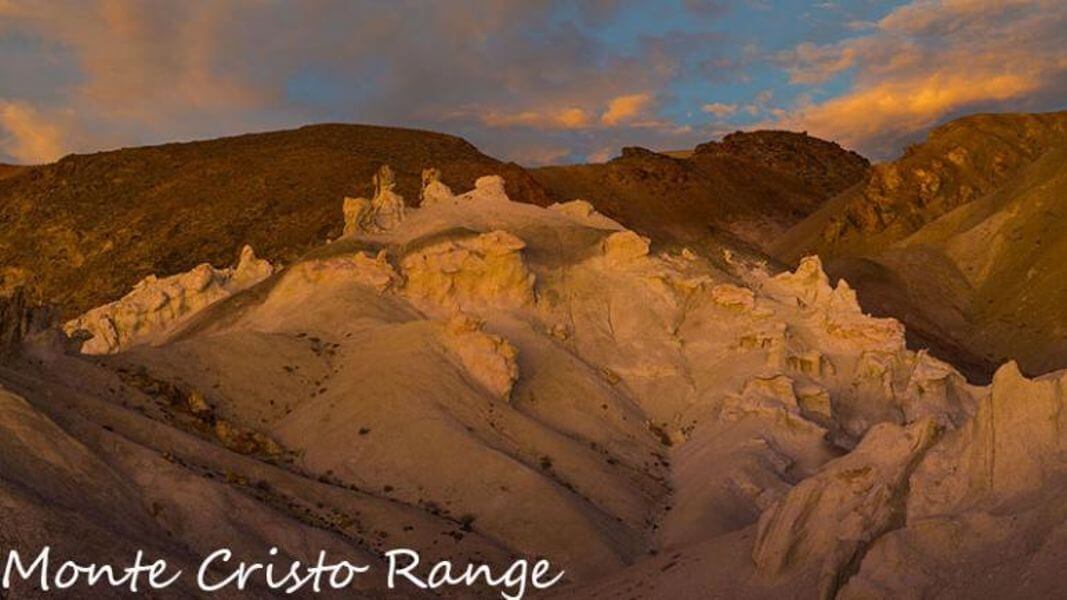 Continuing south on US 95 to Tonopah and then east on US 6, it wasn't long before the route intersected with the NV 375 junction. Just off the road is Warm Springs, an abandoned hot spring resort. You may see hot water runoff from springs, but it is not possible to get into a pool here.
Heading east, I followed US 6 to the Lunar Crater volcanic field. Talk about hot water! There was a lot of it about fifteen thousand years ago, during a time of much greater precipitation, when basaltic magma encountered ground water, flashed it to steam and created a sequence of explosions that formed Lunar Crater. Easy Chair Crater, a very asymmetrical cinder cone, is also nearby and easily accessible.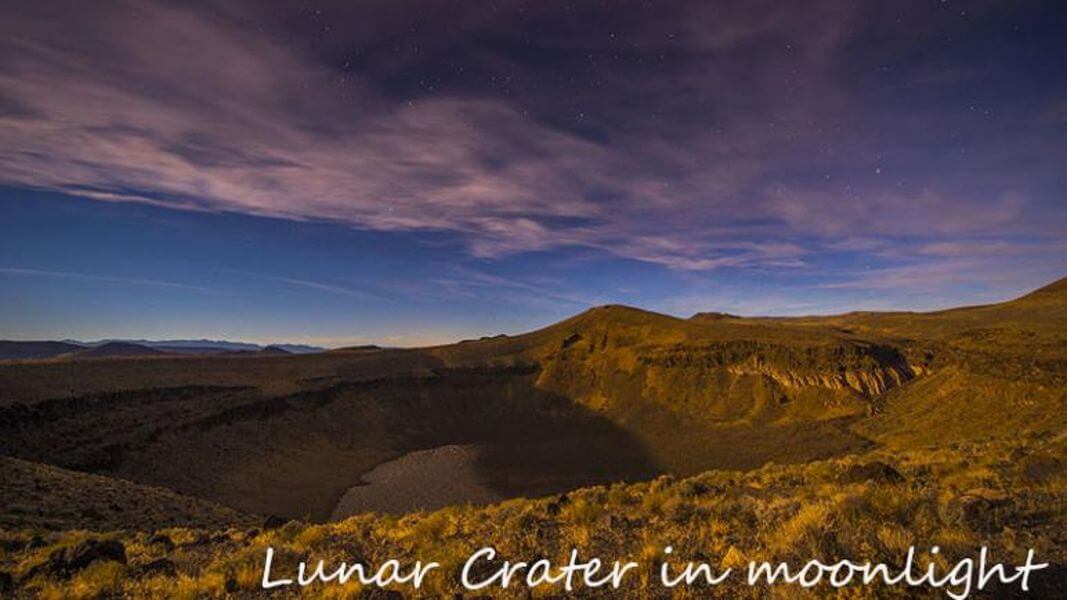 Retracing some of my path, I returned toward Tonopah and went north of NV 376 to Monitor Valley. There, along a fault trace in the middle of the valley, is a low, white hill. It seems inconsequential, but as you climb the hill you will find a steaming pool of hot water the bottom of a cup-shaped depression. It isn't possible to get into the water here (which would be far too hot anyway,) but just one valley to the west is Big Smoky Valley, near Kingston, where you can enjoy Spencer Hot Spring. Again, the multiple pools in the area are on a low, light-colored hill of travertine.
Traveling west on US 50 to NV 121 will lead you north into Dixie Valley. A large geothermal power plant has been built on the west side of the valley to tap the tremendous resources in this high heat-flow area. A short distance to the northeast is Hyder Hot Spring. You maybe able to get into the hot waters at this location, and you can see a small source pool that has colorful drainage terraces, reminiscent of some springs in Yellowstone National Park.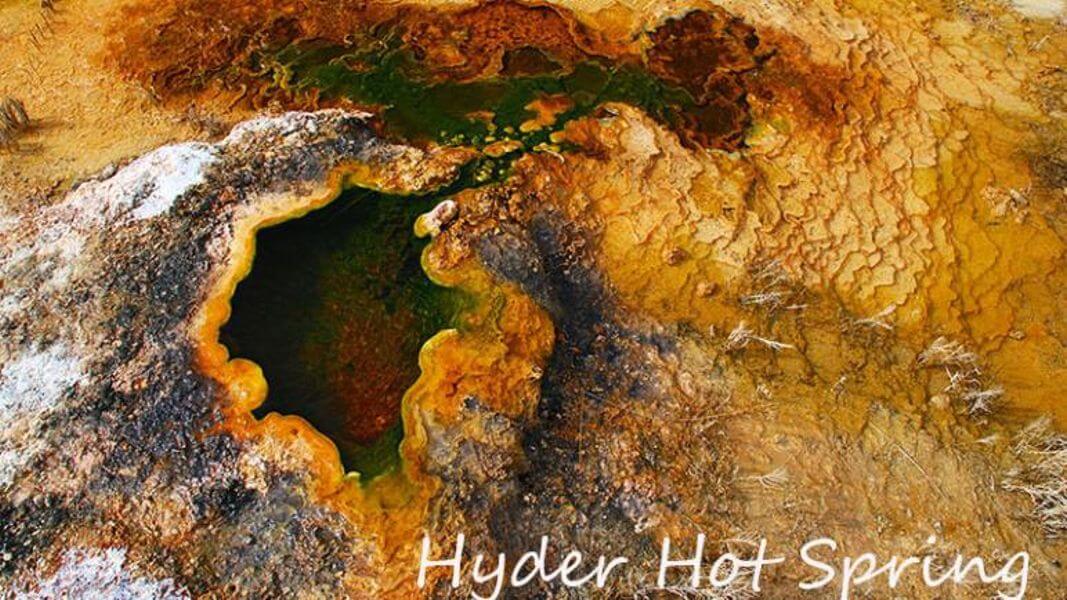 Continuing west on US 50 leads you to Soda Lake, which is 8 miles northwest of Fallon. Interestingly, this is a flooded crater that formed similarly to Lunar Crater. There is a hot spring in the center, but is only slightly warm lake water.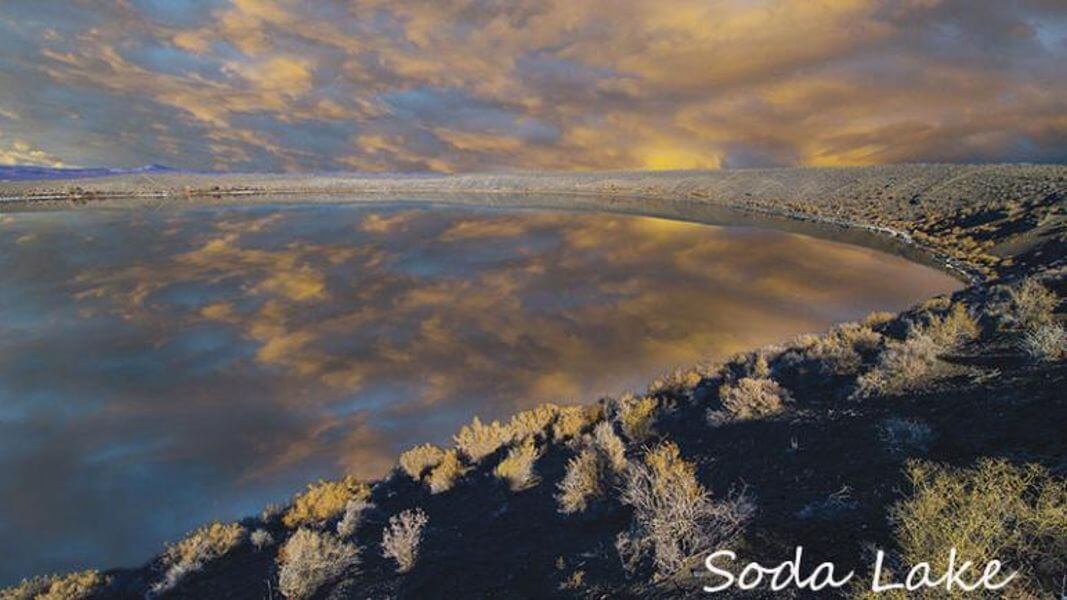 And of course, what kind of a hot springs trek would this be without including the mysterious Black Rock Desert to the north? I traveled north on NV 447 through Gerlach and continued on to the spectacular Solider Meadows. In this valley, travelers can visit multiple pools on Bureau of Land Management owned land, or for a more lavish stay, visitors can kick up their heels at the Soldier Meadows Guest Ranch. Editors note: this guest ranch is temporarily closed due to change in management—please continue to check back for updates. As I overlooked a hot creek under the colorful skies of sunrise, there was no condensed stream rising above the water. I questioned whether people would believe the water was hot. I thought there should be someone enjoying a soak, but there was no one else around. It was a tough job, but someone had to do it. I was even reduced to snapping a selfie in the pool!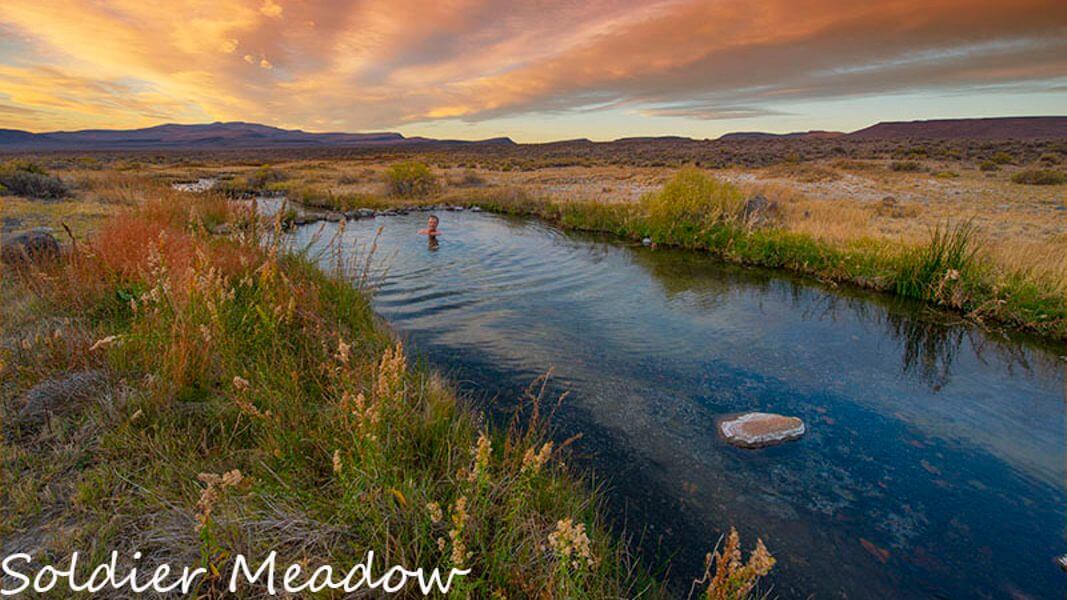 Geothermal features are abundant in Nevada because the terrain is being extended or pulled apart. This results in a thin crust and, concomitantly, high heat-flow. Abundant structural weaknesses, such as faults, enable volcanism and the likelihood that surface waters may be heated. You have many opportunities for visiting these interesting phenomena within the state. #NVHotSprings
Get Inspired
Related Stories