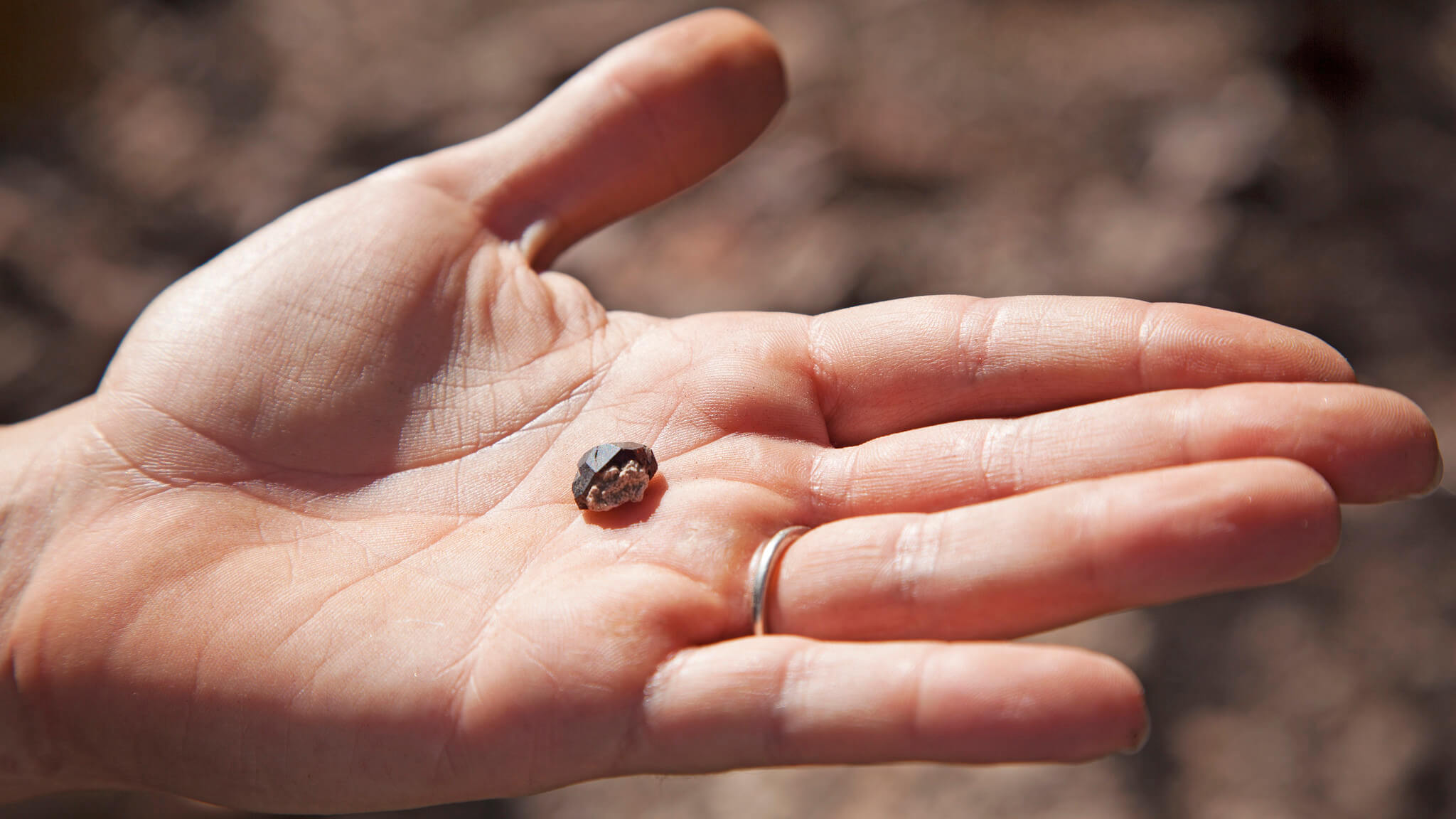 Garnishing Myself in Garnets Galore
We'd bagged Wheeler and Moriah, Nevada's second and third tallest peaks. Stargazed the bejesus outta the heavens in some of the U.S.' darkest skies. Camped at 8,000 feet among the most hard-to-believe-it's-real fall colors, made some epic Dutch oven dinners, not to mention survived a downpour of a lifetime (in the desert at least) at Great Basin National Park. It was the last great hurrah of summer 2014, and although I was still a camper, I was definitely not a happy one. Dragging my sour attitude around the muddy campsite the next morning, dismal doesn't even begin to scratch the surface of my unmotivated energy levels…I was straight up heartbroken and so not ready to get back to the regular grind.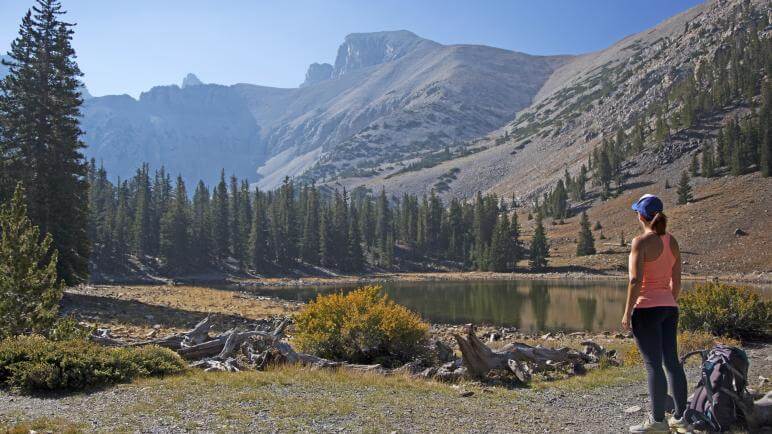 With no other options in front of me, my soggy camping gear and three best buds jumped back on the highway, en route for home base to Reno. Why I love this great state so much was blatantly glaring in front of me as I drank in one stupendously gorgeous basin after another, and it wasn't long before I was in the cheerful community of Ely. At this point I was seriously grabbing for straws in hopes of deterring my inevitable homeward-bound trek.
With my excuses for delay all used up and the Schell Range in the rearview mirror, I perked right up when my husband saw a sign reading Garnet Fields, 3 miles. "Can we pull over? I've got a surprise for you," he spouted off. Uh yeaaaaaah we can. As if I needed any convincing to extend this vacation, I practically jumped out of the moving car at a chance for more recreational bliss.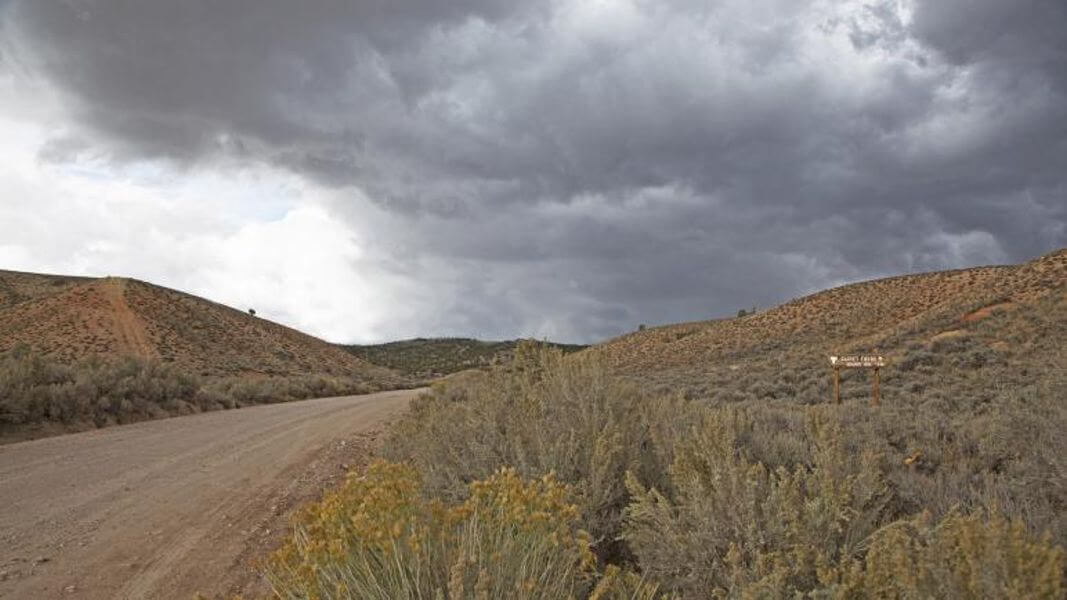 Veering off trusty U.S. 50, we twisted up and around the unmistaken pinion pines for just a couple miles before pulling into a dirt parking lot. Aside from a few locals at their own little honey holes on the road up there, there were no wilderness people, no pay station, and really no apparent rules, which is what kicked this thing off to a good start. That, and the legitimate anticipation for credible adventure I could feel surging all around us. Truly having no idea what we were in for, the four headed to an informational bulletin before my husband peeled me away from the pack.
"Happy Birthday, Sydney. I hope you like it," he said before presenting me with the most gleamingly perfect, personally etched Nevada rock hammer. Yep, this is why I married the man. We were about to mine our own garnets, and I had the coolest tool known to man to do it?! Yesiree, this day had definitely turned around.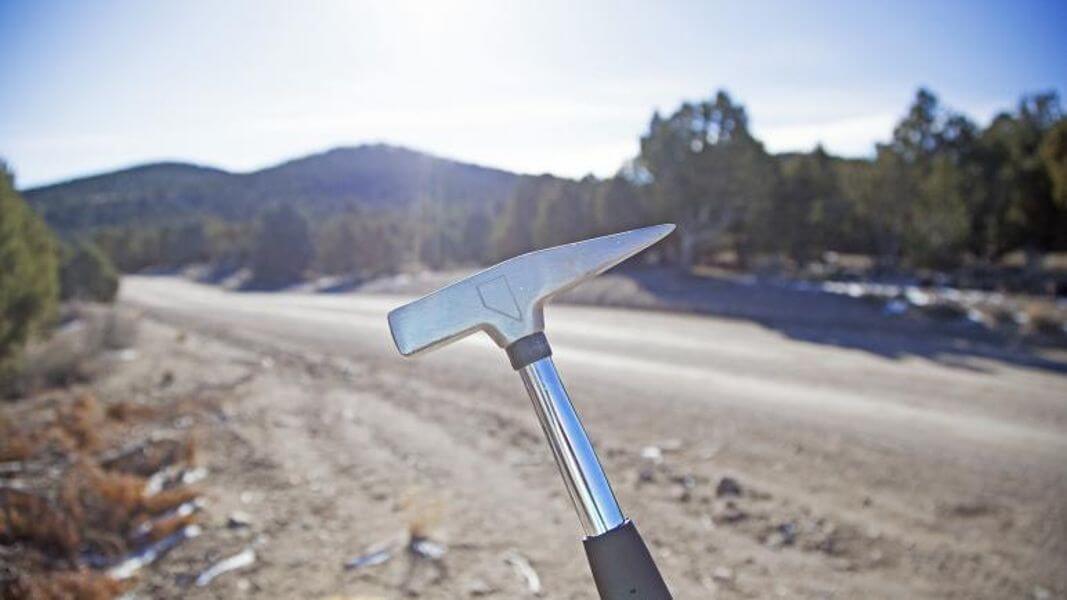 Catching up with our other buddies, they gave us the rundown on the area: the Bureau of Land Management had made it a recreation area after tons of people were drawn to it after finding boatloads of these dark red beauties. Apparently volcanic activity in the area had created pockets of cooling gasses in the rock, which made the perfect little for the scarlet gems to grow. These Almandine Garnets have drawn rockhounding virtuosos from every corner of the US…how, praytell did I not know about this?! Sheesh.
Having been turquoise mining in Tonopah, I knew I had some major digging cut out for me. Garnets though? Something about these stones seemed mega-fragile, making me want to probe for these suckers as mildly as possible. Is that even a real thing?? A gentle prospector? Sounds like an oxymoron. We descended farther and farther down the hillside, hoping to uncover the Hope Diamond of garnets, but got shut down with each swing of the hammer. After an hour of digging holes…BIG ONES, we were feeling the pain of absolutely zero luck and shriveling enthusiasm.
With one cohort basically waving the white flag, she sat down with defeat before hollering out, "Wait guys, is this one?!?!" Dropping what we were doing, we each blasted over to her to find a marble-sized nugget resting in her palm. By golly, it was.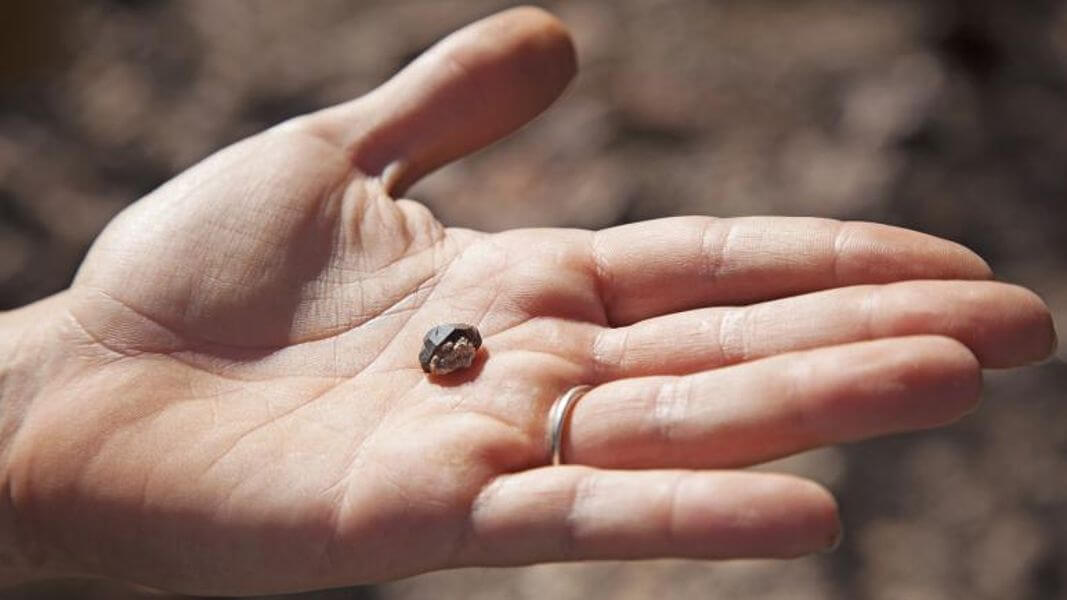 She mentioned that the BLM sign noted that one of the best times to scavenge the area was after a recent rainfall….the apparent silver lining in the torrential downpour we'd just survived. The fact that she had even found a garnet, let alone a mega-beast of a garnet lit a fire under us, sparking some major interest and unspoken competition to say the least. We knew what we were looking for and where to find them: game on.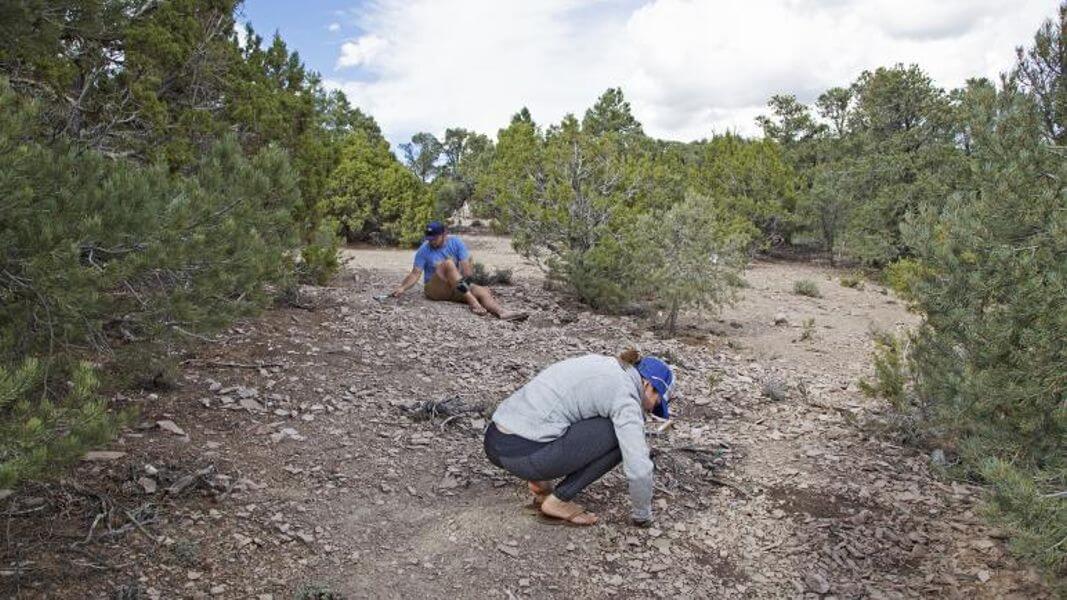 I so badly wanted to use my impeccably crafted mining gadget, but the fact of the matter was I didn't need it and was plucking garnets off the top of the sediment like ducks on a pond. Ten garnets later I assumed I was in the lead before checking back in with the rest of the gang. The boys were at ZERO, and the girls were totally crushing it with a couple dozen gems…something, I'm afraid, that remains a sore subject to this day.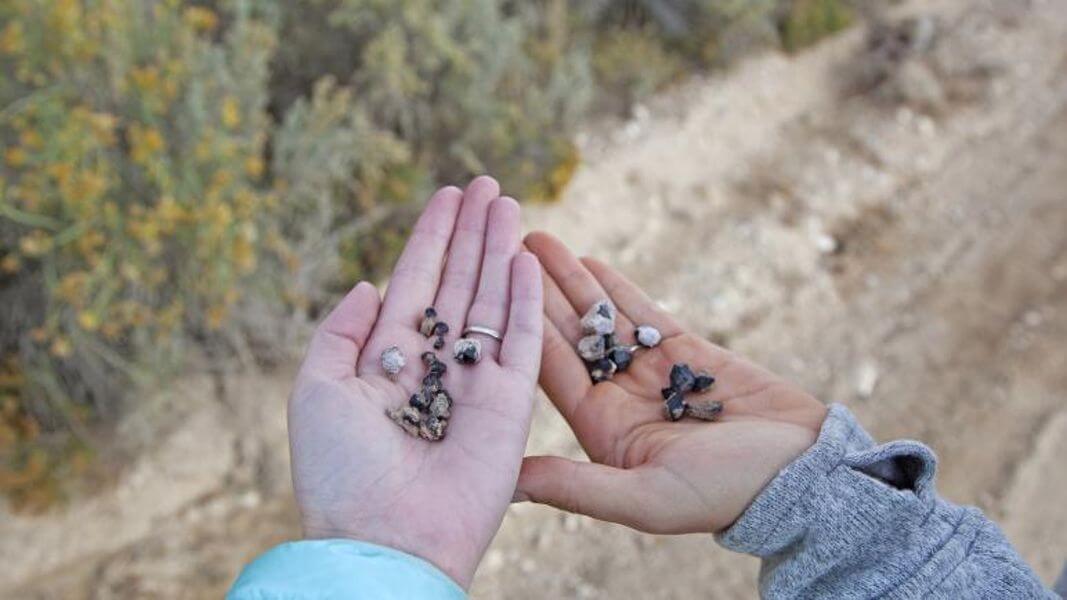 Scoring some of the coolest garnet's I'd ever seen softened the blow of getting back to reality, I must say. But now, what to do with 25 carats of uncut, unpolished Nevada grit?? Hightail it to Michael and Son's in Reno, because they GET IT.
A Real Pro Takes The Wheel
I'll tell you one thing, you don't know intimidation until you stroll into a super-classy jeweler and bust a Ziploc of dirty garnets out of your pocket. I had no idea what the heck I was in store for…they could embrace it and make the coolest bauble ever, or just as easily as they could laugh in my face and turn me away for approaching them with such a silly idea.
Instantly welcomed with a warm greeting by the resident gemologist Martha, she ushered me over to the microscope to have a look-see. Call me crazy, but I knew these were no multimillion dollar garnets. Regardless, I wanted I wearable memory! With confirmation that they were indeed actual garnets, that alone had me over the moon. We had successfully identified and come home with some gems…pretty rewarding experience.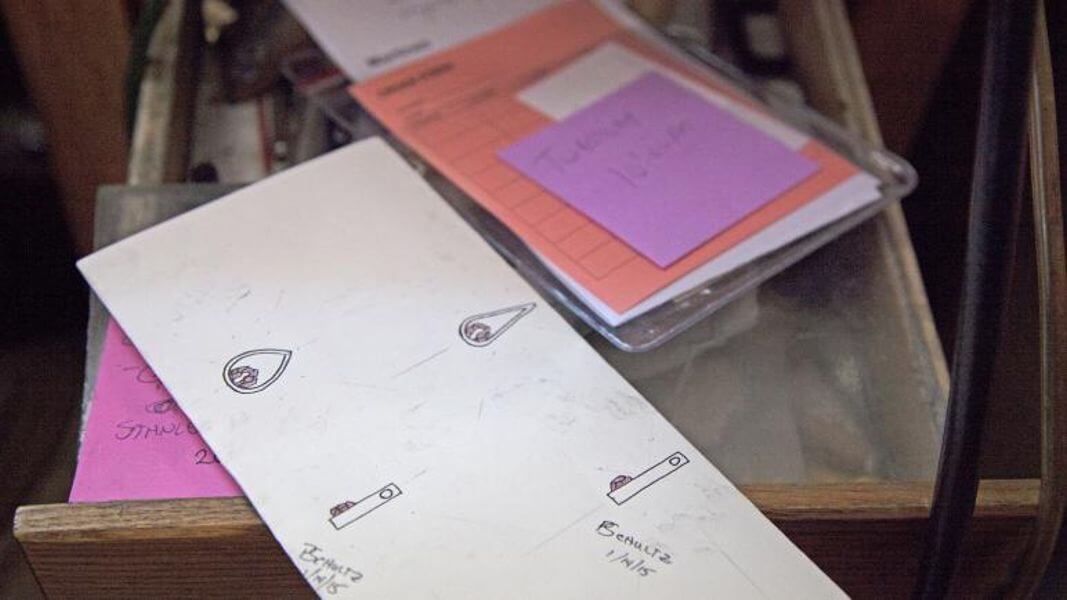 After masterful examination, Martha broke the news I'd hoped for: Michael and Son's could totally create a custom silver pendant. And to think I doubted them for a second. Not knowing what, if any lapidary work was required, she convinced me to "leave a Little Nevada in it," keeping it uncut with some cool natural veins exposed. Done and done. Five minutes later, I could hardly believe I was entered in their system with an appointment set for a custom made lavaliere to commemorate an unforgettable Nevada outing.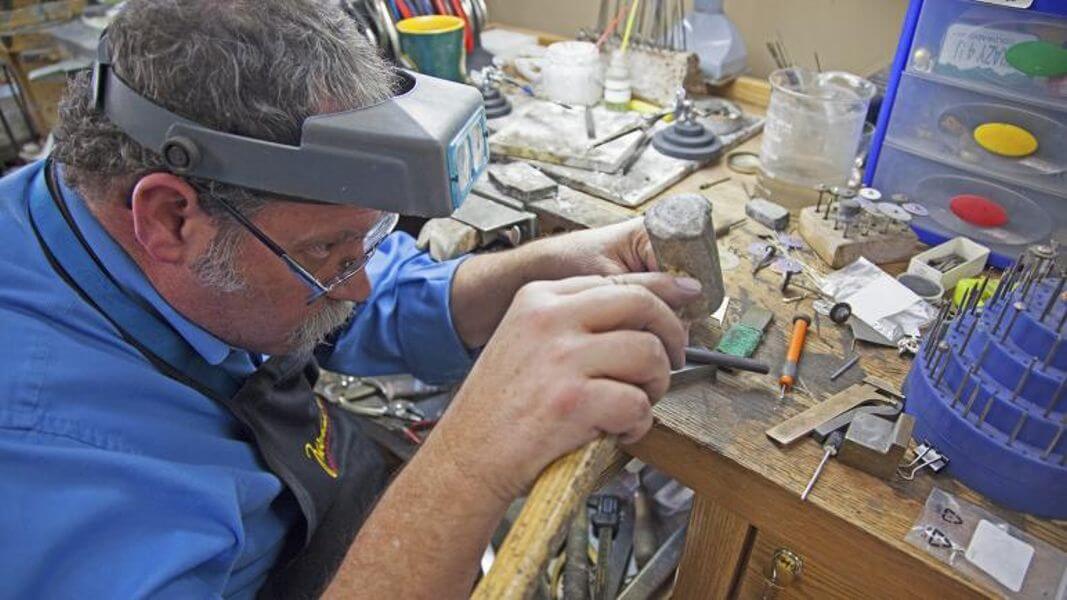 A week later, I was back at Michael and Son's, presented with an incredible sketch of what they wanted to whip one of my garnets into, and hanging out with the mack daddy of all jewelers. Just as I had stumbled into quite the cache of garnets on the hill that day, I had also unknowingly done the same thing at Michael and Son's, being paired with a 4th generation Nevadan badass. A few minutes in, Pat asked me where I found the stones, guessing Garnet Hill before I could even respond…then telling me that he himself hailed from Ely, along with several other generations of family members. You seriously can't even plan this stuff.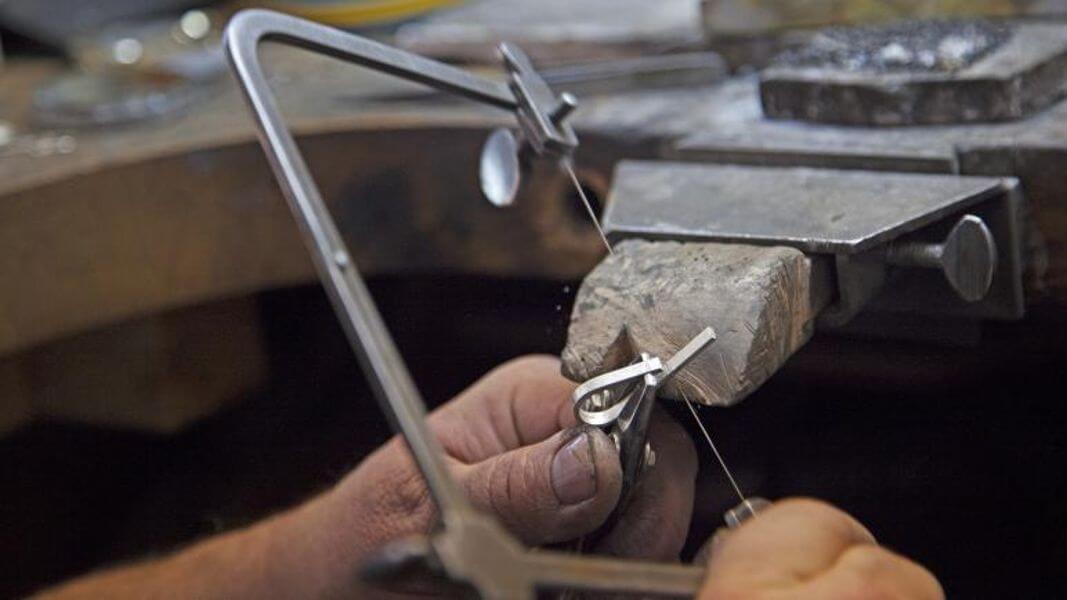 Pat's reputation of being the shop's master jewler was confirmed as I watched him delve into a metal molding ritual…something clearly perfected over the 11 years he's spent at Michael and Son's. Originally a mechanic, Pat swapped his wrenches for files, committing to a 10-year apprenticeship before landing a gig at Michael and Son's, now working as master jeweler magician. Working with chemicals galore, spitting steam, blowtorches, saws and even metals heated to 1,200 degrees, there was an obvious manliness and danger involved in the craft. Sure, tons of guys could probably live up to it, but that, combined with delicacy and attention to detail in order to truly create something special? That is something you can't find just anywhere my friends.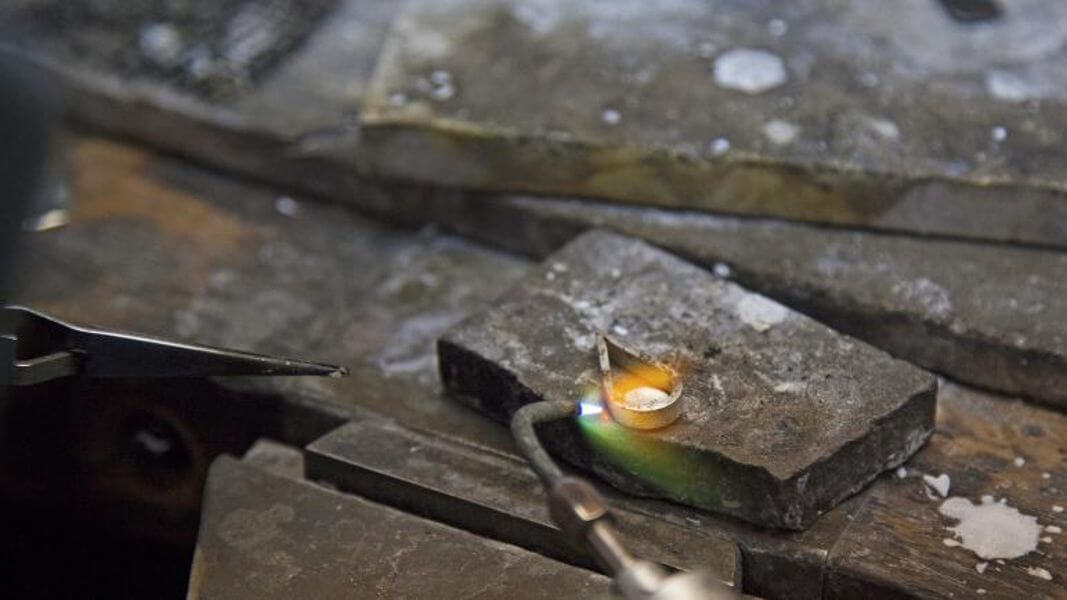 Here, where I thought I had learned everything to be had at Garnet Hill, he told me that not just the recreational site was populated with loads of those things, but pretty much the entire stretch from Ely to the northern city of Elko. That, and the Ruby Mountains were mistakenly so named because people thought the gemstones they were unearthing were rubies when they were, in fact, garnets.
Unveiling the impressive sketch for his master plan, Pat started slinging silver like a pro, bending, molding, shaping to perfection behind his gargantuan workstation. Something funny about this whole setup reminded me pretty closely of Gepetto's workshop. Hammers, files, pliers, drawers, metals, woods, you name it. It was a true setup, where amazing stuff was clearly about to go down.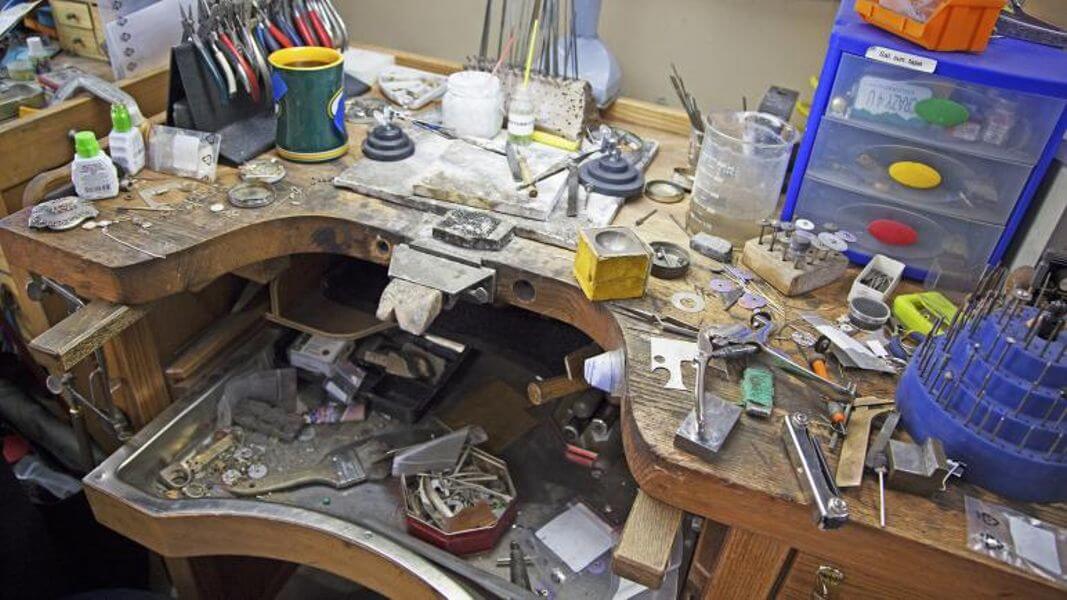 Hammering, torching, sawing, and shaping seemed to last for hours, but every single move…no matter the repetition unquestionably commanded every last ounce of my attention. I was in front of a true master at work and it was just plain and simple, the coolest.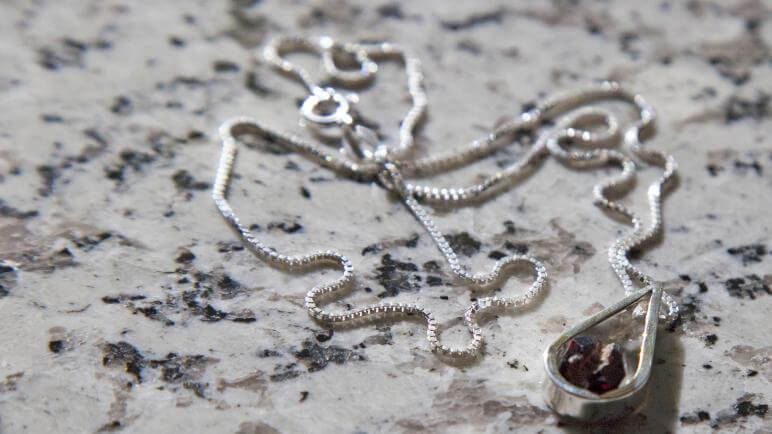 Just as simple as it would be for you or I to get dressed in the morning, Pat shaped an impressive pendant without batting an eye. What blew me away the most was the fact that he recognized the spirit of the trek and crafted something that downright enhanced it. The pendant was as fluid and dynamic as the landscape, crafted with the ever-so-fitting silver metal, and left uncut and raw with a little Nevada grit, making the whole experience come full circle. To me, having such an overwhelmingly top-drawer experience that is then transposed to an attainable memento—it just doesn't get a whole lot better than that. #NVAdventure
Get Inspired
Related Stories