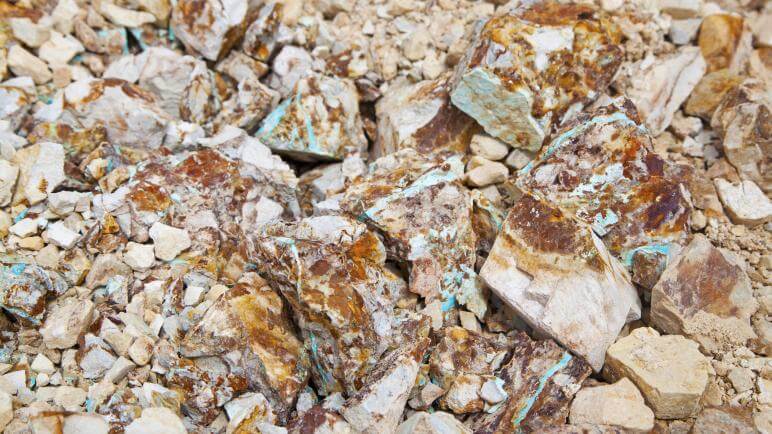 Turquoise in Them Thar Hills
DIPPING A BIG DOE IN NEVADA'S TURQUOISE MINING MECCA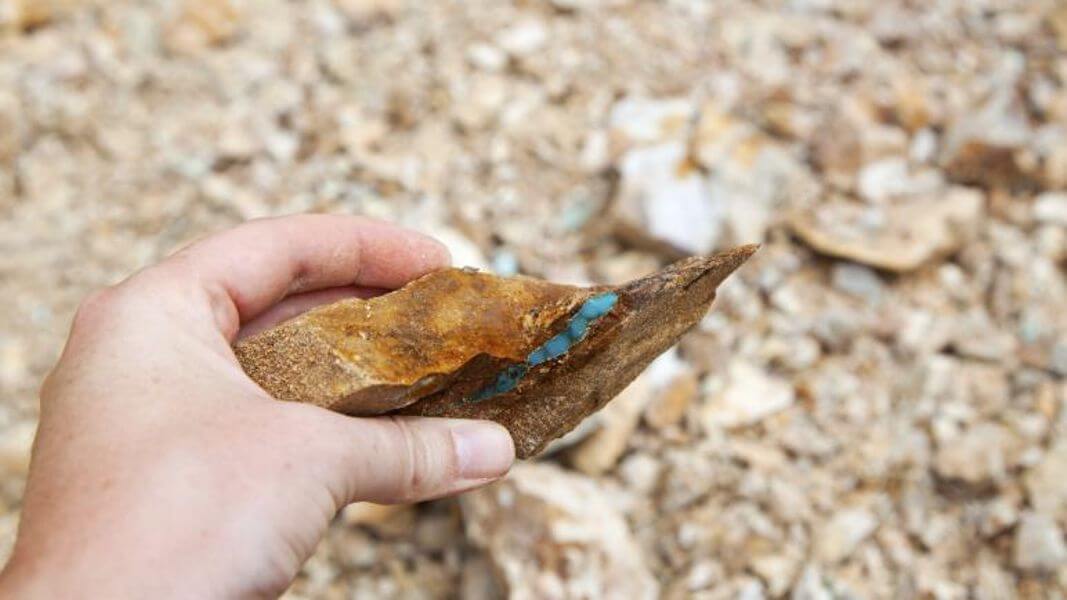 Just when you may have written off Nevada's landscape as uninteresting, you may want to check yourself. There's turquoise in the hills of Tonopah, I'm talking boatloads of it. Nevada has managed to nab the number two spot of the United States' largest turquoise producers, and I got to crawl into the belly of the beast myself at the Otteson Brothers Turquoise Mine. Immersing myself in the grit of authentic Nevada adventure with some good ol' boys, this is without a doubt one of the most powerful things I've experienced in the Silver State.
Having signed up for a turquoise mining tour out of Tonopah's Otteson Brothers Turquoise Mine Tour, I didn't have any real expectations, other than snatching a nugget of what served as Tiffany and Co.'s inspiration behind their signature blue hue. Per instruction, I had my closed-toe shoes, sunscreen and full canteen of water before individually caravanning out to the Otteson's third generation turquoise mine in the hillsides surrounding this central Nevada community. Originally thought to have been mined dry, the family opened it back up decades later with more sophisticated mining techniques in tow, and have been successfully chasing gargantuan veins of turquoise in decades since.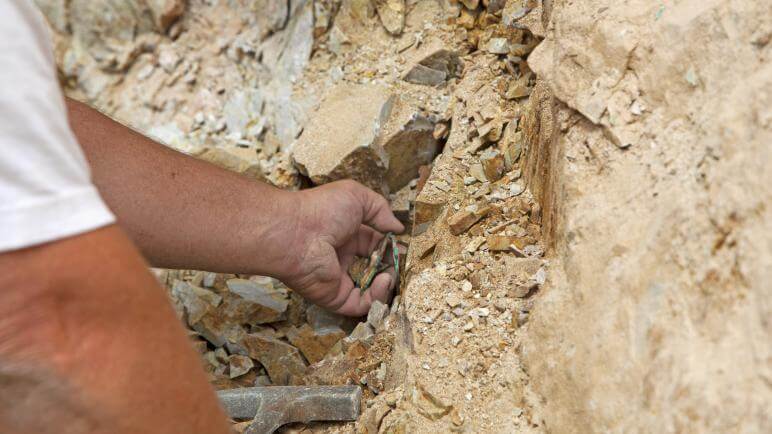 Rendezvousing with the group at the mouth of the mine, the Otteson's basically turned us loose with no real instruction. Han on a sec, did I miss something? I felt an unnerving void that only fellow Type A personality comrades would understand; don't I usually have to listen to some sort of schpeel? "Is there something in specific I should keep my eye out for?", I asked, before getting a friendly response of, "Nope, you'll know it when you see it!" Well ok then, here goes nothing.
Who did I think I was, doubting a professional miner. Silly, silly me. He wasn't kidding…the mounds of debris near the mine were completely bedazzled with turquoise, as far as the eye can see, scattered literally everywhere you looked. A bazillion percent different than any other mining I'd tried my hand at, turquoise mining was intoxicatingly rewarding…no wonder the Otteson's are out there 6 days a week. Instead of standing there panning for microscopic specs of gold, everyone was securing fist-sized lumps of turquoise. It was lucrative and addictive; every day was a good day for the Otteson's.
Spending hours and hours scrambling for my most prized fragments, my allotted bag was bursting at the seams so we turned back toward Tonopah. As if I wasn't already on a turquoise high, the youngest generation of Otteson's escorted us to a room where they picked our best samples, and proceeded to cut and polish them into actual gemstones. Hanging on every buzz and grind, it was finally my turn and within a few minutes, I had a dozen choice pieces of authentic Nevada turquoise (some of the most brilliant in the world, mind you), from some bona fide, multi-generation Nevadan miners to boot.
Could this experience get any better? In short, yes. Yes it can.
SEALING—OR SMELTING—THE DEAL
Now that I had a pocket full of geologic perfection, I was hot to transform it into something wearable. Who better to seal off this already unbelievable memory than the wickedly talented Reno-based silversmith Lindsay Jones!? Owner of the reputable Honey and Goldies, Lindsay creates each one of her baubles with Nevada-mined turquoise, genuine silver, and a heartfelt touch as the cherry on top.
After rattling off my crazy-insano rockhounding adventure in the Tonopah hills, I was over the moon when she offered to craft my find into a masterpiece. Handing over my bounty, we carefully chose a particularly vivid, crescent-shaped stone and she was off and running. Watching her creative capability redline and astute attention to detail throughout the entire process was nothing short of amazing; this girl was not a rookie.
And what a process it was. Contrary to the very little patience required to lock down a hunk of turquoise at Royston's, all the diligence in the world was imperative to execute this meticulous silversmithing operation. Just as you'd imagine, each step of the grueling process was clearly calculated and precise. I watched Lindsay rigorously perfect her craft as she worked the metal back and forth, carefully measuring the materials as the molding took shape. The process was spellbinding: one minute she was quiet and focused, delicately placing accent balls, or gauging the exact amount of silver required. Next she would fire up the blowtorch, saw the unnecessary scraps out to perfect the shape, or drive the hammer home. I'm no expert, but it seemed to be the perfect combination necessary for a big league jewelry maker to deliver: unparalleled material, calculated precision, and the utmost attention to detail. The final product was an unconditional labor of love, and something, years later, I proudly rock.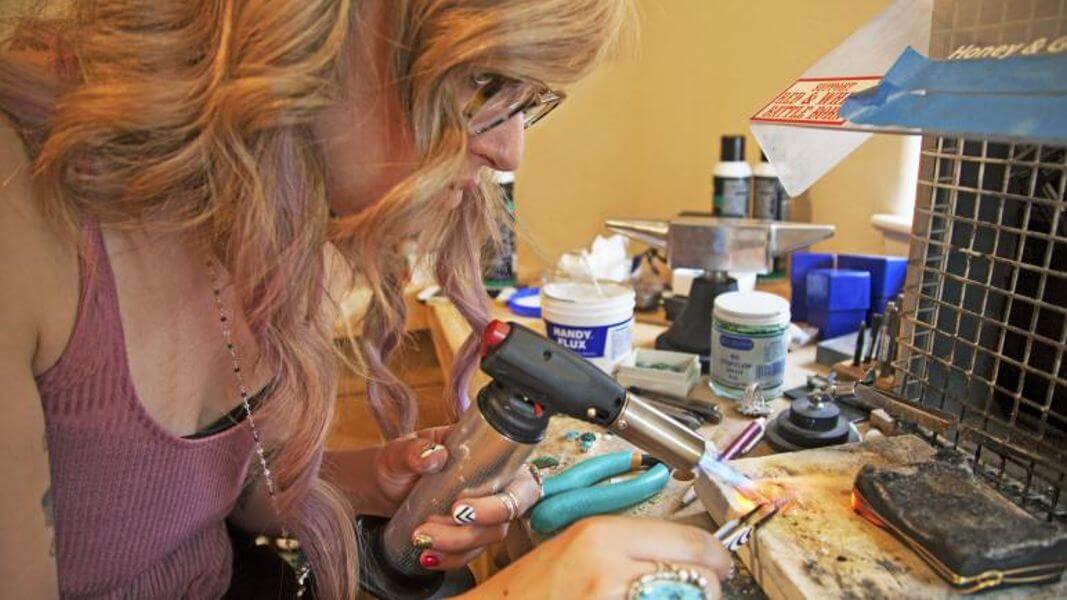 Sitting in the mouth of the mine having the Otteson's help me secure a gorgeous Nevada-mined stone, then watching it artistically transformed into the most beautiful ring I've ever had the pleasure owning was a legitimate thing of beauty. It was raw and nothing short of wonderful, and quite frankly, doesn't get much more Nevada than that, folks. #NVAdventure
Get Inspired
Related Stories