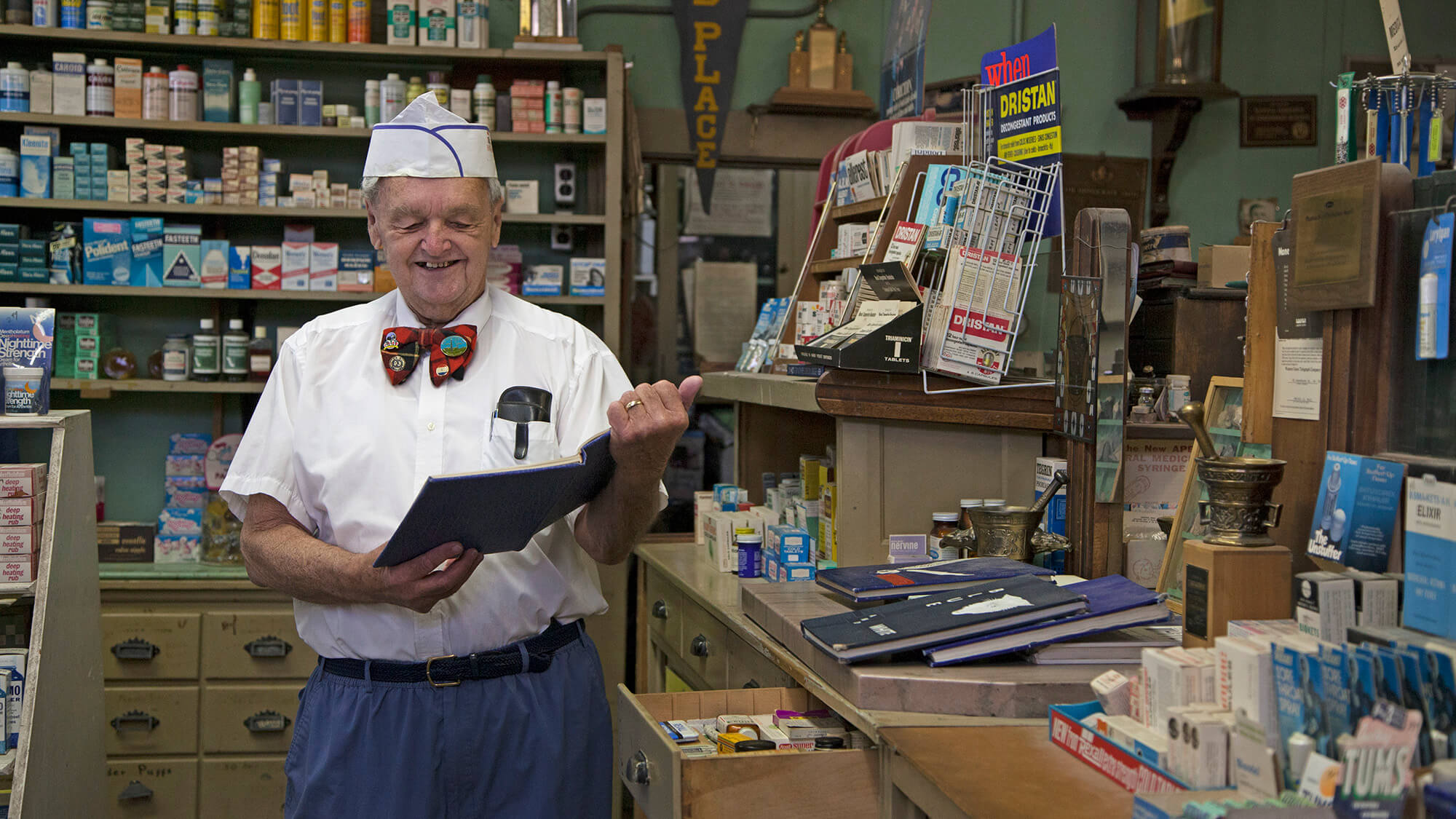 19 Ways To Grab Onto Nevada's Museum Madness
Before hittin' the road be sure to get in touch with the museums you plan to visit as some museum business hours may have changed due to COVID-19 health and safety measures.
It's true, Nevada is a land of many things full of diversity you'd never see coming. And if there's one thing we're not lacking around here, it's HISTORY, super impressive history at that. As the nation's seventh largest state, we certainly have a lot of ground to cover, with rich history oozing out of all 16 counties. Buzz worthy neon, a mecca of mining ruins, amazing American Indian presence, military bases to marvel at, lovable locomotives, ranching to write home about and even a little bit of Nuclear Nevada finds its way in there too. Check out these 19 relics you didn't know you could find at these Nevada museums. GAME ON.
1. All The Neon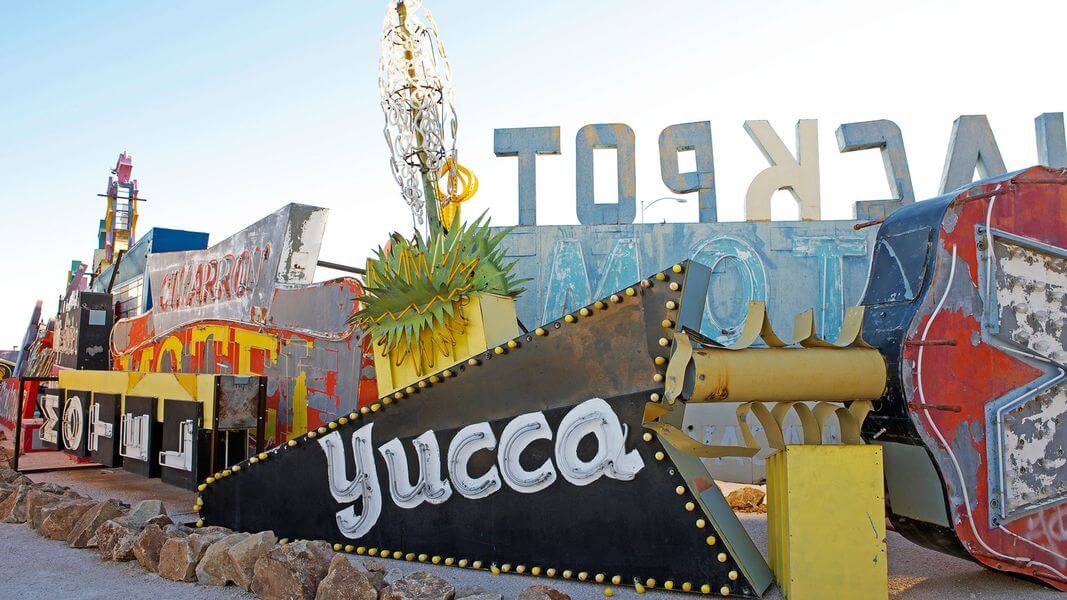 Nevada is, without a doubt, the neon capital of the world, but this is far from a modern-day sorta thing. Didn't just happen overnight. Standing under all its modernistic glowing glory, it is hard to not be completely consumed with, but getting up close to some of these iconic gems is an experience unlike any other, trust me. Peruse what the Neon Museum calls their boneyard to appreciate some quintessential Vegas you might otherwise, overlook. Relish some crazy-amazing photo ops next to iconic beauties [like Lady Luck, my personal fave] and be sure to grab on to this Travel Nevada Pro Tip: take the night tour. An excursion so paralyzing that even the Rat Pack would approve.
2. A Pony Express Rider's Bible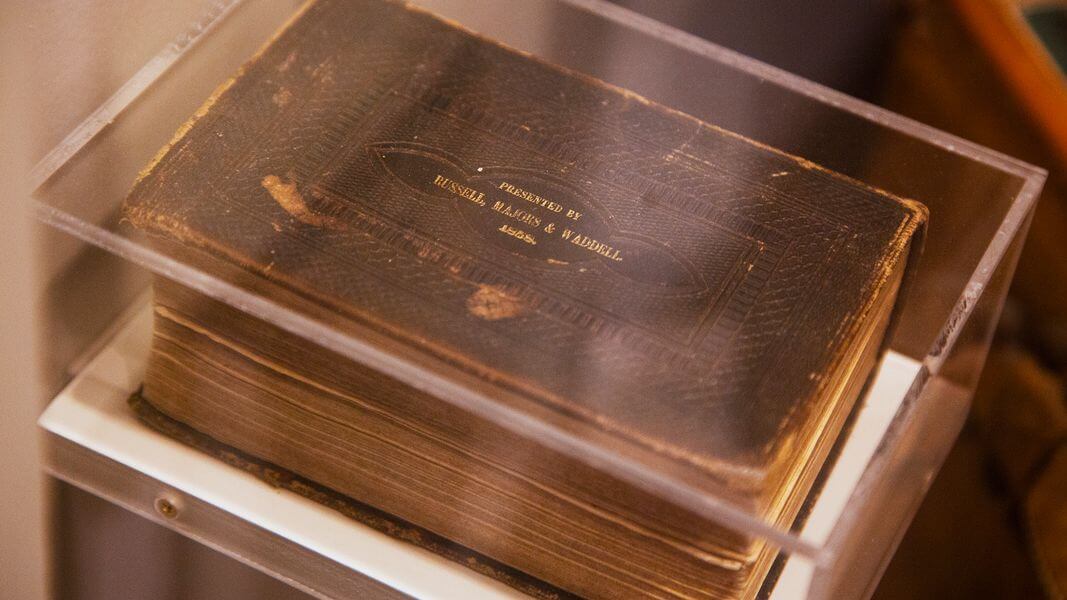 Oooooooh yes. There's a reason that the Pony Express practically has a cult following, guys. The fact that men delivered the mail on horseback through seven states through radically diverse obstacles is undeniably interesting. To us, the most compelling were the riders themselves…the ones taking the historical allure to new strides. Often orphans or single men, all Pony Express riders were given a special edition leather-bound Bible. Personally inscribed to each rider with gilded pages, the Bibles were a thing of beauty and certainly sacred in more than one sense. And guess who's got one of TWELVE copies left in existence? The Nevada State Museum in Carson City. Need we say more?
3. Seriously Cool Adobe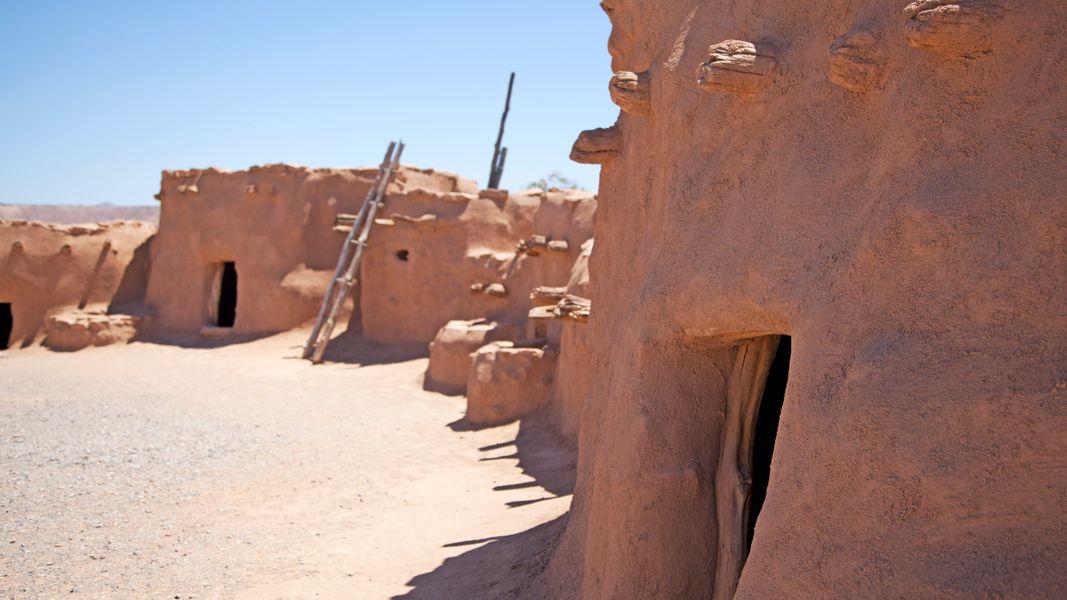 The best thing about Nevada history is that in most cases, it's not just one layer of stuff…it's multiple. The Lost City Museum definitely attests to that with its replicated adobe huts, designed to mimic those inhabited by Ancestral Pueblo that called the Moapa Valley home over 800 years ago. These huts are wicked cool—honestly, what better way to understand what life may have been like inhabiting them, than actually going inside one?! It gets better. The original adobe huts community established by the Ancestral Pueblo was originally down the road from modern day Overton. Then, in the 1860s after they were long gone, white settlers occupied the area creating a town called St. Thomas, which was then gobbled up by the Hoover Dam initiative during the 1930s (meaning the whole town was submerged with the water of Lake Mead.) This was a huge loss for all St. Thomas occupants for more than one reason, but especially because they cherished the remaining original adobe huts so much—they even used them to put on pageants! So, the Civilian Conservation Corps swooped in during the 1930s and built the Lost City Museum that still stands today, along with the replicated adobe huts. Ancestral Pueblo presence, a flooded ghost town (that's now revealed itself due to drought,) the CCC and one amazing museum? This right here, is a museum home run.
4. An 1800's-Era Classroom
The Fourth Ward School is one of the only lasting examples of a Victorian-era school from the 1800s, and is right in the heart of Virginia City, begging to be toured. Once referred to as "The finest structure of the kind in Nevada" by Mark Twain himself, you can imagine that the interesting relics to savor are far too great to call out individually. With the Comstock Lode burgeoning right around the corner, every last establishment in this boomtown was lavish and decadent to say the very least. By today's standards, it seems quite normal to have things like heating and water, but during the 1870s this was quite the opulent feature. The Fourth Ward School boasted state-of-the-art heating, ventilation and sanitation systems, as well as water piped to all of the—you guessed it—four floors. When touring this fabulously restored historical jewel today, take note of our personal favorites: the original, individual student desks (yet another indicator of wealth) or one of the drinking fountains that's managed to last more than 140 years.
5. The Most Intricate Woven Baskets Of All Time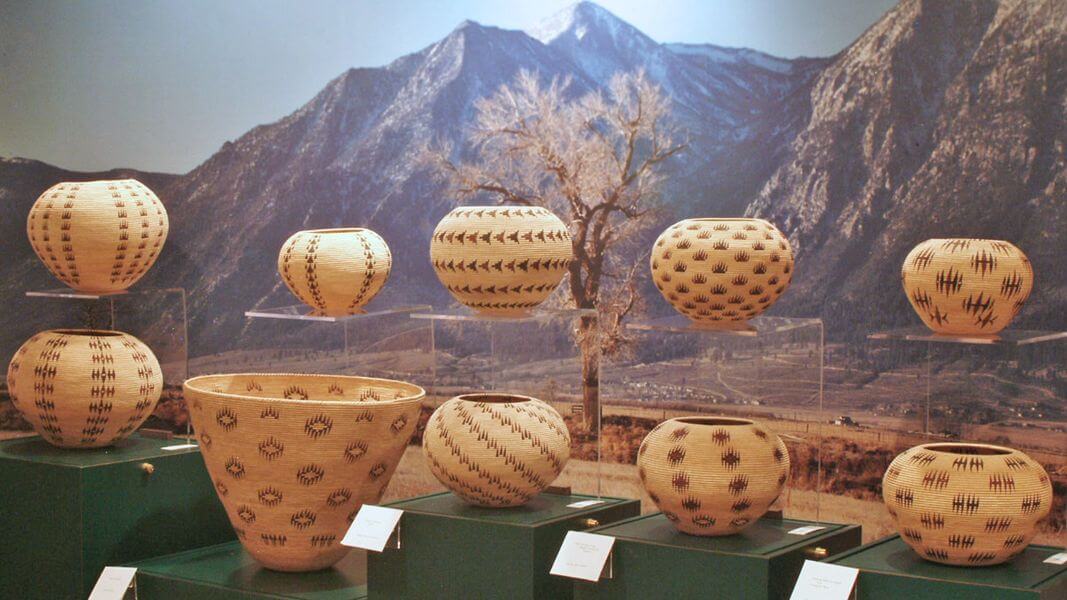 The Natives of the Washoe tribe of Nevada and California had the art of weaving down on a whole other level. Living off the land, they had to create something that was mobile, but functional. So, they harvested fibrous plants and made the most impressive yet durable goods to carry with them. While there are several notable artists out there, a basket-weaving idol by the name of Louisa Keyser (or Datsolalee) is the most well-known and undoubtedly put Nevada on map when it comes to this skilled craft. Keyser wove these baskets into what was called "fancy basketry" during the late 1800s. Despite the fact that Nevada arts were becoming more and more valued and her baskets were highly sought after during this time, they are completely priceless today. She produced at least 100 baskets throughout her lifetime, and lucky for you, you can zero in on these beauties at the Nevada Historical Society in Reno.
6. A Complete 1870s Newspaper Press Room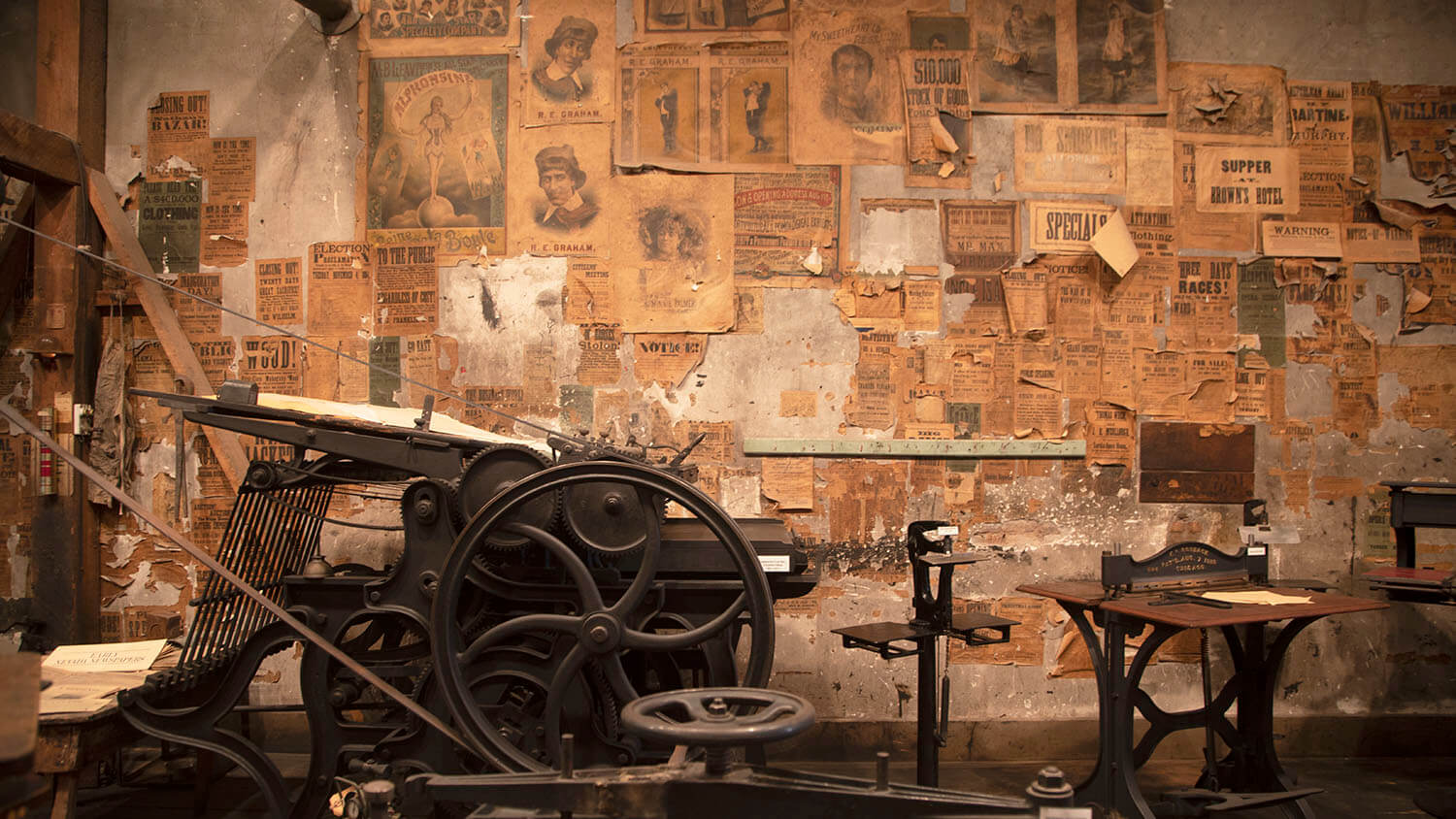 Ever wonder where the expression "Mind your P's and Q's" comes from? Home of the Eureka Sentinel Newspaper, this same location houses a modern-day museum and is a damned good place to start. The Eureka Sentinel is still in production today, but first sprung to life in this wildly historic building and operated at this location from 1879-1960. If you've got an appetite for history, this museum has all kinds of goodies dating back to Eureka's early booming days. The real forte is the complete pressroom, found on the main floor. Admire an authentic 1870s letterpress, original posters that rolled right off it, and complete type cases. Historical artifacts this amazing might just prompt you to holler out "Eureka!" for yourself.
7. A Museum Devoted to the Largest WWII Training Center in the U.S.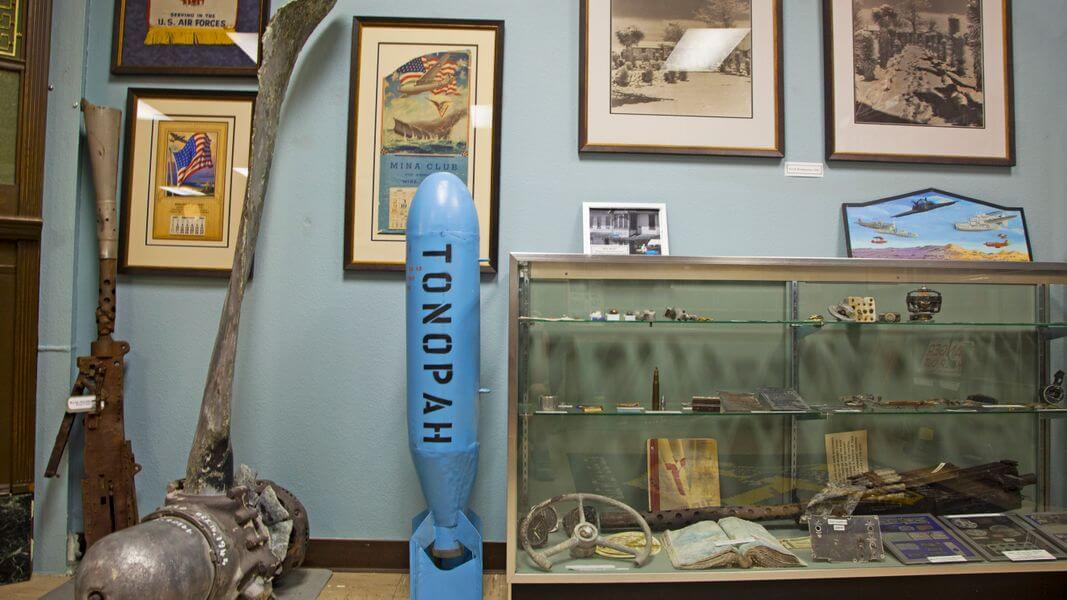 Early pioneer mementos? Definitely. An expansive collection of American Indian relics? Yessir. The Central Nevada Museum has more than one thing to brag about, that much is certain, but there is one glaring section that's difficult to ignore. I'm talking about one particular kind of memorabilia you can't find just anywhere. None other than some truly extraordinary remains from the Tonopah Air Base, which was headquartered not far from downtown Tonopah for eight short years in the 1940s. The base was set up as a World War II training base with a freshly acquired 3,000,000 acres of land, and by the time it was occupied, was outfitted with runways, barracks, mess halls and a hospital, among other facilities. Just after WWII came to a close, the Tonopah Air Field was placed on inactive status and abandoned almost immediately. It's difficult to imagine the area as home to one of the Army Air Force's largest WWII training bases, but the Central Nevada Museum luckily got their hands on some truly fascinating pieces of history. Old wreckage from 1940s era planes is something to send any aviation nut into oblivion, but the true score is if you can catch Allen Metscher while you're there. A living breathing snippet of Tonopah history, this guy has every last factoid on the Tonopah Air Base dialed in (and then some) and can spin a yarn unlike any other.
8. Some of the Very. First. Levi's.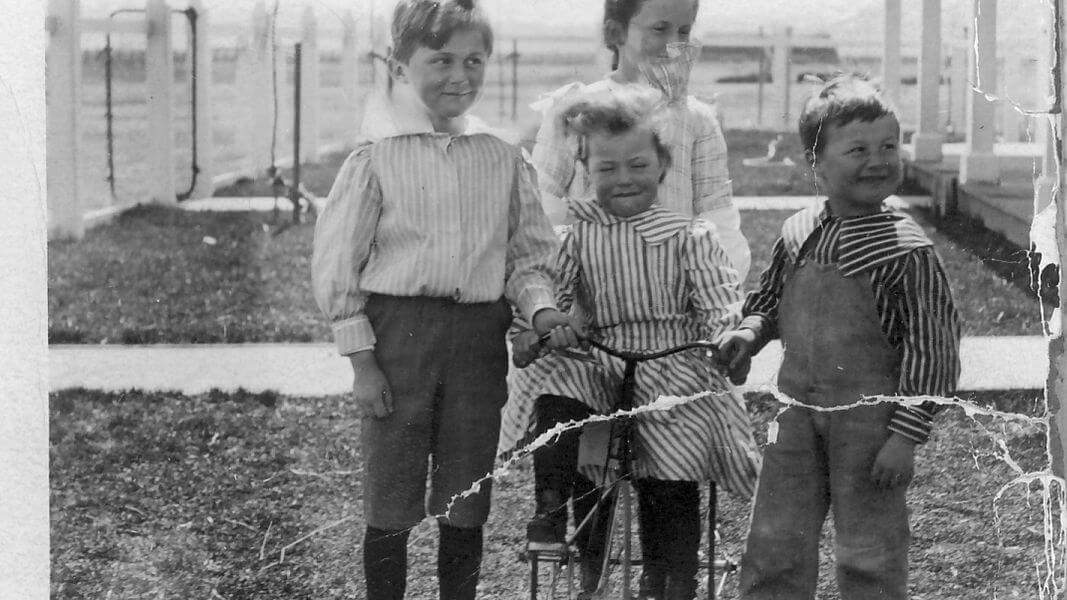 Here's a page out of the Reno history books that many wouldn't dare dream of: Levi Strauss denim jeans were invented right in the heart of the Biggest Little City. Jacob Davis, a Latvian Jewish immigrant, set up shop in Reno as a tailor and came up with the idea to use copper rivets to reinforce points of strain on trousers. Working on a meager tailors wage, he then contacted Strauss [in San Francisco] to help patent the idea and the whole thing went off without a hitch. This went down in 1853 [right around the time when Nevada's first establishment set up shop] and a few years later, the Dangberg Ranch became rooted in Minden. Heinrich Dangberg built the house himself, and as a working ranch, he and his family needed some durable clothing that lasted. So what did they get their hands on? Some of the very first Levi Strauss overalls ever made. They belonged to his son, Dwight Dangberg, and they [along with countless other equally fascinating items] can be enjoyed with an in-person visit to the Dangeberg Ranch today.
9. Glitter and Feathers Galore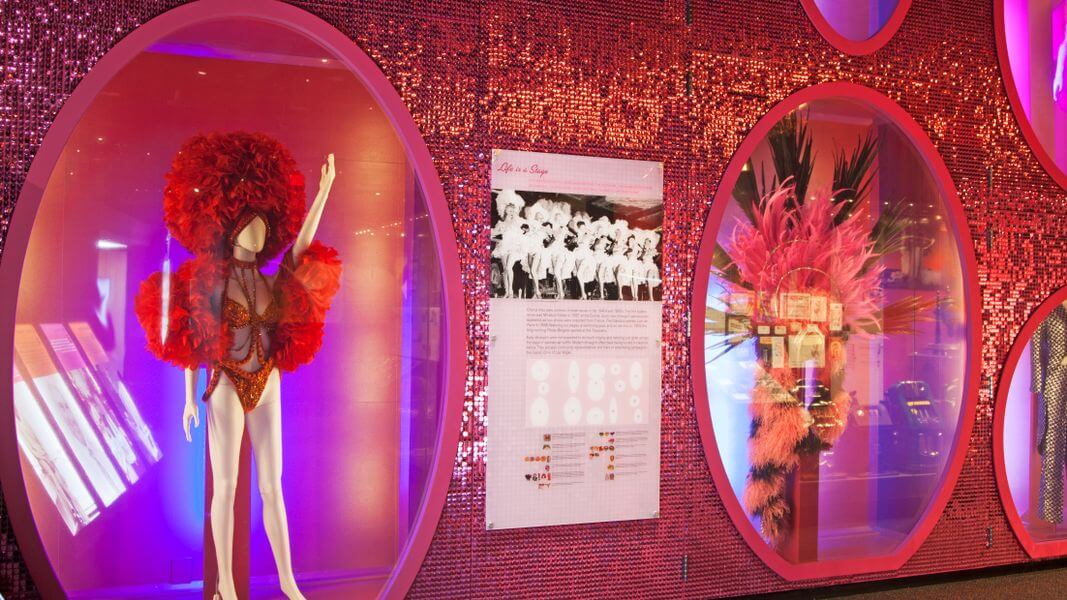 There are museum exhibits, and then there are museum exhibits. And LAWD, the Nevada State Museum-Las Vegas has the glitz, bright lights, glamour and sequins (feathers too) that live up this international icon of a city. The type you'd expect to see in Sin City, and this exhibit delivers in all the best ways. The Showgirl Exhibit. Displayed on what feels like a 100 foot wall covered in glitter and flashing lights, visitors are drawn in like a moth to the flame [I can attest to that] to this very vivacious exhibit of flashy showgirl costumes that have been worn throughout the years in downtown Vegas. Wondering how such petite women wore such elaborate and enormous costumes will have your head spinning. If that's not enough to keep you hooked, the whole experience delivers info just as if you yourself were seated in the audience of one of these legendary performances it isn't any stretch of truth in saying you'll watch the presentation from start to end more than once.
10. Clackers, Drones and Ammunition—Oh My!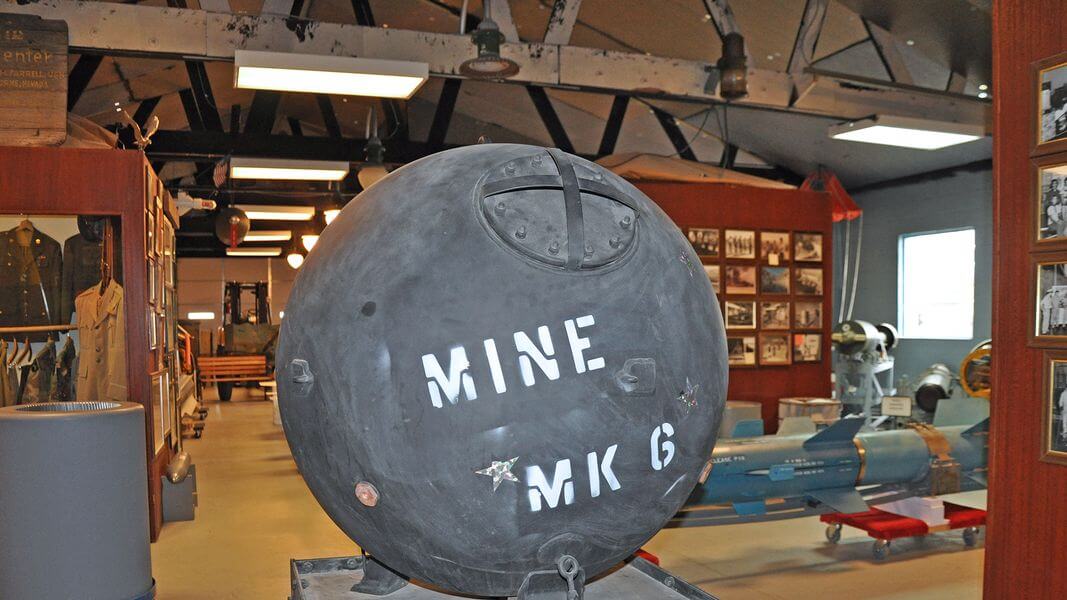 Ahhh, Hawthorne, the almost-unsung hero of all things artillery. Also known as "America's Patriotic Home," Hawthorne served as an unimaginably gigantic ammunition staging area for World War II and is said to be the largest facility of its kind—anywhere in the world. With history that rich, there's gotta be some remarkable museums nearby, right? Right. Check out some historical relics as monumental as the artillery base itself, with things like cluster bombs, classic examples of military trunks, a crazy-amazing range of historical ammunition and impressive vintage military uniforms. Submarine hunters had these super powerful magnets called 'clackers' that they used to track opponents through sonar, which you can get up close and personal with at the museum. Or, check out some examples of what many interpret to be some of the first drones in existence. It's a tough call trying to choose just one artifact that's the best at the Hawthorne Ordnance Museum, so we'll let you be the judge of that. Get it on the agenda, STAT.
11. A Night At The Museum For Real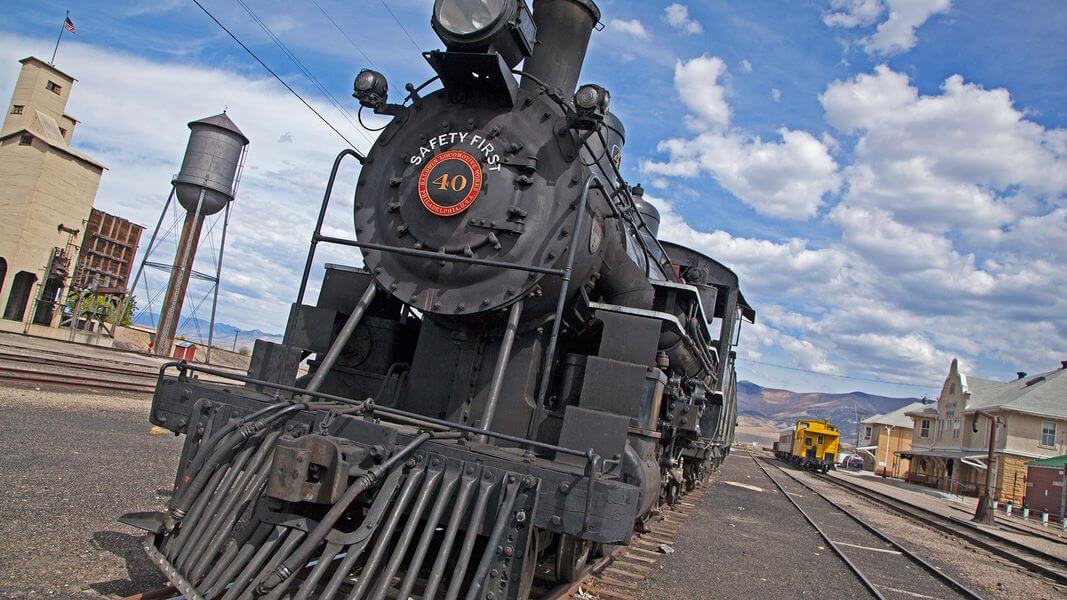 If wondering what it would be like to actually spend a night at a museum surrounded by 100-plus-year-old history has been getting your goat, search no further, we've got just the ticket. Marvel at living history at not only one museum, but TWO (!!!) at the East Ely Depot Railroad Museum and Nevada Northern Railway in Ely. The depot, which was constructed in 1905, was integral in serving nearby copper mining and still, mystifyingly enough, runs today. Check out many original features like the East Ely Depot [there's a super cool museum on the second floor, filled with face-melting artifacts] and the train yard itself is considered to be an actual, working museum. Keep safety in mind, as the trains will likely be operating when you swing by, but get right to it by exploring the 70 buildings and structures that sit on this mile-long, outdoor museum. If these locomotives are lulling you into a lovers trance, you are in luck! It's here, that can extend your stay with a night in the Caboose (recommended for summer nights) or the original 1905 bunkhouse, which originally served as the engineer's quarters. Lucky you: your roommate will be the modern-day train master, too.
12. Wise-Guy Weaponry At The Mob Museum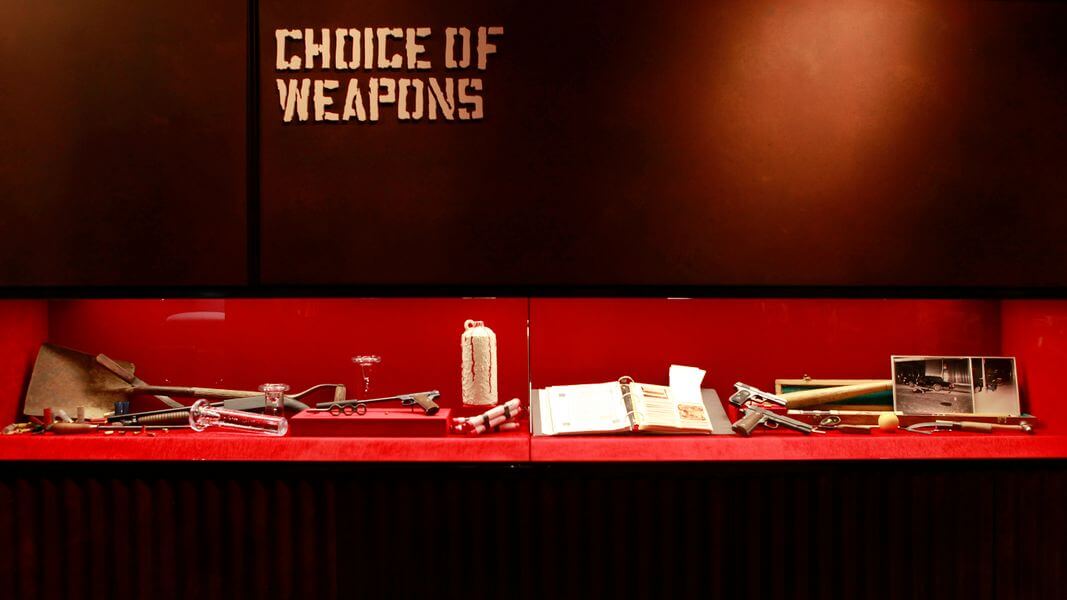 A trip to Vintage Vegas ain't right without a visit to the much buzzed-about Mob Museum. It's here that you can listen to untold stories of notorious mafia members, and the FBI intelligence who monitored them for decades. Learn about the mafia presence in America, when it came to Sin City and the role it played in the development of the city. It's here, where you can get up close and personal with exactly how these wise guys went about their business, with elaborate displays of shovels, sawed off shotguns, glocks, clubs, shanks, brass knuckles, and more.
13. A Historical Photo Cache From The Storied Bullfrog Mining District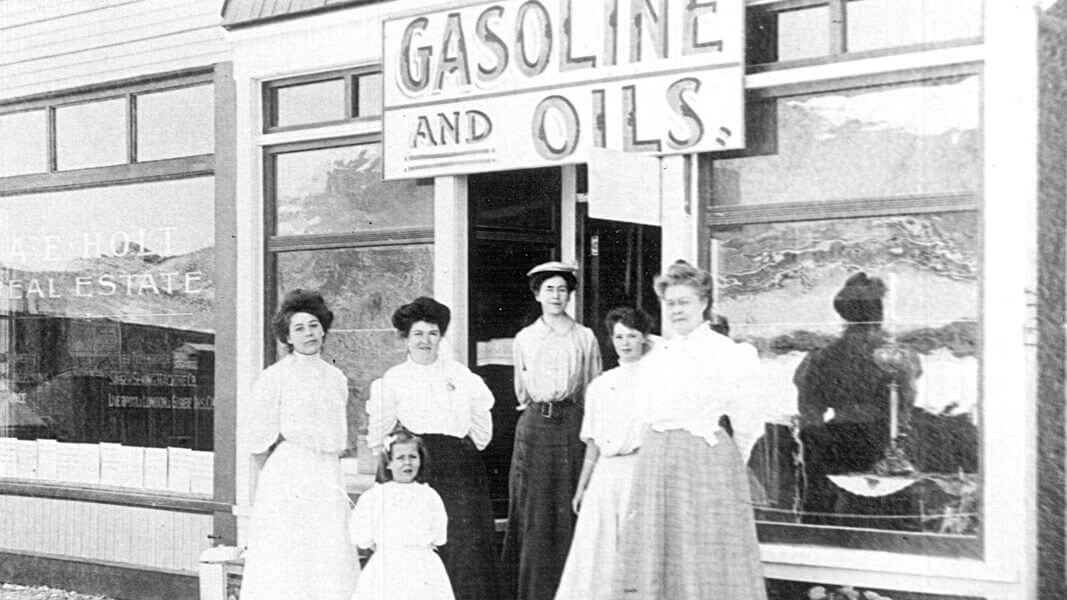 So, what's your favorite mining district in Nevada? With actual hundreds to spew off, it's totally valid, and to us, there is something magnetic about the Beatty's Bullfrog Mining District. Lucky you, you can learn all about it at Beatty Museum and Historical Society, and get this: they have some of the best known ORIGINAL photos of the Bullfrog Mining District ever known. Yowza. During this time, literally thousands of prospectors flooded into the area to lay stake in the Bullfrog Mining District. The town of Beatty itself was even incorporated in this legendary mining district, along with Rhyolite and a whole lot of other towns in surrounding hills that no longer exist (or are in serious decay.) At the Beatty Museum and Historical Society, you can see some seriously impressive original photos of Rhyolite and other portions of the Bullfrog Mining District (like the image pictured above,) and even get the lowdown on why such a funny name was chosen for the area. Wondering what a bullfrog would be doing in the middle of the Mojave Desert? I'll let you figure that one out on your own with a visit to this zinger.
14. Real-Deal Buckaroos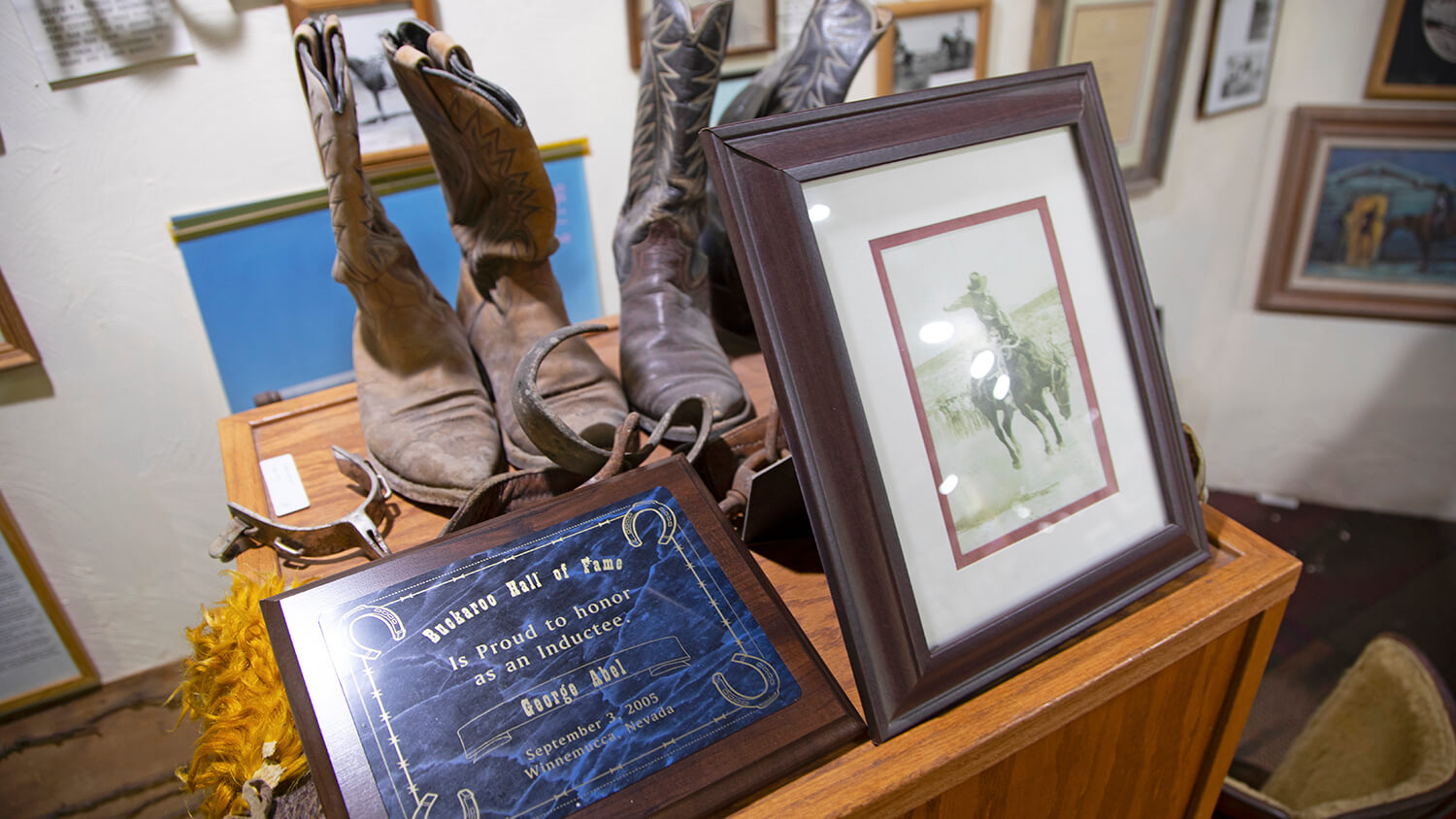 You're into ranching history, but don't quite get the whole buckaroo thing. So, what exactly is it? You might be familiar with a Vaquero or Cowboy, and Buckaroo most certainly falls in the same wheelhouse. While the word Buckaroo evolved from the Spanish word Vaquero [meaning fine horseman or cowman,] the term Buckaroo most definitely refers to a working ranchman from a regional area, specifically Nevada's Great Basin. And it's at Winnemucca's Buckaroo Hall of Fame and Heritage Museum that you can really drink in all the fine history surrounding these badass Nevada buckaroos. Get a look at the inductees—all of whom were exceptional men of character, admired for skills relating to the Buckaroo lifestyle. It's here that you can pay homage to these folks by checking out their photos and bios, original brands from their ranches, well-worn saddles and spurs, and many other riches of life on the frontier. Pop in here when heading by Winnemucca: we promise you'll be glad you did.
15. Bunny Heaven On Earth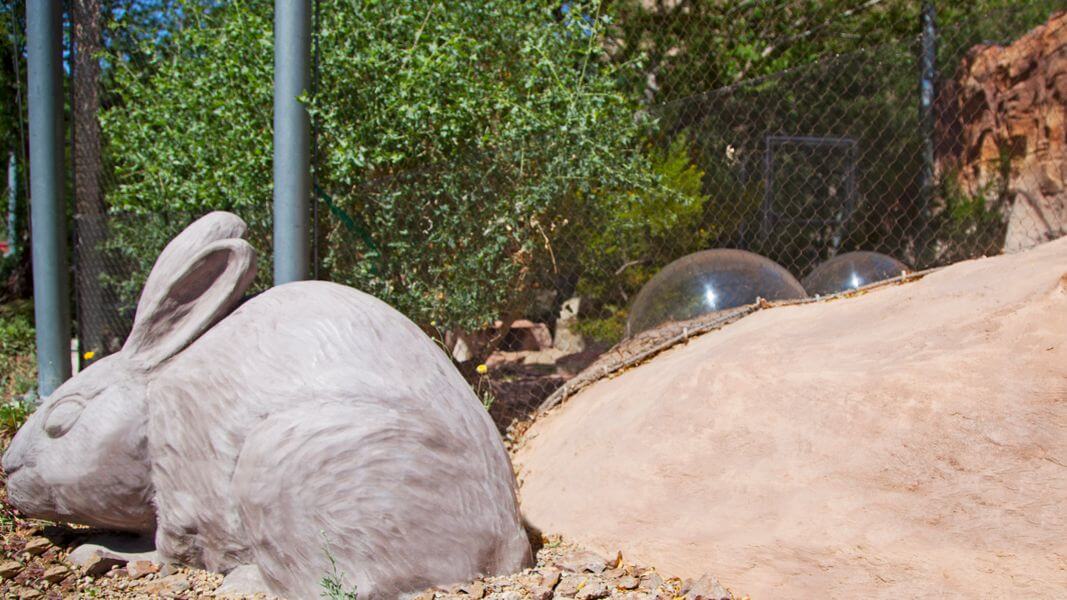 If you're obsessed with baby animals as much as we are, then take note of probably the best place ever: The Springs Preserve BUNNY HABITAT. The entire property, which was placed on the National Register of Historic Places in 1978 has indescribably amazing exhibits, helping visitors to understand and explore Nevada's landscapes. It's tough to choose just one thing about this place that stands out (the simulated flood room is pretty amazing, as are the jaw-dropping botanical gardens,) but these bunny domes are what dreams are made of. It may or may not be designed for children, but visitors can creep through a tunnel and pop their heads up into domes, that are place right in middle of bunny habitat heaven. They had just been given food when we were there, and seeing their cute little velveteen noses wiggle back and forth as they chomped some greens basically means we can die happy.
16. A Level of Taxidermy That Puts Even Cabela's To Shame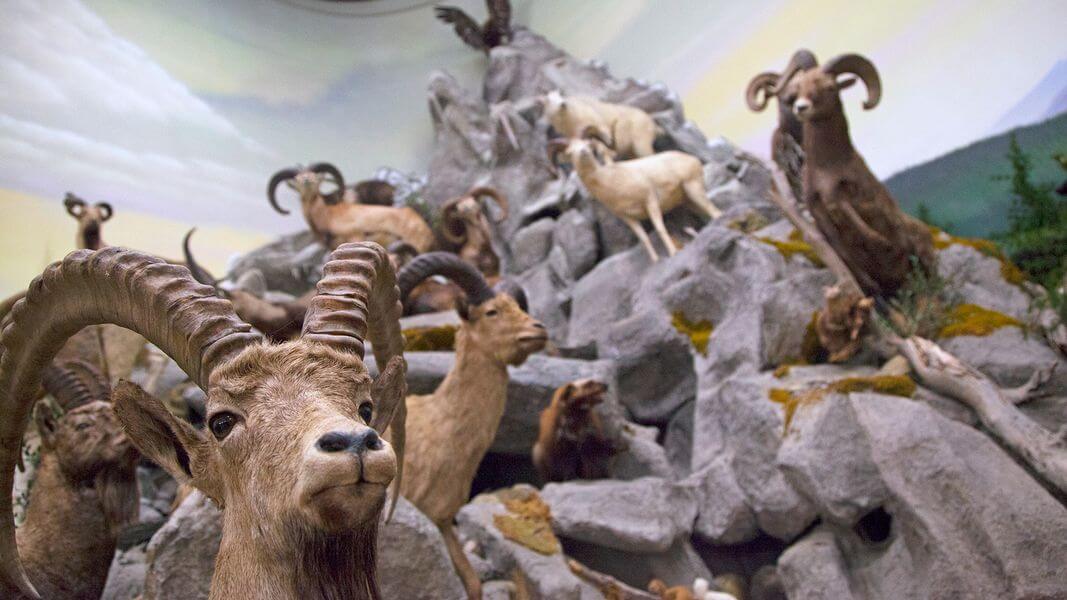 If there is one reason and one reason only to get the Northeastern Nevada Museum on the docket, it's taxidermy, taxidermy, taxidermy, all things taxidermy. The Pony Express station out front, the expansive collection of guns and Will James cowboy art collection are nothing to wince at, but the real crown jewel of the Northeastern Nevada Museum is the taxidermied creatures, not to mention the variety. See quite the vast assortment of animals you'd find in the Nevada wilderness, like black bears, pronghorn antelope and of course, any and every kind of sheep. But that's far from calling it good at this Elko establishment. They've even upped their game by hosting some non-native species-like alligators and lions. Plus, if you've ever wondered what it might be like to see a grizzly and an otter get into a spat the wild, the Nevada Northeastern Museum has set that stage, too.
17. The Ghosts of Goldwell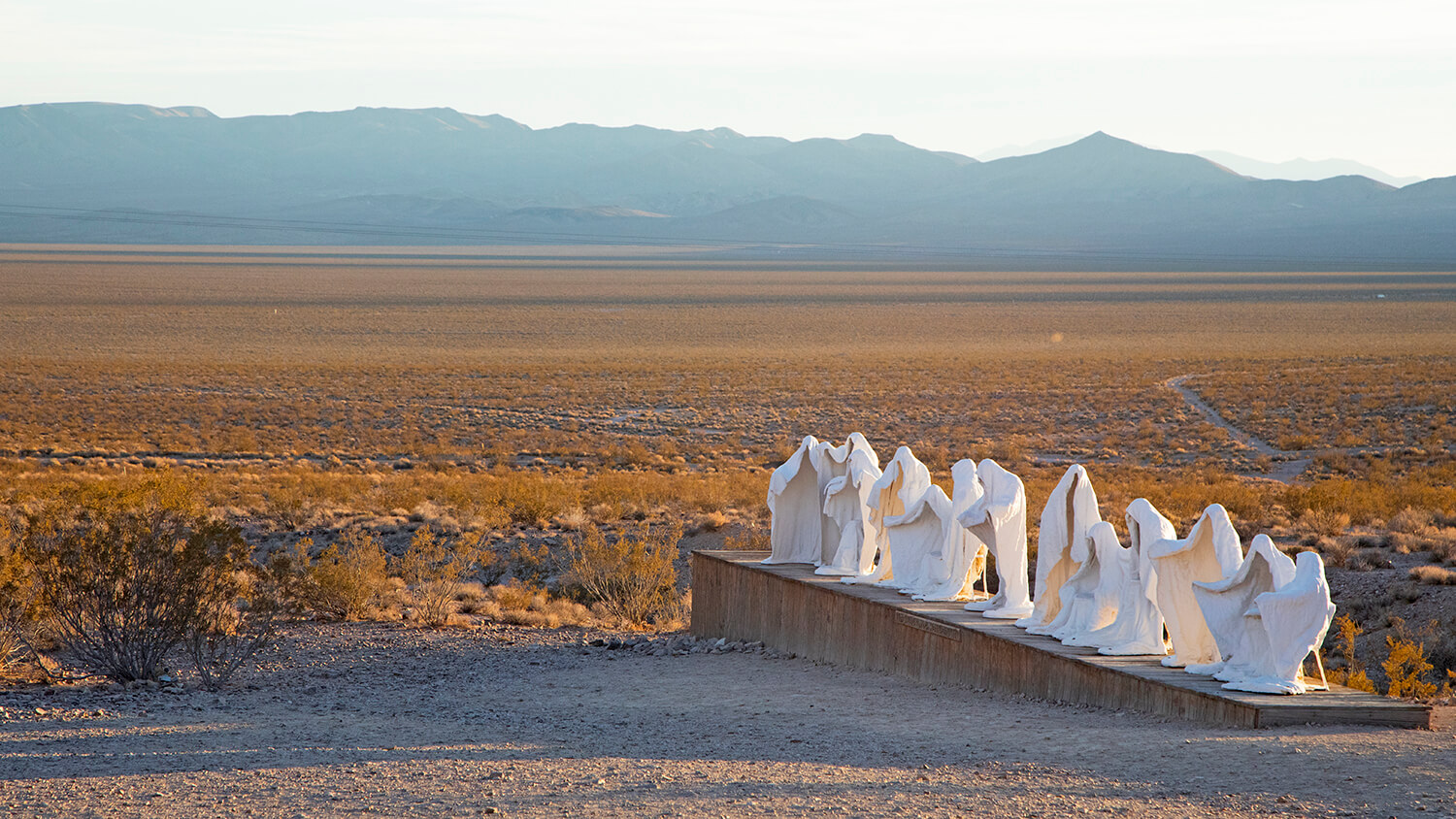 This place is not your typical museum by traditional standards, but after all, Nevada ususally has its own way of doing things. The other-worldly, always enchanting Mojave Desert is one of the most unique places out there, so it's safe to say that Albert Szukalski hit the nail on the head when braining the idea to have a permanent outdoor museum. So it is in fact is true what they say: the Goldwell Open Air Museum is one of the most unique places to experience art installations. This exotic landscape inspired Szukalski so much, that each sculpture is designed to have a relationship with the landscape, and should be interpreted with that in mind. The outdoor museum covers an unsuspecting eight acres of land with tons many installations to marvel at [like a giant pink cinderblock lady and a mosaic tile couch,] but the ghostly, life-size version of The Last Supper is without a doubt, the crown jewel of this museum. Don't take our word for it, you've gotta experience one of the most photographed places in the state in the flesh.
18. A Time-Capsulized Pharmacy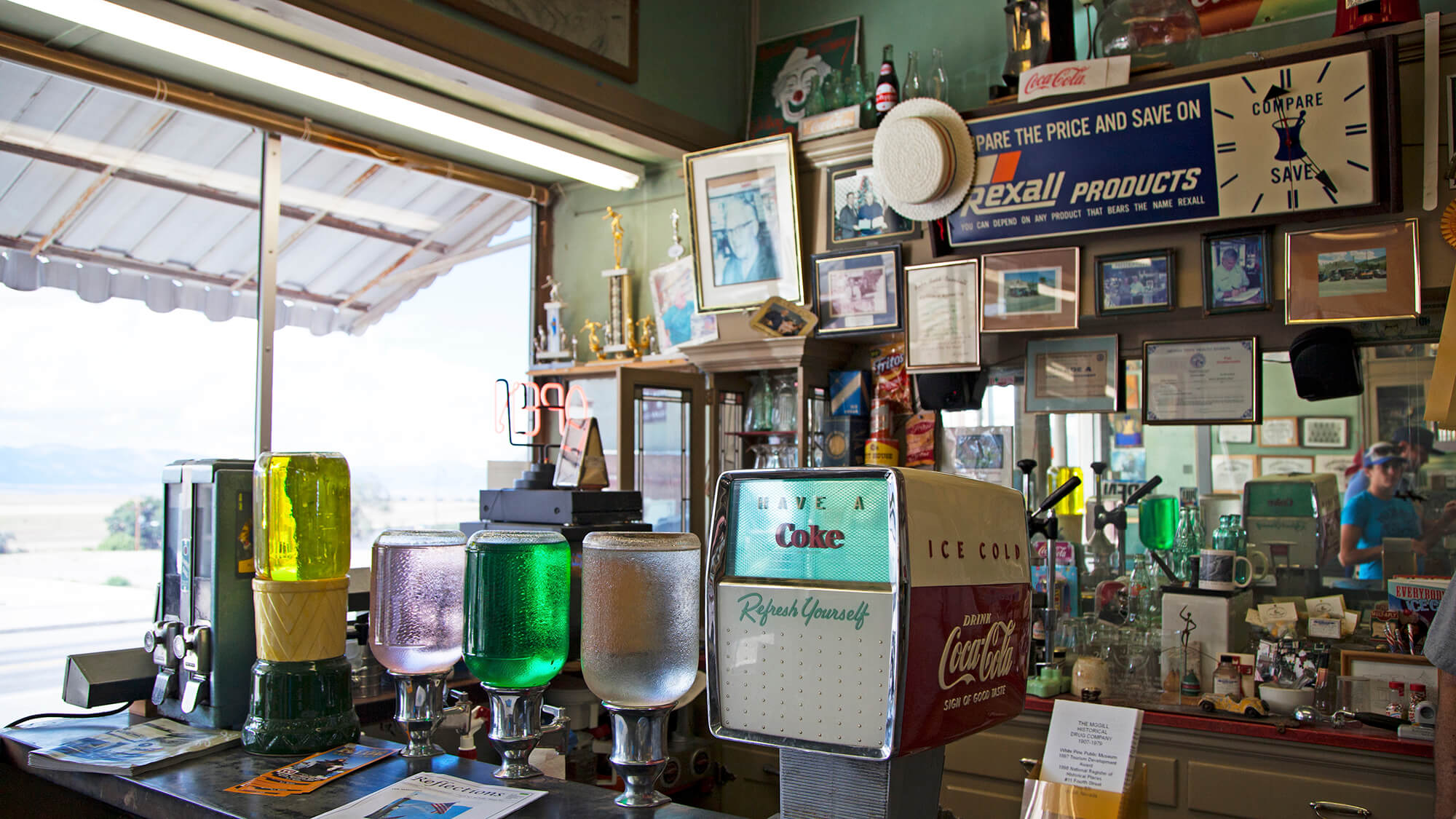 The cool thing about hitting up a museum is seeing a collection of things that have been gathered throughout time in order to piece together what life must've been like during that era, right? What if we could direct you toward a museum where that was literally untouched for 30 years? No assembly required? Let me introduce you to the McGill Drugstore, not far from Ely. Yes, it was once a functioning drugstore, divvying up prescriptions, toiletries, and even root beer floats up from the early 1900s all the way up until the 80s, when no one wanted to run the place and they bolted the doors and practically threw away the key for a few decades. What exists 30 years later? A pretty pristine time-capsulized version of a drugstore, complete with masterfully-kept prescription records and fully stocked shelves with products dating back to the 1950s. Yeah, it's that good. Plus, the proprietor gives one heck of a mean tour, and if you're lucky, he just might make you a milkshake of your very own.
19. The Railroad Tracks That Built Hoover Dam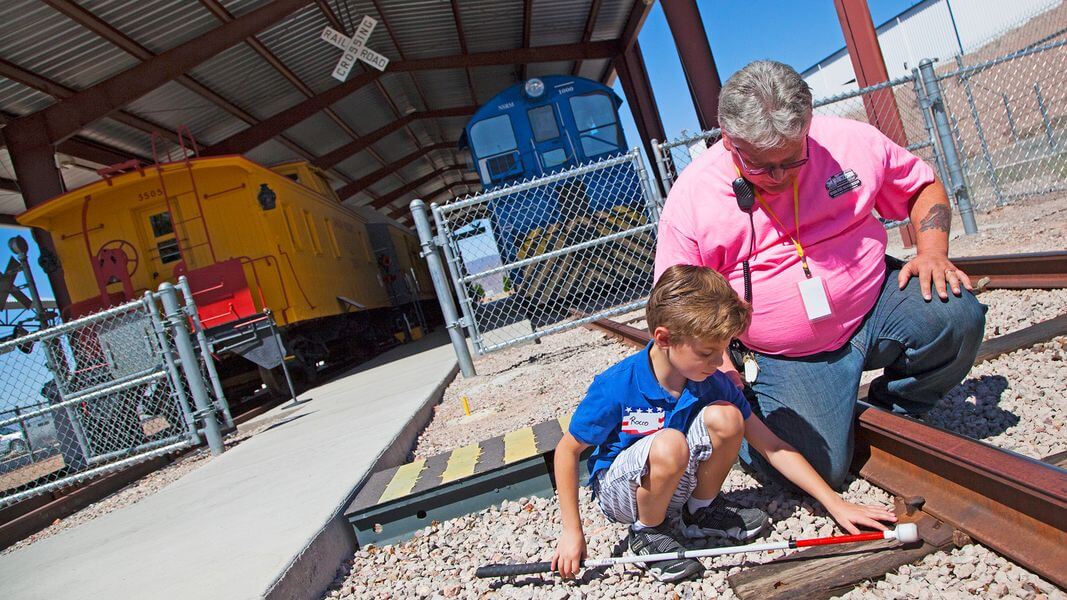 With countless impeccably restored locomotives to marvel at, to me, the single most interesting thing about a trip to the Nevada State Railroad Museum in Boulder City is the fact that the original 1931 rails are still intact. The exact rail line that the Hoover Dam relied upon to transport building materials during construction, as a matter of fact. And get this, the Nevada Southern Railway still operates on them, and you too, can be aboard that locomotive excursion. The Nevada Southern Railway, just five minutes from downtown Boulder City, offers rides most Saturdays and Sundays, where passengers can feel every rock and sway on this endlessly interesting historical route. #NVMuseums
Get Inspired
Related Stories