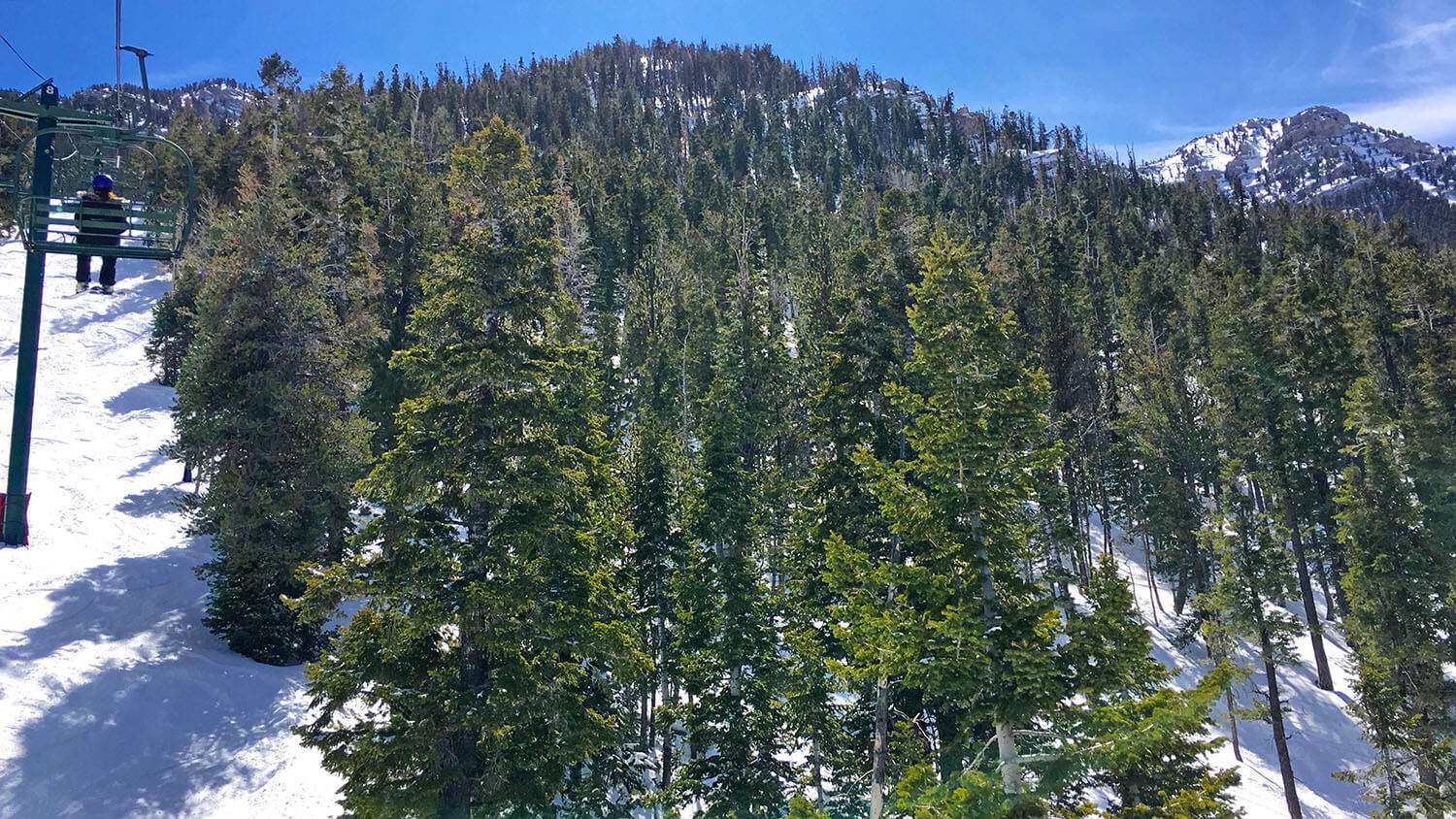 UPHILL JOURNEYS: Lee Canyon Ski & Snowboard Resort
Know Before You Go
Nevada is excited to welcome back all winter sports adventure seekers for the 2020-2021 ski season! Before you head our way for your winter getaway, familiarize yourself with all local safety procedures. And remember, "Don't be the reason to lose the season."
For the most up to date COVID-19 restrictions and upcoming news for the 2020-2021 season, please check directly with the mountain resort you plan to visit.
Advance reservations will be required for single ticket sales at almost all resorts. At some resorts, food and parking will also be arranged by advanced reservations only.
California has a 25% capacity on all in-person dining, which includes ski resort lodges. Limited food service will be available at most California and Nevada resorts; congregating in and around the lodges will be restricted for the 2020-2021 season.
Most resorts will not offer group lessons for the 2020-2021 season
Chairlifts transport people to higher elevation; they offer a departure from everyday life, a starting point for adventure, and a fresh perspective. On mornings when an overnight storm leaves Lee Canyon cloaked in a layer of powder more than a foot deep, skiers and snowboarders in Las Vegas do what skiers and snowboarders do everywhere—they line up in front of the chairlift. Crowds build and anticipation mounts, as they wait for the lift operator, or "lift op," to usher the first passenger aboard. Yet on this particular Sunday morning, something at Lee Canyon was different. The cluster of people around the lift were few. And strangely, nearly inaudible.
 
Lee Canyon regulars are a spirited crew. They share a special kind of camaraderie that comes with being a local at a small mountain plopped outside of a big city like Las Vegas. Their allegiance to the hill puts them in a select group. There are subtle nods and smiles exchanged between snow pant, beanie-wearing strangers in a grocery store, or gas station in the city. Shouts that thunder from the chairlift when someone nails the landing on a trick include the person's name rather than the catchall "dude." In a city with so much to do, Lee Canyon locals always choose to slide down the mountain on one or two boards. Especially when it snows. So, their near silence on this bluebird powder day was peculiar.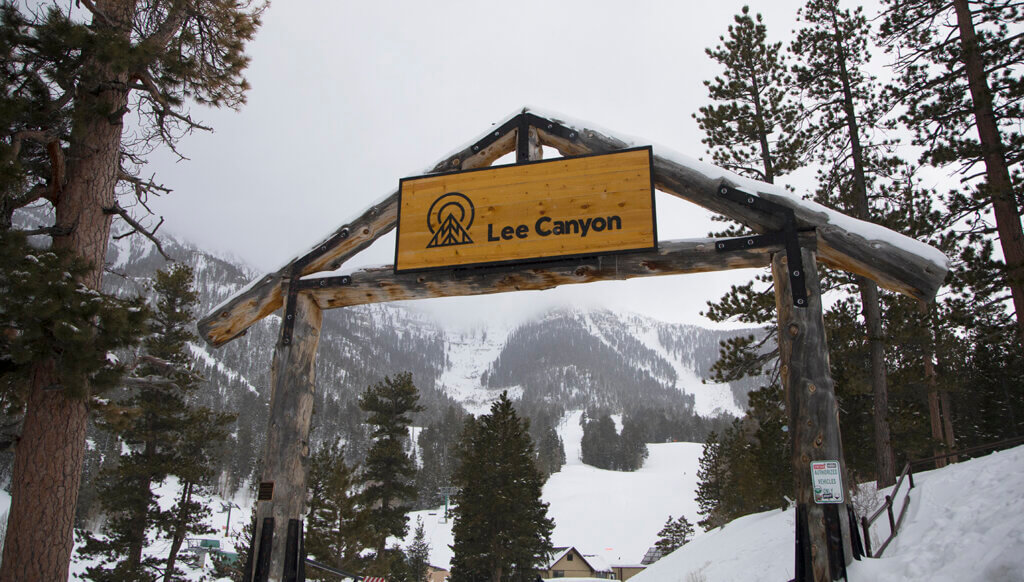 Were we all just swept up in the stillness and wonder of the morning?
 
The sky was a rich shade of blue, one reserved for Nevada's coldest and clearest winter days; so deep it seemed to be Mother Nature's reminder, this day should be savored. The sun illuminated every crystal of snow balancing on the pine trees, naked aspens, and the limestone cliffs lining Lee Peak, which stands 11,289 feet in elevation while Las Vegas sits about 2,000 feet above sea level. 
 
I reasoned the mellow nature likely had more to do with it being before 9 a.m. on a Sunday morning in Las Vegas. And since the storm dropped way more snow than the mere dusting forecasted, people didn't factor in an alpine start when making Saturday night plans.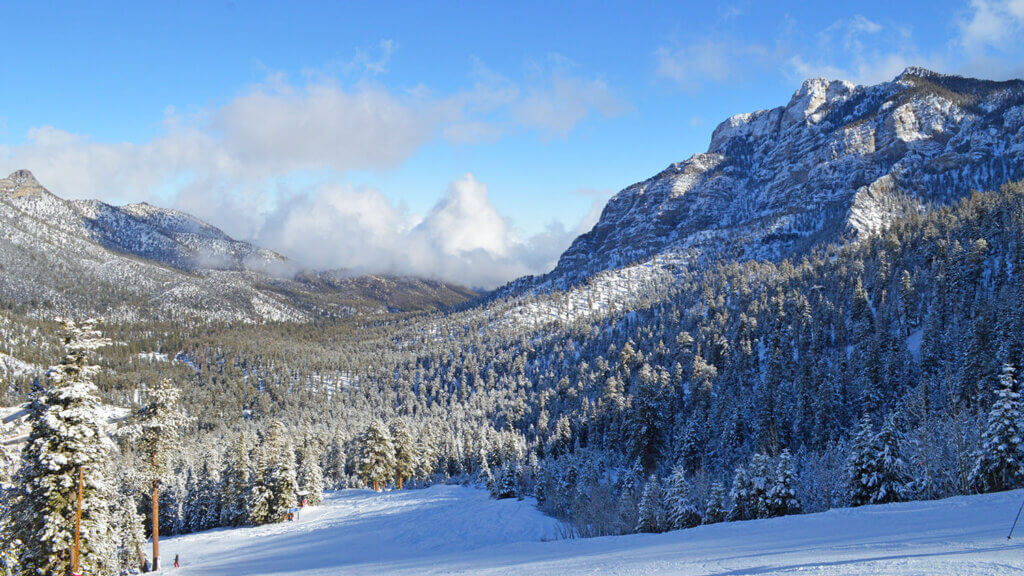 Glassy-eyed hungover folks and the fresh-faced stood together waiting to get first tracks on ungroomed trails and through the trees while everyone else in Las Vegas was still snuggled under a down comforter. Maybe our stillness was a collective effort not to jinx our good fortune.
 
I'd moved to Las Vegas from Aspen, Colorado, in 1998 to have easy access to an abundance of world-class rock climbing. For years, winters in a ski town meant a friendly competition among friends to rack up 100 days on the hill. Like everyone, I worked furiously to nail the 100-day mark. But that was back before the internet offered flexible work options, so it took some serious juggling of multiple jobs. Is that a three-hour window between my breakfast and dinner waitressing shift on Tuesday? Ample time to get a few runs in. And two or three runs definitely counted.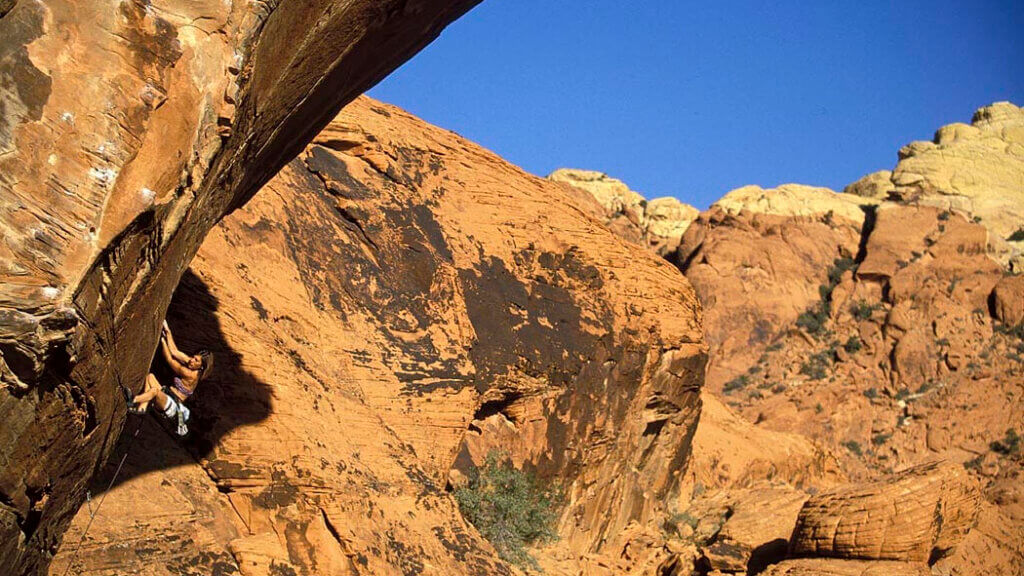 Yet my life had changed. I was no longer a 20-something-year-old slinging burgers and cocktails, working in a snowboard shop, and teaching snowboarding. I was in my 40s with a mortgage and employees, running a business so consuming, I could easily count my days on the hill on one hand. My life, once carefully curated around the outdoors, seemed foreign to me. And I was some stranger in its starring role. Like when unrecognized matter gets into your system, my body had started breaking down from stress, and living a life disconnected from my core values. 
 
I vowed to make that Sunday a no-work day and drove 45 minutes from my home in Las Vegas to Lee Canyon. A land of extremes, traveling from the Las Vegas valley all the way up to Lee Canyon means going through seven climate zones equivalent to driving from Mexico to Canada. Especially in winter, the desert's transformation into a high alpine haven is striking. The texture of dry, rugged landscape dotted with Joshua trees and scrub oak gives way to groves of aspens, and giant pine trees (even some Bristlecones, too) and snowcapped mountains. These mountains offer a reprieve from the ravage of summer. Regardless of the season, they are an escape from the frenetic energy of the city.
 
Lee Canyon and its neighbor Kyle Canyon are part of the Spring Mountain National Recreation Area, 316,000 acres of protected land northwest of the city. Locals call this area "Mt. Charleston" for southern Nevada's tallest peak that stands 11,916 feet above sea level—it's certainly the most prominent mountain in the Las Vegas area, and considered to be the most prominent peak in Nevada, too. Though that winter, on my morning commute to work on Interstate 15, when I'd notice Mt. Charleston was snowcapped, it stirred a sense of peace and a longing wrapped in regret.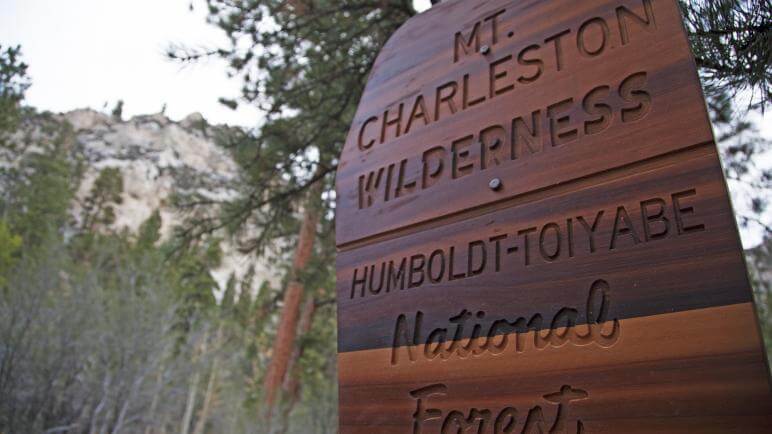 When the lift op running Sherwood, a triple chair, let us know it was go-time, I pushed off with my right foot and let my board glide into position in front of the chair. My would-be lift-mates, a couple of glassy-eyed 20 somethings, hung back to wait for their own chair. The lift op wiped clean the seat. "Looks like it's your lucky day," he said.
 
I stretched out my right leg, my board strapped to my left foot dangled freely, and I pressed my back against the side of the chair. The scent of pine, the mixed sensation of cold air, and the sun's warmth along with the hum of the chairlift brought me back to another time. I closed my eyes, and Sherwood did its job.
 
The experience of riding a chairlift is different for everyone. For some, it's a solitary experience. It's a time to let go, breathe deeply, and receive what the mountain has to offer. It can mean party time, with chatter about the next run, happy hour, or that one girl or guy. Some nervously squirm, trying to avoid the growing distance with the snow below. Others twist and turn, gasping in awe, trying to take in every detail of what lies ahead and behind.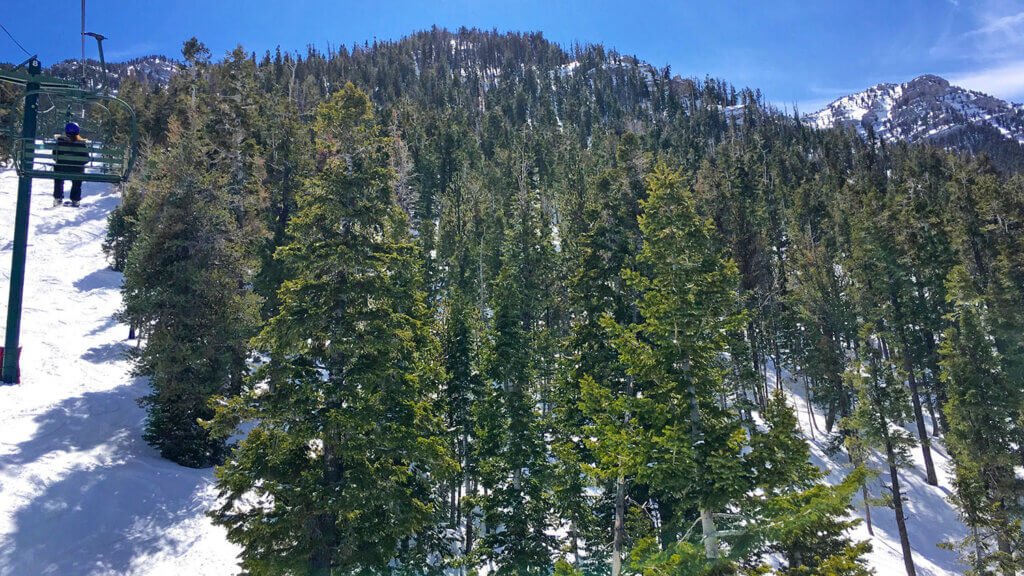 In my Aspen days, I loved conversations with tourists on the chair. When they'd ask how I landed there from New Jersey, I was more than happy to share. "I'd never skied or snowboarded before. I'd never been west of Pennsylvania or even seen a mountain," I would explain. "But I quit what everyone said was a great job in New York City because it seemed there had to more to life than working 14 hours a day."
 
A long pause would follow, a time to reflect on the magnificent mountain landscape. People who vacation in Aspen, one of the United States' most expensive ski towns tended to be Wall Street hotshots, Hollywood studio types, or CEOs from the Midwest. Yet, I never once felt intimidated to share my perspective. Every ride up the chairlift reaffirmed I had discovered the promise land. "You made the right call," they would say. "Don't ever lose that spirit."
 
So, on a chairlift, I vowed whether it was a bluebird powder day or one where a fierce mountain storm made the world appear like an Ansel Adams photo, time in the outdoors would always be a priority. 
 
As Sherwood continued the journey uphill, it became clear, I'd lost my footing.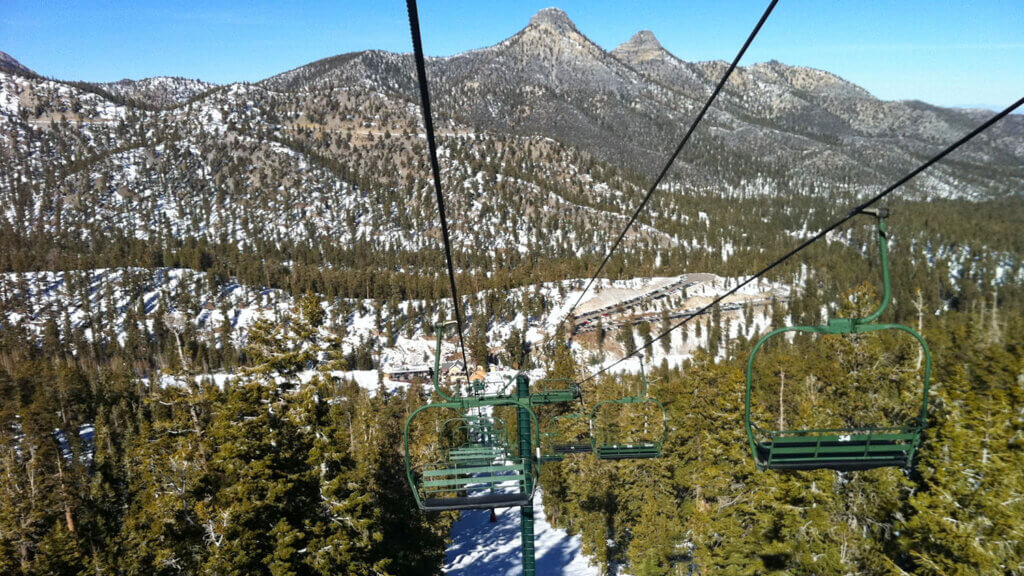 Lee Canyon is a total of 445-acres, 195 that are lift-served, with a total of 24 runs. It's three chair lifts serve 860 feet of vertical drop. Sherwood serves intermediate and advanced terrain, blue runs like Ponderosa, the mountain's longest run checking in at 3,100 feet, Ponderosa Glade, and black runs like Queens and Kings. Bluebird is a quad chair that's faster than Sherwood and offers access to Lee Canyon's terrain features that are top-notch, which means it's a busy side of the mountain. My need for tranquility is why I chose Sherwood.
 
Long ago, I had carefully designed a life that fed my thirst for outdoor adventure. I loved nothing more than an alpine start to snowboard or climb. In the mountains, I learned how to transform fear into excitement. The moment I pointed my board downhill on scary terrain, I'd take a moment, close my eyes and experience the movement, a steady rhythm that is powerful, graceful, and invigorating. If I allowed fear to take over, the odds were pretty good that I'd end up wrapped around a tree.
 
Those skills learned in the mountains helped me to power through hard times that come with starting and running a business. I could get up early, work late, problem-solve on the fly, identify my weaknesses, and train to improve. Like a lot of outdoor types, I have fortitude. Yet fear, anxiety, and stress had recently become the rulers of my body and mind. 
 
When I neared the top of Sherwood, I took in the view. What was ahead and behind.
 
From higher elevations at Lee Canyon, the valley floor can appear like a mirage. A seemingly endless space, vast, without boundaries. It's this kind of vantage point that drew me to Las Vegas. It seemed to be a place with enough room for anything to be possible.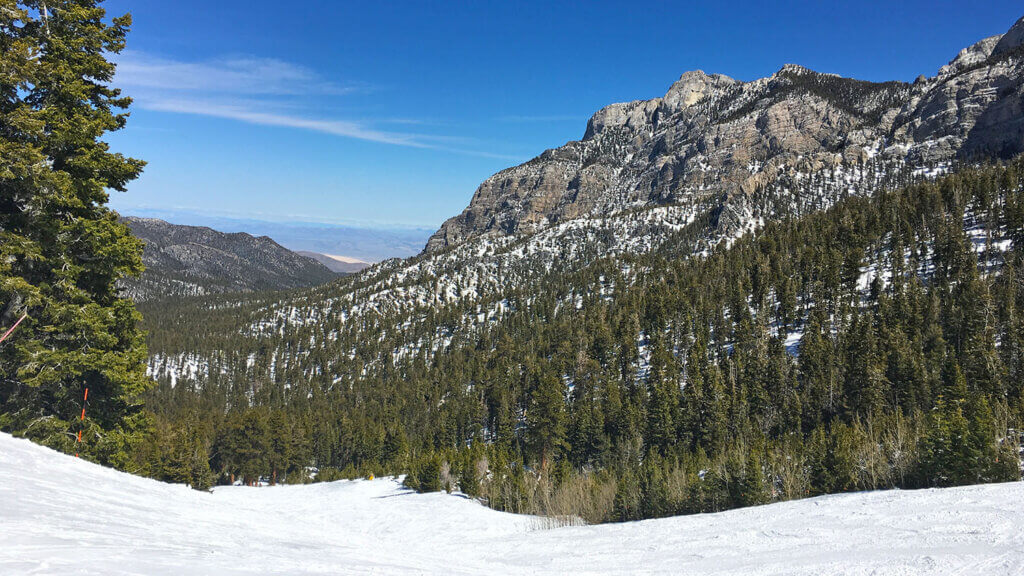 Strapped into my board, the untouched powder before me was an opportunity to make my mark. I noted the people around me, yet despite their presence, there was an overwhelming stillness. 
 
Nature has a way of mirroring what we need. It often gives us the exact experience necessary to grow, whether we like it or not. Nature makes it easier to be present—to disconnect from everyday life and reconnect with ourselves.  
 
Standing in the protection of the mountain, I pointed my board downhill and fell into a familiar cadence through the trees. The experience of riding untouched powder brings a sense of calm
and clarity, where knowing what to do next seems as natural as taking one's next breath. #NVAdventure
ABOUT THE AUTHOR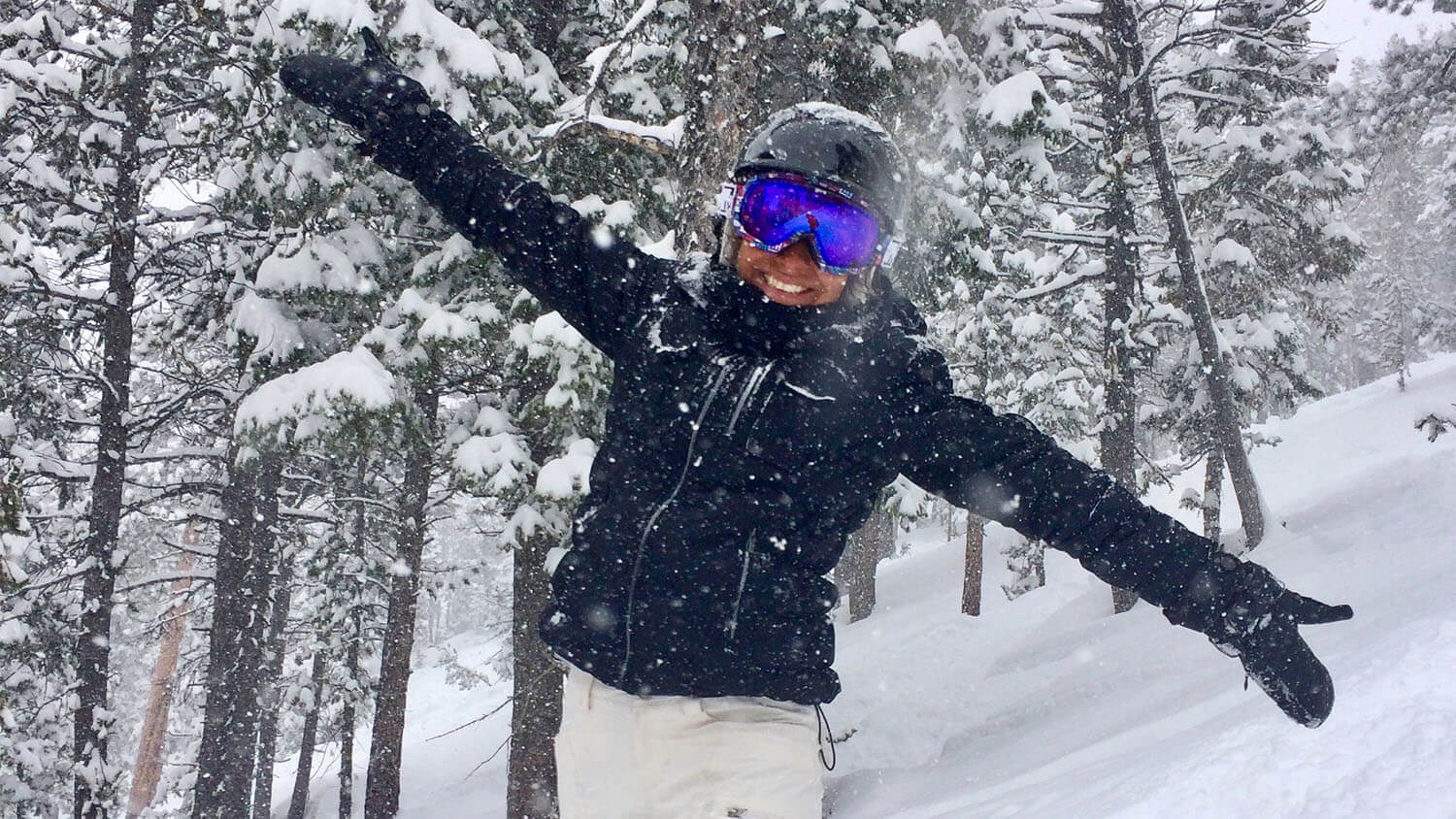 Stephanie Forte is a freelance writer, speaker, and founder of Forté PR. A former professional rock climbing athlete, longtime snowboarder and yoga practitioner, Stephanie has contributed to magazines like Climbing, Rock & Ice, Prevention, Desert Companion, Cerca Adventures, and many others. Connect with her at www.stephanieforte.com or www.forteprlv.com.
Get Inspired
Related Stories