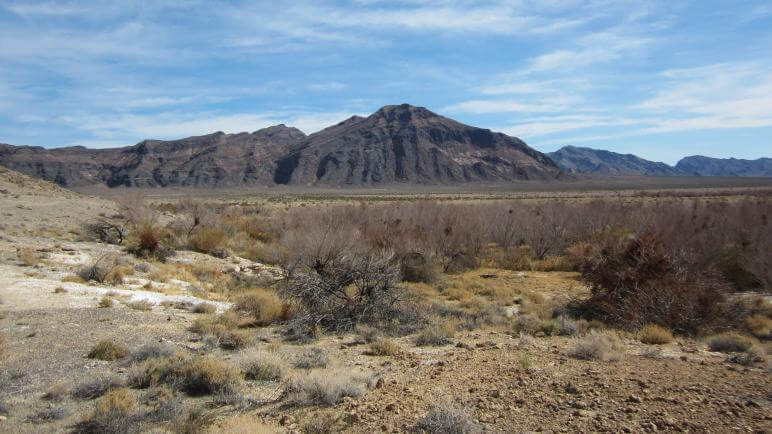 Exploring Ash Meadows National Wildlife Refuge
Located in the middle of nowhere, according to our visitors, is a place like no other in the world. Literally. In an area smaller than Disney World exist at least 26 species of plants and animals found nowhere else on earth—the greatest concentration of endemic life in the United States. The amazing colors of the desert spring pools are reason enough to visit. Just 90 minutes northwest of Las Vegas, Ash Meadows National Wildlife Refuge is one of Nevada's best-kept secrets.
As you leave the glitz and glamour of the Strip, the landscape becomes a dry, vast, and sparsely populated desert. This is not where you expect to find unique flowers or four native fish species. The beauty and serenity found in this oasis—the largest in the Mojave Desert—is an unexpected surprise to all who visit.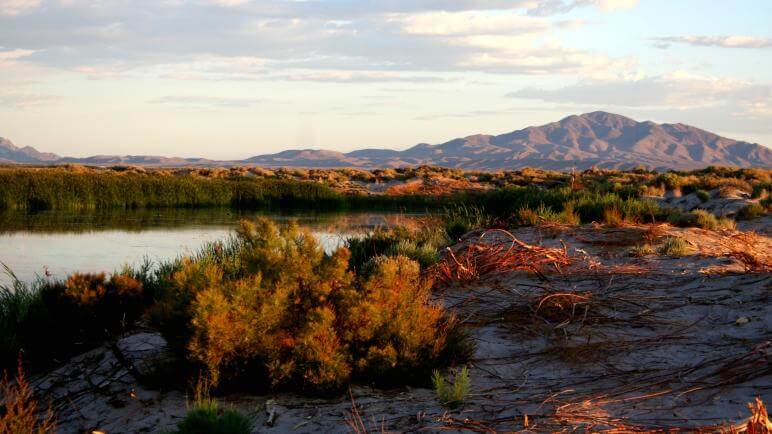 Sit a while and listen to the melodic calls of more than 275 species of birds, linger over crystal-clear waters filled with iridescent blue fish, or scan the rocky mountaintops for desert bighorn sheep. If you are more the scientific type, there is much to ponder here.
Devils Hole. The name itself incites curiosity. To the casual observer, it looks like a simple water-filled chasm. The surface is small—only 66 feet long by 15 feet wide—yet it's home to the rarest fish in the world. Devils Hole pupfish, less than one inch in length, survive in this 93-degree water-filled cavern, which has been mapped to a depth of 500 feet; the bottom has yet to be found.
If history is your calling, the stone cabin of prospector and gunslinger Jack Longstreet awaits. Longstreet settled in Ash Meadows from 1894-99 and used spring water to cool his time-tested dwelling. The nearby spring pool is often called the boiling spring because of the fine white sand bellowing up from its depths.
Restoration, Recovery & Those Lost Forever
Prior to 1984, the land was privately held. There was farming, ranching, peat mining, and a proposed housing development. These activities most likely led to the extinction of the Ash Meadows pupfish and possibly the Ash Meadows Montane Vole.
Since then, reestablishing a healthy ecosystem with native species has been challenging, but a proactive restoration program is achieving success. Today, not only have the desert fish of Ash Meadows benefited, but also many native plants and trees are beginning to flourish.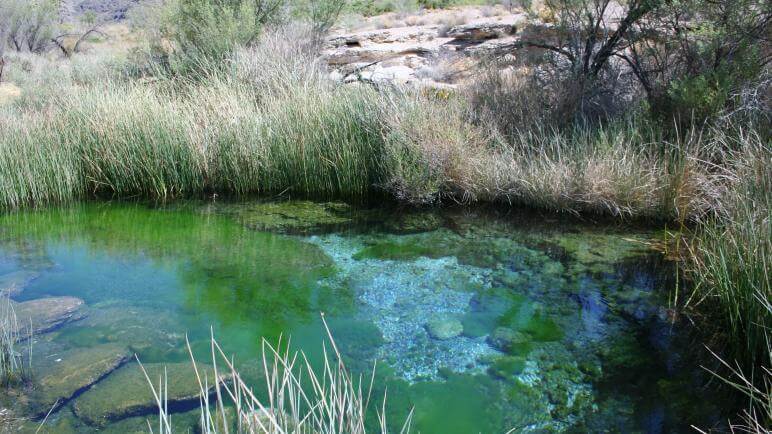 The area is frequented by a variety of migratory birds, so visitors might see pelicans, swans, or rare European migrants such as ruff. There are 40 species of mammals, more than 20 species of reptiles, four amphibian species, and more than 300 species of flowers and shrubs. Along the Point of Rocks boardwalk are unique sculptures with information about the history, plants, and animals of the area. The boardwalk winds its way to an overlook complete with seating areas and wildlife-viewing scopes. Winter is prime time to spot desert bighorn sheep. The Ash Meadows Amargosa pupfish, also endemic, can be seen in King's Pool, and the vegetation along the boardwalk makes it a good birding area.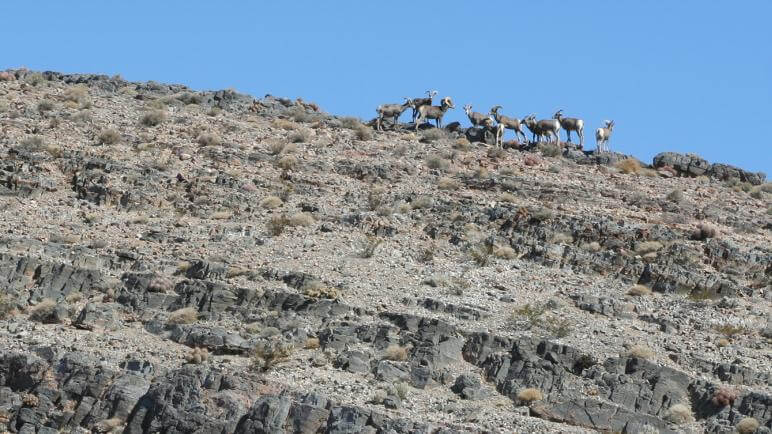 In 2009, two new species of bees were discovered that might only exist in Ash Meadows. One can only surmise the fate of this species and many others if conservation efforts to protect endangered species had not been successful in this unique and rare place. #NVWildlife
Ash Meadows Fast Facts
Established: June 18, 1984
Size: 23,000+ acres
Number of Endemic Species: At least 26
Best Seasons to View Wildlife: Spring and fall
The name Ash Meadows refers to abundance of ash trees once found in area
Summer temps regularly exceed 100° F
Getting There
Ash Meadows National Wildlife Refuge is located approximately 90 miles northwest of Las Vegas in the Amargosa Valley. Birdwatching is a popular activity here, with a bird list available at the headquarters or online.
The Refuge office is open Monday through Friday, 8:00 a.m.—4:00 p.m. but is not always staffed. Brochures are available here. Guests visiting in warm weather should bring plenty of water and sunscreen. In wet weather,be advised that roads quickly become flooded and impassable during/after rains.
The refuge provides habitat for at least 24 plants and animals found nowhere else in the world. Four fish and one plant are currently listed as endangered. This concentration of indigenous life distinguishes Ash Meadows NWR as having a greater concentration of endemic life than any other local area in the United States and the second greatest in all of North America. Ash Meadows provides a valuable and unprecedented example of desert oases that are now extremely uncommon in the southwestern United States.
Get Inspired
Related Stories