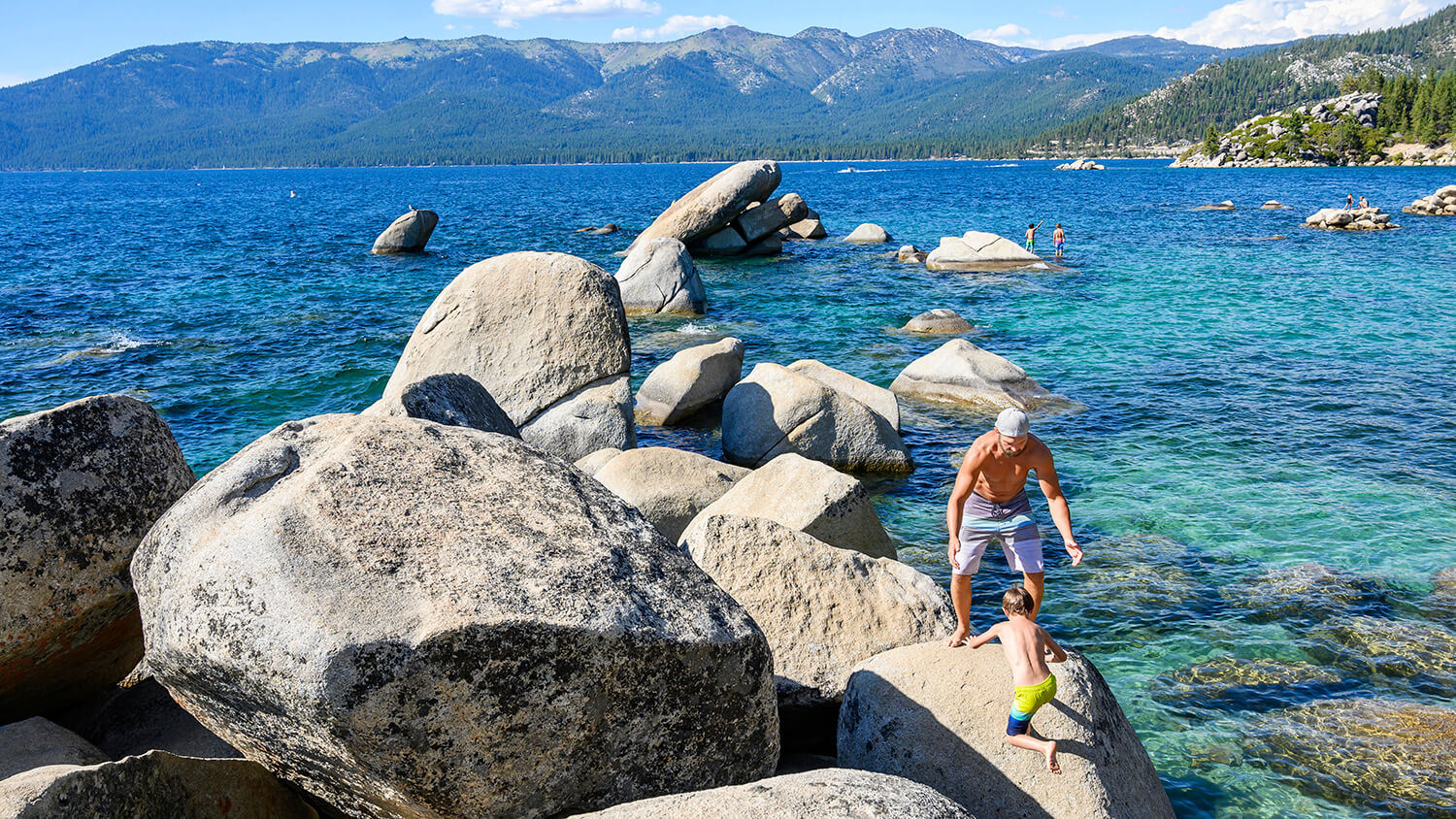 It's hard to find water bluer than the sky above, but it's a daily occurrence at Sand Harbor State Park, located on the north shore of Lake Tahoe. Then again, Sand Harbor isn't exactly "most places." One of Lake Tahoe's best and most popular sandy beaches, Sand Harbor is marked by car-sized granite boulders and panoramic views of Lake Tahoe and the mountains that ensconce it. The park features a boat launch, picnicking areas, a visitors center detailing the history of the area, and all the gorgeous sights you can handle in a single day.
Historic Sand Harbor
Long home to American Indians, Sand Harbor remains a top spot for outdoor recreation, hiking, and photography during the day and quiet meditation as the sun sets across the lake over the West Shore in the evening.
Thousands of years before White settlers made Tahoe home during the Gold Rush of the 1850s and 1860s, the Washoe Tribe of American Indians staked their claim to the land here. Serving as a valuable resource to the tribe, Lake Tahoe (originally called da ow ga) saw many of the Washoe peoples making their homes along the lake's shore. Others lived in nearby regions, making seasonal treks to the lake to gather medicinal roots and seeds for the greater tribe. Although several sites around the Lake memorialize the Washoe tribe's time at Lake Tahoe, their descendants have been scattered throughout the region today, with colonies around Reno and Carson City.
By the 1860s, settlers like Mark Twain had made their way to the area, where they "discovered" the lake all over again. One day, Twain took a rare day off from his newspaper job in Virginia City and hiked over the hill from Carson City to witness the majesty of Lake Tahoe. That's when he made his famous observation, that Lake Tahoe "must surely be the fairest picture the whole earth affords"—and he wasn't exaggerating a single bit.
Peering down from the area now known as Spooner Summit, Twain would have spotted an area of particularly rare beauty: Sand Harbor. With its smooth, polished rock formations, secluded beaches and crystal, clear waters, Sand Harbor helps put a serious shine on a place that's often called the "jewel of the Sierra."
From within the park, visitors only need to look upward toward the East to see the remnants of the Flume Trail, a 19th Century pipeline that transported Lake Tahoe's valuable timber across Spooner Summit down to the Washoe and Carson valleys below. This practice eventually fell out of favor, but trees from Lake Tahoe were critical in the building of structures throughout the region. Today, the Flume Trail is an increasingly popular option for hikers and bikers who traverse miles of trails in this area, often without being aware of its fascinating history.
Visiting Sand Harbor Today
Sand Harbor State Park's beauty shines all times of the year — whether its round rocks are gently topped with snow in winter or the sandy, white beach is packed with sun worshippers in the summer months. Sand Harbor Lake Tahoe features a host of activities and amenities for guests. Arguably the most popular activity at Sand Harbor is boating. For that, the park offers a pair of boat ramps for easy launching. The park is also popular for wedding ceremonies and offers wedding venues, group areas, picnic tables for the Big Day. Hiking and nature trails, winter sleigh rides, a visitors' center, and the Harbor House Bistro round out the Sand Harbor experience.
Travel Nevada Pro Tip
Because Sand Harbor is such a popular gathering spot for outdoor recreation and sightseeing, parking is understandably challenging at times, but particularly in summer months and the days surrounding the Fourth of July and
Labor Day
. One option is to park in nearby Incline Village and take the East Shore Trail to access the park.
Lake Tahoe Shakespeare Festival at Sand Harbor
Each summer, Sand Harbor transforms itself into an Elizabethan theater, with nightly performances of the works of William Shakespeares (and a few Broadway classics thrown in for good measure) as part of the annual Lake Tahoe Shakespeare Festival. It's impossible to say which is more impressive: the award-winning performances or the stunning backdrop of Lake Tahoe as the sun sets. Guests enjoy food and drinks during the performances—and can even bring their own—making this a can't-miss bucket list experience for any Lake Tahoe visitor.
Sand Harbor Parking
Because Sand Harbor is such a popular gathering spot for outdoor recreation and sightseeing, parking is understandably challenging at times, but particularly in summer months and the days surrounding the Fourth of July and Labor Day.
Hours:
Sand Harbor is generally open 365 days a year, between 7:00 AM and one hour after sunset. In peak season, once the parking lot fills up—and it does—rangers often close the gates to new vehicles, whereupon new vehicles are allowed in on a one-out, one-in basis. (Hikers and cyclists can still cruise in with no limitations.) The point is, Sand Harbor is one of the most crowded places on Lake Tahoe's eastern edge during the summer months, so plan ahead, get up early, and don't be surprised to sit in traffic for hours in order to enter. That said, there's a reason people do! For more info on planning your trip to Sand Harbor, get in touch with the park directly at (775) 831-0494.
Admission:
Admission to Sand Harbor is $10 for Nevadans, and $15 for non-Nevadans, which includes parking. parking is prohibited along Hwy. 28 and no walk-in traffic is permitted.
This Location: