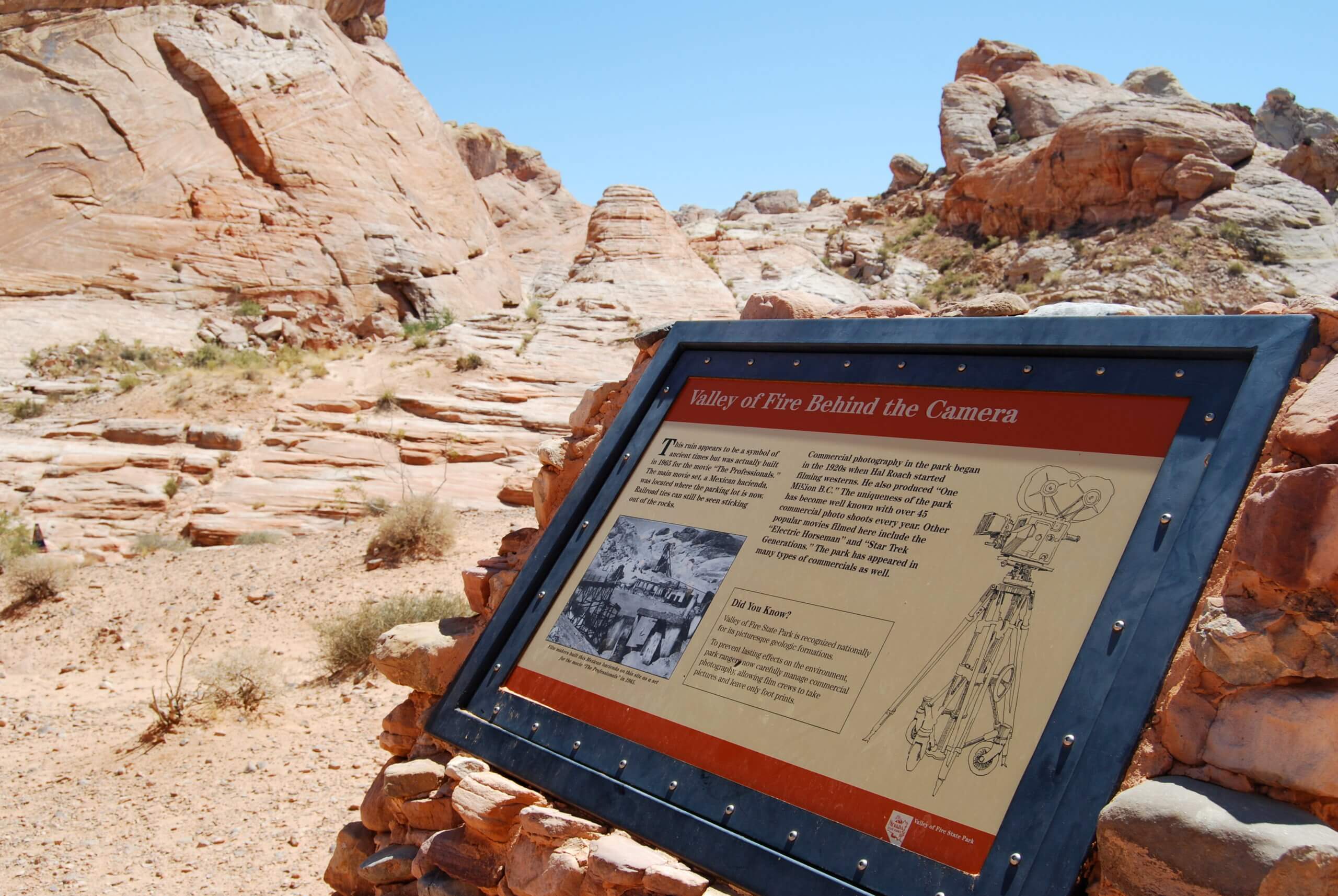 Silver State on the Silver Screen
Story brought to you exclusively by Nevada Magazine
ADVENTURER | MATT BROWN
Early in 2011, Carson City and Douglas County were abuzz with Dakota Fanning sightings. The famous 18-year-old actress (then 17) was in the Carson City area for the filming of "The Motel Life," based on a book of the same name by author-musician Willy Vlautin.
"I just saw her and Emile [Hirsch] filming in Carson City at the Back on Track Inn," wrote Frank Norton in a comment on the website onlocationvacations.com on March 4, 2011. "I yelled 'I love you' to her, and she stopped, looked at me, and started walking again."
Norton represents that crazed movie lover in all of us; we become obsessed with the characters, quotes, and places from our favorite films. While a release date has not been announced for "The Motel Life"—also shot in Gardnerville, Genoa, Minden, and Reno—it's just one of many in a long line of recognizable movies that take advantage of Nevada's unique cities, towns, and landscapes.
With the help of the Nevada Film Office, which celebrates its 30th anniversary this year, we chose a diverse group of films to spotlight in this story. Some of them you can even revisit—literally—today, simply by planning a trip to or within Nevada.
Or, as the days get shorter and the weather grows colder, it's also a great time of year to rent some movies and gather around the television with family and friends.
Plot descriptions are from International Movie Database—imdb.com.
"The Misfits" — 1961 — Dayton & Reno
Plot: A sexy divorcée falls for an over-the-hill cowboy who is struggling to maintain his romantically independent lifestyle in early-'60s Nevada.
Genre: Drama | Romance | Western
Director: John Huston
Stars: Clark Gable, Marilyn Monroe, & Montgomery Clift
Misfits Flat has quite a ring to it. Unfortunately for tourists, it's on private property. Fortunately, Lester Robinson—owner of the land and the company Complete Millwork Service—is open to playing tour guide. Robinson says motorized vehicles are off limits, but he's invited hikers, landsailers, and model airplane flyers and rocketeers to his acreage just south of Stagecoach off U.S. Highway 50. "Then there's the occasional school film shoot," he adds. "Schools from the Bay Area shoot shorts. It's really the only dry lakebed that's privately held. They're looking for that desert scenery; that cloud of dust. I have all those vistas."
As for "The Misfits," Robinson says he knows precisely where the movie was shot and where the action took place. "The only people who have been interested are Europeans," he says. "The French and Germans have an affinity for westerns."
Dayton's Odeon Hall & Saloon, now home to the aptly named Misfits Theater Group (misfitstheatergroup.org), is where the movie's lively bar scenes were filmed. Interestingly, director Huston was the winner of Virginia City's inaugural Camel Races in 1960. The event is still held annually in Virginia City.
Best known for being both Monroe and Gable's last completed films, "Misfits" scenes were also filmed in Stagecoach and at Pyramid Lake Indian Reservation. Both actors were at the twilight of their careers to say the least. A doctor was on call 24 hours a day during filming, as both were battling health problems. Gable died shortly after filming, and Monroe passed more than a year later.
"The Professionals" — 1966 — Valley of Fire State Park
Plot: An arrogant Texas millionaire hires four adventurers to rescue his kidnapped wife from a notorious Mexican bandit.
Genre: Action | Adventure | Western
Director: Richard Brooks
Stars: Burt Lancaster, Lee Marvin, & Robert Ryan
Today, a plaque marks the spot where "The Professionals" set once stood, accessible via the White Domes Trail in Valley of Fire, Nevada's oldest and largest state park. "The main movie set, a Mexican hacienda, was located where the parking lot is now. Railroad ties can still be seen sticking out of the rocks," reads the plaque. Parts of the movie were also filmed in Las Vegas and at Lake Mead.
Hal Roach began the tradition of filming westerns among the red sandstone vistas in the 1920s before the area was officially recognized as a state park in 1935. Other well-known films to feature Valley of Fire State Park are "Electric Horseman" and "Star Trek Generations."
"The Godfather: Part II" — 1974 — Lake Tahoe
Plot: The early life and career of Vito Corleone in 1920s New York is portrayed while his son, Michael, expands and tightens his grip on his crime syndicate stretching from Lake Tahoe to pre-revolution 1958 Cuba.
Genre: Crime | Drama
Director: Francis Ford Coppola
Stars: Al Pacino, Robert De Niro, & Robert Duvall
In true mob fashion, the Lake Tahoe location used in the second "Godfather" is shrouded in secrecy. "It's long been rumored that a scene was filmed at the Thunderbird Lodge, but the property manager there has no recollection," says Robin Holabird, former deputy director of the Nevada Film Office before she retired in 2008. "The production designer, Dean Tavalouris, told me he could only remember shooting near Homewood. That was the old Kaiser Estate, which is now the Fleur du Lac condos. Only the boathouse remains standing." The original "Godfather" used the Riviera in Las Vegas for filming.
Some films that feature Lake Tahoe as a backdrop are more obvious. The 2006 film "Smokin' Aces" used the iconic Cave Rock, which drivers pass through on U.S. Highway 50. "The Deep End used Sand Harbor for Tilda Swinton's character to dump a body; ironic because Sand Harbor is probably the most shallow end of Lake Tahoe," Holabird adds.
"The Shootist" — 1976 — Carson City
Plot: A dying gunfighter spends his last days looking for a way to die with a minimum of pain and a maximum of dignity.
Genre: Drama | Western
Director: Don Siegel
Stars: John Wayne, Lauren Bacall, & Ron Howard
The 1914 Krebs-Peterson house on 500 Mountain Street in Carson City (near the Governor's Mansion) has a sidewalk plaque commemorating western icon John Wayne's final film. "Wayne was great to Carson City locals while he was staying at the Ormsby House Hotel during the filming," reads imdb.com. "He signed autographs for young people readily."
Nevada Magazine's former art director Tony deRonnebeck grew up with a similar story. Tony's grandfather, Otto, worked as a truck driver for Salvage Construction Company in Carson City. "He was delivering sand to cover the asphalt streets for the set. On one of the trips John Wayne jumped up in the cab of his truck shared a Camel straight and talked about the old days," Tony told me.
The movie was also filmed in nearby Washoe Lake State Park. Ironic that he played a dying gunfighter, Wayne's acting career faded quietly. He never made it back to the big screen despite dying of stomach cancer a whole three years after filming for "The Shootist" began.
"Lost in America" — 1985 — Hoover Dam & Las Vegas
Plot: A husband and wife in their 30s decide to quit their jobs, live as free spirits, and cruise America in a Winnebago.
Genre: Comedy
Director: Albert Brooks
Stars: Albert Brooks, Julie Hagerty, & Sylvia Farrel
This story ranges from the work-a-day world of Los Angeles to the razzle-dazzle of Las Vegas to the high energy of New York City; from the stunning beauty of Hoover Dam to the quaint life of roadside trailer camps.
In Las Vegas, the picture company worked and lodged at the Desert Inn Hotel, filming in the casino, lobby, and coffee shop. In the casino, usually seen in films as a distant backdrop, special arrangements were made to enable filming at the gaming tables amid customers and employees.
In striking contrast to Vegas' neon shimmer was the majesty of the Hoover Dam. For the filmmakers, as well as for the main characters David and Linda, the journey proved to be an exercise in rediscovering America.—From albertbrooks.com
"Casino" — 1995 — Las Vegas
Plot: Greed, deception, money, power, and murder occur between two mobster best friends and a trophy wife over a gambling empire.
Genre: Biography | Crime | Drama
Director: Martin Scorsese
Stars: Robert De Niro, Sharon Stone, & Joe Pesci
The Las Vegas locations used in this classic mob film are too vast to list, but some notable ones are Bally's and former Las Vegas mayor Oscar Goodman's actual Fourth Street office. The driving scene in the beginning of the movie was filmed on Fremont Street in downtown, which is no longer open to automobile traffic.
The Tangiers casino mentioned in the movie is fictional; the story is actually based upon the history of the Stardust casino and the life of mobster Franky "Lefty" Rosenthal.
Las Vegas residents and tourists can get a great overview of the city's mob history on the Vegas Mob Tour (vegasmobtour.com, 866-218-4935), Wednesday through Saturday in the winter months and daily in the spring and summer months. The two-and-a-half hour bus tour covers fedoras and pinstriped suits from Bugsy Siegel in the '40s to Rosenthal in the '70s. Former mobster Frank Cullotta served as a technical adviser on the "Casino" set and has provided his insights to the tour.
Be sure to tuck the kids into bed before pushing "play"—"Casino" holds the Guinness world record for the most swearing in a film, according to imdb.com, not to mention the intense violence.
"Independence Day" — 1996 — Rachel & West Wendover
Plot: The aliens are coming, and their goal is to invade and destroy. Fighting superior technology, man's best weapon is the will to survive.
Genre: Action | Adventure | Sci-Fi
Director: Roland Emmerich
Stars: Will Smith, Bill Pullman, & Jeff Goldblum
Perhaps Nevada's most obscure monument to the motion-picture industry lies in the small town of Rachel on the Extraterrestrial Highway—or State Route 375. "The 'ID4' monument in front of the Little A'Le'Inn was placed here by the producers of the movie 'Independence Day,'" reads rachel-nevada.com. "It contains a time capsule, to be opened in the year 2050."
Imdb.com lists the "trailer park scene" as having been filmed in Rachel. Holabird says Pullman and Goldblum traveled to Rachel the year the movie was released in theaters—1996—to dedicate the official opening of the Extraterrestrial Highway. "The Area 51 shots were done at the Wendover Air Base, which meant the cast and crew, even Will Smith, stayed in West Wendover," she says. The movie also used Utah's famously salty and white Bonneville Salt Flats, just east of West Wendover, for filming.
The 1997 action movie "Con Air," starring Nicolas Cage, also used the Air Base and Salt Flats, and the crew stayed in Nevada, according to Holabird.
"3000 Miles to Graceland" — 2001 — Las Vegas & Nelson
Plot: A gang of ex-cons robs a casino during Elvis convention week.
Genre: Action | Comedy| Crime
Director: Demian Lichtenstein
Stars: Kurt Russell, Kevin Costner, & Courteney Cox
Nelson is best known as one of Southern Nevada's most intriguing "living ghost towns," but it's also home to a piece—a big piece—of movie memorabilia. The remnants of a plane blown up by Costner's character sit adjacent to the Techatticup Mine, available for tours most days via Eldorado Canyon Mine Tours (eldoradocanyonminetours.com, 702-291-0026).
The set was not new to Russell. Another film he stars in, 1997's "Breakdown," also used the Nelson area as a backdrop. "[Producer] Martha De Laurentiis told me at a Cineposium that production went great there," Holabird says.
"Waking Up in Reno" — 2002
Plot: A romantic comedy about two trashy couples traveling to Reno to see a monster truck show.
Genre: Comedy| Romance
Director: Jordan Brady
Stars: Billy Bob Thornton, Charlize Theron, & Patrick Swayze
The Biggest Little City has provided the backdrop for countless films, as is the case with this under-the-radar movie. Perhaps it wouldn't have flown quite so far under had Brad Pitt and Jennifer Aniston not dropped out prior to filming. Casino scenes were filmed in the former Fitzgeralds, also seen in the 2010 film "Love Ranch" starring Joe Pesci and based on the real-life story of Joe Conforte opening the first legal brothel in the state.
"Kingpin" used downtown Reno's National Bowling Stadium extensively, and who could forget the scene of Whoopi Goldberg and a group of fellow nuns running under the famous downtown "Biggest Little City in the World" arch in "Sister Act"?
"The Island" — 2005 — Rhyolite
Plot: A man goes on the run after he discovers that he is actually a "harvestable being," kept as a source of replacement parts, along with others, in a Utopian facility.
Genre: Action | Sci-Fi | Thriller
Director: Michael Bay
Stars: Scarlett Johansson, Ewan McGregor, & Djimon Hounsou
Forget its role in popular films. If you haven't been to Rhyolite, a popular ghost town just west of Beatty, you're missing a real Nevada treasure. The barely standing buildings and ruins remain from the early 1900s when the Bullfrog Mining District boomed. By the 1920s, the town was by all means abandoned. Structures such as the three-story Cook Bank Building fit Bay's vision of a desolate world in which Johansson and McGregor's characters are thrust.
Filming of "The Island" also commenced in Tonopah, according to imdb.com. 1987's "Cherry 2000," a sci-fi action number starring Melanie Griffith, was filmed almost exclusively in Nevada, utilizing the aforementioned Rhyolite, as well as Goldfield and Valley of Fire State Park.
**TOP-10 NEVADA MOVIES**
Top 10 movies filmed in Nevada
By Forrest Hartman
The Godfather Part II (1974)
Leaving Las Vegas (1995)
Casino (1995)
Diamonds Are Forever (1971)
The Misfits (1961)
The Cooler (2003)
Hard Eight (also known as Sydney) (1996)
The Hangover (2009)
Ocean's Eleven (2001)
Misery (1990)
Forrest Hartman is a Reno-based film critic. Visit his website at forresthartman.com.
Get Inspired
Related Stories