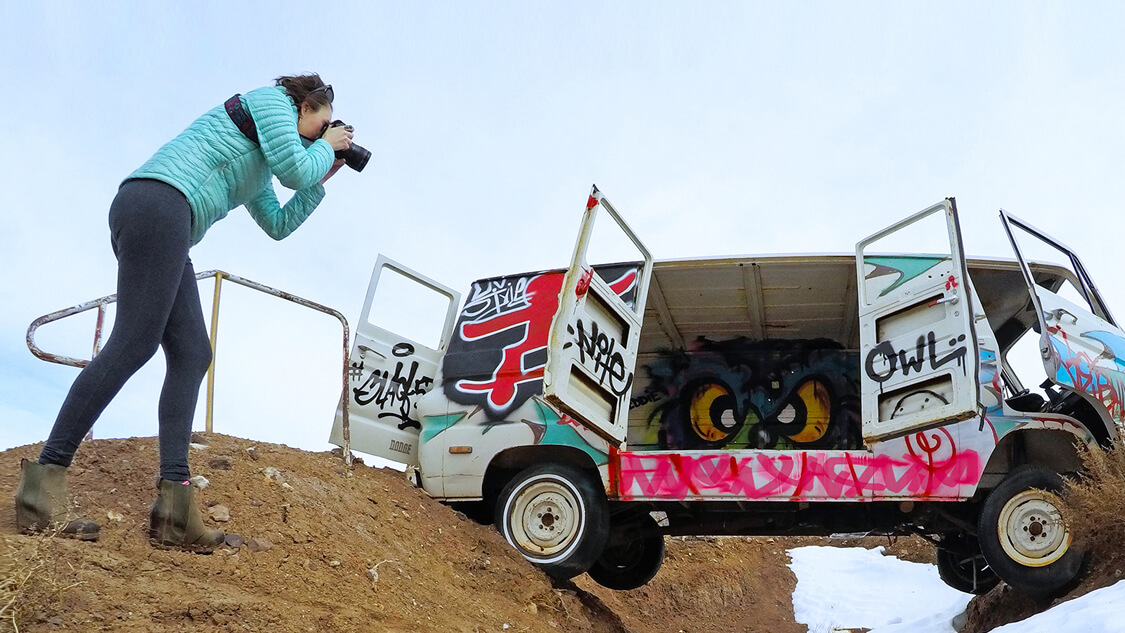 15 Ways I Captured that DFMI Spirit
Photographing the Nevada desert (and its mountains, lakes, rock formations, canyons, ghost towns, and hot springs) scratches that photography itch in so many different ways that it's difficult to zero in on where new landscape photographers to the area should begin, first. The struggle is so REAL. Sure, there are qualities about every single place on this planet that make it enjoyable to view behind a lens. There's just something special about capturing the Nevada landscape, though.
Maybe it's that certain range of light that can only be found in the American West—that subtle dash of amazing basin and range topography in the background paired with something oh-so-Nevadan—like… a natural hot spring. There's a major allure about the top-quality conditions this beautiful state has to offer landscape photographers. It's the type of conditions that passionate photographers are always after—which are then whimsically married with unusual places, unique art, or only-in-Nevada events. It's this incredible photo stew that when all mixed together makes for one of the most unbelievable photographic enterprises out there.
The best part about all of this? These favorites spelled out below are all easily achieved on a trip to Nevada… you don't have to be anyone special with a fancy credential or camera, you've just gotta go do it. The easiest way to start is to begin, right? If you can bring a camera, then great. Get. That. Shot. But if you take the plunge into the backcountry, where rolling hills and starlit skies are pretty much a guarantee, don't let the camera be a distraction. Grab onto those moments, live them, and really stay in it for yourself, even if it's only for a short while.
Nevada Landscape Photography at Its Finest
BIGHORN MAGIC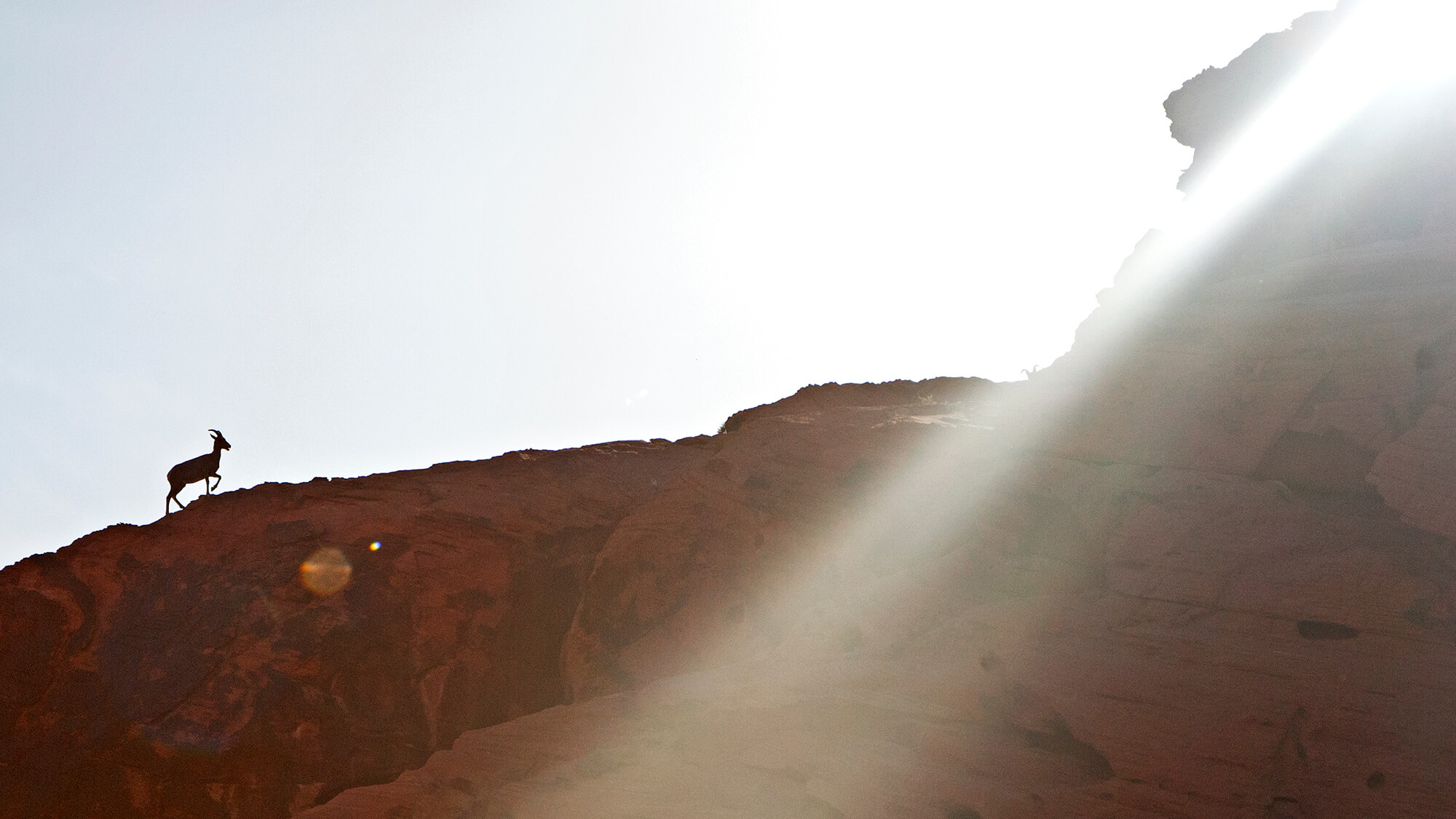 CAMERA: Canon 5D Mark II
LENS: EF24-105mm
APERTURE: f/4
SHUTTER SPEED: 1/4000
ISO: 1000
TRIPOD? No
When I can find a place that merges extraordinary scenery with the prospect of shooting wildlife—to me—that's a hard lineup to beat. I have an unwavering adoration for all animals, and any time that I can spot any of these babes in the wild is a good day. This time, I was on a statewide motorcycle trip with my dad, and we were scheduled to roll through Valley of Fire right during golden hour. This was no accident.
With three cameras dangling from my body as I rode on the back of the bike, we wove our way in and out of some of Nevada's most picturesque roads. There are plenty of other roads in Nevada to explore (like Lamoille Canyon, it's a must-see), but The Valley of Fire is definitely a spot to visit if you're a gearhead. With tons of car and motorcycle commercials filmed at Valley of Fire, the second your own tires hit the pavement, you'll see why. It just clicks. And it's INCREDIBLE.
Give Yourself Time
Having spent the last few minutes of daylight shooting everything I could lay my eyes on, I was kicking myself for scheduling yet another trip to The Valley of Fire without giving myself enough time. It was my dad's first trip here and I know it far surpassed is expectations. But even though he was pleased, I was practically throwing a full-on, grownup temper tantrum. I KNOW there are sooooo many desert bighorn sheep in the area and we didn't even get to see one. GAH!
Sulking my way over to the bike, my dad and I shared one last drink of water before hitting the road to our next stop. As I tipped my head back take a drink from the bottle, there it was: BIGHORN MAGIC. Despite the shade that was already creeping over to where the bike was parked, the sun was in a spot that perfectly lit a herd of wild desert bighorns as they paraded along the vibrant red ridges The Valley of Fire is known for. Most of the herd disappeared over the ridge, or below the frame into the shadows, but this lady bighorn totally stopped, mid-step. She was posing for me! My dad and I stood there in mouth-breathing awe as we watched 10 bighorns nimbly traverse the ridge and disappear off into the warm summer night. This is one of those moments that can't be planned, one that you'll never get back again even if you tried. It's something I'm not going to forget about anytime soon, and the photo is a nice way to commemorate an encounter with wild Nevada. It even inspired a guide to finding your Nevada spirit animal.
TRUE DARKNESS, BABY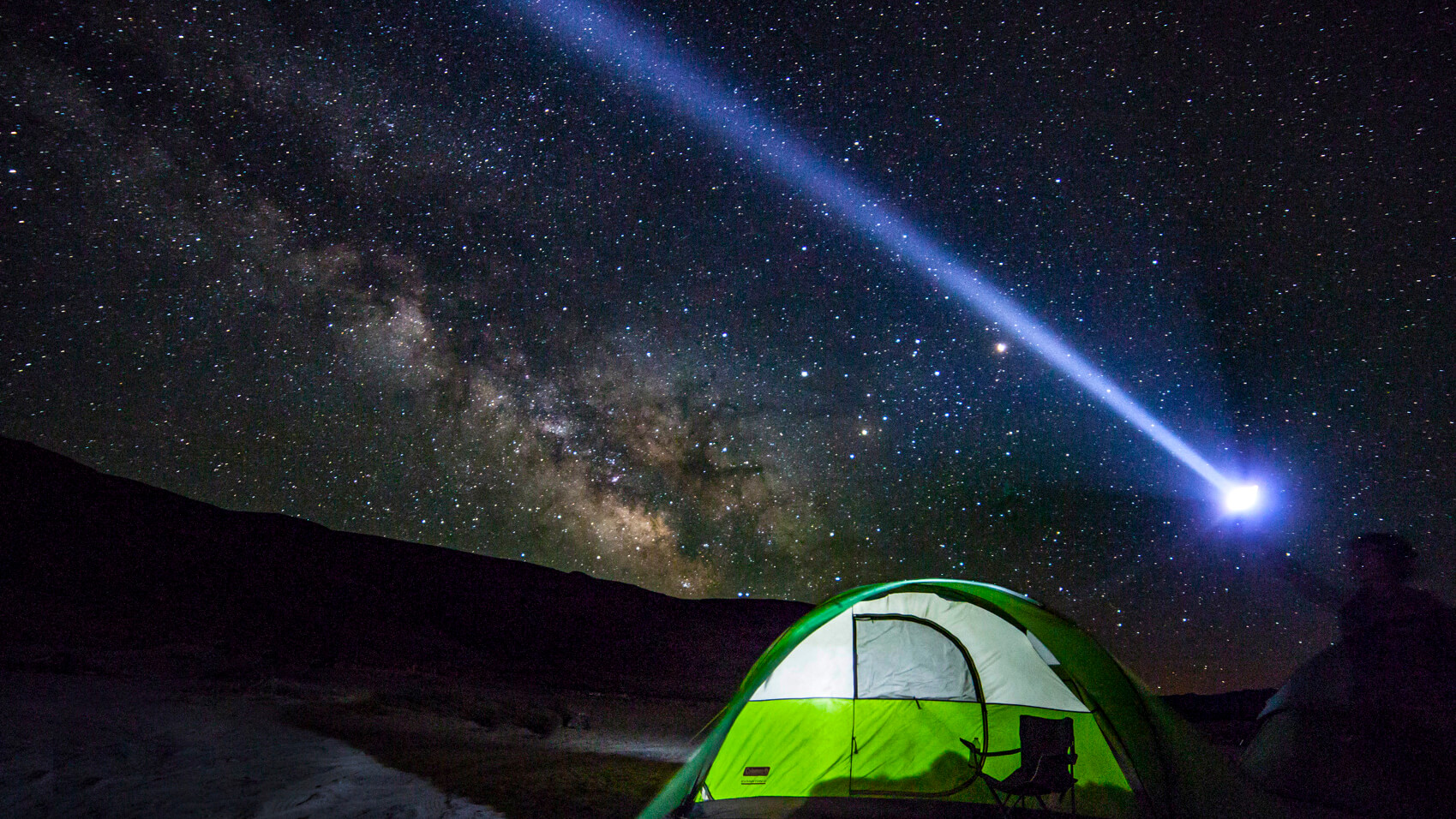 CAMERA: Canon 5D Mark II
LENS: Rokinon Wide Angle 14mm-f/2.8
APERTURE: f/2.8
SHUTTER SPEED: 30 second exposure
ISO: 3200
TRIPOD? Yes
2016 began with one mission in mind: take a good astrophotography shot. And not just some wander-around-in-the-dark, capture a half-blurry-terribly-exposed astrophotography shot that showed a few glowing dots in the sky. But a real Astro-shot—one that would take some legit post-processing to make the thing pop—something that would showcase the true beauty of a Nevada night sky.
Well, my mission was not in vain! Thanks to my favorite professional photo excursion of the year, I figured out which settings and equipment to use, as well as got a solid schooling in post-production to boot. I had been on a multi-day landscape photography excursion enjoying so many things the oasis of Nevada has to offer. I spent the day feeding my UTV addiction, eating the best vegetarian curry I've ever had in my life at The Slanted Porch, and explored some pretty damn cool Pony Express station ruins. That night, after my day of galivanting was complete, I staked my tent at Sand Mountain during the new moon. The stage was set perfectly. And I wasn't leaving until I got the perfect astrophotography shot.
New moons are a great time to practice astrophotography as they minimize light pollution. Another bonus? Nevada is home to some of the last true dark skies in the lower 48. So dark, that some scientists are calling it an endangered resource.
Sure I knew it would be dark due to the new moon, but what was most impressive, was that there wasn't any light interference from Fallon—which was only 20 minutes down the road.
I had to wait until about 1 a.m. or so for the Ol' Milky Way to rise above the ridge, but once it did, it was worth Every. Single. Minute. I thought my bright green tent was the perfect accent, so I set the shot, opened the shutter for a 30-second exposure, ran behind the tent and hit it with my Lumineer Light Gun, then sprinted to the front of the frame to hold an additional light for an even stronger effect. I love this shot because the ray of light draws your eye right over to the Milky Way while that green tent gives the composition such a galactic, faraway feel… even if I'm right in the heart of my very own galaxy.
CONSUMED BY THE MOMENT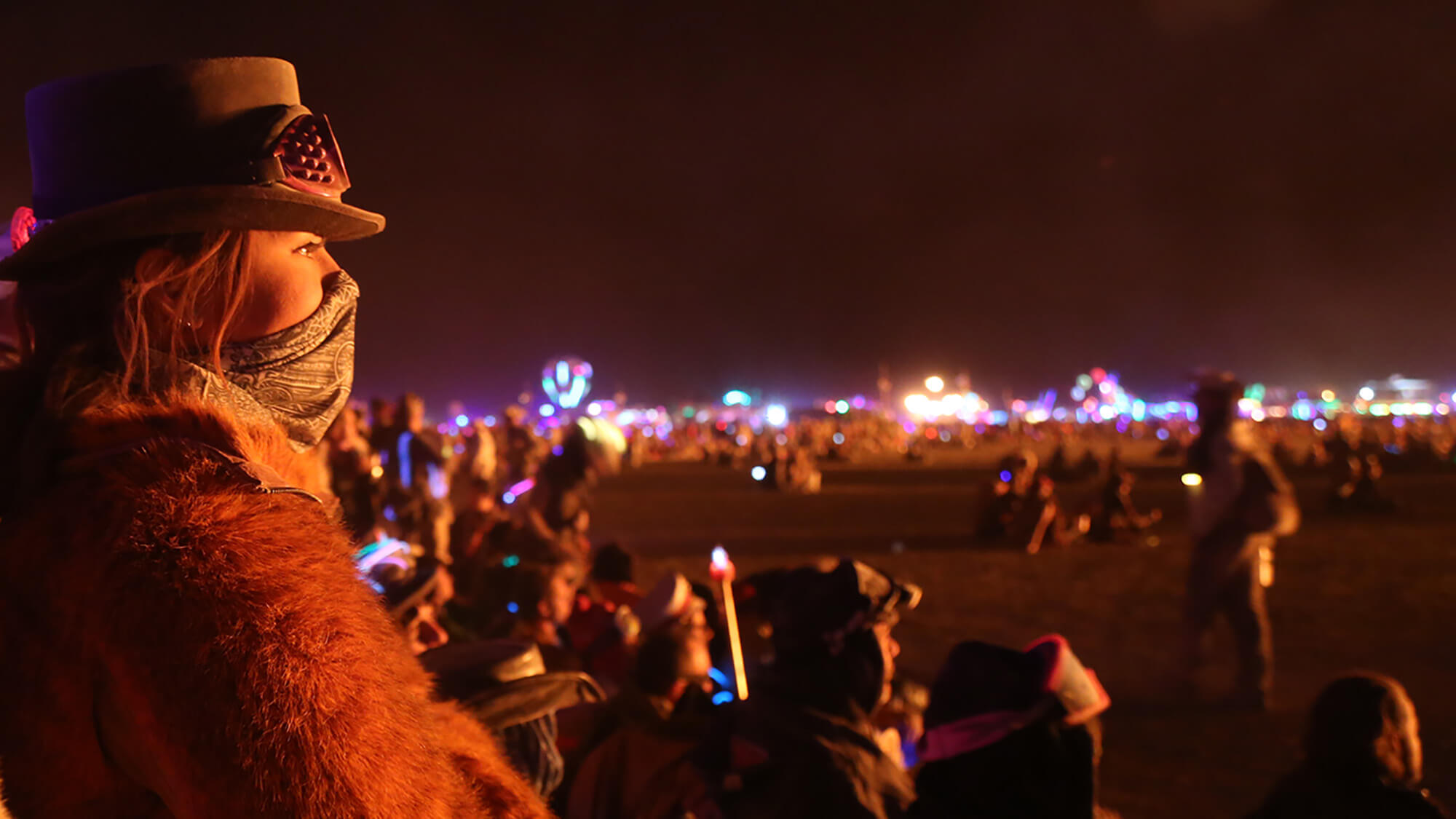 CAMERA: Canon 5D Mark III
LENS: EF24-105mm
APERTURE: f/4
SHUTTER SPEED: 1/6
ISO: 3200
TRIPOD? No
I've had to protect my camera on the back of motorcycles, while summiting Nevada's highest most peaks, wading chest-deep in hot springs, and from 108-degree temperatures in the southern end of the state. But never had I experienced the sort of challenges in the mix at the Black Rock Desert. Conditions were tough to shoot in, but the ambient light, expression, and energy in the background transports me right back to this very moment… the type of feeling I hope to evoke in every shot but isn't always an easy order.
Pro-Tips for Shooting Burning Man
I had gotten some tips on how to protect my camera from other photographer friends who'd shot Burning Man in the past, but there weren't a ton of options that would outlast alkaline-laden dust for days on end. So, I followed the advice of every single one of them and meticulously wrapped my camera body and lens in one-gallon Ziploc bags. With surgical precision, I taped all the exposed parts off—like the trigger button—with black electrical tape and thought, "OK, well here goes nothing." Besides the difficulty in protecting my camera through non-stop dust storms, the other tough part was this: although I had permission from Burning Man to have my camera there, I still had to protect everyone's intellectual property by asking every single person I photographed if it was OK before snapping their pic. I love that idea, but it was a total 180 from other public places I'd shot in the past. If it's outside and "in public," it's fair game, right? Nope, not at Black Rock City.
By the time the fourth day rolled around, I felt like I was finally getting into the swing of things, though I'm not sure I'll ever be able to fully get used to adjusting a lens with a giant baggie around it. I won't spoil it for any virgin Burners, but the emotion that washes over you as you watch the Man burn is a pretty transformative experience. Though I was afraid to ask permission to photograph onlookers during the apex of their time in the desert, I couldn't help but approach this participant.
Ambient light from the Man burning was on point, as were all the other glowing light sources from art cars and costumes surrounding her. When I look at this image, I blast right back to the human connection and palpable spirit that is that wild week spent in Black Rock City, culminating with this exact moment.
PURE WESTERN TRADITION
CAMERA: Canon 5D Mark II
LENS: EF24-105mm
APERTURE: f/5.0
SHUTTER SPEED: 1/1600
ISO: 1000
TRIPOD? No
From my time spent traveling throughout Nevada and the Nevada desert, there are fewer places that make me feel more whole than Elko. I hate to play the F-word card here—FAVORITE—but there is some kind of X-factor quality going on in northeastern Nevada that's all-around hard to put into words. Sure, the landscape has a lot to do with it, but more importantly, the people who hang out around those parts tend to pull a feeling out of you. There are so many ways to feel connected to the landscape in Nevada—whether it be summiting peaks, soaking in hot springs, rock climbing or sending a line at the highest snow base in Tahoe—synchronicity with Mother Nature is around every turn, here.
It really hit home for me after I had the chance to spend an entire day with John Wright, proprietor of the legendary saddle making shop, J.M. Capriola's.
As I learned all about this uncommon yet inspiring business, I felt that wholeness chord striking within me again. John and his colleagues pride themselves on maintaining a few simple principles: preserve the sacredness of western tradition, act right, and stay original. Channeling the varied uniqueness of the northeastern Nevada's landscapes and the creativity of its people, John's saddles are not manufactured from molds or stamps—each piece is customized and special in its own way.
Far from just a craftsman turning out a product, he considers himself a veritable "Guardian of Tradition." He preserves the sacredness of tradition in every step of his saddling-making process. Around here, you treat others with respect and teach your children the meaning of carrying genuine values and principles.
That afternoon, I watched John gather a herd of cattle with his wife Susan and their two kids, Charlie and Audrey, passing on his set of simple but powerful ideas in everything he did. I shot this photo of Charlie on his horse, which symbolized everything I'd seen that day in one shot.
HUMBLING ENCOUNTERS IN NEVADA'S BACKCOUNTRY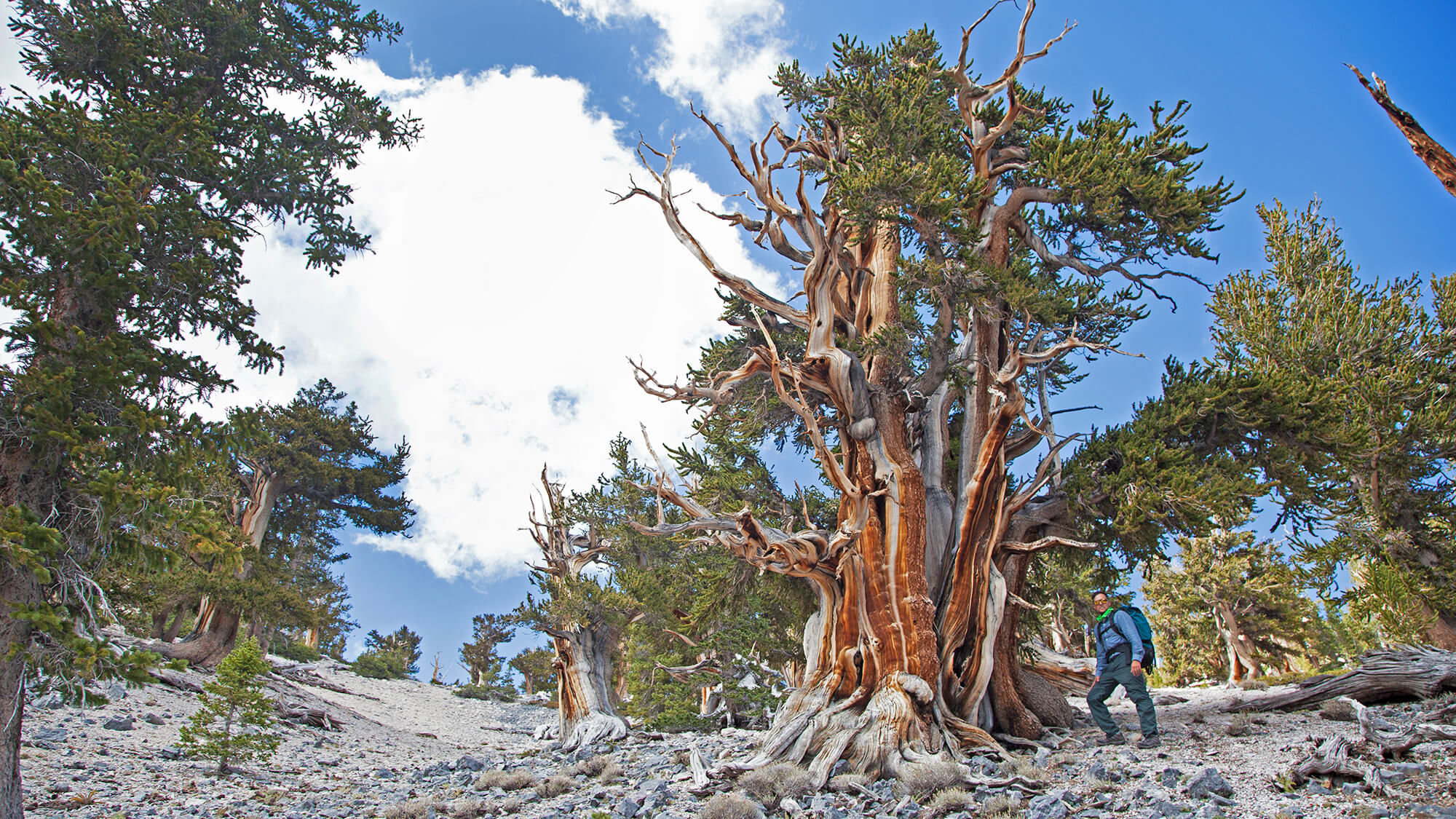 CAMERA: Canon 5D Mark II
LENS: EF24-105mm
APERTURE: f/6.3
SHUTTER SPEED: 1/320
ISO: 400
TRIPOD? No
I truly enjoy the bounty of outdoor recreation that goes down in the Silver State, but I first learned to love hiking and backpacking when I started working on a story about summiting Nevada's five tallest peaks. It's weird—I think a lot of people who don't know the real Nevada might assume it's all flat and sandy, loaded with scorpions and rattlers. But anyone who's been to this state can attest to the fact that this place is MOUNTAINOUS. The most mountainous state after Alaska to be exact. Hiking the five tallest peaks was a serious endeavor—one that took me into super remote parts of Nevada, based on topo maps that were made in the 70s. Dropping off-grid and plotting your every move on what seems to be radically outdated info? Talk about redefining the spirit of adventure that I crave so much.
This photo was taken while my husband and I summited Nevada's third tallest peak—Mount Moriah. Of the five, this was 1000% the most impressive. There were so many qualities that made it that way—the face-melting fall foliage, true remoteness, bugling elk, you name it. A hike I will never, ever forget. There was not another soul on the entire mountain the whole day we were up there, and, following some old ass maps, we got a little turned around.
Once we spotted the barely-there trail again, we realized we had to hike up a super sketchy, CRAZY STEEP wash to get back on track to the summit. During these moments, especially when you're at such high elevation, your body basically just turns into a machine (check out mentally or you'll be in trouble). We chugged up this steep, shaley face (focusing on being nimble), and then we remembered: lookup. Look around you.
We hadn't seen many bristlecones at our camp in Great Basin just yet, and though Great Basin National Park is known as bristlecone territory, we could barely hold it in when we looked up and saw we had hiked into an ancient grove of bristlecones. Had we stayed on the trail, this experience wouldn't have happened. A total happy accident. It's that whole get-lost-on-purpose thing. We were deep in Nevada's amazing backcountry at a place we didn't plan for, standing beneath a tree that had been growing before the reign of Cleopatra. In Nevada, there are so many ways to be humbled by what's around you, and standing beneath a 4,000-year-old tree with the person I love most certainly didn't fall short.
FEELING PRETTY FREE ON THE ET HIGHWAY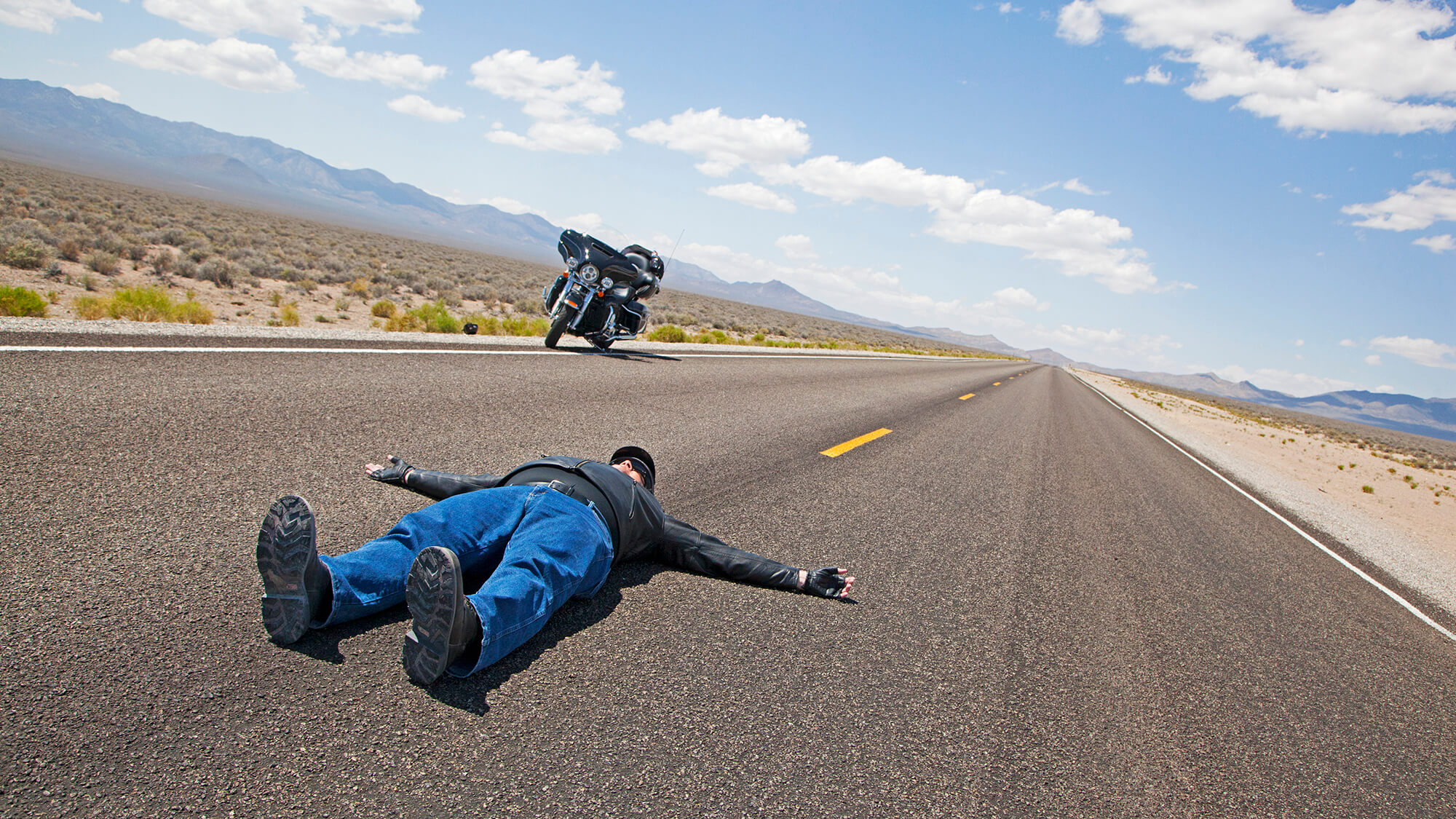 CAMERA: Canon 5D Mark II
LENS: EF24-105mm
APERTURE: f/9.0
SHUTTER SPEED: 1/2000
ISO: 1000
TRIPOD? No
I lucked out in many ways as a kid, but one of the best parts about my childhood was that I basically grew up on the back of a motorcycle. While other kids were figuring out how to rig up their Nintendo, my dad was showing me how to bask in the backroads, exchange stories with the people you meet along the way, and say yes to things you normally wouldn't begin to entertain in "real life." It's hard for those kinds of things not to stuck with you.
How to Get Nevada Street Cred
This photo came from what I like to call our Motorcycle Madness in the Silver State trip (mentioned in my first desert bighorn photo above). I mean we'd have to be mad, we traveled close to 1,500 miles all over Nevada. There were so many amazing moments that unfolded (without being planned)—like bar hopping in Pioche with the locals, rubbing the Winged Figures of the Republic's golden toes for luck at the casinos, and navigating through some really amazing slot canyons–both on the bike and on two feet. At one point, we felt compelled to do a thing that you rarely can do anywhere else, something that you've gotta do to earn some Nevada street cred: lay in the middle of a flipping highway.
Enter: The Extraterrestrial Highway. Although you might suspect that the Loneliest Road in America sees the least amount of traffic, the ET Highway has it beat. I mean, I'm not asking [or encouraging anyone else] to engage in a suicide mission here—be smart about it.
SUNSET SOAKS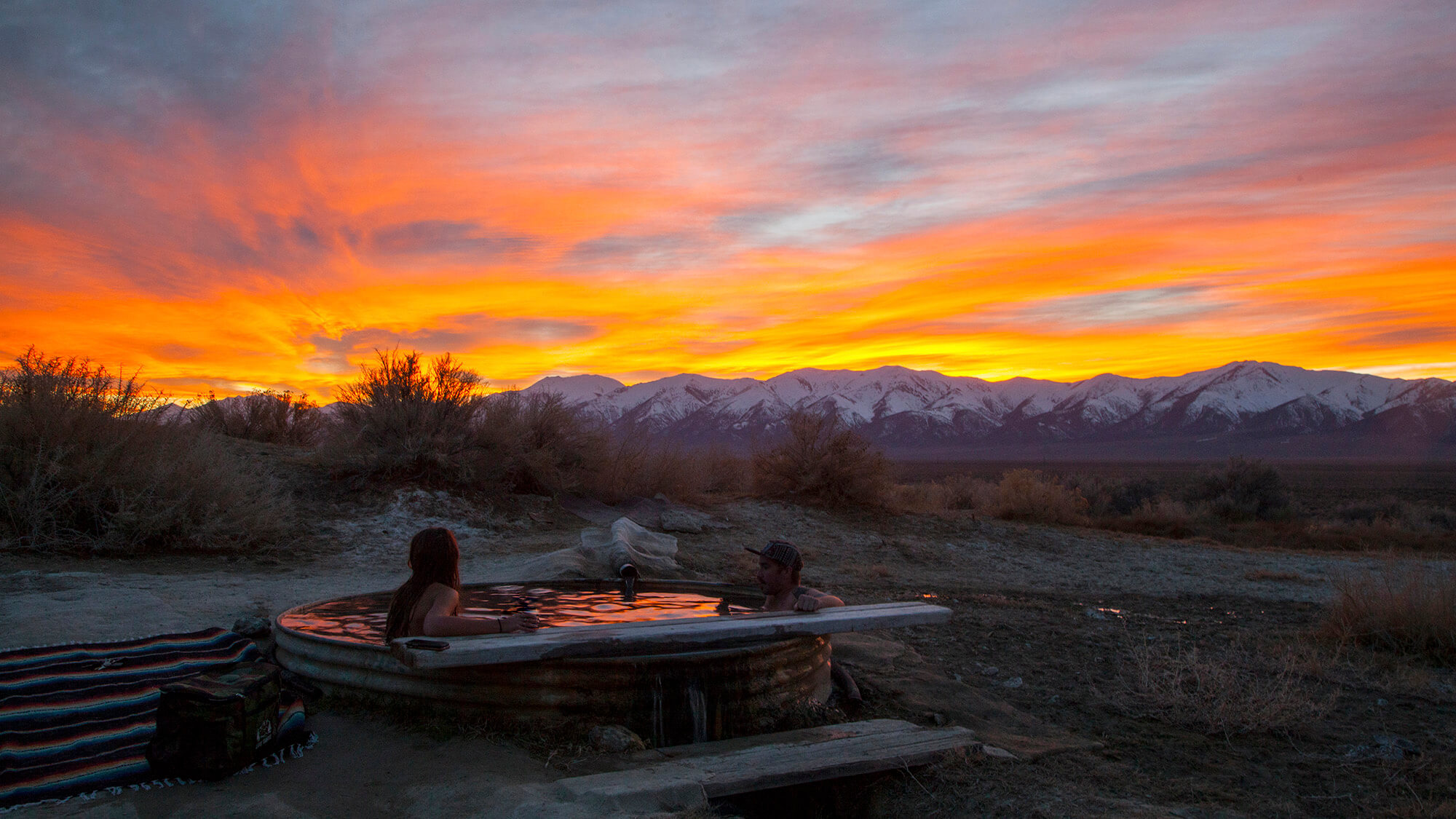 CAMERA: Canon 5D Mark II
LENS: EF24-105mm
APERTURE: f/14.0
SHUTTER SPEED: 1/20
ISO: 1000
TRIPOD? No
Hello, my name is Sydney and I'm a hot spring addict. It's true! Of all the things to do and see in this state, hot springing has my name all over it. There are springs that are super-duper hot and perfect for a below zero wintertime soak, and others that are cooler [think 90-degree temps] that are just the ticket for a summertime treat. It's a total seasonless hobby, and with over 300 hot springs throughout the entire state to choose from, stalking these bad boys down has eaten up every ounce of my free time. Because what's better than dirt road rambling for hours to find a perfectly beautiful natural hot spring hot tub in the middle of nowhere. Nothing. There's nothing better than that.
My First
Spencer was my first. My gateway to becoming totally and completely obsessed with finding all the soakable hot springs in Nevada. On my baptismal trip to this natural hot spring, I was completely enchanted by everything going on in the Big Smoky Valley. You hear allllllll about this range of light situation going on in the west, and in the Big Smoky, it's totally real. Some of the best sunsets I've ever seen in my life I've enjoyed while taking a dip in Spencer's therapeutic waters, sippin' on something all kinds of frosty.
I'm talking about sitting in the spring, watching the most vivid sunset of your life as braying wild burros approach the overflowing pools for an evening drink—that kind of teary-eyed happiness. Although the shot above was taken on about my 23,487th trip to Spencer, I had been ripping around the backroads checking out new ghost towns and tried my best to time a sunset dip. I was 99% positive I was going to miss the light but pulled into one of the four sources right in time, grabbed my DSLR, flung the door open and ran towards the tub, shutter blazing. A couple of poor strangers who'd beat us to a soak didn't even know what hit them—they were there on a date night and all I could get out was, I'll explain in a second! Just keep doing what you're doing! They had noticed the sunset, but after showing them the shot, they could barely believe how drastic the sunset was that night. I ended up making two new friends that day. We chatted up other springs to check out in the region until we were as pruney as California raisins. And that, my friends, is just the way I like it.
GETTING BY WITH A LITTLE HELP FROM MY [FELINE] FRIEND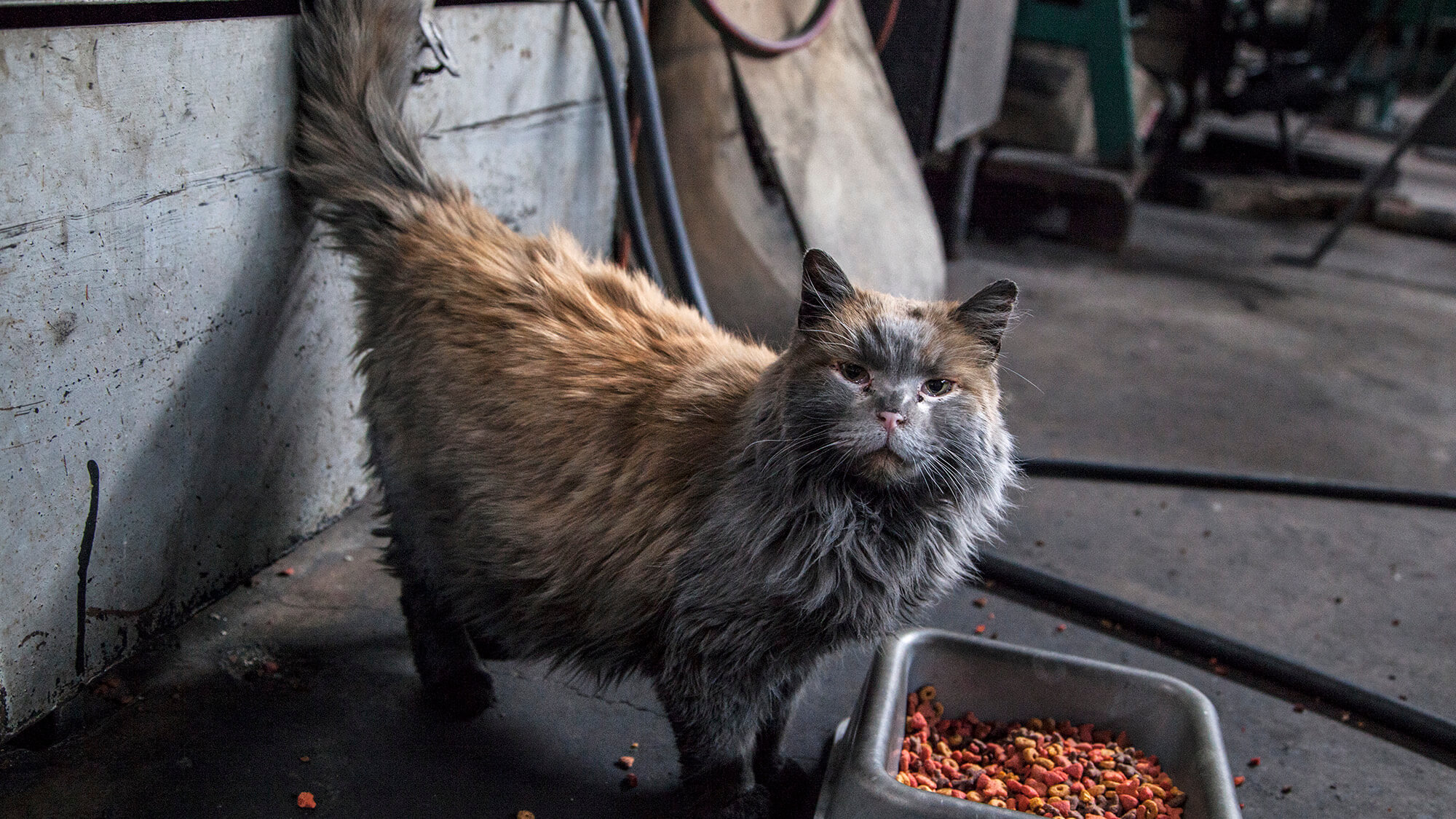 CAMERA: Canon 5D Mark II
LENS: EF24-105
APERTURE: f/4.0
SHUTTER SPEED: 1/40
ISO: 2500
TRIPOD? No
Spending summers chasing kittens in the barn on your grandparents' Nebraska farm will turn you into a real deal cat lady. I'm just saying. I am totally a dog person too, but there's something about cats always appearing at my favorite Nevada pit stops that make my time there all the more endearing. When there's a cat around, everything is better, especially if they're completely covered in train soot and wouldn't have it any other way if they had the choice. I was shooting some photos for the East Ely Depot and decided that I'd never actually walked through the machine shop at the Nevada Northern Railway. This day sounded like a perfectly good time to rip that bandage off.
Get Down and Dirt-Y
Guys, UNREAL landscape photography photo ops await you at this place. The location has the look and feel of a staged movie set. There is an early 1900s blacksmith shop with all the original tools, 100-year-old locomotives that are still running, and mechanics wrenching on the flywheel, covered in head to toe grease. And then? Right as you've been completely transported to an entirely different era, something brushes up against your leg and snaps you out of it. It's DIRT. A local celeb around these parts and I'm the first taker, eating every second of it up. Yes, the cat is actually named Dirt… and has a few other comrades in his band of train kitties at the Nevada Northern Railway.
In a few short seconds, Dirt stole the show entirely and I couldn't help but follow him around the station, monitoring what was very clearly his daily routine. He'd slink around old machinery and then turn around, almost as if posing for my shots. I think the trainmaster, engineers, and mechanics thought my brain had gone around the bend; I was on this cat posse like white on rice, but I didn't care. I grabbed a ton of shots of him—too many—and this one is my favorite. He looks like a fictional character, but he's very much alive [and waiting for a good solid head scratching] right in the heart of Ely.
ALL THAT GLITTERS IS… HISTORY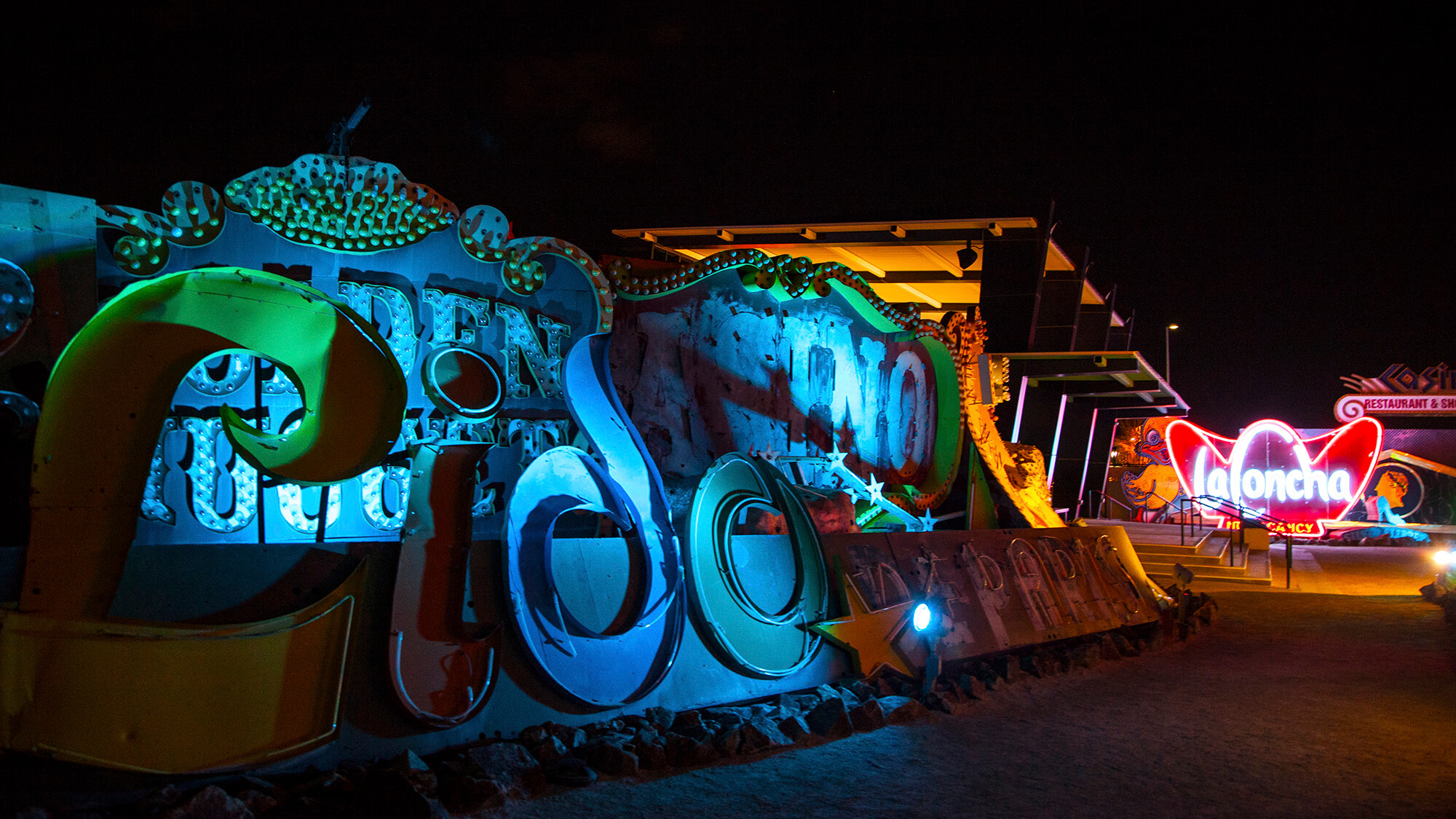 CAMERA: Canon 5D Mark II
LENS: EF24-105
SHUTTER SPEED: 1/20
ISO: 2000
TRIPOD? No
If you're anything like me, you're thinking, "OK, why would I go to a museum about neon if I can see it literally every direction I look when swinging through Vegas?" Yeah. My thoughts exactly. I didn't really get what the Neon Museum was all about, but boy did that change after I visited. To me, neon always has a hard-to-match photographic appeal… there is so much of it "in the wild" so to speak here in Nevada. Physical pieces of our history—emblems of the Silver State—began to slowly disappear, though. Nevada's neon scene was being replaced by new and updated buildings, tossing that classic neon look and going for a more modern décor. But the Neon Museum wasn't going to let all the neon go to waste. And neon boneyard was born. A name that great certainly drives hype—it totally lives up to every last square inch of its reverberating glory and name.
The Neon Museum offers two completely different experiences: a daytime tour and a nighttime tour. I was so ready for the nighttime tour—I wanted to shoot some iconic Vintage Vegas signage. I was a bit surprised to see that the boneyard was just like you'd imagine it—full of neon, but not all of it was working. They'd been saved from demolition and private collectors but weren't fully restored… yet. Imagine my surprise, expecting a fully working tour only to find signage that wasn't working. My perception began to change though after our smooth-talking Neon Museum tour guide began recounting vintage Vegas in a way that I'd never heard before.
Light Balancing is Tricky
I stood beneath 2-story high neon signs with other tour-goers that once defined the Strip—and the signs that pulled me in the most weren't the vibrant working ones—but the bones of the non-working ones. They were so beautiful, so artistic, and something you rarely see in modern-day signage.
Light balancing (especially without a tripod) was a bit of a struggle, but the shots I ended up liking best were those that framed both the restored and waiting-to-be-restored signs. They're definitely conversation starters.
ALL THE WAY TO THE TIPPY TOP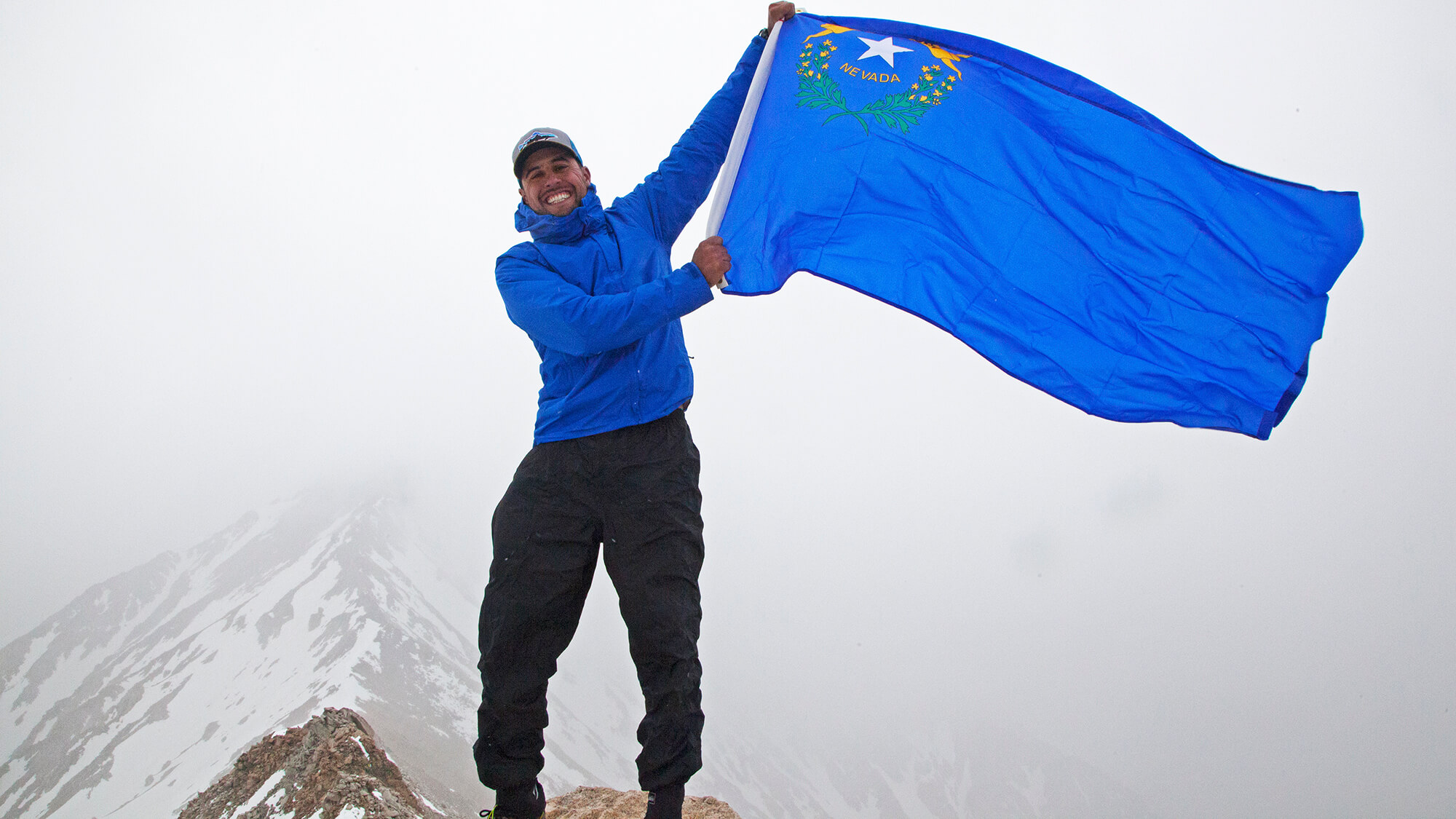 CAMERA: Canon 5D Mark II
LENS: EF24-105mm
APERTURE: f/22.0
SHUTTER SPEED: 1/640
ISO: 3200
TRIPOD? No
If you're a backpacker, you'll definitely understand where I'm coming from, but if not, picture this: dragging along a bunch of gear you don't end up using to your destination. It stinks. What's worse? Taking all that gear and having stop every few miles to actually use it. Adding on yet another layer as you summit your peak.
It was a totally clear bluebird day when we hit the trail up Boundary Peak—the tallest summit in Nevada. My husband and I strapped on the gaiters and proceeded to scramble up Boundary's non-existent trail (basically a free-for-all), and with about one mile of trail time left on the excursion, we could finally see the top. What also came into view was an oddly ominous looking bank of clouds to the West. They seemed far enough away for it not to be a problem, and we'd hoped that we'd hike just above them. As we made our way out of the 12k-foot zone and into the low 13k elevation, a full-on blizzard socked us in (like clinging to an undefined trail in mach 5 winds as you work your way up an icy ridgeline wasn't scary enough).
At one point (about 30 feet from summiting), we had to nimbly work our way around a car-sized boulder surrounded by 100% ice in order to keep going. I remember knowing if I made one false move, it was a legitimate fall to your death. I stayed focused on my husband's feet in front of me as we very slowly, very carefully trekked those last few steps to the top. We'd done it! What a huge physical and emotional rush—we'd already summited Nevada's other four tallest peaks for a story and this was the last one… the best for last, right?
I remember struggling to sign the summit log with very frozen fingers, cracking a very well-earned summit beer and motioned to him to head back down the ridge. We were already on borrowed time. Over the gale-force winds, he shouted, "Wait, I have a surprise!" No presentation was needed, the second the tiniest breeze caught it, the Nevada State Flag exploded out of his pack and he had the biggest grin across his face I'd ever seen. Try going through all that and protecting a DSLR in a dry bag—the struggle never stopped—but it was worth it to capture this moment. It's something I don't think I'll ever be able to forget. And reliving it through photography gives me the same rush. #DFMI
UNSTAGED MOVIE MAGIC, RIGHT IN THE #MIDDLEOFSOMEWHERE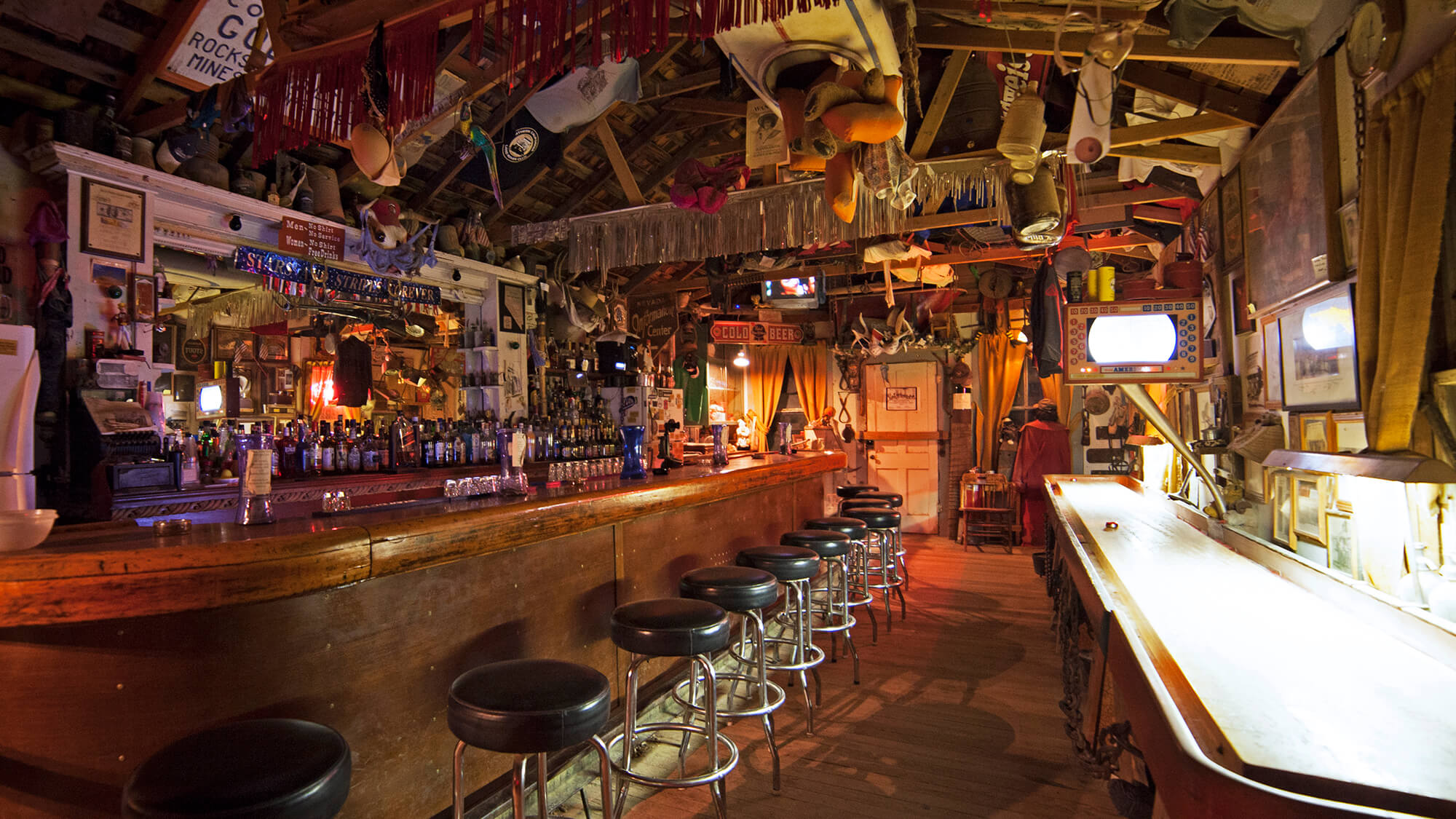 CAMERA: Canon 5D Mark II
LENS: Rokinon Wide Angle 14mm-f/2.8
APERTURE: f/2.8
SHUTTER SPEED: 1/6
ISO: 1600
TRIPOD? No
I've said it once and I'll say it again, so many places in Nevada look like staged movie sets. It's unbelievable. When I saw that some guy had purchased an entire ghost town and turned original miner cabins and other structures into a ghost town bed and breakfast, this place had my name spelled out in flashing red lights. I needed to hit up the entire town of Gold Point and explore what seemed to be a slam dunk of a lodging situation.
Everything about this place was completely amazing—the proprietors had a story that was just about as "Nevada" as it gets, the allegedly haunted miner cabins were exactly how they described them online, AND it was off-grid. Borderline #WeirdNevada, too. I showed up around sunset and by the time I got through a homemade dinner (and a few glasses of wine), the owner, Herb, offered to take me on a nighttime tour of his empire. Obviously, I said YES.
All About That Astrophotography, Baby
I shot some perfectly framed astrophotography, saw legit Wild West scaffolding with a real noose dangling from it, and toured other cabins available for reservations… outfitted with TVs he deliberately leaves on all night for "the ghosts." The last stop was the saloon—a historic, and modern-day symbol of any Nevada town. I thought I had seen all there was to see at Gold Point, especially after touring the Gold Point Ghost Town Bed & Breakfast, so I didn't know what to expect. The creaky, weathered wooden door swung open and what lay before me was a perfectly preserved western scene that begged to be photographed. Luckily, I still had my wide-angle lens attached from shooting the Astro shots I love so very much and captured this totally Nevada scene. People talk about taking a step back in time—I felt like I took a lap.
A SPIRITUAL RESET AT TOQUIMA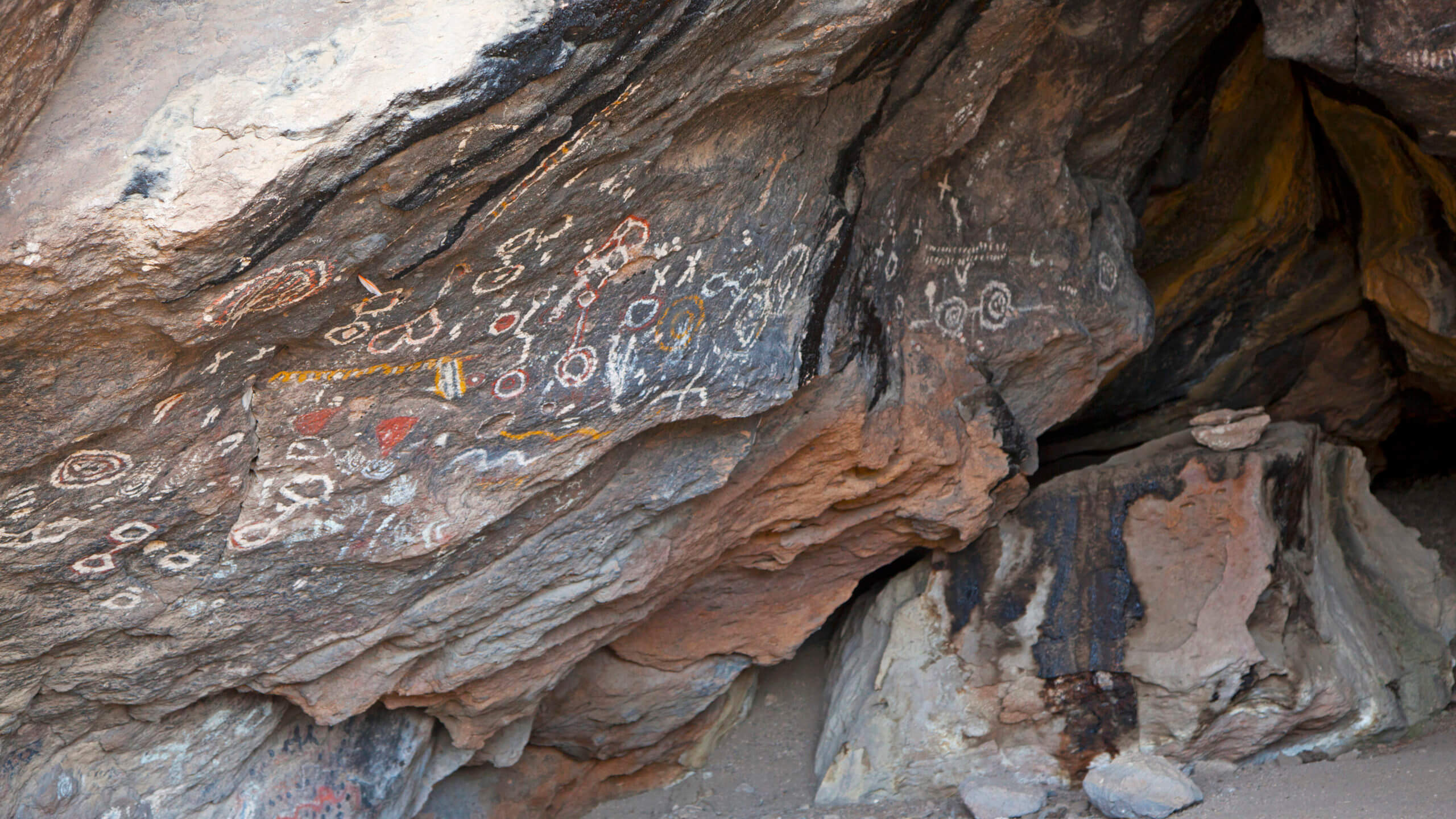 CAMERA: Canon 5D Mark II
LENS: EF24-105mm
APERTURE: f/5.6
SHUTTER SPEED: 1/60
ISO: 400
TRIPOD? No
That entire 'being humbled by the factual age of something' I was talking about earlier with the Bristlecones? Yeah, that same sort of situation seems to work its way in all over the state—all the time. Just when you've sized up a basin as nothingness, merely a desolate plain of sagebrush and roadkill—it pops into view—front and center, the grandeur and ancient history of this crazy place. That could be one of my most favorite qualities about Nevada. In fact, even if you have to work a bit to see its beauty, there's no turning back once you do. Nevada just begs to be explored.
A few years back when I was traveling some back roads south of Highway 50, I'd heard about a sacred cave used by ancient Shoshone… somewhere around a cool 3,000 years ago. With that little nugget of info dangling itself in front of me like a carrot, I double-checked the spare, loaded up with water, and prepared for a day in the backcountry.
Take Me to Toquima
I made my way out of Big Smoky Valley and up Pete's Summit to an attention-grabbing rock face up on the ridge to the north. As I neared it, Toquima Campground came into view. I threw it in park, hiked up an impressively well-maintained trail to a very serious gate and came upon Toquima Cave.
Though it was a bit of a bummer to see such an intense gate between me and the ancient markings, I get it. I mean the place still holds such tremendous spiritual value for modern-day Shoshone tribe members, protecting its markings is and should be priority number one. The silver lining? The gate was built with some consideration in mind. In an effort to deter visitors from breaking in, large rungs were built into the gate, and my camera fit perfectly between them. I peered inside the cave, and like most things in Nevada I seek to explore, everything in front of me exceeded all expectations. Sure, I'd been familiar with petroglyphs (rock carvings) in the area, but not pictographs, which are drawings on the rock surface. I was totally enamored and quickly understood why these pictographs are considered as the best examples of their kind in North America—the shapes and colors were so vivid. It looked like someone had made the drawings that very day. Most of all, the cave certainly had a vibe… an unmistakable presence.
I snagged what felt like dozens of shots, even if I couldn't get up very close to the pictographs. I ended up with dozens of what were practically the same shot, but I couldn't stop—I was entranced. As I head out, the cave and its sacred reverence evoked such a feeling of love and transformation. That afternoon at Toquima I felt renewed, having the honor to have been in such an important place. Even if you can't get up close, I recommend visiting. There's nothing like it.
THE UPSHOT OF WILDFIRE SEASON IN NEVADA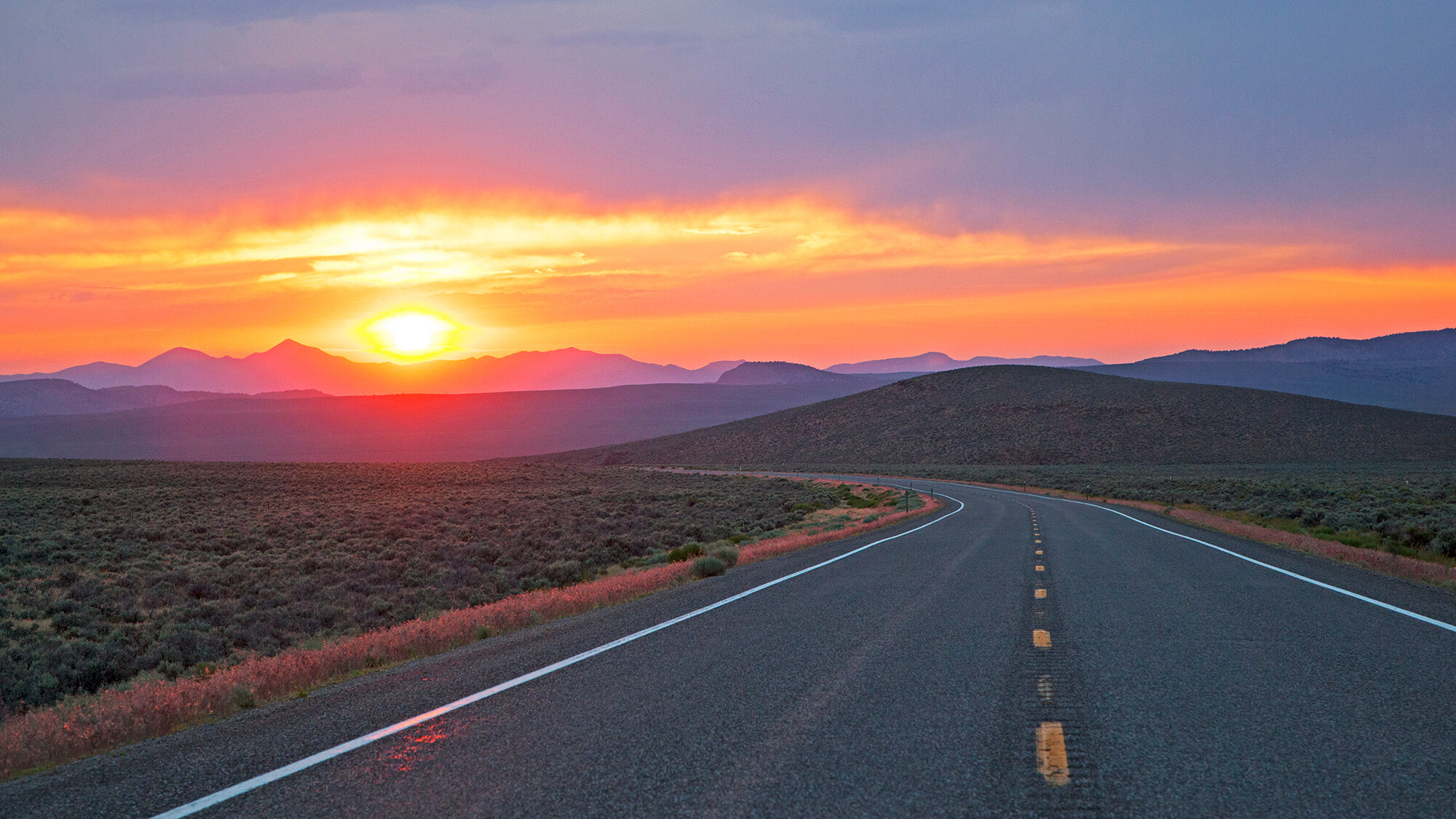 CAMERA: Canon 5D Mark II
LENS: EF24-105
APERTURE: f/6.3
SHUTTER SPEED: 1/320
ISO: 1000
TRIPOD? No
To me, summertime in Nevada is always a bit of a magical time because of the drastic changes that happen from day to night. Whether you're in northern or southern Nevada, the days are typically swelteringly hot, but quickly transform into this alluring, desert evening that is nothing short of exotic. Over the years, I've begun to crave that magic hour—the narrow, 30-ish minutes of time just before the sun drops over the mountains. It's spectacular enough just about any time of year, especially when paired with iconic stretches of Nevada roads that the state has become so well known for. But, if you've spent any time in Nevada in the summer (or any part of the American West, really) you'll know that we're also pretty well-known for wildfires as well. And they can get pretty intense.
Having traveled the Loneliest Road hundreds of times, I could practically drive from Reno to Ely blindfolded. I know every valley, noteworthy mountain range, Pony Express Ruin, dive bar, landmark, American Indian site, hot spring—I mean you name it—on that road. But despite the obvious amount of time I've spent traversing this state, there's one thing that seems to continually catch me by surprise—the beauty of skies here during the annual wildfires.
My husband and I were flying down Highway 50 on our way to Ely's famed Bathtub Races and as we rounded the bend (the sun practically blinding me in the side-view mirror) I hadn't noticed that the giant wildfire that had been burning that summer was transforming Nevada's already nutty range of light into this burningly bright, orange and pink face melter of a sunset. It was as if the fire had spread to the sky, too.
"Oh my God, PULL OVER!" I blurted to my husband. And with no traffic in sight, I walked right into the middle of the highway (a truly Nevadan thing to do) and just stood there, mesmerized. Truly, this was unlike any other sunset I've experienced in Nevada to date and standing there in the middle of the Loneliest Road taking in a scene like this is something you just can't put into words.
This shot was very minimally edited. I adjusted the contrast very slightly to recreate what I was seeing in real life. Right as the sun was dropping over the ridge, I pulled out my DSLR and snagged this beauty. It's honestly the ONLY positive thing about wildfire season in Nevada, but man, what a scene.
FACE-MELTING FOLIAGE WITH A FEW FAVORITES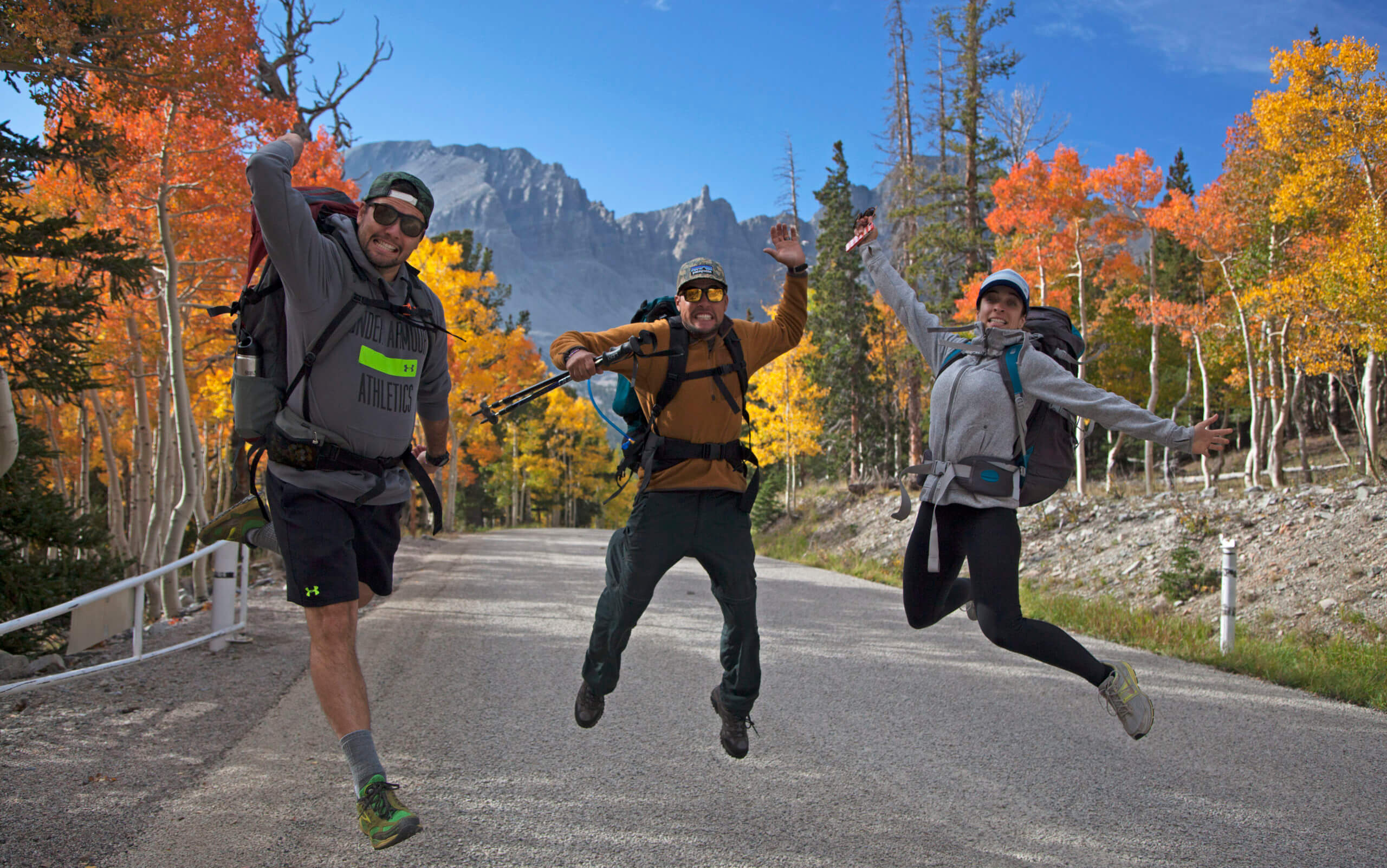 CAMERA: Canon 5D Mark II
LENS: EF24-105
APERTURE: f/4.5
SHUTTER SPEED: 1/5000
ISO: 400
TRIPOD? No
Just as much as a desert sky can explode with kaleidoscopic vibrancy, I learned that fall foliage in Nevada can, too.
I'd been hearing about an astronomy festival that goes down at Great Basin National Park for months that I was finally going to check out. This was around the same time that I was attempting to summit Nevada's five tallest peaks, and considering there were two right around Great Basin, what better time to bag both with the added bonus of getting astrophotography tips from the pros? My husband was in, and it didn't take a whole lotta arm twisting to get my best friends to hit the road with us, either.
Throughout an action-packed four days, we got our first taste of true darkness (I'm talking you can't see your hand in front of your face without your headlamp on kind of dark), hiked above 13,000-foot elevation for the first time, and drank in some unbelievable fall scenery. I took a ton of shots throughout those four days, but there's something about this image that really just wraps the whole thing up in a neat little bow. I came for the stars, I stayed for those burning colors.
I snagged this shot just as we were getting ready to hit the Summit Trail to Wheeler Peak that morning. It took us about four hours to summit and descend. The fall foliage and view of Jeff Davis and Wheeler are about as a good as it gets.
WHAT #DFMI REALLY IS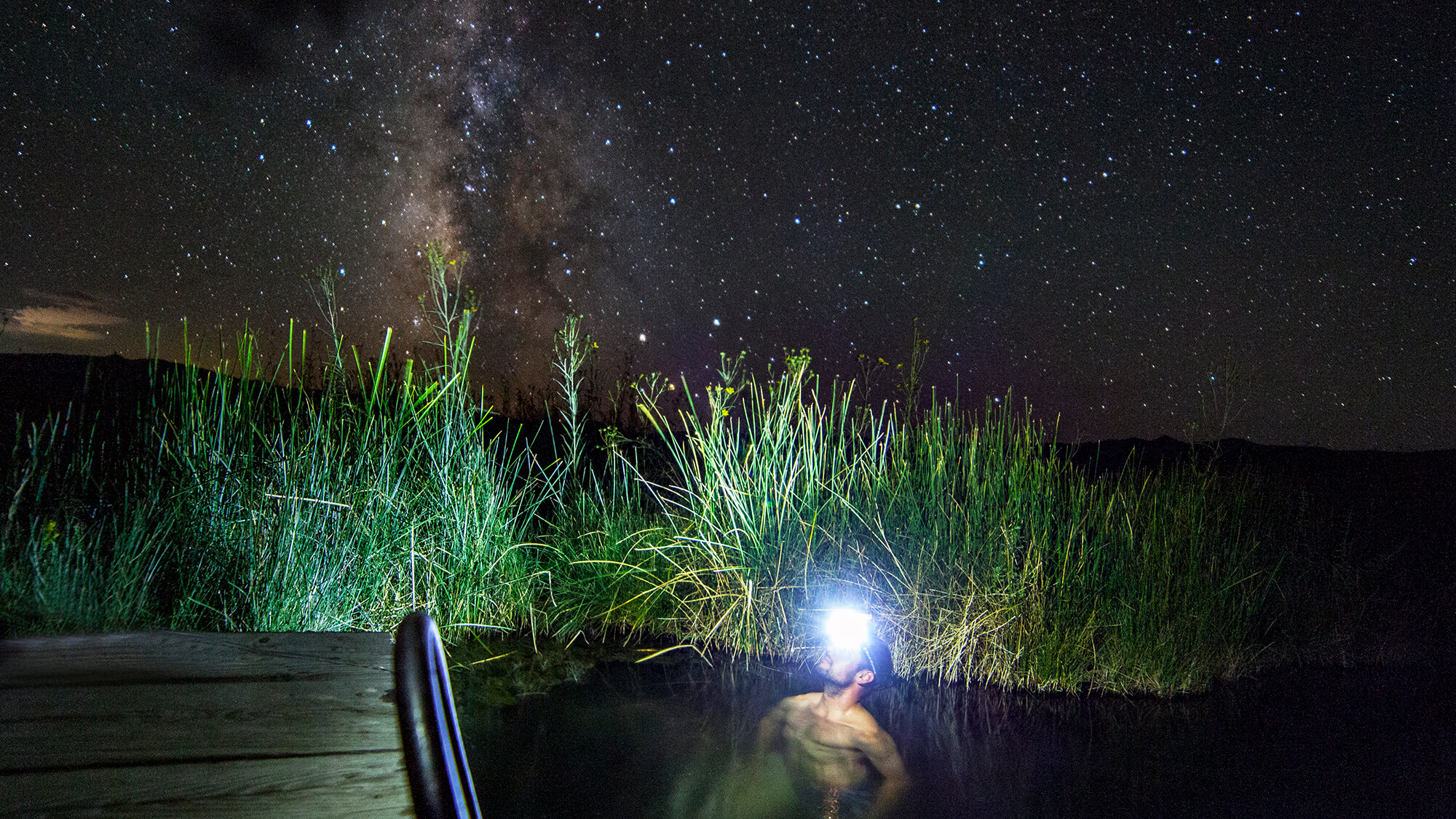 CAMERA: Canon 5D Mark II
LENS: Rokinon Wide Angle 14mm-f/2.8
APERTURE: f/2.8
SHUTTER SPEED: 30 second exposure
ISO: 3200
TRIPOD? Yes
Soldier Meadows screams #DFMI. You'll have to work a bit to access this super remote chunk of the tippy-top corner of the Black Rock Desert just below Sheldon National Wildlife Refuge, but damn—is it worth it. Especially if you're as in love with hot springs as I am. Soldier Meadows boasts a handful of first-come, first-served BLM-maintained cabins close enough to the action but far enough away to completely unwind.
Why These Springs Are So Sprung
There are a few hot springs that belong to the folks who run the Soldier Meadows Guest Ranch, but my personal favorite is the hot spring river that has pooled up into little pockets across the area that are truly a slice of heaven on earth. This isn't all. There's a fascinating American Indian presence in the region. Placards here describe how the hot springs were savored by grateful pioneers who had just endured Black Rock Desert's iconic dry lakebed as they made their way west. They depended on these hot springs as a place to stock up on supplies, bathe, and get their bearings before continuing on.
As a whole, everything about this place feels pretty damn freeing… a place I'm lucky to make it to once a year but pays off every single time in ways you have to experience for yourself to fully comprehend.
The Whole Freeing Feeling We Keep Talking About
We'd spent the day messing around in High Rock Canyon, tracking down secret hot springs using paper maps, chatting with the few people we saw along the way, disconnecting with society and reconnecting with each other. During our last night before hitting Burning Man, we decided to take a dip in one of the larger pools—the ones belonging to Soldier Meadows Guest Ranch.
At the last second, I decided to grab my camera.
I couldn't believe I hadn't noticed the milky way until we jumped into a hot spring the same size and depth of a standard swimming pool. The light pollution you see in the bottom left of the image was light pollution from Burning Man —some SIXTY miles to the south from where we were. I took a few long exposures, not realizing the minute I was currently in until reviewing the shots later.
But that's the beauty of a true #DFMI moment, that's what Don't Fence Me In… is. It resonates differently with everyone and can mean whatever you want it to. It has a sort of diversified power that not many other sentiments do. The magic was in the moment, baby. A true #DFMI moment I feel lucky to have caught.
Get Inspired
Related Stories