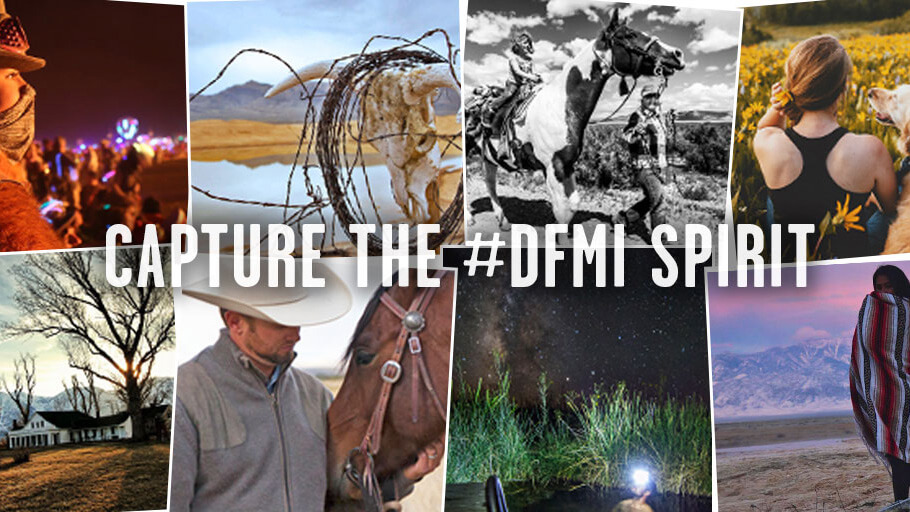 CHASING THOSE #DFMI MOMENTS – PROS PUT IT IN PERSPECTIVE
So, what is "Don't Fence Me In," anyway… what does it mean? Well friends, it's quite simply a state of mind in Nevada, and the beauty in it all is that it resonates differently with everyone. It means what you want it to mean, holding a different power for everyone. It's pure, it's simple and is a personal connection to Nevada. It's stunning topography, people you meet along the way, spectacular wildlife encounters – that has your own defined, freeing sentiments. #DFMI to a northeastern Nevada buckaroo might mean gathering cattle through a plain of sage covered in morning dew. #DFMI to a Burner might mean expressing themselves in a certain time and place in the Black Rock where anything goes. It may mean the big leagues – a limitless arena where anything is possible to a cirque performer on the Las Vegas Strip. It might mean laying in the middle of the ET Highway, waiting to be beamed up, to a UFO enthusiast. Or maybe waiting quietly with your bow on Moriah's table, after you've tracked a bull elk in mid October. A set of experiences that don't exist anywhere else, and are a way to set yourself free in a way that only Nevada can deliver.
Beauty has a way of showing itself in different ways throughout Nevada, to the untrained and trained eye. We asked a serious lineup of professional photogs what "Don't Fence Me In" means to them, a favorite #DFMI moment they managed to capture on film, and exactly what it took to snag the shot. Regardless if you've got the flashiest DSLR or are rocking a camera phone, the experiences they've spelled out are all worth working toward… camera in tow or not. Get the lowdown from these pros, and get out there and do it. Let #DFMI show itself to you, because it will…and in all the right ways you never knew you needed. #NVRoadTrip
SCOTT MORTIMORE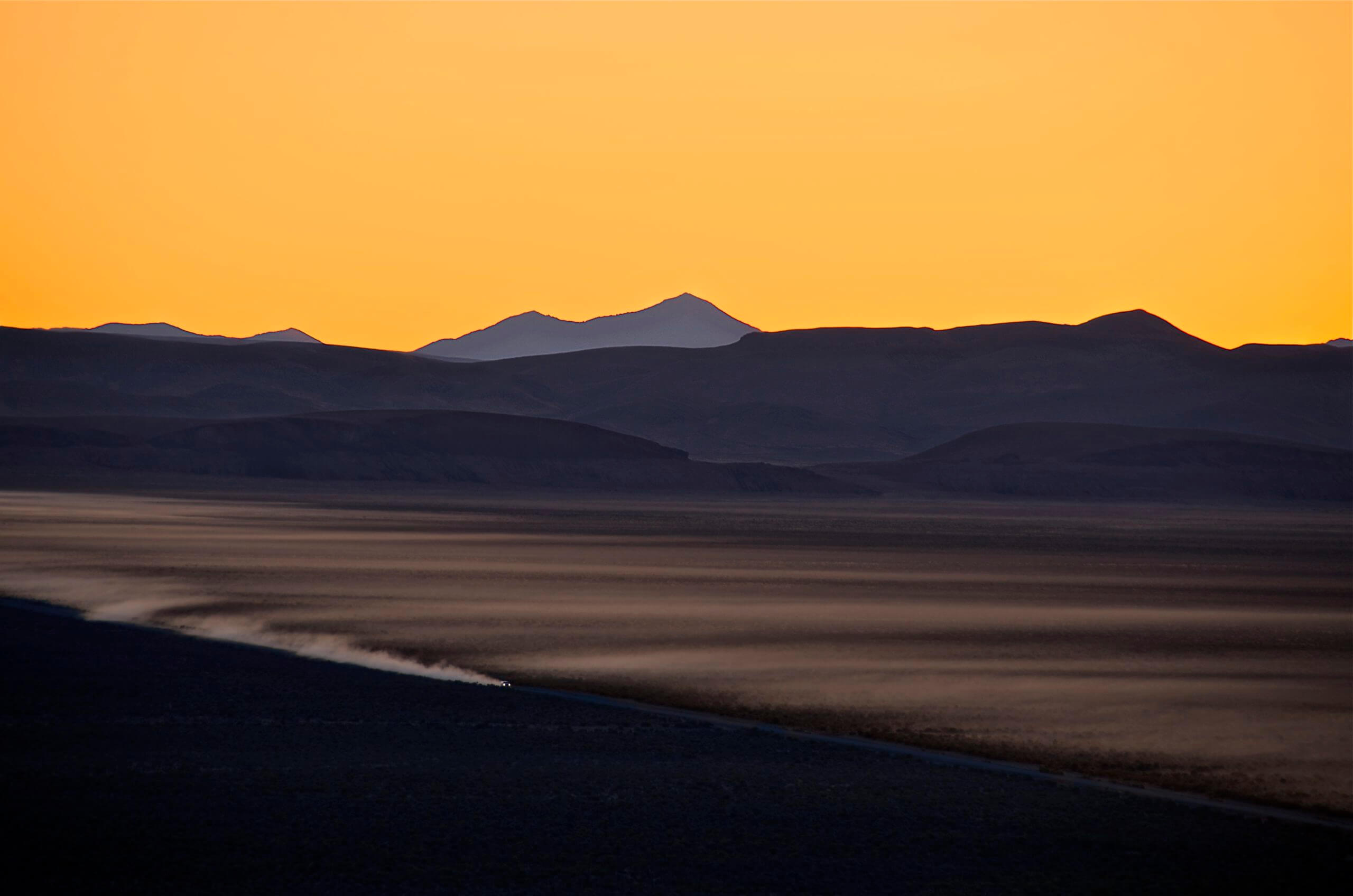 CAMERA: Nikon D7000
APERTURE: f/5.6
SHUTTER SPEED: 1/50
TRIPOD? No
It wasn't the sunrise that made this photo. It was more the sense of space, the composition, and, most of all, the story that spoke to me. A story that's equal parts nostalgia and anticipation. Anybody who's rolled into the morning on a dusty stretch of washboard can imagine the scene with the ranch hand's cab. The radio is stuck on AM and scratchy at best. Half the coffee is on the floorboards, and the cattle dog that called shotgun is painting the window with his tongue, scanning the sagebrush for rabbits. That's what I imagined as the autumn dawn was warming Santa Rosa Peak and this rig was clanking its way to the alfalfa fields south of Denio… adding to the blanket of dust clinging to the sage. There are big memories to be made in the little moments of Nevada's outback.
CARLOS ROLAND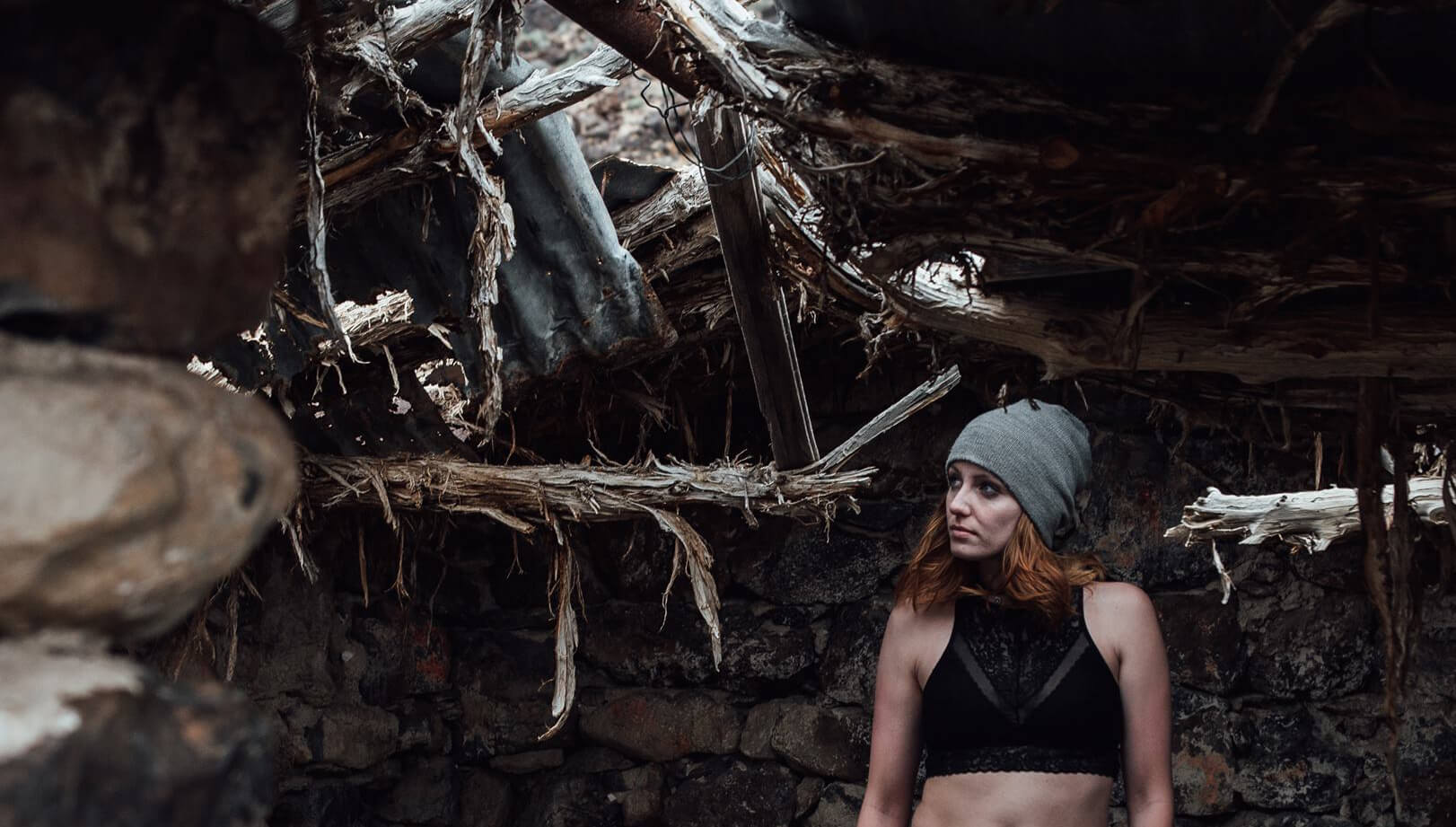 CAMERA: Canon 5D Mark III
LENS: L series 24-70 m1
APERTURE: f/4.5
SHUTTER SPEED: 1/125
ISO: 200
TRIPOD? No
I happened upon this cool rock structure while driving through central Nevada. I was traveling with a bunch of friends, and my friend Shannon and I decided to break off from the group to shoot a few photos. To our delight, it was decrepit and run down…the roof was caving in with light seeping through the openings. To me, this is a real aesthetic treat because capturing portraits in a beautiful run down structure or building with this sort of ambient lighting fulfills a deep passion of mine. I knew immediately that I wanted to capture the light on Shannon's face, and show the decay from the inside. You could really see the wear from rain and wind. We didn't prepare much of anything for this impromptu shot, it just sort of unfolded when we grabbed our stuff and went exploring. I'd say that's the best thing about traveling through Nevada: the vast landscapes and the rustic, authentic feel of its past. It's everywhere! You've definitely gotta spend a bunch of time exploring abandoned buildings, which I plan on doing more of. You can't just visit for one day, there's way too many cool stuff to see. I've been shooting with Shannon as my model for quite a while, and because I know her so well I was able to easily capture her genuine curiosity in this set because the place was so impressive. On this trip, we ended up visiting quite a few different mines and abandoned buildings and still have so many more to find!
MARTIN GOLLERY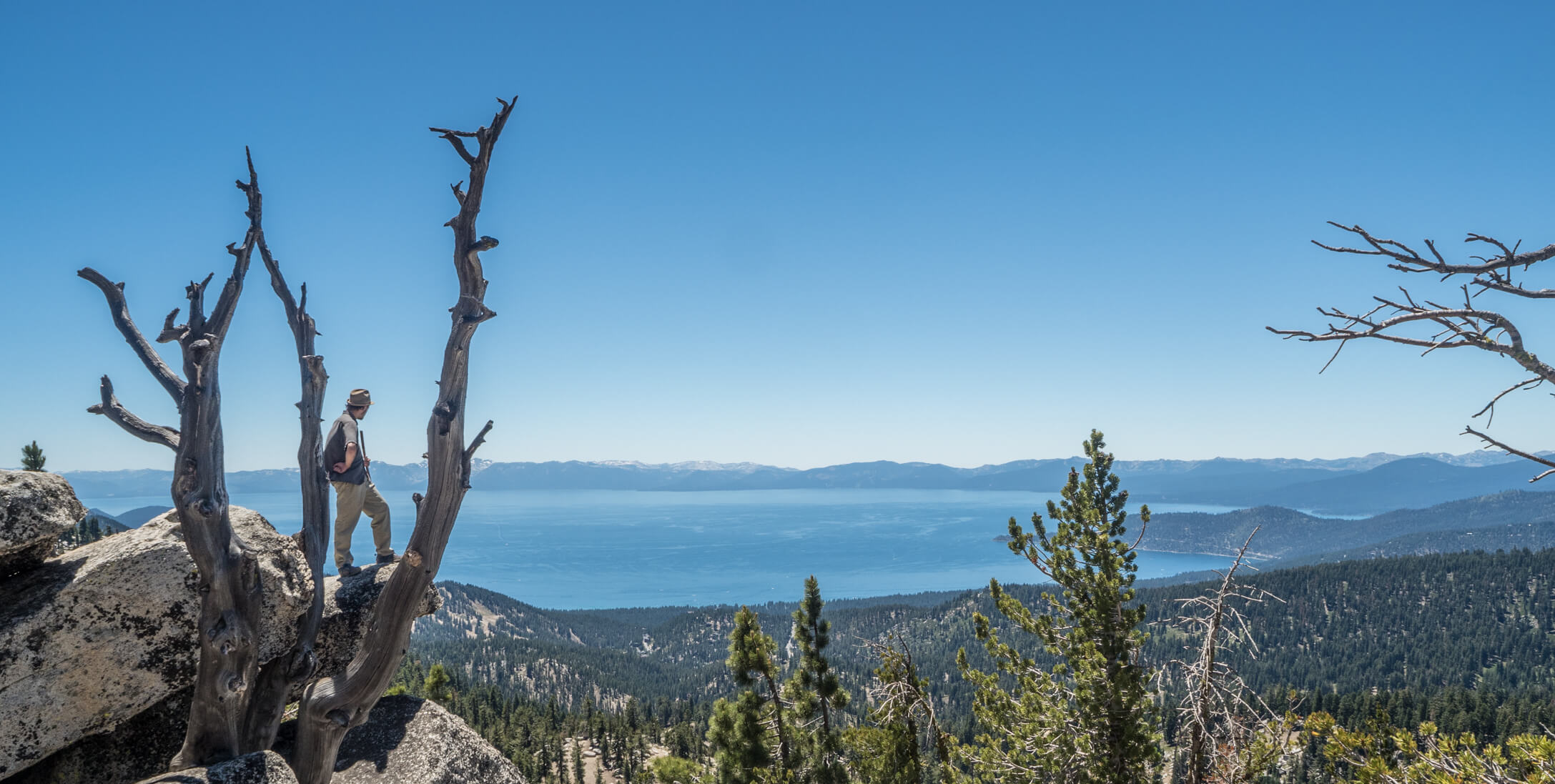 CAMERA: Olympus OM-D M1
LENS: 12-60mm
APERTURE: f/7.1
SHUTTER SPEED: 1/125
ISO: 200
TRIPOD? No
I have names for many of the trees at Lake Tahoe. My name for the trees in this shot is "The Three Sisters", or "The Weird Sisters" after Shakespeare's witches. These old crones have an incredible view – my son and I stopped here to have a bite and a drink of water. Here, my son Daniel looks out across the great expanse of water as we get ready to head back out on the Tahoe Rim Trail to head farther south, to eventually grab refreshments at Tunnel Creek cafe. I hike the Tahoe Rim Trail several times per year. I don't do it more often, because I like the diversity of trails around Nevada. Marlette Lake and the waterfalls are on the other trails.
I mostly shoot Lake Tahoe, because I live here and it's great, but I love many of the other places, too. Valley of Fire and Cathedral Gorge are real favorites! Places that I have not spent nearly enough time include Great Basin National Park, the High Rock Desert and Sheldon National Antelope Refuge.
RAJESH RAGHUNATHAN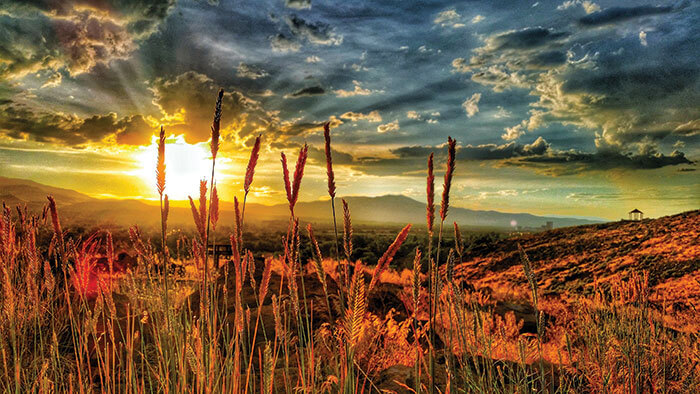 CAMERA: Samsung SM-G900P
APERTURE: f/2.2
SHUTTER SPEED: 1/1980
ISO: 40
The picture was taken at Huffaker Hills in south Reno. I generally have my phone in my car, and I took it with me because I decided not to run that day. The clouds were beautiful and I have always liked shooting the clouds. I think they give the sky a nice personality. When I saw the horizon turning colors, I thought it'd be a great sunset. I sat behind the foxtails to see if I could focus on them and capture the sunset in the background and that is how that picture came to fruition.
TYLER STALLINGS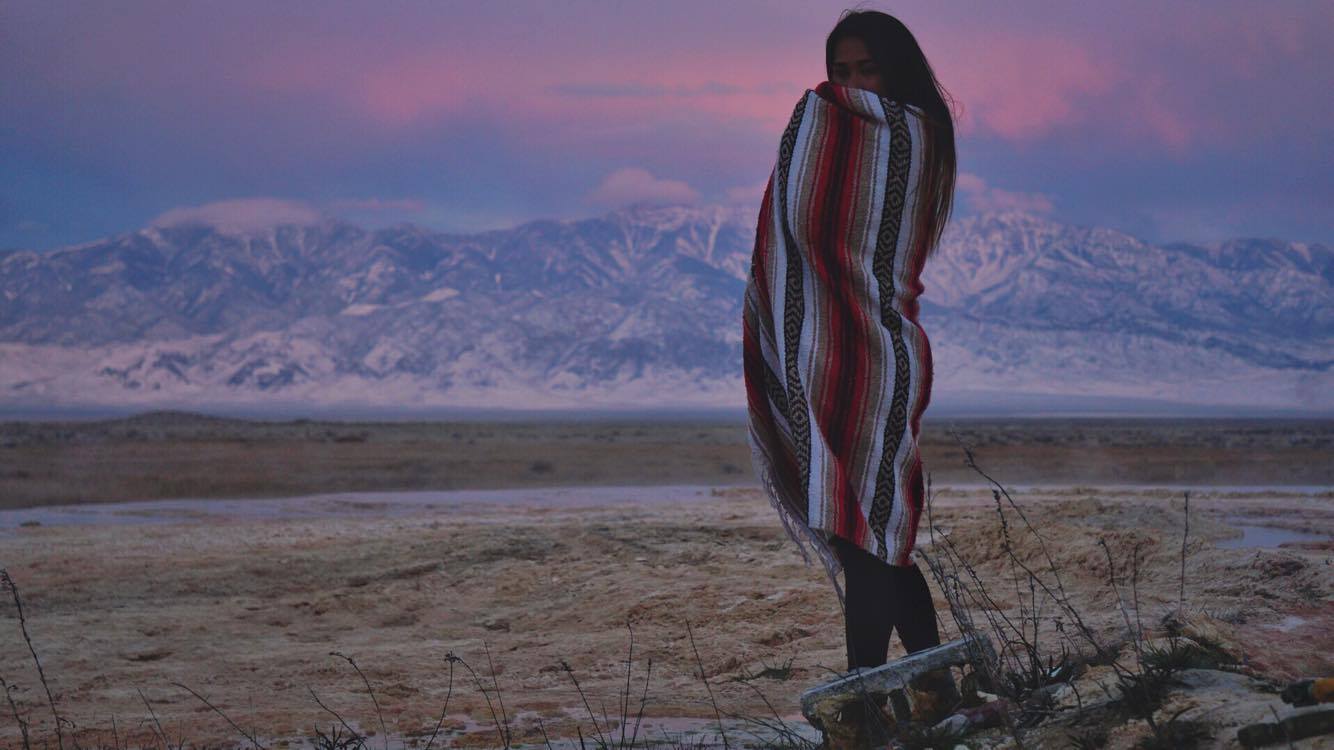 CAMERA: Sony a6300
LENS: Rokinon 21mm
APERTURE: f/4.5
SHUTTER SPEED: 1/500
ISO: 1200
TRIPOD? No
This shot was one of my best candid photos I could have ever taken. My friends and I had just pulled up to some secluded hot springs in the #middleofsomewhere Nevada. The closest town was well over 100 miles away, and we had made it just in time for sunset. As everyone was getting settled and figuring out where to pitch camp, a few of us decided to go check out the spring. Not five minutes later did the Nevada sky open up into a whirlwind of colors like I've never seen before. My friend Hope was warming up with a quilt on the opposite end of the spring and was just turning to come back when I snapped this shot. A lot of people don't realize how beautiful Nevada is outside of Vegas and Reno. More often than not, the middle of nowhere Nevada is more magical than all the tourist attractions.
JAMIE KINGHAM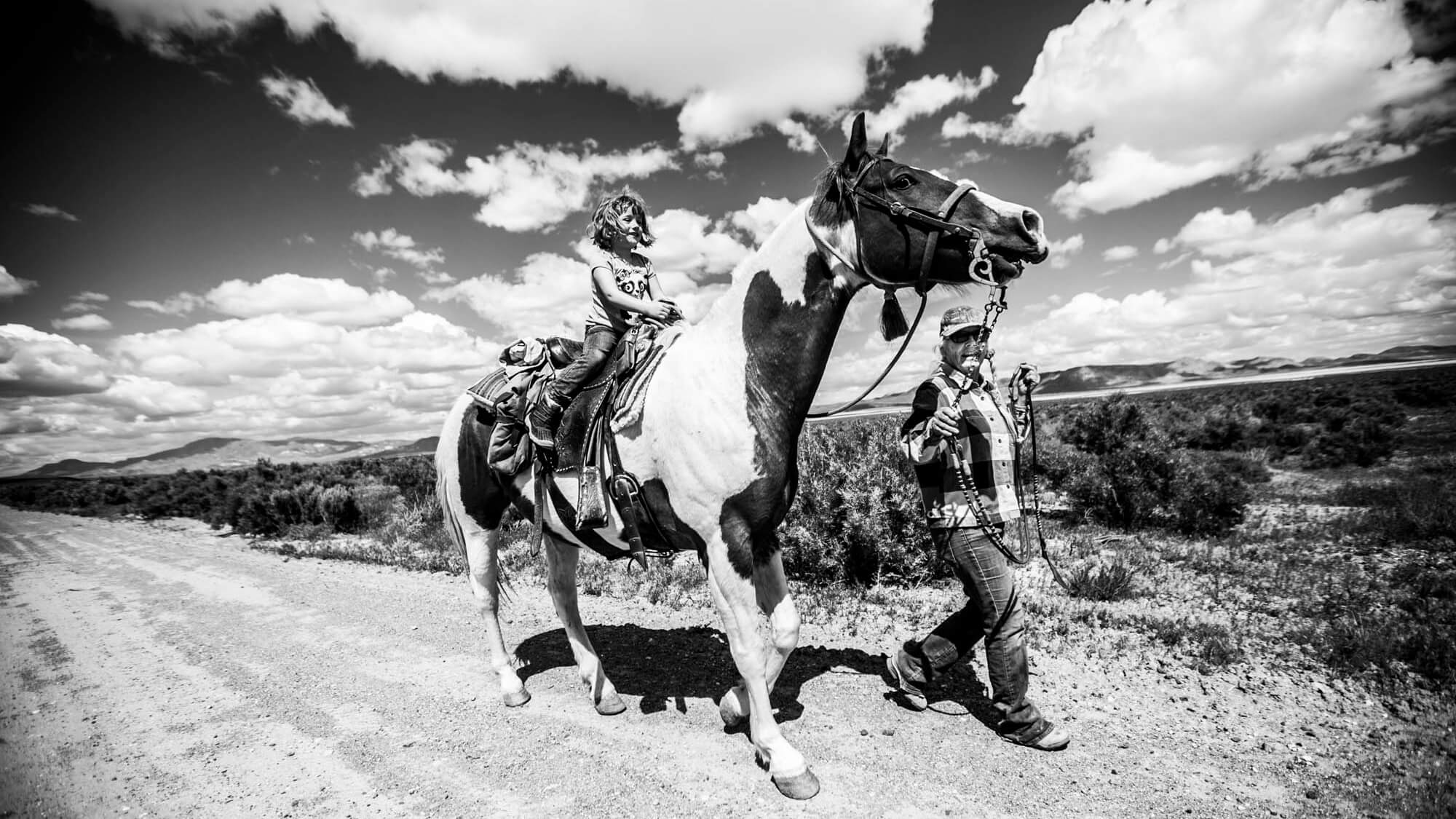 CAMERA: Canon 5D Mark IV
LENS: Canon 16-35 @16mm
APERTURE: f/2.8
SHUTTER: 1/5000
ISO: 100
TRIPOD? No
Sometimes when you find your way in the middle of nowhere, you come across that "real" Nevada. The Nevada that you cannot plan for, you cannot arrange, and you cannot subscribe to. Making the slow drive back from Soldier Meadows campground (about an hour and a half by dirt road north of Gerlach) we passed some ranchers moving their cattle. My daughter started a brief conversation with them from her car seat and the next thing I knew, the rancher had my little girl on the back of her horse, walking her through the desert. The wonder and excitement from this experience lasted for several days afterwards. Not only was it the highlight of an already amazing weekend, but even years later, it has remained a heartwarming memory and a wonderful reminder of the kindness that exists in Nevada. For me, beyond all the beautiful landscapes and scenery this state has to offer, the kindness and hospitality Nevadans always deliver is my version of experiencing the "real" Nevada.
B.C. COLLINS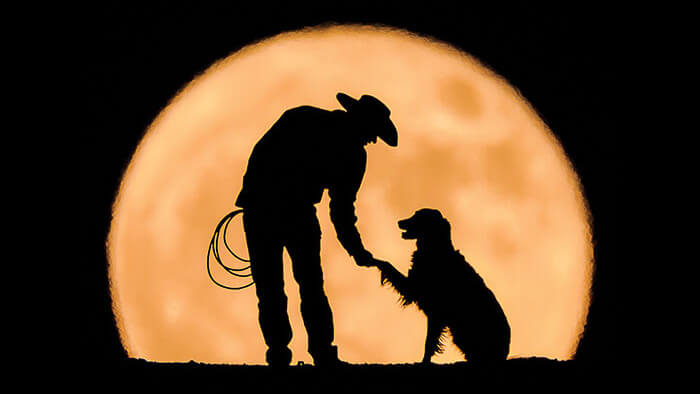 CAMERA: Nikon D7200
LENS: Sigma 150-600c f/5-6.3
APERTURE: f/7.1
SHUTTER SPEED: 1/125
ISO: 250
I had been thinking about a shot like this for about a year before I took it. On the night of the super moon, I managed to talk my brother, Justin, into coming out to model for me, bringing along his dog, Boomer. We took this shot at Shadow Mountain Sports Complex in Sparks. It required quite a bit of planning. I set up about 300 yards away in the baseball field. My brother, Justin, was on top of Shadow Mountain. We communicated through our phones, using earpieces. Our dad is a rancher near Ely, so I thought that a cowboy-themed shot would be something he would get a kick out of. He loved it.
NEIL LOCKHART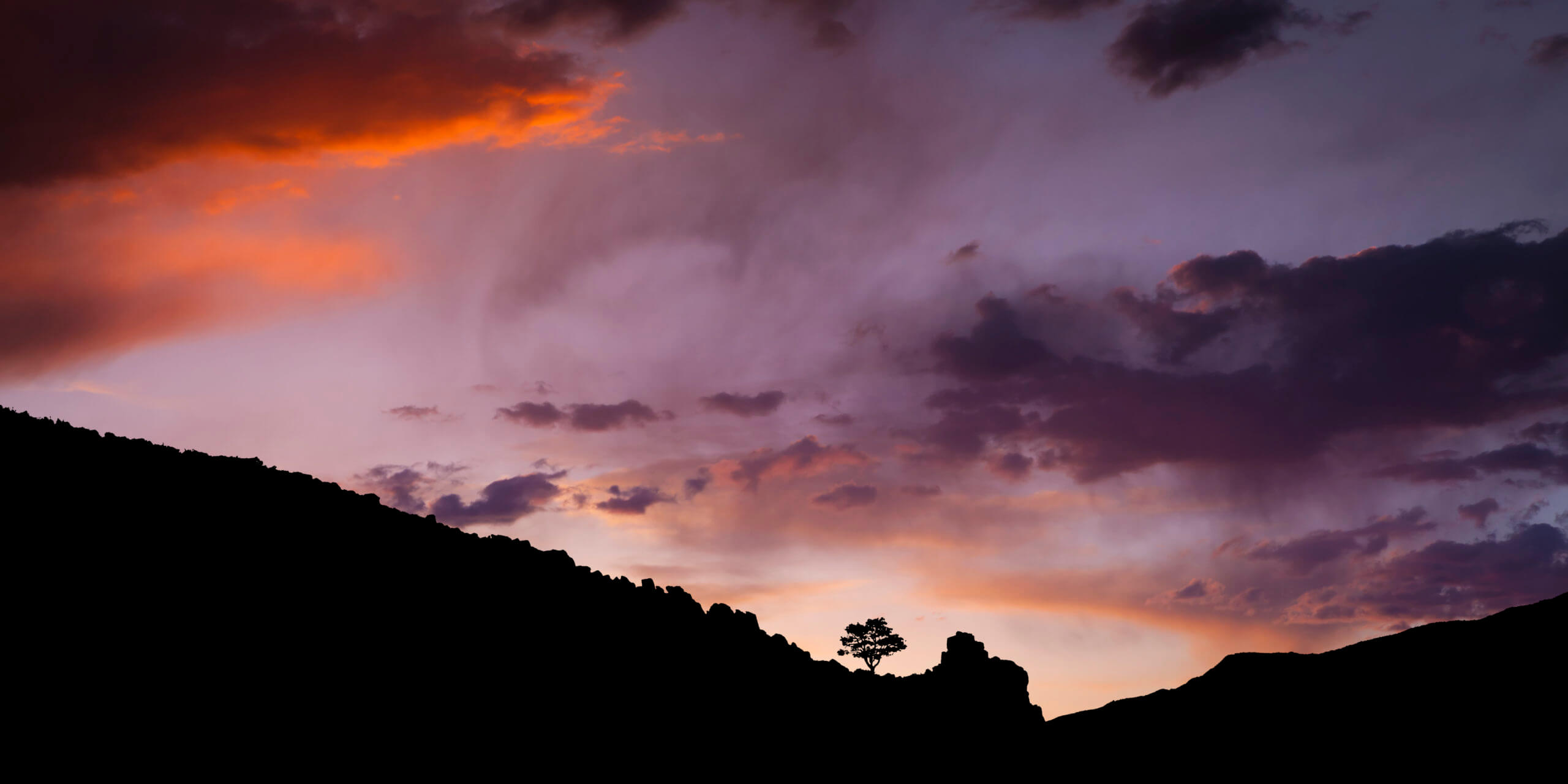 CAMERA: Canon EOS-1DX
LENS: EF70-200 f/2.8 IS II L
APERTURE: f/2.8 at 200mm
SHUTTER SPEED: 1/30
ISO: 400
TRIPOD: No
For anyone who has ever driven into Carson City from Reno, you've probably spotted this lone tree tucked away in a rocky nook on the side of the mountain. It had always been a plan of mine to capture one day. One morning while coming into Carson, I finally made it happen. Pulling over on the off ramp to North Carson Street, I threw on my flashers and jumped out of the truck and got this shot. I made all the adjustments to my camera before i got out of the truck to limit the time I would be a potential road hazard. Everyday sights you may take for granted are incredibly beautiful when you stop and really take a good look at them, which happens all over Nevada. With this tree in specific, thousands of people drive by it daily and with this photo, I hope to share its beauty in a new light.
LEE MOLOF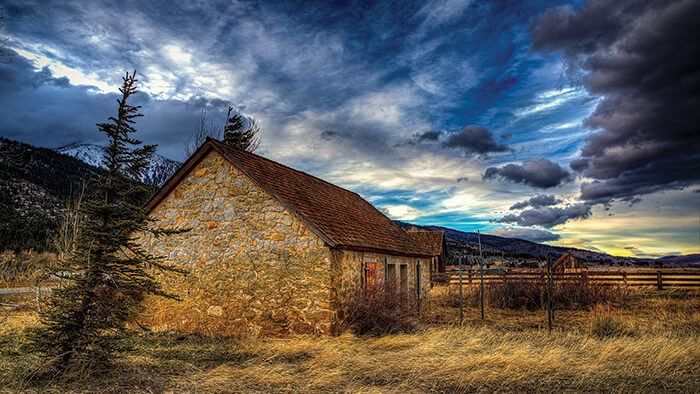 CAMERA: Canon 5D Mark III
LENS: Canon 24-70 2.7L
This image was taken in February 2016. I was by myself driving back from Carson City to Reno, noticed the great sky and decided to take old Highway 395 and stop at the Twaddle-Pedroli Ranch. It is a five shot HDR, processed in Photomatix and Adobe Lightroom. The clouds just got more dramatic the longer I was there. If I remember correctly, the particular shots making up this image were taken as I was walking back to my SUV to leave.
PIYUSH BAKANE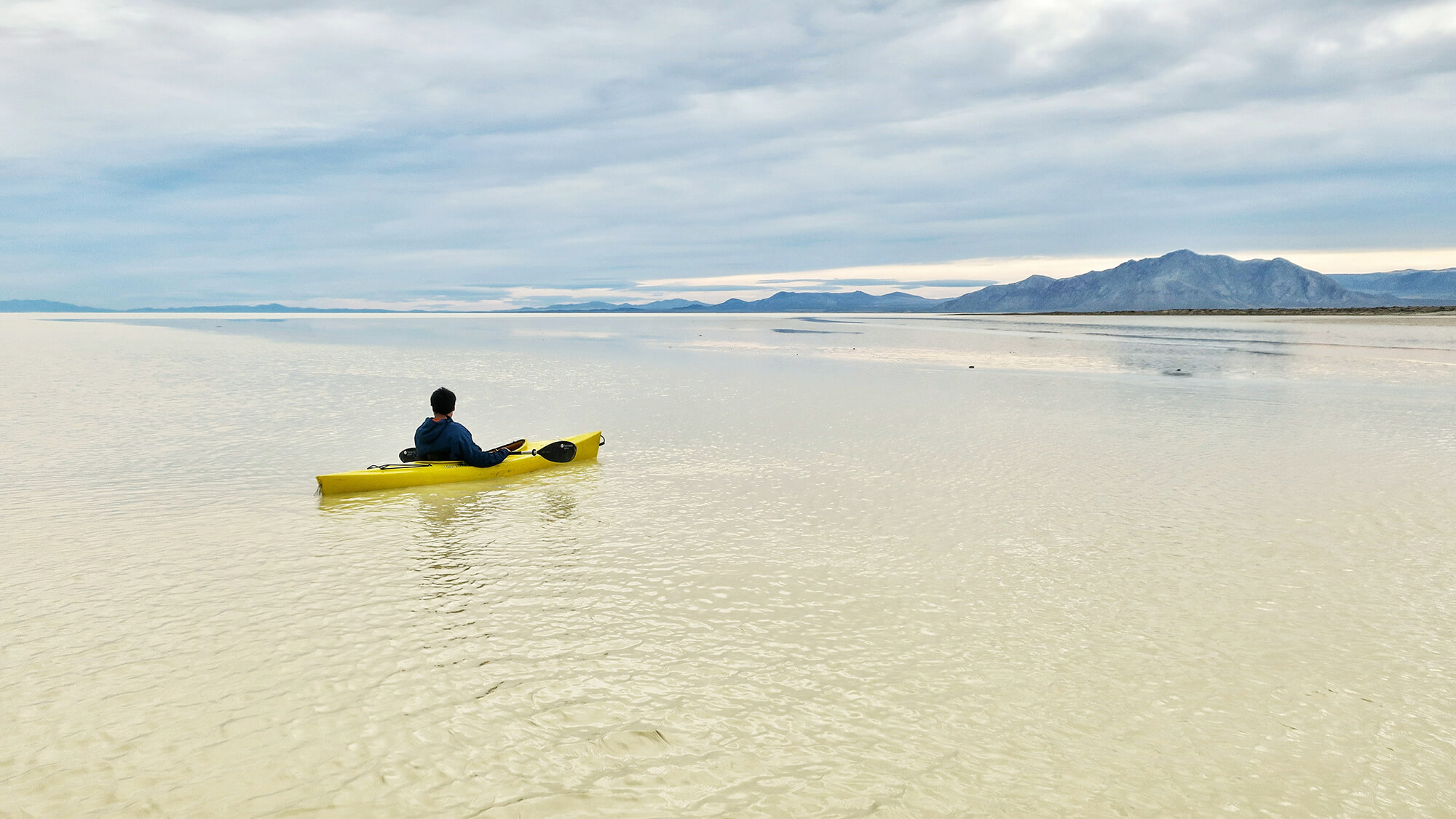 CAMERA: Canon G9X
LENS: 10.2mm
APERTURE: f/4
SHUTTER SPEED: 1/1250
ISO: 125
TRIPOD: No
This photo was taken at the Black Rock Desert playa when it was submerged under two feet of water in the spring of 2017. It's not uncommon to find the Black Rock dry or muddy, but I was so surprised to see so much water on the playa. This made such a rare moment for me and my friends, so we decided to take our kayaks out onto the playa. Kayaking on a surface that is normally bone dry is not a common experience! During our trip we saw fairy shrimps… yes, they do exist!
M.D. WELCH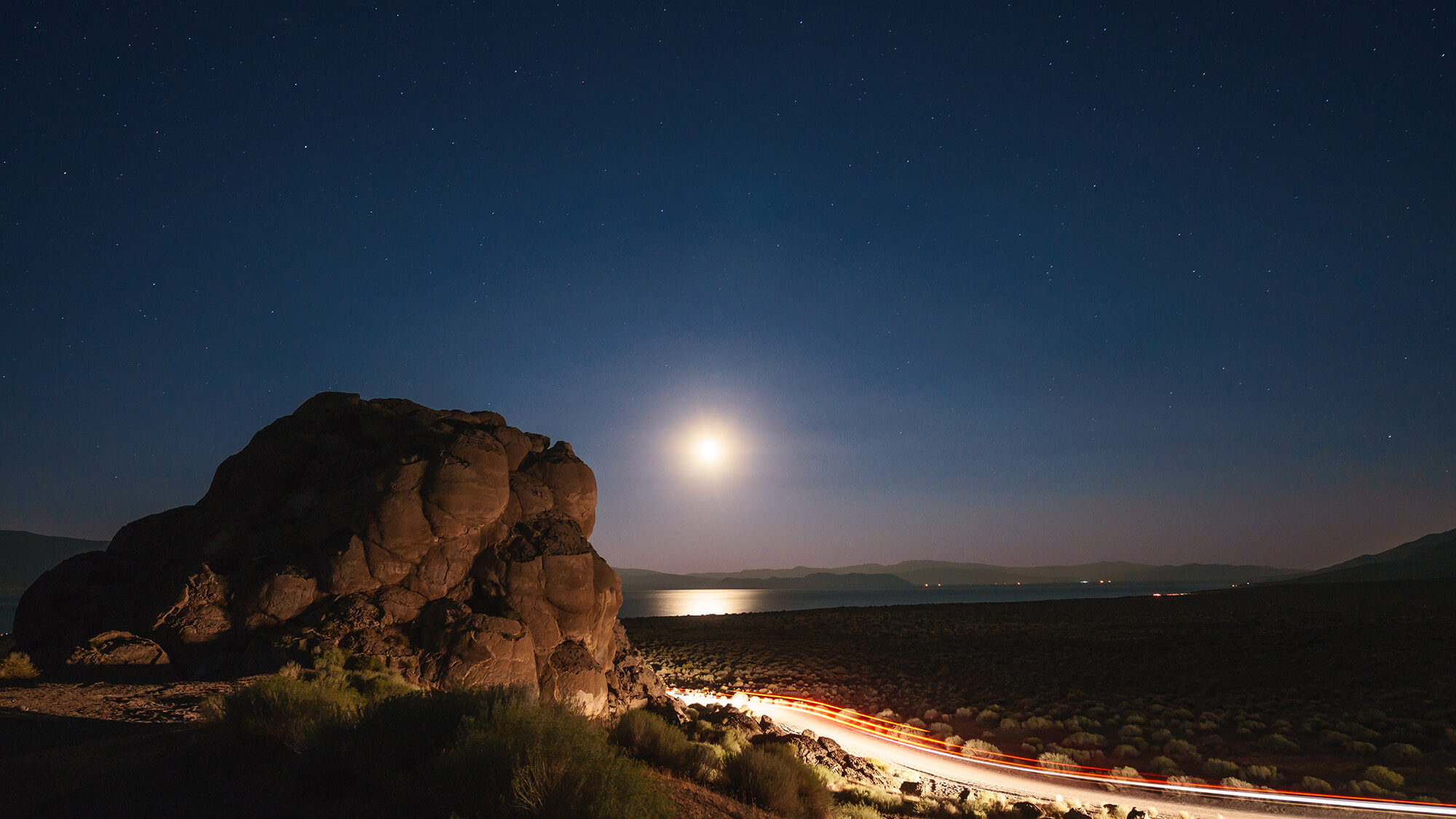 CAMERA: Sony 6500
LENS: Sony 12-24mm f/4.0
APERTURE: f/5.0
SHUTTER SPEED: 20 second exposure
ISO: 800
TRIPOD: Yes
I am a Native Nevadan, but that certainly doesn't mean i have to see everything this amazing state has to offer. In fact, the only thing I can say for 100% certainty as a Native Nevadan, is that you will never see everything this amazing place has to offer, but that doesn't mean you shouldn't try.
It also doesn't mean you have to travel for hours out of your way to find a good location to photograph. My friend, and fellow photographer Brian Clarkson, took me out to Pyramid Lake at the beginning of August in hopes of getting a good shot of the Milky Way. A short car ride later, we were set up and shooting. No long drives or crazy hikes for this excursion.
I am not a landscape photographer by trade… I am a professional editorial/commercial photographer, specializing in including people as subjects in the frame. In this scenario, I was little outside my comfort zone in a good way, and needed something to help me craft the photo. On this night, I was lucky to have several passing cars drive by, which light painted the foreground with their head and brake lights. I got lucky with the results!
It goes to show you, you don't need to go far to be amazed by this state.
JT HUMPHREY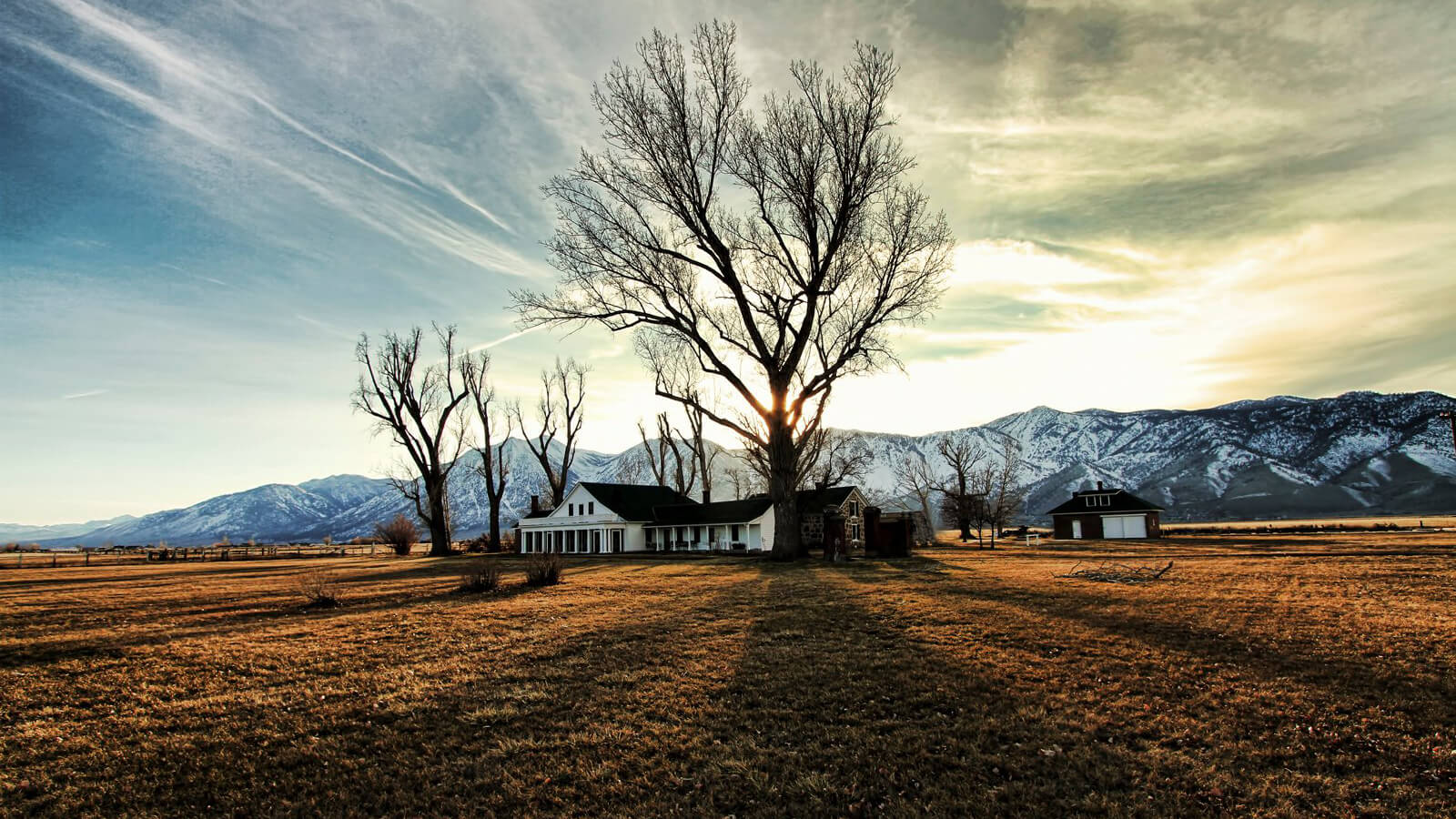 CAMERA: Canon EOS 7D
LENS: EF-s10-22mm, f/3.5-4.5 USM
APERTURE: f/8.0
SHUTTER SPEED: 1/160
ISO: 100
TRIPOD: No
I started taking pictures after high school, around 1972-1973 after my first visit to Yellowstone National Park. It really hooked me. I still don't consider myself a "professional," but I did take my photography to the next level in 2010 when I retired. My wife Malinda and I had just taken a tour of the Dangberg Home Ranch in Carson Valley and we were exploring the grounds. As we walked out in the field to enjoy the scenery, I walked in the shadow of this tree and realized the potential shot. After placing a wide angle lens on my camera, and a few steps in different directions to get the shot I wanted and CLICK! My big concern was depth of field, so I adjusted my aperture to f/8. While I primarily shoot wildlife, if a landscape presents itself to me, I'll take it. To me, this 1800s ranch house tucked in a valley surrounded by mountains and a river nearby, had "Nevada" written all over it.
SARAH SCHMIDT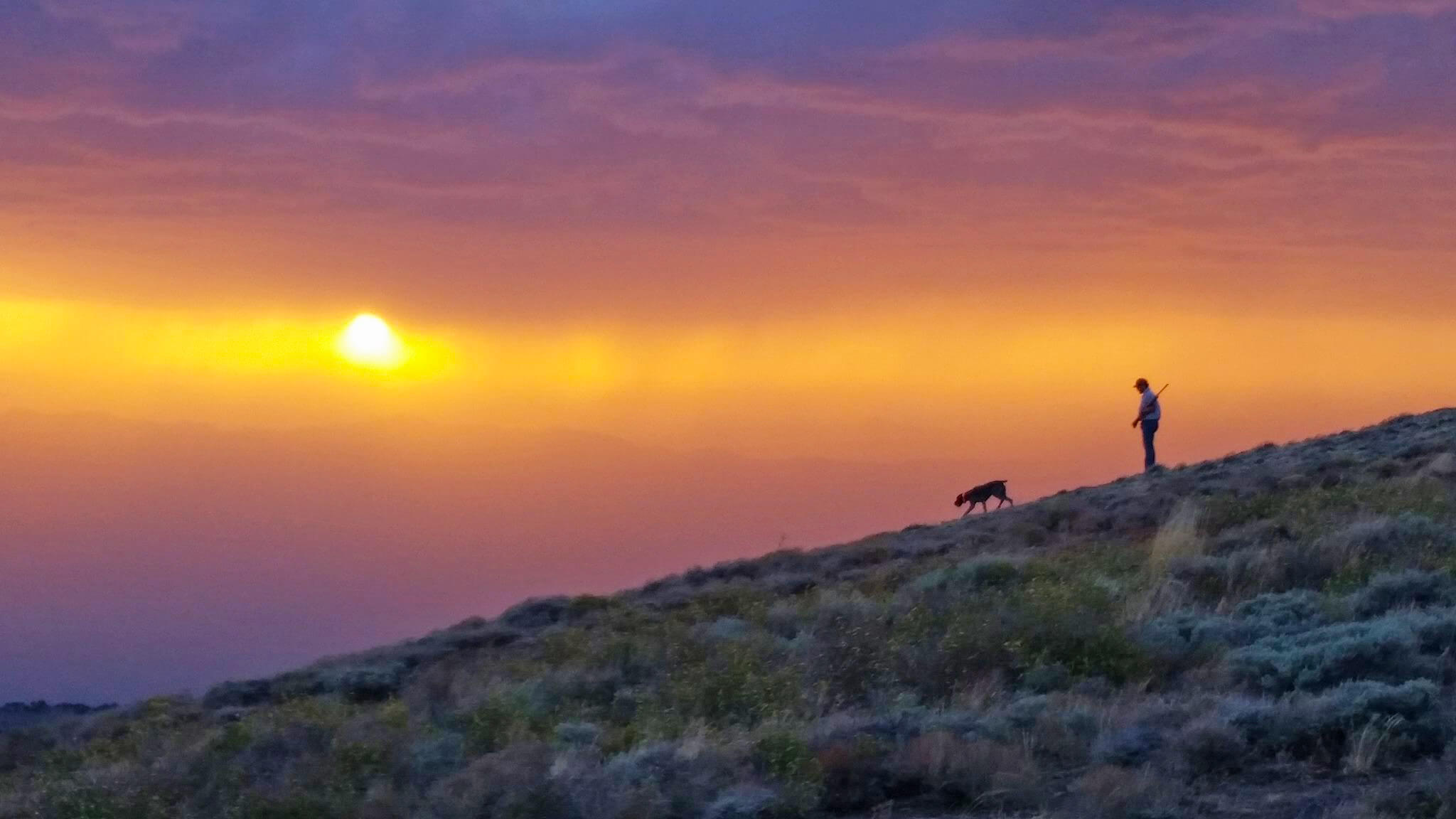 CAMERA: Samsung Galaxy S5 Active G870a
Every year, my husband Konrad and I look forward to the start of leaves changing, the bite in the autumn air, and the return of hunting season. Late September kicks off our year with our favorite group hunting and camping trip of the year, Sage Grouse season in Austin. We are honored to be included in a 60-year tradition of the Mackedon family of camping on Austin Summit for a weekend of the brief, two-week season for Sage Grouse. We were heading into camp after a spectacular drive out with an infamous Nevada thunderstorm. All of the excitement had kicked up some of the hens, and they were in the middle of the rutted road, which is extremely unusual. Konrad and Owen Mackedon jumped out of the truck to try and take advantage of such a rare opportunity. Doors still open on the pickup, they let out Earl – our working German Wirehair Pointer – who knew the birds weren't far away. Watching Earl diligently work the mountain, Konrad following his lead, along with one of the most spectacular sunsets I have ever seen, had me in awe. When they hit the ridgeline, the magic of their silhouettes against the sunset was a moment where time seemed to stand still. To this day, I can't believe I snapped this photo on a cell phone, but it has since made it's way to the wall of our home. The vast open space and sense of tradition this photo represents are qualities you can only find in Nevada. Every day we are reminded of an always incredible weekend, with some of our most favorite people.
BRAD JOSEPHS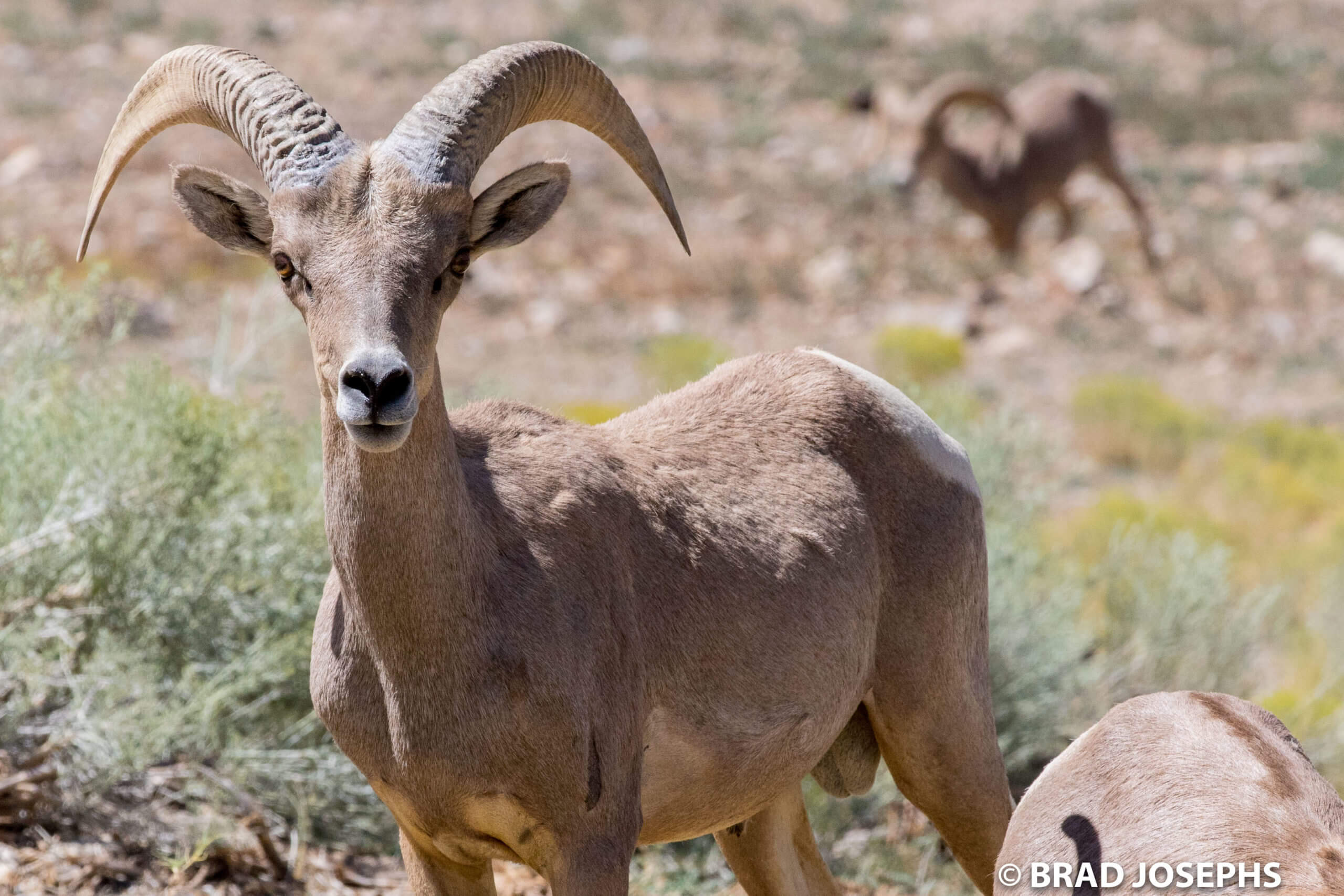 CAMERA: Canon 7D Mark II
LENS: 70-20 f/2.8
APERTURE: f/8
SHUTTER SPEED: 1/1500
ISO: 800
TRIPOD? No
On my move from Alaska to Arkansas, i had only one goal when picking the route: to traverse as much of Nevada as possible, on the back roads. Nevada is like Alaska – vast and wild. We drove from Portland south to Winnemucca and then on to the Extraterrestrial Highway before cutting east into Utah. We didn't encounter much, just that feeling of isolation and timelessness that radiates from a frontier. It was hot, windy, desolate, weird and kind of scary – just what I was hoping for. I had a very memorable stop about halfway between Winnemucca and Groom Lake. There was a crossroads with some cool signs and an abandoned farm complex, and I stopped to get some photos. A man in a pickup truck drove up quickly, slowed and yelled through his window that I needed to check out the desert bighorns. Desert bighorns? I hadn't thought of these animals since I was a child. Sure enough this super nice man, who appeared out of nowhere, steered me toward a big herd of sheep moving down a rocky ravine toward some dilapidated structures.
Turns out, the bighorns were there to get a drink, hanging out around a natural spring. I squatted in the prickly undergrowth and waited until they arrived. Desert Bighorns once numbered up to 3 million before manifest destiny knocked their numbers to maybe 18,000. Strong conservation efforts brought their numbers from the brink of extinction in the last few decades. I felt very lucky to get a close encounter with such an amazing species! I never imagined I would ever get this close to a wild desert bighorn ram. Anything is possible in the wilds of Nevada.
The herd approached me to get a drink from the spring water. These guys use their horns for fighting as well as to tear apart cactus for food and water. These are some really tough creatures.
Here's the wild back roads of America! There is some spectacular atmosphere, geology and wildlife in those western deserts. Read Desert Solitaire by Ed Abby, summon the ghost of Hunter S. Thompson, carry extra gas and water, and head out there. It's awesome country.
Get Inspired
Related Stories