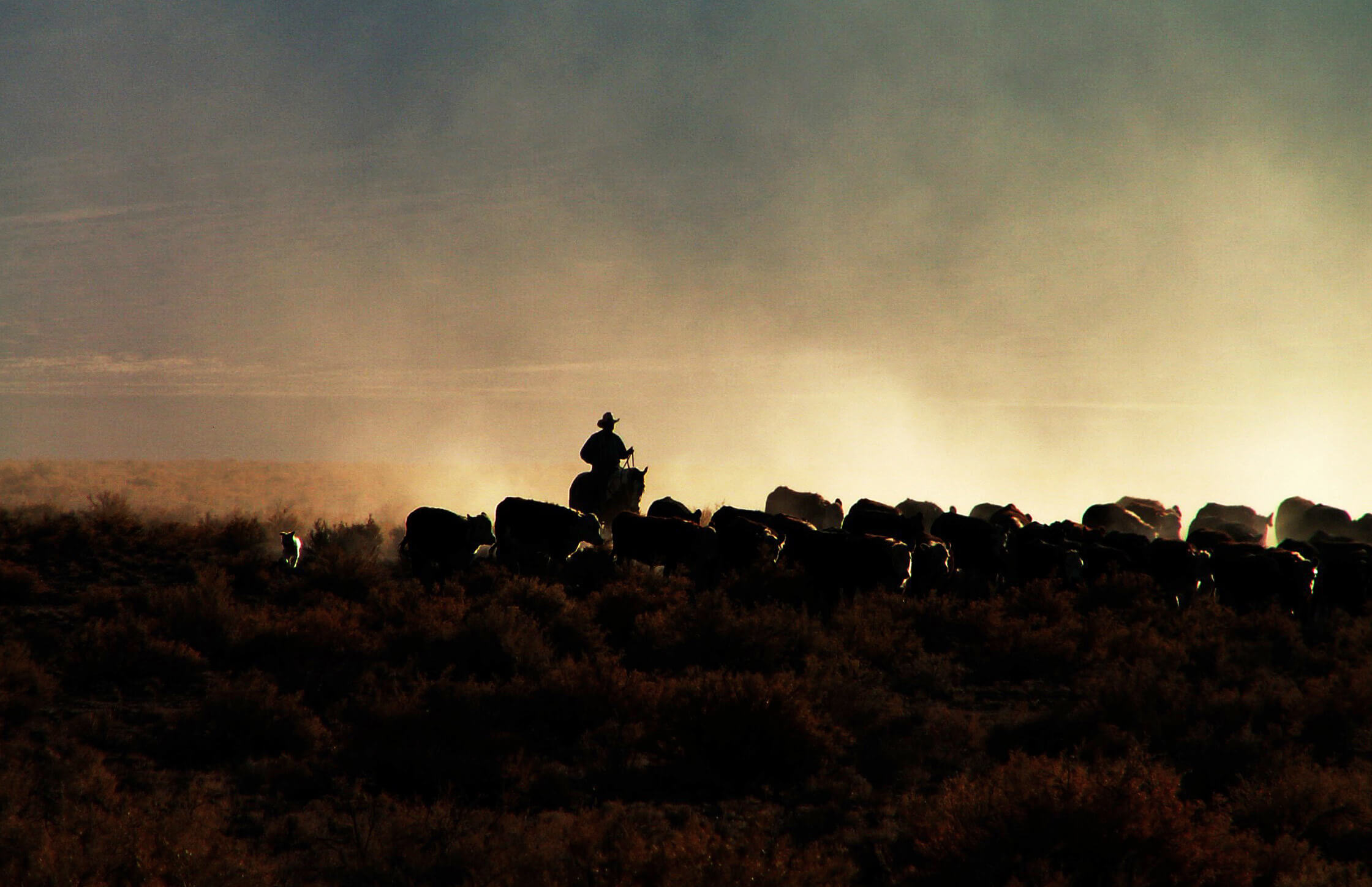 PRIZE-WORTHY IMAGES, WITH STORIES TO PROVE IT
What about Nevada just clicks for you? There are so many ways to enjoy the SIlver State, be it hot springing, bagging some 13,000 foot peaks, completing your trout slam, sagebrush saloon hopping, or ponying up to the table for a Basque-sized helping. To these folks, it's traveling throughout Nevada's vast Bureau of Land Management countryside, capturing a serious Don't Fence Me In state of mind along the way. We asked for some incredible photos taken in Nevada with one iota of criteria in mind: that they be taken on BLM land. And hey, 67% of the land in Nevada is managed by the BLM – I'm talking a whopping 48 MILLION ACRES – so this stacked up to be the perfect challenge. We asked, these photogs signed, sealed and delivered it to you.
These folks are all winners of the 2017 State of Nevada BLM Calendar Photo Contest. Hear what they have to say about romping through Nevada's BLM Land. After all, that's where all the good stuff is. #DFMI
RUSTIC DESERT BY PHOTOGRAPHER SHANNON HECHT
Cover Photo Winner for the 2016 State of Nevada Bureau of Land Management Photo Contest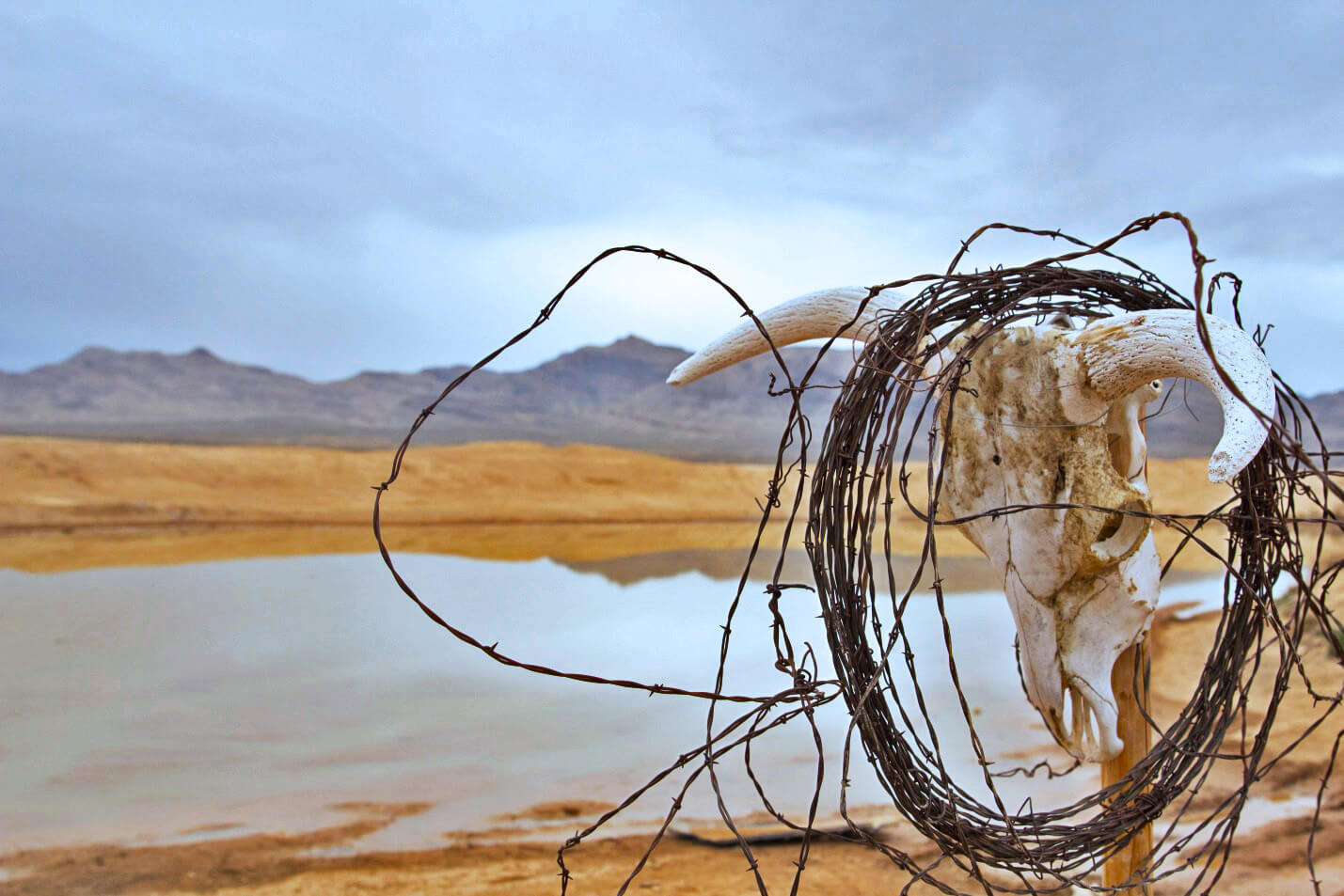 TN: HOW LONG HAVE YOU BEEN A PHOTOGRAPHER?
SH: I have been a photographer for about 10 years, but my interests have developed more in the past 6 years or so.
TN: IS THIS SHOT YOUR STYLE, OR WHAT DO YOU NORMALLY SHOOT?
SH: This shot wasn't really out of my comfort zone. I love taking portraits of different things that catch my eye. When I was exploring Jean Dry Lakebed outside Las Vegas, there was a video shoot happening here during the same day. The cattle skull and barbed wire were being used as a prop, and I just really liked the way it looked.
TN: WHO'S YOUR ADVENTURE BUDDY?
SH: The day I took this shot, I was there with my colleague Cindy Alexander, who has since passed away. So this day is a great memory for me to have shared, with just me and her out there.
TN: WHAT'S UP WITH THIS LOCATION -– JEAN DRY LAKEBED?
SH: I have been to this southern Nevada dry lakebed, or playa, many times before for work as well as at my own leisure. It was a dark and cloudy day – my favorite. I was there to monitor a BLM film permit for work. I love the location because it's surrounded by mountains and very open and beautiful.
TN: WAS YOUR SHOT PLANNED, OR DID IT JUST HAPPEN TO UNFOLD IN ALL THE RIGHT WAYS?
SH: It was not planned. I was walking around the video set and looking for interesting things to shoot. We'd already gotten our compliance photos, so I was just trying to find something that caught my eye. I walked up fairly close to it and loved the rustic look of the barbed wire, skull, and wide open desert in the background.
TN: HOW DOES YOUR SHOT SPEAK TO YOU? WHAT DOES IT SAY ABOUT NEVADA?
SH: This location is meaningful to me because my job allows me to be there quite a bit, and see things i don't normally get to see on a regular basis. The shot represents the rustic nature of the Nevada desert, as well as the incredible beauty it provides. Nevada is the perfect backdrop to capture these types of shots because of the vast desert landscape. It really gives you a lot of freedom to bring out the beauty of your subject, and the perfect landscape for any shot.
CAMERA: Canon 6D
LENS: 24-70mm
APERTURE: f/4
SHUTTER SPEED: 1/4000
ISO: 800
DESCENDING INTO THE UNKNOWN BY PHOTOGRAPHER GRETCHEN BAKER
First Place Winner for the 2016 State of Nevada Bureau of Land Management Photo Contest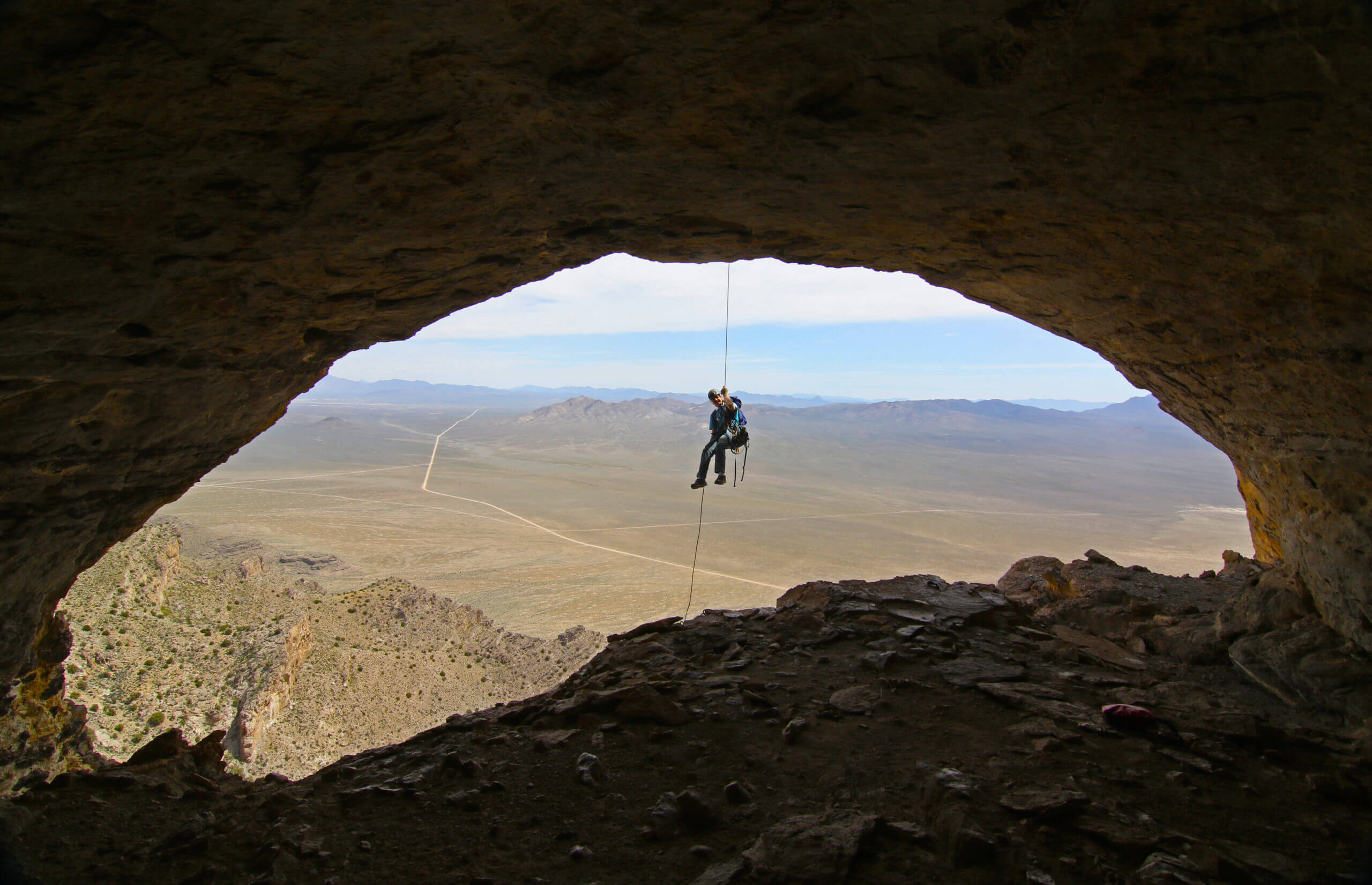 TN: HOW LONG HAVE YOU BEEN A PHOTOGRAPHER?
GB: I've been taking photographs since I was a child, but I've only gotten serious about it and started entering competitions in the last three years. I like photographing scenes that show off the amazing Great Basin. This scene captured my eye with the great silhouette of the caver almost reaching the cave floor, but I wanted to get the background in focus to showcase how high up we were and the vastness of the surrounding terrain.
TN: TELL ME HOW THIS SHOT WENT DOWN, AND WHY BASIN AND RANGE IS SUCH A SPECTACULAR NATIONAL MONUMENT
GB: We were looking for new caves in the Basin and Range National Monument. All the ones that are easy to get to have already been explored, so we scouted some out that were below the cliff band. We hiked to the top of the mountain range, found the landmarks, tied the ropes to our anchors, and then rappelled about 200 feet down the cliff to see where the hole led. I was the second to go down, and I made sure to photograph the leader's footsteps into the cave—the only ones we saw. We were possibly the first humans ever in that cave, so we wanted to document it well. We planned to survey the cave so that the BLM would know more about its resources. The rest of our team came down the rope, one by one. The feeling of exploration and discovery was strong. How far would the cave go? What interesting geologic or biologic features would we find? Would we have more amazing walking passage like the entrance or would be relegated to wiggling on our bellies to squeeze into parts of the cave? I was the second person to enter the cave, so i quickly realized i had the opportunity to record the rest of the team entering the cave. I took several shots of both rappelling into and climbing out of the cave. I liked this one the best. This photo, to me, epitomizes the beginning of a great adventure.
TN: WHAT ABOUT IT SAYS "NEVADA?" WHY IS IT HITTING HOME FOR YOU?
GB: This shot was meaningful to me because we were probably the first people [in modern times] to visit this cave. The background shows a classic Nevada landscape of basin and range. To me, there is still so much to be discovered in Nevada, and this shot captures that feeling. That, and Nevada is a wild place, full of adventure and remote places that you can enjoy without crowds. This pic captures both of those feelings well.
CAMERA: Canon EOS 7D Mark II
LENS: 11-16mm lens at 11mm
APERTURE: f/13
SHUTTER SPEED: 1/50
ISO: 125
JUST A GLANCE BY PHOTOGRAPHER JANI AHLVERS
Second Place Winner for the 2016 State of Nevada Bureau of Land Management Photo Contest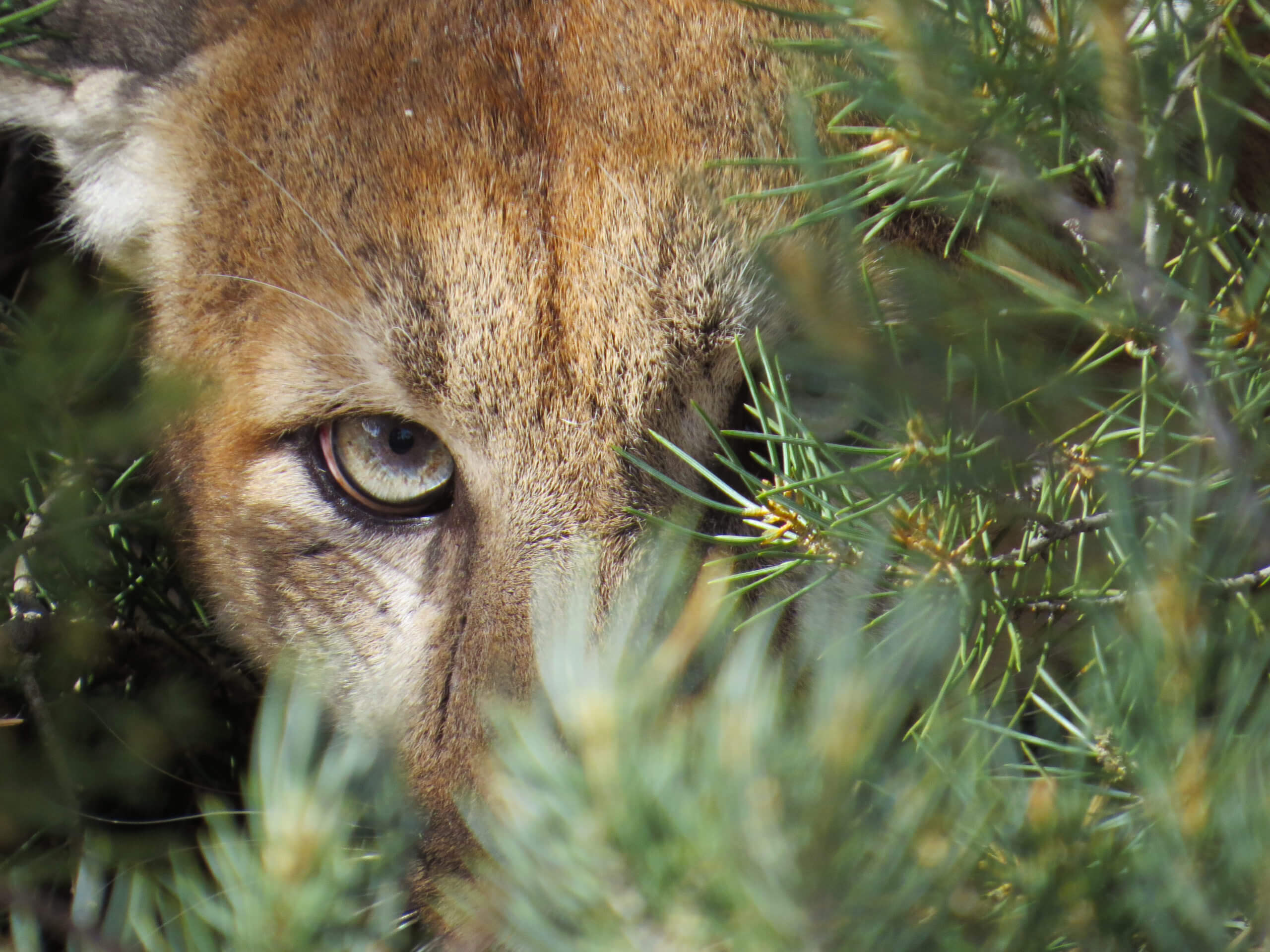 TN: HOW DID YOU SNAG THIS SHOT, AND WHERE DID YOU CAPTURE IT?
JA: My passion is antler hunting… or horn hunting. We use quads, mules, and mostly our feet! Horn season starts in February and goes through whenever we decide to stop. When it's too hot to hike, we break out the mules and they do most of the work. Every time out you never know what you're going to find… if anything, horn hunting is the greatest Easter egg hunt in July you'll ever have! There are photo ops around every tree! Including what I photographed here. Predators are always in the back of your mind, I mean you are in their hunting grounds. For the most part, you will never know they are around… silent efficient killers. Except for this Tom… busted. For the most part they fear you just as much as you do them… this guy hung around just long enough for a photo and like a ghost he was gone.
TN: CLEARLY YOU HAVE WILDLIFE TOTALLY PHOTOGRAPHY MASTERED. IS THIS TYPICALLY WHAT YOU SHOOT?
JA: I do photograph a lot of wildlife, but I also love western photography… brandings, moving cows, it's just what we do. I also love all of what Nevada has to offer! From hot air balloons, to motorcycle races, to hunting, I just love it all. Nevada is still so wild with lots of unpopulated spaces, and that, combined some of the most beautiful sunsets and sunrises is what makes Nevada so meaningful to me. Nevada is home.
TN: BY THE LOOKS OF IT, YOU WERE VERY CLOSE TO A DANGEROUS WILD ANIMAL. HOW DID YOU MAINTAIN SUCH A SHARP FOCUS?
JA: While hiking I had a fleeting moment to catch this cat checking me and my dog out. ISO was set at 125. He was fairly close with no action until he chose to leave… as with chasing bull elk, my adrenaline was so high, so at times it's hard to be steady but my camera has an image stabilizer which helps the sharpness of the photograph when it's hard for you to stay calm and steady.
TN: HOW DOES THIS PHOTO TOTALLY NAIL NEVADA'S #DFMI SPIRIT?
JA: To me, the mountain lion photo represents that there are unexpected opportunities around every corner. Even at work, I find myself riding quads and mapping out roads. Even in that circumstance, you just never know what you'll run into. Every day is a new adventure!
CAMERA: Canon powershot
PAHUTE AND THE PRINCE BY PHOTOGRAPHER LEE MOLOF
Third Place Winner for the 2016 State of Nevada Bureau of Land Management Photo Contest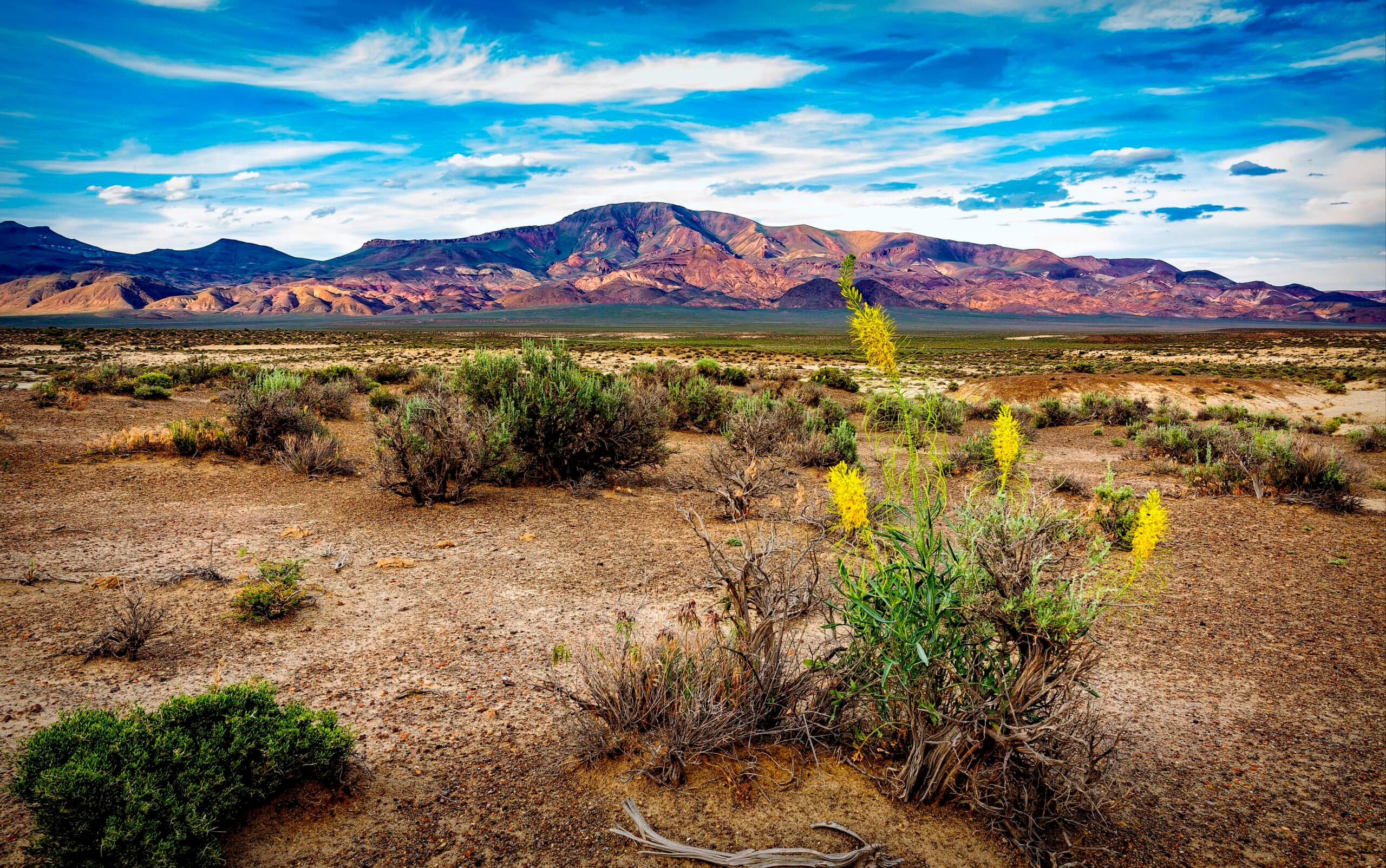 TN: HOW LONG HAVE YOU BEEN SHOOTING AND WHAT KIND OF SETUP ARE YOU WORKING WITH?
LM: I live in Reno and have been photographing the incredible landscapes of Nevada and the western United States for about 10 years, starting with a high-end point and shoot, then a Canon Rebel, a Canon 7D, and eventually moving up to a full frame Canon DSLR several years ago.
TN: IT'S HARD TO IMAGINE NEVADA LANDSCAPES OFFERING SUCH VIBRANCY. OUT OF NEVADA'S 48 MILLION BLM-MANAGED ACRES OF LAND, WHERE IN THE SILVER STATE DID YOU SNAG THIS SHOT?
LM: Pahute Peak is in the Black Rock Range of northwestern Nevada, which is all within the Black Rock Desert – High Rock Canyon Emigrant Trails National Conservation Area, administered by the BLM. I took this photograph in May of 2015, on the way to meet up with a number of photographer friends up at the Soldier Meadows Ranch & Lodge for several days of exploring, adventure, photographing and camaraderie. I had stopped for a quick break and noticed the Prince's' Plume flowering plant, with the peak in the background, and thought what a great subject for a picture.
TN: WHAT IS IT ABOUT THIS SHOT IS SO UNDENIABLY "NEVADA"?
LM: Being up in the northern end of the Black Rock Desert, the remoteness is extreme. To me, this photo is pure Nevada: it's miles and miles from any paved road, and the vista is extremely wide and unlike anywhere else.
CAMERA: Canon 5D Mark III
LENS: Canon 24-70, f/2.8
APERTURE: f/20
SHUTTER SPEED: 1/5
ISO: 50
TRIPOD? Yes
To get a complete rundown on how to sneak your shot in for consideration for future BLM Calendar Photo Contest submissions, click here. And, if you missed this year's photo contest, be sure to watch out for next year's, and other ways you can submit your photos and stories to Nevada BLM and Travel Nevada.
Get Inspired
Related Stories