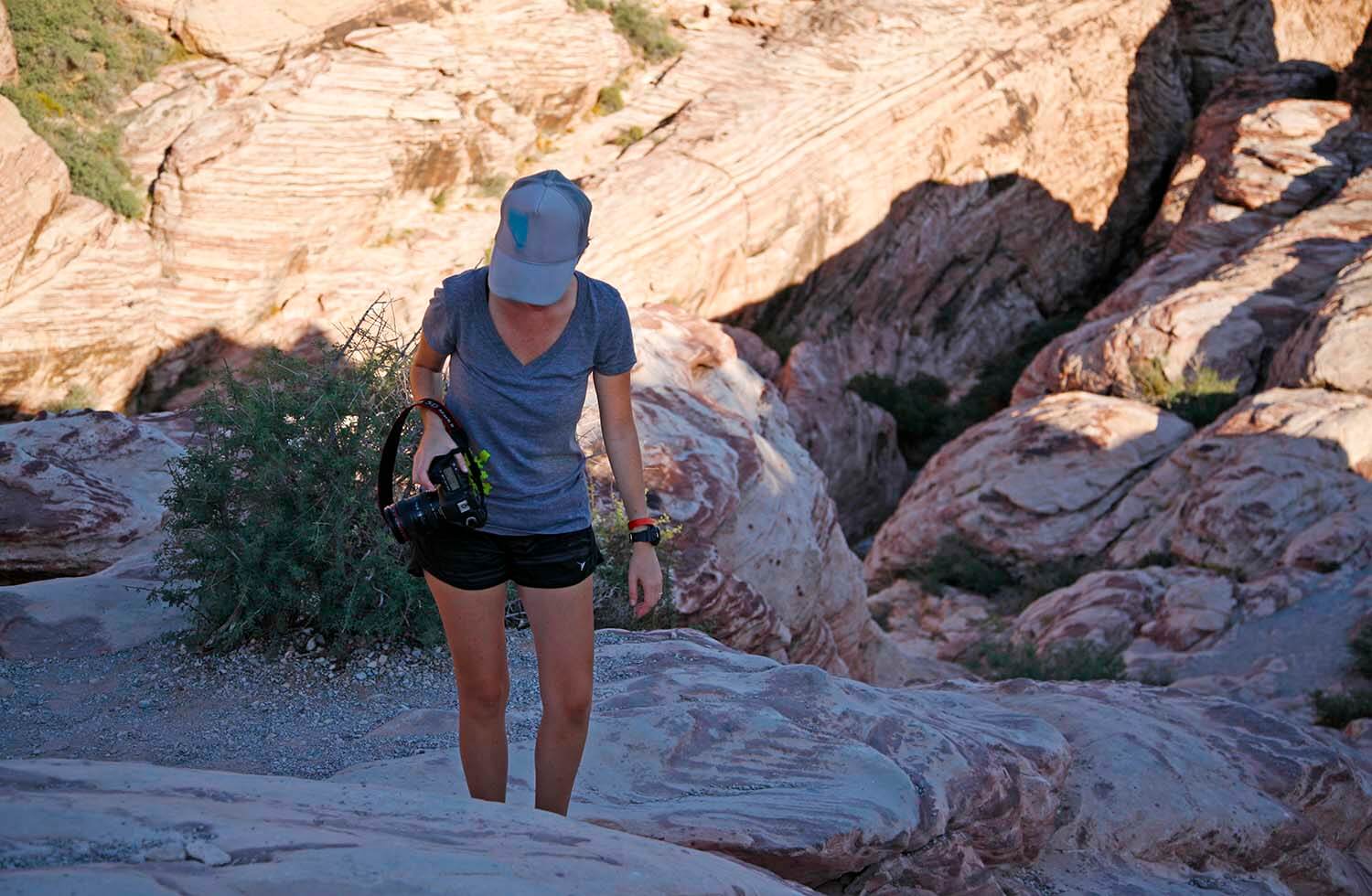 THROUGH THE LENS: GRABBING ONTO SOME #DFMI SPIRIT
I really hope that everyone out there has had that one magic minute on the road. But what is the deal with these moments in time… these upper-echelon memory makers of the trip?? Here we are, part of these enormous galaxies that have lasted forever and ever. Why now? Why is this tiny millisecond so special? These sorts of situations—the ones with defined momentum that feel encapsulated by Kerouac or even Least Heat-Moon themselves—can happen anywhere if you're willing to let them…
But Nevada, man. There's something special about traveling this state by car, uncovering places you'd never dreamt existed within its 110k-square-mile boundary, letting energy build in ways you'd least suspect it, comprehensively bolstering THAT minute in time. Maybe it's preserved in a memory—a place only you have the keys to. That or you've managed capture that moment with your camera, giving you the power to share it with the world.
No matter what you're working with, whether that be a schmancy DSLR, iPhone, GoPro or even a historical photo that's inspired you to get out there and grab onto a modern-day version of a moment, do it. If you've got any kind of camera with you, make a physical memento, for sure. But remember this: we as a human race have got a serious compulsion to document every single second of every single day. That's ok; it's what we're used to… it's the way we operate. But what if we decided to kick back and really wait for the good ones to come through? That right there is what it means to grab onto the DFMI spirit that lies within. The good stuff that propels the power that energizes the moment every single time. A supernova explosion of feeling full—one I have an audacious dependence on.
Even if you don't think you've captured the ultimately supreme photo, hey, that's probably because you were busy living it. Get off the highways, and out of the cities, and grab onto your DFMI spirit… Here are 13 ways that beauty unfolded for me this last trip 'round the sun. #DFMI
UNREAL PETROS AT GOLD BUTTE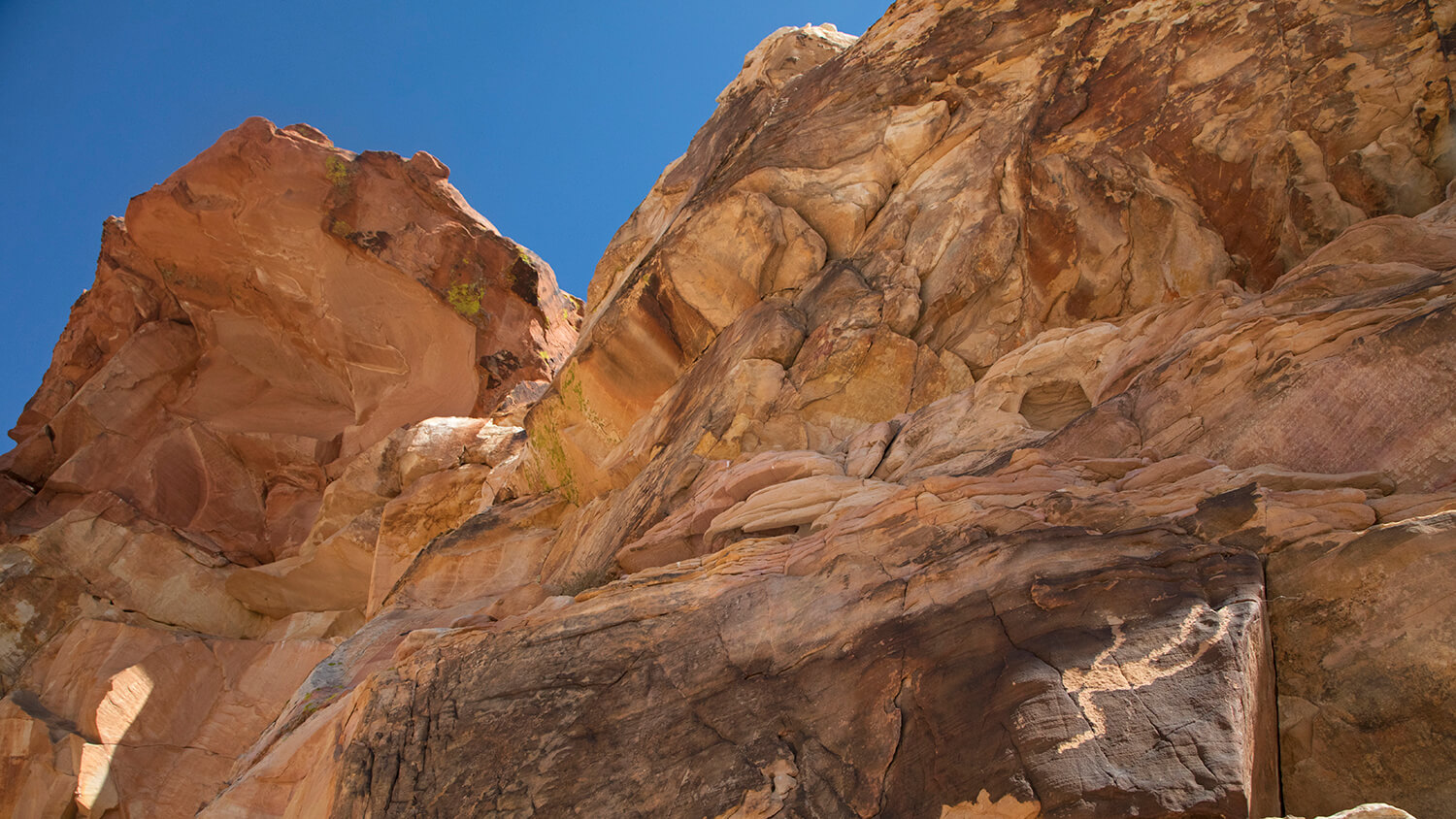 Gold Butte was my bugaboo, guys… the place was so high on my priority list for years, but I could never quite seem to make it there. Then, this past summer of 2018, I finally got the chance to access this deliciously remote section of backroad Nevada. Located across from Valley of Fire and on the back side of Lake Mead, this area is one of America's newest National Monuments. After only 15 minutes of being there, it was easy to see why. I'd heard the road was ridiculously rough—or at least the type of thoroughfare that no state rig was equipped to take on. This proved to be true the second I showed up, but I managed to get by with a little help from the Friends of Gold Butte, who navigated me into this spectacularly scenic chunk of southeastern Nevada with ease. Was it my brightest idea to visit in June, enduring 115℉ heat for 8 hours? No, definitely not. Was my camera on the verge of totally overheating and crashing? Uhhh yeah, and not in a fun kind of adrenaline-pressing way. But that didn't stop me from doing it… what lay before me was way too good: the type of landscapes that your eyes can't really process in real-time—they were that beautiful.
Everything I saw there—from the gnarled Joshua Trees lining the byway, to the face-melting vibrance of wind eroded wizardry at Hobgoblin's Playground, to signs of Civilian Conservation Corps history some of you out there may know I've got a serious fangirl obsession for—it was all simply spectacular. But then I arrived at the petroglyphs. My god, I don't think I'd truly experienced petroglyphs until my time at Gold Butte. Here some of the largest, most intricate panels I'd ever seen were, well, just about everywhere—all within a single line of sight. All of them were profoundly stunning, but my favorite was "Falling Man"… the most notable, distinctive, and analyzed petroglyph within this overwhelmingly gorgeous national treasure.
CAMERA: Canon EOS 5D Mark IV
LENS: EF24-105
APERTURE: f/13.0
SHUTTER SPEED: 1/1000
ISO: 1000
TRIPOD? No
REASSURANCE THERE ARE ALWAYS MORE NATURAL SPRINGS FOR THE CHASIN'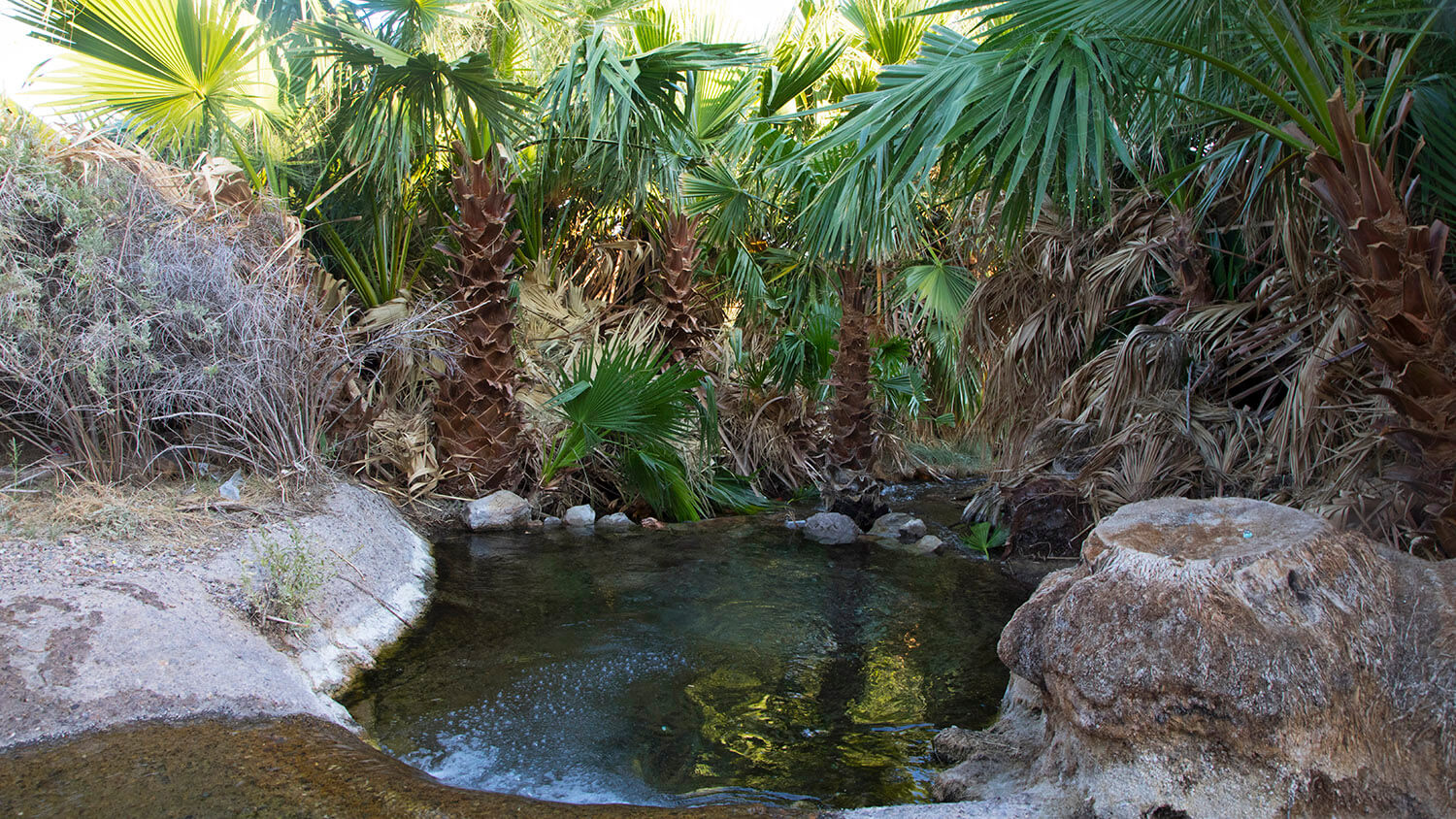 Ten years ago, if someone would've told me that I'd spend every iota of free time driving hundreds of miles on dirt roads to wander around in fields searching for hot water, I'd have said me?? Yeah, right. But lo and behold, here I am, embracing a hobby that's taken over my life in freeing ways I'd never imagined possible. After searching maps for endless hours, I thought I had a grasp on the lay of the land… understanding where most of the geothermal pockets existed, and where I could count on getting into some hot water. That itself is a way of grabbing onto a DFMI fix, but just when you think you've seen and experienced it all, you get hit with another spring that is the sexiest of the sexy. This very thing hit me when traveling the back way into Boulder City, on an unsuspecting Monday afternoon. And guys, if there is anything better than accidentally coming up on Aladdin's lair, aka Rogers Spring, kindly loop me in.
CAMERA: Canon EOS 5D Mark IV
LENS: EF24-105
APERTURE: f/16
SHUTTER SPEED: 1/50
ISO:1000
TRIPOD? No
THE APEX OF FANGIRL-ING AT COWBOY POETRY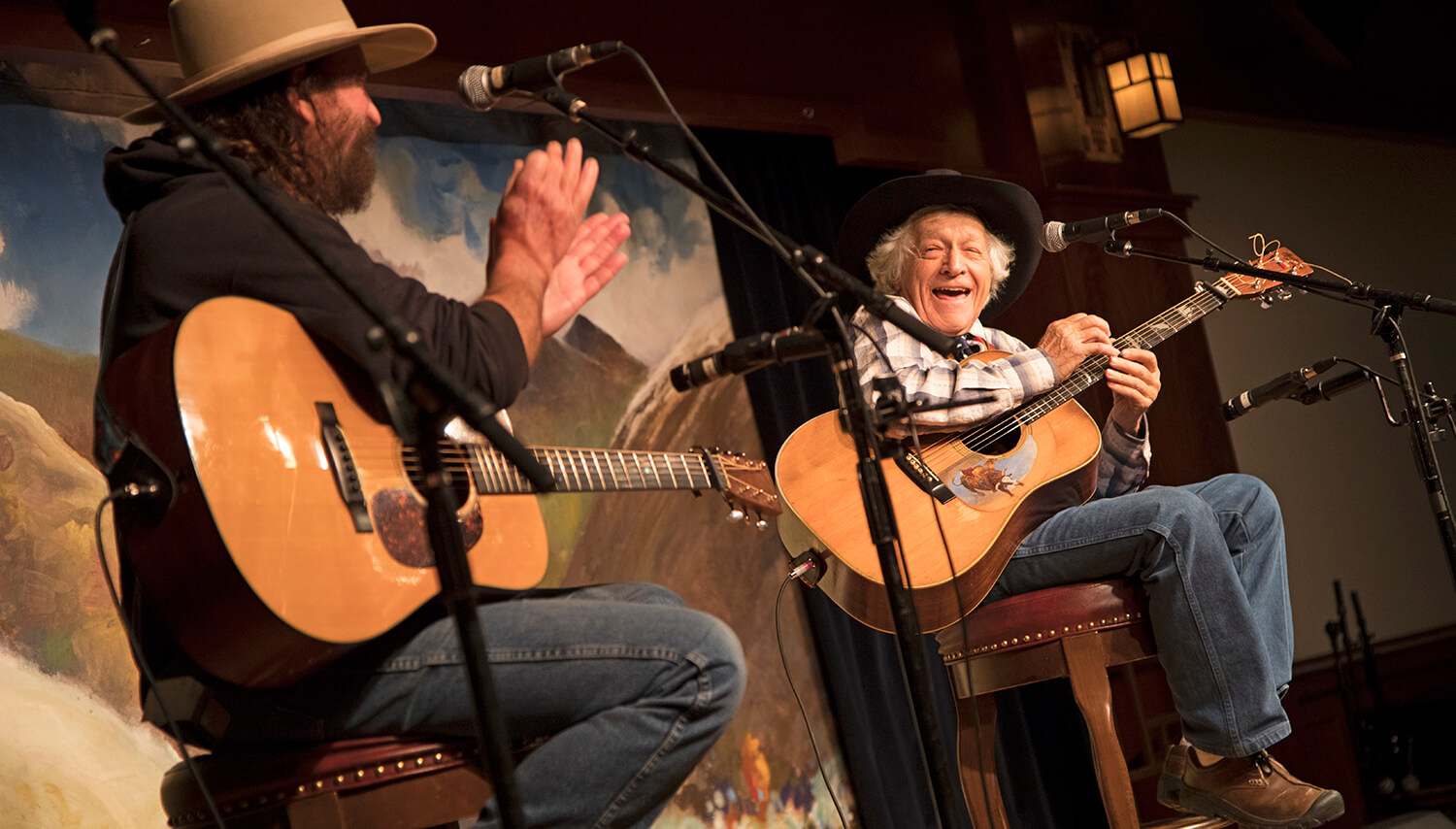 Anyone who has participated in Elko's National Cowboy Poetry Gathering already gets it. The venue is loaded with irresistible western charm, and the performances are moving beyond doubt. But for me the magic here is rooted to the people and they way they make you feel while you're in Elko. That, my friends, can be by way of interacting with the unimaginably kind and approachable human in each performer who graces the stage, who swiftly makes you feel like you're an old friend with uncanny assuredness. Believe me, you see them as a celebrity up there, but the next thing you know, they're standing next to you at the Pioneer Saloon like any other regular person, chatting with you like one too. OR, you can latch on to the emotional high of simply watching a performance. And listen to me when I say this: it doesn't get any better than musicians like Mike Beck or Ramblin' Jack Elliott… except when they perform together. Then? LAWD. Talk about hooked on a feeling that just won't quit.
CAMERA: Canon EOS 5D Mark IV
LENS: EF24-105
APERTURE: f/4.5
SHUTTER SPEED: 1/80
ISO: 1600
TRIPOD? No
ACCESSING FINLAY AT RAINBOW CANYON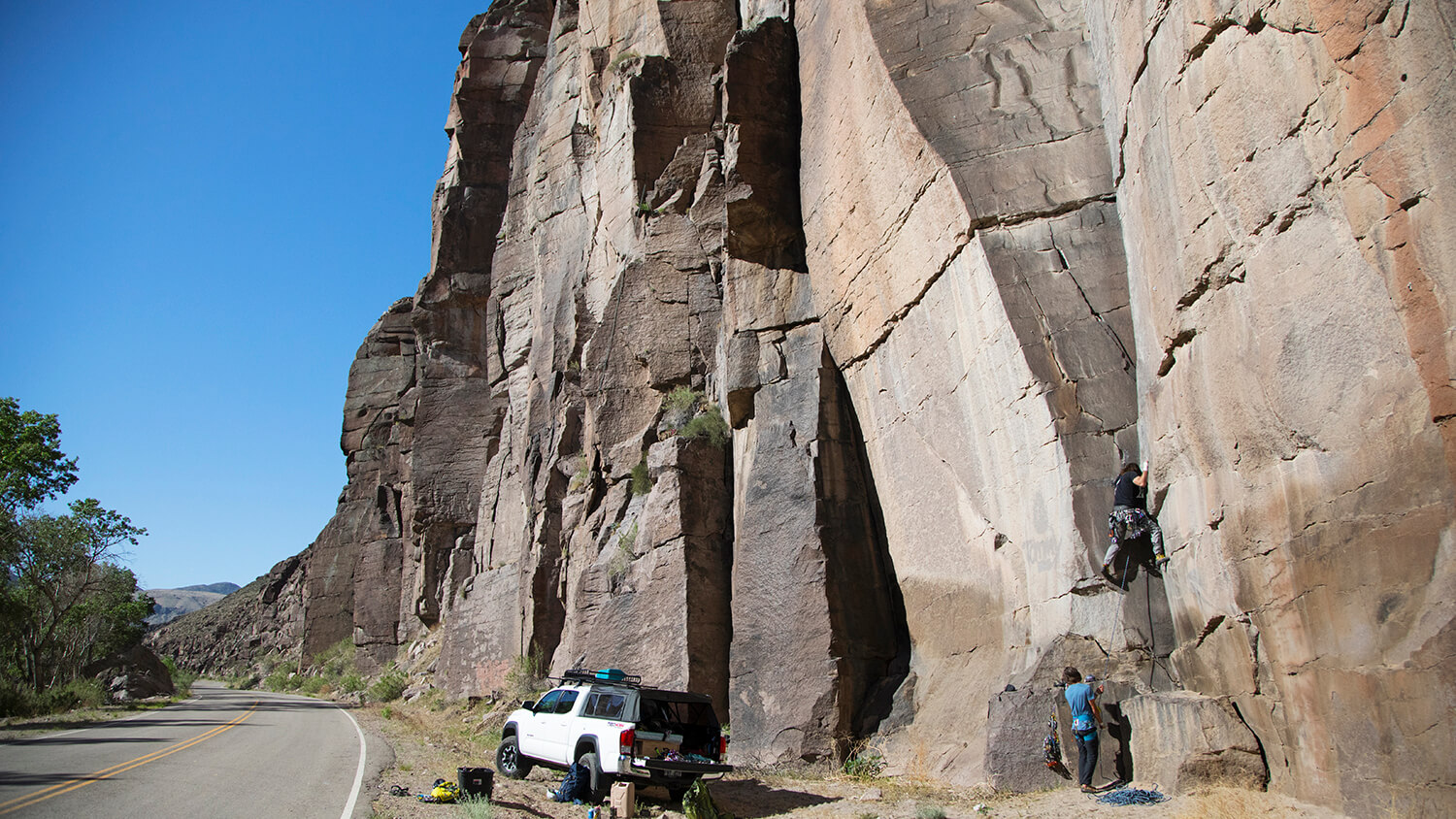 The best in-field experience for me is this: hitting up a new landscape I had previously dismissed, one I hadn't given a real shot with my own two eyes. Even more so, that whole thing is catapulted from good to great when you have real athletes in tow, skilled outdoor specialists who can experience the landscape in a way you can't. I was pumped to have this scenario unfold for me at Rainbow Canyon—a place I'd heard tons of stories about, but was under the impression had been washed out and inaccessible to the casual road tripper. Man, was I seriously in the wrong. Rainbow Canyon lived up to its name, divvying up rock formations and landscapes every hue of the color spectrum. The recently redone asphalt road meanders through what feels like the inside of a kaleidoscope as you make your way to the main event: Finlay Crack. Climber or not, this wall has an undeniable presence… you know it's special as you stand beneath it, scratching against those blue skies and thunderheads Nevada is known for. But man, you think I was excited? You should've seen the looks on the climbers faces as they hurriedly made coffee in the Jetboil on their tailgates, sorted gear, and suited up for this storied ascent. We were the only ones for miles.
CAMERA: Canon EOS 5D Mark IV
LENS: EF24-105
APERTURE: f/4.5
SHUTTER SPEED: 1/8000
ISO: 1000
TRIPOD? No
DRAWING INSPIRATION WITH A LITTLE HELP FROM MY FRIENDS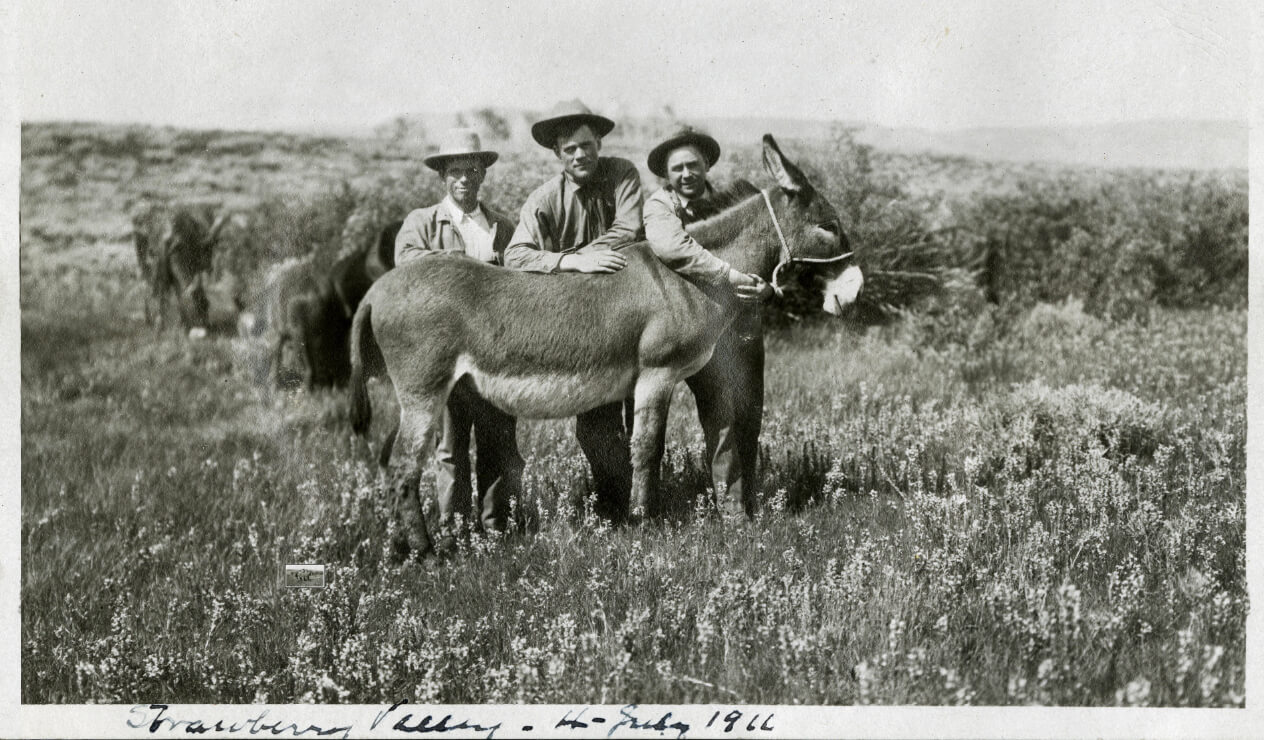 I swear, they've had me hooked with their kind, sure expressions as they've watched me ramble down every road from Jarbidge to Laughlin… There's just something about those fuzzy muzzles and warm, steady gaze that has secured my bonafide membership in the wild burro fan club for a looooong time. But then, THEN! Then I got deep into researching the animal, one I'm convinced couldn't be more emblematic of the Silver State—and it's all thanks to this historical photo. Imagine depending on a resource like this? Most people, I'd assume, would treat them like the tool they were to do the job needed, whether that be ranching, mining, or homesteading in general. For me, it's not too often that I've had the treat of coming across a historical photo that shows people expressing genuine consideration for the typical barnyard animal. This photo shows compassion in all the best ways. These guys knew their burro was their lifeline, and the shot has a way of making me feel so full and happy, propelling my interest in this intelligent creature even further. Amazing how a shot can capture the DFMI spirit and retain it, inspiring a whole new set of photographers, right?
HISTORICAL PHOTO
ENTRACED BY NEVADA BASQUE COUNTRY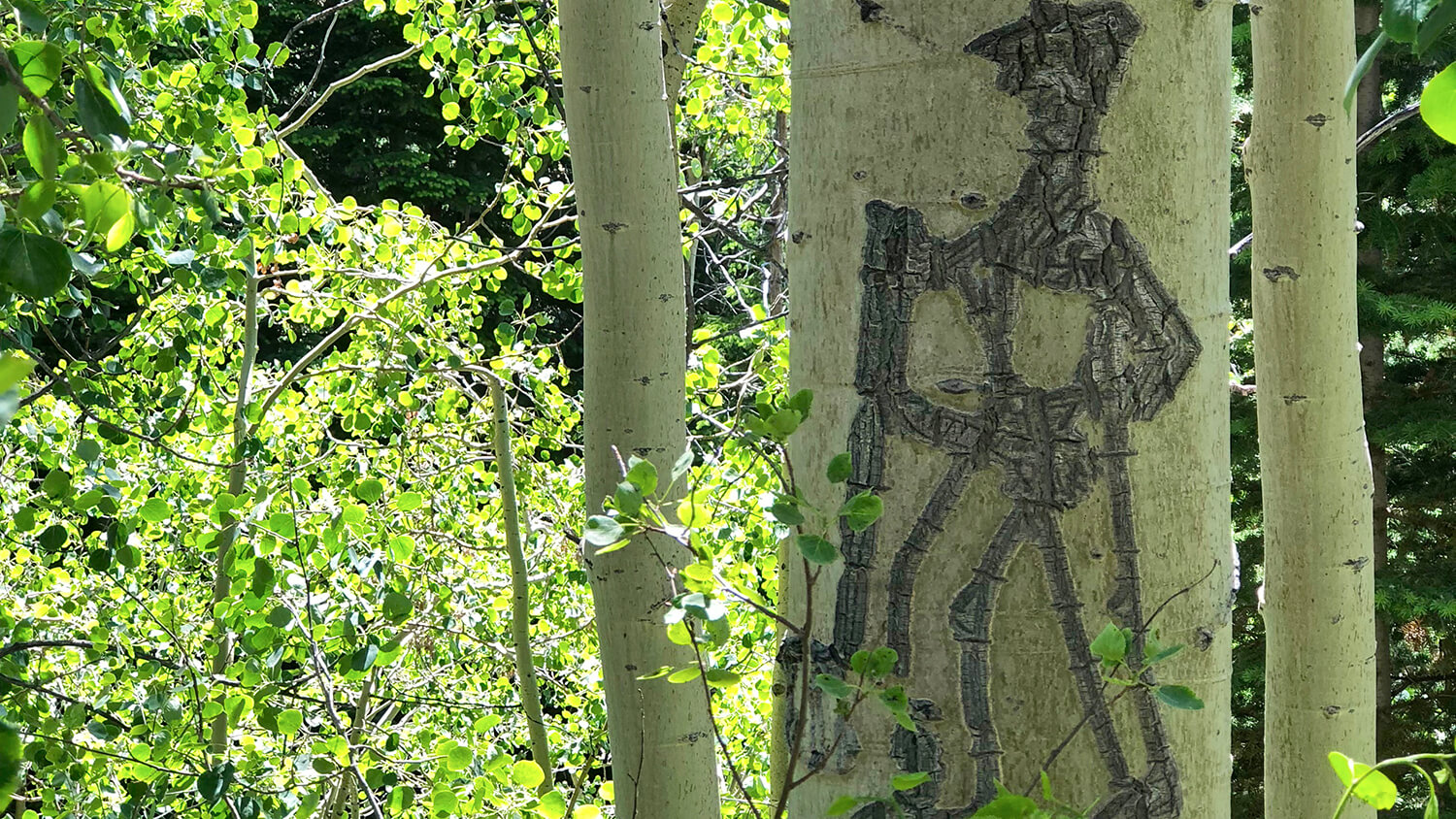 Sometimes we're lucky enough to be in a place and feel completely enveloped in the history of it, just by being there. That sort of enchantment seems to wash over me every single time I'm in the Jarbidge Wilderness Area, plain and simple. Regrettably, I can usually only seem to make the trek up there about once a year, when it's accessible from the Nevada side during the warm summer months. By now, I should be used knowing it's going to blow me away, somehow superseding my last memory of it the year before. But every damn time, the wildflowers seem more thick and vibrant, the mountains seem taller, wildlife seems more abundant, and the Basque heritage that defines this area is even more prominent in all the most sensational yet authentic ways. And man, is it satisfying. The Basque sheepherders that flocked to northern Nevada have chased sheep all over these ranges more than a century, and if you keep your eyes peeled, you might just see a "Stone Boy," or even a present-day Sheepherder's Camp. Even if you don't, keep those lookin' balls laser focused on the aspens. You'll be surprised to find the artistry in the arborglyphs, and wonder how you've missed them all those times before. I didn't have my big camera with me that day, but the iPhone managed to pull this one off just fine.
CAMERA: iPhone 8
LENS: 12MP built-in lens
APERTURE: f/2.8
SHUTTER SPEED: N/A
ISO: N/A
TRIPOD? No
FEELING ONE IN THE SAME WITH THOSE DANG GOLDFIELDERS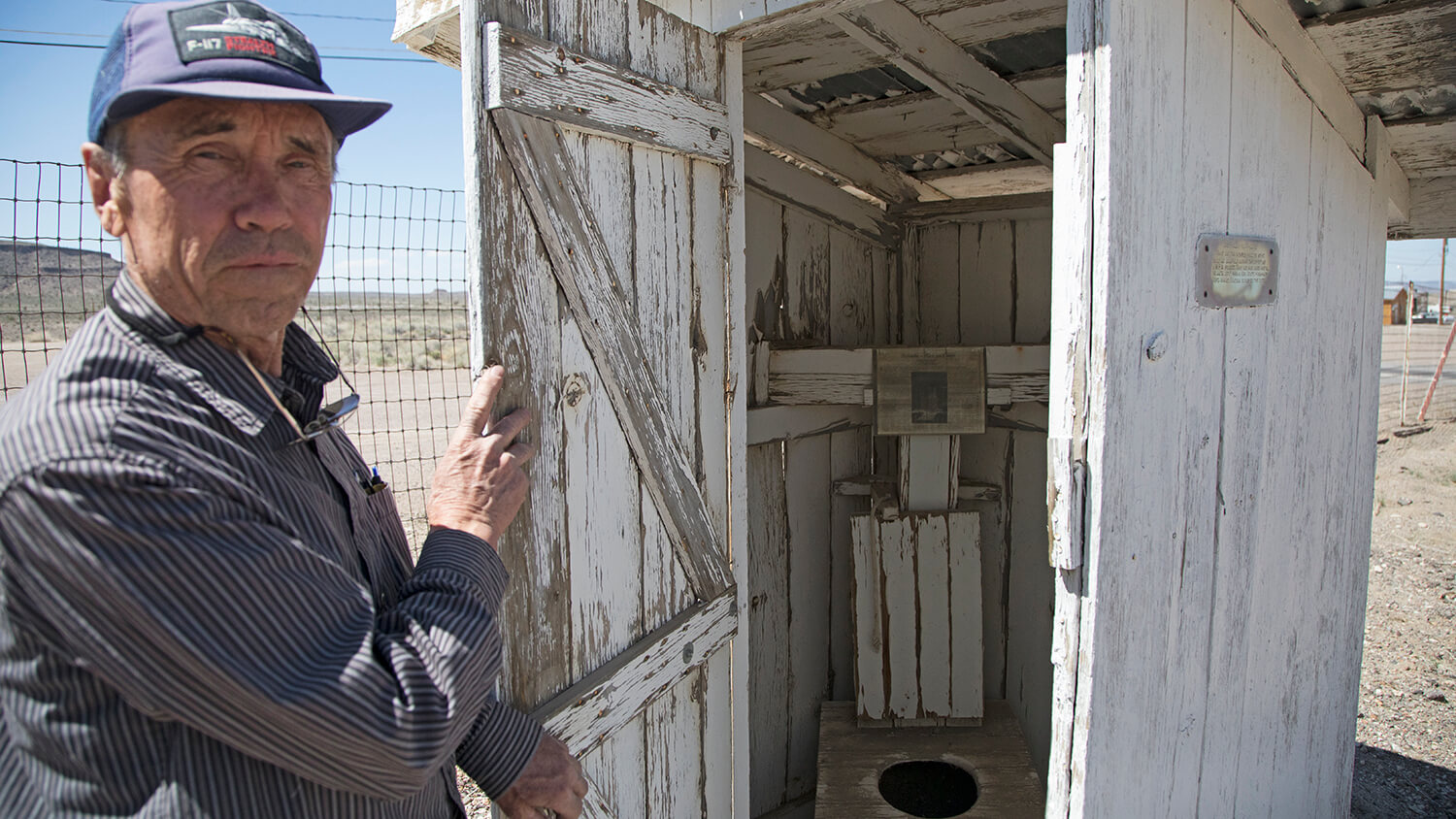 Caught in the web, guys. It happens to me every single time I hit that hard 90-degree turn at Goldfield and think, "OK, for real, I'm only stopping for 30 minutes this time. Maybe an hour, max." Then, suddenly, it's two days later I've become best buds with a crew of native Goldfielders and born-again locals devoted to saving what's left of Goldfield after a slew of natural disasters and 100+ years time. It's the type of place where yeah, I can see how it might not be approachable at first glance… it being home to one of the most allegedly haunted places in Nevada and all. But the second you pull over and show any interest in the original Tiffany light figures adorning the Esmeralda Courthouse, peek in the windows of the Goldfield Hotel, or stop in for a cold one at the Santa Fe, the locals are pumped you are there. They'll want to show you around, and WILL if you let them. So let them. I know I've taken some risks there climbing into the cabs of trucks belonging to people I don't know super well, but those gut decisions have led into some of my happiest days in the field… of all time. Thanks to this group of people who have now all become my pen pals, I've been led down every surrounding dirt road, gotten the lodown on local lore, discovered graves through "dowsing," dug through archives, and had a lot of laughs. Sometimes you don't always have to plan everything out, and the magic of a place will let it take over if you let it. In Goldfield, I can always count on that.
CAMERA: Canon EOS 5D Mark IV
LENS: EF24-105
APERTURE: f/5.6
SHUTTER SPEED: 1/5000
ISO: 1250
TRIPOD? No
DROPPING OFF GRID IN THE RUBIES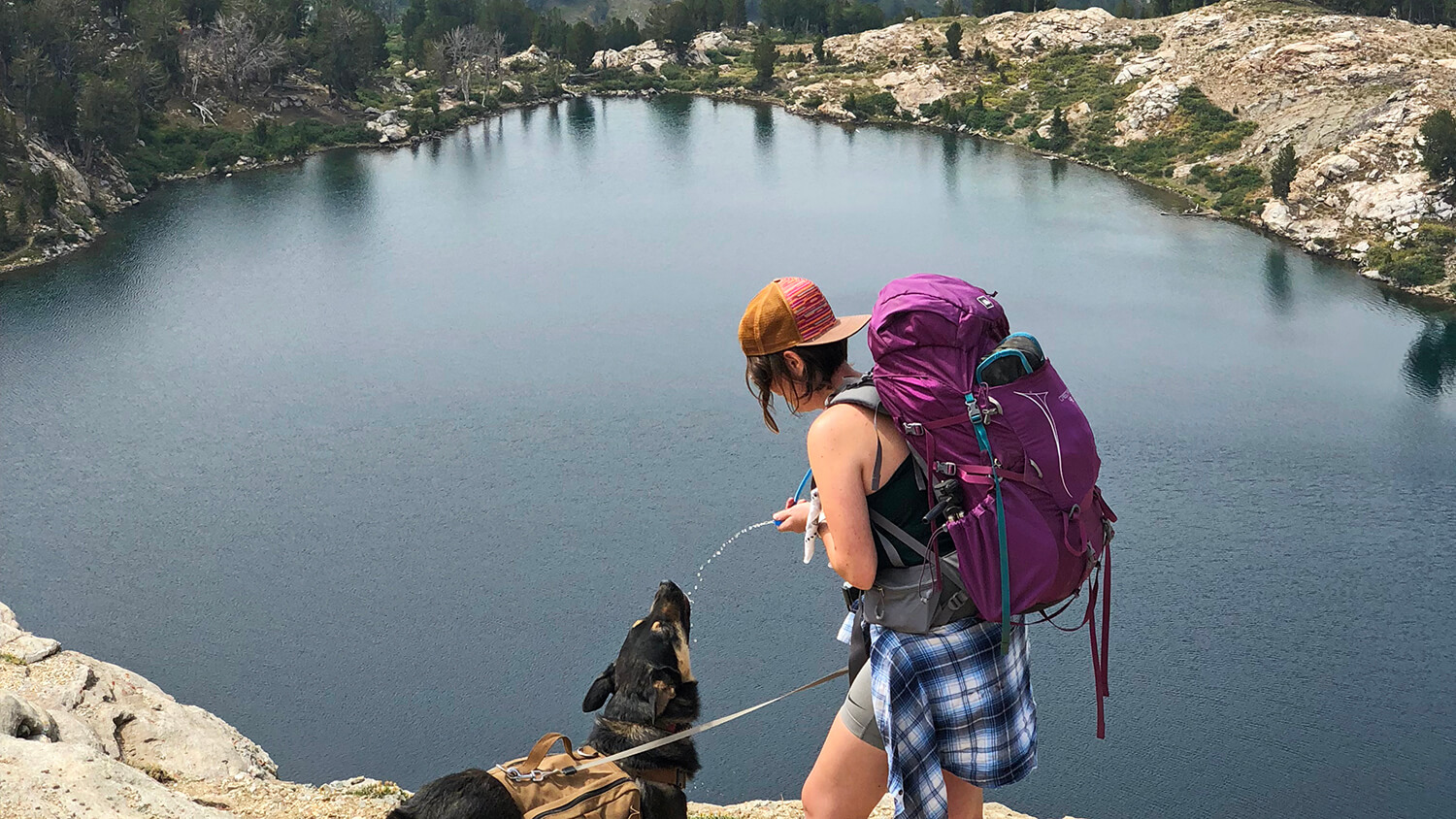 Like my annual pilgrimage to Jarbidge, if I cant make for a one weekend escape to the Rubies, I feel pretty deprived. We've all got those places, and Lamoille Canyon is it for me… I just NEED it! For the past several years I've managed to get in there during Perseid Meteor Shower at its peak, which of course is no accident. What a way to spend a meteor shower, right? The Rubies are known for a bunch of things: spectacularly lush scenery, amazing visibility of the surrounding areas on the valley floor below, not many other people on the trail, and a stunning concentration of alpine lakes. The entire Ruby Crest Trail is on my #NVBucketList for certain, but I haven't quite bagged that one… yet. For now, Liberty and Farve Lake hits the spot just fine for my annual fix. Is it ever a bad day when you teach your dog how to drink from a bite straw? #DFMI
CAMERA: iPhone X
LENS: 12MP built in lens
APERTURE: f/2.2
SHUTTER SPEED: N/A
ISO: N/A
TRIPOD? No
TRANSCENDING TO A WORLD OF WEIRD AT MOLOSSIA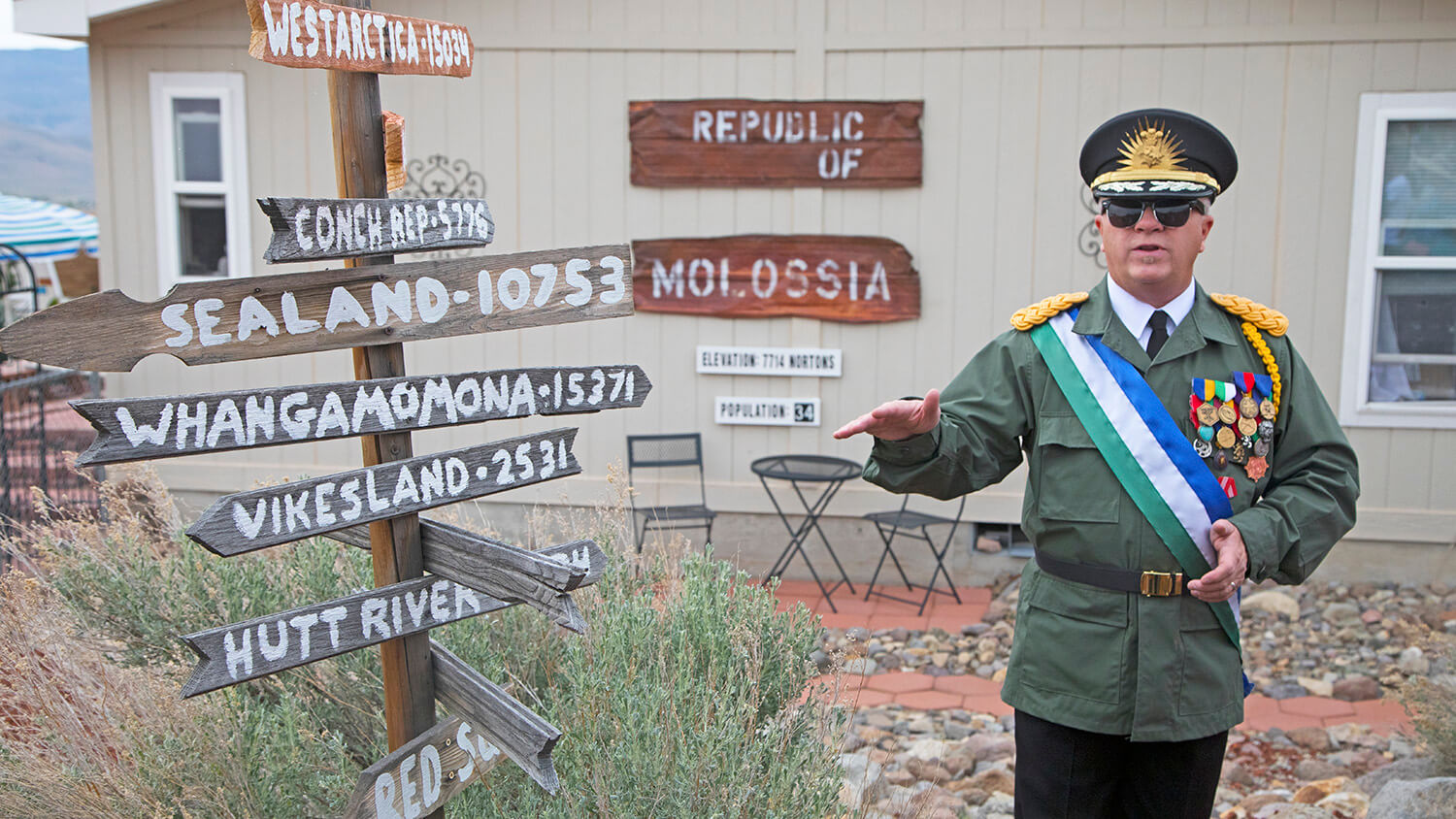 Every trip 'round the sun needs one… one of those "what the hell just happened to me" kindsa moments. These tend to go down more often than not while traveling Nevada in the best ways… the type that gives Nevada in general such a unique sense of place, leaving you wanting more, and more, and MORE. I've had some weird ones go down out there, that much is certain, but meeting His Excellency and First Lady of Molossia was the most absurdly delightful rundowns in 2018. And it all happened right on the outskirts of the site of Nevada's very first gold strike… aka Dayton. From the cookie dough peace offerings, to getting my real U.S. passport stamped at customs like I was entering any other nation, to getting thrown in jail for smuggling in my onion and plastic bag contraband, to snagging a selfie with President Kevin Baugh, it made for quite a May morning. And you know what? I can't freaking wait to go back.
CAMERA: Canon EOS 5D Mark IV
LENS: EF24-105
APERTURE: f/6.3
SHUTTER SPEED: 1/3200
ISO: 1000
TRIPOD? No
NEVADA-STYLE MANIFEST DESTINY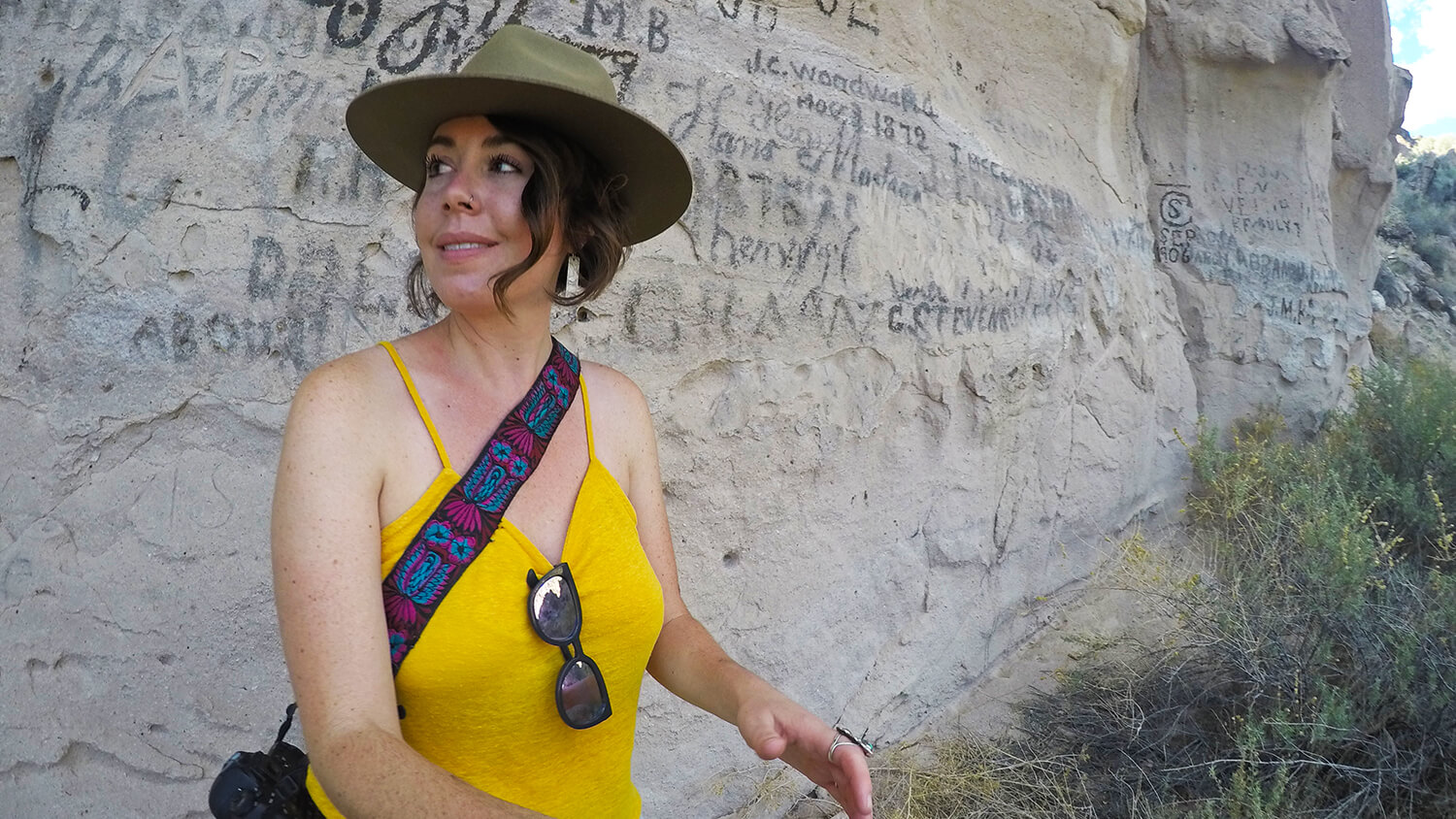 It's hard to land on one and only one favorite quality about Nevada, but man. It's hard for me to get past it's undeniable live-and-let-live qualities found in just about every place and person you come by. And you don't even have to look for this one, it's just innately there. Imagine what that must've been like to be alive even 100 years ago in Nevada? To be a person who got yourself here on a flipping wagon in the first place would have made you a bonafide badass, but then to arrive and be faced with building your own future? To show up and have to build a mill or work 3,000 feet underground for days while another guy swings a sledgehammer 2 inches from the back of your head? I can't imagine it… I'm for SURE living in the right century. You can tour museums or experience traditional folklore in very real ways… both of which have intense power. But there is nothing quite like standing next to a rock face peppered with names, inscribed by pioneers who used their wagons' axle grease to write them 150 years ago. Sometimes, you even catch yourself in dumbfounded awe on camera, and that's OK too.
CAMERA: GoPro Hero 4
LENS: Ultra Wide Angle Glass Lens + SuperView
APERTURE: N/A
SHUTTER SPEED: N/A
ISO: N/A
TRIPOD? No
NEBULAR BLISS IN TONOPAH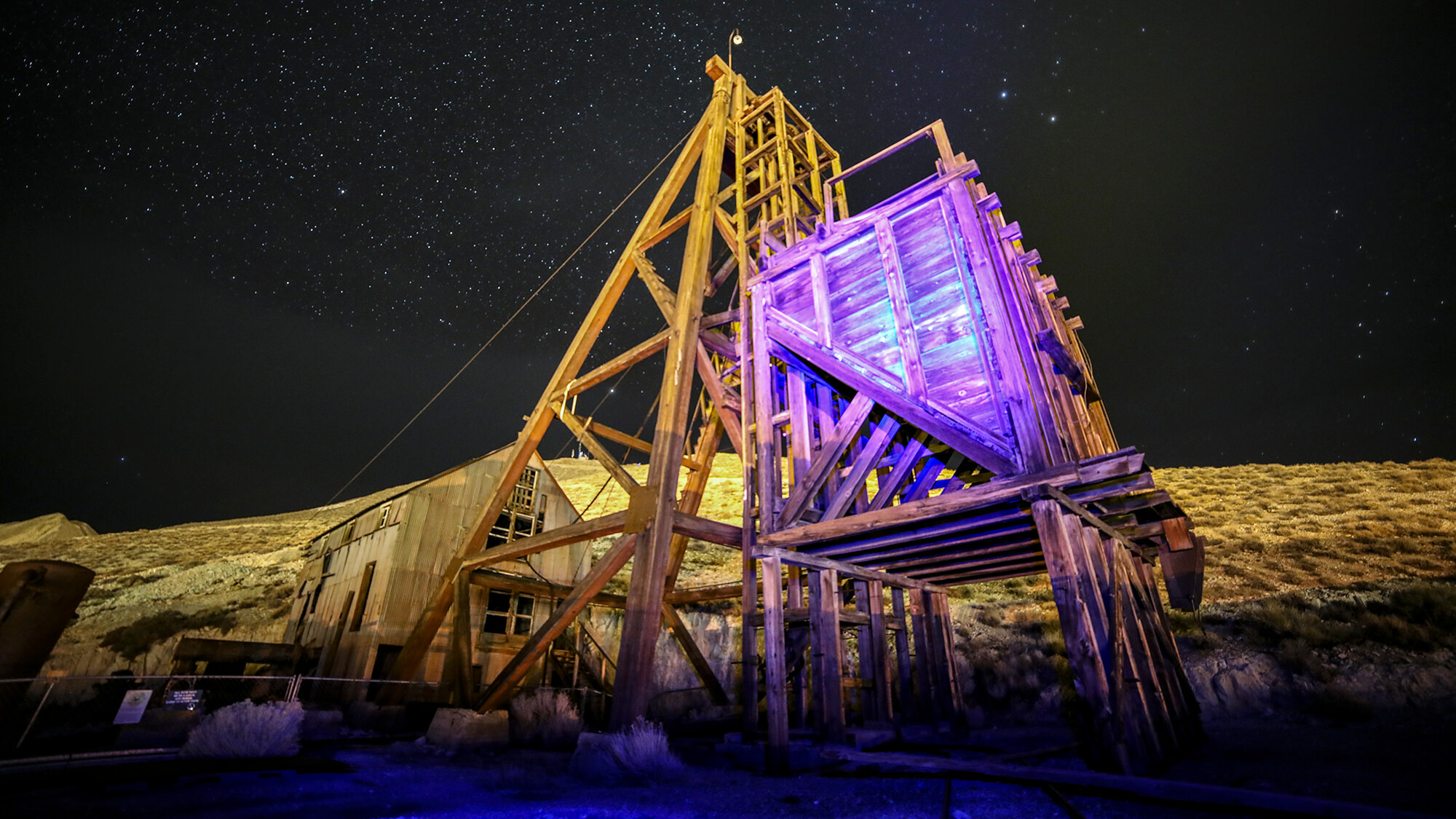 Does it get better than shooting long exposures in Nevada? To anyone who's ever stood underneath the Nevada skyways in peak Milky Way season, there is no way in Hades that's a yes. There are a few yearly benchmarks I have to hit with photography; framing up a good night sky shot is one of 'em. That unfolded for me right out of the gate in Tonopah. Of course, everyone wants to know which place in Nevada offers up the ultimate night sky viewing utopia, and the answer is this. The second you peel out of Reno or Vegas, you've arrived. Great Basin, yes of course; Tonopah, totally; but if you get out just about anywhere in rural Nevada, all you gotta do is look up. I forget about it, but this night in the Tonopah Mining Park at the storied Desert Queen headframe, the heavens were poppin. That January evening proved to be a cold one, which made for supreme clarity, and when I can combine my two loves of photography AND Nevada history? That right there is a slam dunk. I think I'm still in a full-on globular geek out, too.
CAMERA: Canon EOS 5D Mark IV
LENS: EF24-105
APERTURE: f/1.8
SHUTTER SPEED: 1/30
ISO: 3200
TRIPOD? Yes
GOLDEN AGE GLAMOUR IN SEARCHLIGHT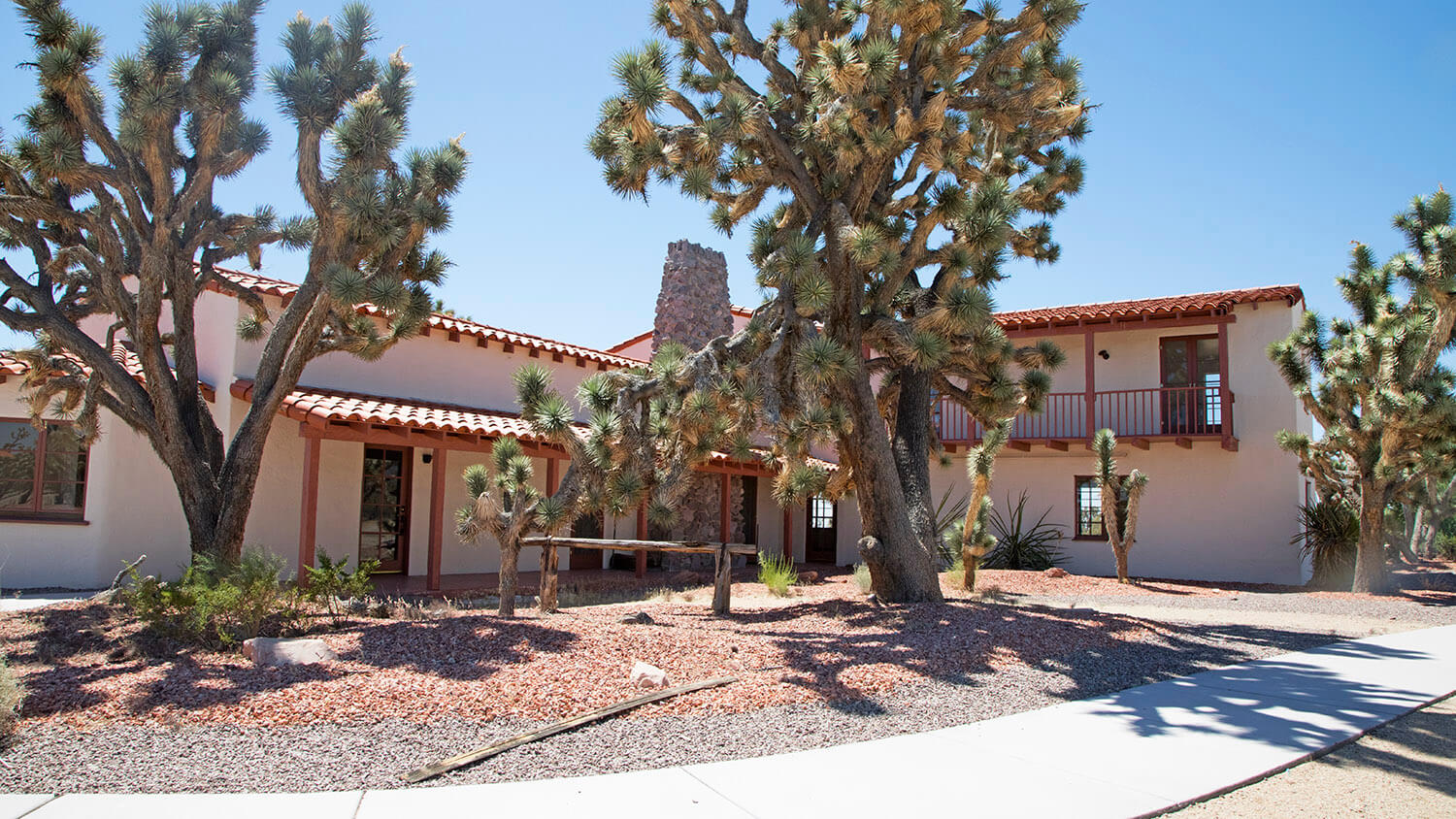 I'd been hearing of this place for years, never really understanding much about it… not a whole lot seemed to come up in search results, and whatever did varied making it anyone's guessing game. That all changed in June, when I was able to visit the Walking Box Ranch for myself. I confirmed the hollywood hideout rumblings with one foot on the property: the place just looked and felt like the was the ultimate 1930s retreat, because it WAS. Naming the ranch for Hollywood box cameras, celebutante owners Rex Bell and Clara bow put the ranch brand all over the four remaining buildings, including a pretty fabulous mansion. The remote mystique of the southern Nevada desertscapes are exactly what captured their attention, who were desperately interested in escaping the Hollywood rat race. And well, they certainly found it… all 400,000 acres of what is still an impressively remote section of southern Nevada desert, that includes one hell of a Joshua Tree forest. Clara Bow was Hollywood's "it girl"… so much so that the cartoon Betty Boop was even inspired by her. This meant she and her hubby had quite an elite circle of friends, which included people like Clark Gable, Carole Lombard, and John Wayne, who all visited the ranch and got a taste of anonymity. Being at places like this always has me feeling like time machines do exist… what a way to feel like you're part of the past, just by visiting.
CAMERA: Canon EOS 5D Mark IV
LENS: EF24-105
APERTURE: f/800
SHUTTER SPEED: 1/800
ISO: 1000
TRIPOD? No
A NEWFOUND EMOTIONAL HIGH ON THE HIGHWAY OF RAPTORS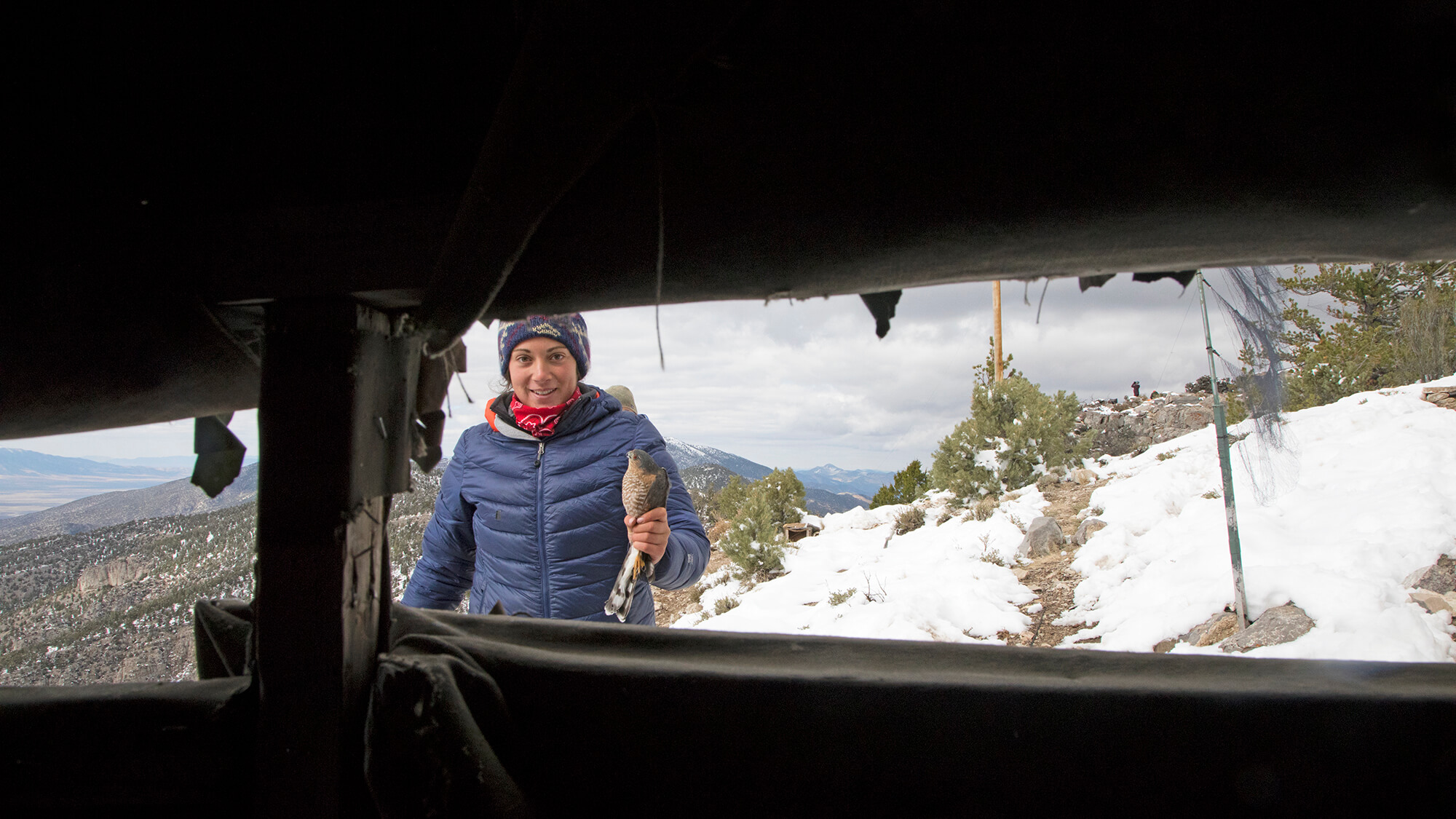 To be able to gaze into the eye of a hawk is a powerful thing. I was lucky enough to do that, in the Goshute range just outside West Wendover on the Nevada-Utah border last September. Before that, I'd definitely paid serious attention to the surplus of big ol' birds of prey moving in and out of Washoe Valley on my daily commute, but didn't really know much about these creatures, or their flight patterns. Well, that changed tout suite after one day spent with a team of crazy impressive wildlife biologists, who hunker down in this range for months, studying birds of prey that fly overhead as they make their way from British Columbia to the southern tip of Argentina. Watching the bios survey the birds and band them, and carefully holding and studying them before release was a sort of emotional high I'd never experienced before. I think back to this day, almost a full calendar year ago and am still in awe at what a deep emotional reset for me in a way that's tough to describe. It was totally perfect. But to see the biologists light up as they worked with these fierce predators, understanding that this very work is what has single handedly help save entire species (like the American Kestrel) was over the top special. What a DFMI defining experience for me in so many different ways… one that I was happy to be part of, and will never forget. #DFMI
CAMERA: Canon EOS 5D Mark IV
LENS: EF24-105
APERTURE: f/18.0
SHUTTER SPEED: 1/800
ISO: 2000
TRIPOD? No
Get Inspired
Related Stories