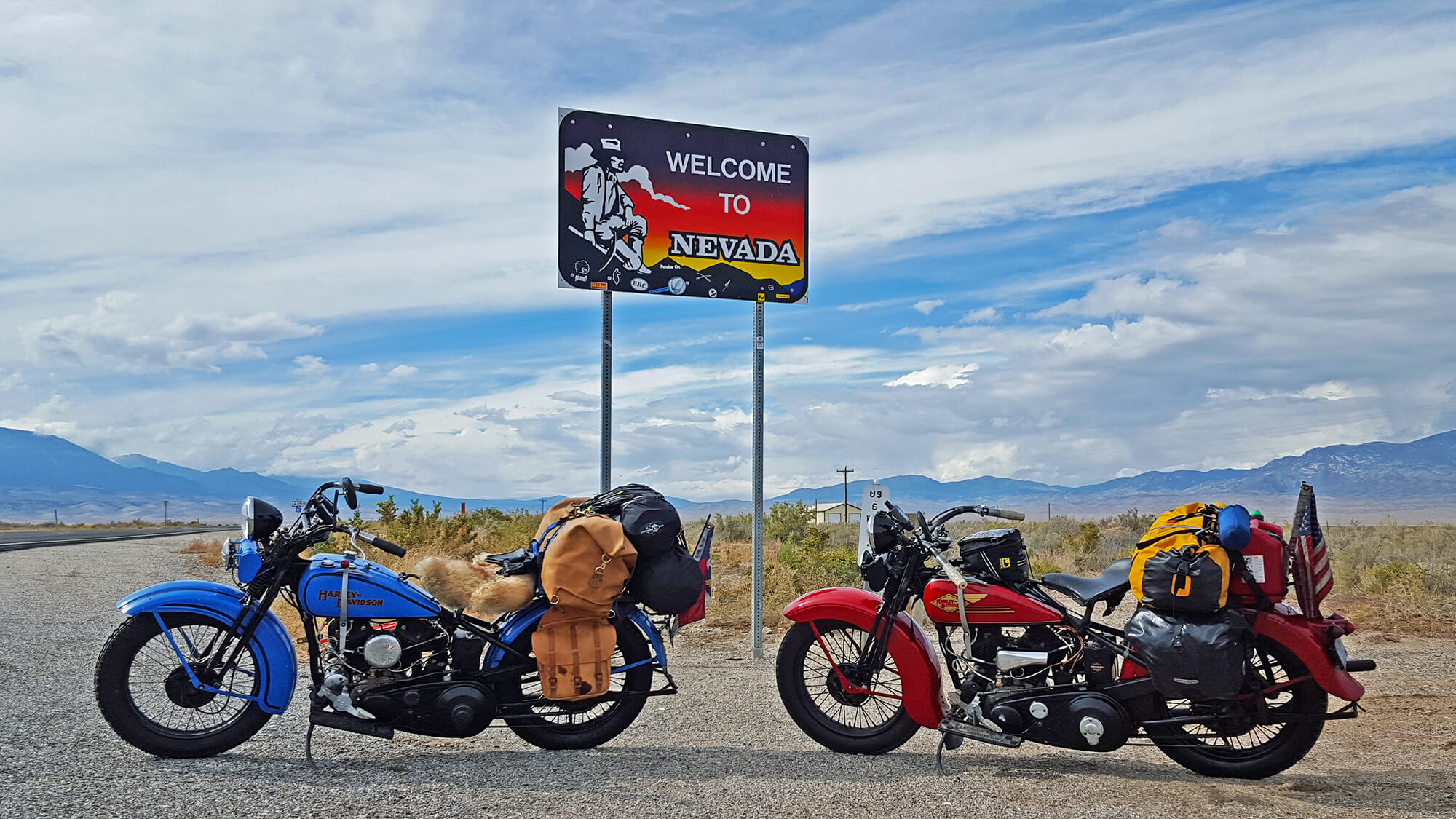 Crossing Nevada's High Desert On A Vintage Motorcycle
I reached Nevada after 15 long days in the saddle of my 1933 Harley-Davidson VL, which had carried me unfailingly for over 2,500 miles from the coast of North Carolina. I was joined on this journey by one other rider on a 1934 Harley and together we were crossing the country with our sights set on the Pacific Ocean. Having lived my whole life on the east coast, my expectation of Nevada was a dry arid desert with only the occasional tumbleweed blowing across the highway to break up the monotony. Much to my surprise, my preconceived notions about Nevada were completely unfounded, and our 400-mile trek across the state was one of the highlights of our trip.
Riding a pair of antique motorcycles from coast to coast presented us with a number of interesting challenges, but our limited cruising speed of 50 miles per hour had the most impact on our travels. Since Interstates were out of the question, we followed U.S. Route 50 across the country and were rewarded with a more intimate view of America as we rolled from east to west. The stretch of U.S. Route 50 which crosses Nevada, was famously named "The Loneliest Road in America" by Life Magazine in 1986, and when we reached the Border Inn just past the Nevada state line, I was prepared not to see another soul for the rest of the day.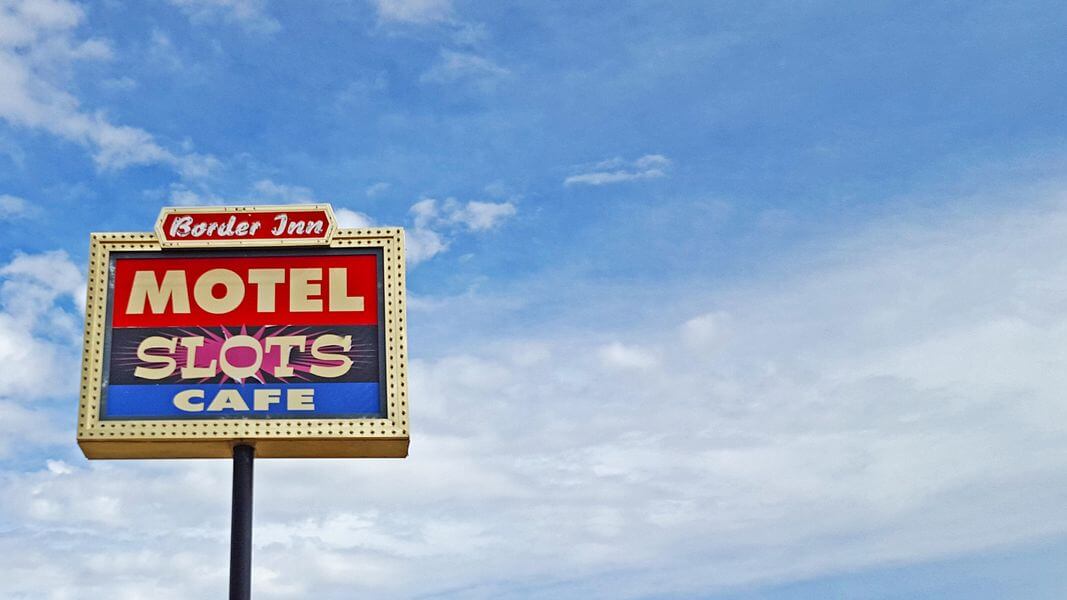 The Border Inn turned out to be a bit of a surprise in itself. The unassuming building housed a casino, a bar, a restaurant, a gift shop and had gas outside to boot. This was my first time in an actual casino, but my stomach insisted that we forgo the slot machines and pointed me straight to the restaurant. After a much needed hot roast beef sandwich, we were back outside and getting ready to head west when a fellow rider pulled in and asked us if we had picked up "The Official Hwy 50 Survival Guide."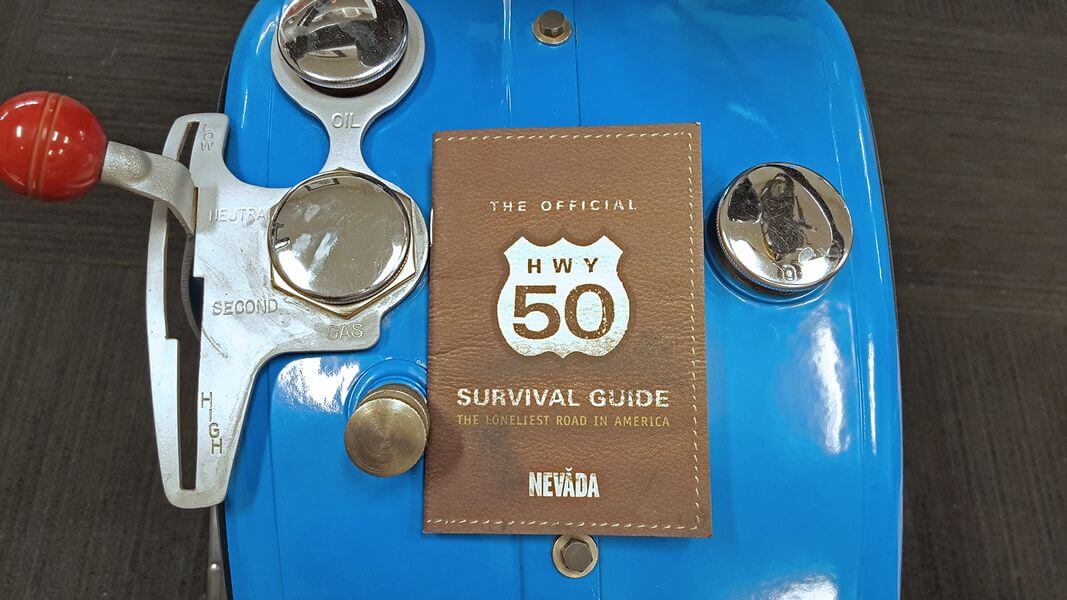 Neither of us had even heard to this guide, which turned out to be a pocket sized booklet available free of charge in the Border Inn's gift shop. Not only was it loaded with useful information about the highway and cities along its route, it also gave travelers the opportunity to be recognized as an certified survivor of the Loneliest Road in America. All you needed to do was to have your guidebook stamped in 5 of the 8 towns that Highway 50 passes through and you received an official certificate signed by the Governor stating that you survived the Loneliest Road in America, along with a commemorative lapel pin. Of course, we both accepted the challenge and soon we were back on the road looking forward to getting our next stamp.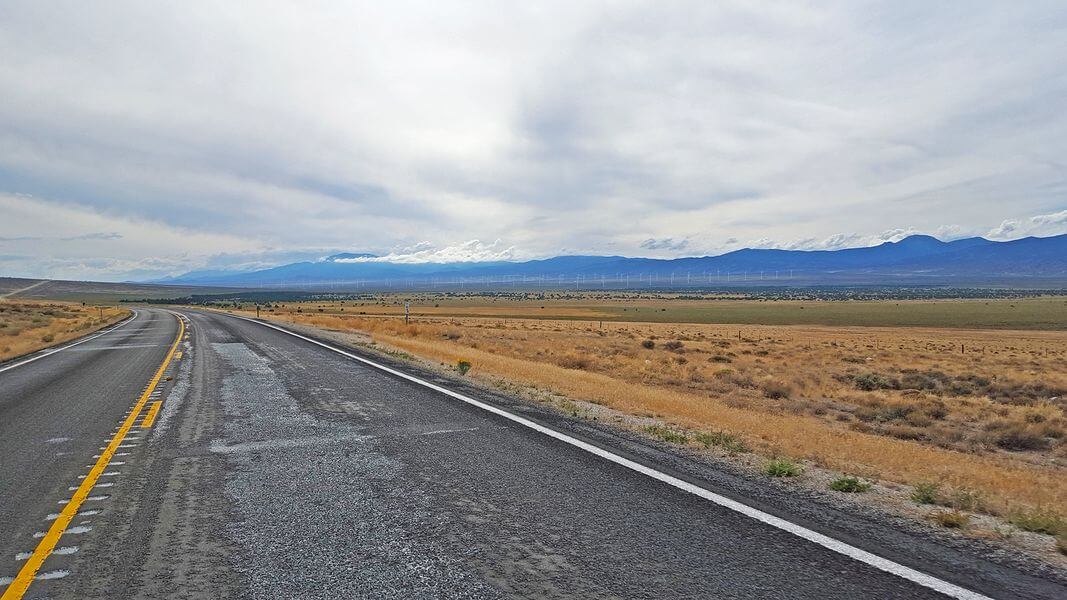 Since we had already traveled over 160 miles by the time we reached Nevada, we decided that the town of Ely, located just 60 miles away, was a good destination for the night. About half way to Ely, we came to another wide plain and what first appeared to be a scattering of white poles turned out to be dozens of massive windmills slowly turning on the breeze.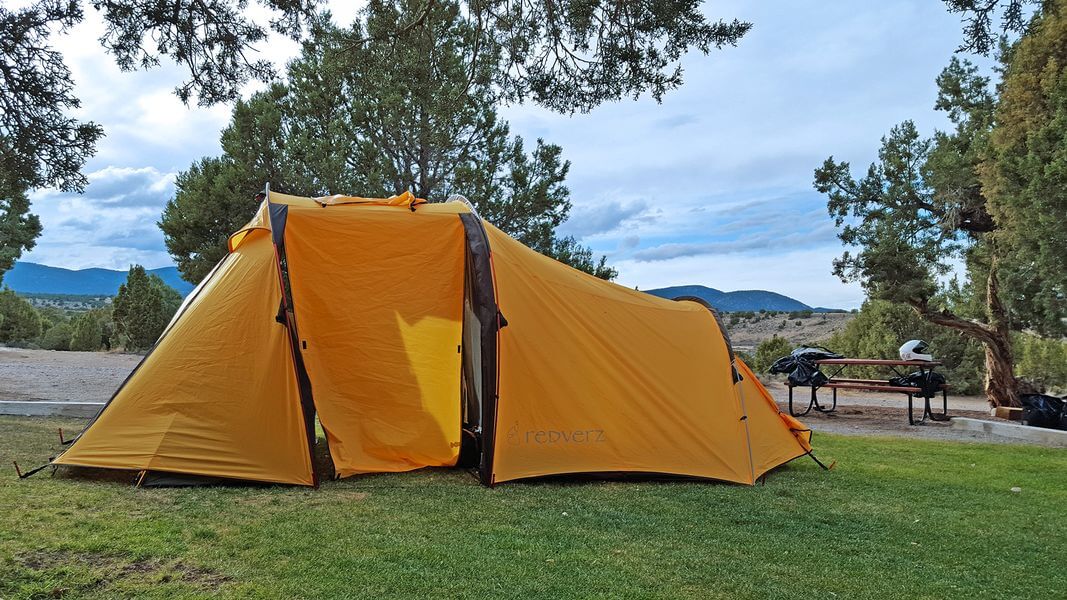 We pulled into the Ely KOA campground by midafternoon and stopped only long enough to set up camp, before heading into historic Ely with our now light and nimble motorcycles. Originally, Ely was a stop along the Pony Express route, but with the discovery of copper in 1906, it became a quintessential western mining town. While copper is still mined around Ely today, the real draw for visitors is a train depot and museum located downtown—The Nevada Northern Railway—which offers excursion trips on a genuine steam powered locomotives. Sticking with the train motif, we ate dinner just down from the depot at the All Aboard Café before heading back to the campground as the sun was beginning to set.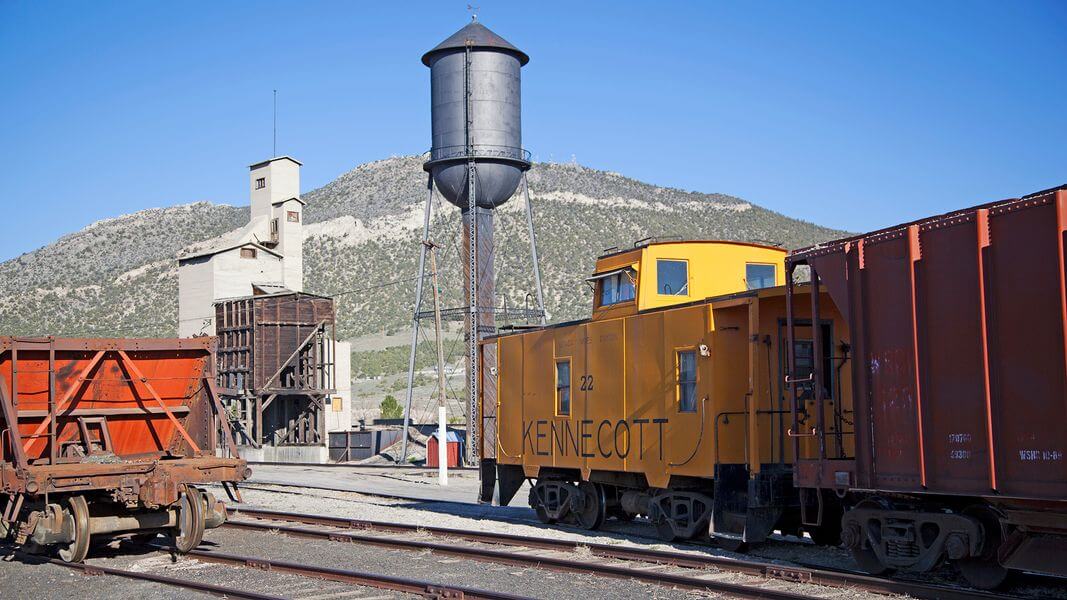 After a night of rain, we woke to a sodden campsite enveloped by a thick cloudbank. Normally we would have waited for things to dry out a bit before packing up, but with a 320 mile day ahead of us, we did not have the luxury of spare time. So, I donned a pair of rain pants to separate me from my soaked seat, cranked up the bikes and started heading west. It was slow going for the first hour (even for antique motorcycles), but we finally made it out of the fog and as we descended down into the high desert we were rewarded with a magnificent view of picturesque mountain ranges to our north and west.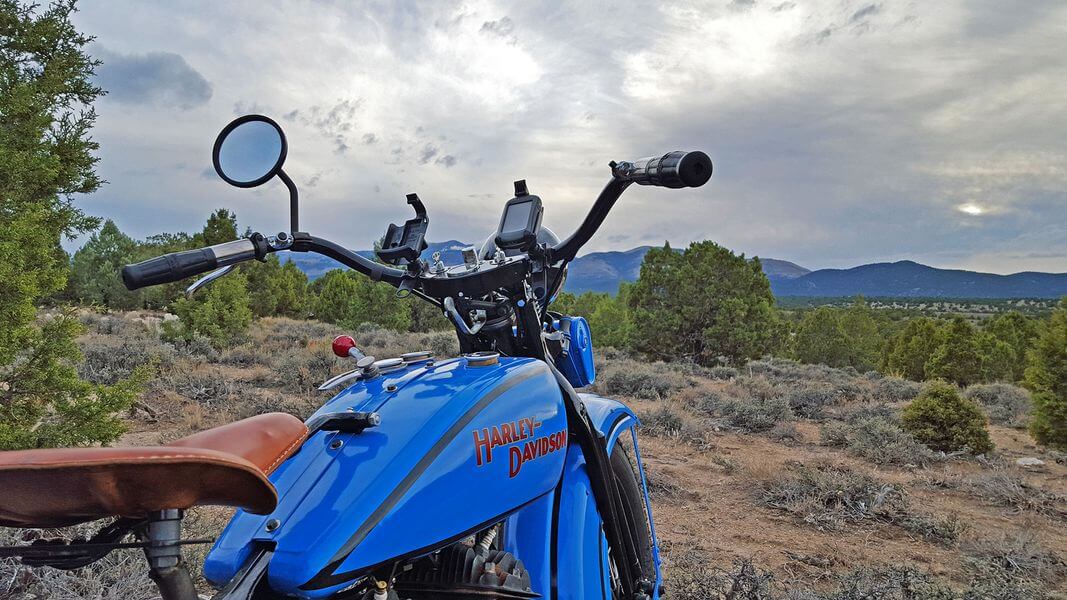 Soon we reached the western line of mountains and started climbing our way up to the town of Eureka and our first gas stop of the day. We also filled our own tanks with soup and tri-tip sandwiches at the Pony Express Meats & Deli.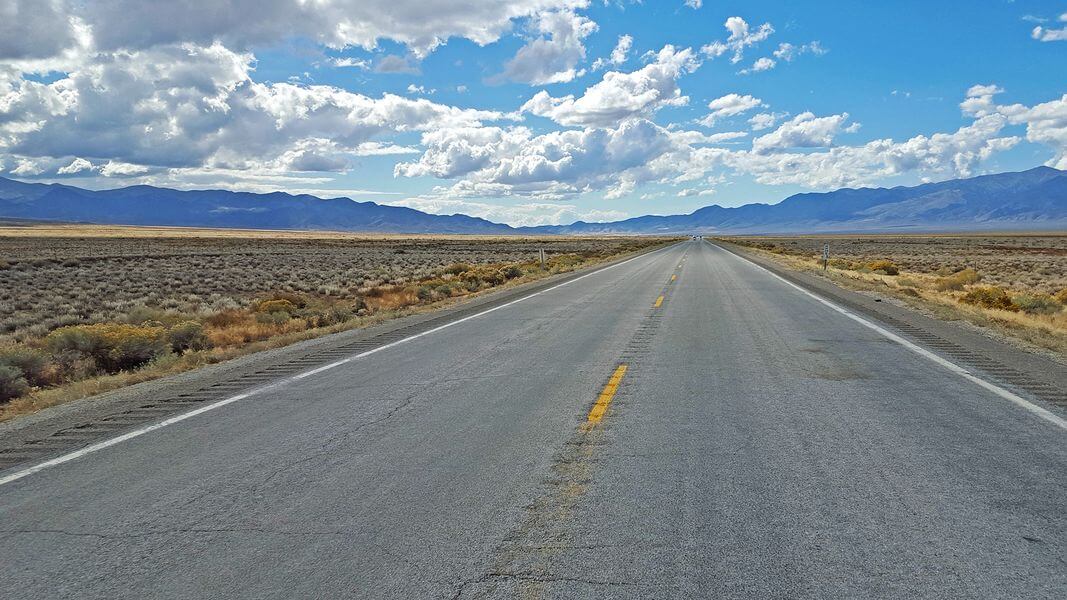 Riding out from Eureka, we had a short reprieve from the mountains as we crossed through another wide section of high desert on our way to the Hickison Petroglyph Recreation Area. Located just off the highway, it was a short hike to a cliff face laden with petroglyph carvings. Archeologists have found evidence of human habitation in that region dating back to 10,000 B.C., which made our vintage motorcycles look downright modern by comparison.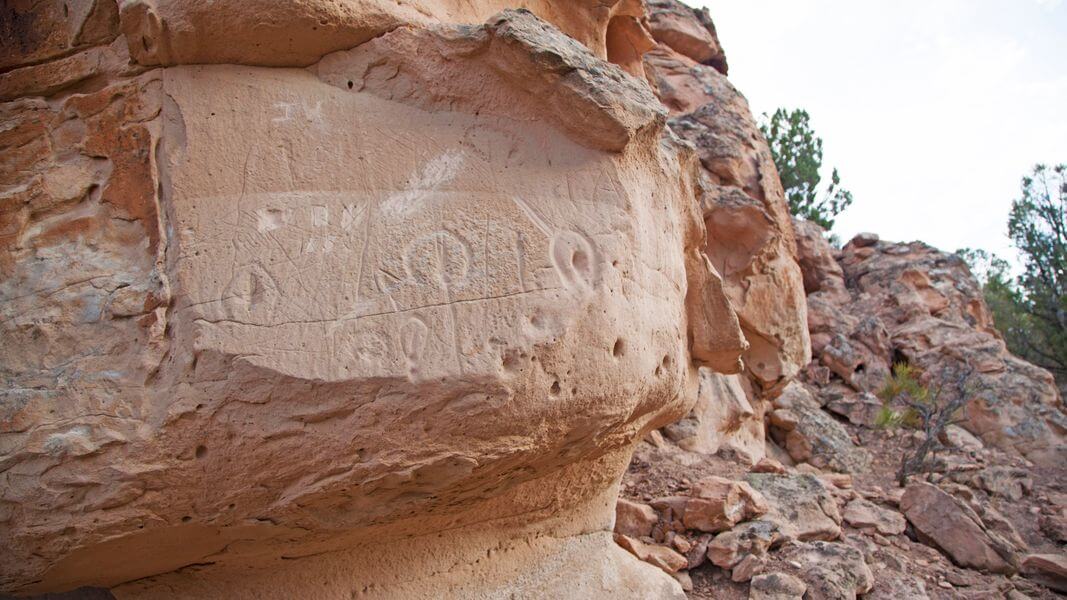 Continuing west, we reached Austin in the early afternoon and topped off our gas tanks on the outskirts of town. For the next couple hours, Highway 50 snaked its way around multiple small mountain ranges, making for easy riding and more breathtaking scenery. We pulled off for a short break at an old Pony Express stop at Cold Springs Station and took some photos of the surrounding landscape before heading west again.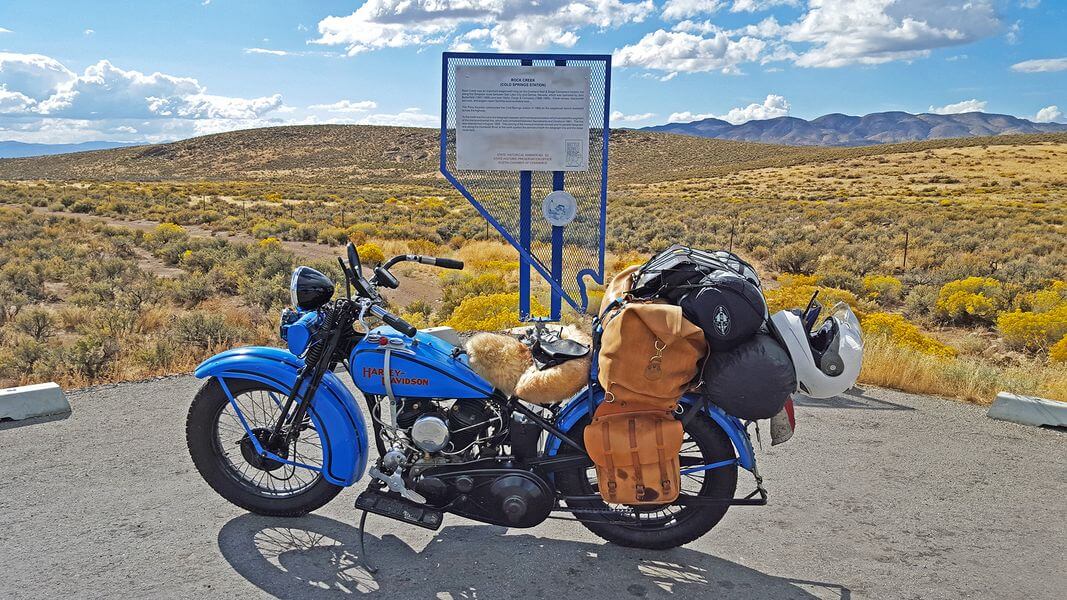 Along the way we passed Sand Mountain Recreation Area whose size was hard to gauge from the highway, but later found out was a massive 2 miles long and 600 feet high. That's one hell of a sand dune!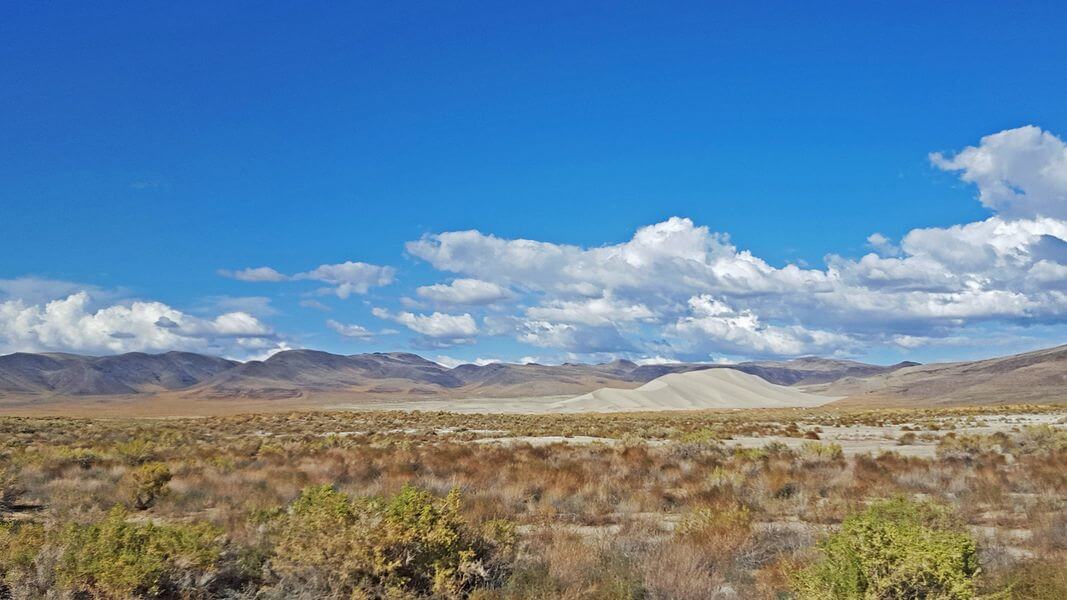 We had already covered 260 miles by the time we reached Fallon which was further than our typical day of riding, but with a return flight from Sacramento just days away, we had to press on. Aviation buffs have probably heard the name Fallon, NV as it is now home to the U.S. Navy's TOPGUN training program. Every time I hear a jet fighter flying overhead, I always remember a sign at the Marine airfield back home which states, "Pardon our noise, it is the sound of freedom."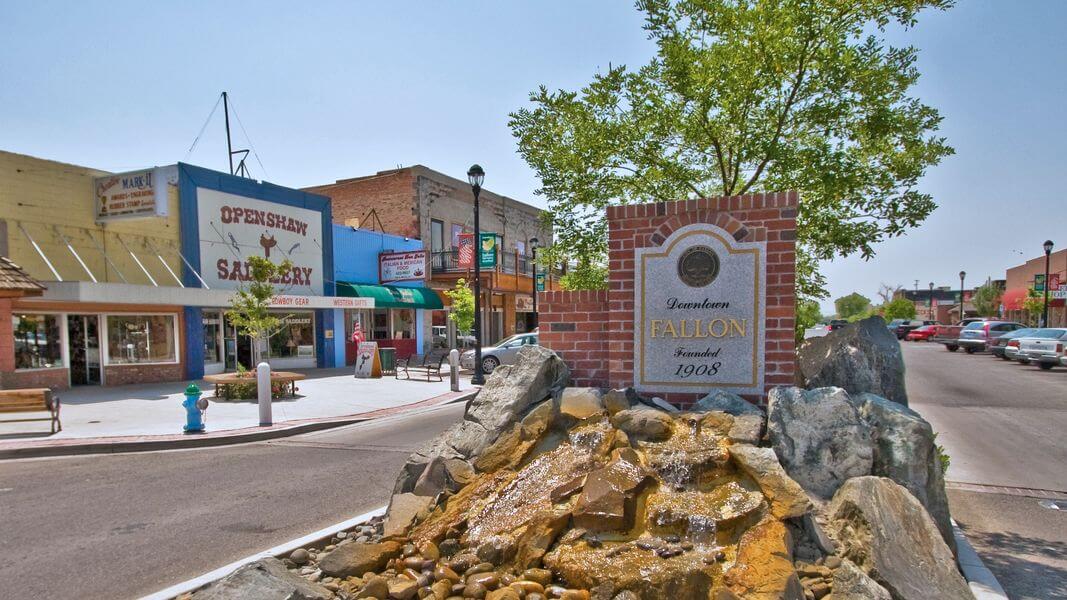 The sun was getting low in the sky when we finally made it to Carson City. Since it is the capital of Nevada, it seemed like a fitting end to our journey across the state. Named after mountain man Christopher "Kit" Carson, the Capital City was founded in 1858 and boasts over three dozen entries on the National Register of Historic Places, along with plenty of more modern nightlife. We opted for something a little less historic for the night and made reservations at the Days Inn across town. After weeks of camping and 320 miles in the saddle, the extra expense for sleeping in a real bed seemed more than justified.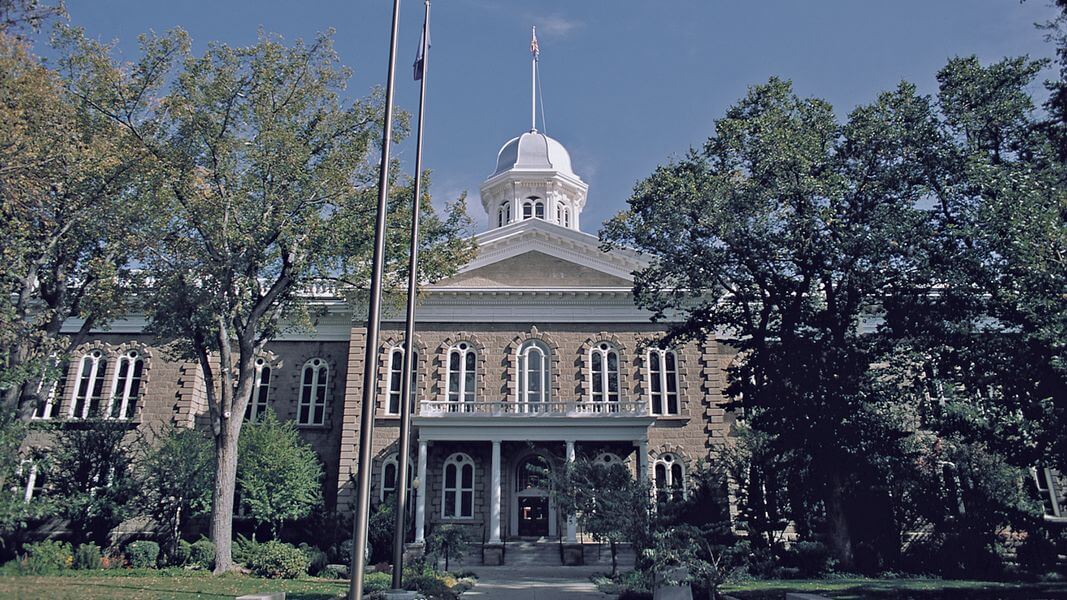 Our journey continued on from Carson City, ultimately ending in San Francisco a couple days later, making for an almost three-week adventure across the United States. Looking back, now I can see that the short time I spent riding across Nevada did more than just dispel my preconceived notions about the scenery, but gave me a greater appreciation for the state as a whole. From the dramatic changes in landscape to the rich history of the Old West, Nevada is a great destination for anyone looking for a little adventure. The combination of warm climate and excellent roads also make Nevada a motorcycle riders' paradise and Highway 50 turned out to be not so lonely after all… #NVRoadTrip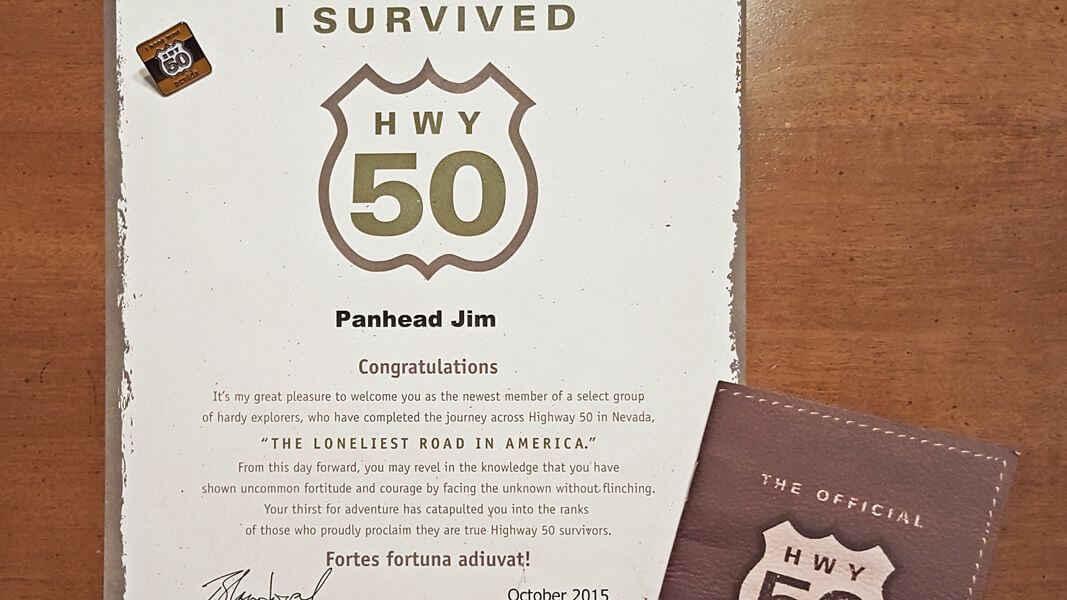 Editor's Note: To read about Panhead Jim's cross country adventures, check out his blog at RidingVintage.com.
Get Inspired
Related Stories