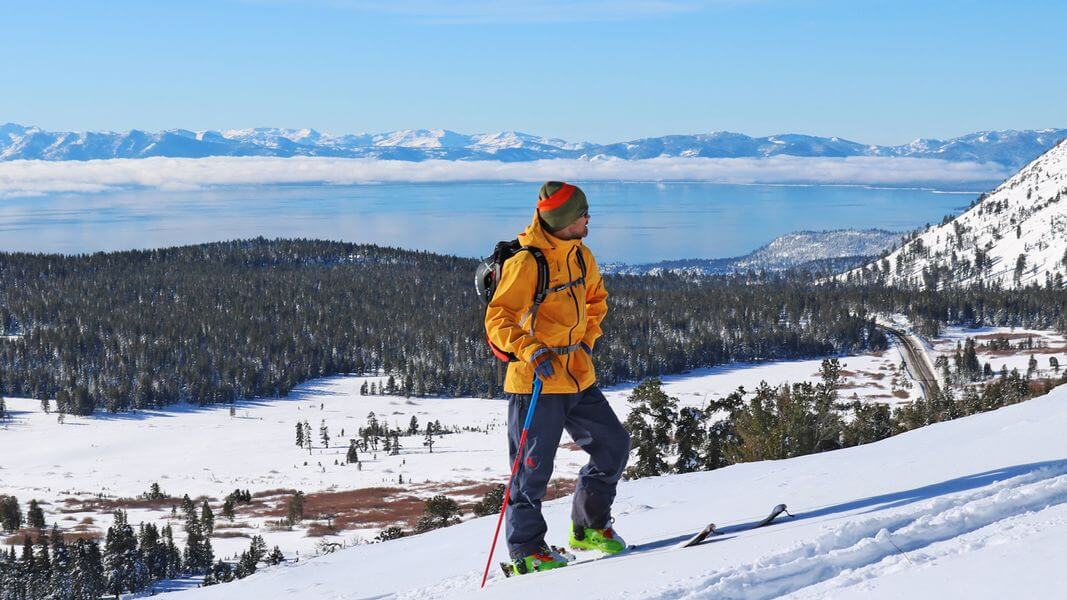 BLUEBIRD POWDER AND BIG BLUE VIEWS IN MT. ROSE WILDERNESS
Single digit cold greets me as I open my Subaru door at the pullout near Mt. Rose Summit. I am at 8,800 feet in elevation, but only minutes from the shores of Lake Tahoe. Some of Lake Tahoe's highest peaks stretch out in front of me — Mt. Rose and Rifle Peak among them. Untracked snow blankets the flanks of an amphitheater of Nevada peaks that could keep even the most audacious backcountry skier entertained with years' worth of skiing options.
I strap on the two planks of my splitboard — a snowboard that splits into ski-like halves for the ascent and then joins back into a snowboard for the descent — and begin skinning through cold, boot-top-deep powder.
With my avalanche beacon switched on for safety, a probe and shovel in my pack, and partner Jeremy Benson, a local backcountry skier who is in the process of writing a guidebook on backcountry skiing, we ascend the skintrack toward the day's objective — Tamarack Peak, a stunningly beautiful, but very approachable, backcountry peak that juts up from Mt. Rose Highway.
Travel Nevada PRO TIP: First a note on backcountry skiing safety—backcountry skiing comes with inherent risks. Understanding avalanche risk, checking the daily avalanche advisory at sierraavalanchecenter.org, having the right gear and knowing how to use it, and practicing safe backcountry travel should be precursors to any backcountry adventure. Consider taking an avalanche safety course before venturing into the backcountry.
High Elevation = High-Quality Snow
Several things differentiate the Mt. Rose Wilderness area from the dozens of other popular backcountry skiing destinations around Lake Tahoe. First, the region's high elevations and east-facing terrain almost guarantees good snow throughout the winter. With peaks that top out near 11,000 feet and approaches that begin near 9,000 feet, the region harbors a deep snowpack, colder snow and more reliable early-season and late-season skiing than just about anywhere else around Tahoe.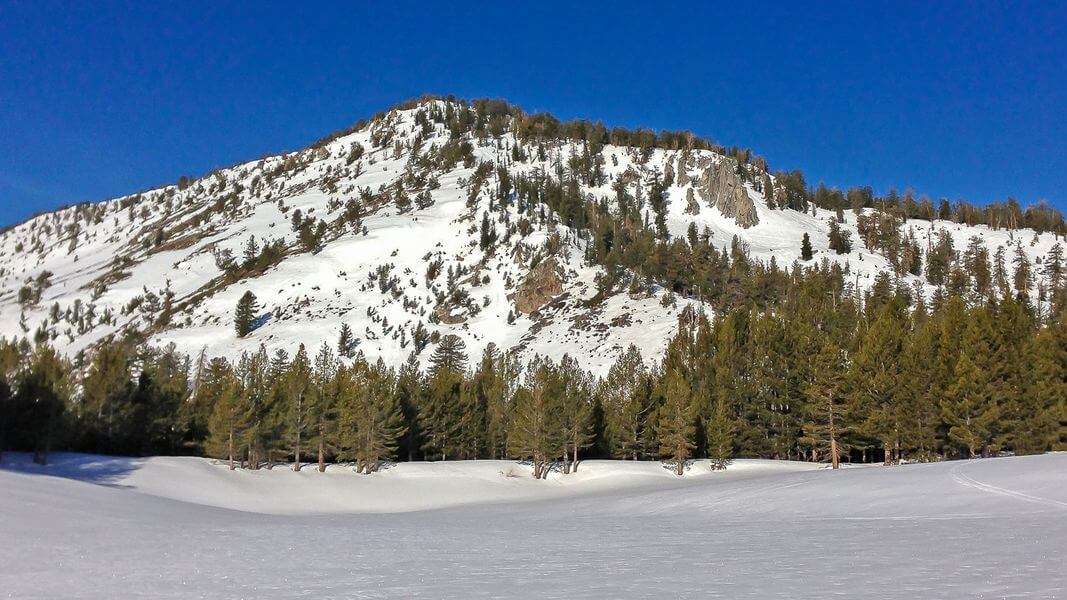 The Mt. Rose area also holds the entire spectrum of backcountry adventure. Tamarack Peak and Incline Lake Peak offer fairly easy approaches and intermediate terrain. Further out, Rifle and Relay Peak hold more serious lines with more involved approaches. Even further out, Mt. Houghton holds difficult-to-reach, but spectacular, skiing.
Postcard-Perfect Lake Views
Even when the snow isn't perfect, the lake views alone make a trip up any Mt. Rose area peak a worthwhile mission. Tahoe's impossible blue, stretching for 22 miles, ringed by Mt. Tallac, Freel and Jakes Peak is a visual spectacle that is simply unmatched. Top out on a windless, sunny morning with perfect powder underfoot and you feel like you are in a backcountry fantasy.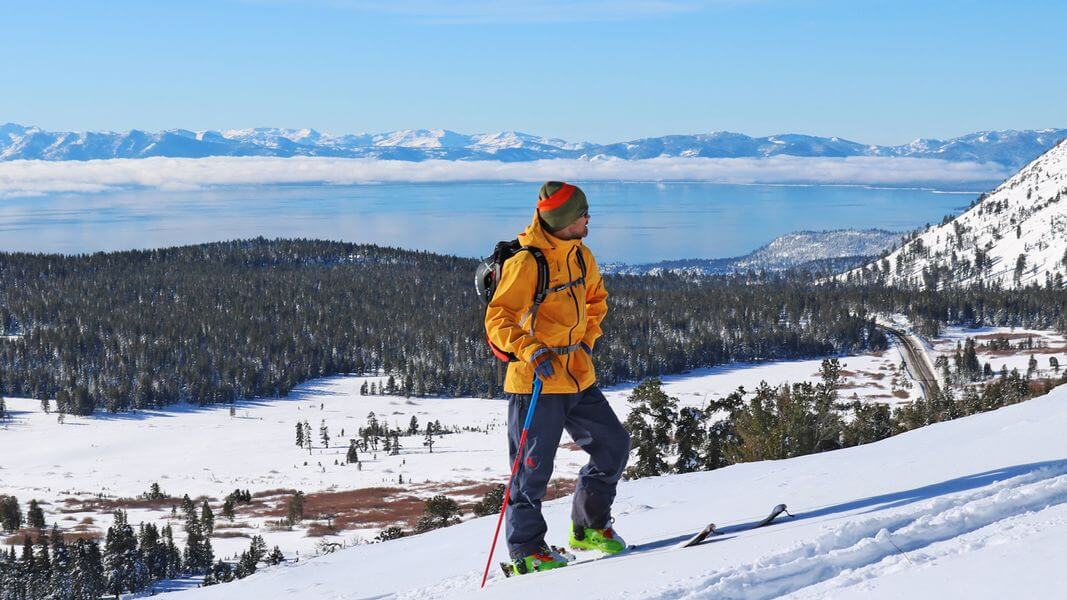 We find ourselves in exactly this state. Powder still drapes the pines and coats the backcountry slopes of an area below Tamarack peak known as "Chickadee Ridge" for the curiously brave birds that will often eat food straight from skiers' outstretched hands.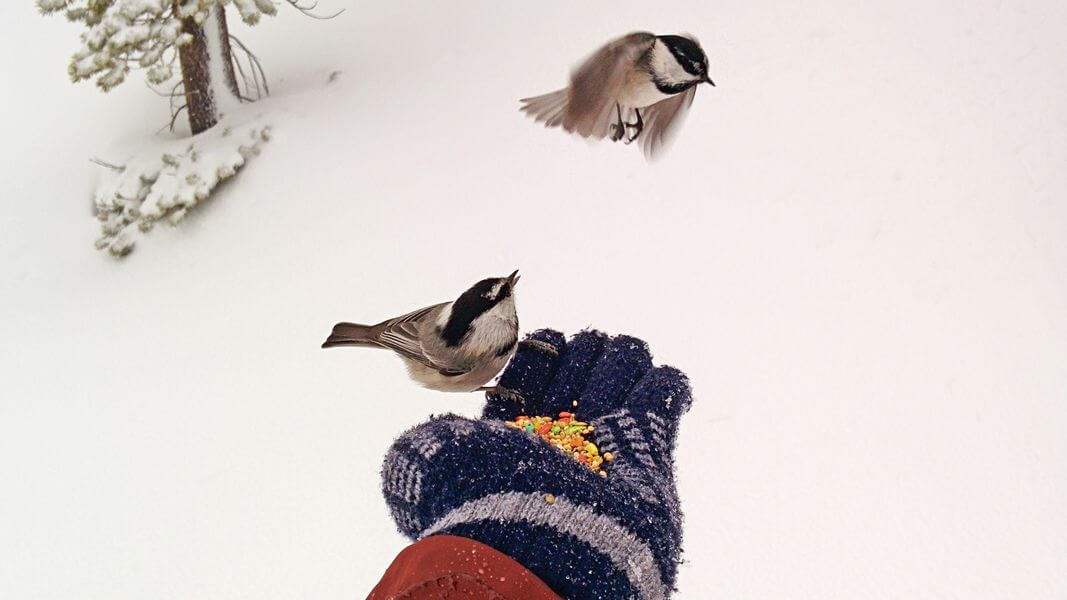 We strip skins and test out the snow on a low-angle, but beautiful section of snow dropping off toward Mt. Rose Meadows. Lake Tahoe is framed below us — a mind-bending backdrop to the soft, fast and fun ski turns we find on the slope.
After our first taste of Mt. Rose powder, we venture further, to a slope called "Proleteriat" by local skiers. Apart from a small section of snow stiffened by an east wind, conditions are still optimal.
At the top of Proleteriate we pull on jackets, helmets and goggles, and Jeremy drops into the line, carving arcing turns through untracked snow and into the small pines studding the hillside below. I follow, savoring each soft turn. By dropping north and east, this descent gives us panoramic views of the Great Basin. We look out to Reno, the Pine Nut Mountains and the great expanse of Nevada desert below as we plow through powder. The contrast of the brown desert floor to our white world is a stunning and stark reminder of the natural splendor of the state.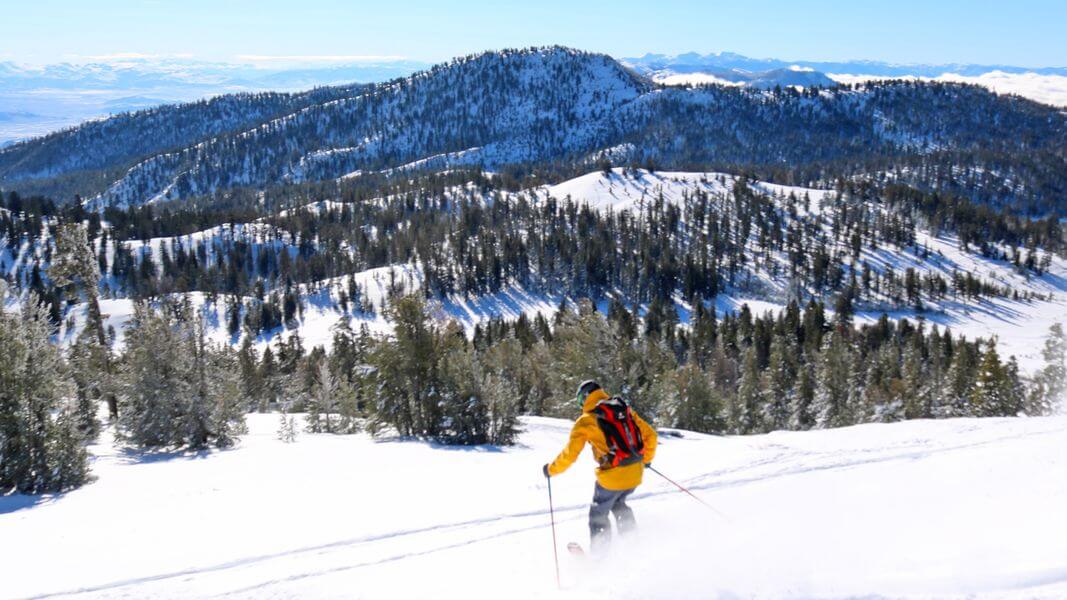 We slowly make our way back to the ridge. We have one more run left in our legs. We take a minute to survey the skiing options that we may get to later in the season — Rifle, Rose Nob, Incline Lake Peak.
We stow our skins in our packs for the last time, and drop into the shadowy north-facing trees above Mt. Rose Highway. We swerve through pines, smiles growing bigger as the snow delivers the soft floating feeling that this high-altitude sliver of Nevada delivers so regularly.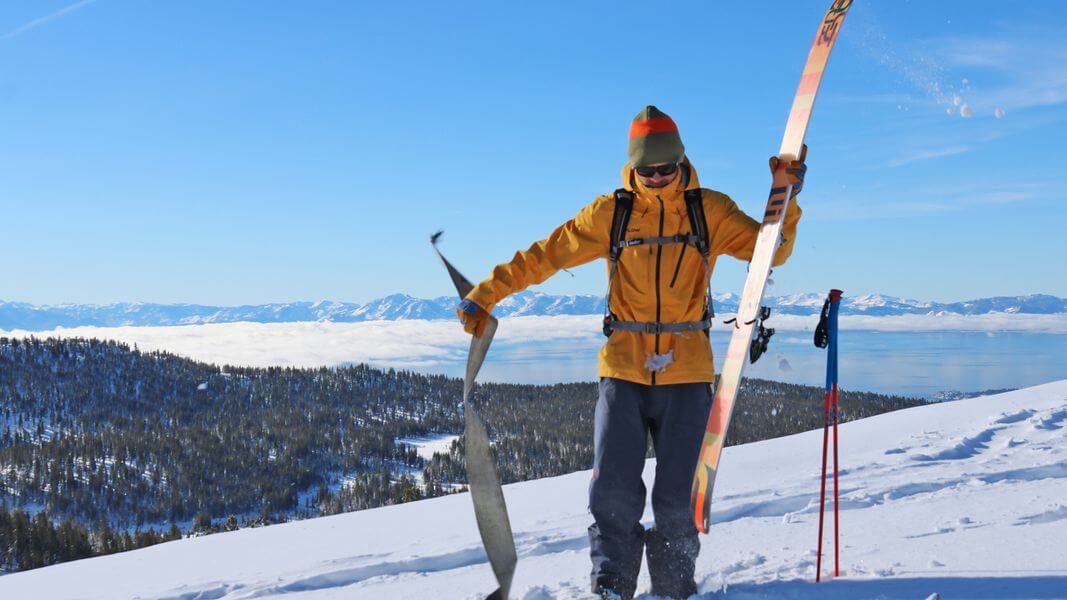 We know there is an interstate highway right below our skis and snowboard, but right now, as we skim over powder in a wilderness forest, we feel that sensation that keeps backcountry skiers and snowboarders coming back to Mt. Rose wilderness year after year — we feel freedom, solitude and the joy of effortless turns through perfect snow. #NVAdventure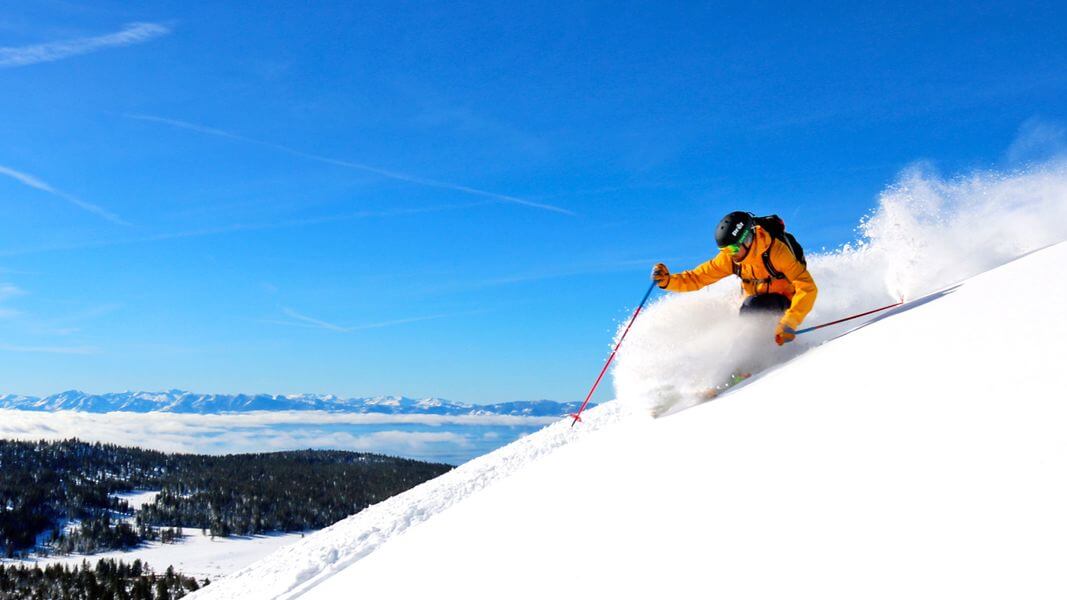 Get Inspired
Related Stories