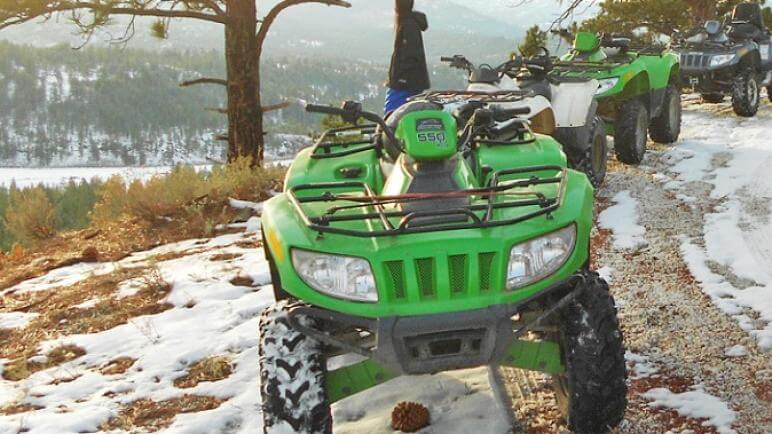 Adventurer | Stacy Foltz
As an Off-Road enthusiast, the onset of a new season inspires a change in scenery. A change that maps and online research may not provide location sufficiently. My husband and I wanted a local guide to show us some of the hidden trails on the backbone of the Sierra Nevada – Lake Tahoe region. Some place with trails, obstacles, and endless directions to explore.
The thought of purchasing a 4-Wheeler was weighing heavily on our minds as well. My husband and I decided that before we decided to purchase a new Quad, we needed to try one out first. We decided to book the day of Quads for our whole family and take a journey.
I have ridden in the summer plenty of times but this was my first experience riding in the winter and I have to admit, it was a refreshing difference. We were surrounded by the beautiful snow-capped Sierra's and had the cool, crisp air in our faces as we sped across the clearings. Our daughter shouted, "woo-hoo!" as we came over the top of every hill! She is keen to pick out every bird, lizard, and rodent with no regard for how loud she has become. This makes it all worth it alone.
Although it was exhilarating to say the least, we took the turns and obstacles with speed enough to thrill, while still maintaining a safety factor.
Our guide from Sierra Adventures took us to a beautiful clearing for snacks and one-of-a-kind photo opportunity. The smell of pine and sage was prevalent, aromatic in the breeze as we ate our lunch. The desert still amazes me at the variety of wildlife one encounters, no matter the season. We felt at home in the warmth of the sun and enjoyed a cloud-free, beautiful day.
The experience provided an exhilarating alternative to our typical Sunday and also served up some valuable insight for purchasing a quad of our own. I became more confident in what I was looking for in an ATV, and also found some new terrain for my family to explore a little deeper.
It was an awe-inspiring adventure and we may just end up doing it again! Especially since we found out after booking our adventure that we could have added a Hot Springs experience for afterwards, which would have been a nice way to top off our wonderful day of riding. Next time for sure!
Get Inspired
Related Stories