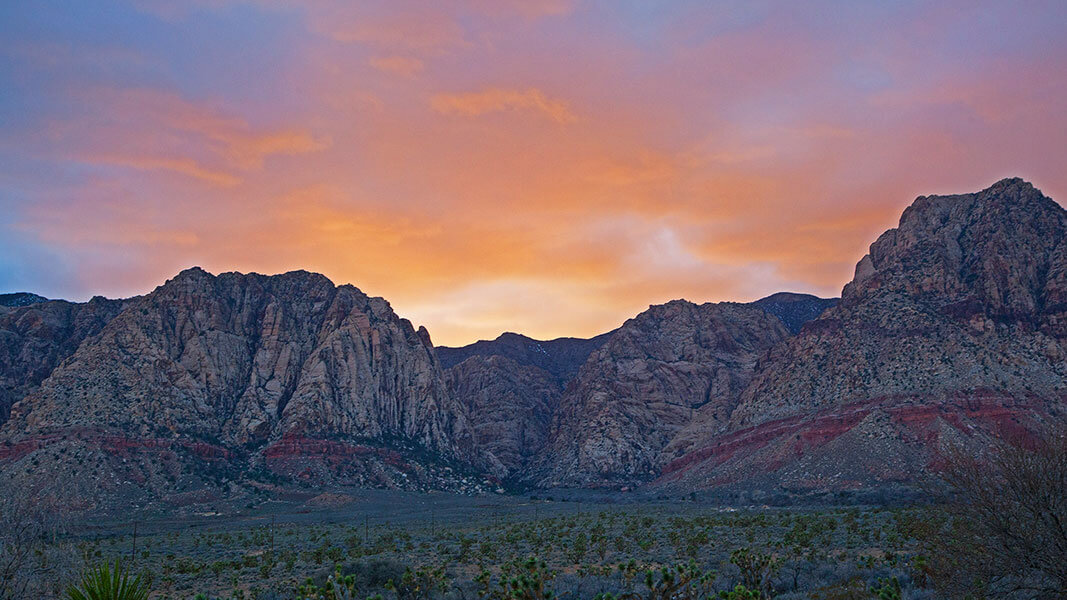 Southern Nevada
Southern Nevada, with its towering peaks, breathtaking vistas, a wild, rushing river…not exactly what comes to mind when you think of Las Vegas? Then perhaps it's time we properly introduce you.
The Las Vegas Strip and southern Nevada are regions synonymous with vacation fun. You can shop to your heart's content at the Forum Shops at Caesars Palace or the Fashion Show Mall, splurge on exquisite gourmet meals, indulge in decadent spa treatments at Wynn Las Vegas, Bellagio or any other resort and party until sunrise at some of the hottest clubs in the world. But Las Vegas has way more to offer than just what lies on The Strip's playground. Southern Nevada is full of outdoor recreation, historical attractions, and unique cities.
Southern Nevada's Wildlife, Historical Sites, and Outdoor Recreation
Just minutes from the mega-resorts, the Springs Preserve is essentially a living museum. Home to the Nevada State Museum, museum exhibits focus on everything from Las Vegas history to desert wildlife to the dynamics of a flash flood. You'll want to set aside an entire day to take it all in. If you're looking to dig even deeper, immerse yourself in some unforgettable natural history with a trip to America's newest National Monument with a trip to Tule Springs Fossil Beds, just north of Las Vegas. Estimated to be 23,000 years old, visitors can peruse the grounds in hopes of spotting fossils of sabre tooth cats, mammoth, camel and dire wolf in the heart of the Mojave Desert. With your newfound desert know-how, you can venture into Red Rock Canyon National Conservation Area or Valley of Fire State Park, each with spectacular rock formations and miles upon miles of trails to explore. Red Rock is also considered a rock-climbing mMecca for its hundreds of high-quality climbs on nearly perfect sandstone.
More Must See Stops in Southern Nevada
For a first-hand view of the raw power of nature, check out the mighty Hoover Dam. Built in 1936, it is the third-highest dam in the world and supplies power to more than 20 million people in Las Vegas, Phoenix, Los Angeles, and San Diego. If you're looking to get a birds-eye view of the Hoover Dam, air tours are available. Interestingly, the recently completed Mike O'Callaghan-Pat Tillman bridge towering over the Hoover Dam is the world's tallest concrete arch bridge in the United States! An impressive throwback nod to Art Decoart deco mastery, make a day out of your dam visit and stop in Boulder City for lunch at one of the many cafes that line the picture-perfect main street. Nevada's southernmost city, Laughlin, is home to one of the country's most famous motorcycle rallies, the Laughlin River Run, and offers Las Vegas style the same high-quality dining, gaming and entertainment as Las Vegas at a more laid-back pace—not to mention with the Colorado River as its stunning backdrop.
Gateways to Southern Nevada
Primm, 43 miles south of Las Vegas on Interstate 15, is California's gateway to the Las Vegas region. Many travelers try their first hand with lady luck here on their way to the main event. In the opposite direction, 79 miles northeast of the city, Mesquite greets westbound travelers from Arizona. Relaxing resorts and exceptional golf courses might charm you into a vacation extension.
Skiing in Southern Nevada
If the only thing keeping you from making that Las Vegas sojourn is the perceived lack of ski slopes, think again. Mount Charleston, Nevada's fifth tallest peak, is less than an hour north of the city and boasts incredible skiing, snowboarding and snowshoeing during winter months. Hiking and camping in the alpine forests of the Spring Mountains is a great way to beat the summer heat from the valley below.
Southern Nevada Cities
The Las Vegas Territory is comprised of Boulder City, Henderson, Lake Las Vegas, Las Vegas, Laughlin, Mesquite, Moapa Valley, North Las Vegas, Primm, and Searchlight. If you can't decide which city you'd like to see, why not take your journey on the road by renting a fully-outfitted campervan. Campervan's North American office just so happens to be located in Las Vegas. Don't forget to grab a map of southern Nevada before you take off on your adventure.
Whether you're searching for recreational adventure, gourmet dining options, a strong dose of captivating history, lavish resorts or family fun, Southern Nevada has it all. Get your hands around a foolproof itinerary today to make your next Southern Nevada jaunt a slam dunk.