Motorcycle Madness in the Silver State
Having gone through, in, up, over and around the Nevada backcountry ripping up just about every corner of the state on four wheels, I had decided that was just about enough. It was time to switch things up and check out the great state of Nevada, this time on two wheels and with the help of the man who taught me the art of traveling right. That, and 70 horsepower of some rumbling, chromed out, sexy Americana rumbling beneath us would be our chariot for the week.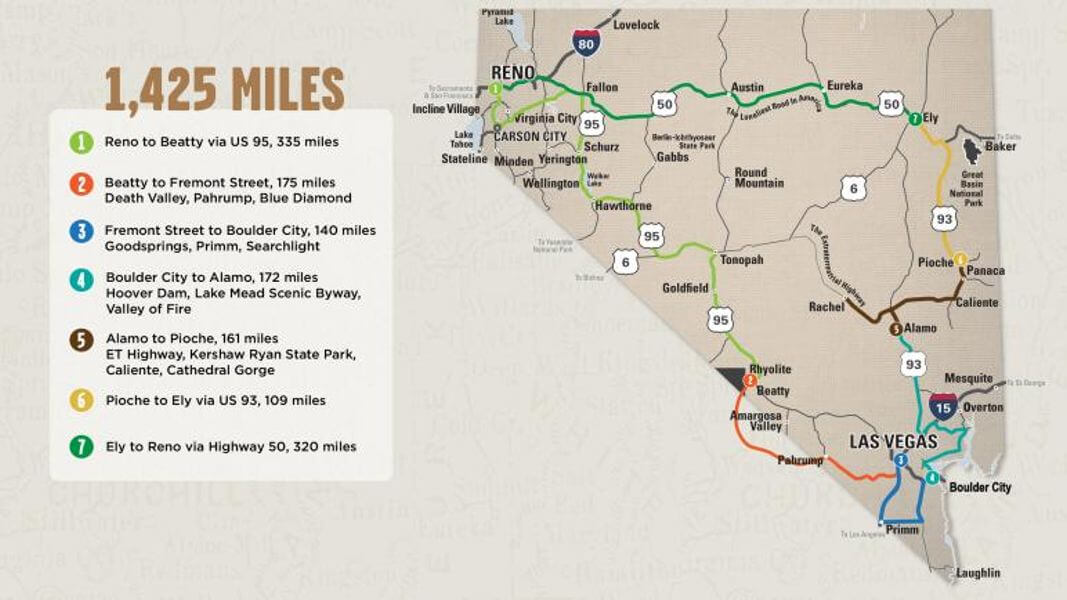 Throughout the course of seven pleasantly hectic days, my Dad and I took the trip of a lifetime through the Silver State, by motorcycle. Four ghost towns, one national park, four wildlife sightings, seven biker bars, six hotels, two national monuments, four iconic highways, three Nevada State Parks, one snowstorm and 1,425 miles later, we had made it. And I only burned my leg on the exhaust once. We met some insanely friendly people (a few nutty ones too), had some cant-believe-it's-real wildlife experiences, charged through some absolutely perfect scenic byways and immersed ourselves in Nevada culture as much as humanly possible. As you might imagine, seeing and doing all of these life-altering things would be far to great to hash out individually, so here is a recap of a few places from the journey I would be sad not to mention. Oooooooh yes, they're that good.
Before I knew it, my Dad had flown in from Iowa, we rented our bike from a northern Nevada motorcycle dealer, packed our allotted travel pods and were chomping at the bit to hit the road. The best part was that the bike was a 2015 cushy setup on a Harley-Davidson Ultra Classic…and with only 24 miles on it to boot.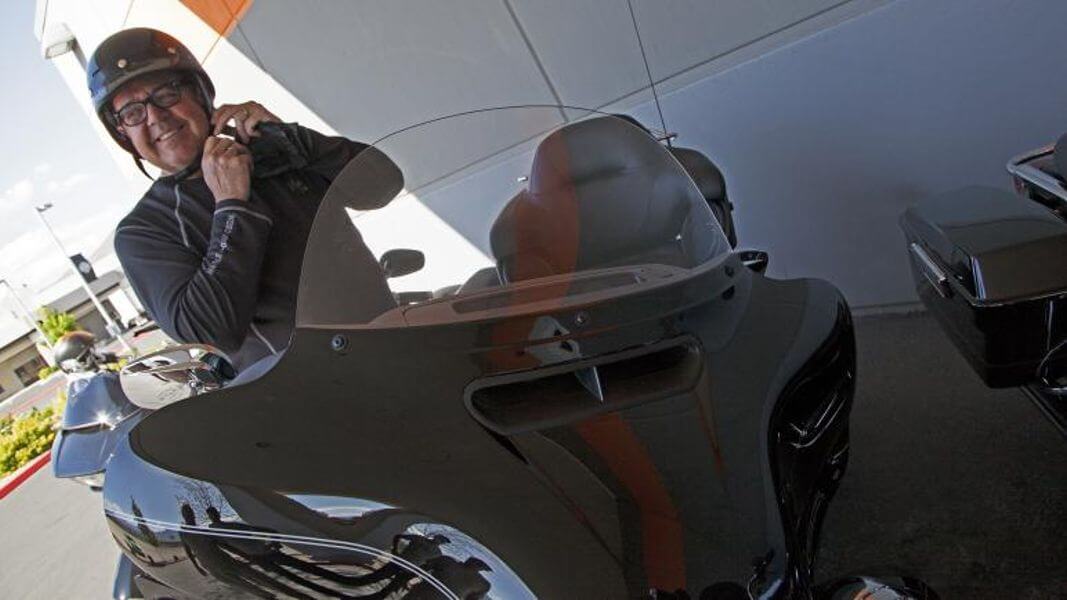 So, departing from Reno, we had a long day of riding in front of us (about 340ish miles) before calling it a night in Beatty. I basically grew up on the back of a motorcycle but dang, my buns were going to be tested this week for sure. Heading south on the Free Range Art Highway, otherwise known as the electric highway, we ripped through the unimaginably beautiful high desert landscape before reaching The Tonopah Brewing Company for lunch. With not a whole lot of time for tomfoolery, we jumped back on the bike, rehydrated with the Meanest Bartender in Nevada in Goldfield, and blasted south for the remainder of our journey for the afternoon.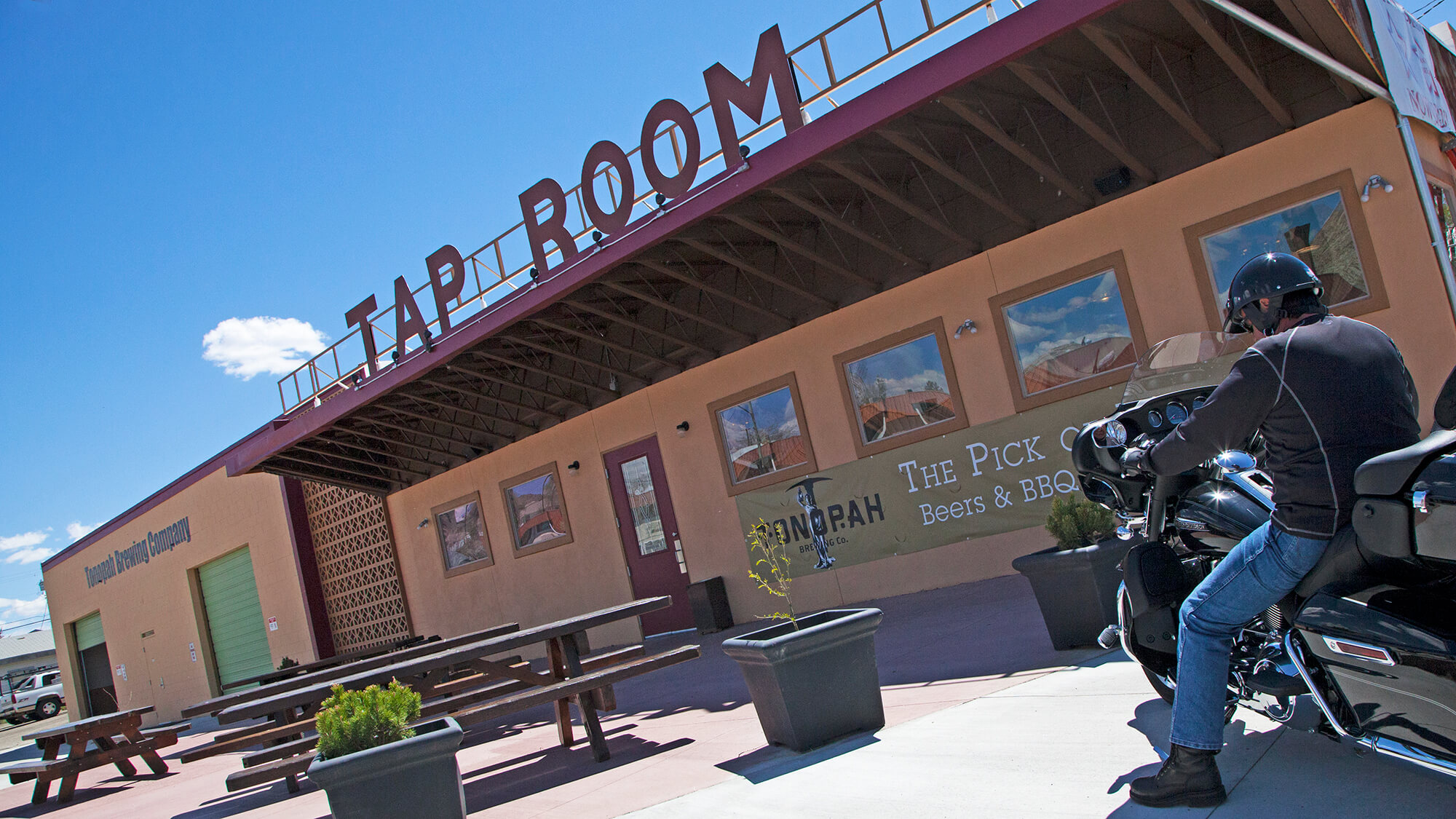 As we dropped into Beatty, already the landscape had morphed from serene alpine lakes and untouched snowcapped peaks to the trance-inducing mystique of the Mojave Desert. I had suspected we might, and we totally did see my most favorite of animals: wild burros! Cruising through town, we spotted our hotel for the night, which doubled as the most unexpected delight of the trip: The Atomic Inn.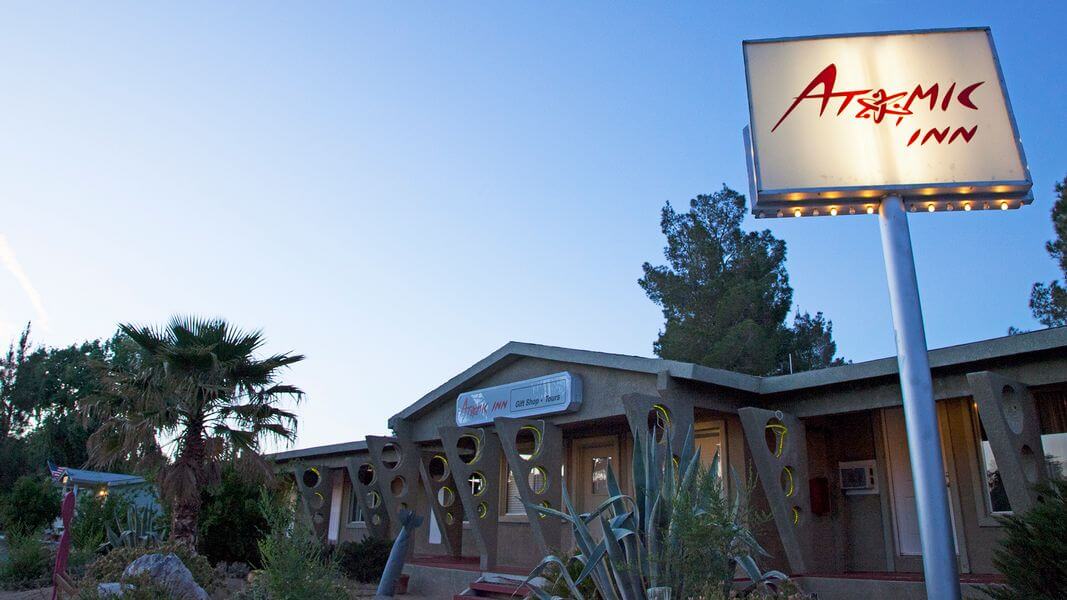 The mere fact that this place was a roadside inn automatically knocked it over the fence…I cant tell you how important it is to have your bike close to your room at night. Crucial. But, then add throwback, retro vibes with a side of Nevada zaniness and you're batting 1,000. Not far from the actual atomic bomb test site at the Nellis Air Force base, this fine and funky accommodation was built to host military personnel working nearby. I wasn't sure what we were in for as we pulled up to a seemingly vacant hotel, but ooey baby this place was amazing. Some of the rooms were themed, but my standard abode couldn't have been more effortlessly comfortable. A cool, quiet place with a heaping side of Nevada culture? Just what the doctor ordered. And hey, we even made some new friends!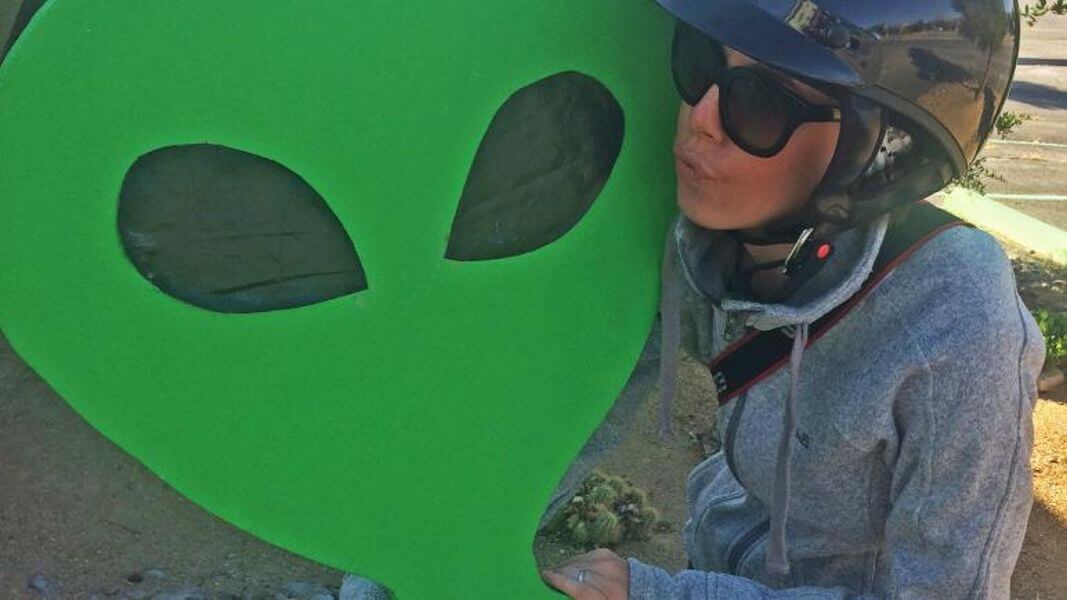 With the first day in the books we awoke feeling reinvigorated on day two and headed out. From one out-of-this-world locale, we were en route for another unearthly destination: Death Valley National Park. Winding our way out of Beatty's formerly booming mining area, we pressed on a few short miles before getting smacked across the face with the trip's most euphoric moment. Just before Rhyolite, we popped up on a vista that just about melted our faces off. Perfect lighting, miles and miles of straightaway, and ideal temperatures made it seem like we were untouchable…a true magic moment. We were in a surreal landscape in superb conditions; a total unblemished dream world and the type of moments you live for on a motorcycle.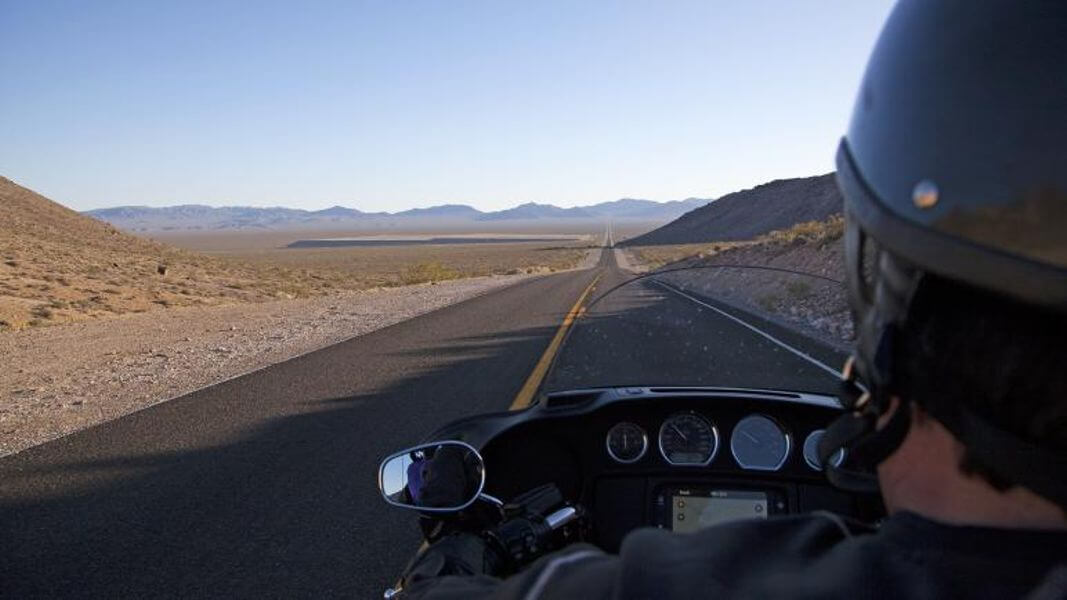 This totally set the tone for my flagship journey into Death Valley National Park, and was a pretty crazy-amazing way to start the day. We rode into the park boundaries, and as it's home to the lowest, hottest, and driest place in the country, we were hit with another surreal vantage point. What to me is such a low altitude, I would've never suspected the valley to lie so far below, but we were going 282 feet below sea level. Just vistas on vistas.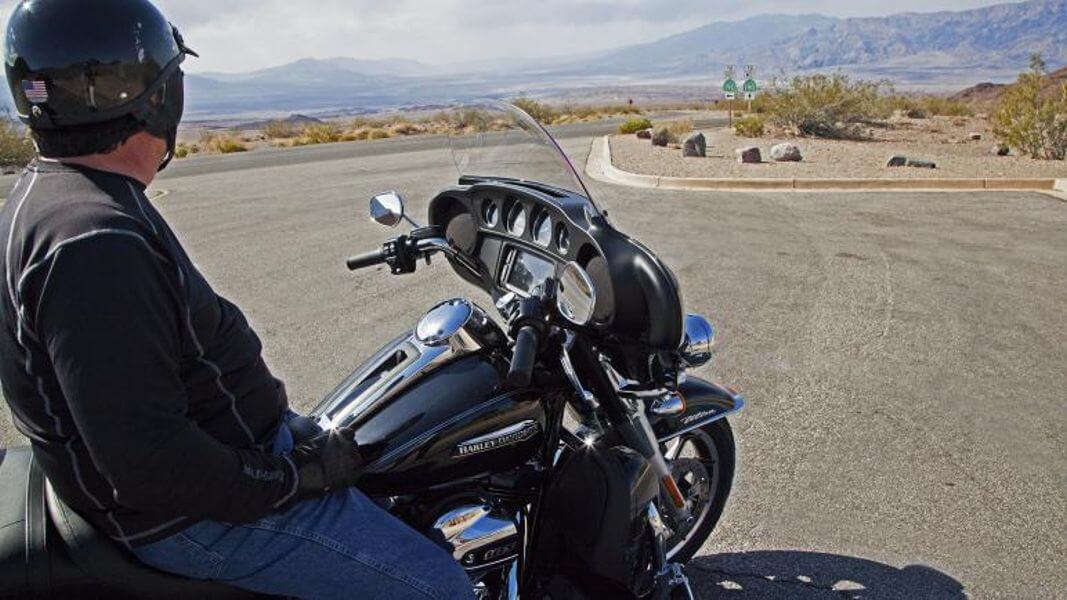 Spending the afternoon doing some typical touristy stuff in Death Valley, we crossed back over the state line and hung out in Pahrump and spent the night on Fremont Street. On day three we rode the farthest south we would travel to cross off Goodsprings' Pioneer Saloon, a place that's been on my list for far too long. This by far, obliterated any expectations I had, and turned out to be the best meal of the trip, with quite the historical snack as the cherry on top.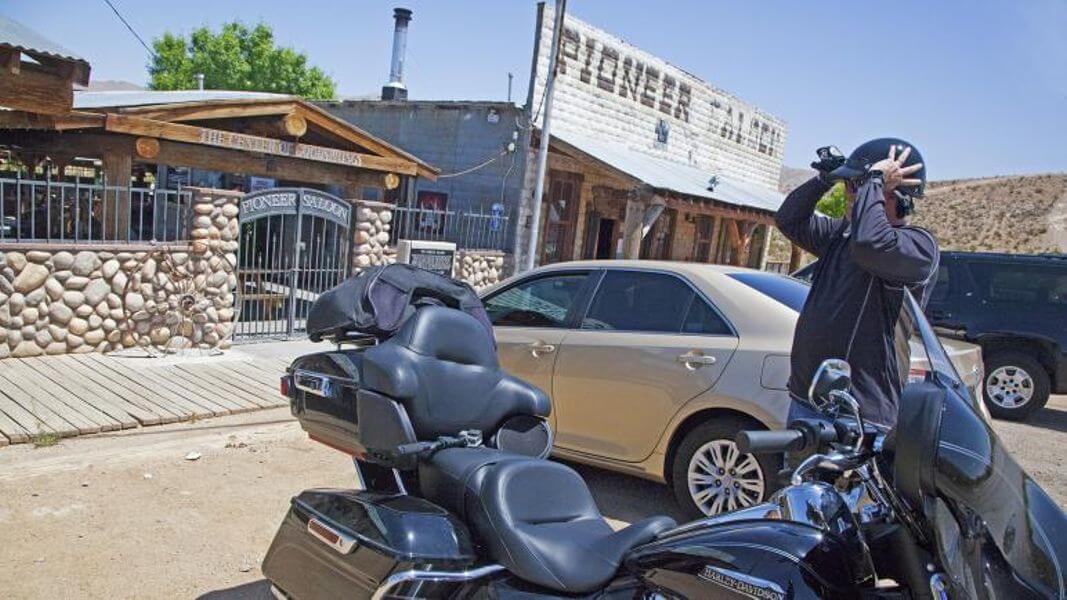 Goodsprings is a bonafide historical slice of heaven, but the Pioneer Saloon? Good golly. As one of the oldest bars in southern Nevada, this place has just about every realm entertainment of down pat. Tom, the bartender was mystifyingly welcoming and even toured me around the property pointing out unbelievable historical snippets, like the original wooden Brunswick bar, bulletholes in the Sears & Roebuck tin walls from a rowdy card game, and the cigarette burns in the bar counter left by Clark Gable as he nodded off waiting for Carole Lombard's search party. CRAZY.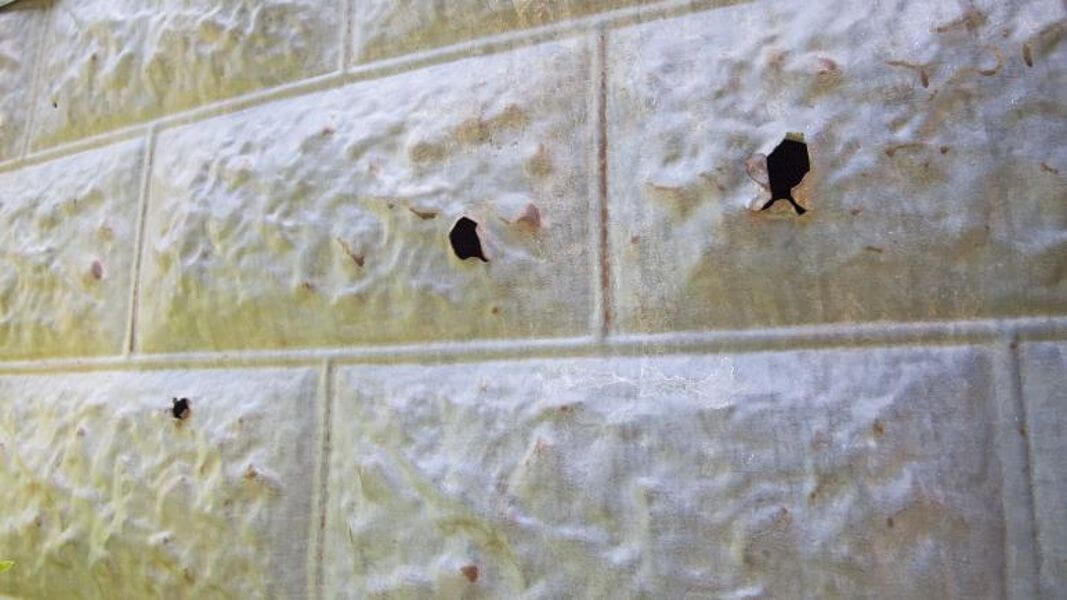 Although I was full to the brim with the most authentic history imaginable, I realized it was going to be a long, hot afternoon on the bike so we ordered the Ghost Burger. How fitting that this Food Network-worthy fare had a paranormal name, as the saloon is also rumored to be haunted by a few rough-and-tumble ghouls itself. And, what better to go with this mouthwatering, high noon feast? A frosty mug of Schlitz…the only suds the Pioneer Saloon served when it opened in 1913 that is still being served today. And hey, with a few olives, why not make it a Nevada Martini??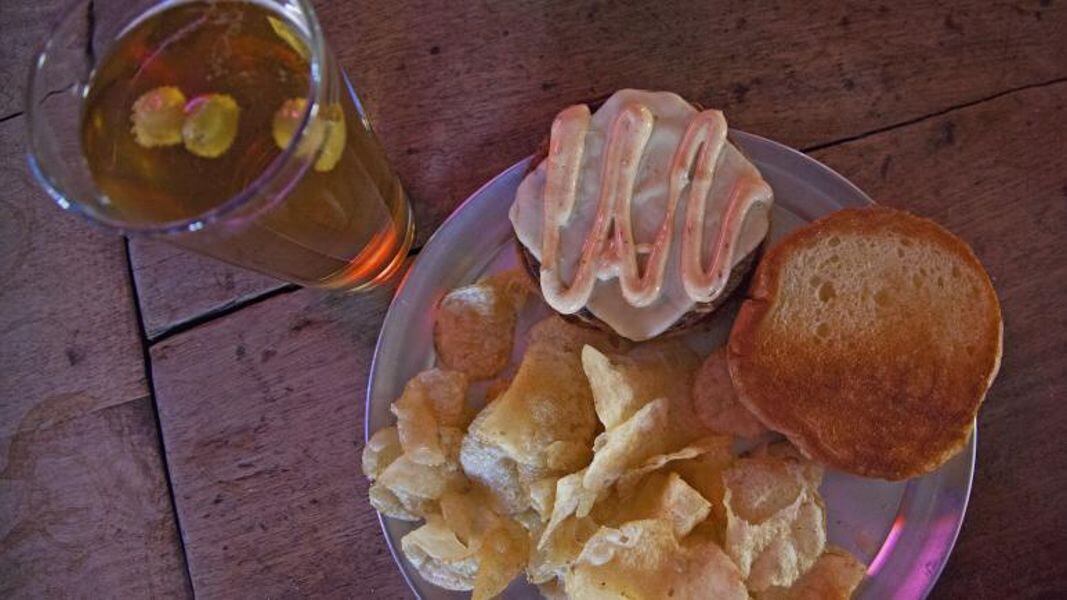 Oye. Difficult doesn't even begin to describe my attitude when it came to peeling myself away from this place. But, we still had some miles in front of us and hit the road for Primm, Searchlight and back up to Boulder City, where we would kick up our boots for the night. And sometimes, all it takes is a bomb-diggity meal like the Ghost Burger to revitalize you for more touring time.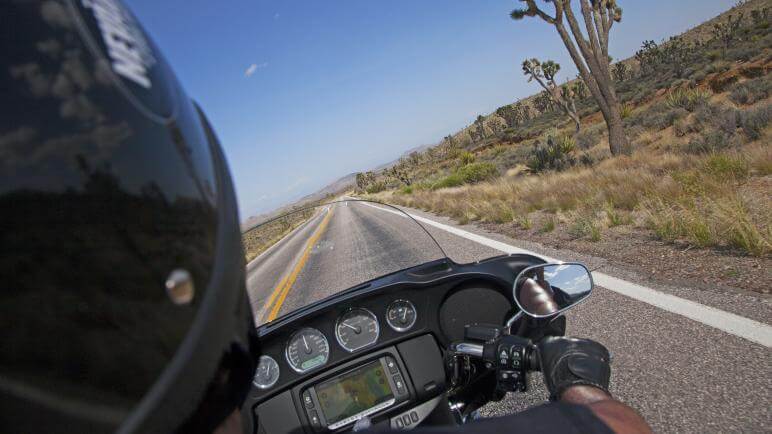 Although it didn't take the cake for the road most fun to ride, it was a damn close second riding the Joshua Tree Highway in this neck of the woods…just totally surreal. As we looped back north, I knew we must be getting close to the mighty Hoover Dam as the power lines became a plenty. It almost seemed like the prevalence of sagebrush rivaled the number of power lines…something I'd rarely seen in my Silver State travels that confirmed this humongous operation.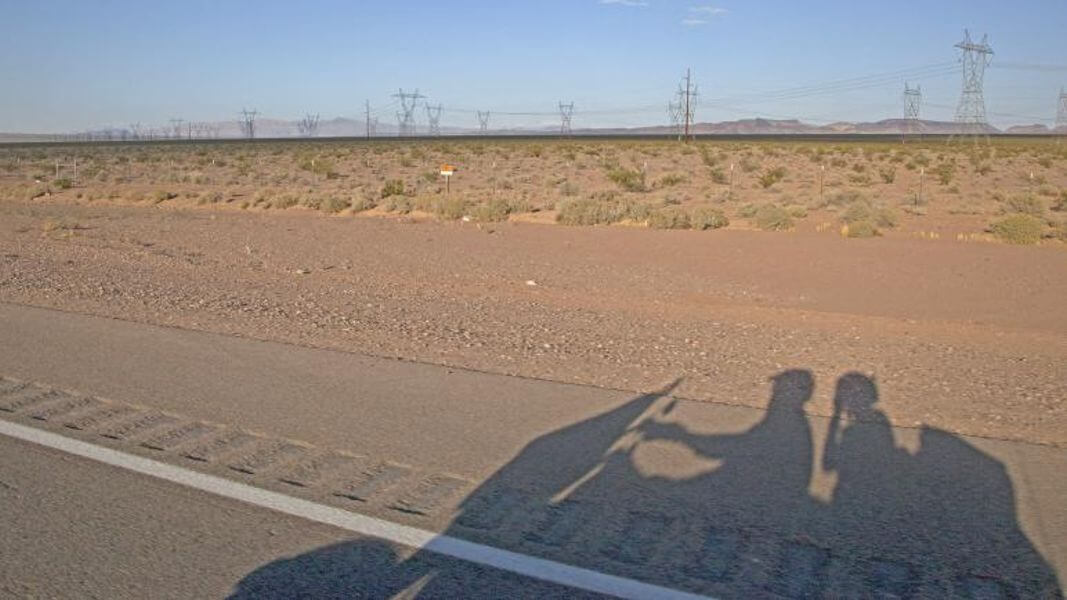 Before long we were navigating underneath Boulder City's Historic Downtown archway, marveling at this untouched wedge of art deco mastery. With some of the coolest flipping neon I'd seen in the entire state buzzing around me, I was questioning my already-booked hotel for the evening. That was immediately shut down with one look at the place when we rumbled up to the Boulder Dam Hotel.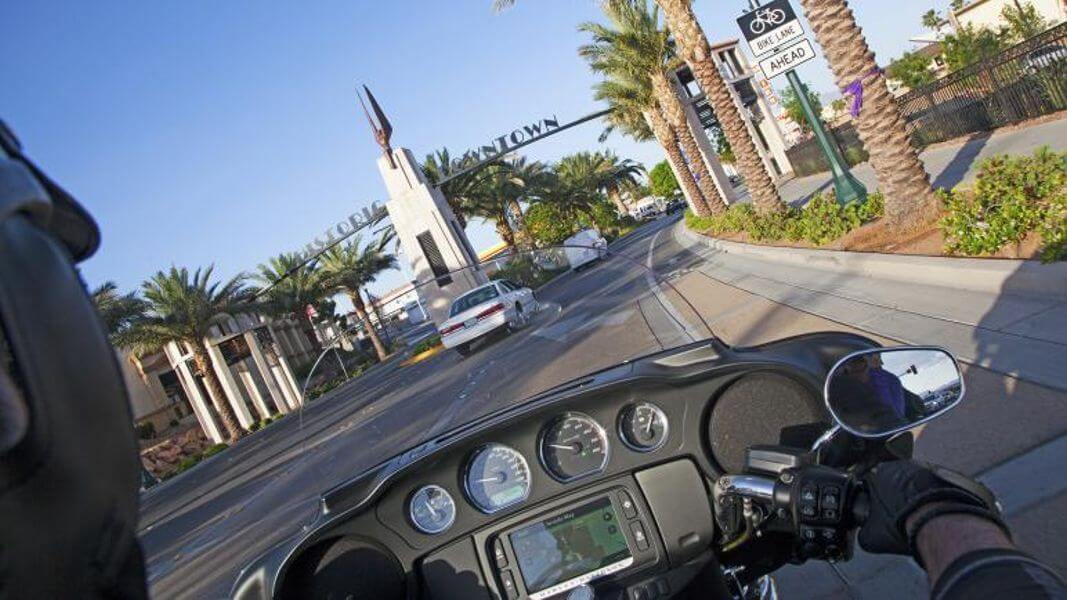 Holy smokes, guys. This perfectly restored hotel was like time traveling to the 1930s. The thoughtfully and masterfully decorated lobby made me feel like I might bump into former guests like Shirley Temple or Will Rogers themselves, and was the perfect preview for what was in store for my actual room. With the contents of my saddlebag draped over my shoulder, I swung open the big wooden door and it instantly made me feel like I was apart of Hoover Dam's monumental history…but that wasn't the best part about the place. After cooking on the back of a motorcycle for a few hundred miles exposed to the arid elements, sometimes you just want a mighty fine shower and amazingly comfortable bed to sleep in. And that, my friends, is what secured Boulder Dam Hotel's spot on this list as the most restorative stay of the trip.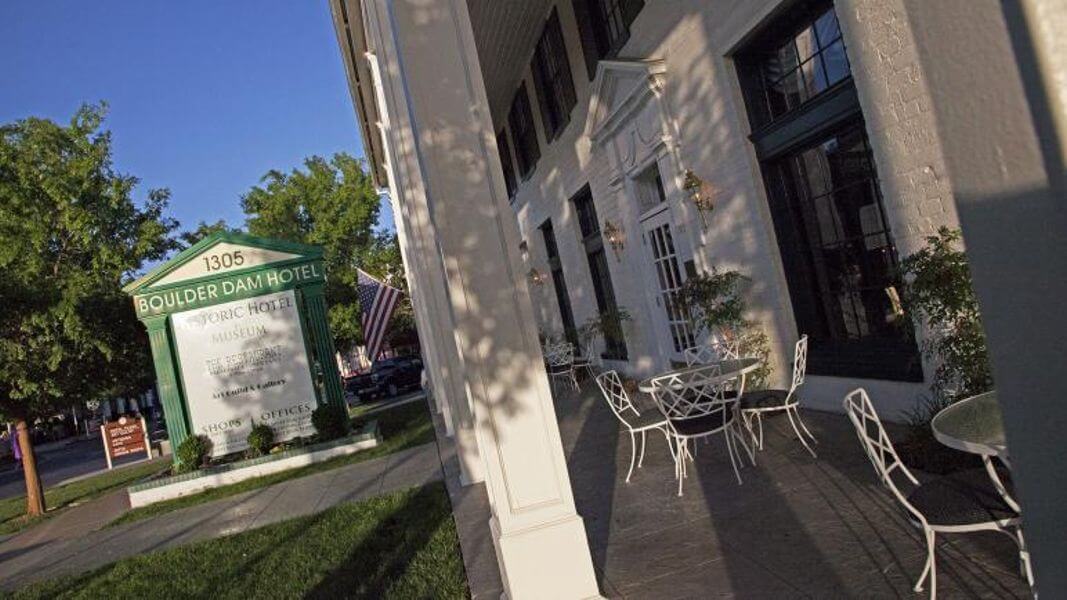 After spending waaaaaaaaaaay too long in that giant, era-specific remodeled shower, I brushed my teeth and slumped into what I will still back up as the comfiest bed I've ever caught some zzz's in. For real, I probably slept better than Vegas Elvis did after his third encore. Bright eyed and bushy tailed, we met in the lobby for our complimentary made-to-order, Wes Anderson-looking breakfast before hopping on the bike for the fourth day. Hoover Dam, here we come.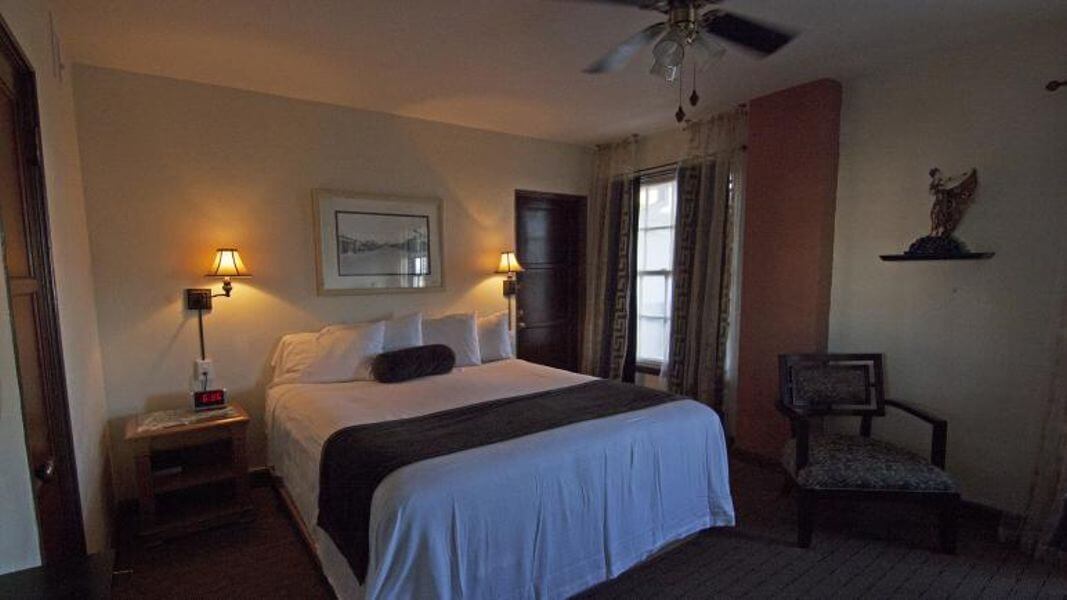 Biting the bullet for the hour-long tour [how could you not?!] we ended up enjoying what should be considered to be a modern wonder of the world for hours…and that felt like we were still cutting it short. SO much to see and learn in this colossal, engineered wonder. It was a surreal experience riding over the Hoover Dam on a motorcycle…it almost felt like we were on a movie set, to tell you the truth. And for a second, it was like we were apart of its magnificence, but the stretch of road that was THE very most fun to ride was just around the corner on the Lake Mead Scenic Byway.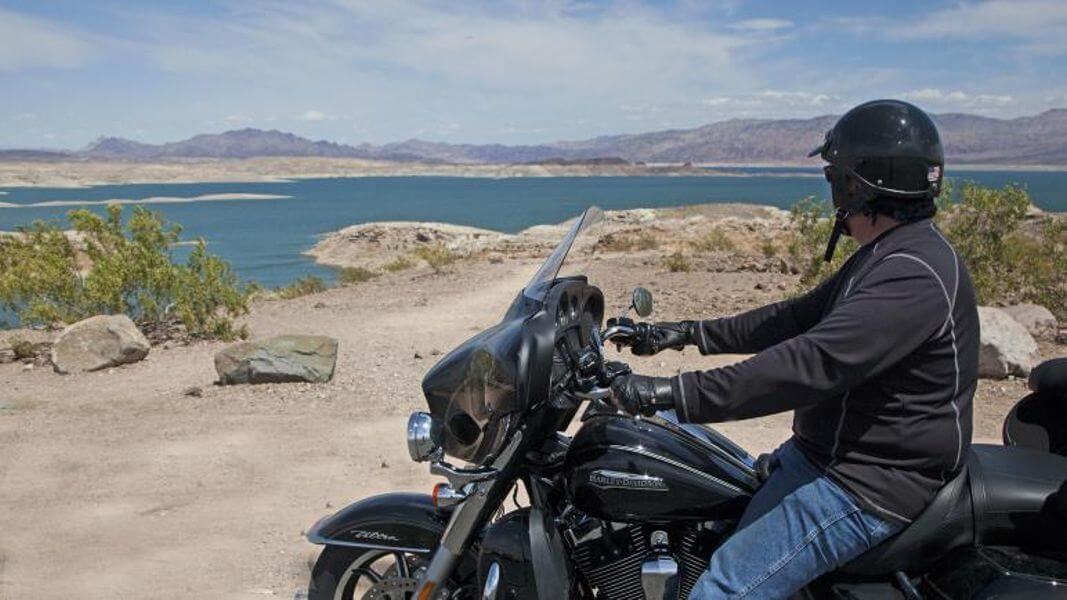 We were in hot pursuit of Valley of Fire State Park, and it was a total no brainer to get there on this perfectly paved paradise. People might suspect Lake Mead to be bleak, dry and dull, but it was magnificently vibrant. The aquamarine hues of the sparkling water below and jagged rock formations were alluring, but the true bewitchment was in the road itself. Long sweeping curves carried us up and down over rolling hills, allowing us to use all three sides of the tire. Long relaxing turns to the left, back to center, and slight leans to the right on top of freshly laid asphalt was pure bliss. We didn't have to think about the actual integrity of the pavement…hitting a bump, running into gravel or whatever other risk was just not on the table. It made for super enjoyable motorcycling where we could truly enjoy each sway and bend. Totally fun.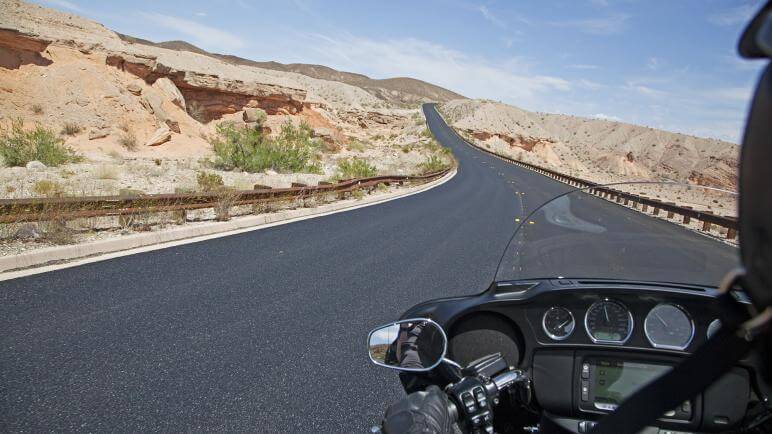 Completely relaxed and immersed in the landscape, it dawned on me that we were fast approaching Valley of Fire as brilliant streaks of coral rock formations splashed the canyon walls like paint splattered on a canvas. The anticipation was building more and more as the crimson valley walls engulfed us, making us feel like we were legitimately apart of the landscape…a feeling you definitely wouldn't have if you were traveling by car, convertible or not.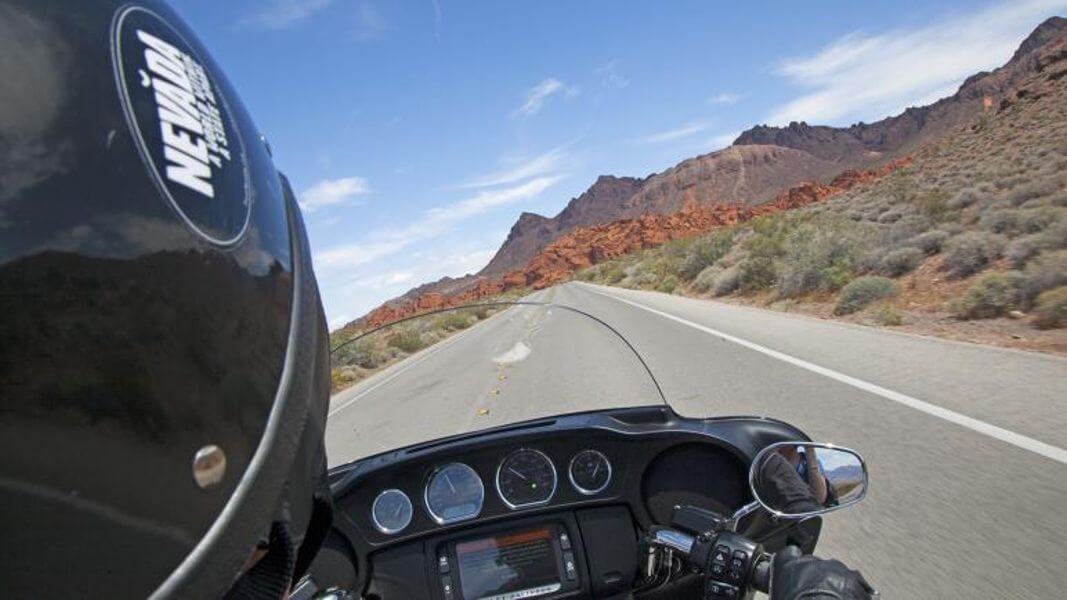 We entered state park boundaries and the cant-believe-it's-real landscape was all consuming. It all makes so much sense that just about every car and motorcycle company from here to Timbuktu has done some sort of professional shoot in this epic landscape, but dang. Very few words can describe how truly extraordinary it all was, which means that is MUST be ranked as the most scenic section of the journey.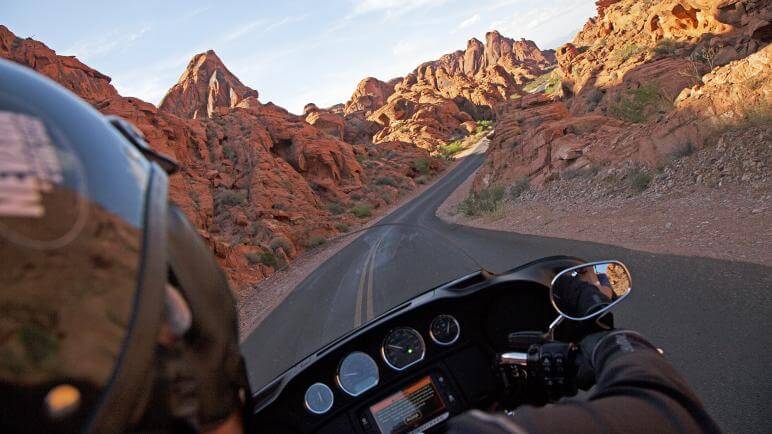 We leisurely made our way through Rainbow Canyon feeling like we too were in a Harley-Davidson commercial before looping back to Mouse's Tank to jump off the bike to relax and rehydrate for a bit. This super short trail was an amazing way to stretch our legs and check out some of Nevada's most well known petroglyphs. I was on the cusp of throwing a tantrum, feeling pretty defeated that we'd seen very little wildlife on the trip. BUT, we'd gotten wind of some serious weather patterns closing in on us and needed to push forward to Alamo ASAP.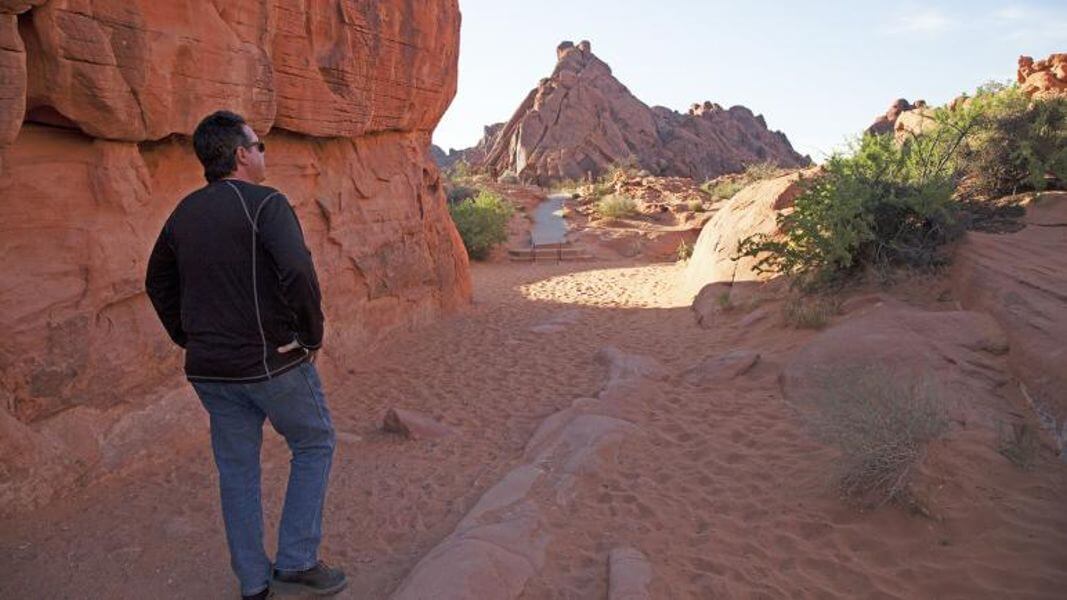 Tipping up one last sip of water before committing to the road for a few hours, I nearly choked when I saw a perfectly silhouetted bighorn sheep, practically posing for me on a ridgeline. Slamming my water on the ground and busting my DSLR out as fast as I could move, I was able to snap this once in a lifetime, bighorn magic moment. On second thought, make Valley of Fire the most scenic in tandem with best wildlife spotting experience. BAM.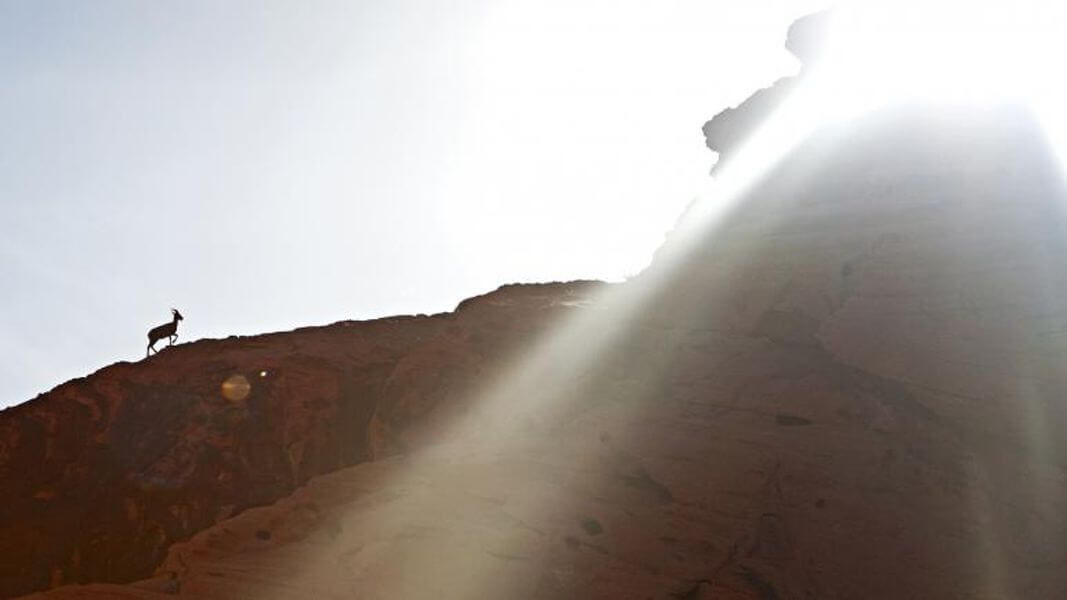 Surrounded by a series of freakish rainstorms in just about every direction, we sped north on US 93 to Alamo, a storm nipping at our heels each mile along the way. We skirted the lush Pahranagat Valley, semi entranced by this flourishing oasis and living on a prayer that deer wouldn't jump out in front of the bike. A reaaaaaaal nail biter of a half hour later, we made it to our hotel and passed out. Phew.
We'd seen places and things that were distinctly Nevada and although day four was going to be tough to beat, I had been chomping at the bit to start the fifth day for one unequivocal reason. The Extraterrestrial Highway. Unlike most of the other roadways in Nevada, this was one I'd never been lucky enough to traverse, and now having the chance to do it on two wheels with my Dad of all people, was a dream come true.
I knew it was going to be empty, but one thing I really didn't see coming was the stunning panoramic handsomeness of the landscape. Without the distraction of any other travelers, it allowed us to hone in on the remarkable and unsuspecting beauty of expansive valleys peppered with Joshua Trees…and the few open range cattle roaming about were right on beat. And those clouds, good grief they were perfect.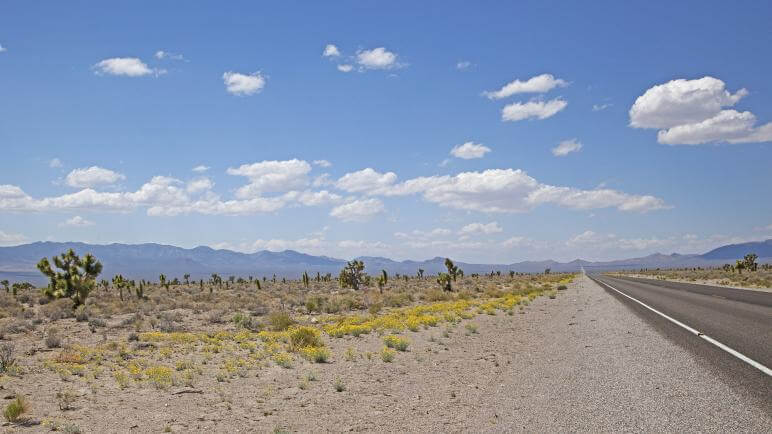 Sure, there could have been little green men wandering about, camouflaged by the preponderance of gnarled Joshua Trees, but other than us and the cows, we were the only ones out there. Taking the bull by the horns, we decided to take advantage of it all and pulled over to seize the moment on the best only-in-Nevada experience of the trip. And what did we do to accomplish this? We [very responsibly, of course] snapped a few souvenir photos of us lying right in the middle of the highway. The ET Highway, that is. Where, praytell, will you ever have another opportunity in your life to do something this wacky?? Take that bucket list.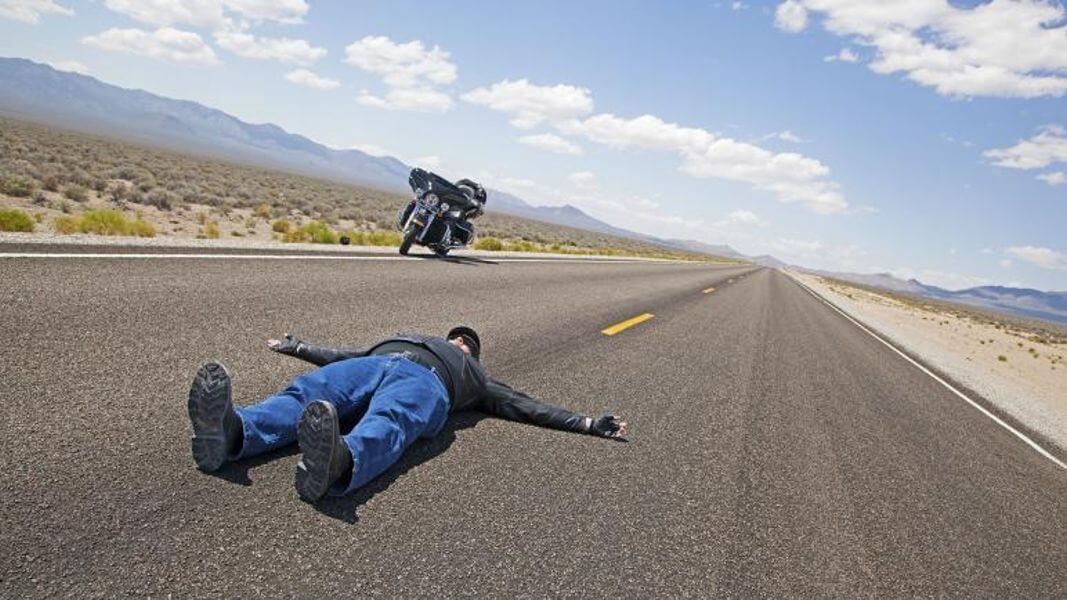 Right before jumping back on the bike, the only unusual activity of the whole experience went down when my Dad's fitness tracker started to go haywire. He'd gripped a vibrating handlebar for hundreds of miles thus far without any hiccups, but the stopwatch started timing, alarm began sounding and was altogether on the fritz while we were on the ET Highway. No explanation there…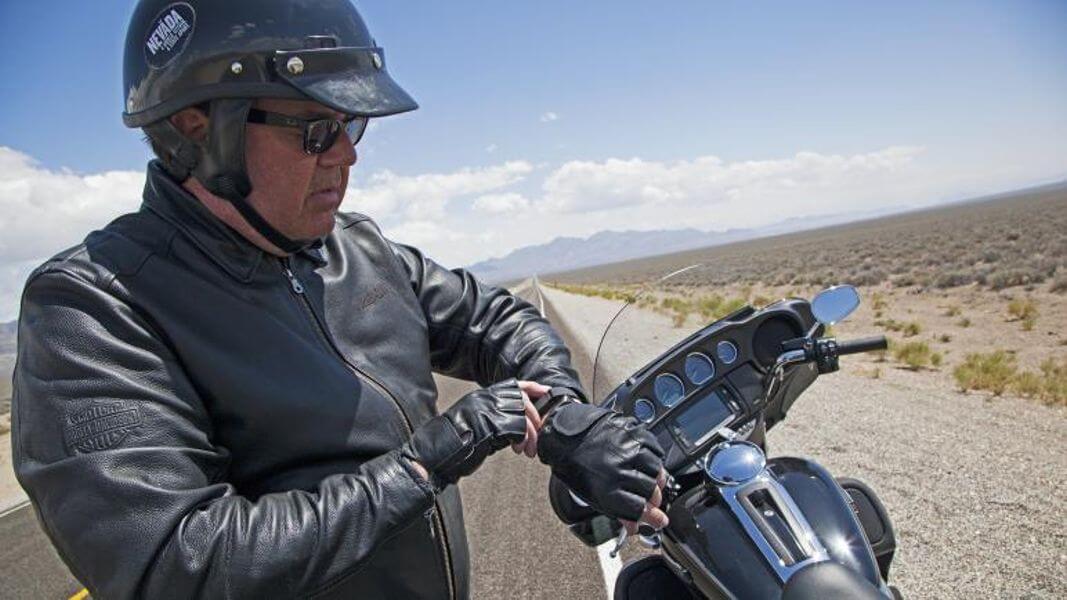 It was a SUPER windy day, but we dropped the hammer and made it to what was the very best roadside stop of the trip at Kershaw-Ryan State Park. I had befriended a certain kitty here, which already made me adore this place, but with some tasty snacks from ET Fresh Jerky in tow and the most perfectly shaded picnic table made this visit a slam dunk. I thought Pahranagat was an oasis, and then visited this fern gully of a state park. Its quietness and untouched natural landscapes made me wonder why this park remains to fly under the radar so much. With a few garlic pistachios, 'Most Wanted Cowboy' jerky, and 'Government Gummies' in my gullet, we were back on the road to our final stop of the night in the rambunctious town of Pioche.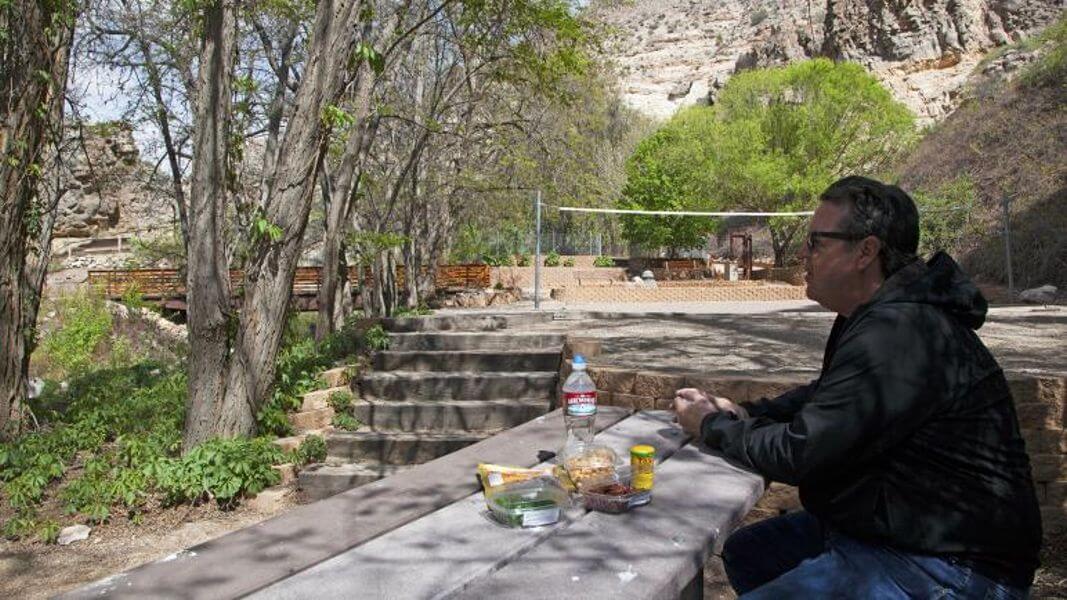 We checked into the esteemed, Wild West abode known as the Overland Hotel & Saloon [another one on my list!] cleaned up and headed down to the saloon to get our hands on some grub. Tom at the Pioneer Saloon had raised the bar when it came to exceedingly friendly locals…until now. With just about everyone at the bar counter exchanging friendly conversation with us, the Overland Hotel & Saloon easily earned its spot on the list as the best joint to rub elbows with the locals. Sure, it's not uncommon to encounter friendly folks on the road, but this caliber of chumminess? Forget about it. From there, we hit up the other two old west bars in town with a short walk to the Nevada Club and Bank Club. Bar hopping in Pioche? Yeah, definitely never saw that one coming, but it couldn't have been any better surprise.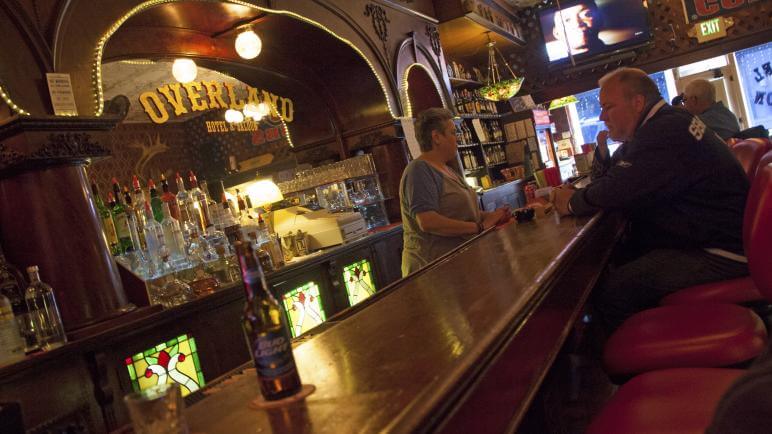 It all went sixty to zero the next morning we awoke to our worst nightmare. Thirty-degree temperatures and sleet, with no optimism revealing itself on the Doppler radar. While it was 99 degrees a few days earlier in Death Valley, this was the other side of the coin in a state bigger than the country of England. Nevada is gargantuan, and the landscapes and weather are wickedly diverse. Quietly and somberly packing up the bike and putting on every shred of clothing and waterproof gear I had brought, I reminded myself of my suddenly absent adventurous spirit and changed my tune.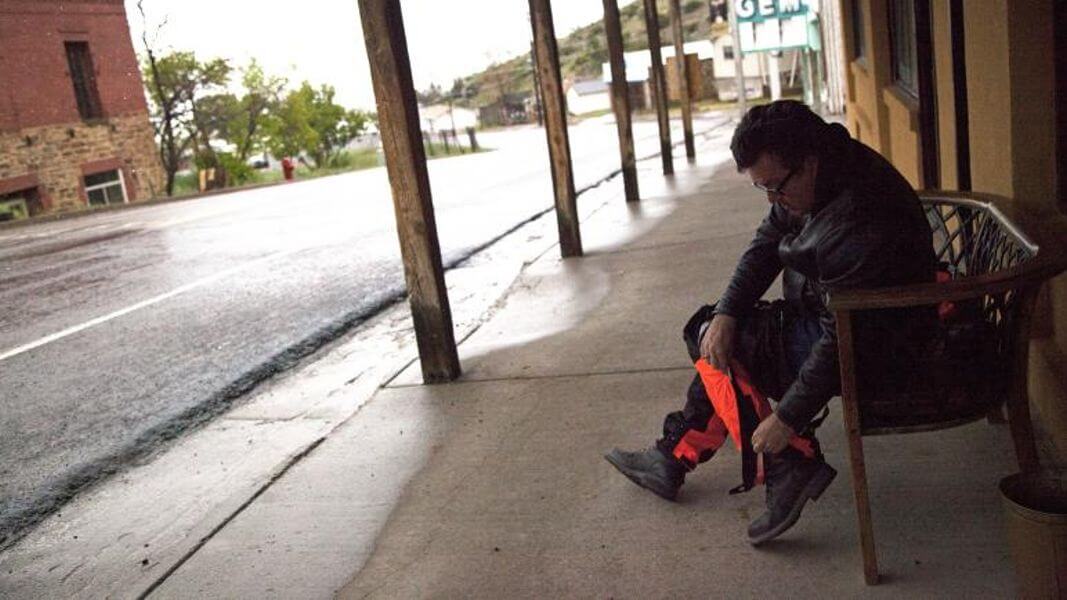 And boy, oh boy, it was a long, quiet, teeth-chattering, soggy 109-mile trek to Ely, but we made it. Even if we did have to drive a white knuckling 30 miles an hour through a car's snow tracks on Connor's Pass, by golly we did it. Several bowls of chili and mugs of hot cocoa later, we were frozen to the core and majorly reluctant to hop back on the bike to travel any further…especially since Nevada is the most mountainous state in the US and it would require us to cross several more possibly snowy summits.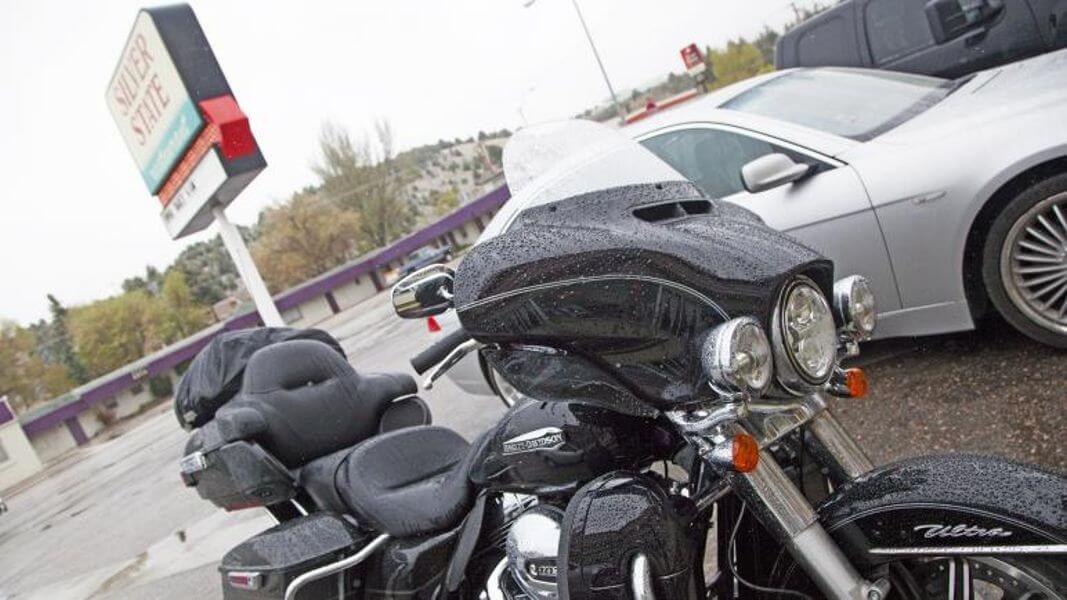 So, we made the phone call no motorcyclist ever wants to make and called in the reinforcements to trailer the bike back to Reno. It still stings to admit that! That means the most unexpected plot twist definitely goes to the weather disaster in Ely. But hey, it wasn't all doom and gloom Besides, the trip had to end some way, right? While we waited out the rescue mission, we checked into the Prospector, warmed up in the hot tub, watched some trashy reality-television marathons, ordered room service nachos, and even won $230 big ones in the casino. Aside from getting turned into a human popsicle, it was a pretty danged good day, and all in all, quite the adventure.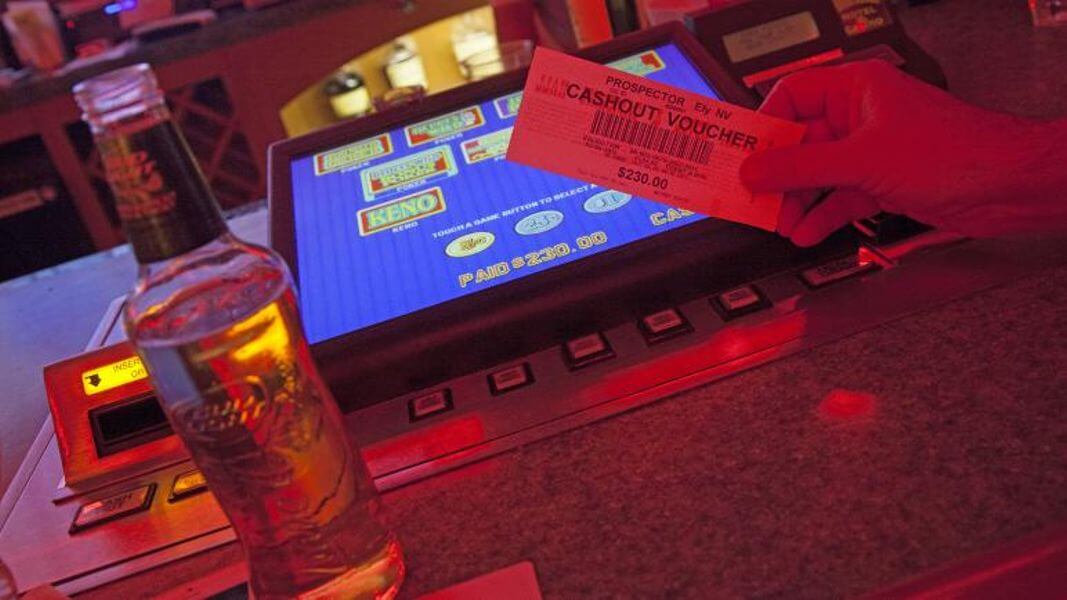 The next morning, we shamefully hitched up the bike and set off on the Loneliest Road toward home. Sure, I would've much rather been on the back of the bike, but riding in a safe warm car gave me the time I needed to reflect back on the mind-numbing craziness we'd just dragged ourselves through during the past seven days.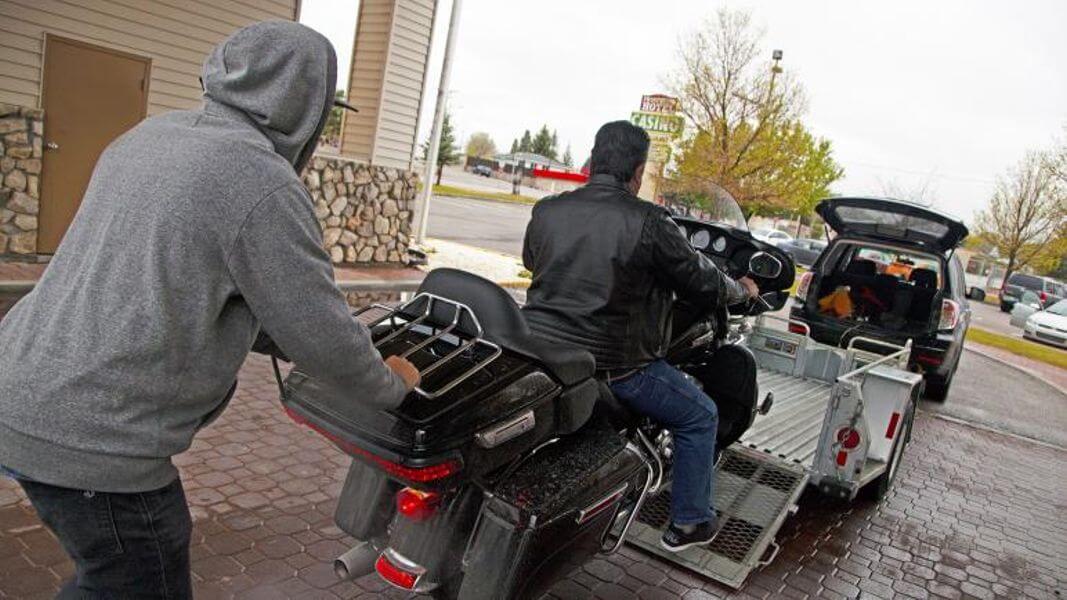 It made me realize that one thing is for sure: Nevada is land-rich. We had traveled a geographic area that is probably comparable to West Virginia, Virginia, North Carolina, South Carolina and maybe a sliver of Tennessee. And through it all, the way the landscape transformed was positively remarkable. One day it was yucca plants, Cholla Cactus, desert tortoises and 100-degree temperatures, and the next it's 13,000-foot peaks, Rocky Mountain elk and snow. It was like I'd been awakened, totally in tune to a new take on Nevada that had my adrenaline firing on all cylinders. The smells, the pockets of warm and cool air, even the occasional bug to the face made me feel alive and part of the grittiness of Nevada. The fact that I was not just seeing it through a window, but completely apart of the landscape with every thread of my being was a new way of experiencing it that got under my skin and into my blood that will change my perception of the state forever. And to experience it all with dear old Dad? Game over. I do enjoy getting lost on those gravel roads, but this one will remain close to my heart for the long haul. #DFMI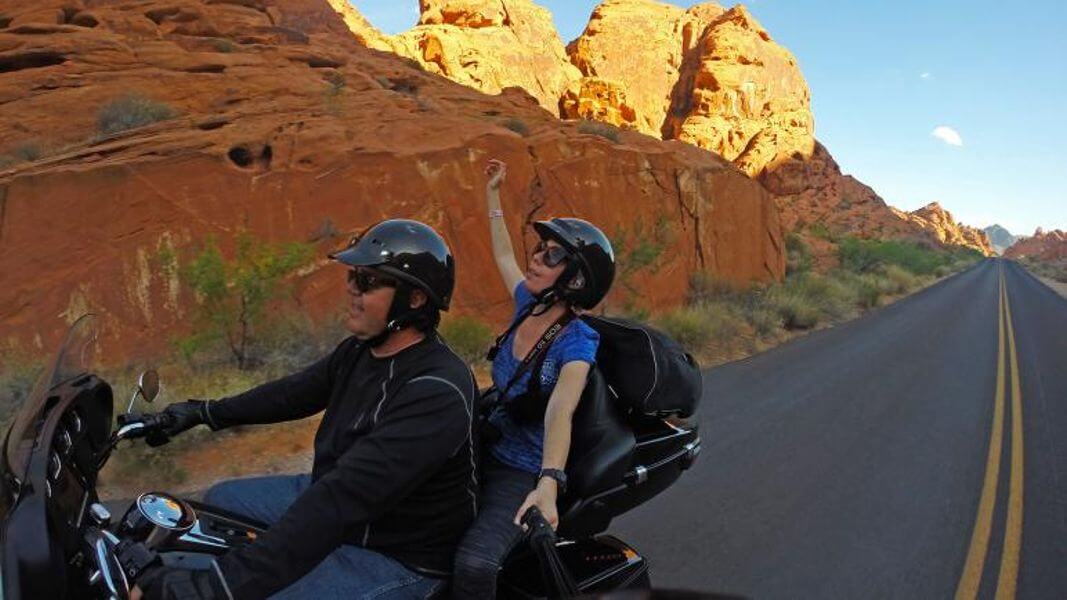 Get Inspired
Related Stories