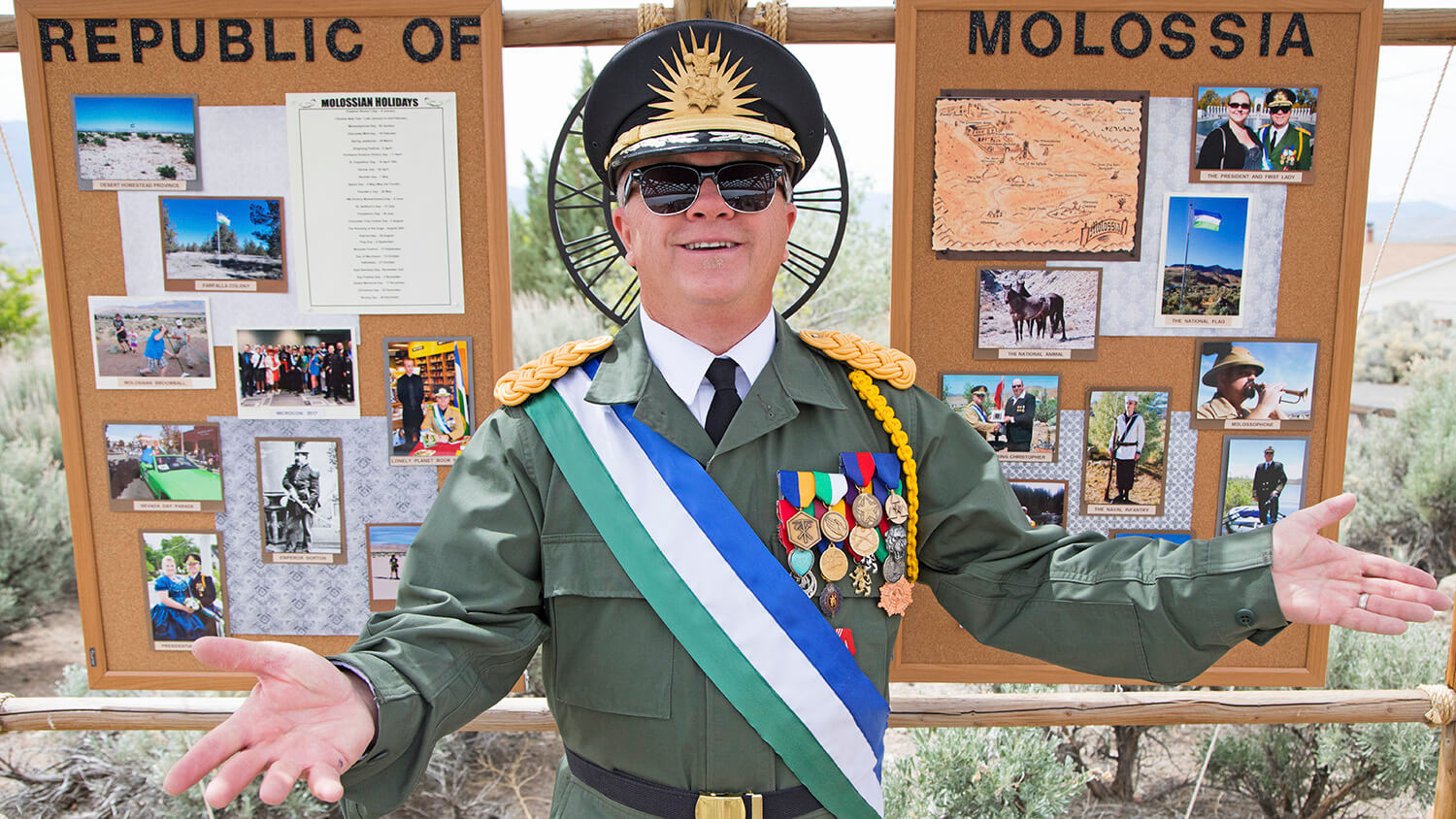 27 Ways to Transcend into a World of Weird at Molossia
No matter how you cut it, whether you're bombing down Interstate 80 or diving into Deep Nevada along the ET Highway, you're damn near guaranteed to have yourself a #WeirdNevada experience. Don't get us wrong—we love our scenery, wildlife, small-town encounters and oh-so-many picture-perfect guidebook staples. But in addition to our "off-the-beaten-path" highlights, taking the "off-beat path" is another undeniable Nevada rite of passage.
Because when all is said and done, bagging some of the state's tallest peaks will be memorable… but thinking back to that time you chose to get out of the car, found that dang Library Paste gravemarker and thought to yourself "Well,THAT was freaking weird"… has a way of sticking with you for good.
So, ya ready to embrace your inner oddball? Lucky for you, a little slice of #WeirdNevada lies just up the road from Nevada's Capital City—a mere "onion's throw" from Tahoe (don't worry; you'll get it in a sec)—along the Loneliest Road. It's even possible that you've driven right past it, never knowing a President and his First Lady were quietly running their own independent "micronation" smack dab in the heart of the small suburban town of Dayton.
If you could transcend into a world of weird, tapping into a sense of freedom that makes anything feel possible… well, wouldn't ya? Read on for 27 ways to break up that #NVRoadTrip and get weird in Molossia.
1. FIRST THINGS FIRST, YOU GOTTA PRONOUNCE IT LIKE A "LOCAL." IT'S MOW-LAW-ZEE-UH.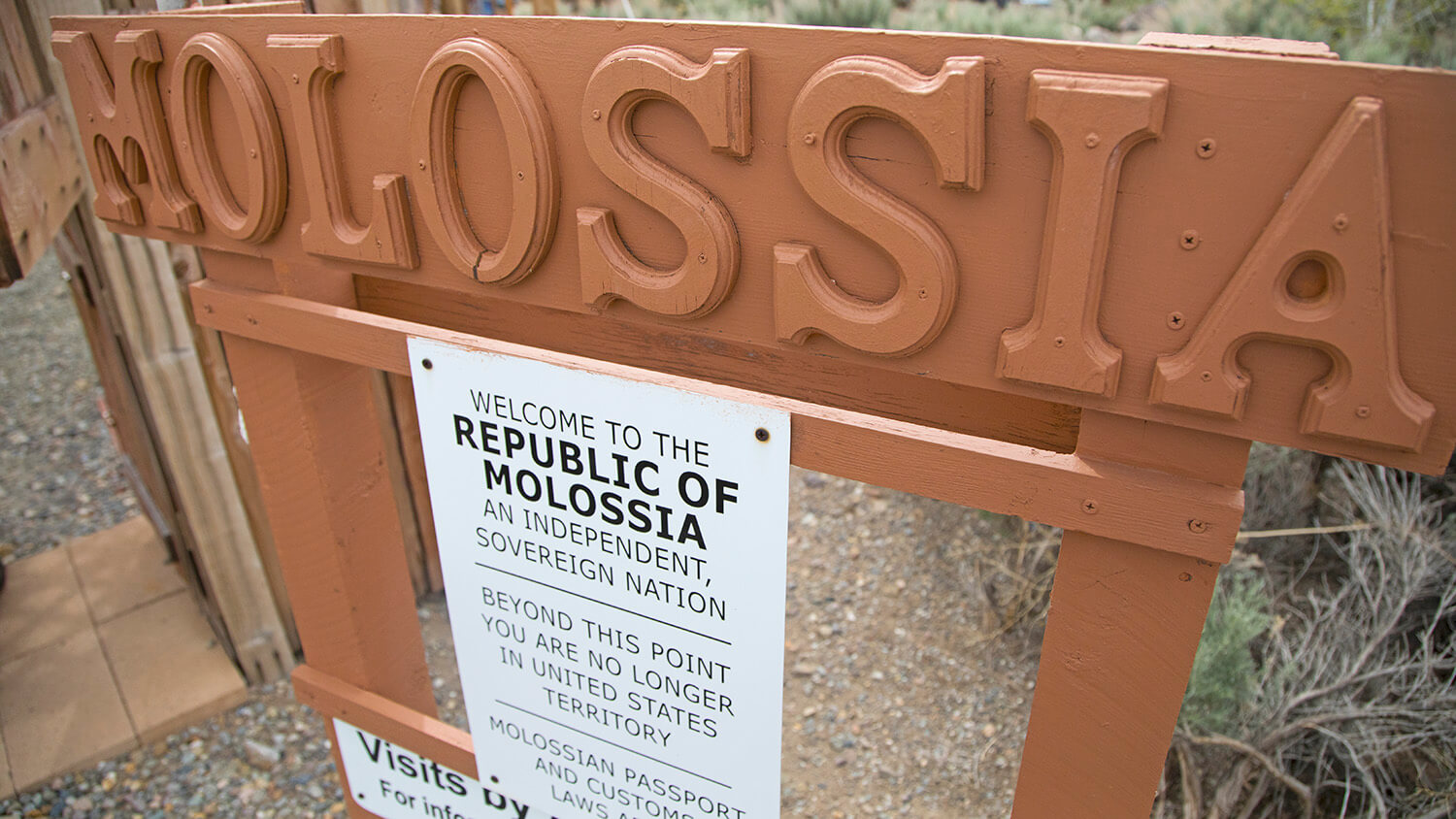 2. PREPARE TO CROSS THE BORDER. YOU'RE NOW LEAVING THE GOOD OL' U.S. OF A AND LIKELY ENTERING YOUR FIRST SOVEREIGN MICRONATION.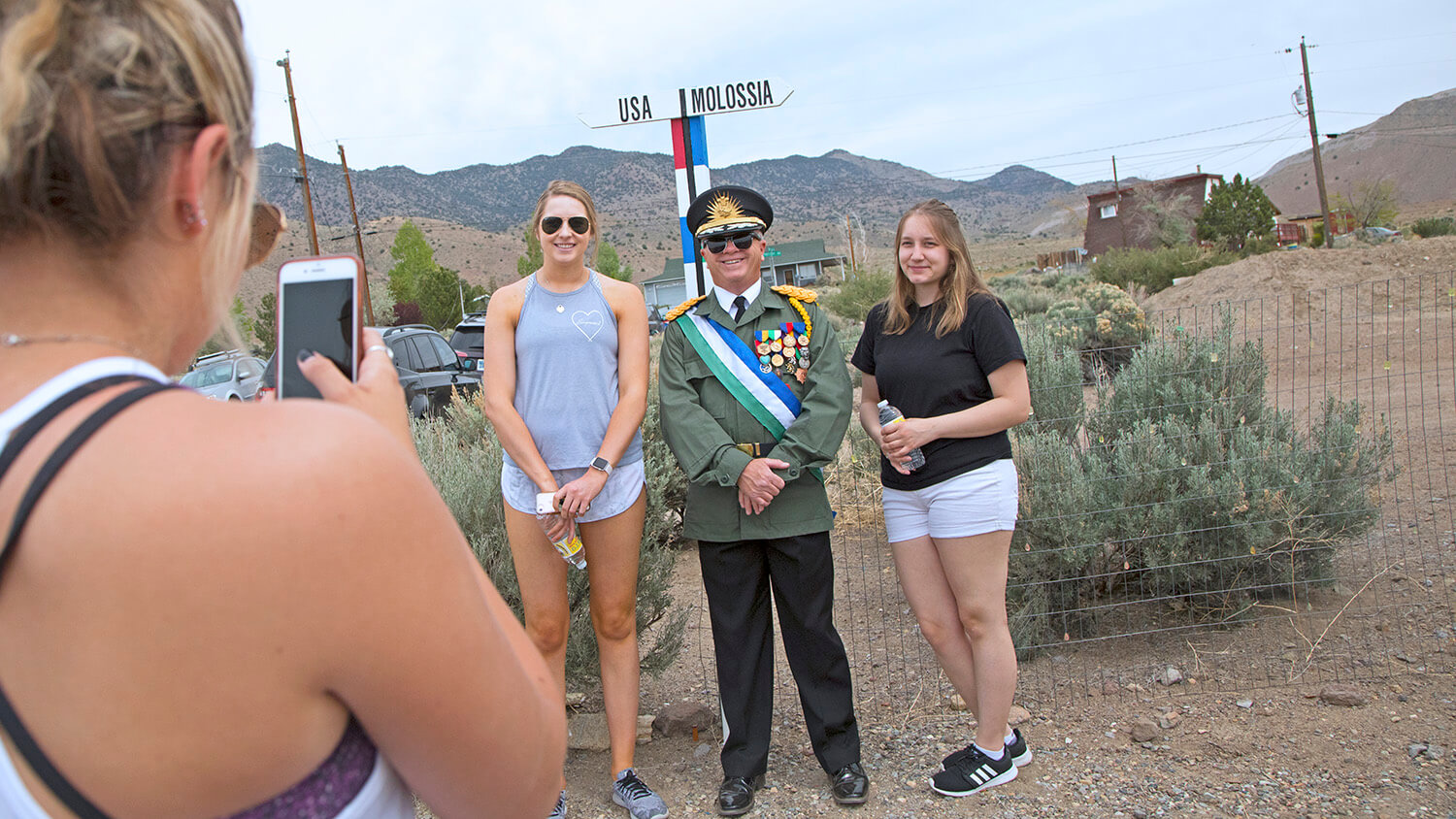 3. BUT DON'T WORRY, HIS EXCELLENCY PRESIDENT KEVIN BAUGH WILL USHER YOU SAFELY ACROSS INTO THE MAJESTIC NATION HE PERSONALLY FOUNDED.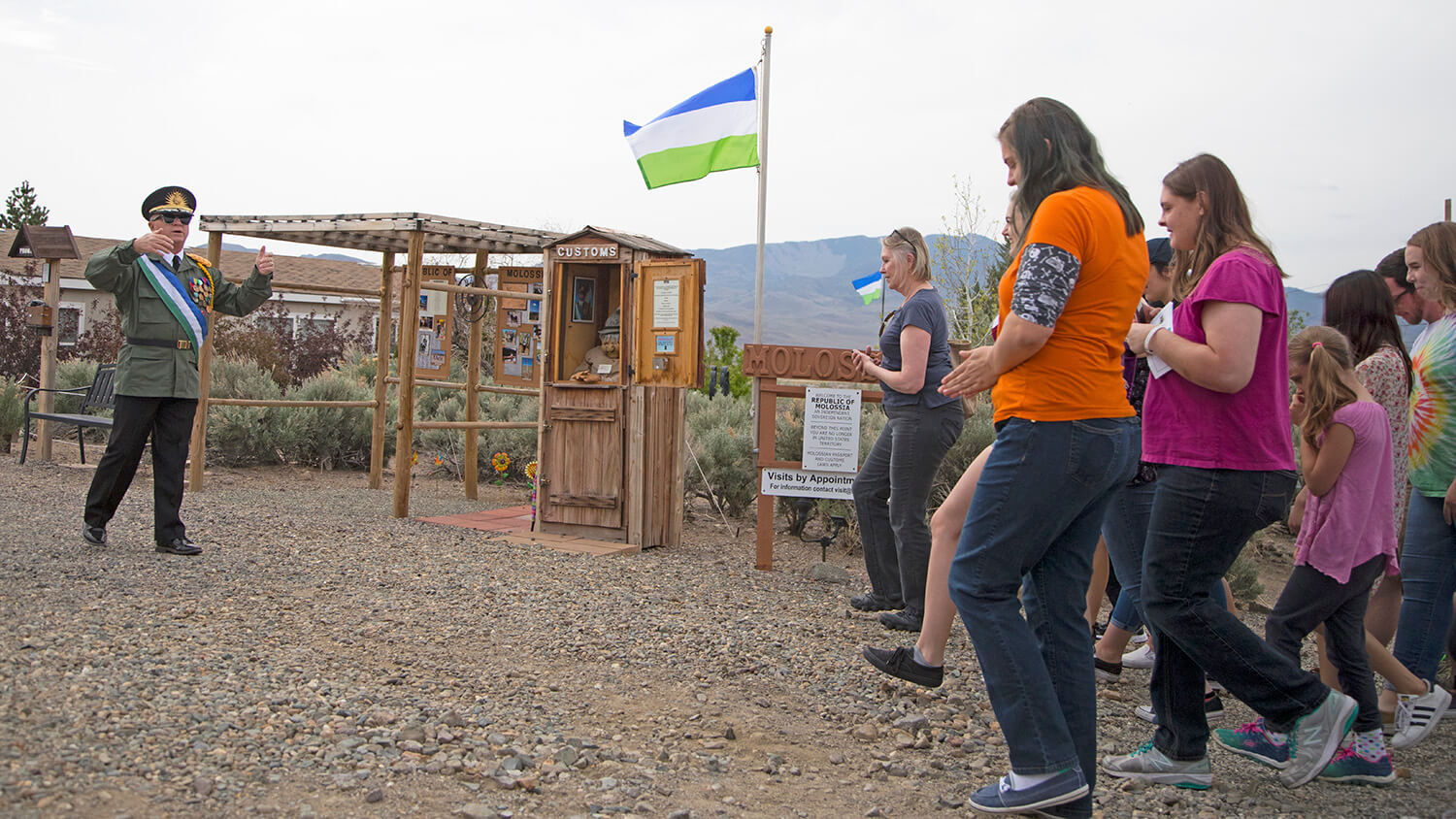 4. THE PRESIDENT AND FIRST LADY BURST IN WITH A CLOUD OF THEIR OWN CHARISMA, SO BRACE FOR AN UNBELIEVABLY WARM WELCOME.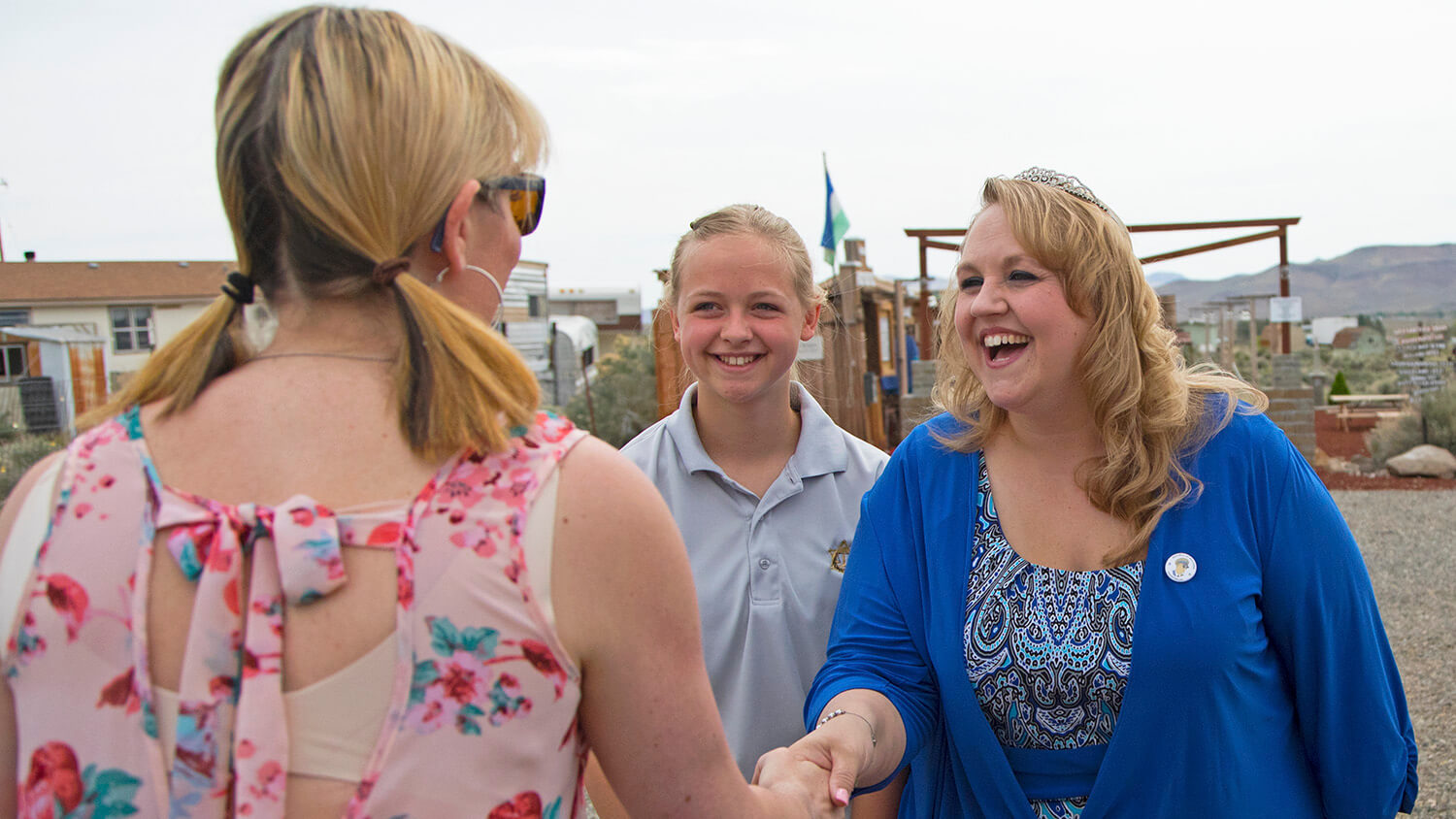 5. … AND THEY'RE TOTALLY EQUIPPED WITH THE SOCIAL GRACES AND INTRICATE OUTFITS TO PROVE THEIR PROWESS.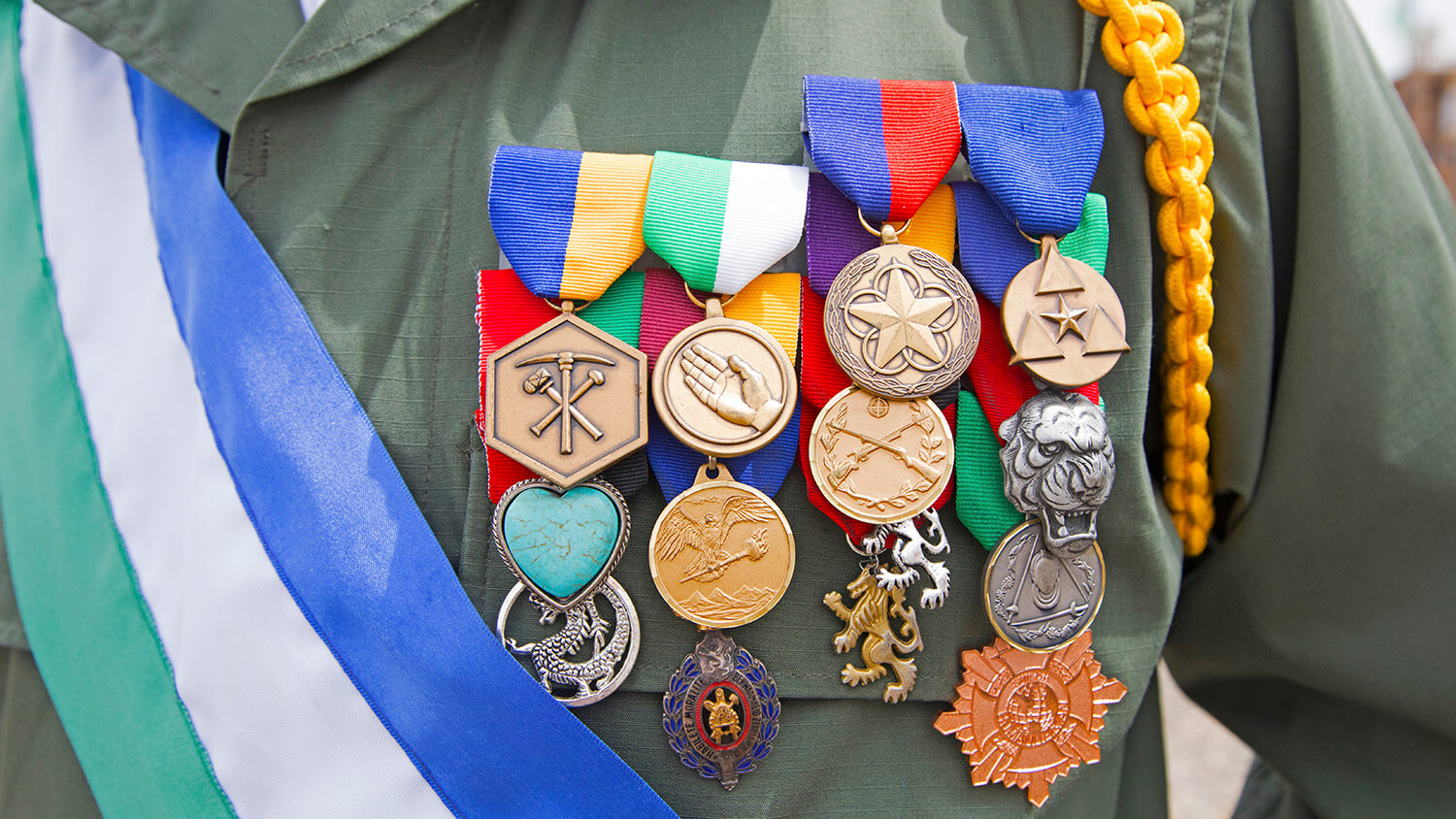 6. NOW IS THE TIME TO COUGH UP ANY LINGERING CONTRABAND YOU MIGHT HAVE STASHED. IF YOU'VE GOT AN ONION, INCANDESCENT BULB, OR WALRUS IN YOUR BAG, CONSIDER YOURSELF WARNED.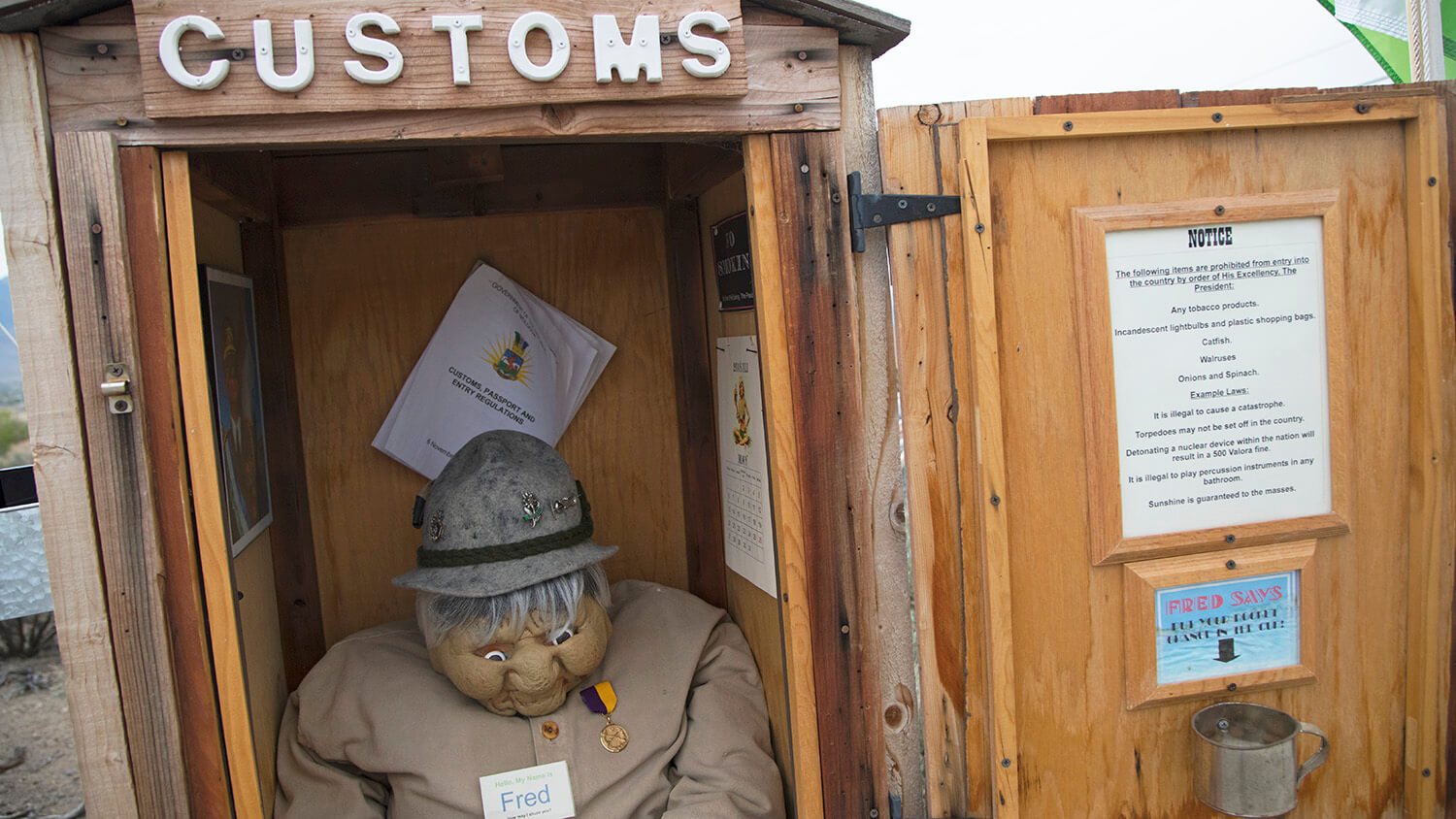 7. YOU'RE ENTERING A REAL NATION, WHICH MEANS YOU'RE GOING TO NEED A REAL PASSPORT. YOU'RE DAMN RIGHT, HIS EXCELLENCY IS GOING TO STAMP IT.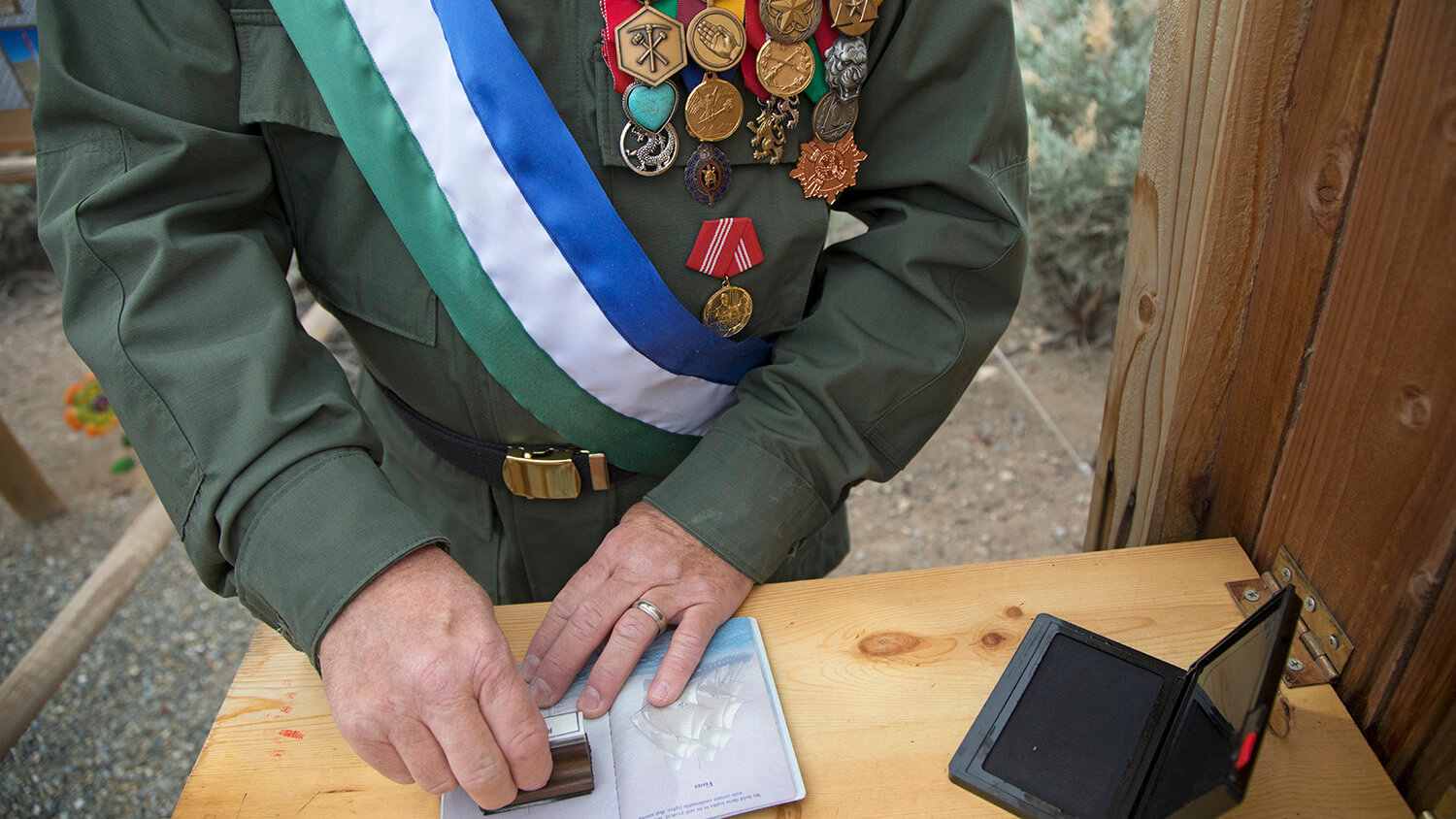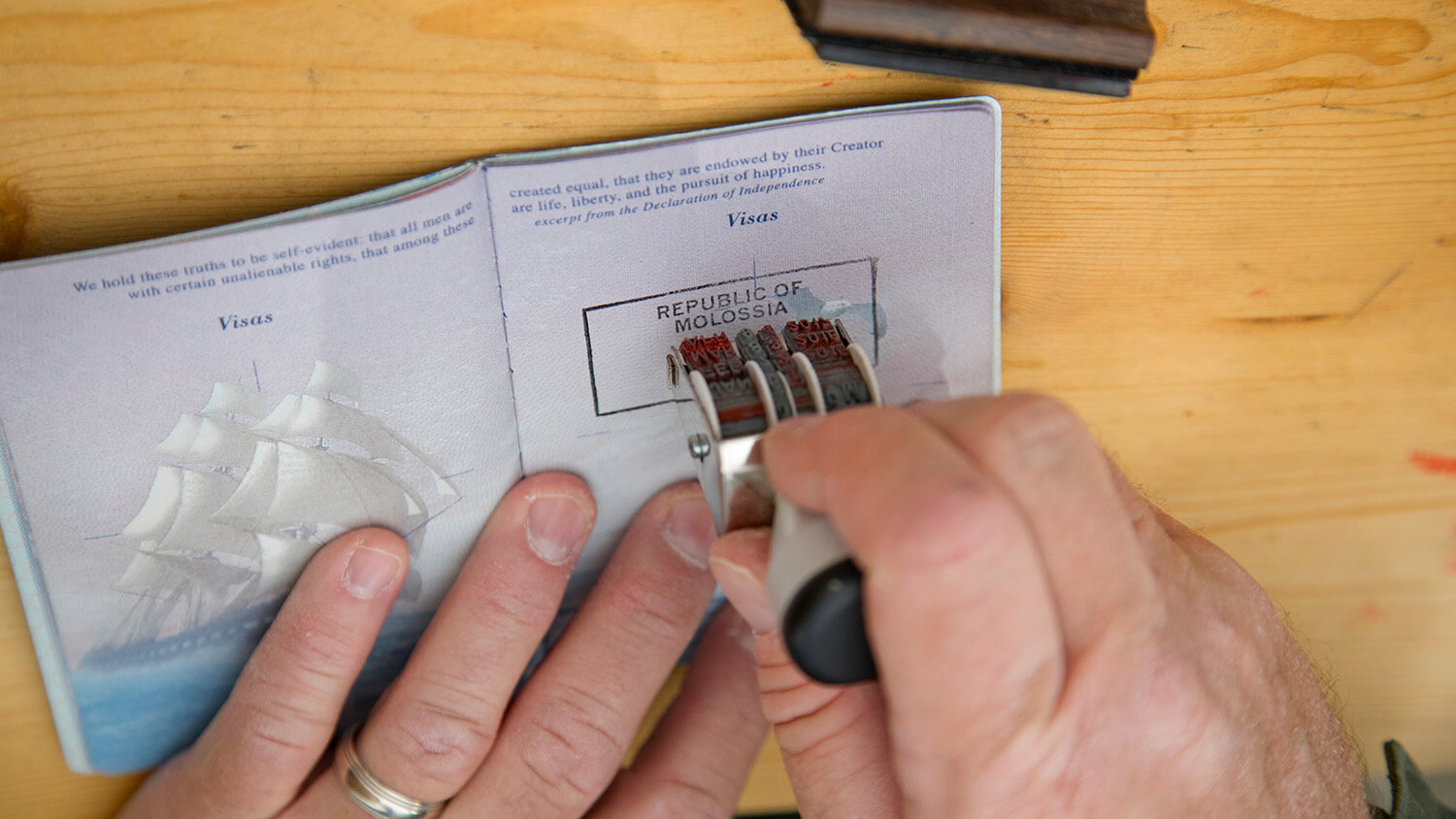 8. FOR HIS NEXT ACT, THE PRESIDENT WILL STEP THROUGH MOLOSSIA'S 41-YEAR HISTORY, LAYING OUT NATIONAL SYMBOLS & ANIMALS, PLEDGE OF ALLEGIANCE AND NATIONAL ANTHEM, HOLIDAYS, TIME ZONES AND OTHER NATIONAL MISSIONS,  MOTTOS & MYTHS THAT MAKE THIS PLACE LEGIT.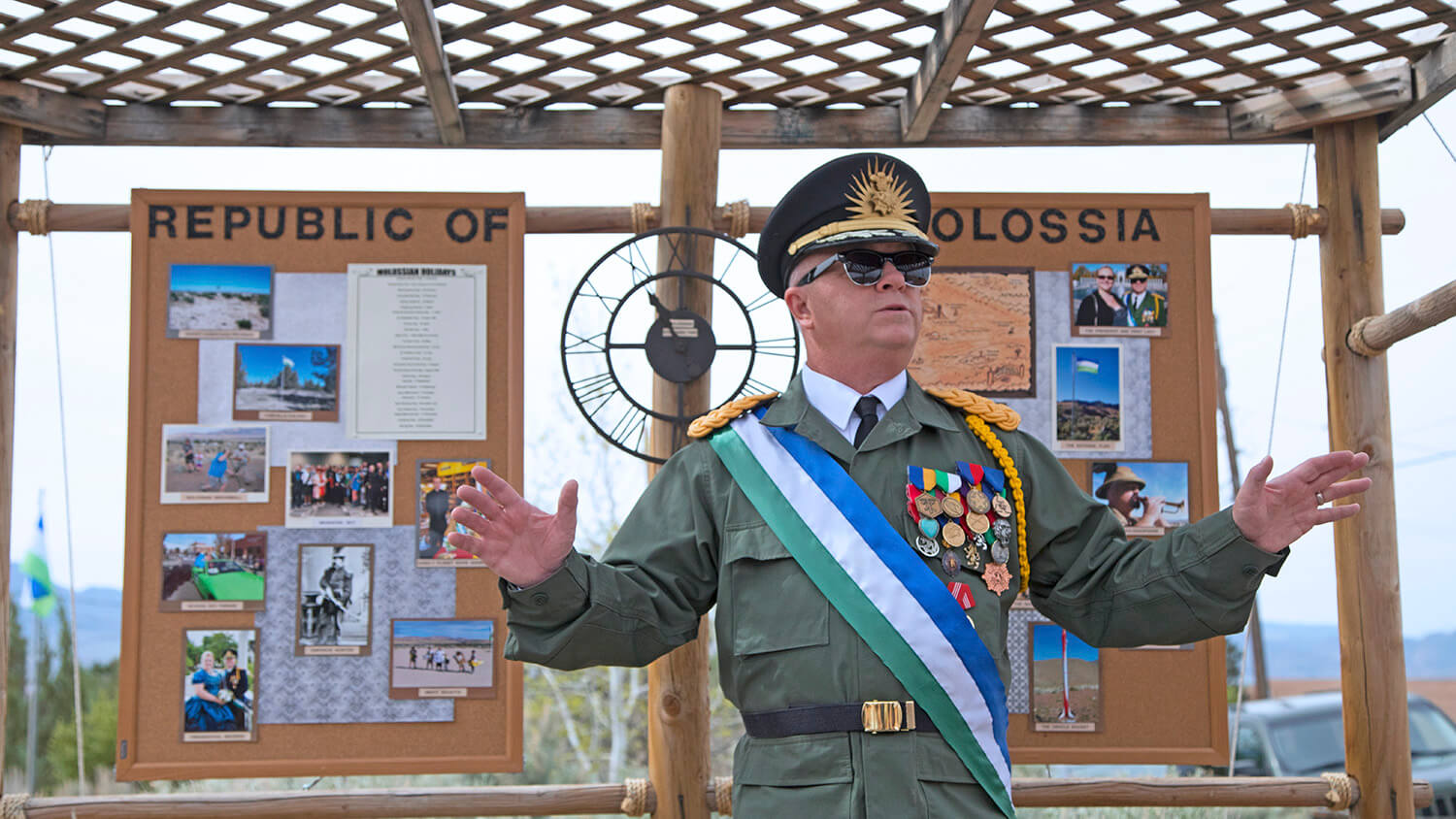 9. TURNS OUT, MOLOSSIA ISN'T THE ONLY INDEPENDENT MICRONATION, EITHER. MOLOSSIA IS REAL, BUT NOT RECOGNIZED BY THE UNITED NATIONS… NEITHER ARE ANY OF THE OTHER GOOD ONES. (HIS EXCELLENCY WILL TELL YOU ABOUT 'EM.)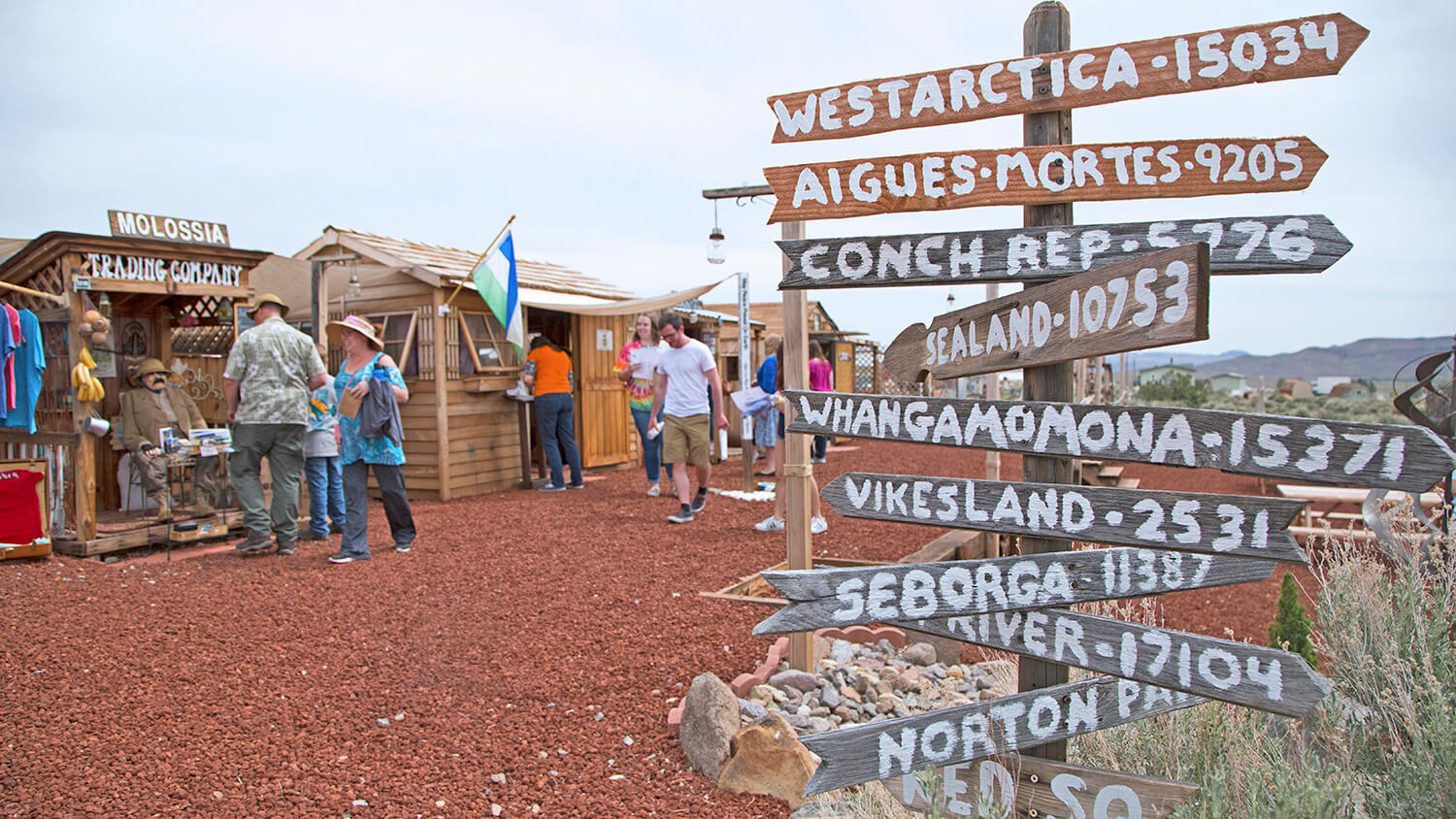 10. FROM HERE, THE TOUR IS ON, BABES. PLAN FOR A FULL-ON GUIDED LAY OF THE LAND AT MOLOSSIA'S RED SQUARE FROM THE PREZ AND FIRST LADY THEMSELVES.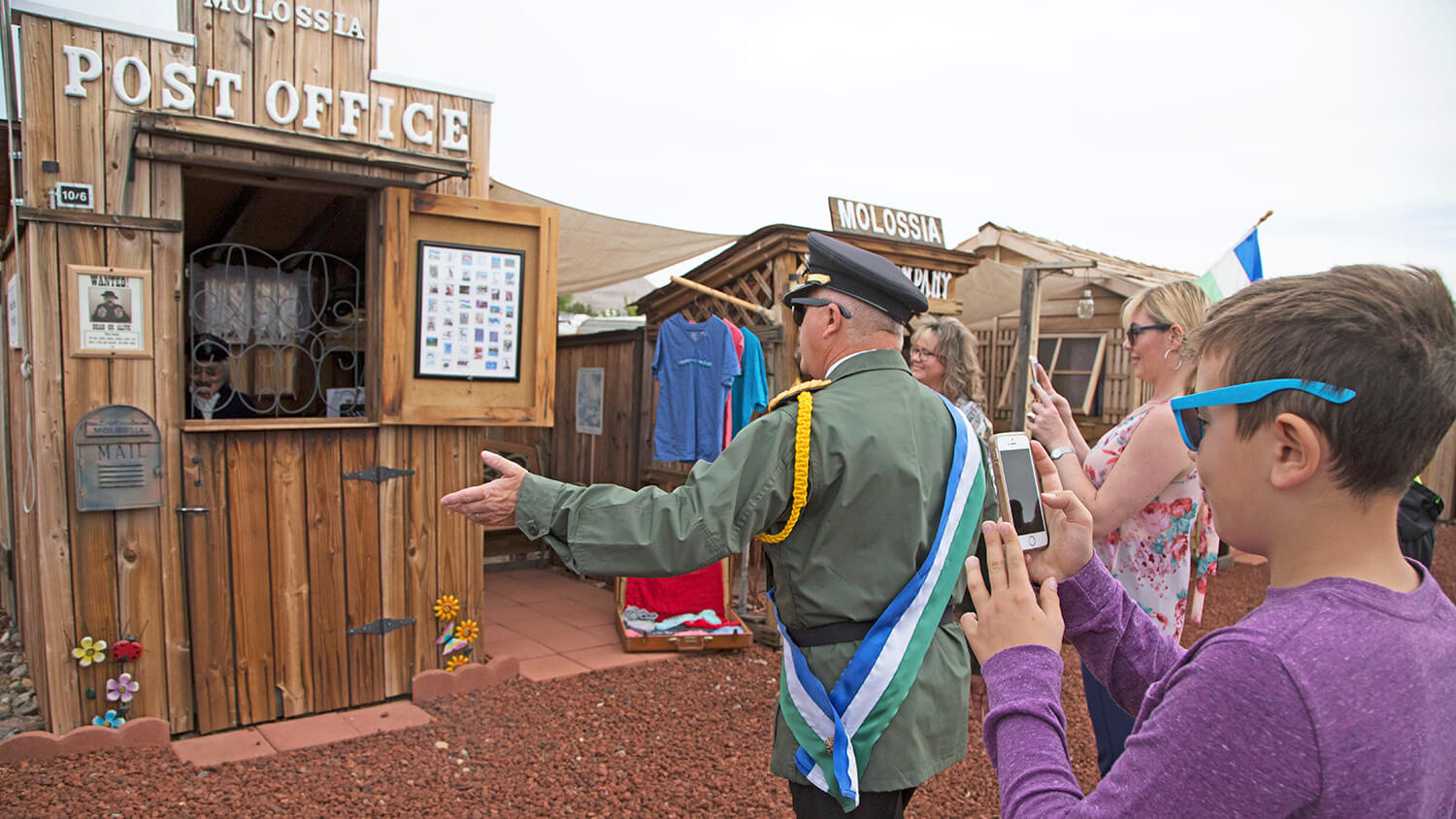 11. LEARN ABOUT MOLOSSIA'S MIGHTY FIRE DEPARTMENT…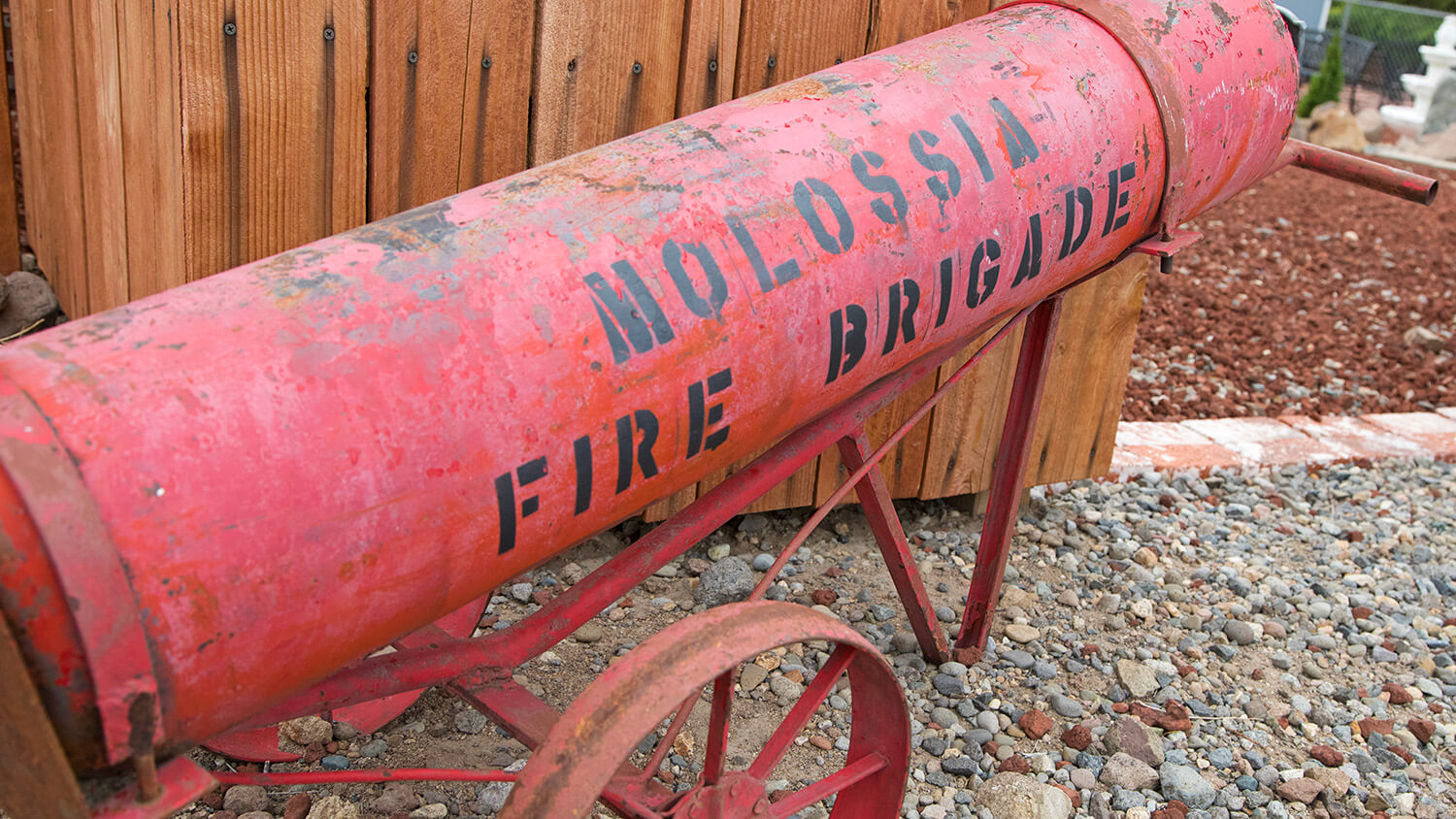 12. AND OFFICIAL POST OFFICE. YOU THINK THIS IS AMATEUR HOUR? OF COURSE THEY HAVE THEIR OWN POSTAGE.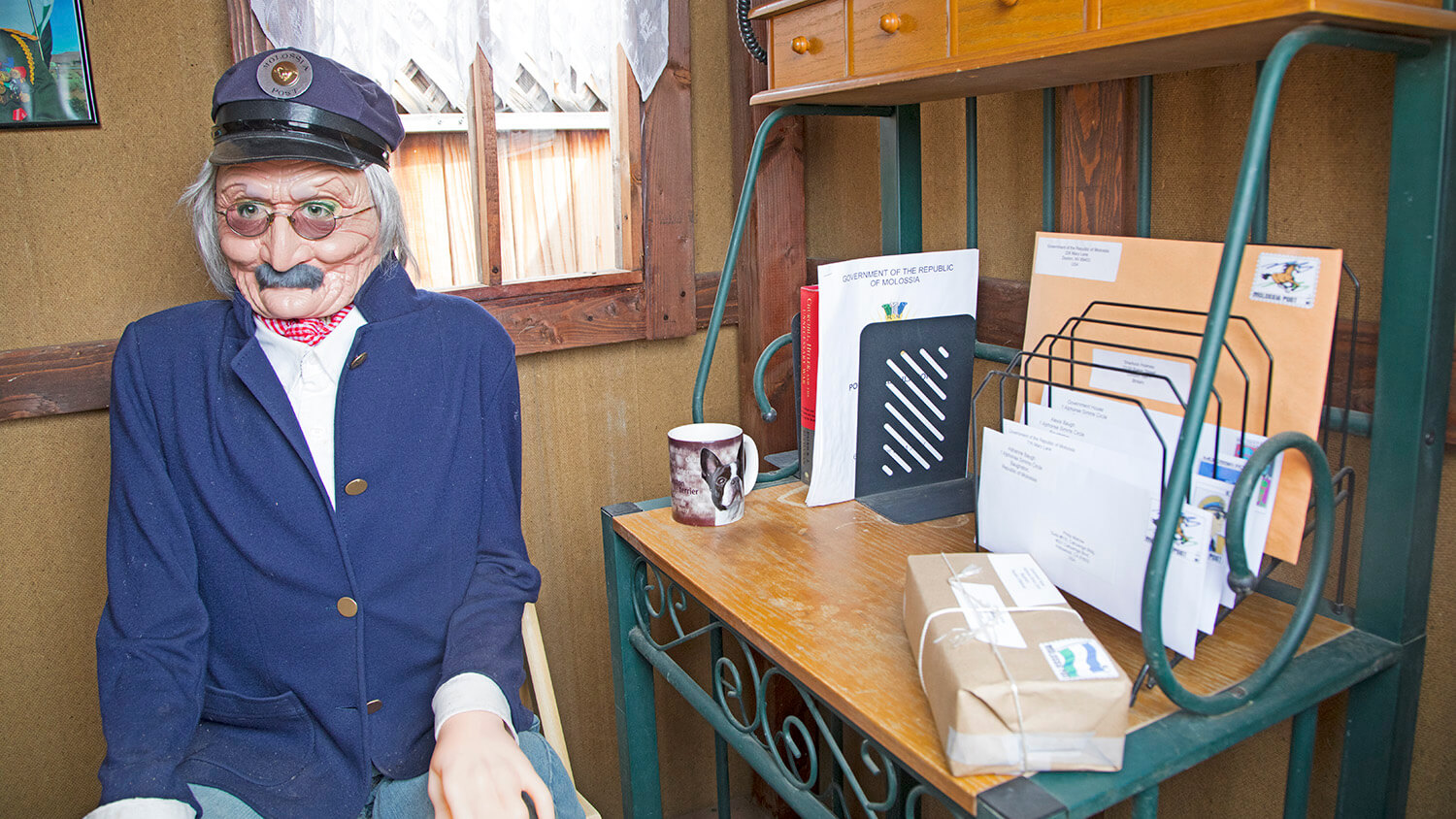 13. TOUR THE OFFICE OF THE PRESIDENT, AND POSE FOR A PHOTO WITH HIS EXCELLENCY…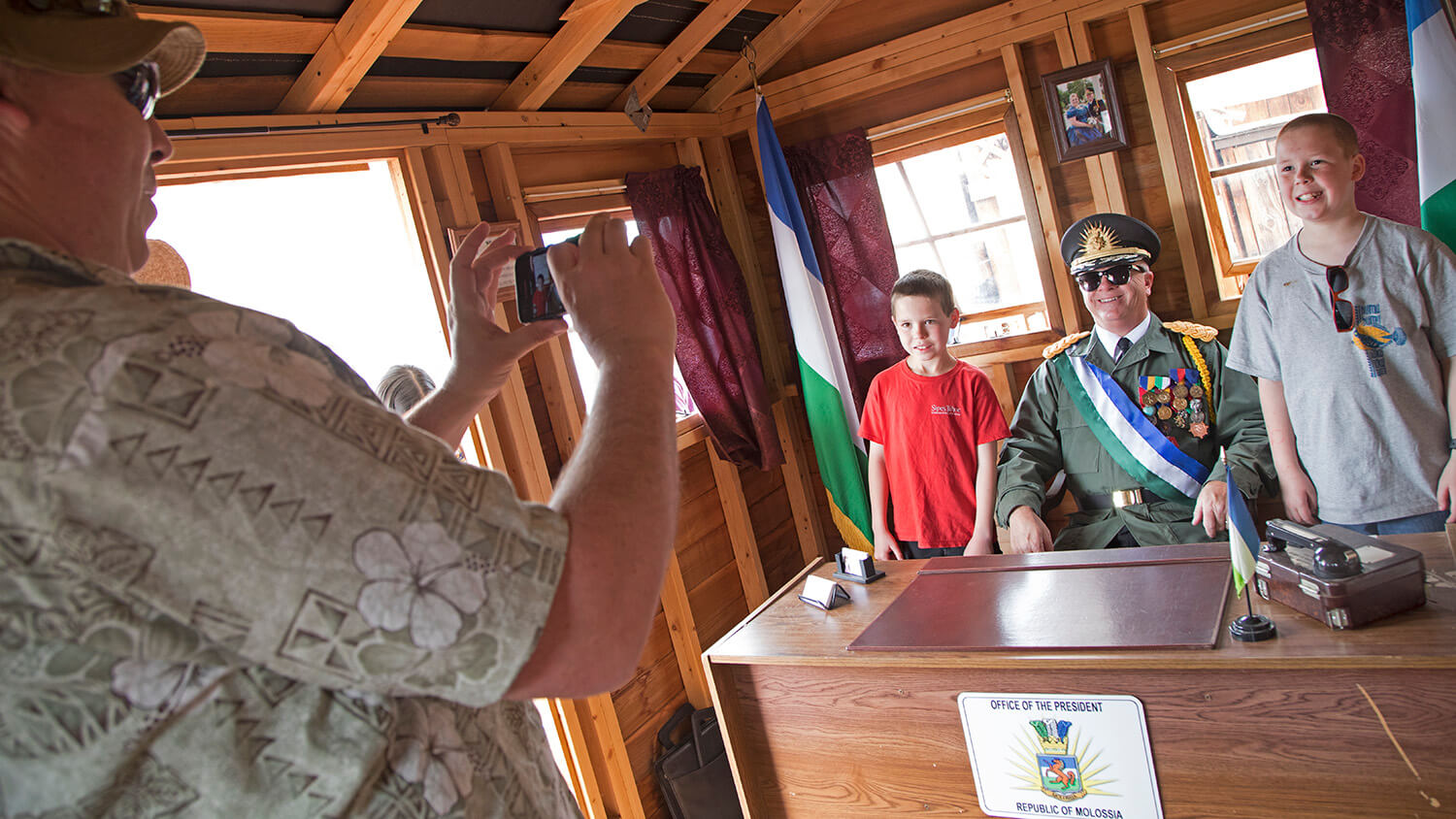 14. AND GET YOUR HANDS ON ALL KINDSA MOLOSSIAN SWAG AT THE TRADING POST. IT'S NOT TOO GOOD TO BE TRUE… POSTCARDS, STICKERS, T-SHIRTS AND BUTTONS ARE ALL ACTUALLY UP FOR GRABS.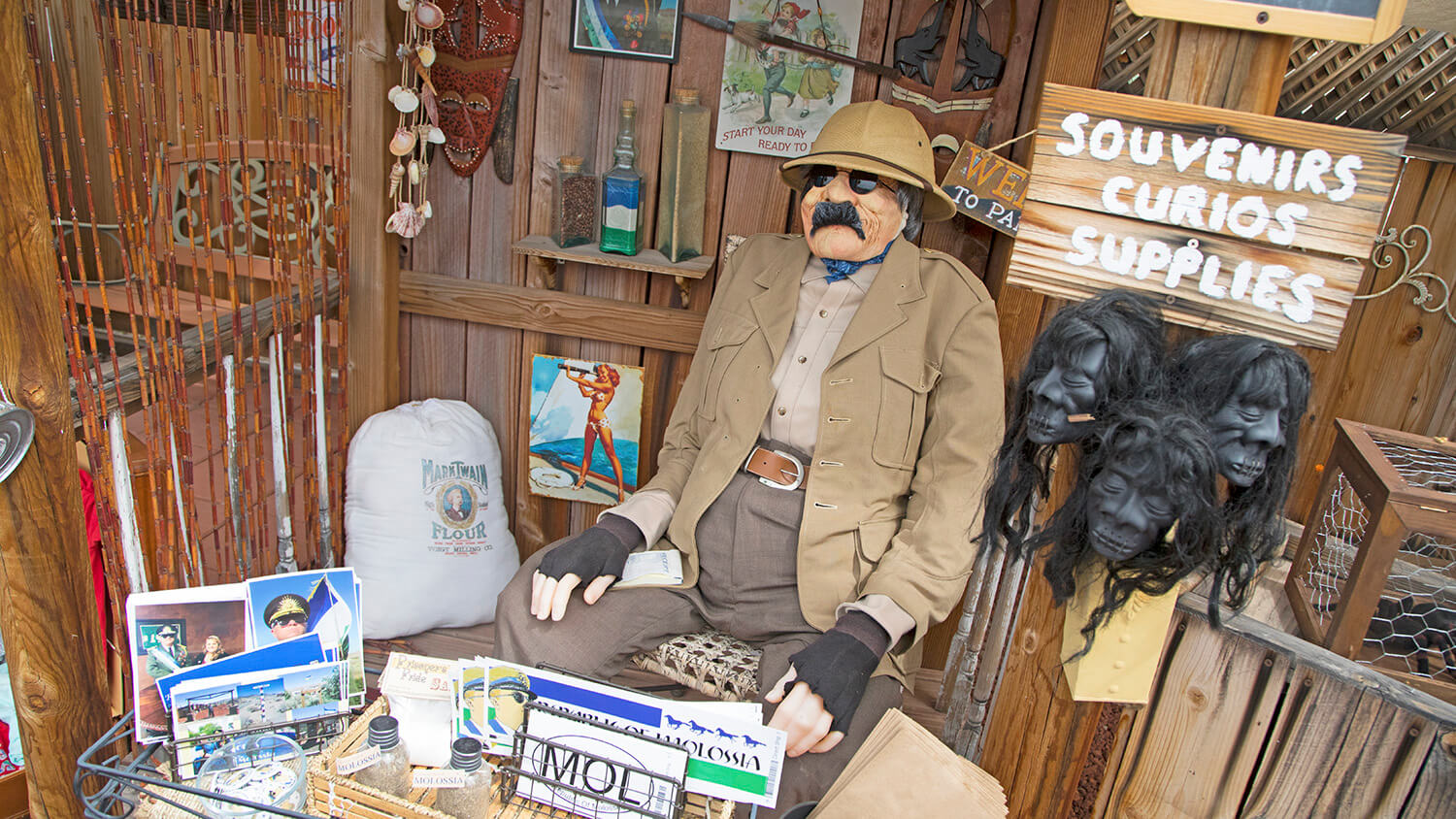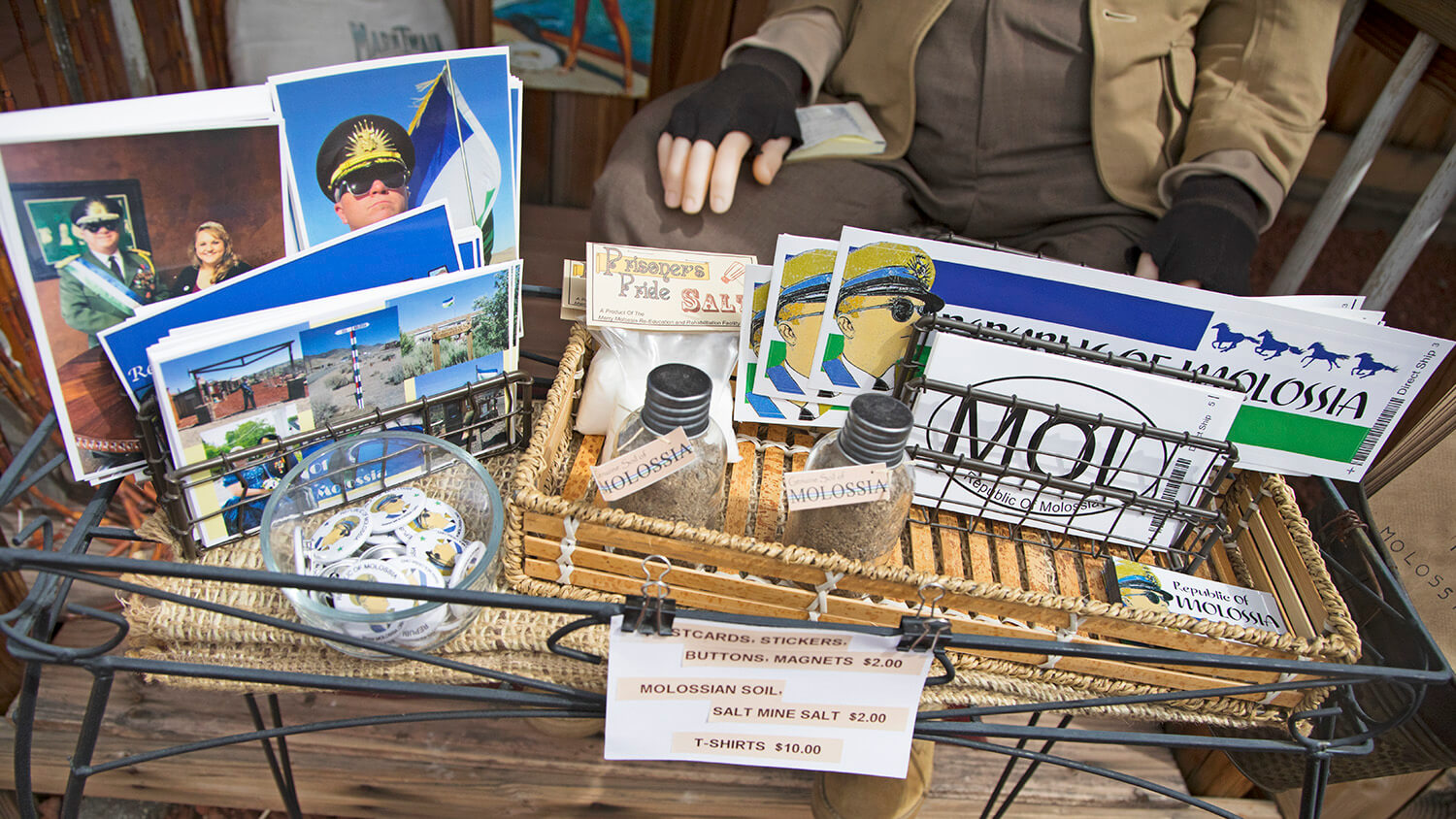 15. GOOD NEWS: NO MATTER HOW YOU CUT IT, EVERYONE IS GOING TO WALK AWAY WITH A REAL-DEAL MOLOSSIAN SOUVENIR. MOLOSSIAN-IFIED WATER IS A FREE GIFT TO EVERY VISITING FOREIGNER.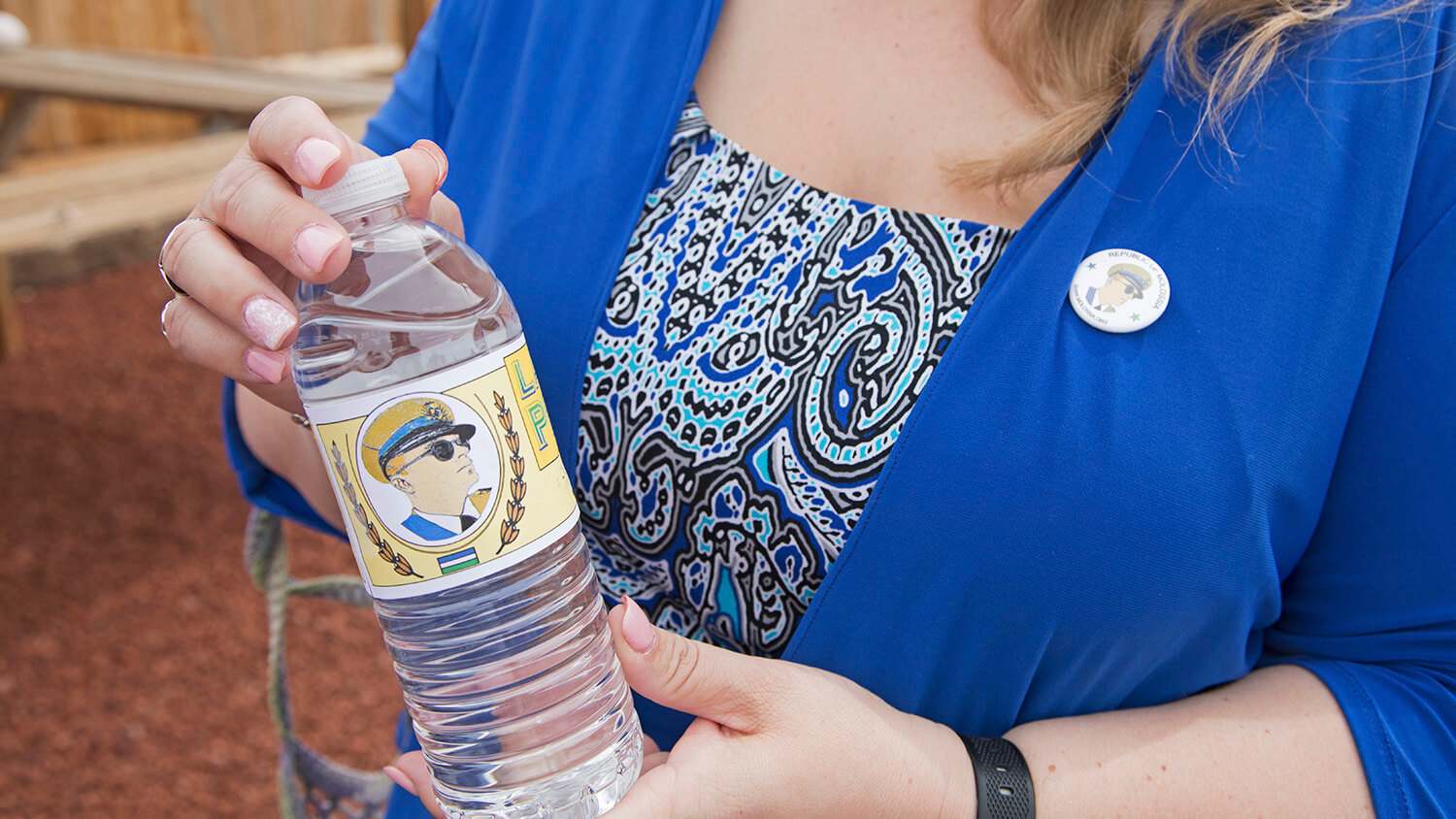 16. LEARN ABOUT VALORA, THE OFFICIAL MOLOSSIAN CURRENCY… AT THE NATIONAL BANK OF MOLOSSIA, OF COURSE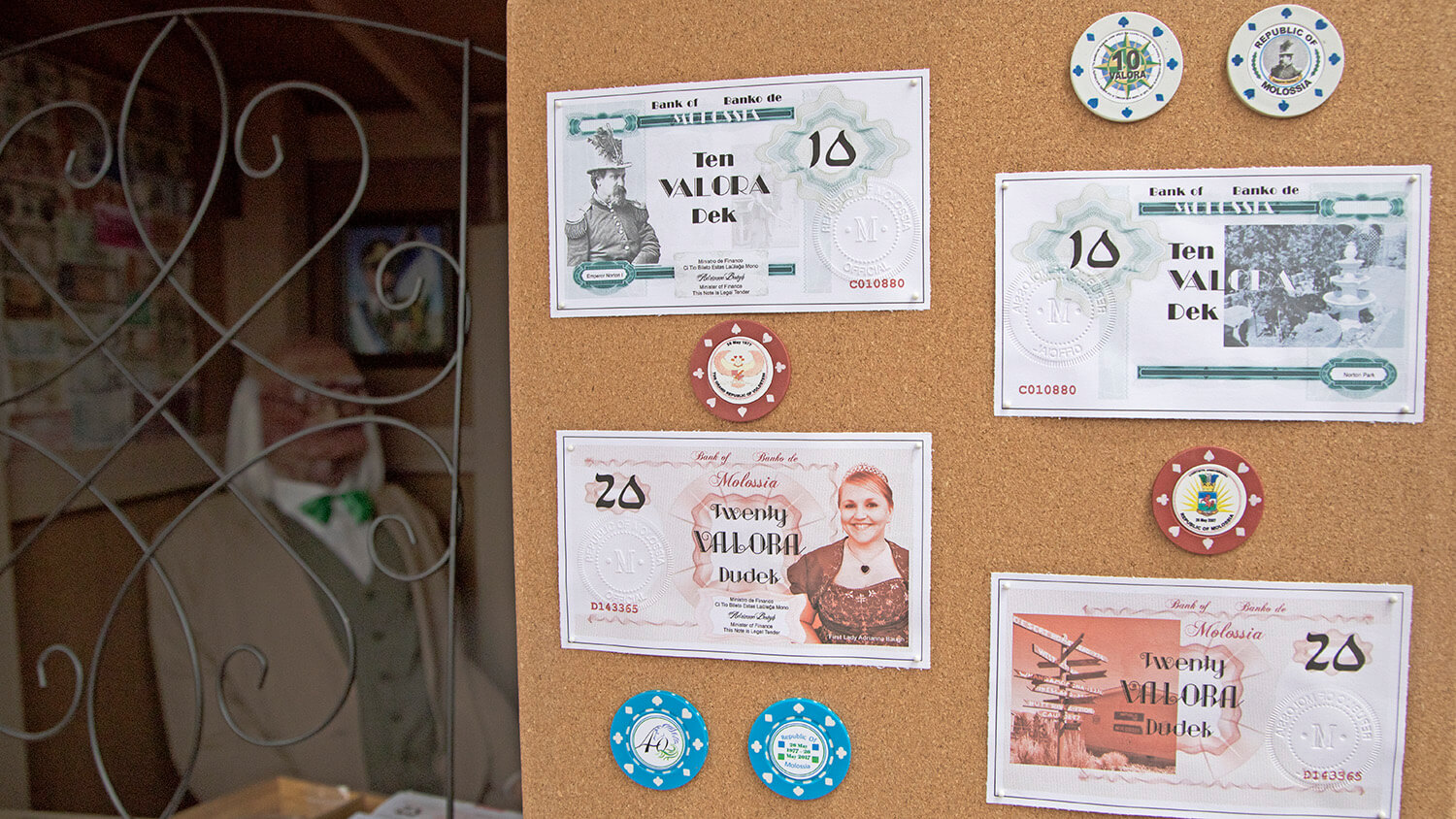 17. ZERO IN ON THE MOLOSSIA TIME CAPSULE, WHICH IS SLATED TO BE OPENED IN A LITTLE UNDER 600 DAYS…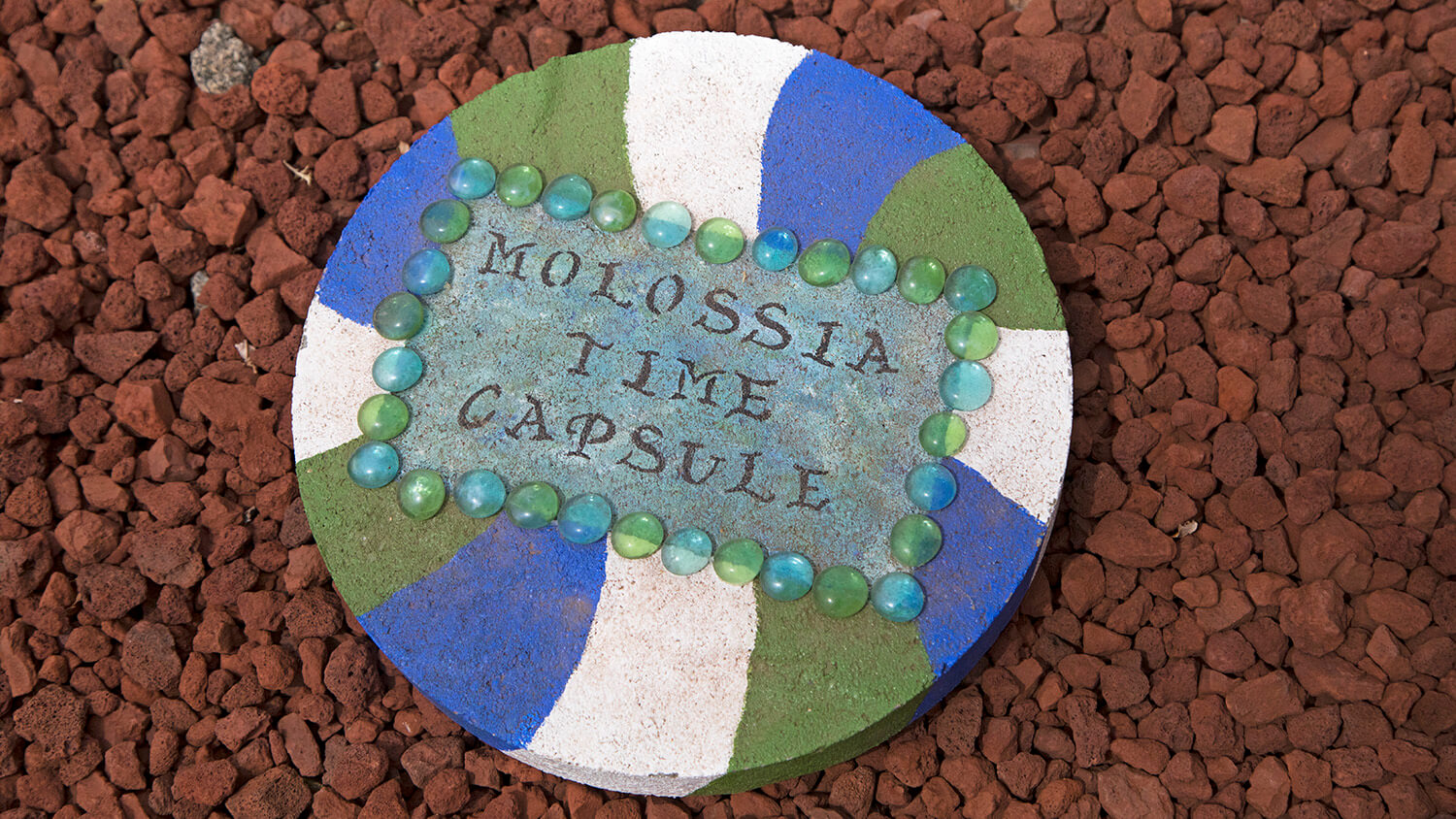 17. PAY HOMAGE TO THE HEROES OF MOLOSSIA…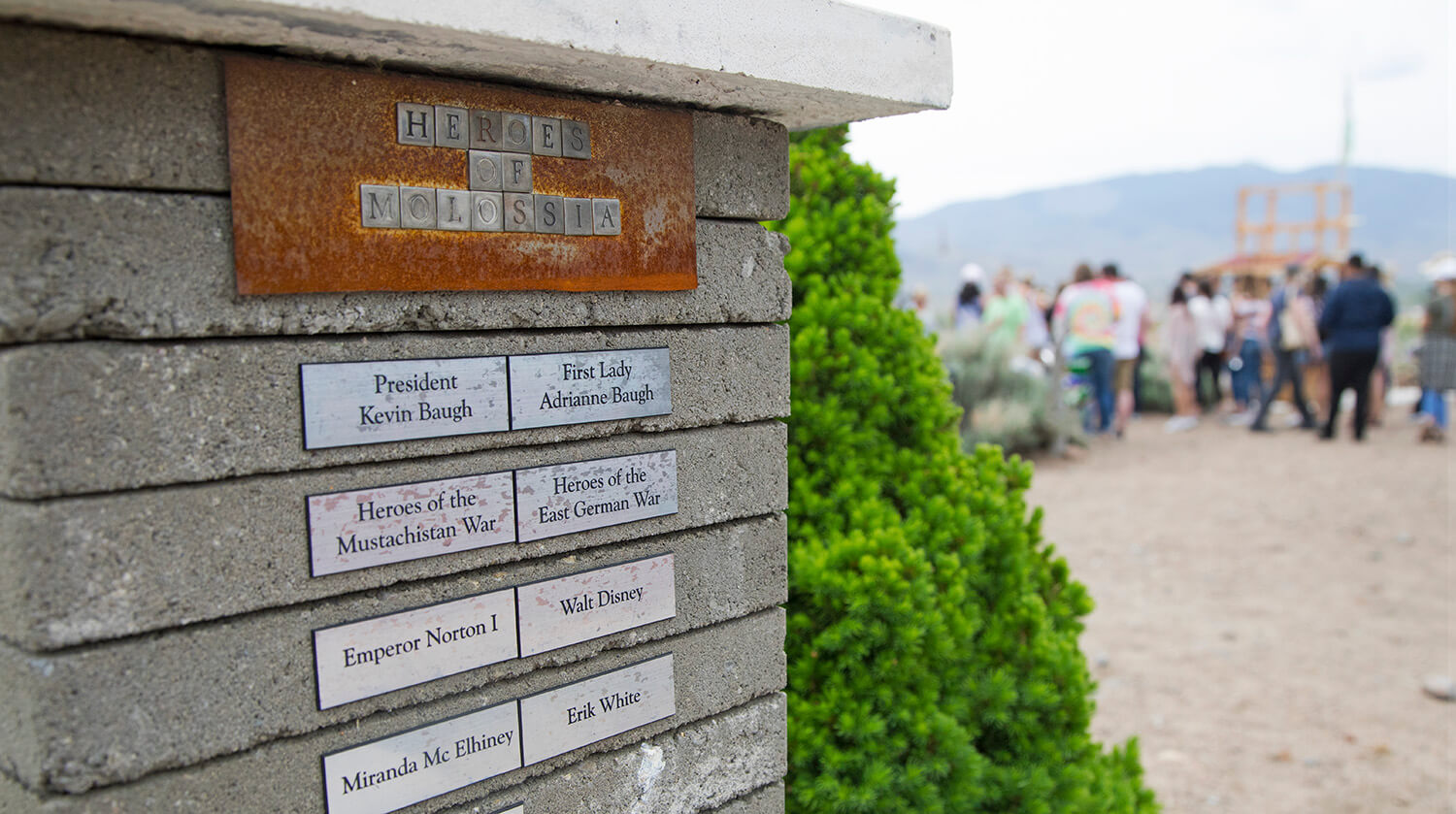 18. EXPLORE THE MOLOSSIAN MINISTRY FOR AIR AND SPACE EXPLORATION…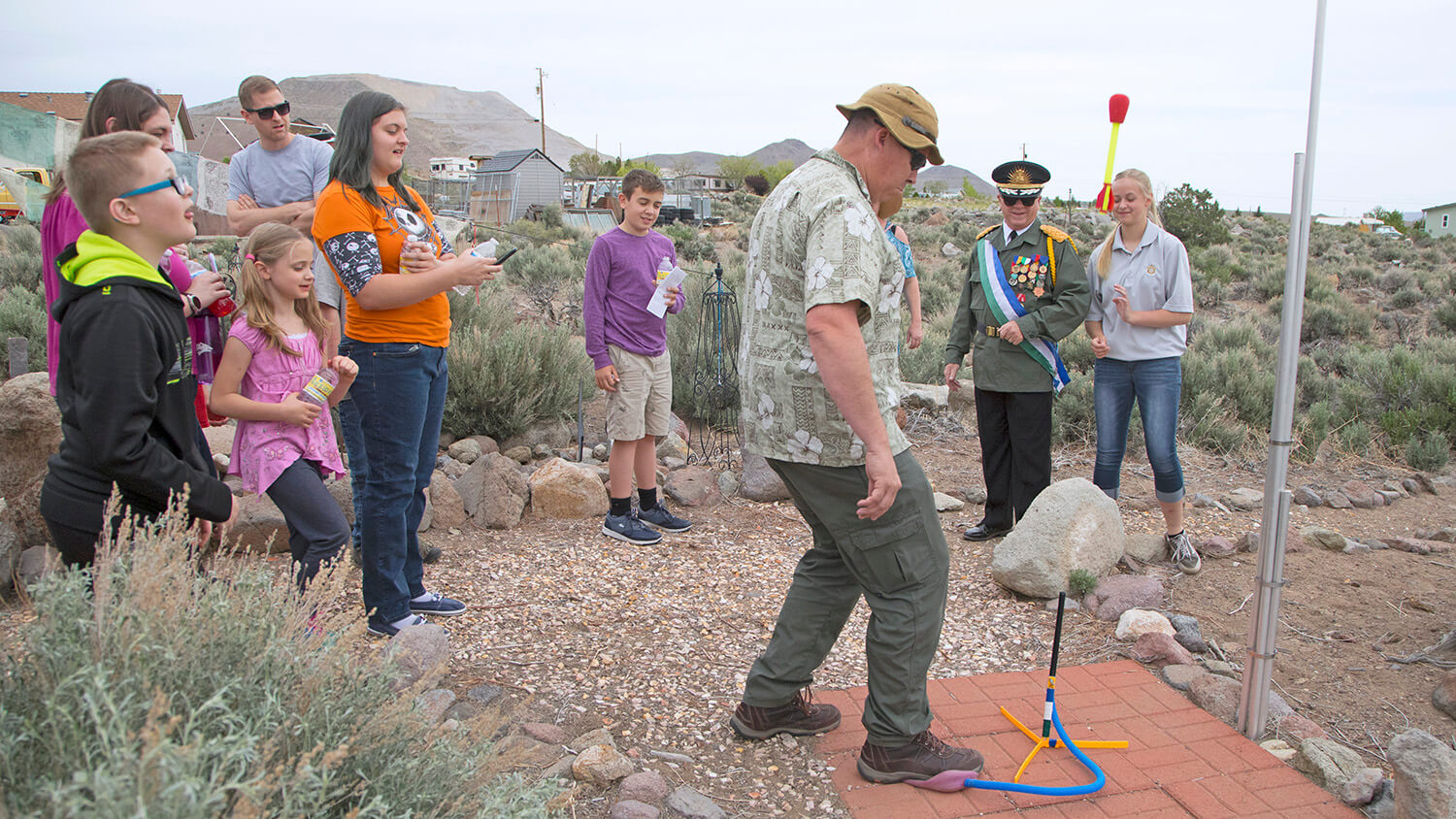 19. WHERE EVEN YOU CAN BECOME A CERTIFIED SPACE CADET.
20. REMEMBER THE WALRUSES AND ONIONS? YOU MAY OR MAY NOT GET A SHAKEDOWN, AND IF GUILTY, BE PERSECUTED TO THE FULLEST EXTENT OF MOLOSSIAN LAW  AT THE MICRONATION'S JAIL AND POLITICAL PRISON. IF YOU SEE SOMETHING, SAY SOMETHING, GUYS. CLICK HERE TO REPORT A CRIME WITHIN MOLOSSIA.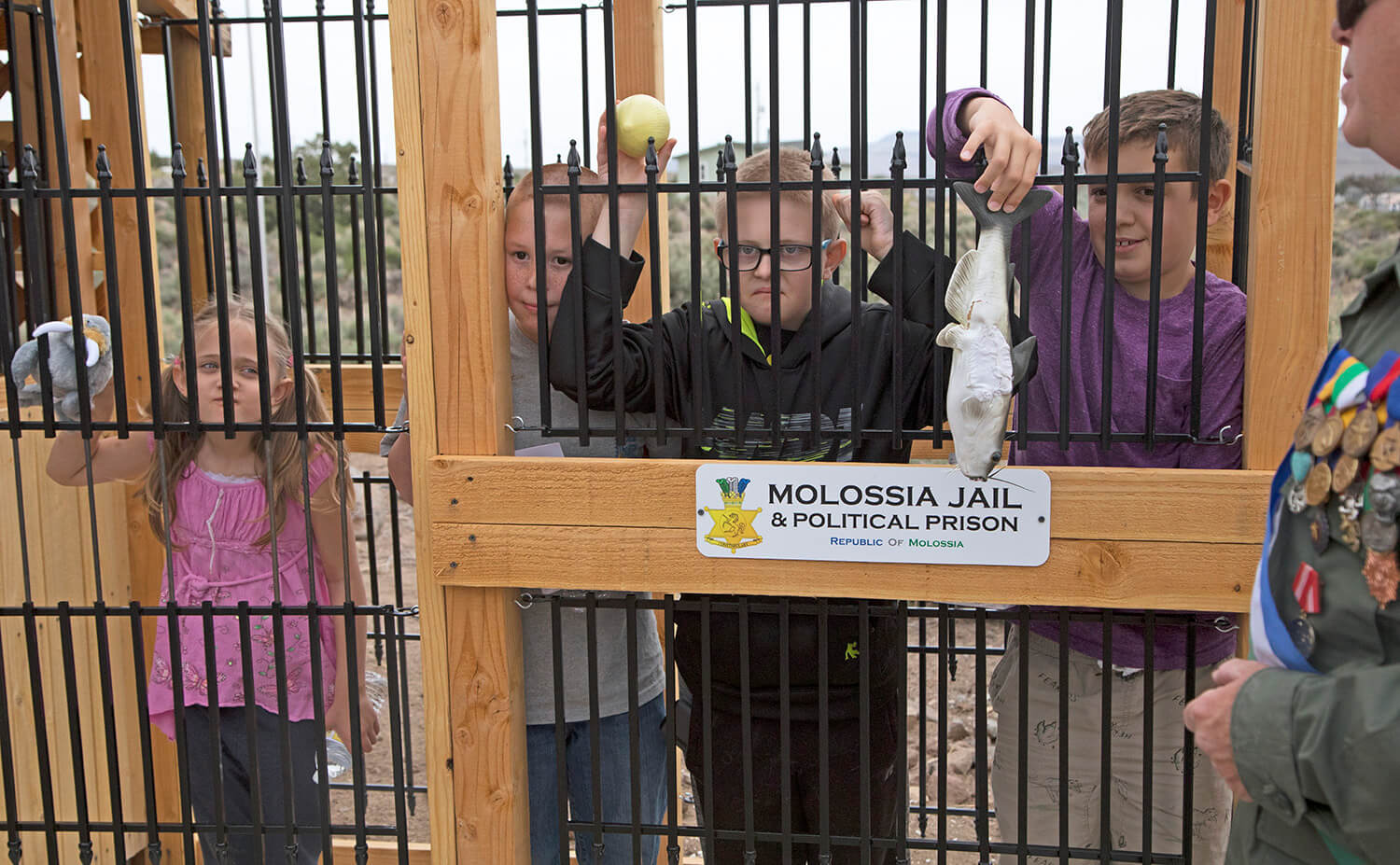 21. AND IF YOU DECIDED TO TEST THE WATERS AND SNEAK AN ONION, PLASTIC BAG, AND INCANDESCENT LIGHT BULB PAST CUSTOMS LIKE ME, YOU'RE DEFINITELY GOING TO JAIL.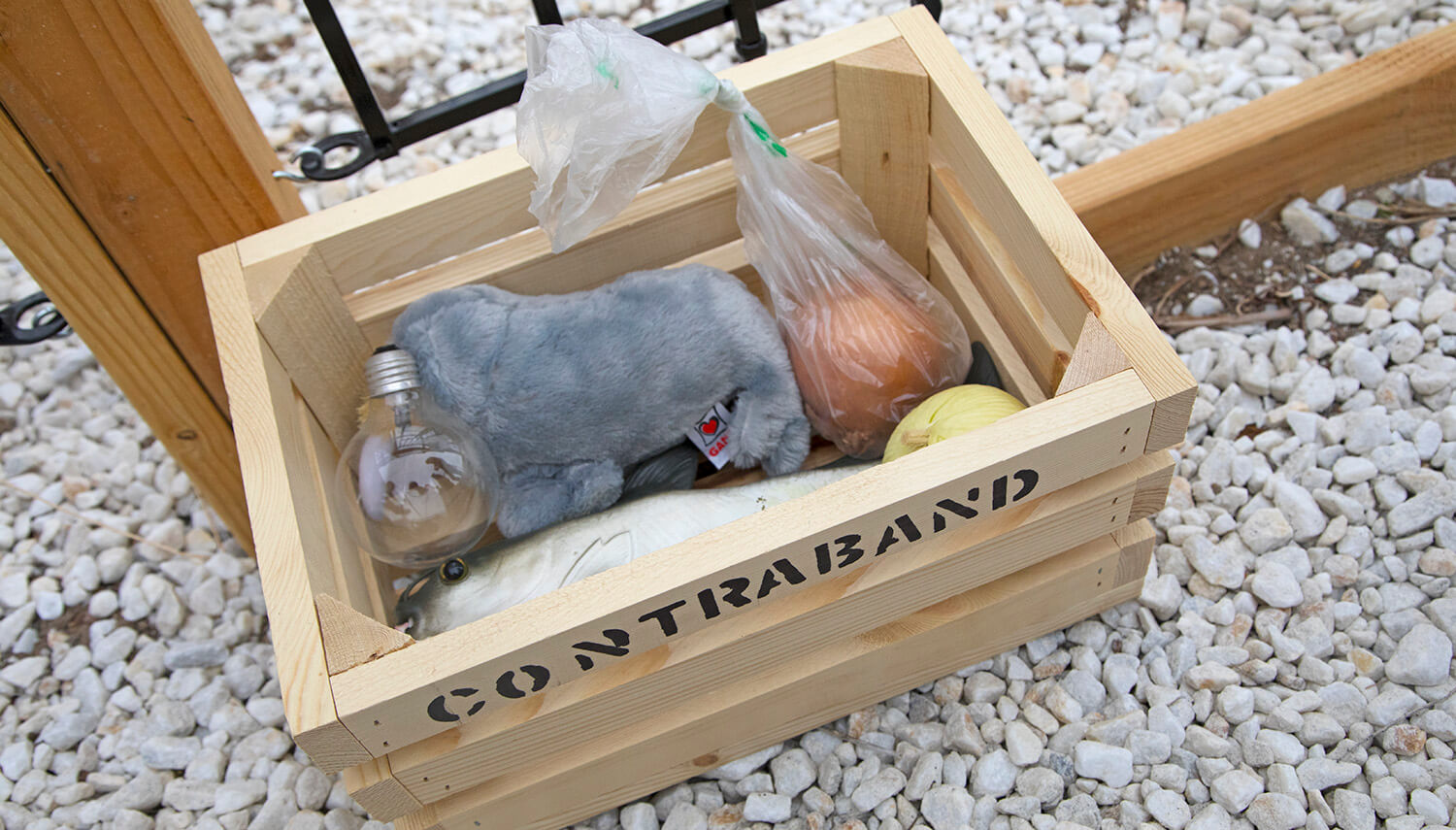 22. THE CONSTABULARY (OR JAIL) IS ADJACENT TO THE MERRY MOLOSSIA RE-EDUCATION AND REHAB FACILITY, AKA THE MOLOSSIA SALT MINE. MOLOSSIAN PRISONERS LIVE OUT THEIR DAYS MINING "PRISONER'S PRIDE SALT," SUPPORTING ONE OF MOLOSSIA'S MAIN INDUSTRIES.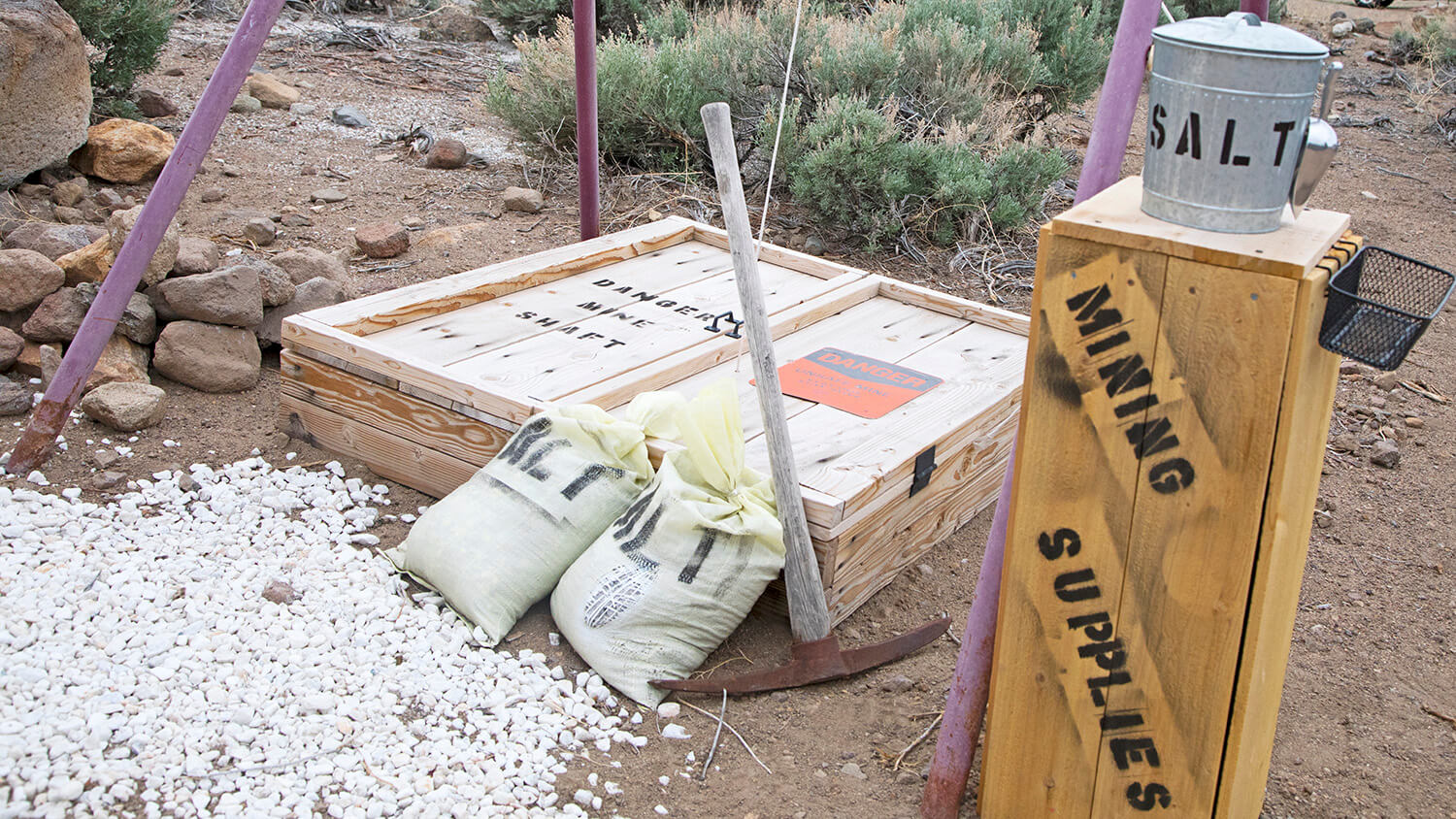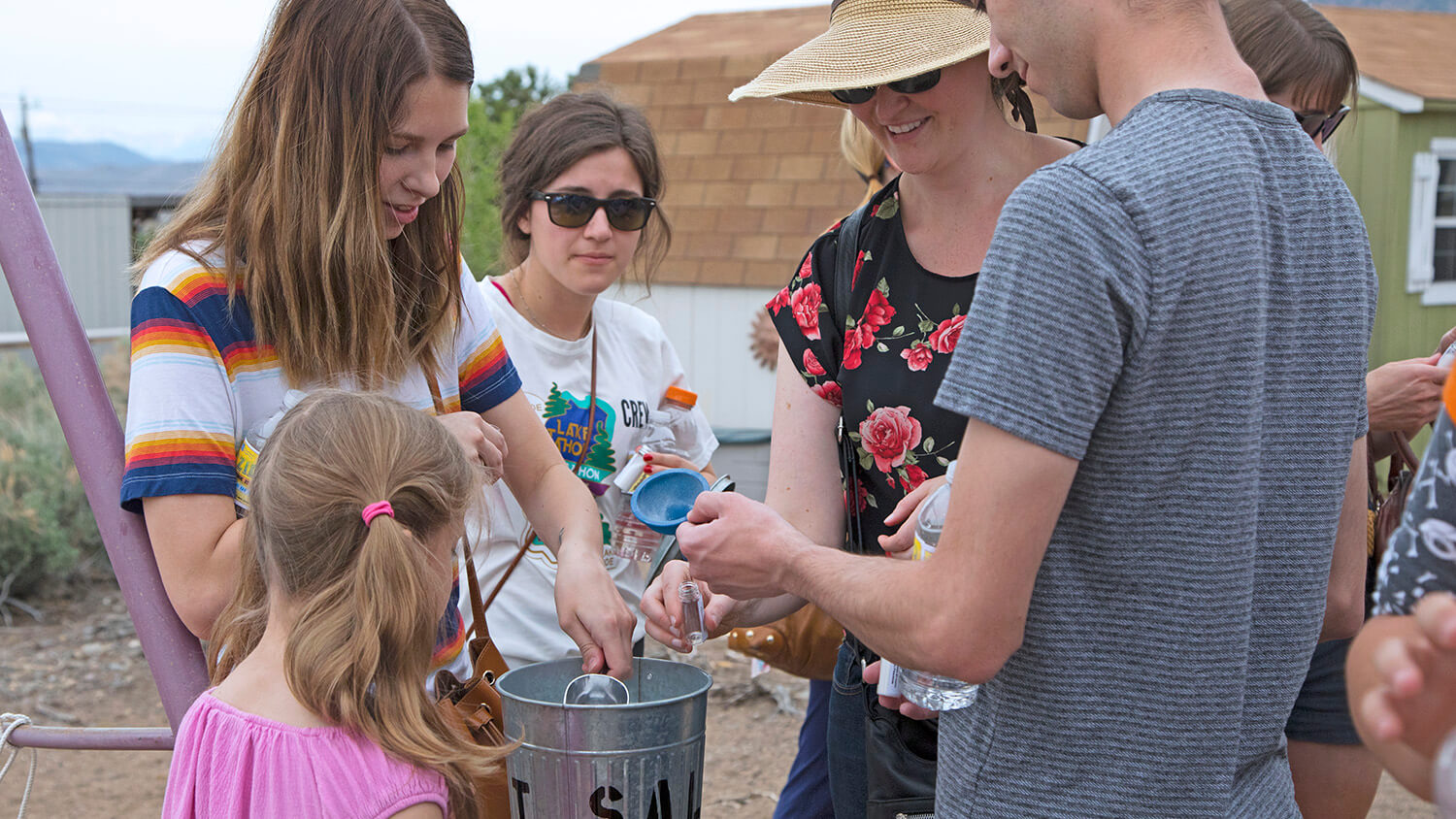 23. BUT IT'S NOT ALLLL GLOOM AND DOOM. IF YOU CATCH HIS EXCELLENCY IN HIGH SPIRITS, YOU MIGHT JUST LAND YOURSELF A GET-OUT-OF-JAIL-FREE CARD.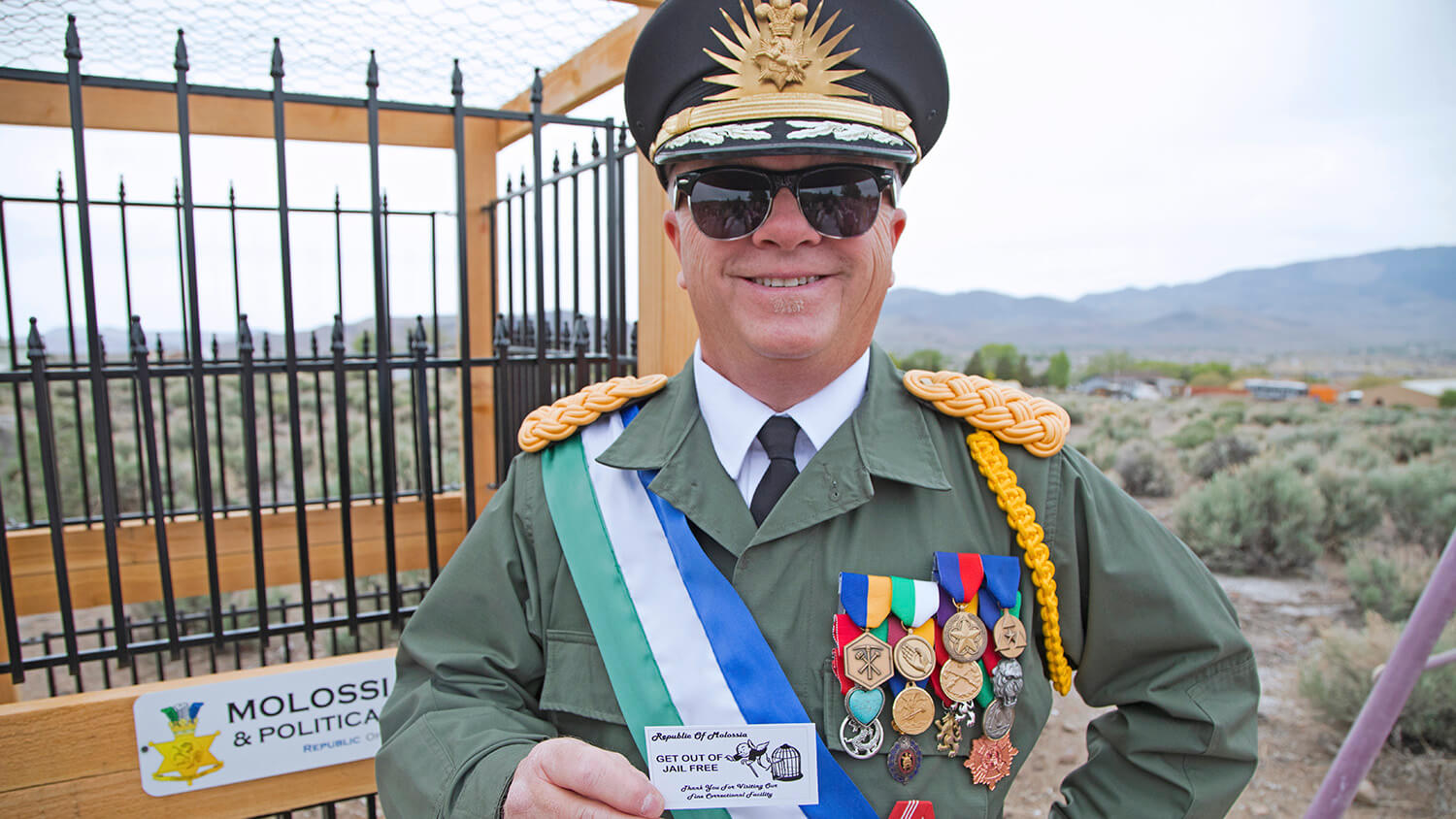 24. NEXT UP: EXPLORE THE HISTORIC MOLOSSIA RAILROAD…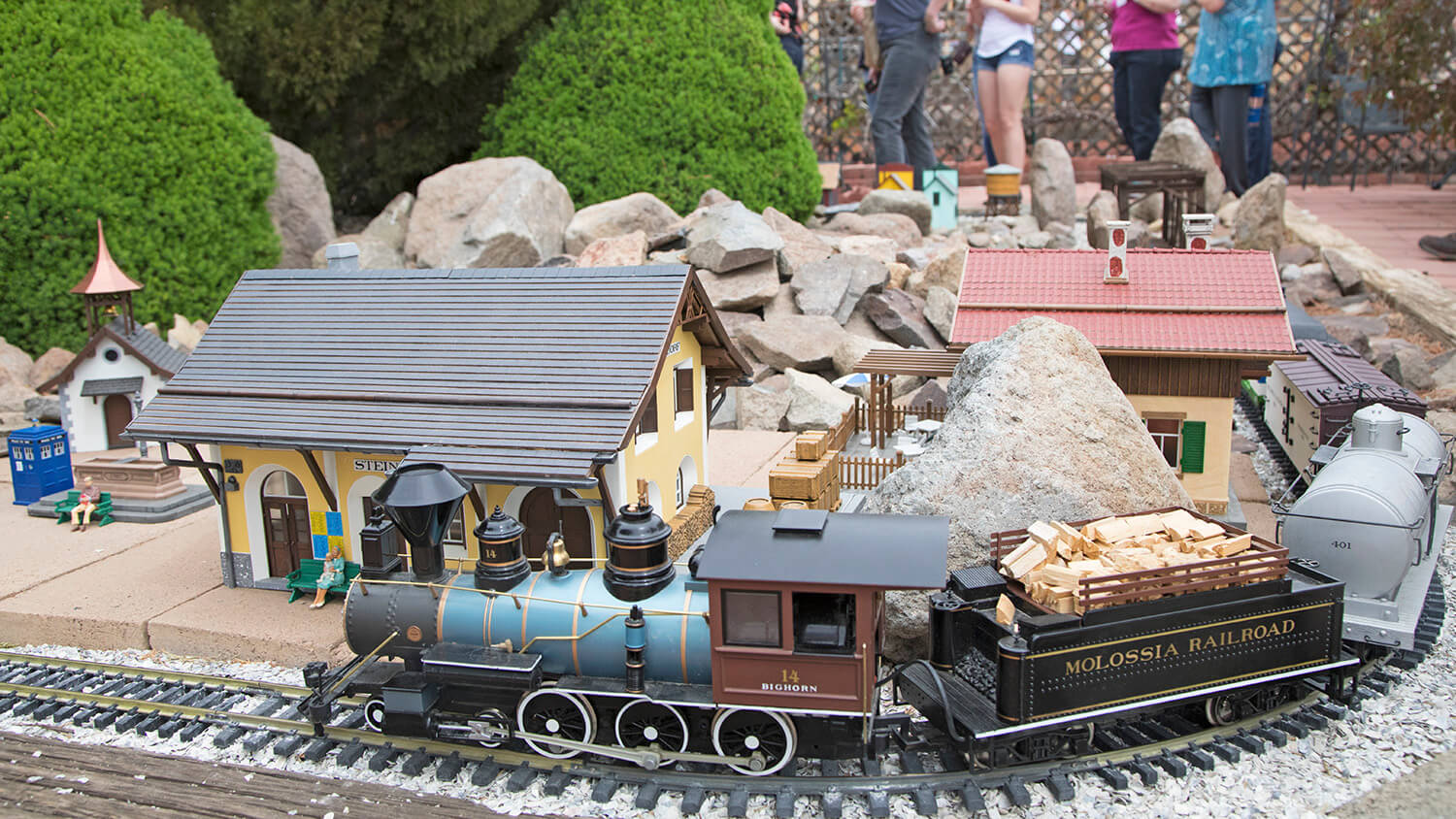 25. AND MY PERSONAL FAVORITE, THE MOLOSSIA DEPARTMENT OF DEFENSE.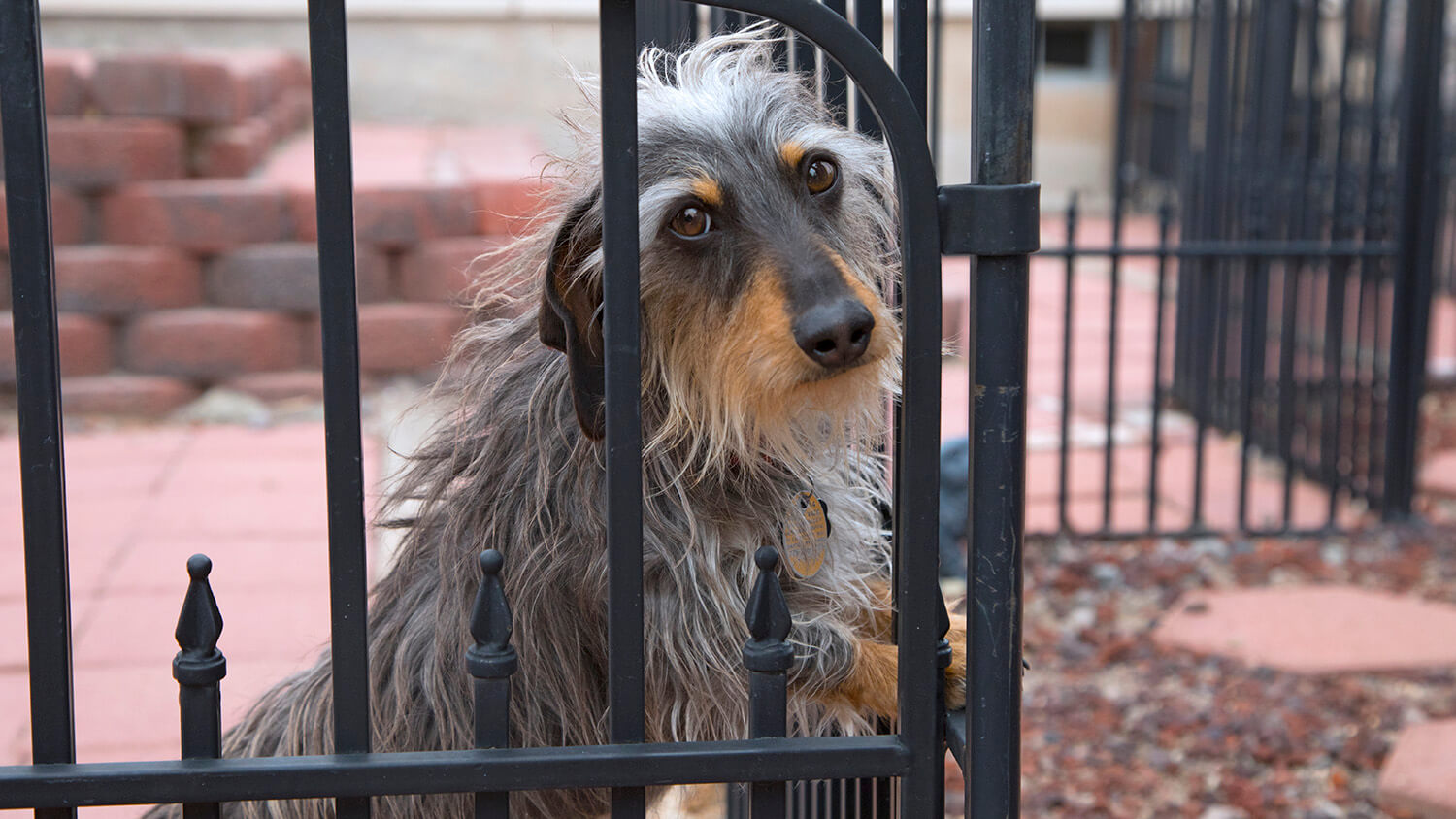 26. BEFORE YOU GO, TAKE PART IN MOLOSSIAN TRADITION BY TOSSING AN OVER-THE-SHOULDER COIN IN THE FOUNTAIN OF MOLOSSIA…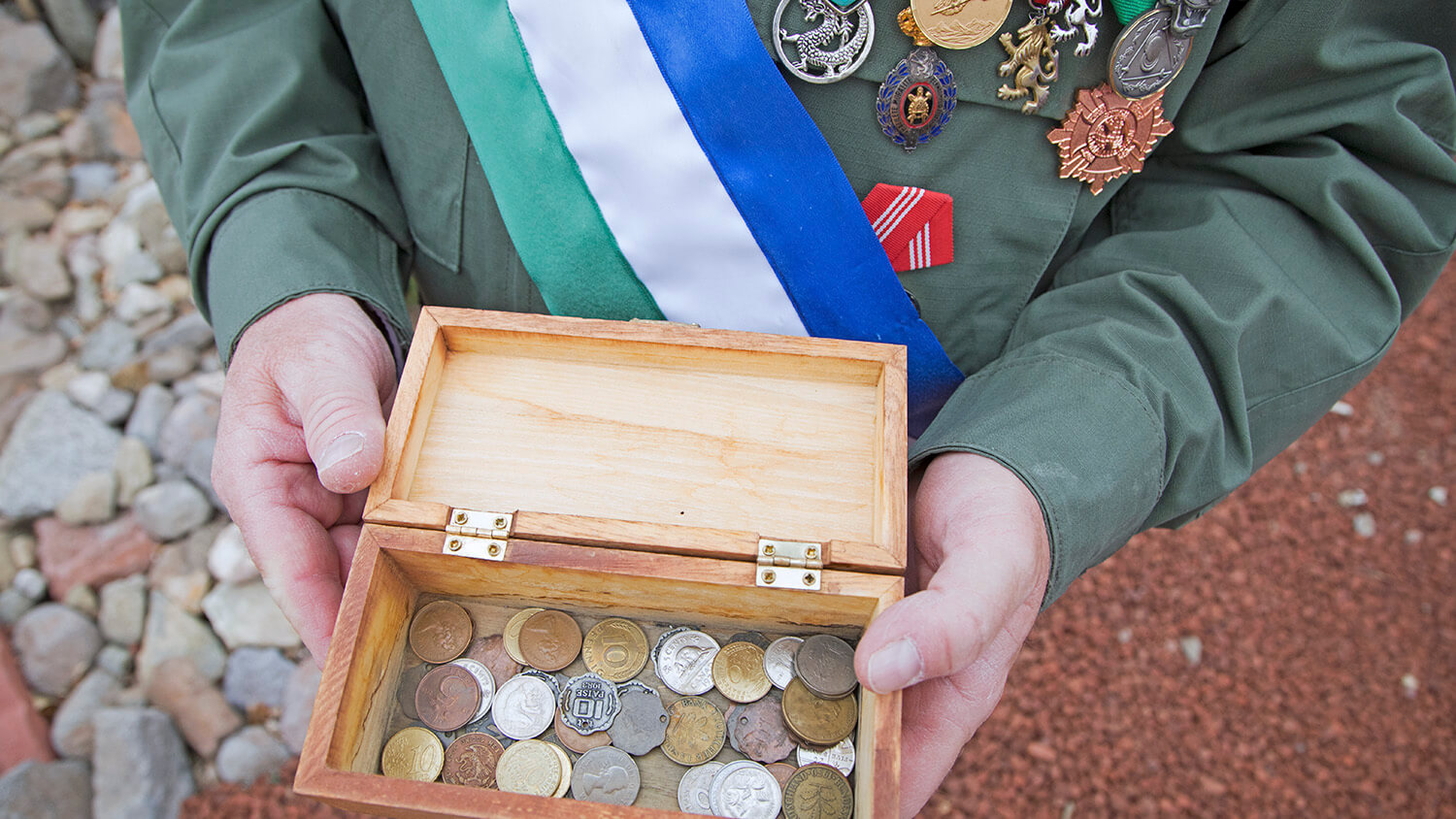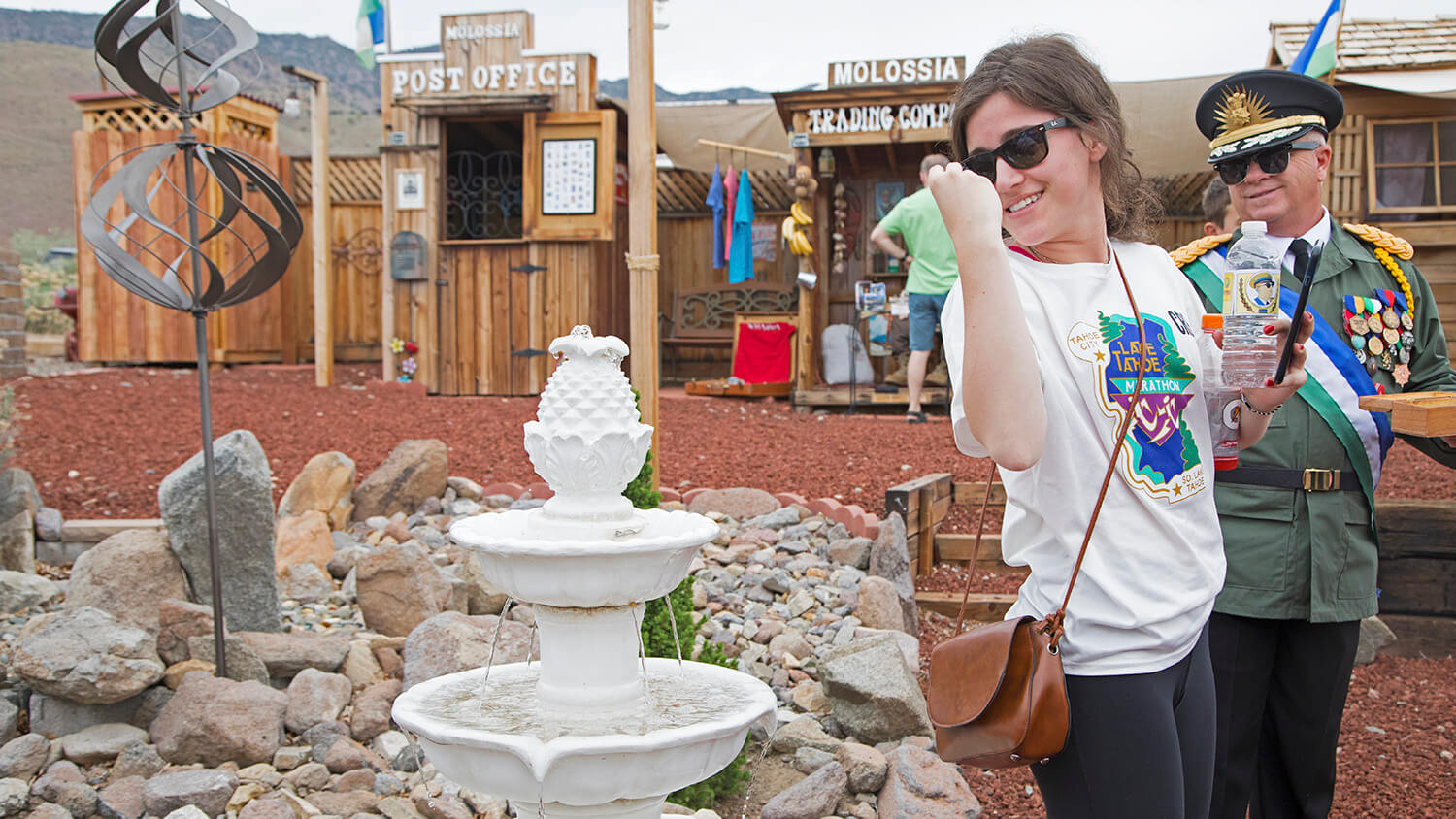 27. AND DON'T FORGET, HIS EXCELLENCY LOVES GIFTS. AFTER ALL, COOKIE DOUGH AND VALORA ARE OF EQUAL LEGAL TENDER IN MOLOSSIA!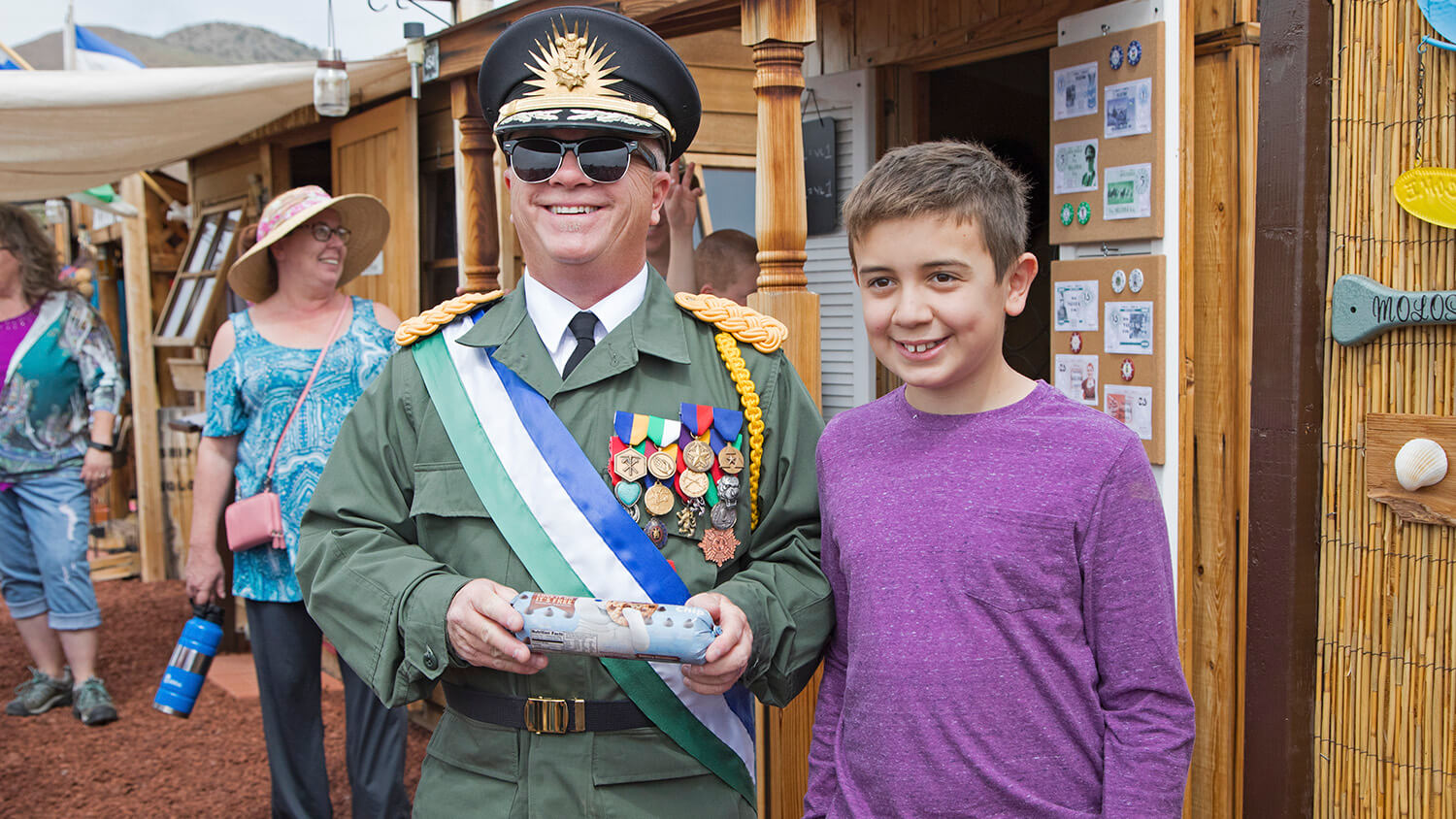 FOR MORE INFORMATION ON SCHEDULING YOUR APPOINTMENT-ONLY TRIP TO THE MICRONATION OF MOLOSSIA, CLICK HERE. #WeirdNevada
Get Inspired
Related Stories