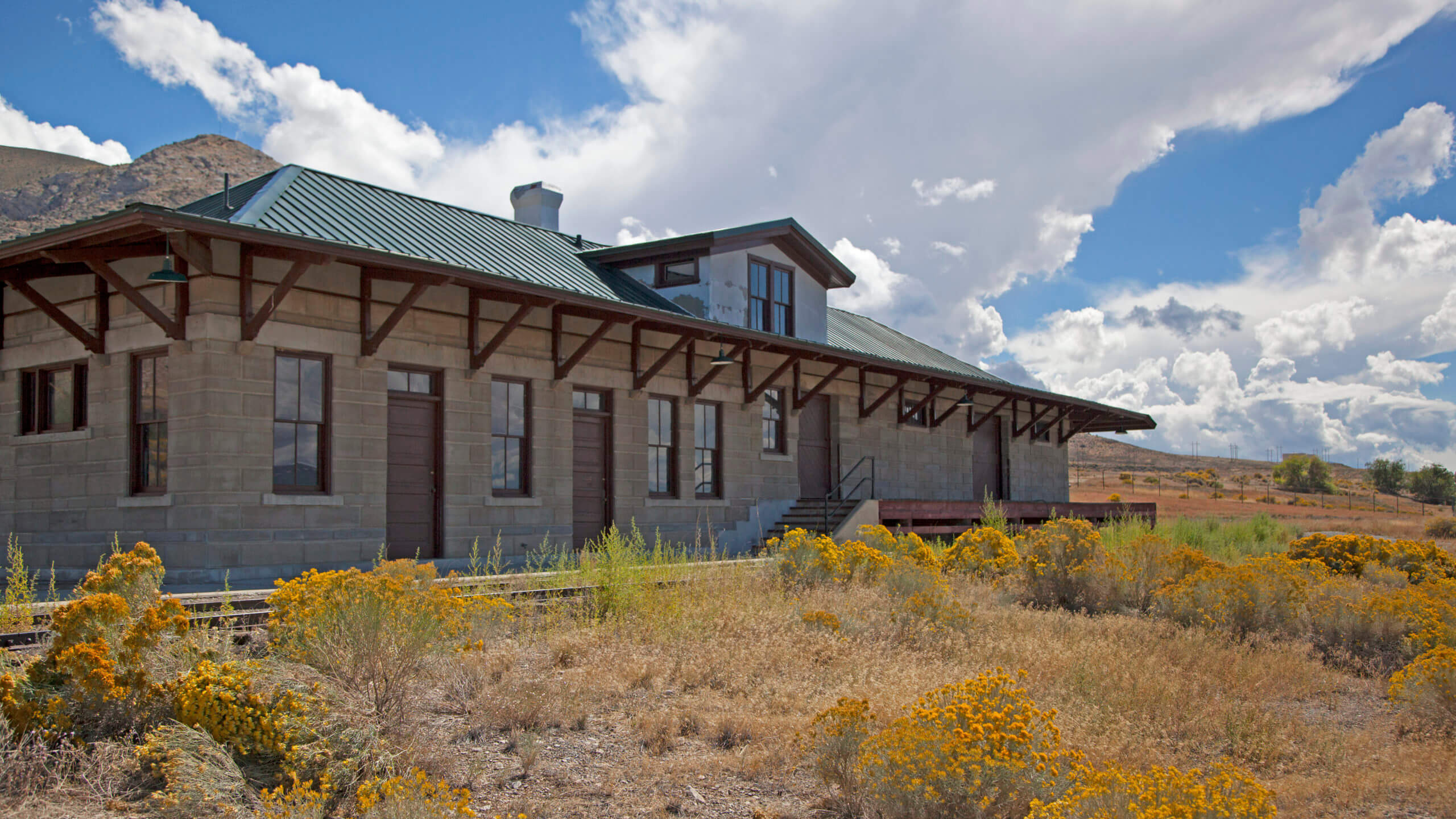 A Romp Through The Olden Days In McGill
In a desperate attempt to keep our vacation going after an epic weekend at Great Basin National Park, we seized the glaring opportunity to hit the irresistibly historic township of McGill before truly committing to the trek back to Reno. Deviating from The Loneliest Road, we peeled north on US 93 and traveled the 15ish minutes before stumbling into this super-interesting little town.
With the lion's share of my family hailing from super small-town Nebraska and spending some seriously formative summers running rampant in 300-person communities, I've got a serious soft spot for small towns and the people who go along with it. So naturally, I was psyched to learn that roughly 1,000 people call McGill home today, and immediately I knew I was in for a memorable afternoon.
At first glimpse, it was obvious. Seemingly identical to many of Nevada's once-booming municipalities, it was undeniably clear the history in McGill was rich, but its momentous years had come and gone. A few delightful little businesses caught my attention on Main Street, but staying true to tradition, we completed our usual loop through the entire main drag before committing to anything. I was totally in love with this pleasantly tidy, quiet little town! Flipping a U to circle back through Main Street, an enormous chimney in the foothills caught my eye. I couldn't NOT go up there now, come on guys.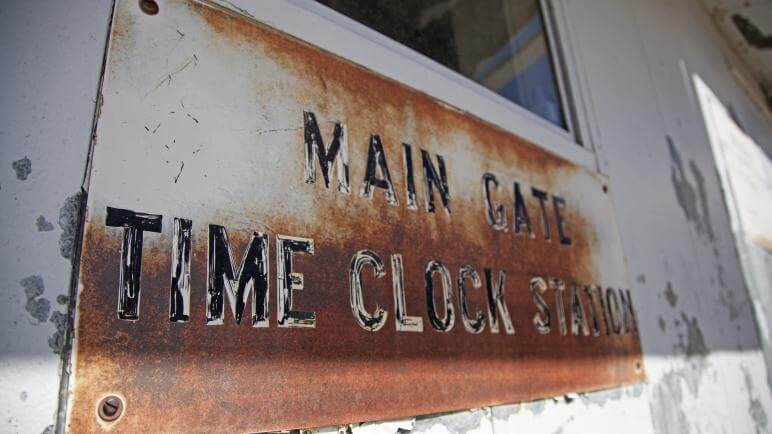 Winding up through mellow neighborhoods on this radiant summery day, we crossed into what looked like an extraordinarily historic factory of sorts. Jackpot, our adventure wasn't over after all. We threw the car in park in double time and jumped out to get a closer look at a train depot-looking building. Totally fenced off, that was clue No. 2 that this place had some major historical significance. I spun around to get a 360-degree view of what else might be in store while standing before a gigantic gate and a rusted sign reading "Main Gate Time Clock Station."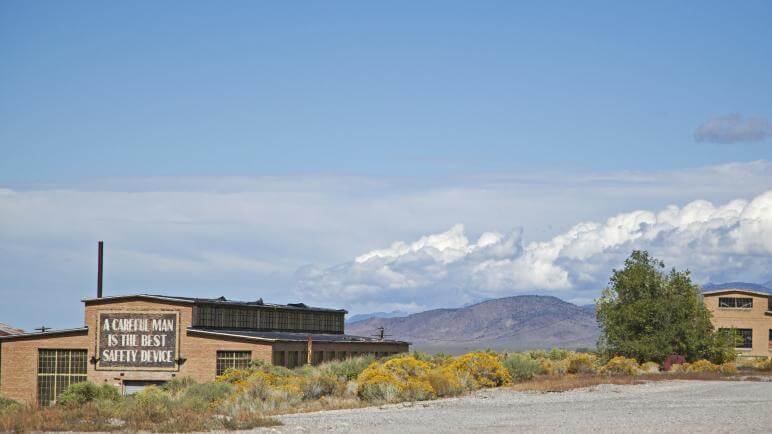 Peering into the cobwebbed windows, there appeared to be dozens of mailboxes. A closer look revealed that all were etched with names! Ok, now I was getting excited. We headed over to the gargantuan main gate, identified the smokestack I initially had spotted, and couldn't have been more pleased with the crazy-cool mural on the south side of it. Reading "A Careful Man Is The Best Safety Device" confirmed this mystery factory held some sort of monumental importance and was charming the socks off me.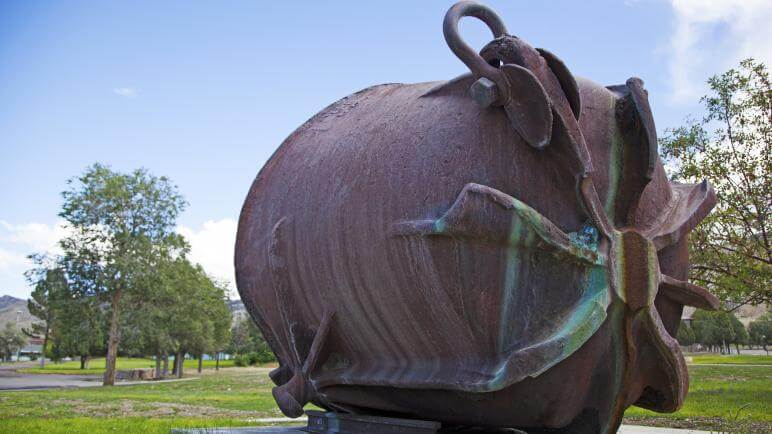 In a head-scratching, historical conundrum, my mind was racing in desperation to piece it all together. Then it hit me. Ely, just down the road was [and still is] famous for its copper production. The train tracks from the famous Nevada Northern run from Ely to McGill and through this puzzling factory, so it must be affiliated, right? Then a marquee reading "Kennecott Nevada Copper Company" caught my attention. OF COURSE! This was where they hauled the copper erected from Ely's mines to be processed into "blister copper," poured into casts and hauled off. This was a smelting operation! Damn, my high school history teacher would be proud.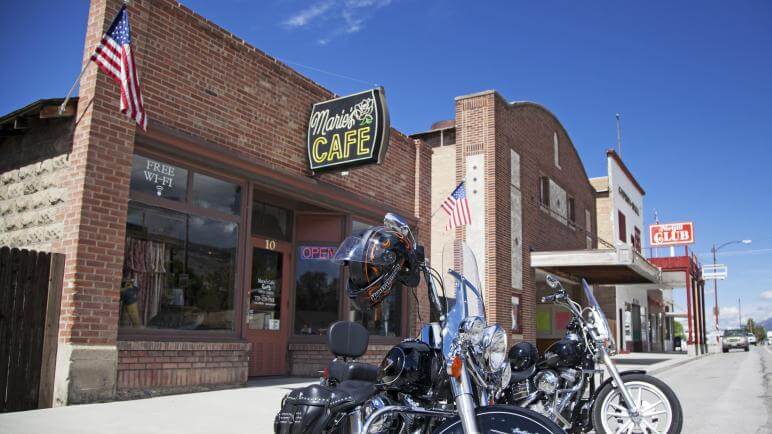 Reveling in the magnetizing past of this hauntingly alluring operation, we headed back for Main. The baffling statues in the city park now made sense. They were original cauldrons from the casting that took place at the factory just up the street. Even though there wasn't a tour or restoration of any kind, it didn't matter. The statues are an awesome little snippet of history; they connected the dots as to why the town had boomed and then faded away.
Geeking out on the historical revelation that exploded before us, we parked on Main, hot to scour the streets in search of additional pockets of McGill's past. And where, pray tell, is a better place to start than an antique store? Popping into McGill Antiques and Collectibles we were greeted with a friendly howdy-do by the lady behind the desk. Surprised to spot a decent variety of old and new, we followed the breadcrumbs of such history-laden loot as motorcycle gear, well-loved bakeware, an intriguing assortment of knives and an amazingly extensive record collection.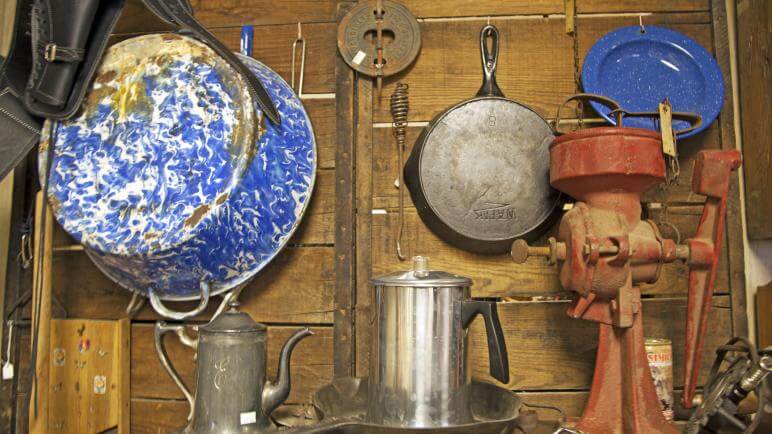 I love a good scavenger, and that's exactly what McGill Antiques and Collectibles presented! An unavoidable favorite that stood out were original concrete Lincoln Highway markers. Getting to actually place my hands on those meaningful statues that once lined one of the most iconic thoroughfares in the country was pretty flipping neat.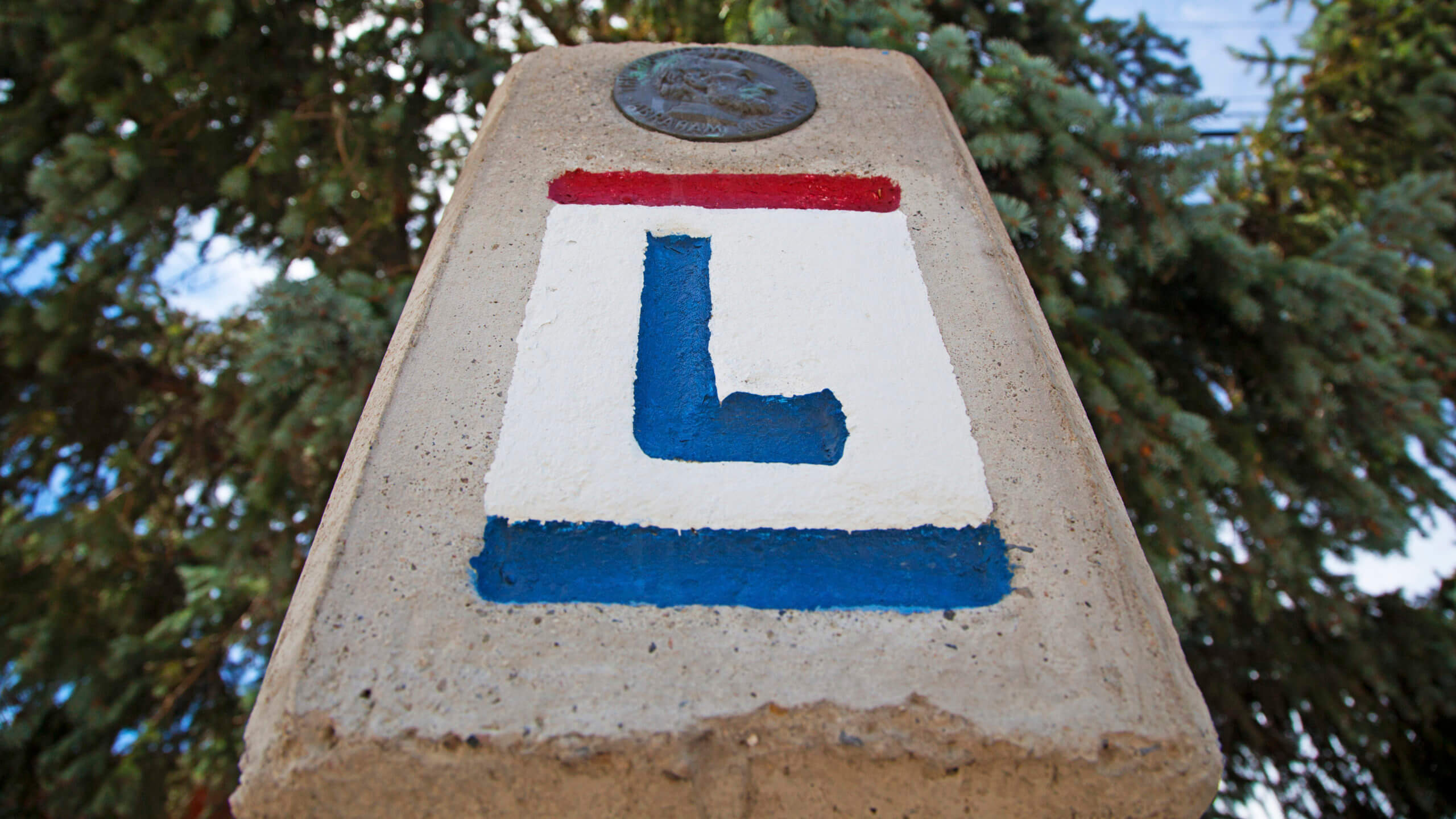 Although there weren't an exorbitant amount of businesses remaining in the downtown area, it didn't make McGill any less interesting. Each edifice lured me with its rippled glass windows, brilliantly rusted sides and impeccably aged character. It wasn't long before McGill's Rexall Drugstore commanded my attention and I was pulling on the door handle. Closed?! Frown. Heading back to the antique shop, I asked the lady when it was regularly open and she exclaimed, "Oh Dan? I'll just give him a call and see if he can open it up for you." Why I love small towns? Case in point.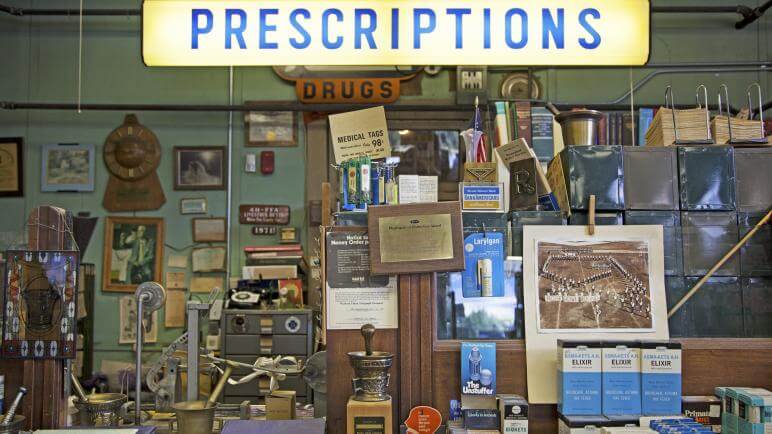 In a matter of minutes, Dan was unbolting the door and serving as our personalized tour guide for the place. To my history-hankering delight, what I had assumed was a store was an actual museum. This random venture was getting better and better by the minute. With the flick of a few switches, Dan manifested an electric spectacle that made it feel like we were on some sort of Disneyland ride. With one simple maneuver, the neon crackled, the roasted nuts machine crawled to a start and the original soda fountain counter illuminated, and we delved more than 60 years into the past.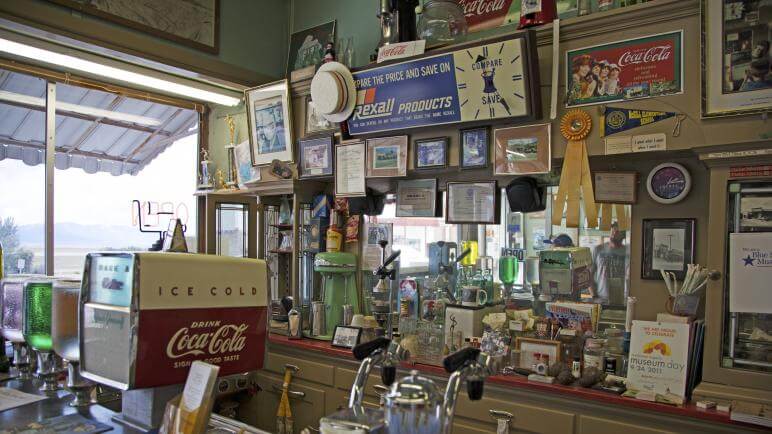 Besides what looked like a damned good root beer float, every item for sale in the drugstore had not been updated or essentially touched since it closed up shop for good in the '80s. Some items appeared to be 30ish years old, but the vast majority clearly sat on a shelf for years prior. Syrupy shampoo, sunstained razor packages, interestingly dated cosmetics, and questionable items like tooth powder dominated every ounce of my attention as Dan recounted the importance the drug store served the community. We weren't just walking toward the back of the store either. It felt like each step we took further toward the back, we peeled back another decade of time. While the store hadn't been inventoried in decades, Dan knew every last item in there and had a fascinating story to go with it.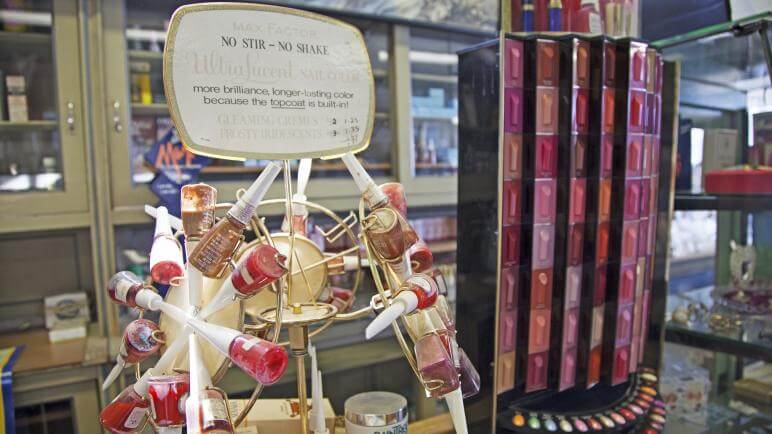 I could've spent hours reading greeting cards from 30 years ago, or trying to wrap my mind around what exactly sugar of milk was, but the mother ship of all prescription counters was staring me in the face. I attempted to politely mill around the counter—distracting myself with signed yearbooks from the 1940s until Dan could lead the way. The instant he was behind that counter, I was breathing down his neck ready to be dazzled, I kid you not.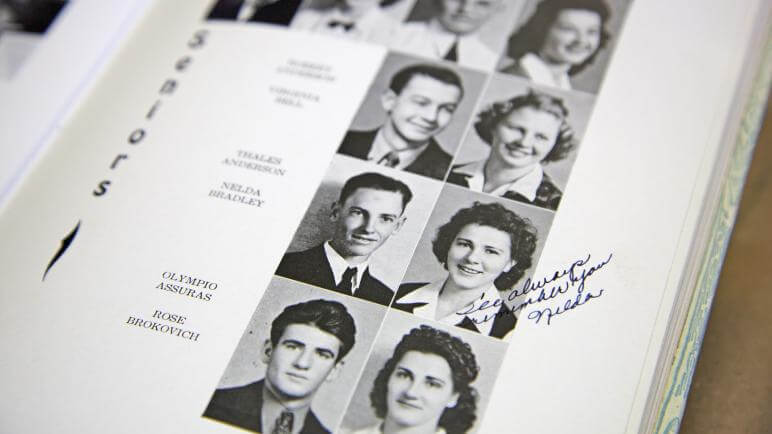 Feasting my eyes on decades of original hand-written prescription records in the most immaculate filling system I've ever seen, I was truly moved by the caliber of personal interaction so clearly involved in the business…something that has regretfully been lost through time. Fully romanced by the contents of the prescription counter, I noticed a sign that still remains as my favorite personal reminder someone had left himself…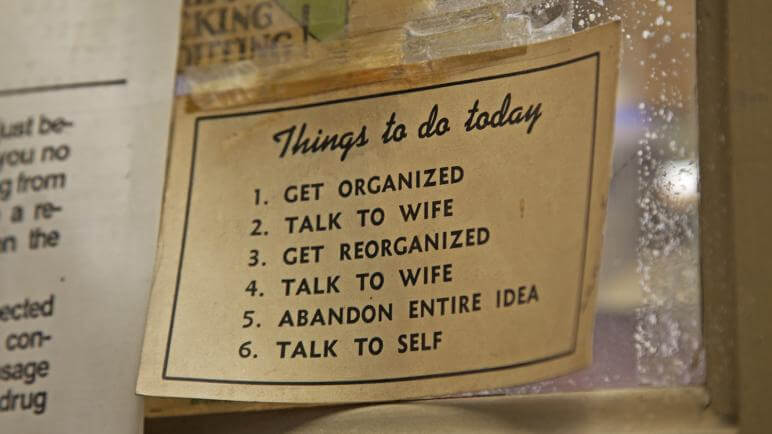 And then I noticed these…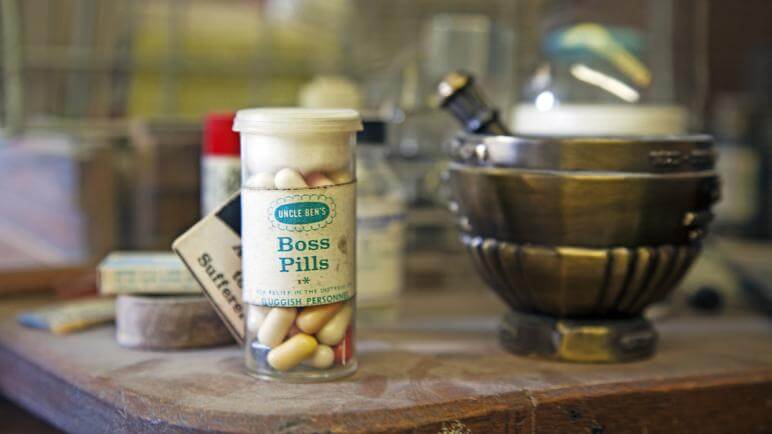 Dan informed us that the store ultimately shut down because of the death of the pharmacist, Jerry, in the '80s. Too bad, I think I would've loved to have met this son-of-a-gun.
Having never been to McGill and frankly knowing nothing about the town or its history, this excursion unraveled in a way that couldn't have been planned. To me, that's the beauty in exploring a place like Nevada…a barren place that people blow through on Interstate 80 as fast as they can to get to their final destination. The smelting factory, antique store and drugstore museum were some of the most interesting places I've found in rural Nevada, and it was all haphazardly discovered on a whim. So in attempt to divvy up some humble advice slow down, wander through some super cool places and see where your adventure leads you—it will most likely end up as one heck of a memory. #NVHistory
Get Inspired
Related Stories